Bypass Geoblocking
VPN for Android TV: How to Set up a VPN on Chromecast and Other Streaming Devices
VPNs allow you to bypass annoying region restrictions and access your favorite content from anywhere in the world. With them, you can unlock a treasure trove of new movies and series on streaming services like Netflix that would otherwise be unavailable in your physical location. It's easy to use a VPN on your PC or laptop, but what if you want to kick back and stream content on your TV?
If you use a smart TV with Android TV, an Android TV box, or Google Chromecast with Google TV, you can also unlock and watch streaming content from abroad on your television. This article explains how it's done, including the tools you'll need and which VPN services are the best at it.
How to Use a VPN With Android TV
Below is a list of the best VPN services for Android TV. To illustrate how to set a VPN on an Android TV in this step-by-step guide, we'll use our review winner NordVPN. Don't worry though, the process is basically the same regardless of which provider you select.
Step 1: Subscribe to a VPN Provider
First, you'll need an account with a VPN provider. You may want to register on a computer since signing up with a mouse and keyboard is much easier than with a remote control.
Visit NordVPN's website and click on "Get NordVPN" to create an account and subscribe to the service.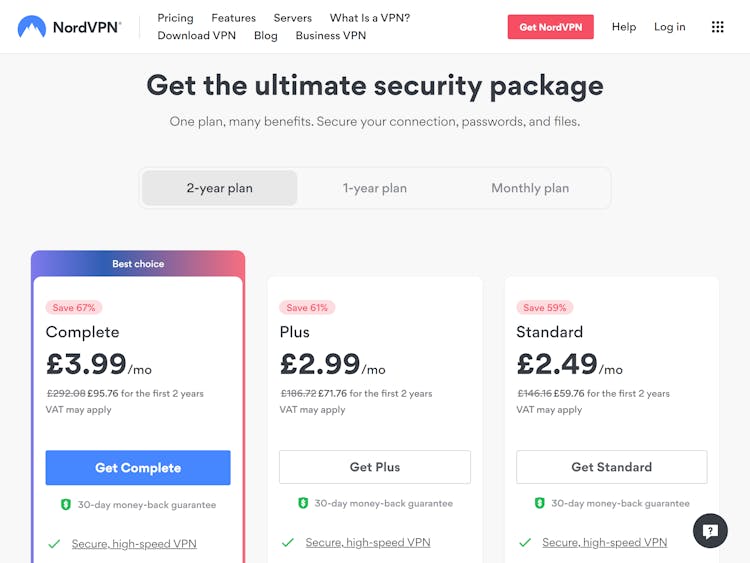 Pick the NordVPN plan that's right for you and complete the registration process.
Step 2: Download the App From the Android TV Store
You can now download NordVPN to all of your devices, including its Android TV app.
To find the app, simply go to the Google Play Store on your Android TV device and type "NordVPN" in the search box Google Play Store. Once you've found it, select Install.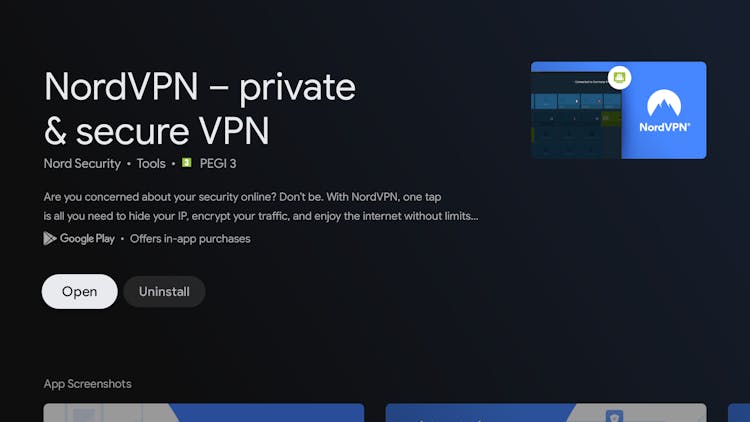 NordVPN has an Android app that can easily be found on your Android TV.
Step 3: Log in to Your VPN
Log in to the NordVPN app on your Android TV device; this will link it to your NordVPN subscription. Select Log In.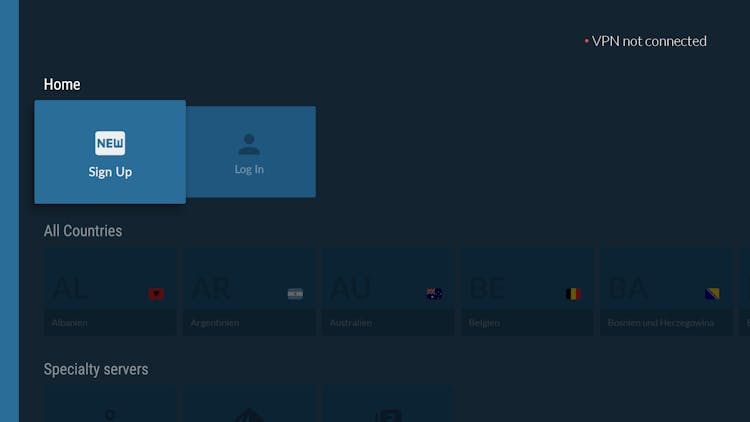 Link your account with NordVPN's Android app.
There are two options to log in: You can either scan the QR code you received from the provider or head over to nordaccount.com/remote on your computer or smartphone. Once there, enter the code displayed on your Android TV device.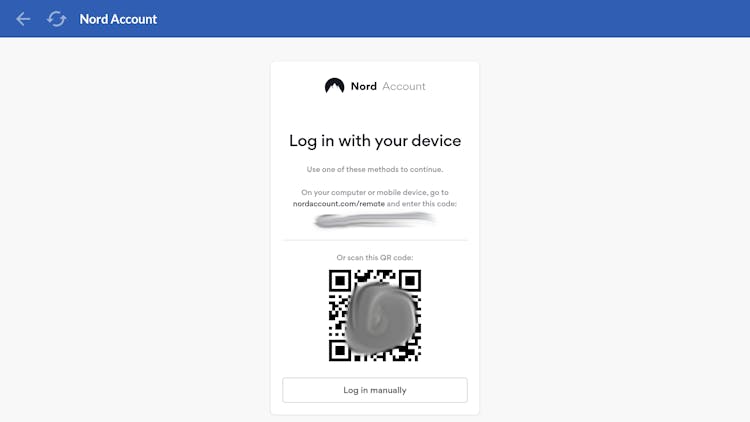 You can either scan the QR code or visit NordVPN's website to link your Android TV to your subscription.
You'll need to enter a code again after logging in. The Android app will then be linked to your NordVPN account.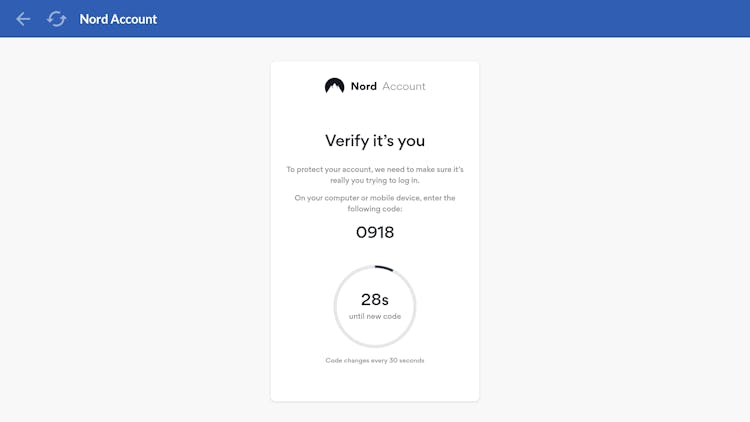 Once everything is confirmed, your account will be linked and you'll be able to use NordVPN on your Android TV device.
You can now use NordVPN on your Android device and connect to VPN servers around the world. For example, if you want to access Netflix's UK content library, you can select a server in the UK and then open the Netflix app.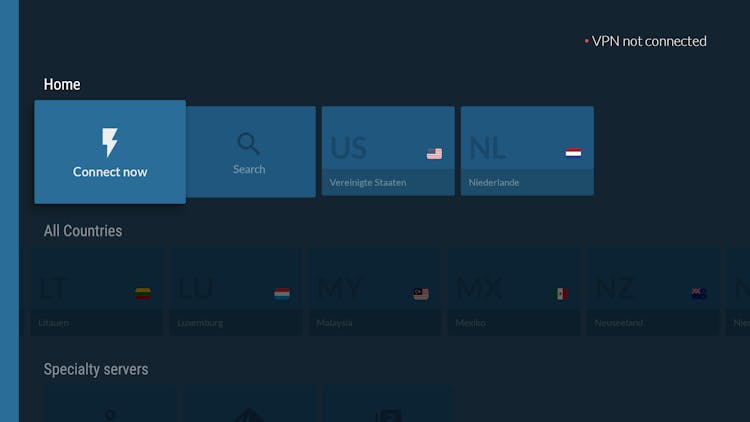 You can choose a server location in NordVPN's app.
You can even watch content on streaming services that isn't available in your home country.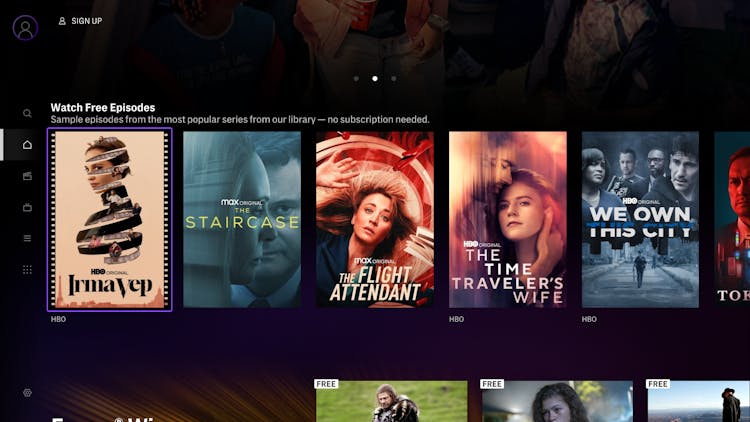 You now have access to a whole new world of streaming.
The Best VPNs for Android TV
All that's left to do is to select a VPN provider. This is important since not every VPN service supports all devices, so make sure that you choose a provider with an Android TV app. Here are our Top 3 recommendations:
5400+ servers, 60 countries
Inexpensive 2-year package
NordVPN combines speed, user-friendliness and functionality into a coherent overall package that is also fairly affordable.
Data volume
Devices
Protocols
Contract Period
NordVPN 2-year plan
$2.99
monthly price
Visit Website »
30 days money-back guarantee
NordVPN took the top spot in our comprehensive EXPERTE.com VPN review. This Panama-based service combines fast upload and download speeds with reliable performance and a solid server network. Also speaking in their favor are their strict security standards which include regular audits by independent third parties.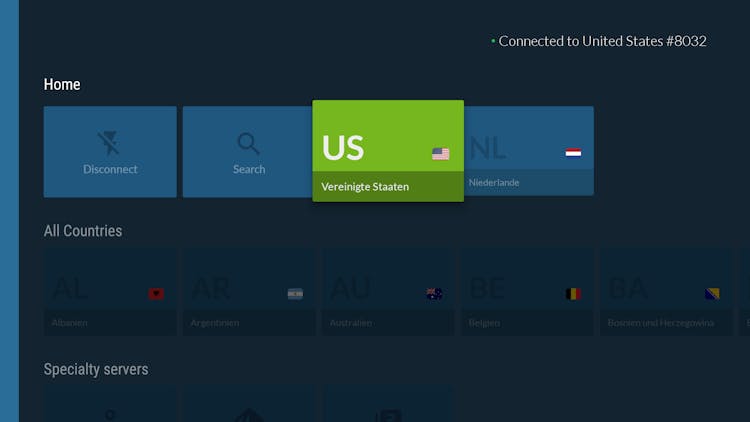 NordVPN secured first place in EXPERTE.com's review, and also performs well with Android TV.
NordVPN's Android TV app isn't just a copy of the company's smartphone or desktop apps; it's designed specifically for Android (the same cannot be said for some of the competition's offerings). During our review, we were able to access foreign Netflix content on our Google TV Chromecast without issue.
Installation and Features
4.7 / 5
Security and Privacy
4.7 / 5
160 cities in 94 countries
30-day money-back guarantee
ExpressVPN impresses with strong performance, a huge server network and excellently designed applications, but this quality also comes at a higher price.
Data volume
Devices
Protocols
Contract Period
ExpressVPN 12 Months
$8.33
monthly price
Visit Website »
30 days money-back guarantee
ExpressVPN is a user-friendly provider that works well for everyday use. It offers strong performance and an impressive server network (3,000 servers with 160 locations in 94 countries). However, ExpressVPN is a bit expensive compared to other VPN services, especially when you set their prices alongside what the competition asks for 1 and 2-year subscriptions.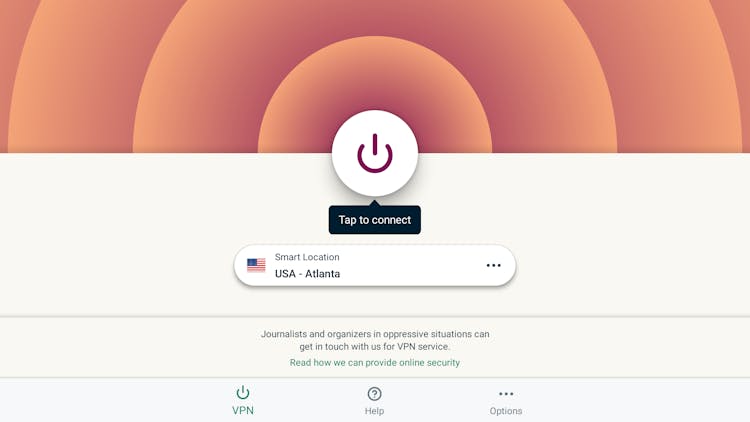 ExpressVPN also has an app for Android TV.
Like NordVPN, ExpressVPN also offers a dedicated app for Android TV. We were able to bypass country restrictions and watch foreign Netflix content without issue, making it another good choice for Android TV customers.
Security and Privacy
4.7 / 5
Installation and Features
4.3 / 5
If you're looking for a long-term subscription at a low price, Surfshark might be just what you're after. This provider had the best price-performance ratio in our review, with a 24-month plan only going to set you back around $2 per month. Surfshark delivers great performance along with a variety of features, and the company maintains strong security standards.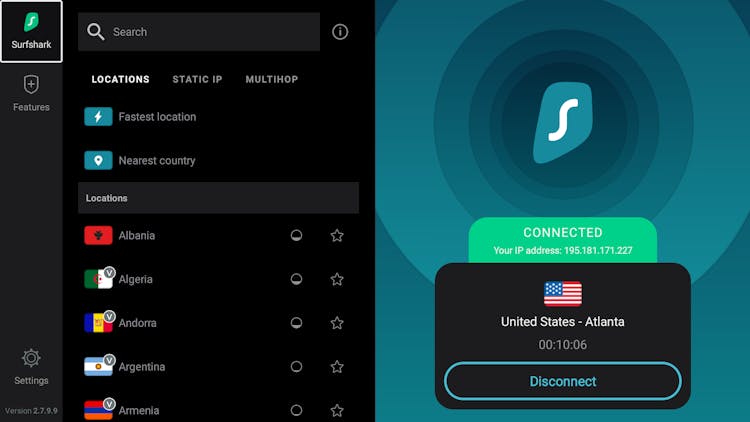 Surfshark is also user-friendly on Android TV.
Surfshark's applications are very intuitive and their Android TV app is no exception. You can establish a VPN connection to a server of your choice in just a few seconds using your remote control. Their app even includes extra features such as split tunneling.
Split tunneling can come in handy, for example, if you only want to use a VPN connection for one of your streaming services or a single app. That being said, our attempt to direct HBO Max through the VPN tunnel only worked for a while; we had to restart the device after some time due to connection issues. The truth is, VPN features don't always function as well on TVs as they do on desktops.
Installation and Features
4.7 / 5
Security and Privacy
4.0 / 5
There's nothing like enjoying your favorite movies and series from the comfort of your own home. If you have an Android TV-compatible device, you can use a VPN to bypass region restrictions. This makes it possible, for example, to access Netflix series in the US that are only available in the UK, or use streaming services that wouldn't otherwise be available where you're located.
Our Top 3 VPN picks won't let you down when it comes to VPN streaming on an Android TV. You can find detailed reviews of these providers and many other excellent VPN services in our comprehensive EXPERTE.com VPN review.
Which VPN is best for Android TV?
According to our EXPERTE.com VPN comparison, NordVPN is the best program with an app for Android TV. It combines solid performance with ease of use and has high security standards. Second and third place in our review went to ExpressVPN and our price-performance ratio winner, Surfshark, respectively.
How do I install a VPN on an Android TV?
Search for the VPN you want using the search function on the Android TV's interface, and select Install. It's easiest to create your account in advance on a PC, laptop, or smartphone. Once you are a subscriber to your service of choice, simply log in to its VPN app on Android TV and link your devices.
Are there free VPNs that work with Android TV?
Free VPNs are rarely suitable for video streaming. If you want to bypass country restrictions and access foreign content on your Android TV device, you'll need a paid VPN.

Author: Janis von Bleichert
Janis von Bleichert studied business informatics at the TU Munich and computer science at the TU Berlin, Germany. He has been self-employed since 2006 and is the founder of EXPERTE.com. He writes about hosting, software and IT security.