VPN
ZenMate VPN Review 2022: German Quality?
Zen is often equated with relaxation and simplicity, but only rarely with German tech companies. Cynics might once again smirk at the adoption of Eastern mysticism and "wisdom" for marketing purposes, however, there is definitely more to ZenMate than meets the eye. The service provides its users with peace of mind while surfing in a decluttered interface.

ZenMate is a Berlin-based VPN provider, owned since 2018 by Kape Technologies (London), the parent company of CyberGhost and a handful of other data security programs. Below, we explore if ZenMate allows users to profit from this infrastructure and its experience, or if the provider needs to meditate on its purpose.
Review
04/2021
satisfactory
Visit Website
Installation and Features
3.7 / 5
Security and Privacy
3.0 / 5
User-friendly applications
Unimpressive server network
Data security and privacy concerns
2.
Installation and Features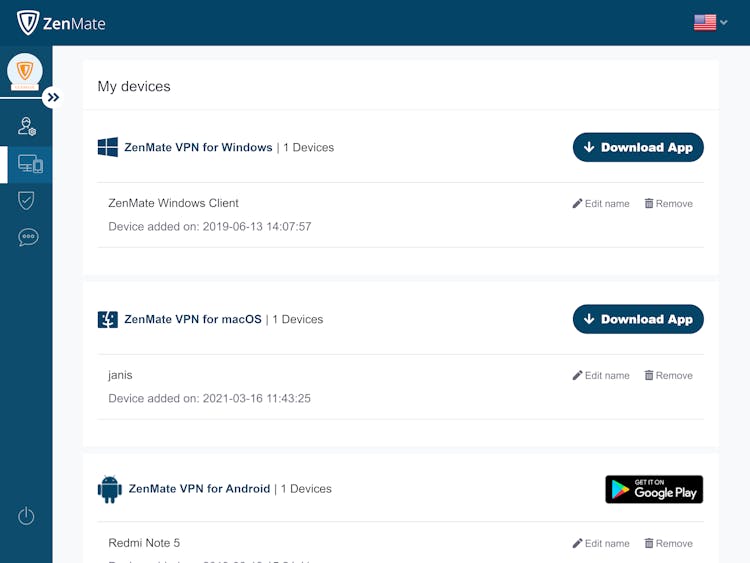 ZenMate subscribers can connect with as many devices as they would like.
Following its acquisition by Kape Technologies, ZenMate's software received a well-needed makeover. The application's user interface was aligned to look like that of CyberGhost, another product in its parent company's portfolio. The app's main screen is arranged around a large power button that, with a single click, connects you to the best available server based on your location. The elongated interface is reminiscent of a smartphone app and has similar usability, something that the developers can be proud of.
When you click on the server location button, a drop-down menu opens that allows you to select from among your favorites or servers that are configured for streaming.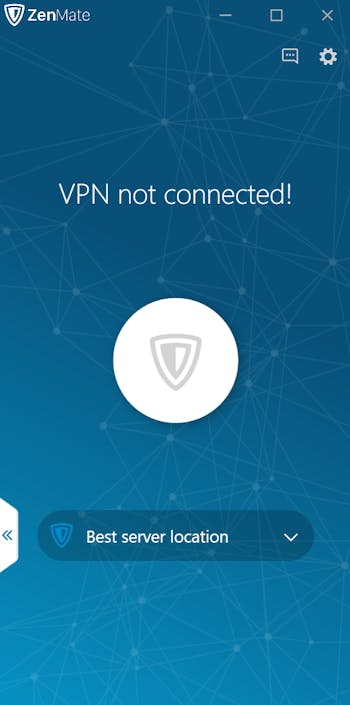 ZenMate's app is eye-catching.
If you want to select from the complete list of servers, you'll need to click on "More Servers" from the server drop-down menu. Here, you can scroll through an alphabetically sorted list of servers, or use the search function. Should you be looking for a particular kind of server (for streaming or torrents), you can also select from the categories on the left side of the interface. Within the server list, you can see information about the distance to servers, their usage, and mark them as favorites.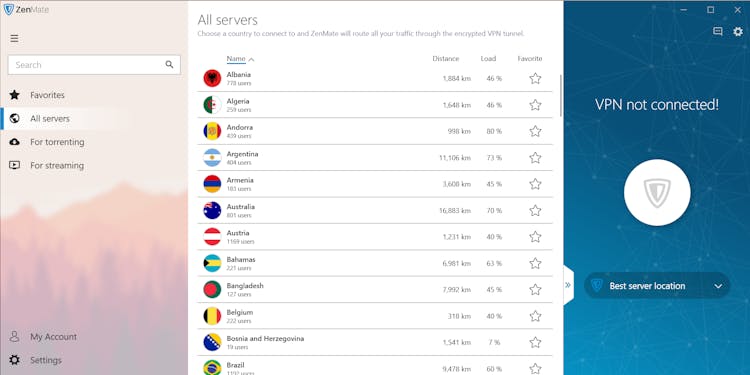 In the server menu, you'll be able to see distance, usage statistics, and mark servers as favorites.
Since ZenMate's desktop client is practically identical to that of CyberGhost, we couldn't help but compare the two. Unfortunately, ZenMate drew the shorter straw.
You'll find common VPN features, such as a kill switch, and also be able to change between protocols. With that said, users have to make do without CyberGhost's "no-spy" servers. This might be attributable to ZenMate being based in Germany, a country not exactly popular amongst privacy activists. Other features present in CyberGhost, but absent from ZenMate include the ad-blocker, no-track, and smart rules. Even when searching for a server, your options aren't as great, as it's only possible to select countries and not individual cities.
As a trade-off, the browser extension includes a few additional features: "Smart Location" offers split tunneling for websites, allowing you to define websites that will then automatically connect using a pre-selected VPN server. Alternatively, you can use the white list to define those sites for which a VPN connection should never be established.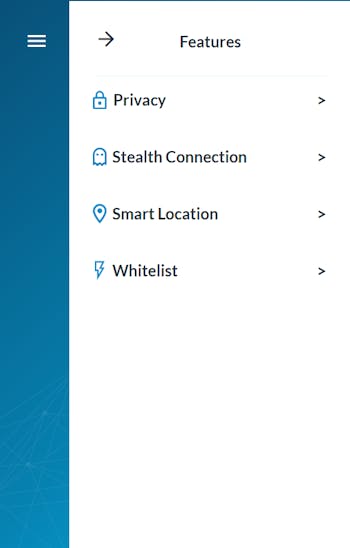 ZenMate's browser extension includes additional features.
Mobile App
ZenMate's apps for Android and iOS are identical to its desktop clients. Here too, when connecting, you'll click on the large power button in the center. To change servers, simply open the location menu below it.
In comparison to the desktop client and to CyberGhost's mobile app, the functions available in ZenMate's mobile app are limited. For example, you cannot change VPN protocols or use split tunneling.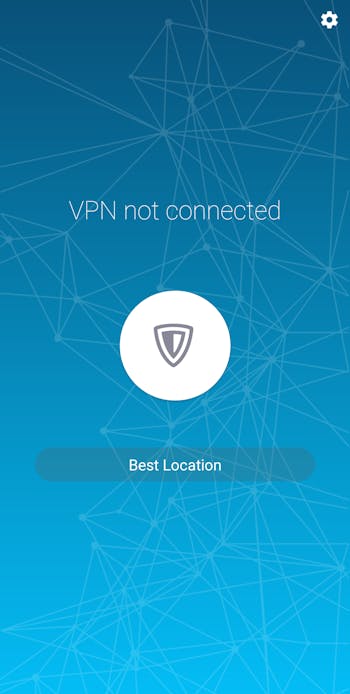 ZenMate's mobile app is identical to its desktop client.
Set alongside CyberGhost, ZenMate offers little that other providers don't, and lacks some features that have become standard in the industry. We're fine without an ad-blocker, but the absence of split tunneling or no-spy servers is an issue. In total, ZenMate offers a decent package, but there's a lot of room for improvement.
Score: 3.7 / 5
Things look a bit different when it comes to servers, as since our last check-in (2019), ZenMate has more than doubled the size of its network, now having a presence in 77 countries and 2,900 servers around the world. As is common, Africa and Asia aren't as well-covered in Europe or North America.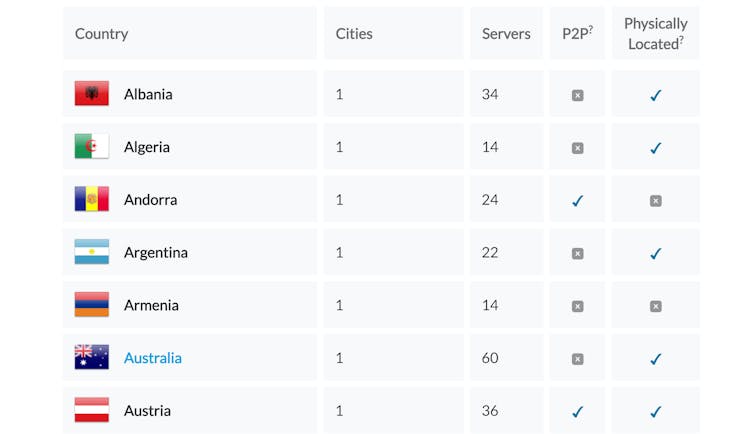 ZenMate's server network has been steadily growing over the past few years.
Despite its progress, ZenMate still can't really come near to the best in terms of its network size. Even its Kape Technologies counterpart, CyberGhost, has twice as many servers. Overall, ZenMate's network is nothing to scoff at, but it isn't particularly remarkable either.
Score: 4 / 5
To assess the speed of all VPNs from our sample, we used a European-based server with a 1 GB/s connection. Random ZenMate servers in the US and Germany were connected to at different times of the day to more accurately evaluate their performances. More information concerning our methodology can be found in our VPN speed test.
The table below shows the average results from the last 365 days, arranged in order of download and upload speed (descending):
1.

195.6 Mbit/s

Download

42.9 Mbit/s

Upload

2.

191.7 Mbit/s

Download

42.8 Mbit/s

Upload

3.

200.8 Mbit/s

Download

18.1 Mbit/s

Upload

4.

175.0 Mbit/s

Download

42.0 Mbit/s

Upload

5.

167.7 Mbit/s

Download

16.1 Mbit/s

Upload

6.

166.5 Mbit/s

Download

16.3 Mbit/s

Upload

7.

153.9 Mbit/s

Download

27.0 Mbit/s

Upload

8.

155.1 Mbit/s

Download

21.2 Mbit/s

Upload

9.

154.8 Mbit/s

Download

18.8 Mbit/s

Upload

10.

156.4 Mbit/s

Download

15.0 Mbit/s

Upload

11.

113.1 Mbit/s

Download

41.4 Mbit/s

Upload

12.

129.4 Mbit/s

Download

18.4 Mbit/s

Upload

13.

109.6 Mbit/s

Download

37.6 Mbit/s

Upload

14.

126.3 Mbit/s

Download

18.8 Mbit/s

Upload

15.

118.6 Mbit/s

Download

18.4 Mbit/s

Upload

16.

109.7 Mbit/s

Download

17.0 Mbit/s

Upload

17.

82.2 Mbit/s

Download

43.3 Mbit/s

Upload

18.

79.9 Mbit/s

Download

38.8 Mbit/s

Upload

19.

106.0 Mbit/s

Download

12.2 Mbit/s

Upload

20.

99.3 Mbit/s

Download

12.7 Mbit/s

Upload
During testing, ZenMate clocked a download speed of 126.6 MB/s and an upload speed of 18.8 MB/s, entitling it to fourteenth place in our ranking, one below where it was in 2019. Nothing to write home about, but, once again, decent.
The diagram below shows ZenMate's average speeds over the past months:
CyberGhost VPN
ExpressVPN
hide.me VPN
HideMyAss! VPN
Hotspot Shield VPN
IPVanish VPN
Mullvad VPN
NordVPN
Private Internet Access
PrivadoVPN
PrivateVPN
ProtonVPN
PureVPN
Surfshark VPN
TorGuard VPN
TunnelBear VPN
VeePN
VPN Unlimited
VyprVPN
Windscribe VPN
ZenMate VPN
Monat
Download
Upload
12/21
December 2021
Download: 92 Mbit/s
December 2021
Upload: 16.7 Mbit/s
1/22
January 2022
Download: 91.9 Mbit/s
January 2022
Upload: 15.9 Mbit/s
2/22
February 2022
Download: 85.6 Mbit/s
February 2022
Upload: 16.5 Mbit/s
3/22
March 2022
Download: 99.3 Mbit/s
March 2022
Upload: 16.8 Mbit/s
4/22
April 2022
Download: 95.4 Mbit/s
April 2022
Upload: 15.8 Mbit/s
5/22
May 2022
Download: 110.8 Mbit/s
May 2022
Upload: 16.9 Mbit/s
6/22
June 2022
Download: 112.2 Mbit/s
June 2022
Upload: 16.9 Mbit/s
7/22
July 2022
Download: 110.2 Mbit/s
July 2022
Upload: 17.5 Mbit/s
8/22
August 2022
Download: 115.5 Mbit/s
August 2022
Upload: 18.4 Mbit/s
9/22
September 2022
Download: 120.6 Mbit/s
September 2022
Upload: 18 Mbit/s
10/22
October 2022
Download: 121 Mbit/s
October 2022
Upload: 18.2 Mbit/s
11/22
November 2022
Download: 126 Mbit/s
November 2022
Upload: 18.9 Mbit/s
12/22
December 2022
Download: 133.8 Mbit/s
December 2022
Upload: 18.4 Mbit/s
We also assessed how the service handled during daily usage. For regular surfing, our connections were quickly established and without disruption. The kill switch worked reliably and we didn't have to complete annoying captchas.
Streaming
When streaming, our results were mixed: We were able to access foreign Netflix and Amazon Prime content, however, we didn't have any luck with the BBC's iPlayer or Disney+.
In terms of performance, ZenMate finally steps out from CyberGhost's shadow, owing to the connection problems we had with the latter during testing. At the end of the day though, there are VPN services that make it possible to access content from all four platforms (and more).
Score: 3.7 / 5
Both the desktop and mobile versions of ZenMate use AES 256, whereas the browser extensions feature 128-bit encryption. Among protocols, OpenVPN and IKEv2 can be chosen from, however, most users will probably stick with the default settings. Unfortunately, in contrast to CyberGhost, no support is offered for WireGuard, the newest protocol.
Owing to the company being based in Germany, ZenMate can't make the same data privacy guarantees that its competitors based in Panama or the British Virgin Islands can. Germany does have relatively good data protection laws, but the country is a party to the multilateral 14 Eyes intelligence-sharing agreement. Most VPN users won't feel particularly impacted, but ZenMate's privacy policy is on weaker legal ground than those of other providers.
The program passed our VPN leak tests for IPv6, DNS, and WebRTC without difficulty. Additionally, the kill switch is always activated, whether in the desktop client or the mobile app.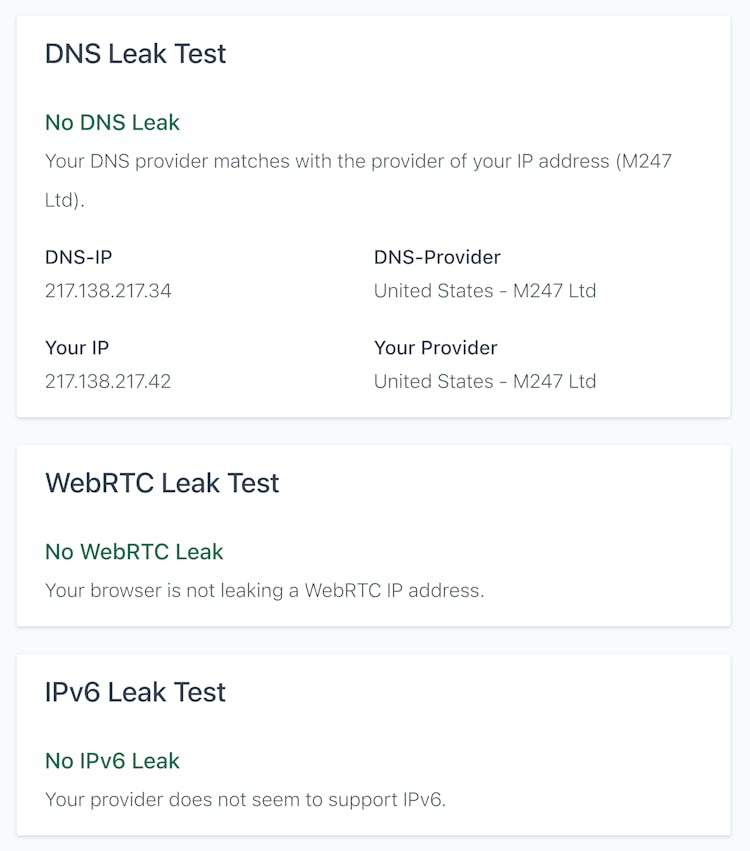 ZenMate cleared all of our leak tests without issue.
ZenMate advertises a "No-Logs" policy, which is hotly debated by data privacy experts. In 2018, ProPrivacy determined that ZenMate could save connection logs without infringing upon its policy. Following Kape Technologies' takeover of the company, the privacy policy has been modified: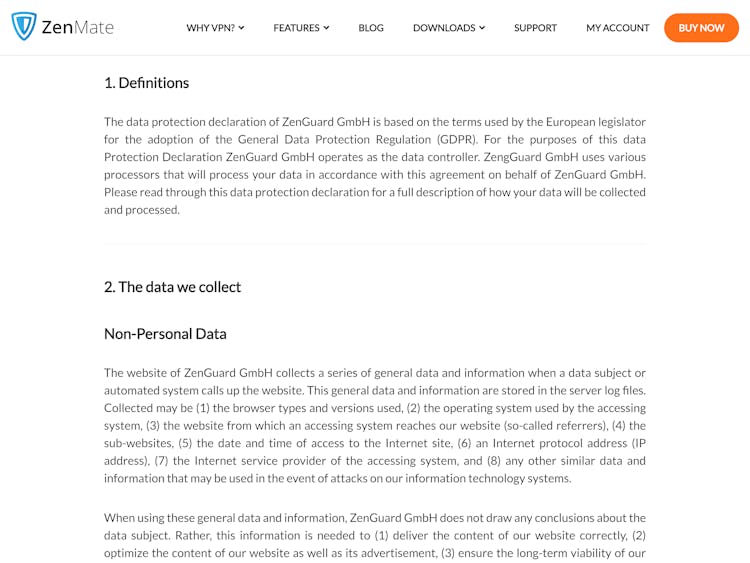 Since they share the same parent company, ZenMate's privacy policy generates as much concern as that of CyberGhost.
Kape Technologies (previously Crossrider) has been caught out in the past for malware infections and other dubious practices. Maybe the sins of yesteryear have been atoned for, but having such a questionable parent company doesn't really shed a good light on ZenMate.
On paper, we can't fault ZenMate for anything, and the provider's software did pass our leak tests without issue. Since the provider hasn't submitted to any external security audits, we're unable to shake the sinking feeling that something isn't right though.
Score: 3 / 5
Even though the company is based in Germany, (incredibly) its support center, with FAQs and guides is only available in English. The same is true for the contact form, with ZenMate stating "Our support is provided in English owing to our international user basis."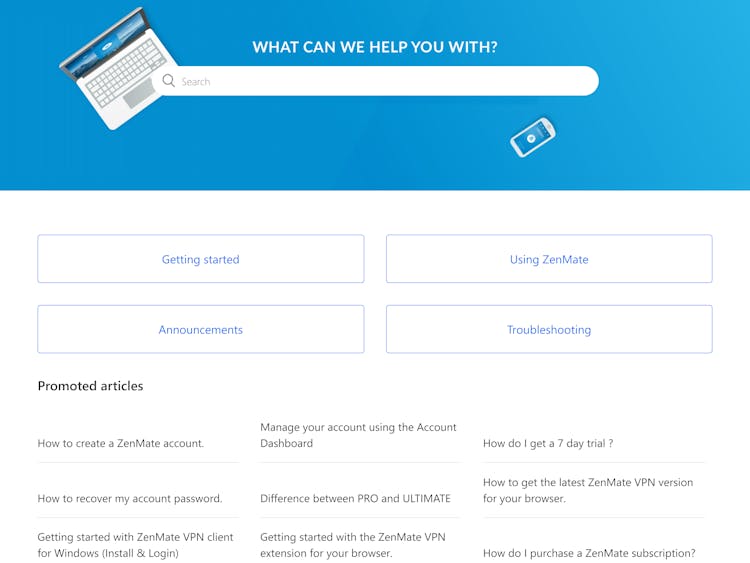 When it comes to support, ZenMate only provides the minimum.
While other VPN providers offer live chat and email support in a number of languages, ZenMate falls a bit flat. It is somewhat frustrating that questions via the contact form are not answered with an automatic response or logged from the moment they're posed. An answer to our query came after four days, definitely making it one of the slowest services from our sample in terms of customer service response times.
Score: 3 / 5
Monthly, annual, and three-year contracts are offered. ZenMate is most expensive when used on a monthly basis, however, its three-year contract is a bargain. A current price list can be found here:
3 years
1 year
1 Month
Pricing
Set-up fee
$0.00
$0.00
$0.00
Effective monthly price
$1.64
$4.49
$10.99
Contract period (months)
36
12
1
Limits
Data volume
unlimited
unlimited
unlimited
Number of Devices
unlimited
unlimited
unlimited
Features
Number of servers
3,000
3,000
3,000
Number of countries
78
78
78
No server logs
P2P allowed
Tor access
Kill Switch
Protocols

OpenVPN

PPTP

SSTP

IKEv2

IPSec

L2TP

OpenVPN

PPTP

SSTP

IKEv2

IPSec

L2TP

OpenVPN

PPTP

SSTP

IKEv2

IPSec

L2TP
A free version of ZenMate is available as a browser extension, however, you'll only be able to select from four different servers and accept throttled speeds of 2 MB/s.
ZenMate creates personalized packages for organizations or businesses based on individual information.
Review
04/2021
satisfactory
Visit Website
Installation and Features
3.7 / 5
Security and Privacy
3.0 / 5
Perhaps it's unfair of us to be as critical of ZenMate as we have been, particularly in light of it sharing the same parent company as another service from our sample, CyberGhost. At the same time, there's no denying that CyberGhost offers more features, newer protocols, and a larger network. We can objectively state that ZenMate is missing a number of CyberGhost's strengths while having all of the same weaknesses.
With regards to performance and speed, there's little to criticize. We also liked that a free version is offered and that the three-year subscription is reasonably priced. Considering how much ZenMate's network has grown since our last review, chances are good that there will be more of the same; another reason to pay attention to the provider. However, what we'd really like to see, even more than additional servers, would be an independent security audit.
Based on the reviews that we evaluated, ZenMate fared rather well. The company's customer support was often praised, but also frequently criticized. Some users emphasized its good performance, particularly when using streaming services.
We analyzed the reviews and ratings from various portals and found 74,766 ratings with an overall rating of 3.9 out of 5 .
Show sources
CyberGhost, which is owned by ZenMate's parent company, offers additional features such as split tunneling and a larger server network while having a nearly identical appearance. We did have some connection issues with it during testing, however.
The fastest service from our sample and our price-performance winner was NordVPN. In contrast to CyberGhost and ZenMate, NordVPN has submitted to external security audits, reinforcing its "No-Logs" guarantee.
The best alternatives to ZenMate can be found below:
5400+ servers, 60 countries
Inexpensive 2-year package
NordVPN combines speed, user-friendliness and functionality into a coherent overall package that is also fairly affordable.
Data volume
Devices
Protocols
Contract Period
NordVPN 2-year plan
$2.99
monthly price
Visit Website »
30 days money-back guarantee
160 cities in 94 countries
30-day money-back guarantee
ExpressVPN impresses with strong performance, a huge server network and excellently designed applications, but this quality also comes at a higher price.
Data volume
Devices
Protocols
Contract Period
ExpressVPN 12 Months
$8.33
monthly price
Visit Website »
30 days money-back guarantee
3200+ servers in 65 countries
Unlimited number of devices
Many apps (Linux, FireTV, ...)
Very cheap on the 24-month plan
Surfshark is one of the cheapest providers on the market, but besides the price also impresses with strong protection, many features and a great support with 24/7 live chat.
Data volume
Devices
Protocols
Contract Period
Surfshark 24 months
$2.49
monthly price
Visit Website »
Get 83% Discount
1200+ servers in 55 countries
Headquarters in Switzerland
Open Source & external audits
Data volume
Devices
Protocols
Contract Period
ProtonVPN Free
$0.00
monthly price
Visit Website »
30 days money-back guarantee
290 locations in 210 countries
Data volume
Devices
Protocols
Contract Period
HideMyAss! 36 months
$2.99
monthly price
Visit Website »
30 days money-back guarantee

Author (German Version): Martin Gschwentner
Martin Gschwentner majored in American Studies and Media Studies in Germany, the USA and France and works as a freelance editor in Paris. He is a doctoral student at the Institute for English and American Studies at the University of Paris Diderot, where he is researching the influence of money on US politics. On EXPERTE.com he writes about IT security, data protection and software for the self-employed and small businesses.

Translator & Editor: D Bare