Bypass Geoblocking
YouTube Blocked in China? How to Bypass Restrictions
YouTube offers answers to almost any question you can think of — conveniently packaged in video form. It's no wonder that YouTube isn't just the world's largest video platform, but also one of the most popular search engines. For plenty of people, it's hard to imagine the Internet without YouTube, but in China, it's the reality.
Like many other websites and platforms that allow for the free exchange of ideas, YouTube is blocked by what is known as the "Great Firewall of China." However, there are ways to access YouTube videos in China despite the country's censorship measures. In this article, we'll explain how.
Is YouTube Blocked in China?
It's important to establish whether or not YouTube is actually blocked in China. The reasoning behind which websites are restricted in China isn't readily apparent to outsiders since the Communist Party's censorship measures are very opaque.
EXPERTE.com's Internet censorship check for China helps you determine which websites are blocked, through our servers in Beijing, Shanghai, and Shenzhen. When you check the availability of a website, we send the URL to each of these servers and test whether a connection can be established.
For YouTube the result is clear.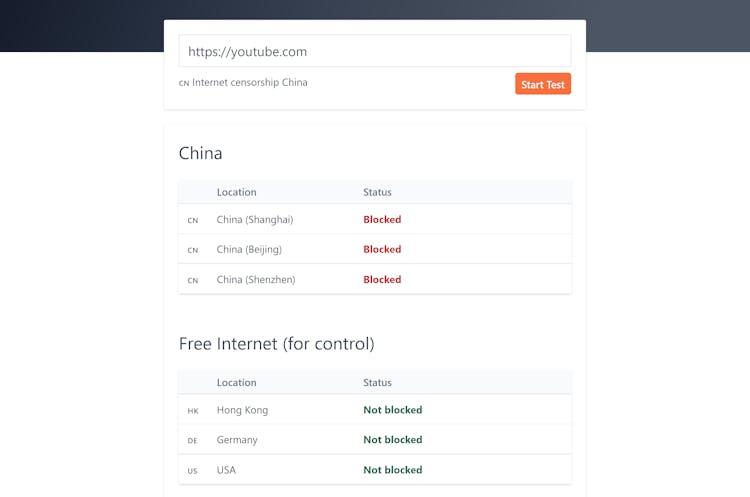 EXPERTE.com's Internet censorship check confirms that YouTube is blocked in China.
If you're in China and attempt to visit YouTube by inputting the URL into your browser's address bar, the Great Firewall will prevent you from accessing the platform. However, there are ways to bypass this censorship.
YouTube in China — Circumvent Censorship With a VPN
A VPN (virtual private network) is the simplest way to use YouTube in China. VPN services establish an encrypted virtual tunnel between you and the Internet, concealing your IP address and location. Your connection is routed through a server of your choosing, which can be located anywhere in the world.
Services such as NordVPN provide user-friendly apps that allow anyone to establish a VPN connection in just a few clicks. To view YouTube while in China, simply use your VPN app to connect to a server in a different country. The server abroad forwards your request and queries YouTube for you, thereby fooling the Great Firewall.
Here's how it works with NordVPN, the winner of EXPERTE.com's VPN review:
Instructions — Using YouTube in China With NordVPN
Step 1: Sign up for a VPN subscription and download the VPN app to your devices.
Tip: It's best to complete this step before you visit China—VPN websites are often blocked there as well.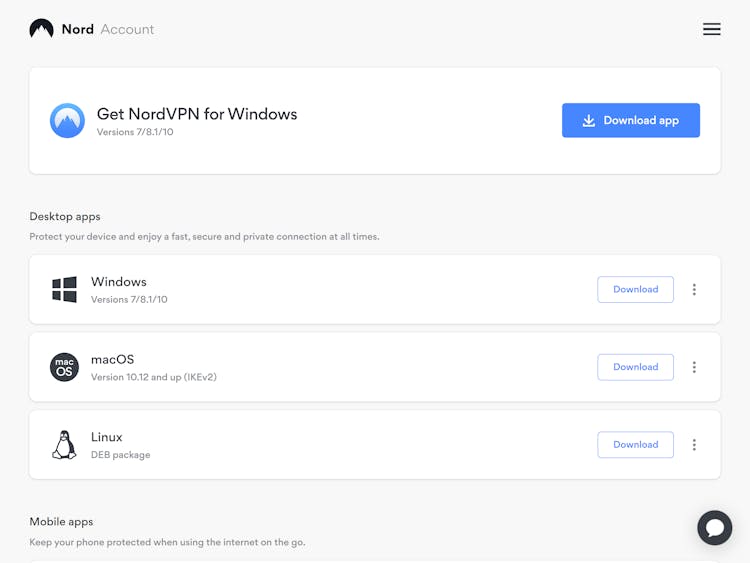 All NordVPN apps can be found in the download section of their website.
Step 2: Open the VPN app and choose a server outside of China.
Tip: Speeds depend on the distance between servers. Depending on where you find yourself at the moment, it's recommended to use servers in countries like Japan, Hong Kong, Singapore, or South Korea.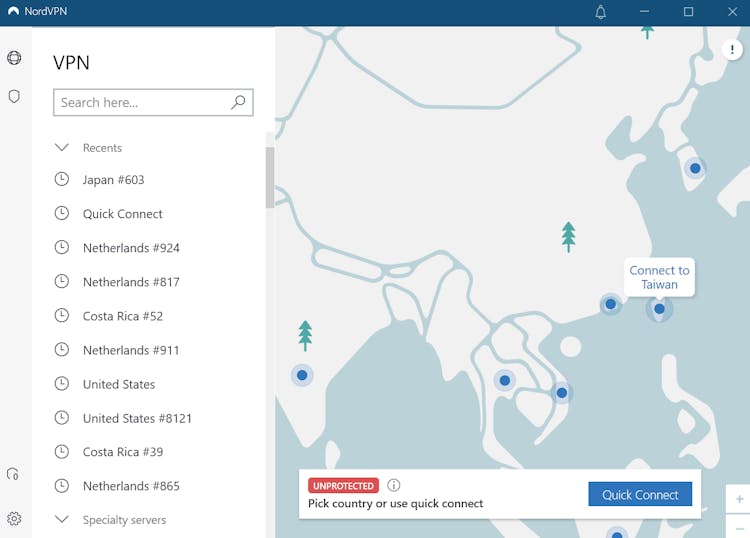 As long as the VPN server is located outside China (and in a country without censorship measures), you should be able to access the free Internet.
Step 3: The VPN connection is up and running. You should now be able to use the Internet as if you were outside China.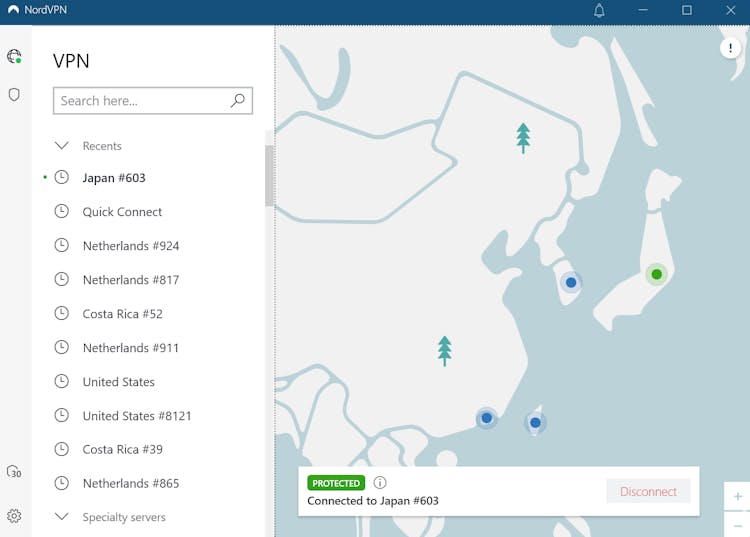 Select a close server to enjoy the fastest speeds possible.
With the right VPN, it's easy to access blocked websites like YouTube—even in China. However, not all VPNs are equipped to overcome the Great Firewall.
The Best VPN Providers for China
5400+ servers, 60 countries
Inexpensive 2-year package
NordVPN combines speed, user-friendliness and functionality into a coherent overall package that is also fairly affordable.
Data volume
Devices
Protocols
Contract Period
NordVPN 2-year plan
$2.99
monthly price
Visit Website »
30 days money-back guarantee
NordVPN isn't just capable of scaling the Great Firewall—they also achieved first place in our VPN review. This Panama-based service scores extra points for excellent speeds (they came out on top in our speed test), a multitude of features, and a strong server network. Their price-performance ratio is also just right. Therefore, if you're looking for a VPN service to use in China, NordVPN is our number one recommendation.
Installation and Features
4.7 / 5
Security and Privacy
4.7 / 5
160 cities in 94 countries
30-day money-back guarantee
ExpressVPN impresses with strong performance, a huge server network and excellently designed applications, but this quality also comes at a higher price.
Data volume
Devices
Protocols
Contract Period
ExpressVPN 12 Months
$8.33
monthly price
Visit Website »
30 days money-back guarantee
ExpressVPN's server network is even more extensive than NordVPN's. Their service also scored at least "good" and often "very good" in all other categories. However, there are a couple of disadvantages to ExpressVPN; it has a rather stiff price tag, and the program now belongs to Kape Technologies, which in the past was known as Crossrider. This concern had a poor reputation as a malware slinger.
That being said, ExpressVPN is a reliable companion while in China (although we had to select their "Lightway" protocol during our test).
Security and Privacy
4.7 / 5
Installation and Features
4.3 / 5
Are you on the hunt for an especially inexpensive VPN that works in China? Then consider Surfshark, our price-performance ratio winner. Their service combines low costs with excellent performance and great features. Choose their Shadowsocks protocol while in China; it's what we used to reliably access servers outside the country.
3200+ servers in 65 countries
Unlimited number of devices
Many apps (Linux, FireTV, ...)
Very cheap on the 24-month plan
Surfshark is one of the cheapest providers on the market, but besides the price also impresses with strong protection, many features and a great support with 24/7 live chat.
Data volume
Devices
Protocols
Contract Period
Surfshark 24 months
$2.49
monthly price
Visit Website »
Get 83% Discount
Installation and Features
4.7 / 5
Security and Privacy
4.0 / 5
YouTube in China With Free VPNs
The Top 3 VPN services from our review require a paid subscription. Generally speaking, VPN services that come at a fee are more reliable, have enhanced security, and offer more features. However, there are also free VPNs that work in China. The best ones are the free plans offered by providers as part of "freemium" services. These are free, limited versions of the providers' apps that come with fewer features than their paid counterparts.
When it comes to free VPNs, there are two providers we recommend: ProtonVPN, which comes with zero data limits, and Windscribe, which offers a free plan that includes up to 10 GB per month.
Depending on how long you plan on staying in China, you might also want to sign up for a premium subscription with a VPN provider of your choice, and then take advantage of their money-back guarantee when you return. NordVPN, ExpressVPN, and Surfshark will give you a full refund if you cancel your contract within 30 days.
YouTube Alternatives — Are There Alternatives to YouTube in China?
If you can do without YouTube and prefer to use the Chinese Internet and local video-sharing sites, you can check out China's various YouTube-like platforms. One of the best-known of these is YouKu; even their name sounds similar to YouTube.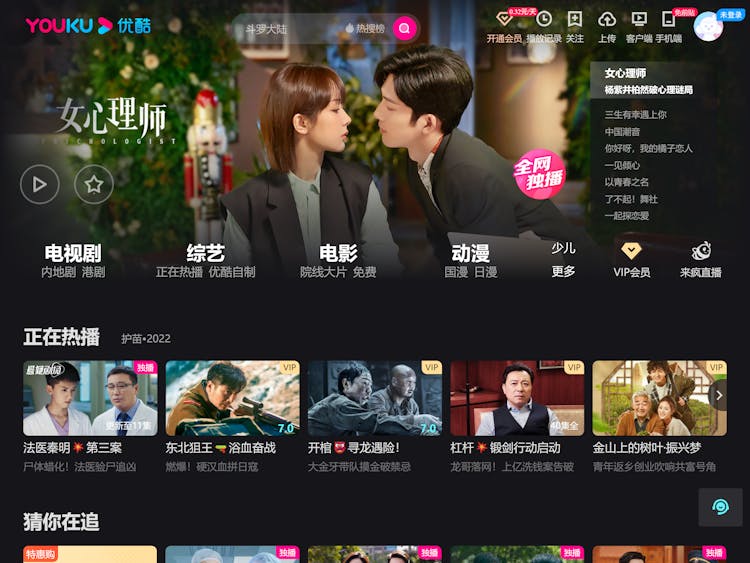 YouKu is modeled after YouTube, and is a popular video platform in China.
Bilibili is a Chinese YouTube competitor. The platform has its origins in anime and video games, but now covers a variety of genres.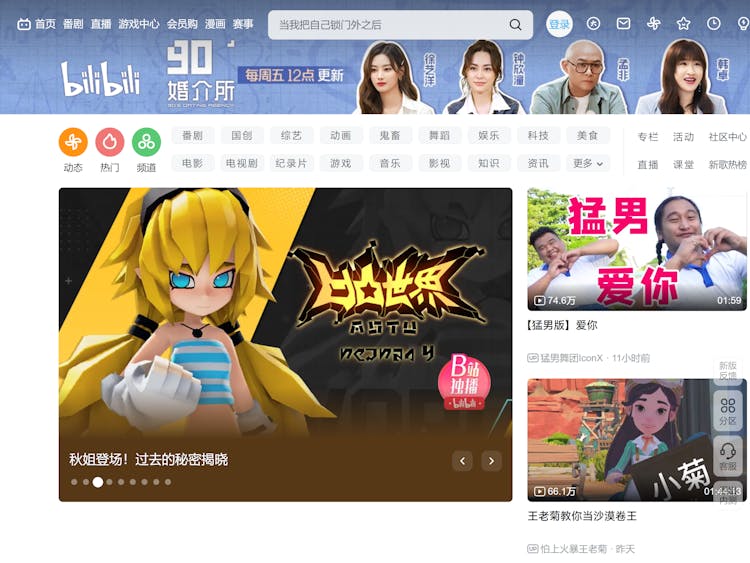 Bilibili also offers live streams where viewers can interact with streamers.
These are just a few of the many YouTube alternatives available in China. If you know Mandarin (or want to learn the language), and if you aren't searching for content that's subject to censorship, native video platforms might be a good substitute for YouTube.
YouTube is just one of many websites censored by the Great Firewall of China. However, it's easy to watch YouTube videos in China if you have a VPN. VPN services route your Internet traffic through servers in other countries, allowing you to bypass censorship and access blocked websites.
However, not every VPN service is suitable for use in China. In our EXPERTE.com VPN review, we checked which VPNs can overcome the Great Firewall using servers located in China. We especially recommend NordVPN, ExpressVPN, and Surfshark.
Is YouTube blocked in China?
Yes. YouTube, along with many other websites, is blocked in China. This is due to censorship measures enforced by the country's "Great Firewall". You can use our EXPERTE.com Internet censorship check to find out which websites are banned in China.
How can I watch YouTube in China?
The best way to access YouTube in China is through a VPN. These allow anyone to establish an encrypted connection from China to a server abroad, bypassing the Great Firewall's censorship. However, not all VPNs are suitable for this purpose. We recommend using either NordVPN, ExpressVPN, or Surfshark to access YouTube in China; all three providers performed well in this regard during our EXPERTE.com review.
Is it legal to use a VPN in China?
Unless a VPN service has been explicitly approved by the Chinese government, it is prohibited. It's difficult to assess the current legal situation (as is the case with many issues in China), however, VPN usage most likely falls into a gray area. That being said, VPNs are widely used in China, and we aren't aware of any cases where someone has been punished simply for using a VPN (especially not foreign tourists). Therefore, VPN use in China is generally considered to be safe.

Author: Janis von Bleichert
Janis von Bleichert studied business informatics at the TU Munich and computer science at the TU Berlin, Germany. He has been self-employed since 2006 and is the founder of EXPERTE.com. He writes about hosting, software and IT security.