Bitdefender VPN Review 2023: Is Bitdefender for More Than Just Antivirus?


Ad disclaimer:
For links on this page, EXPERTE.com may earn a commission from the provider. This supports our work and has no influence on our editorial rating.
In the world of antivirus software, Bitdefender is a household name. These days, the malware killer has set its sights set on the VPN market. In this review, we'll let you know whether it has something to offer, or if it should stick to what it's good at.
What Is Bitdefender VPN?
Bitdefender VPN* is a VPN marketed by the similarly named Romanian cybersecurity company. Perhaps more well-known for its antivirus suite that stormed to first place in our EXPERTE.com assessment, the firm is now expanding into VPNs.
If you're a user of Bitdefender's antivirus program, you might already have experience with its VPN, since it comes integrated into some packages. The paid stand-alone version, which is offered for Windows, macOS, Android, and iOS, includes additional features. To put the program to the test, we assessed it on Windows and Android.
Bitdefender VPN Review
Installation and Features
8.0 / 10
Security and Privacy
4.0 / 10
Comes with practical features like split tunneling for websites and Autoconnect

Fast and comprehensive support
Poor at streaming (Netflix, Amazon Prime Video, Disney+, and BBC iPlayer)

DNS leak uncovered during our assessment

Has not submitted to any independent security audits
1.
Installation and Features
Since it's only possible to use Bitdefender VPN if you've booked a paid subscription, signing up for one of these is the first step. After that, you can download the VPN app for your system from your Bitdefender Central account, or, generate and send download links to your devices. From start to finish, the entire process only takes a few minutes.
Should you not be immediately willing to purchase a subscription, you can try the VPN out for seven days at no charge.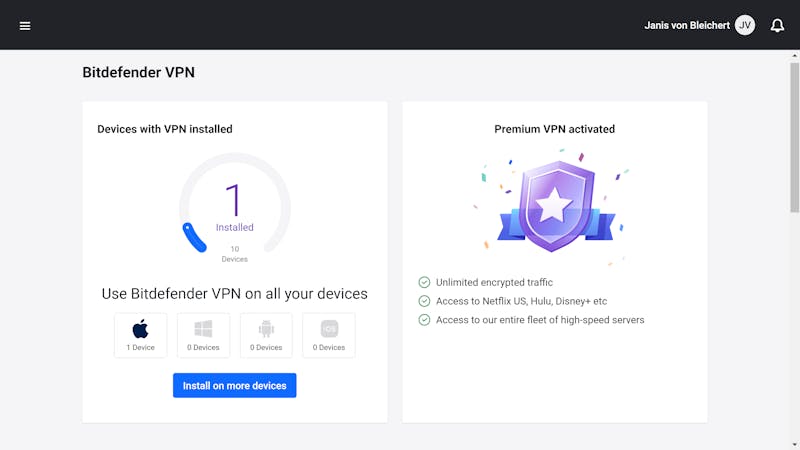 Download the right Bitdefender VPN app for your device.
Simple & Unobtrusive App
Bitdefender VPN's app strikes a good balance between being subtle and adhering to the typical usability standards expected of VPNs. On the home screen, you'll see a large connect button, clicking on which creates a VPN tunnel, as well as a server location menu. By default, this is set to Automatic, connecting you to the fastest, nearest server.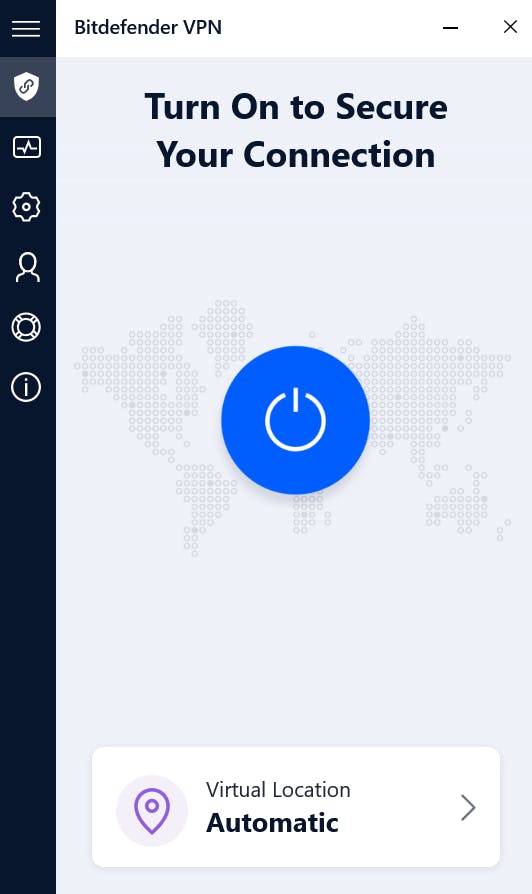 Bitdefender VPN's app looks like most of those offered by its competitors.
When choosing a different server, you can scroll through the list, or search for a specific country. No server categories are offered, and it isn't possible to mark favorites. In addition, you won't see a list of servers you've recently connected to either.
You'll also need to make your choice without additional information about the server's latency or performance. In this area, Bitdefender VPN offers the basics, but not much more.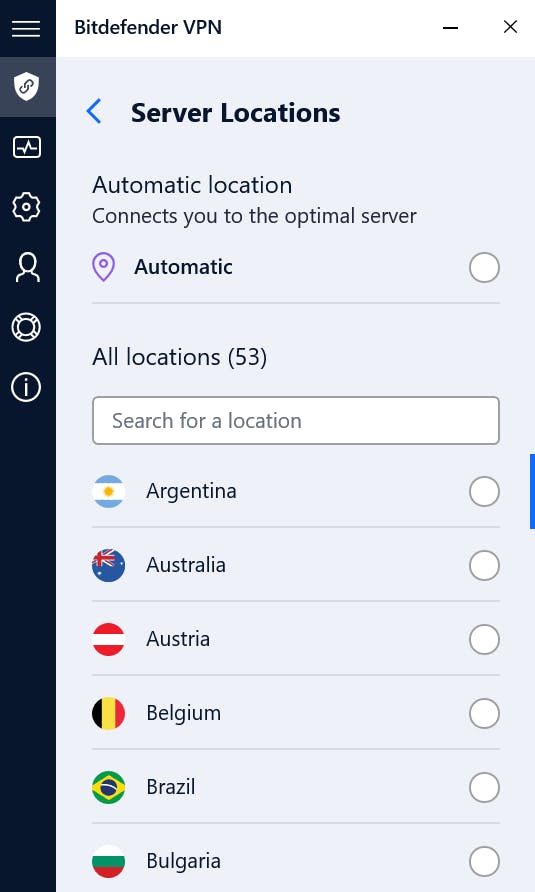 The ability to mark favorite servers and list them separately would be a welcome addition to Bitdefender VPN.
The dashboard displays some statistics about your VPN usage: In addition to seeing how long you've been connected to a specific server and how much traffic you've used (which Bitdefender VPN encrypts for you), there's also a ranking of your top server locations.
Practical Features Including Split Tunneling and Autoconnect
Under Settings, you'll find more of Bitdefender VPN's features. The app's kill switch can be accessed via the General tab. Make sure to activate this whenever you're doing anything sensitive on your VPN since this makes sure that your Internet connection is immediately severed if an issue with your VPN tunnel is detected.
In the same tab, you'll also find Bitdefender VPN's integrated ad blocker and anti-tracking tool. Beyond that, Bitdefender VPN offers split tunneling. With this, you're able to limit which apps use your VPN connection. One particularly nice aspect of Bitdefender VPN's version is that you can even specify which websites connect to your VPN tunnel.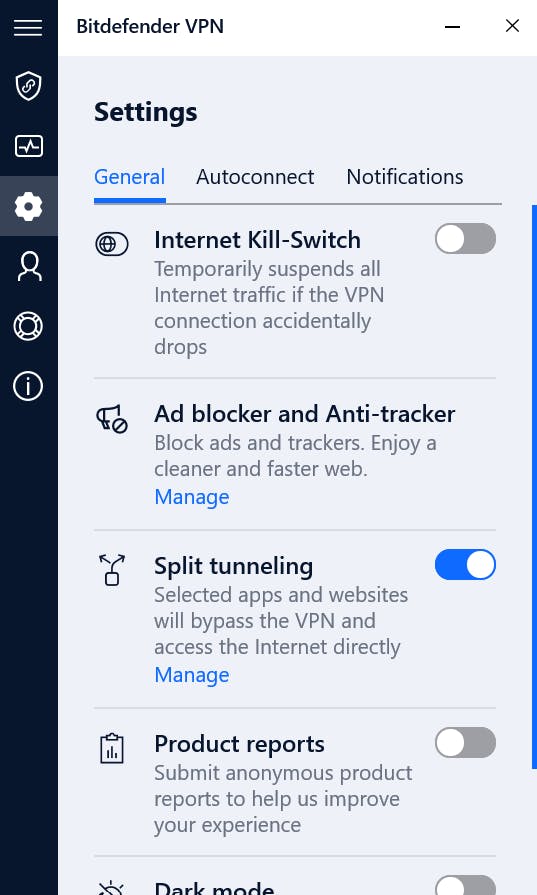 Bitdefender VPN offers the most important features expected from a VPN, including split tunneling.
We also liked Bitdefender VPN's Autoconnect feature, which automatically sets up a VPN connection whenever a certain action is taken. For example, if you opened a filesharing program, a VPN connection is created simultaneously.
Smartphone App
Bitdefender VPN also does well on the go, as its mobile app comes with all of the features we expect from a VPN, including Autoconnect, split tunneling, and the ad blocker. Unfortunately, the desktop version's shortcomings are also shared with the service's smartphone app, as you won't find a list of favorites or servers you've recently connected to.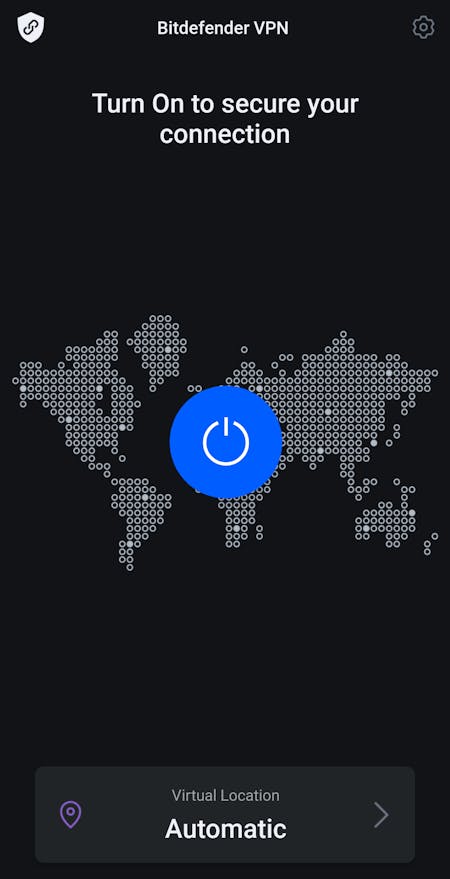 Bitdefender VPN's smartphone app offers access to all of the most important features found in the desktop counterpart.
Bitdefender VPN is a nimble, easy-to-use VPN, that comes with a number of practical features, such as Autoconnect. At the same time, it suffers from a few disadvantages, missing some components that are commonly found among its counterparts. Along with the inability to mark servers as favorites, you'll also have to make do without manually selecting which VPN protocol your connections use (but more on that below in the Security and Privacy part of this review).
In terms of useability, Bitdefender VPN is far from perfect but still manages to do well in a number of areas.
Installation and Features
8.0 / 10
Bitdefender VPN offers users access to more than 4,000 servers spread across 49 countries. In numerical terms, the provider is definitely a market leader. Still, server power isn't everything, as the geographic spread of these is equally important.
In the latter, Bitdefender VPN emerges as less impressive than a number of its competitors. Some of these, like ExpressVPN or CyberGhost, have a server presence in more than twice as many countries as the Romanian provider does.
As is the case with most VPNs, Bitdefender is over-represented in Europe and North America, with Africa, South America, and parts of Asia lacking coverage. At the end of the day though, the provider's server network is solid.
In our performance test, we compared the upload and download speeds of VPNs from our sample using a 1 GB/s test server in Frankfurt (Germany). Unfortunately, since Bitdefender VPN doesn't have any OpenVPN servers, we couldn't accurately assess its speeds using our regular method.
Instead, we manually evaluated the platform's upload and download speeds both with and without a VPN connection. For the latter, the upload speed was 52.89 MB/s, with a download speed of 21 MB/s. After establishing a VPN tunnel, these declined slightly to 51.23 MB/s and 20.87 MB/s, which isn't a significant change.

Bitdefender VPN had little impact on our upload or download speeds.
Of course, we repeated our tests, yielding similar results. While impressive, these are less representative than the metrics from our regular and more systematic testing method. Below, you can compare Bitdefender VPN's results to those of the providers from our sample that we could use our preferred method on.
1.
2.
3.
4.
5.
6.
7.
8.
9.
10.
11.
12.
13.
14.
15.
16.
17.
18.
19.
20.
A VPN's performance is determined by more than just its upload and download speeds. Specifically, we're talking about the 'perceived' connection speed. Luckily, in this area, we didn't have any complaints. After multiple hours of surfing and testing, we didn't notice any difference compared to our regular Internet connection. Similarly, there weren't any unexpected crashes or annoying captchas to deal with.
Is Bitdefender VPN Well-Suited for Streaming?
Unfortunately, our attempts at outwitting geoblocking on streaming services were unsuccessful with Bitdefender VPN. In fact, we weren't able to stream content from abroad on any of the four platforms we tried:
When using the BBC's Player, we couldn't access the video we wanted to stream, while with Netflix, Amazon Prime Video, and Disney+ we got into the streaming libraries but weren't able to watch content not otherwise offered in our region.
Put simply, gauging Bitdefender VPN's performance depends a lot on what your priorities are: For streaming, we cannot recommend it, however, its speeds are definitely impressive.
Bitdefender VPN utilizes 256-bit AES encryption (or, the highest level of encryption supported by both the client and server). For each session, a new encryption key is generated and then deleted once the session finishes.
The provider relies on the Hydra protocol, developed by AnchorFree (and also used by Hotspot Shield). This proprietary protocol looks good on paper, however, since it isn't open-source, it's far less transparent than OpenVPN or WireGuard.
Does Bitdefender VPN Store Logs?
Bitdefender advertises its no-logs guarantee rather prevalently on its website, as is to be expected from a VPN provider these days. However, promising something and actually doing it are two very different things, as a careful glance at the company's privacy policy makes abundantly clear:
Applying the data minimization principle, we collect for this service only randomly generated or hashed user and device IDs, IP addresses and randomly generated tokens to establish VPN connection for the sole purpose of providing the VPN service. For this service, we use Aura as data processor who processes data on behalf of Bitdefender in accordance with Bitdefender's instructions and for the sole purpose of providing VPN services to users.
Apart from the few grammatical missteps, the above also shows that Bitdefender VPN saves far more logs than many of its competitors. Even though they promise not to directly monitor their users' activity, this still puts the provider at a considerable disadvantage.
Leak Detected
Going from bad to worse, we also uncovered a leak when putting Bitdefender VPN through our battery of tests: No IPv6 or WebRTC issues were found, however, the DNS check reported a potential leak, owing to the discrepancy between the DNS providers.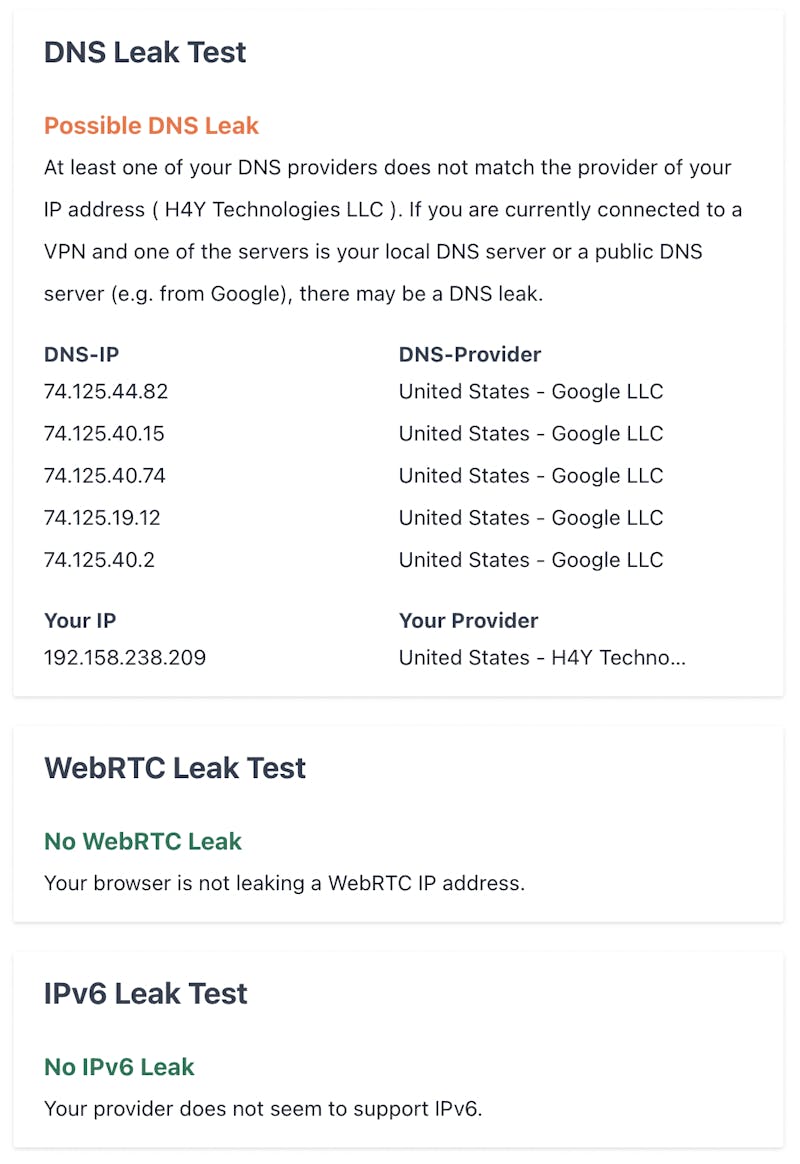 During our assessment, a possible DNS leak was detected.
Lamentably, that's not all: Bitdefender VPN has never submitted to an independent security audit, something that has come to be fairly common among VPN services.
A lack of transparency concerning user logs, the DNS leak, and no independent security audits all paint Bitdefender VPN in a rather poor light. This is particularly shocking considering the parent company's focus on cybersecurity.
Security and Privacy
4.0 / 10
Bitdefender VPN has its own dedicated area of Bitdefender's support center. There, you'll find some FAQs, which are filled with screenshots and gifs. The static content is solid, however, more would certainly be welcome.
Direct support is offered through Bitdefender Central and includes telephone hotline, chat, and email options. The former is available at any time on Mondays to Fridays, and we only had to wait 2 minutes before our call was picked up. When using the chat, a staffer responded within seconds, on a Sunday evening. Our email was also answered competently on the same day.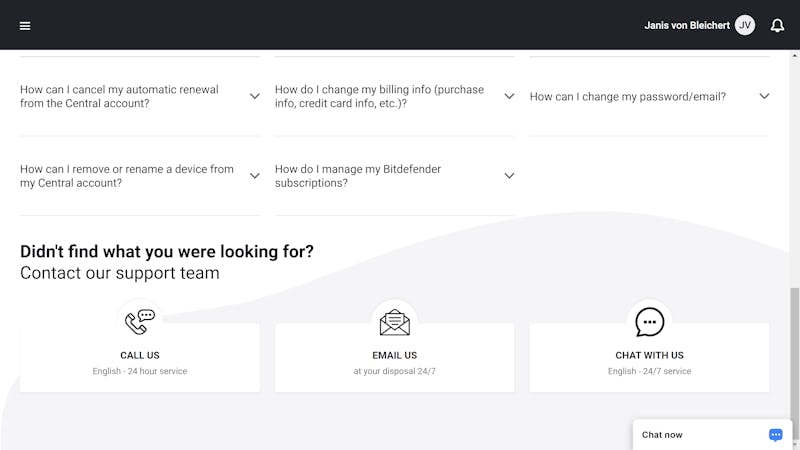 Bitdefender offers hotline, email, and chat support.
When set alongside a number of other VPN services, Bitdefender offers far more comprehensive and quicker support. It's good to keep in mind that its staffers are the most well-versed in the provider's antivirus products, however, the variety of different support channels and fast response times are excellent.
Bitdefender VPN is offered in a monthly or annual subscription, with the latter costing 60% less per month than the former. There's no difference in features between the two plans.
Below, we've provided an overview of the platform's rates:
1 year
1 month
Set-up Fee
$0.00
$0.00
Monthly Price
$2.50
$6.99
Contract Period (Months)
12
1
Limits
Data Volume
unlimited
unlimited
Number of Devices
10
10
Features
Number of Servers
4,000
4,000
Number of Countries
49
49
No Server Logs
P2P Allowed
Tor Access
Kill Switch
Protocols

Eigenentwicklung

Eigenentwicklung
In case you only want to try out Bitdefender VPN, you can install the trial version and use it for seven days, risk-free. You won't need to input a payment method for this.
Should you purchase a subscription, and not be satisfied, Bitdefender also offers a 30-day, money-back guarantee.
Conclusion
Data Volume
Devices
Protocols
Contract Period
Bitdefender 1 year
$2.50
monthly price
Visit Website*
We had high expectations for Bitdefender VPN, not least because its antivirus counterpart took the top spot in our EXPERTE.com assessment. Unfortunately, the developer's VPN offering is far off the podium, since it failed to impress us or set itself apart from its competitors in any of the categories we assessed it in.
Particularly in terms of security, we were disappointed in the multiple issues that the service suffers from: It collects more logs than necessary, has not submitted to an independent security audit, and seems to have a DNS leak issue. Making matters worse, during our assessment, we weren't able to stream content from abroad on any of the four platforms we use to test all of the VPNs in our sample.
Of course, there are a few positives, primarily, Bitdefender VPN's app. This comes with a number of practical features, such as split tunneling (for apps and websites), as well as detailed Autoconnect settings which you can tailor to your exact preferences. Ignoring the streaming platform issues, the VPN did post solid speeds. Still, at the end of the day, Bitdefender VPN finishes in the middle of our sample.
Installation and Features
8.0 / 10
Security and Privacy
4.0 / 10
Customer Reviews
Based on the customer reviews that we examined, Bitdefender achieves a "very good" average score, however, these seem to relate to the company itself, and not its VPN solution specifically. Reviews focusing soling on Bitdefender VPN are something of a rarity. Still, we've summarized our findings here:
Customer Ratings
421,458 Bewertungen
Visit Website*
We analyzed the reviews and ratings from various portals and found 421,458 ratings with an overall rating of 4.7 out of 5 .
Alternatives
Should you be on the lookout for a program that does everything a bit better than Bitdefender VPN, you might want to consider our best-in-class, NordVPN. The VPN from Panama blends speed, user-friendliness, and a variety of features into an excellent overall package that's hard to beat. Second and third place in our review series went to ExpressVPN and Surfshark, respectively.
Or maybe you'd prefer a free VPN? In that case, ProtonVPN is worth a look, as it's the only free VPN that we are aware of that doesn't limit the amount of data users receive.
Below, we've listed several of the best alternatives to Bitdefender VPN:
NordVPN is our number one VPN because it combines speed, ease-of-use, and functionality in a slick package that's also pretty affordable.
5,500+ servers, 60 countries
affordable 2-year package
9.4

excellent
Data Volume
Devices
Protocols
Contract Period
NordVPN 2-year plan
$3.79
monthly price
Visit Website*
30 days money-back guarantee
ExpressVPN can impress with a strong performance, a huge server network, and excellently designed applications, but this quality also comes at a higher price.
Data Volume
Devices
Protocols
Contract Period
ExpressVPN 12 Months
$6.67
monthly price
Visit Website*
30 days money-back guarantee
With its open source philosophy and extra security features, Proton VPN targets security-conscious VPN users. But thanks to its user-friendly interface and suitability for streaming, it's worth a look for a wide audience.
open source & external audits
2,900+ servers in 67 countries
free plan without data limit
9.1

excellent
Data Volume
Devices
Protocols
Contract Period
Proton VPN Free
$0.00
monthly price
Visit Website*
Free forever
Surfshark is one of the cheapest providers on the market, but it's a lot more than a great budget option: the relatively new VPN boasts strong protection, many features, and a great support with 24/7 live chat.
3,200+ servers in 100 countries
unlimited number of devices
many apps (Linux, FireTV, ...)
8.8

good
Data Volume
Devices
Protocols
Contract Period
Surfshark 24 months
$1.99
monthly price
Visit Website*
Get 83% Discount
HideMyAss' main claim to fame is its impressive server infrastructure, but the VPN also delivers solid speeds and handy features like its IP Randomizer. When it comes to streaming, however, it's not always the most reliable choice.
Data Volume
Devices
Protocols
Contract Period
HideMyAss! 36 months
$2.99
monthly price
Visit Website*
30 days money-back guarantee
* Ad disclaimer:
For links marked with an asterisk, EXPERTE.com may earn a commission from the provider. The commission has no influence on our editorial rating.

Martin Gschwentner majored in American Studies and Media Studies in Germany, the USA and France and works as a freelance editor in Paris. He is a doctoral student at the Institute for English and American Studies at the University of Paris Diderot, where he is researching the influence of money on US politics. On EXPERTE.com he writes about IT security, data protection and software for the self-employed and small businesses.

Translation: D Bare
Continue Reading
Reviews
Comparisons
Tools & Guides