VPN
Split Tunneling: What Is It and What Are Its Benefits?
VPNs offer so many advantages that it can be tempting to want to use them all the time. While secure VPN connections provide anonymity on the Internet and help bypass region restrictions, they aren't without drawbacks. For example, they can negatively impact speeds or the availability of local network devices.
Here's the good news: you can offset some of the disadvantages of a VPN with split tunneling, a feature that allows you to simultaneously use a VPN and your regular Internet connection. In this article, we'll explain how split tunneling works, when to use it, and which VPN providers offer it.
Split Tunneling is an advanced VPN feature that's increasingly offered by VPN services. In essence, it divides your Internet traffic between an encrypted VPN server (the tunnel) and your regular Internet connection.
Split tunneling is a great solution if you're looking to benefit from the security of a VPN tunnel without sacrificing the advantages provided by a direct Internet connection without a VPN detour.
As such, the feature comes in handy for:
Network devices
If you're experiencing problems with a network device, such as your printer, your VPN connection could be the culprit. With split tunneling, you can exclude local traffic from the VPN tunnel so that your printer and other devices aren't affected.
Accessing content from different regions at the same time
It can be frustrating when, as soon as you bypass one region restriction, another takes its place. In fact, if you connect to a VPN server to watch programs from abroad or circumvent censorship, some local content may become unavailable. Split tunneling prevents this from happening, making it possible to access material from different regions concurrently.
Guaranteeing secure downloads and fast connections simultaneously
A VPN tunnel can negatively impact your browsing speed. This is because VPNs encrypt your connection and route it through servers that are often located far away. With split tunneling, you can limit the VPN tunnel to certain applications, such as your torrent program, and simultaneously surf the web or stream videos at full bandwidth over your regular Internet connection.
Different Types of Split Tunneling
Split tunneling can vary slightly depending on the VPN service you're using. Essentially, there are two types:
App-based split tunneling: You can manually select which apps use/don't use the VPN connection.
URL-based split tunneling: You can restrict the VPN tunnel to certain URLs. This is usually managed in the VPN's browser extensions.
It's also important to consider how your VPN configures split tunneling. For this, two distinct possibilities exist:
Regular split tunneling: By default, your standard Internet connection is used, with it being possible to specify which apps and/or URLs are routed via the secure VPN tunnel.
Inverse split tunneling: The opposite of regular split tunneling; all Internet traffic goes through the VPN except for the apps and/or URLs that you manually exempt. This is the more secure option since the VPN connection is used by default.
Does Split Tunneling Pose Security Risks?
Generally speaking, split tunneling is secure. However, it's not as safe as a VPN connection lacking exceptions. After all, with the former, some services, apps, or URLs don't receive the protection afforded by your VPN tunnel. This negates the VPN's benefits, such as anonymizing your IP address.
That being said, you won't be taking on any additional risks compared to surfing without a VPN. You're always safer using split tunneling than you would be without a VPN altogether. Therefore, split tunneling is a good compromise that can help with the situations mentioned above, as long as you remain aware of what activity isn't shielded by your VPN.
How To Set Up Split Tunneling
Split tunneling is a bit different with each VPN provider. Typically, you'll find it in your VPN app''s settings, however, it might be referred to as something else.
Here's an example of how it works in VyprVPN's Android app:
1. Open the VyprVPN app. Tap Customize, at the bottom of the menu.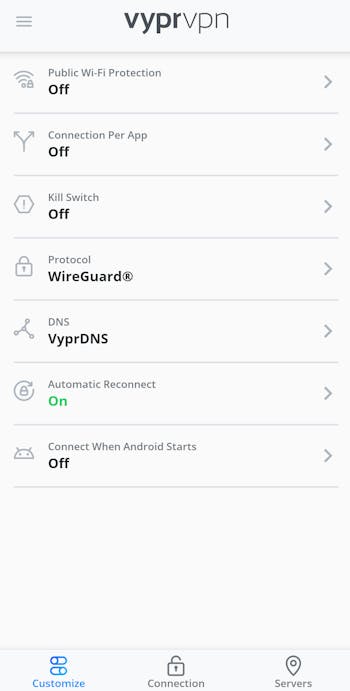 in VyprVPN, split tunneling is referred to as "Connection Per App".
2. Tap Connection Per App and toggle the switch from Off to On to activate split tunneling. Now, whenever you connect to VyprVPN, all apps will use its VPN tunnel by default. To add exceptions, simply select an app from the list.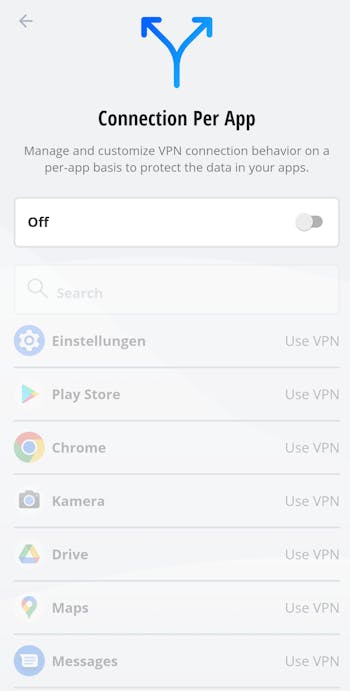 VyprVPN lists all the apps installed on your smartphone.
3. To exempt an app from the VPN tunnel, tap Bypass VPN.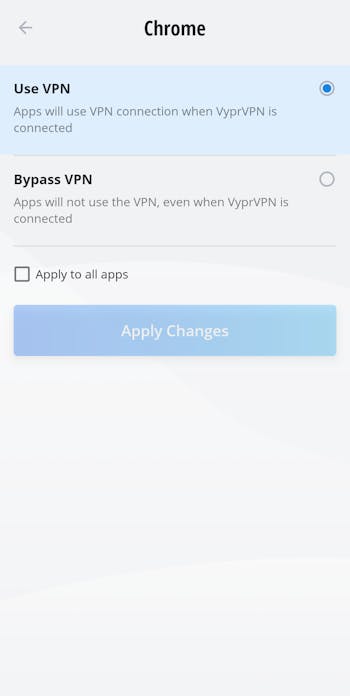 You can choose which apps use the VPN tunnel.
4. When you tap Connect in the main menu, all of your apps, with the exception of those which you excluded, will use the VPN connection.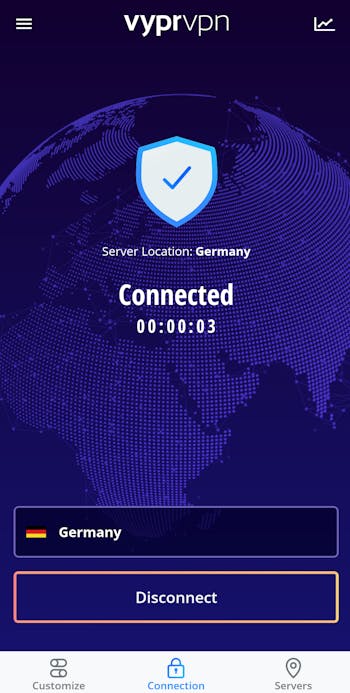 All apps that you didn't exclude will now use your VPN connection.
The Best VPNs With Split Tunneling
Split tunneling is a popular feature that's now offered by many VPN services. However, it's often limited to specific apps or operating systems. As such, you should always consult the provider's website to ensure that they make split tunneling available for the devices you'll be using.
Our comprehensive review of 22 VPN providers can help you make an informed decision. Here's what we consider to be the Top 3 VPN services with split tunneling:
5400+ servers, 60 countries
Inexpensive 2-year package
NordVPN combines speed, user-friendliness and functionality into a coherent overall package that is also fairly affordable.
Data volume
Devices
Protocols
Contract Period
NordVPN 2-year plan
$3.29
monthly price
Visit Website »
30 days money-back guarantee
NordVPN was the overall winner of our review thanks to its high score in our speed test, provision of a wide range of features, and user-friendly apps—all at a rather affordable price.
They offer app-based split tunneling on Windows, Android, and Android TV.
Installation and Features
4.7 / 5
Security and Privacy
4.7 / 5
160 cities in 94 countries
30-day money-back guarantee
ExpressVPN impresses with strong performance, a huge server network and excellently designed applications, but this quality also comes at a higher price.
Data volume
Devices
Protocols
Contract Period
ExpressVPN 12 Months
$8.33
monthly price
Visit Website »
30 days money-back guarantee
ExpressVPN is a relatively pricey service, but in return, you'll get excellent apps and top speeds, along with a large server network and solid customer support.
Split tunneling is available for Mac, Windows, and Android in ExpressVPN's apps. As is the case with NordVPN, it's also app-based.
Security and Privacy
4.7 / 5
Installation and Features
4.3 / 5
3200+ servers in 65 countries
Unlimited number of devices
Many apps (Linux, FireTV, ...)
Very cheap on the 24-month plan
Surfshark is one of the cheapest providers on the market, but besides the price also impresses with strong protection, many features and a great support with 24/7 live chat.
Data volume
Devices
Protocols
Contract Period
Surfshark 24 months
$2.49
monthly price
Visit Website »
Get 83% Discount
With a fine price-performance ratio, Surfshark offers an excellent overall package that combines top performance, plenty of features, a solid server network, and great apps. Their most affordable plan is a real bargain too, only costing around $3 per month.
Of course, Surfshark comes with split tunneling, at both the app level and for select URLs. Dubbed "Bypasser", only Windows and Android users can take advantage of this feature to date, however, other operating systems are slated for integration.
Installation and Features
4.7 / 5
Security and Privacy
4.0 / 5
Split tunneling is a useful VPN feature that makes it possible to select which apps or websites use your secure VPN tunnel. For instance, you could download through your VPN while browsing faster over your regular Internet connection.
Not every VPN supports split tunneling (and those that do, don't offer it for every device/operating system). The best VPN services with split tunneling include EXPERTE.com's top performers: NordVPN, ExpressVPN, and Surfshark. The first two serve up app-based split tunneling which allows you to exclude specific apps from the VPN tunnel, while Surfshark also lets you add exceptions for select URLs.
We evaluated split tunneling in detail during our review of 22 VPN services. You can find the results in our EXPERTE.com comprehensive VPN comparison.
What is split tunneling?
Split tunneling is a VPN feature that makes it possible to include or exclude specific apps or URLs from your VPN tunnel. This is useful for a number of reasons, such as if network devices aren't compatible with your VPN tunnel, or if you only need a secure and anonymous connection for some services.
What types of split tunneling are there?
Generally speaking, there are two types of split tunneling: app-based, where the VPN connection is configured for certain apps, and URL-based, in which the VPN tunnel is used for specific websites.
Is split tunneling secure?
You'll browse more securely with split tunneling than without a VPN, but less securely than you would with an end-to-end VPN connection without exceptions. The security risks of split tunneling only affect those connections not made through your VPN tunnel and pose the same risks as browsing without a VPN in general. So long as you're aware that some of your activity is not anonymized by your VPN, split tunneling is a safe compromise.

Author (German Version): Martin Gschwentner
Martin Gschwentner majored in American Studies and Media Studies in Germany, the USA and France and works as a freelance editor in Paris. He is a doctoral student at the Institute for English and American Studies at the University of Paris Diderot, where he is researching the influence of money on US politics. On EXPERTE.com he writes about IT security, data protection and software for the self-employed and small businesses.

Translator & Editor: Lisa Torelli-Sauer