Best NordVPN Alternatives 2023: A Review of 27 VPN Services


Translation
Lisa Torelli-Sauer
Ad disclaimer:
For links on this page, EXPERTE.com may earn a commission from the provider. This supports our work and has no influence on our editorial rating.
A VPN has a variety of good uses, from enabling anonymous Internet surfing and providing secure access to public WLAN connections to bypassing annoying geo-blocks. NordVPN, the top performer in our EXPERTE.com VPN comparison, offers all of the above, delivering what we consider to be the best overall package on the market. However, NordVPN is just one of many VPN services.
For our EXPERTE.com VPN comparison, we rigorously assessed 27 providers from all over the world. In the end, NordVPN emerged atop our winners' podium, but don't discard the other services! In some areas, NordVPN's competitors are enhancing their capabilities to challenge the provider's position.
Best NordVPN Alternatives: Our TOP 5
Below, we'll introduce you to some of the best alternatives to NordVPN:
1.
Bargain Subscription: Surfshark
Surfshark is one of the cheapest providers on the market, but it's a lot more than a great budget option: the relatively new VPN boasts strong protection, many features, and a great support with 24/7 live chat.
3,200+ servers in 100 countries
unlimited number of devices
many apps (Linux, FireTV, ...)
8.8

good
Data Volume
Devices
Protocols
Contract Period
Surfshark 24 months
$1.99
monthly price
Visit Website*
Get 83% Discount
In the age of subscriptions, we gladly pay for various services on a monthly basis, with a VPN just being another cost to add to the list. NordVPN is competitively priced, however, lurking at #3 in our VPN ranking is an even more affordable rival: Surfshark.
Launched in 2017, Surfshark is relatively young compared to many of the other providers we assessed, however, it didn't shy away from the competition across the five categories we assessed our sample in. On the contrary: In our performance evaluation, Surfshark secured second place, making it almost on par with NordVPN.
In addition, Surfshark comes with an excellent package of features that allow split tunneling, multihop routing, static IP addresses, while also including an ad blocker.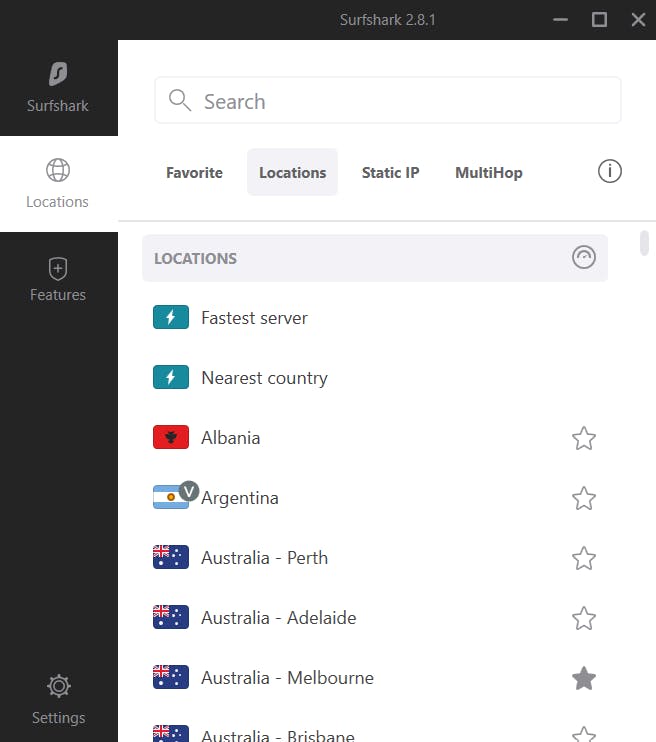 Surfshark offers an excellent price-performance ratio.
Surfshark is impressive all-round, and their most affordable 2-year package costs $1 less per month than a NordVPN subscription for the same duration. In fact, considering that the handling and features are similar to those offered by NordVPN, Surfshark's price-performance ratio is actually better.
Nice variety of features, including split tunneling
Server network could be a bit larger
Installation and Features
9.4 / 10
Security and Privacy
8.0 / 10
2.
Better Server Network: ExpressVPN
ExpressVPN can impress with a strong performance, a huge server network, and excellently designed applications, but this quality also comes at a higher price.
Data Volume
Devices
Protocols
Contract Period
ExpressVPN 12 Months
$6.67
monthly price
Visit Website*
30 days money-back guarantee
One of the five criteria we looked at in every VPN review from our series was the size of the provider's server network. Here, not only does the sheer number of servers matter, but also how many countries those servers are located in.
NordVPN boasts an impressive server count, with more than 5,400 servers across 59 countries. However, our runner-up, ExpressVPN, has a network with more global reach: its more than 3,000 servers can be found in an impressive 94 countries.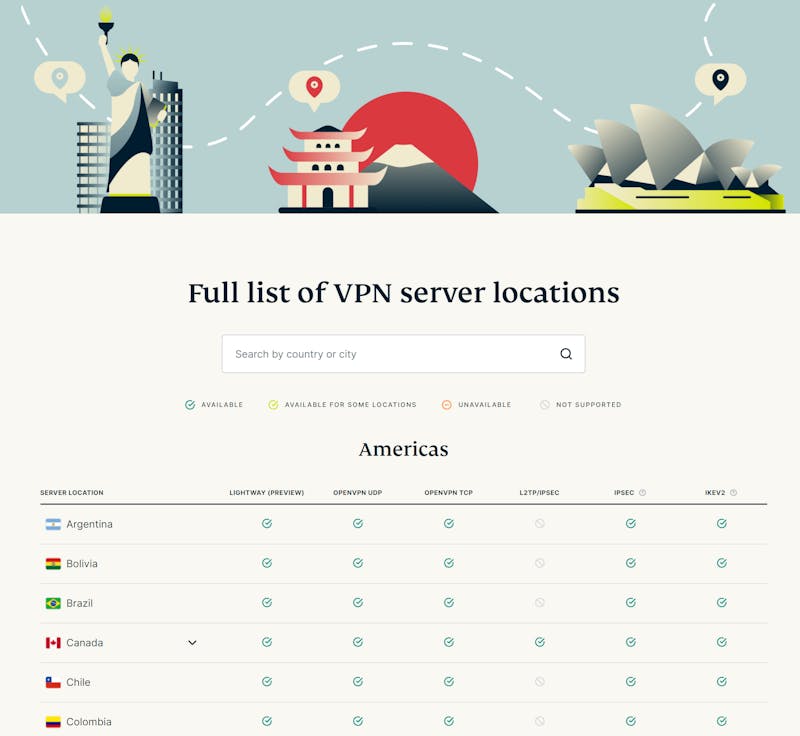 ExpressVPN scores points for its impressive server network.
A good server network isn't the only argument in favor of ExpressVPN; its apps are user-friendly, the service performs excellently, and support through live chat is never more than a few seconds away.
However, ExpressVPN's 12-month subscription (its longest and most affordable) costs nearly double what a year with NordVPN does. Privacy enthusiasts have also expressed skepticism ever since ExpressVPN's 2021 purchase by Kape Technologies, which achieved notoriety in the past as a malware distributor under the name Crossrider.
Huge server network with 160 locations across 94 countries

Straightforward app with a focus on performance
Offers few extra features

Questionable parent company
Security and Privacy
9.4 / 10
Installation and Features
8.6 / 10
3.
Enhanced Privacy: ProtonVPN
With its open source philosophy and extra security features, Proton VPN targets security-conscious VPN users. But thanks to its user-friendly interface and suitability for streaming, it's worth a look for a wide audience.
open source & external audits
2,900+ servers in 67 countries
free plan without data limit
9.1

excellent
Data Volume
Devices
Protocols
Contract Period
Proton VPN Free
$0.00
monthly price
Visit Website*
Free forever
VPNs offer a multitude of advantages, but for many users, they're primarily a tool for maintaining security and privacy. For that reason, we assess the security promises each provider from our samples makes, whether they have any IPv6, DNS, and WebRTC leaks, as well as what conclusions external audits have reached.
In this regard, NordVPN does almost everything right: Their program supports the WireGuard-based protocols NordLynx and OpenVPN, and our assessment didn't uncover leaks. In addition, NordVPN promises to never store any logs that reveal personal or identifying information and the provider has submitted to external audits.
As good as this is, ProtonVPN goes a few steps further: Since 2020, all of its apps have been open-source. As a result, outsiders can easily access the source code and check it for vulnerabilities. ProtonVPN has also submitted to independent security audits.
ProtonVPN also offers dedicated security features. One example is "Secure Core", which, in addition to the normal VPN connection, allows you to route your traffic over secure servers in countries with strong data privacy laws.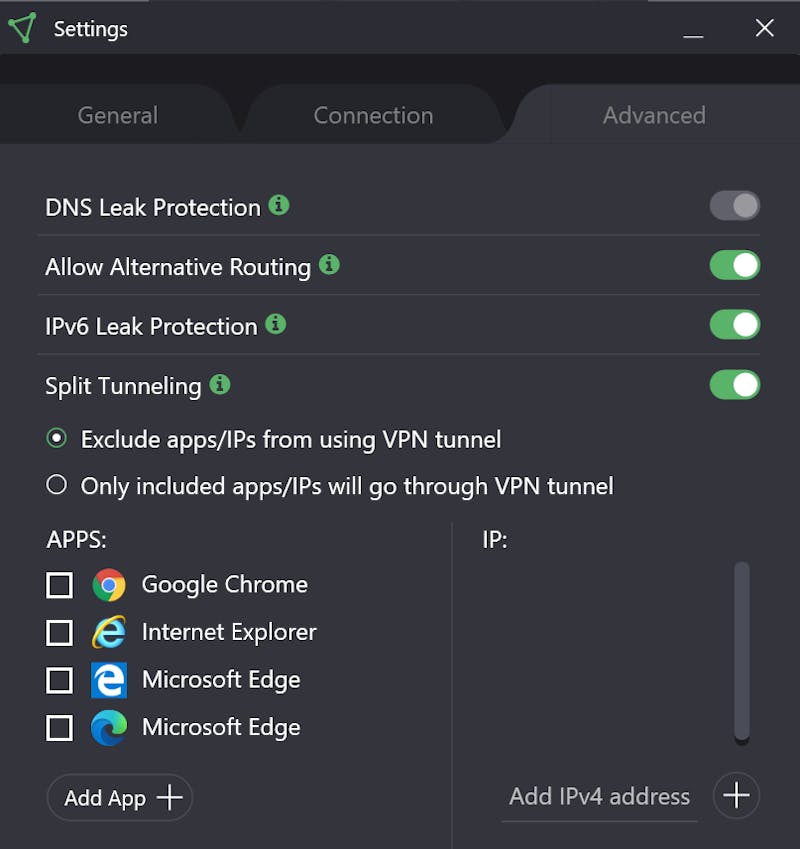 ProtonVPN places an especially high premium on their users' security and privacy.
For all of the above reasons, ProtonVPN is an excellent choice for those who are particularly concerned about their privacy. In addition, there's a free plan with no data or speed limits. However, in some respects, such as its performance or server network, ProtonVPN can't keep up with the leading VPN providers from our sample.
Security features, such as "Secure Core"

User-friendly applications
Server network still growing
Installation and Features
10 / 10
Security and Privacy
10 / 10
Hide.me secures its place in our top 10 with good to very good grades in all test categories. The app is filled to the brim with handy features, the performance is solid, and with 10 GB of data per month, the free tier is also worth a look.
78 locations in 49+ countries
many features, incl. split tunneling
free plan with 10 GB monthly
8.4

good
Data Volume
Devices
Protocols
Contract Period
hide.me Free
$0.00
monthly price
Visit Website*
Free forever
The best VPN services in our comparison, including NordVPN, are mostly premium, meaning that you'll need to pay to use them. However, we also encountered some providers which offer free versions of their VPNs according to the "freemium" model. With these, access to the basics is provided at no cost, however, for extra bells and whistles, some of which are essential, you'll either be greatly limited or unable to access them. All of this is meant to encourage free users to upgrade to a premium (paid) subscription.
Most free VPNs aren't particularly useful owing to their limited data volume (ProtonVPN is an exception in this regard). However, beyond the Swiss provider, you can also check out the relatively generous free version of hide.me that doesn't have any speed limits and comes with 10 GB of data per month.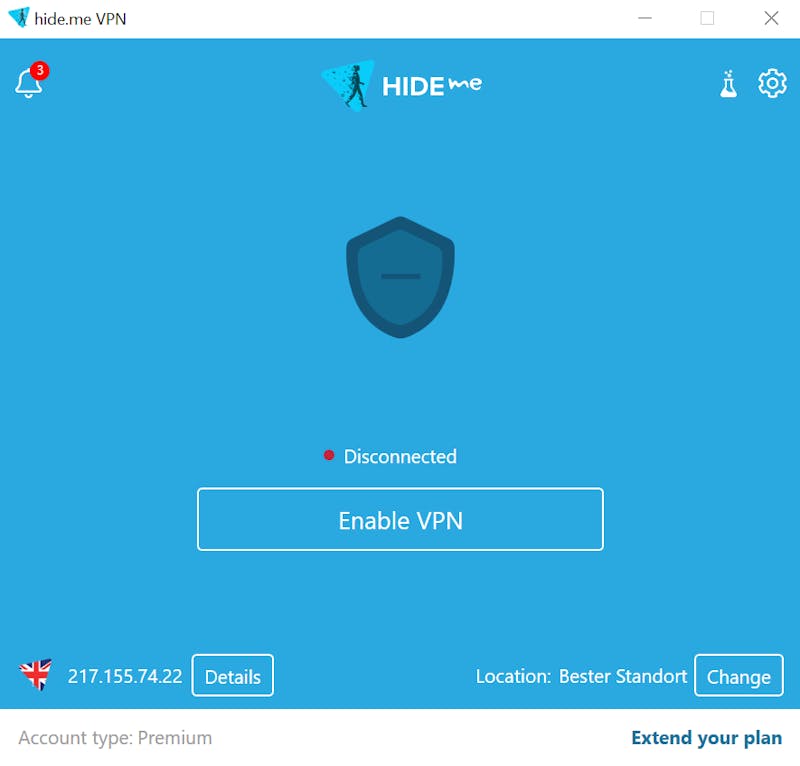 Apart from ProtonVPN, hide.me offers the most attractive free plan among all of the programs we reviewed.
hide.me also gets points for achieving good-very good scores in most of our assessment categories, and their feature-filled plan which includes split tunneling and Stealth Guard. There's room for improvement in the server network though, as we had to deal with a few severed connections during our evaluation.
User-friendly applications

Nice selection of options and settings
Server network is "only" good

No independent audit since 2015
Installation and Features
10 / 10
Security and Privacy
7.4 / 10
Other Alternatives
HideMyAss
HideMyAss offers a server network that's second to none, and the service includes interesting features such as automatic IP switching. HideMyAss is also one of the fastest VPN services on the market according to performance tests. They could modernize their applications a bit, however, they are user-friendly.
HideMyAss' main claim to fame is its impressive server infrastructure, but the VPN also delivers solid speeds and handy features like its IP Randomizer. When it comes to streaming, however, it's not always the most reliable choice.
Data Volume
Devices
Protocols
Contract Period
HideMyAss! 36 months
$2.99
monthly price
Visit Website*
30 days money-back guarantee
Private Internet Access
Private Internet Access combines multifunctionality and granular settings with user-friendliness. As such, its VPN client can be personalized to a considerable extent thanks to its modular approach. However, performance-wise, the provider isn't very impressive. Moreover, Private Internet Access also belongs to Kape Technologies.
Besides its huge server network and its audit-proofed 'no logs policy', Private Internet Access sets itself apart from the competition with its module-based app that can be adjusted to each users' habits.
34,000+ servers in 84 countries
performance could be better
8.2

good
Data Volume
Devices
Protocols
Contract Period
Private Internet Access 3 Years
$2.19
monthly price
Visit Website*
CyberGhost
Just like ExpressVPN and Private Internet Access, CyberGhost belongs to Kape Technologies. If that doesn't discourage you from using it (there are VPN services with much cleaner records), you'll find elegant apps, a large server network, and solid support.
CyberGhost offers a lot of bang for the buck, especially in the 2-year plan. It has lots of features, even more servers, and quick support including live chat. We had occasional performance issues, however.
7 simultaneous connections
fast support with live chat
7.8

good
Data Volume
Devices
Protocols
Contract Period
CyberGhost 2 Years
$2.37
monthly price
Visit Website*
45 days money-back guarantee
Windscribe
Windscribe is, in our opinion, the third-best free VPN solution on the market after ProtonVPN and hide. me. With Windscribe, you get a monthly data volume of up to 10 GB distributed across all synchronized devices. In addition, you can access ten different server locations, which is more than offered by ProtonVPN. However, Windscribe falls behind in terms of performance.
With its flexible pricing and a generous free plan, Windscribe is a solid option for budget-minded VPN users. It also has a nice, lean app with lots of features – but sadly, its performance can't keep up.
Data Volume
Devices
Protocols
Contract Period
Windscribe Free
$0.00
monthly price
Visit Website*
Download for free
Overall Results
In our VPN comparison, we evaluated 27 providers across five categories: "Installation and Usage", "Server Network", "Performance", "Security and Privacy", and "Customer Support". In the end, NordVPN came out on top because it achieved the highest overall score. You can find a complete ranking of all 27 providers here:
Conclusion
Already there exist a multitude of VPN services to choose from, and the number of options is only growing. NordVPN* may deliver the best overall package on the market at an attractive price (especially when it comes to their 2-year package). However, there are a number of comparable VPN services that cost even less (Surfshark), are free (ProtonVPN, hide.me), or that offer even more security features (ProtonVPN).
For those reasons, depending on your budget and the settings and features you need in a VPN, there are plenty of good choices and solid deals apart from the best-in-show of our EXPERTE.com review. The comprehensive review of 27 popular VPN services can be found in our comprehensive EXPERTE.com VPN comparison.
NordVPN is our number one VPN because it combines speed, ease-of-use, and functionality in a slick package that's also pretty affordable.
5,500+ servers, 60 countries
affordable 2-year package
9.4

excellent
Data Volume
Devices
Protocols
Contract Period
NordVPN 2-year plan
$3.79
monthly price
Visit Website*
30 days money-back guarantee
* Ad disclaimer:
For links marked with an asterisk, EXPERTE.com may earn a commission from the provider. The commission has no influence on our editorial rating.

Martin Gschwentner majored in American Studies and Media Studies in Germany, the USA and France and works as a freelance editor in Paris. He is a doctoral student at the Institute for English and American Studies at the University of Paris Diderot, where he is researching the influence of money on US politics. On EXPERTE.com he writes about IT security, data protection and software for the self-employed and small businesses.

Translation: Lisa Torelli-Sauer
Continue Reading
Reviews
Comparisons
Tools & Guides