Avira Phantom VPN Review: Good Choice In 2023?


Ad disclaimer:
For links on this page, EXPERTE.com may earn a commission from the provider. This supports our work and has no influence on our editorial rating.
The growing number of people interested in protecting their data online has seen developer after developer move to add VPNs to their portfolios. Avira, the German software company best known for its antivirus suite, has also jumped on the VPN bandwagon.
Below, we'll let you know whether PhantomVPN is just Avira's attempt to match its competitors, or if it represents a useful addition to the VPN market.
What Is Avira Phantom VPN?
PhantomVPN* is Avira's contribution to the world of VPNs. Based in Germany, the antivirus specialist not only seeks to protect its users from malware, but also from authorities, corporations, and hackers. In the hotly-contested VPN market, Phantom is something of a newcomer, albeit one with a leg up given Avira's know-how in IT security.
Avira Phantom VPN Review
Installation and Features
6.6 / 10
Security and Privacy
4.6 / 10
Simple and user-friendly applications

Free version with 500 MB of data per month
Hasn't undergone an independent security audit

Not reliable for streaming content from abroad

DNS leak identified during testing
1.
Installation and Features
Phantom is available for Windows, macOS, Android, and iOS. All other operating systems and devices, like routers or streaming sticks, are not supported, since the software cannot be manually configured. A browser extension for Chrome also exists, which is automatically installed along with the desktop client.
It is somewhat frustrating that Avira's hub always runs when Phantom is open, and that you'll need to make changes to the latter through the former. For those who only use Phantom, the extra Avira hub icon in the taskbar is unnecessary.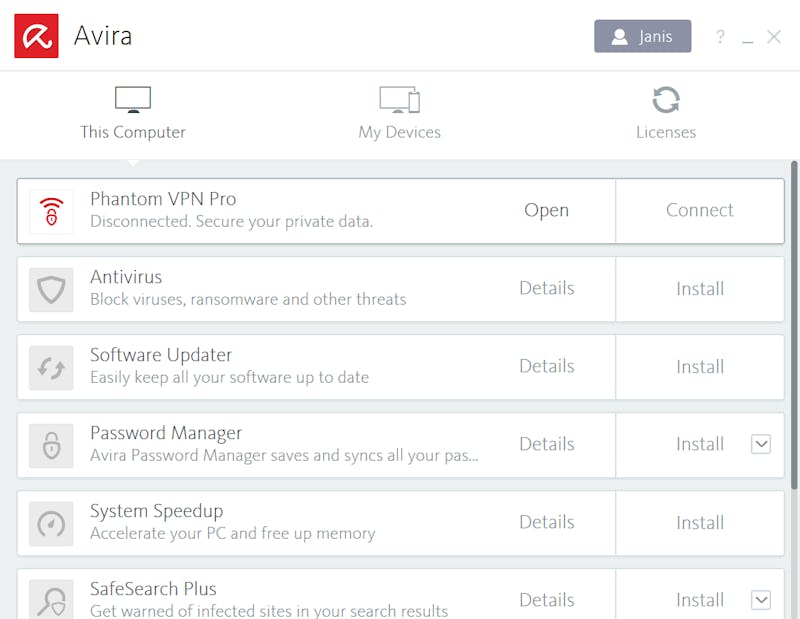 The Avira hub helps to keep track of all of your Avira software.
With its slim interface and quick-connect functionality, there's no denying that the app draws a great deal of inspiration from successful VPN providers. Unfortunately, Phantom's client is less elegant than those of NordVPN or ExpressVPN. At first glance, everything you need appears to be available: With a click on the green button, you can connect to the best possible server, or, based on your settings, a specific country.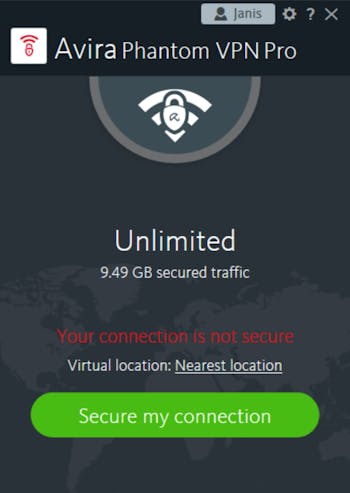 You can alternate between light and dark mode in Phantom's desktop client.
To view a complete list of server locations, click on "Nearest location." Owing to the somewhat limited number of servers, marking individual ones as favorites, or sorting them based on categories is not possible. As a trade-off, ping information showing the expected performance of each server is provided.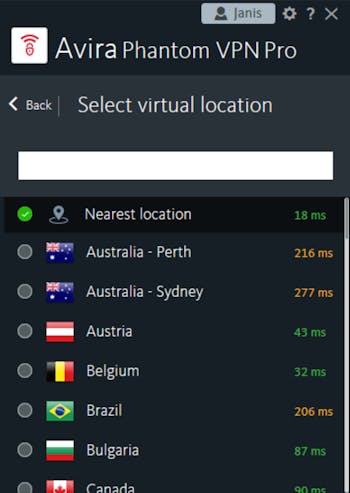 On the list of server locations, you can view all available servers, as well as the (estimated) connection quality.
You can adjust settings by clicking on the gear symbol in the upper right of the interface. It's only possible to configure quick-connect or specify an automatic VPN connection for certain networks. There's also a kill switch and an integrated malware blocker. Split tunneling is not supported, and users are tied to the protocols that come pre-installed with the software.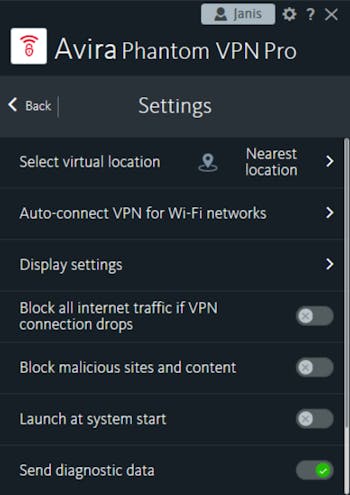 When it comes to features, Phantom only provides the basics.
Mobile App
For smartphone users, options are even more limited, since there's no kill switch. Apart from that though, the mobile app basically works similarly to the desktop client. While on the go, automatic VPN connections for specific networks can be set, allowing you to always surf securely. In addition, it's also possible to make use of the new WireGuard protocol, but more on that below.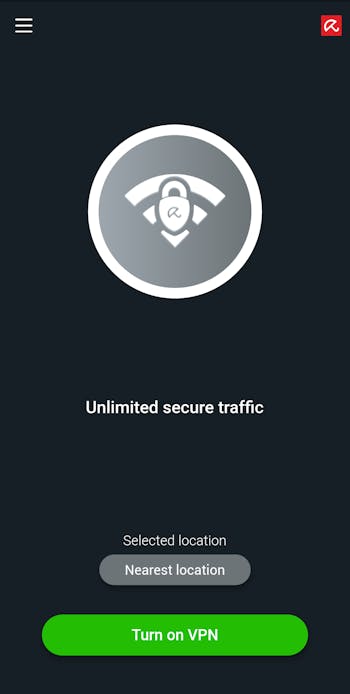 In terms of appearance, the smartphone app is almost identical to the desktop client.
Phantom provides most of the basic VPN functions, but beyond that, doesn't offer a lot of extras or configuration options. As such, it's clear that Avira is trying to appeal primarily to its existing customers who are curious about VPN connections.
'Simple' is perhaps the best way to describe Phantom's approach: It's user-friendly but lacks its competitors' bells and whistles. We don't have a problem with that, but features like split tunneling, or the ability to manually configure connections on devices like routers should be included.
Installation and Features
6.6 / 10
Phantom relies on 1,400 servers across 34 countries. As might be expected, the majority of these are in Europe and North America, with additional outposts in Japan, Israel, and Brazil.
The number of servers is respectable, even if their geographic spread could do with a bit more variety. All the same, we anticipate more servers finding their way into the provider's network.
Since Avira doesn't offer any OpenVPN servers (only making them accessible via app), we couldn't evaluate the provider using our standard testing protocol. Instead, we manually tested the service: With a VPN connection, our download and upload speeds were 184.74 MB/s and 9.49 MB/s, respectively. Without a VPN connection, these were a bit higher, at 205.5 MB/s and 11.44 MB/s, respectively.

During evaluation, Avira Phantom VPN logged excellent speeds.
Taken alone, these results are excellent, allowing Avira Phantom VPN to compete with the fastest services from our sample. However, it's important to keep in mind that such speeds are far less telling since we couldn't measure an average over an extended time period, as was the case with the others.
Below, we've provided the upload and download speeds from all providers in our sample for comparison
1.
2.
3.
4.
5.
6.
7.
8.
9.
10.
11.
12.
13.
14.
15.
16.
17.
18.
19.
20.
Our experience surfing with Phantom VPN confirmed the impression its speeds hinted at. Its VPN tunnels were reliable and stable, and we didn't have to complete any annoying captchas when using Google.
Unfortunately, in terms of streaming, Phantom VPN stuck out like a sore thumb. Whether Netflix, Amazon Prime Video, Disney+, or the BBC's iPlayer, our tunnels didn't fool anybody. As a result, we weren't able to access any content from abroad.
Should you not want or intend to use a VPN for streaming content from abroad, Avira Phantom VPN's speed makes it a good choice.
Phantom VPN encrypts all connections using AES 256 with the OpenVPN protocol. Since our last check-in (2019), WireGuard has overtaken OpenVPN as the gold standard in terms of protocols, however, this is only offered in Phantom VPN's Android app.
On Windows, the client passed all of our VPN leak tests. On macOS, we didn't encounter any IPv6 or WebRTC issues, however, when connecting to a VPN server in the US, a DNS leak was identified. DNS queries were forwarded to our local provider's (Vodafone) DNS server rather than to the VPN's DNS server. This means that despite using a VPN tunnel, we weren't actually surfing anonymously.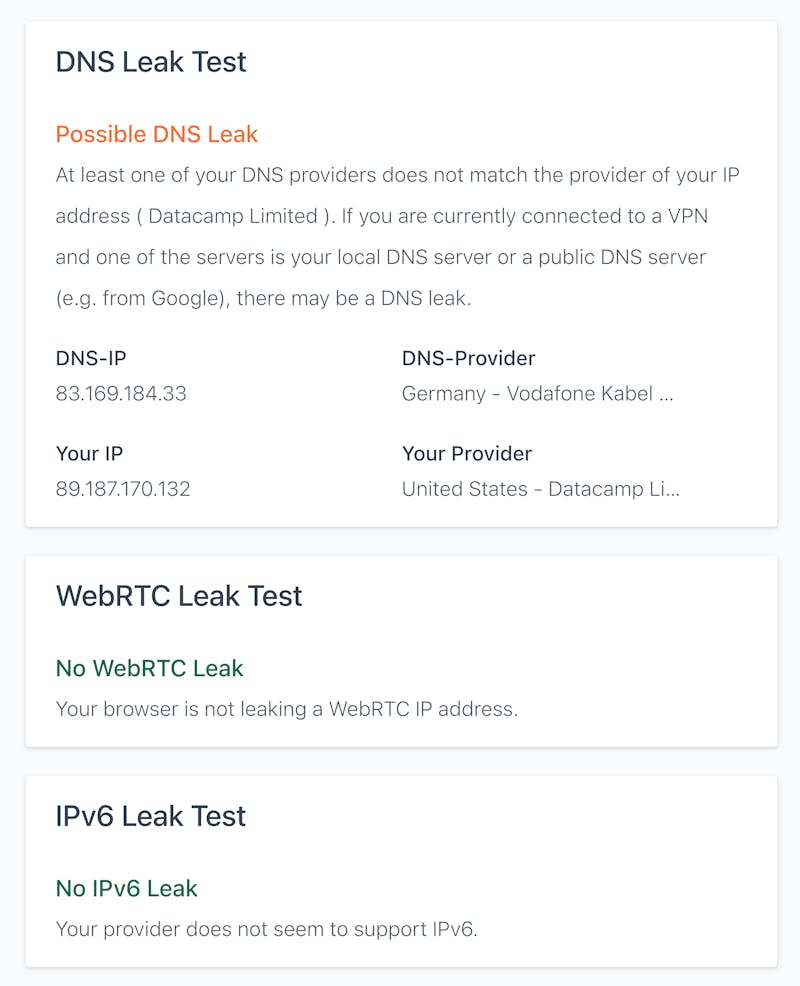 Unfortunately, we identifies a DNS leak during testing.
And how about privacy?
Phantom VPN's privacy policy promises that Avira does not sell data to third parties. Beyond that, personal data, such as your IP address, is not saved, and you can decide whether you'd like to send diagnostic information to the company. In spite of all this, Avira doesn't offer a strict "no-log" guarantee, meaning that you should exercise caution when using the service.
According to Avira, they last submitted to an independent audit in 2016, the year of Phantom VPN's launch. Since we couldn't find the accompanying report, we have to take the provider at their word, and that's what third-party audits are meant to prevent. Until Avira makes more information available about its past audits, we aren't comfortable relying on them.
Owing to Avira's location, its products must conform to German data protection laws. Germany is a party to the 14 Eyes intelligence-sharing agreement and passes information to other countries and security services. This contrasts with VPNs that are based in Panama or the British Virgin Islands since these countries are beyond the reach of international security services.
We're disappointed: In addition to the DNS leak, the lack of an independent security audit is just another strike against the service, particularly since other providers, like TunnelBear or NordVPN, show that regular third-party audits are possible. Since Avira is in the IT security business, it's unfortunate that we were able to identify so many risks and dangers.
Security and Privacy
4.6 / 10
In terms of support, Avira's website only offers a knowledge base containing some FAQs that aren't all that extensive. Generally speaking, Avira suffers from the same problem as most larger software developers, namely, that their individual programs have fairly superficial support centers.
A sub-forum for VPN users is offered, containing, as of the time of writing, around 300 entries. Like the FAQs, these can be full-text searched.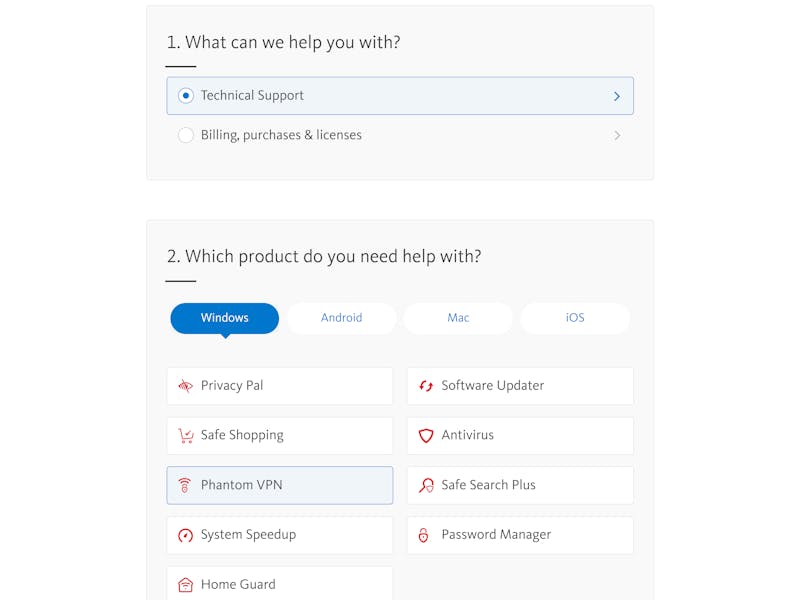 Telephone and email support is offered.
Direct support is available either by telephone or by support ticket. Unfortunately, Avira does not offer a live support chat. The contact hours for telephone queries are very limited, Monday to Friday, 2-5 PM. Other VPNs staff their phone lines more regularly.
We received an answer to our support ticket query after five days. Anyone keen on fast support should look elsewhere.
In terms of price, Phantom's pro-version costs about as much as our sample's average. Alongside its monthly and yearly subscription plans, a mobile subscription is also available, should you only need a VPN for your smartphone or mobile device. The service can be paid for with credit cards, direct debit, or PayPal.
Free
Pro (12 months)
Pro (1 month)
Set-up Fee
$0.00
$0.00
$0.00
Monthly Price
$0.00
$6.50
$10.00
Contract Period (Months)
0
12
1
Limits
Data Volume
0.5 GB
unlimited
unlimited
Number of Devices
unlimited
unlimited
unlimited
Features
Number of Servers
150
150
150
Number of Countries
34
34
34
No Server Logs
P2P Allowed
Tor Access
Kill Switch
Protocols

OpenVPN

OpenVPN

OpenVPN
Unlike other VPN providers, Avira offers a free version of Phantom VPN, which includes 500 MB of data per month. On the plus side, users can connect as many devices as they'd like, and use any of the service's servers.
Smartphone users can take advantage of a 7-day trial version, and any subscriber can get their money back within 30 days if not entirely satisfied.
Conclusion
Installation and Features
6.6 / 10
Security and Privacy
4.6 / 10
Avira Phantom VPN is solid in a number of aspects but doesn't really set itself apart from the competition. The server network could do with a bit more variety, its support is one-dimensional, and several important features are missing. Some of these issues could be written off as growing pains, as the creation of good server infrastructure, in particular, takes a long time.
On the plus side, Phantom VPN demonstrates excellent speeds, even if we couldn't assess these in the same manner as the rest of our sample owing to the absence of OpenVPN servers. The free version is another highlight. Should you already use other Avira programs, Phantom would not be a horrible addition to your suite.
Overall though, there are simply too many providers offering better packages for Phantom VPN to make a lasting mark.
Data Volume
Devices
Protocols
Contract Period
Avira Free
$0.00
monthly price
Visit Website*
Customer Ratings
But, what do users think about Phantom VPN? We compiled reviews from several reputable aggregators to provide you with an overview.
Customer Ratings
708,262 Bewertungen
Visit Website*
We analyzed the reviews and ratings from various portals and found 708,262 ratings with an overall rating of 4.7 out of 5 .
Alternatives
If Phantom VPN is appealing on account of its free version, a few alternatives exist. Hide.me offers 2 GB of volume and the ability to connect to 5 server locations per month, with Hotspot Shield and ProtonVPN providing similar packages.
Should you be willing to pay for a reliable VPN service, look no further than our speed demons NordVPN and ExpressVPN. Both perform extremely well, have sizable server networks, offer more features, and have submitted to external audits.
The best alternatives to Phantom VPN can be found below:
NordVPN is our number one VPN because it combines speed, ease-of-use, and functionality in a slick package that's also pretty affordable.
5,500+ servers, 60 countries
affordable 2-year package
9.4

excellent
Data Volume
Devices
Protocols
Contract Period
NordVPN 2-year plan
$3.49
monthly price
Visit Website*
30 days money-back guarantee
ExpressVPN can impress with a strong performance, a huge server network, and excellently designed applications, but this quality also comes at a higher price.
Data Volume
Devices
Protocols
Contract Period
ExpressVPN 12 Months
$8.33
monthly price
Visit Website*
30 days money-back guarantee
With its open source philosophy and extra security features, Proton VPN targets security-conscious VPN users. But thanks to its user-friendly interface and suitability for streaming, it's worth a look for a wide audience.
open source & external audits
2,900+ servers in 67 countries
free plan without data limit
9.1

excellent
Data Volume
Devices
Protocols
Contract Period
Proton VPN Free
$0.00
monthly price
Visit Website*
Free forever
Surfshark is one of the cheapest providers on the market, but it's a lot more than a great budget option: the relatively new VPN boasts strong protection, many features, and a great support with 24/7 live chat.
3,200+ servers in 100 countries
unlimited number of devices
many apps (Linux, FireTV, ...)
8.8

good
Data Volume
Devices
Protocols
Contract Period
Surfshark 24 months
$2.49
monthly price
Visit Website*
Get 83% Discount
HideMyAss' main claim to fame is its impressive server infrastructure, but the VPN also delivers solid speeds and handy features like its IP Randomizer. When it comes to streaming, however, it's not always the most reliable choice.
Data Volume
Devices
Protocols
Contract Period
HideMyAss! 36 months
$2.99
monthly price
Visit Website*
30 days money-back guarantee
* Ad disclaimer:
For links marked with an asterisk, EXPERTE.com may earn a commission from the provider. The commission has no influence on our editorial rating.

Martin Gschwentner majored in American Studies and Media Studies in Germany, the USA and France and works as a freelance editor in Paris. He is a doctoral student at the Institute for English and American Studies at the University of Paris Diderot, where he is researching the influence of money on US politics. On EXPERTE.com he writes about IT security, data protection and software for the self-employed and small businesses.

Translation: D Bare
Continue Reading
Reviews
Comparisons
Tools & Guides