VPN
Perfect Privacy Review 2022: Secure, But Too Slow?
Total anonymity online - is it possible? According to Perfect Privacy, the answer is a resounding yes. The Swiss VPN provider is relatively unknown compared to its competitors, however, that doesn't stop it from making big promises. Our test shows how close Perfect Privacy comes to perfection, and where its offerings are less than stellar.

Perfect Privacy is a Swiss VPN provider that wants nothing to do with sleek apps or elegant user interfaces. Instead, the comparably small service (on the market since 2008) has been able to gather a sizable following owing to its focus on privacy and open-source software.
Review
04/2021
satisfactory
Visit Website
Security and Privacy
4.7 / 5
Installation and Features
3.3 / 5
Loaded with security features
Visually unappealing applications
2.
Installation and Features
Perfect Privacy only offers Windows, macOS, and Android clients. The lack of a unique iOS client is questionable, and better coverage would be desirable. All the same, detailed guides for manual installation on iPhones and other devices and operating systems are available from the provider's website.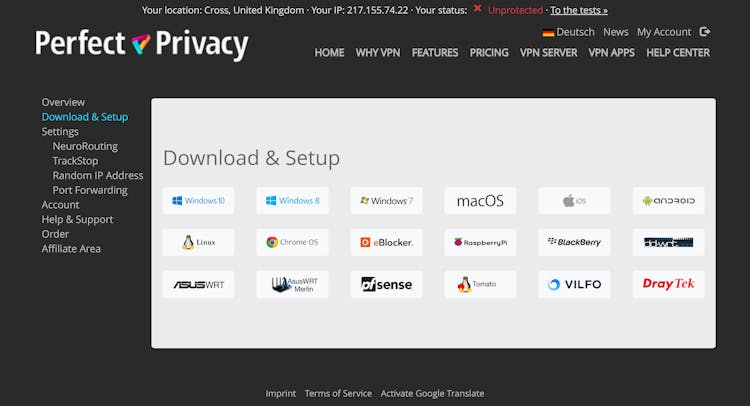 Perfect Privacy doesn't offer many apps, instead providing a wealth of installation guides.
After installation of the Windows client, we were taken to the app's settings menu, where we entered our user data.
Here, seeing the unappealing interface of the app for the first time, it slowly dawned upon us why the provider's selection of supported operating systems and clients is so limited: Perfection doesn't appear to be Perfect Privacy's goal. The Windows client is little more than a list of available servers in a light-gray text box, lacking even standard features that boost user-friendliness, like a quick connect function.
Such features might be considered unnecessary owing to the app's emphasis on performance: Perfect Privacy does display all servers at once, making it easy to connect to them by clicking on the electrical plug symbol next to each.
Available bandwidth is always shown via the green bar, and ping latency can be tested if desired. Servers can be sorted alphabetically, by country or location, by ping quality, or by their available bandwidth. No options exist to mark servers as favorites, however, since the list is relatively small, this isn't really necessary.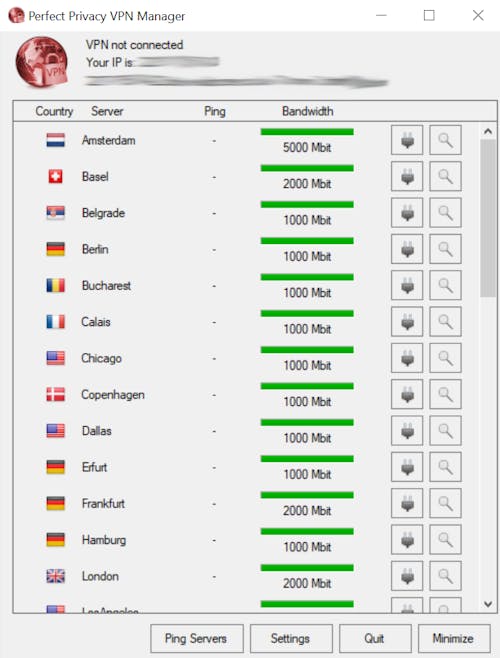 Anyone looking for a visually-appealing interface is barking up the wrong tree with Perfect Privacy.
While Perfect Privacy's desktop client appears unimpressive on the surface, under the hood, it becomes much more intriguing. In addition to the typical options such as auto-start, you can find a number of security features in the Settings menu, meshing well with the provider's emphasis on privacy.
For example, different DNS settings can be configured, and if desired, manually set. The kill switch, which automatically severs connections if your VPN connection is disrupted (and worked flawlessly during testing), can be found, somewhat hidden, under "Firewall".
"Cascading" is particularly interesting: This feature allows for up to four VPN connections to be linked together, making your connection more secure, but also slower. "Stealth VPN" makes it possible to circumvent censorship using SSH tunneling in restrictive countries (like China).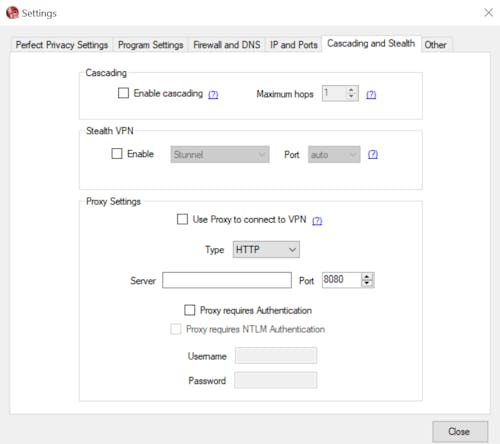 Don't let its looks deceive you: Perfect Privacy offers extensive security features.
Further data security features can only be activated through the provider's website. NeuroRouting ensures that your traffic flows as directly as possible, whereas TrackStop allows for specific domains to be blocked on the VPN level. Some of Perfect Privacy's security features are impressive, and make the provider worth a look for those who are concerned with preserving their anonymity online.
There is, however, one notable absence among the provider's security features, namely, split tunneling. This allows users to choose which apps, programs, or websites use their VPN tunnel, and which stay on the regular network. According to the developers, they couldn't find a "clean" way to integrate this, so they decided not to include it.
Those who use VPNs for streaming won't be particularly satisfied with Perfect Privacy: Netflix, the BBC's iPlayer, Disney+, and Amazon Prime Video saw through our connection attempts, blocking us from streaming foreign content. Unlike its competitors, Perfect Privacy does not offer dedicated networks for streaming.
Mobile App
Perfect Privacy's Android app is similar to its desktop client, sticking to the basics: A scrollable list shows which servers are available, however, in contrast to the desktop app, no information about server usage is provided.
Apart from that, the mobile app doesn't have a great deal of functionality: The only setting which can be configured is the use of a default VPN profile. You won't find split tunneling or be able to select protocols either. Those security features which are configured via the provider's website are also applied to your mobile VPN connections. You can turn on "Always-On VPN" so that all of your traffic is routed through a VPN connection.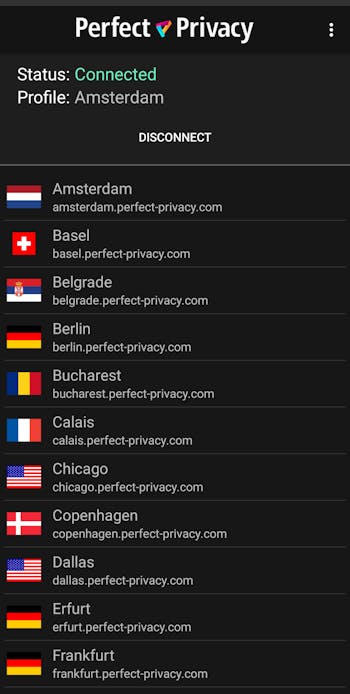 Perfect Privacy's Android app is highly functional.
Perfect Privacy's developers decided against endowing their product with a sleek design or practical features like dedicated streaming and P2P servers. Some might argue, they did so in order to offer the most secure and anonymous VPN experience possible. This caters to a specific client base, and apparently, not without success: For those who place a premium on privacy, a solid package of features and services awaits behind the app's plain appearance. If Perfect Privacy could package its features more appealingly, and extend its desktop features to the mobile app, the provider might be able to step out from behind the VPN heavyweights.
Score: 3.3 / 5
Perfect Privacy has around 60 servers spread across a total of 25 countries. The majority of these are in Europe, however, the US, Hong Kong, Egypt, Japan, and Singapore also host servers.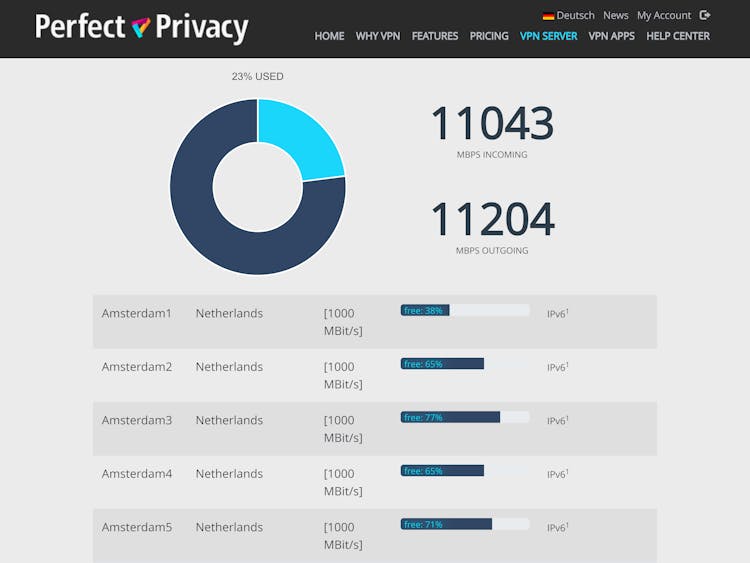 You can check server statuses on Perfect Privacy's website.
Neither the number of servers nor the depth of Perfect Privacy's network is impressive. In contrast to other providers, some of which have thousands of servers across hundreds of countries, the less said about Perfect Privacy's network, the better.
Score: 1 / 5
The speed of all VPNs which we evaluated was gauged using a server in Europe with a 1 GB/s connection. We assessed random Perfect Privacy servers in the US and Germany at different times of the day to more accurately determine their performance. More information concerning our methodology can be found in our VPN speed test.
The table below shows the average results from the last 365 days, arranged in order of download and upload speed (descending):
1.

195.6 Mbit/s

Download

42.9 Mbit/s

Upload

2.

191.7 Mbit/s

Download

42.8 Mbit/s

Upload

3.

200.8 Mbit/s

Download

18.1 Mbit/s

Upload

4.

175.0 Mbit/s

Download

42.0 Mbit/s

Upload

5.

167.7 Mbit/s

Download

16.1 Mbit/s

Upload

6.

166.5 Mbit/s

Download

16.3 Mbit/s

Upload

7.

153.9 Mbit/s

Download

27.0 Mbit/s

Upload

8.

155.1 Mbit/s

Download

21.2 Mbit/s

Upload

9.

154.8 Mbit/s

Download

18.8 Mbit/s

Upload

10.

156.4 Mbit/s

Download

15.0 Mbit/s

Upload

11.

113.1 Mbit/s

Download

41.4 Mbit/s

Upload

12.

129.4 Mbit/s

Download

18.4 Mbit/s

Upload

13.

109.6 Mbit/s

Download

37.6 Mbit/s

Upload

14.

126.3 Mbit/s

Download

18.8 Mbit/s

Upload

15.

118.6 Mbit/s

Download

18.4 Mbit/s

Upload

16.

109.7 Mbit/s

Download

17.0 Mbit/s

Upload

17.

82.2 Mbit/s

Download

43.3 Mbit/s

Upload

18.

79.9 Mbit/s

Download

38.8 Mbit/s

Upload

19.

106.0 Mbit/s

Download

12.2 Mbit/s

Upload

20.

99.3 Mbit/s

Download

12.7 Mbit/s

Upload
When testing was conducted, Perfect Privacy clocked a download speed of 99.3 MB/s and an upload speed of 12.7 MB/s, bestowing upon it the dubious 'honor' of last place in our ranking. One likely explanation is that the provider's robust security features come at the cost of connection speed.
The diagram below shows Perfect Privacy's average speeds over the past months.
All the same, speed isn't everything. During surfing, our connections were stable and without interruption, so long as we didn't try to watch any foreign content on streaming platforms. We also noticed that Perfect Privacy required more time than other providers to establish connections or disconnect from servers.
Overall, when it comes to performance, we were disappointed with Perfect Privacy. It's fine and well that security and privacy are prioritized, but the sacrifices in terms of speed and usage are simply too great.
Score: 2.7 / 5
Perfect Privacy's special security features have already been mentioned above. TrackStop, NeuroRouting, Cascading, or port-forwarding make this provider "perfect" for privacy-obsessed users, going far beyond its competitors' measures. But even in terms of basics, Perfect Privacy takes security to the next level: Its kill switch is referred to as a "firewall", and DNS protection is also integrated. In this regard, Perfect Privacy is multi-faceted and highly functional.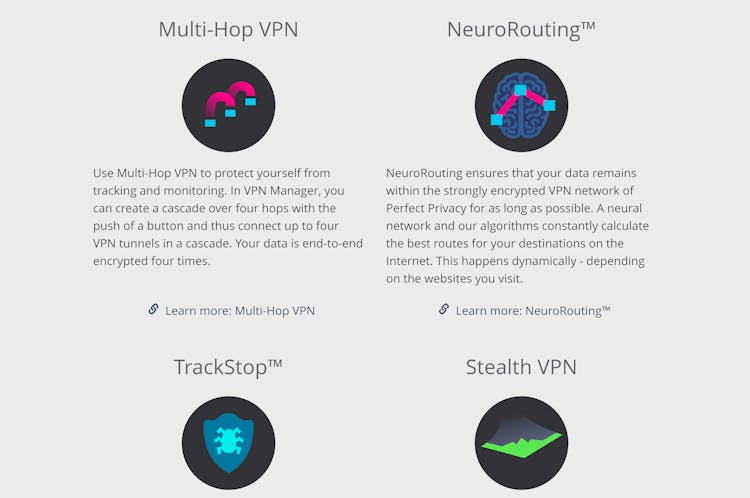 Perfect Privacy scores with its multi-faceted security features.
Beyond that, Perfect Privacy uses the industry-standard, AES 256-bit encryption, whereby, other types of encryption can be selected from (for example, in case your CPU is not able to handle AES 256).
In terms of protocols, IPSEC and OpenVPN can be used. Unfortunately, WireGuard, the new gold standard among VPN protocols is not supported.
The program passed our VPN leak tests for IPv6, DNS, and WebRTC without any difficulties.
It's also worth mentioning that Perfect Privacy doesn't include any trackers that send data to marketing or analytical companies.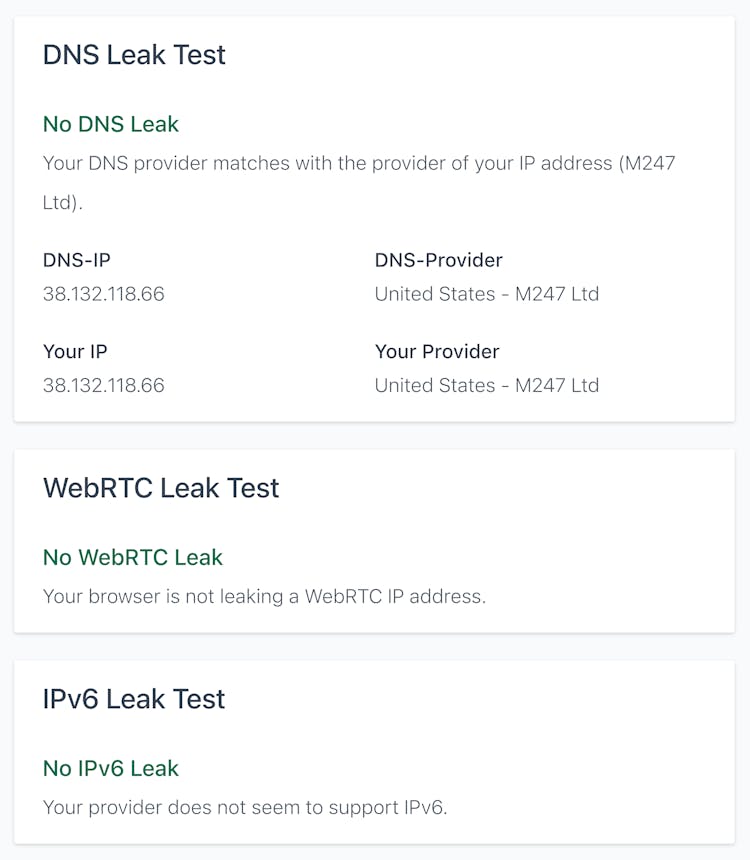 Perfect Privacy successfully navigated our leak tests.
Since "privacy" is part of Perfect Privacy's name, we had high expectations for the program and were not disappointed. Like most VPN providers, Perfect Privacy attracts customers with its promise not to log any user activity. This promise should always be taken with a grain of salt: VPN providers are not mandated to allow independent audits of their operations, with some "No-Logs" promises already revealed as meaningless.
With regards to Perfect Privacy, we have no reason to doubt their sincerity, confirmed in part by their good ratings on data security-oriented websites. More importantly though, in 2016, the company passed a trial by fire when two of its servers were seized by Dutch authorities, with no user data subsequently compromised. Of course, an independent audit, such as those submitted to by NordVPN or ExpressVPN, would be even better.
Perfect Privacy is headquartered in Switzerland, however, according to the company's website, its "technical operations" are based in Panama, operating under the name Webinvest International SA. Switzerland has strict data protection laws, while Panama is a favorite among VPN providers owing to its independence from West European and US laws.
As the Latin saying goes, nomen est omen (the name is a sign), and Perfect Privacy demonstrates this wonderfully. Perfect Privacy offers a solid choice for users who want, more than anything, to safeguard their privacy and anonymity online.
Score: 4.7 / 5
Perfect Privacy's help center provides a number of guides for installing its clients, as well as FAQs and a forum, the latter of which appears to be rather inactive. For those who want to speak directly to a support team member, emails or support tickets can be sent. The provider lacks a live chat, which, owing to the size of the company, shouldn't come as a big surprise.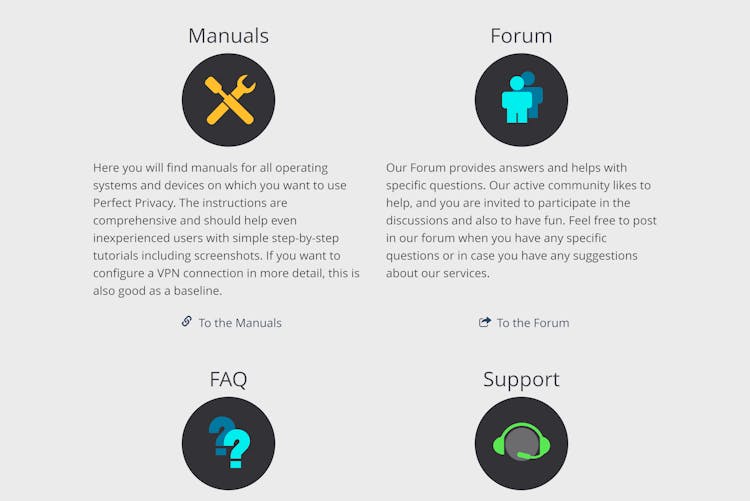 DIY types will find plenty of guides, however, for direct support, you'll have to file a ticket.
Our test query was answered in 18 hours. Perfect Privacy's customer support is decent, but live chat would be a be a big plus.
Score: 3.7 / 5
Without a doubt, Perfect Privacy is one of the more expensive VPNs we reviewed. As is common practice with VPNs, the longer the subscription, the lower the price. Still, the service's 2-year package remains expensive even then, costing three times as much as most of its competitors. Put differently, prospective users will have to dig deep into their wallets for the extra security features.
A current price list can be found here:
2 years
1 year
1 month
Pricing
Set-up fee
$0.00
$0.00
$0.00
Effective monthly price
$8.96
$10.00
$12.99
Contract period (months)
24
12
1
Limits
Data volume
unlimited
unlimited
unlimited
Number of Devices
unlimited
unlimited
unlimited
Features
Number of servers
50
50
50
Number of countries
23
23
23
No server logs
P2P allowed
Tor access
Kill Switch
Protocols

OpenVPN

PPTP

SOCKS5

IKEv2

IPSec

L2TP

OpenVPN

PPTP

SOCKS5

IKEv2

IPSec

L2TP

OpenVPN

PPTP

SOCKS5

IKEv2

IPSec

L2TP
Subscriptions can be paid by credit card, PayPal, or Bitcoin. Free trials aren't offered, and subscribers have a 7-day, money-back guarantee.
Review
04/2021
satisfactory
Visit Website
Security and Privacy
4.7 / 5
Installation and Features
3.3 / 5
We wanted to love Perfect Privacy because the Swiss company is one of the VPN providers we can most identify with. Behind its less-than-appealing app are powerful security tools, enticing to any data privacy activist, and, unfortunately, uncommon among other providers.
At the same time, 'performance' is the name of the game in the world of VPNs, and here, Perfect Privacy is far off the mark. Since the service is more expensive than even the best-performing VPNs we evaluated, it's hard for us to recommend it. In its present form, Perfect Privacy seems to be designed for a niche audience, namely, those fixated on security.
Data volume
Devices
Protocols
Contract Period
Perfect Privacy 2 years
$8.96
monthly price
Visit Website »
In order to provide you with a more rounded picture of Perfect Privacy, we gathered user reviews from several reliable online aggregators.
Review
18,098 Ratings
excellent
We analyzed the reviews and ratings from various portals and found 18,098 ratings with an overall rating of 4.6 out of 5 .
Show sources
Should you want a better-performing VPN, you're in luck: Every other provider from our sample registered faster speeds than Perfect Privacy. First place in terms of speed went to NordVPN, which was also our overall winner. You won't have to make any sacrifices in terms of security either, as the service has allowed its "No-Logs" commitment to be checked by independent auditors.
5400+ servers, 60 countries
Inexpensive 2-year package
NordVPN combines speed, user-friendliness and functionality into a coherent overall package that is also fairly affordable.
Data volume
Devices
Protocols
Contract Period
NordVPN 2-year plan
$2.99
monthly price
Visit Website »
30 days money-back guarantee
160 cities in 94 countries
30-day money-back guarantee
ExpressVPN impresses with strong performance, a huge server network and excellently designed applications, but this quality also comes at a higher price.
Data volume
Devices
Protocols
Contract Period
ExpressVPN 12 Months
$8.33
monthly price
Visit Website »
30 days money-back guarantee
3200+ servers in 65 countries
Unlimited number of devices
Many apps (Linux, FireTV, ...)
Very cheap on the 24-month plan
Surfshark is one of the cheapest providers on the market, but besides the price also impresses with strong protection, many features and a great support with 24/7 live chat.
Data volume
Devices
Protocols
Contract Period
Surfshark 24 months
$2.49
monthly price
Visit Website »
Get 83% Discount
1200+ servers in 55 countries
Headquarters in Switzerland
Open Source & external audits
Data volume
Devices
Protocols
Contract Period
ProtonVPN Free
$0.00
monthly price
Visit Website »
30 days money-back guarantee
290 locations in 210 countries
Data volume
Devices
Protocols
Contract Period
HideMyAss! 36 months
$2.99
monthly price
Visit Website »
30 days money-back guarantee

Author (German Version): Martin Gschwentner
Martin Gschwentner majored in American Studies and Media Studies in Germany, the USA and France and works as a freelance editor in Paris. He is a doctoral student at the Institute for English and American Studies at the University of Paris Diderot, where he is researching the influence of money on US politics. On EXPERTE.com he writes about IT security, data protection and software for the self-employed and small businesses.

Translator & Editor: D Bare