VyprVPN Review 2023: A Powerful Alpine VPN?


Ad disclaimer:
For links on this page, EXPERTE.com may earn a commission from the provider. This supports our work and has no influence on our editorial rating.
Switzerland is known for many things: The Alps, chocolate, watches, and now VPNs? VyprVPN*, along with ProtonVPN is the second Swiss service to make it into our sample. But does it help to reliably and safely navigate the Internet? Below, we'll let you know.
What Is VyprVPN?
VyprVPN Review
Installation and Features
8.0 / 10
Security and Privacy
7.4 / 10
Independently verified "no log" policy

Fast support and 24/7 live chat
Split tunneling only on macOS and Android

Most recent audit conducted in 2018
1.
Installation and Features
VyprVPN is only available as a paid subscription. Prior to downloading, you'll need to create a Golden Frog account and select a monthly or yearly subscription. After you've set up your account, installing and starting to use VyprVPN is relatively easy.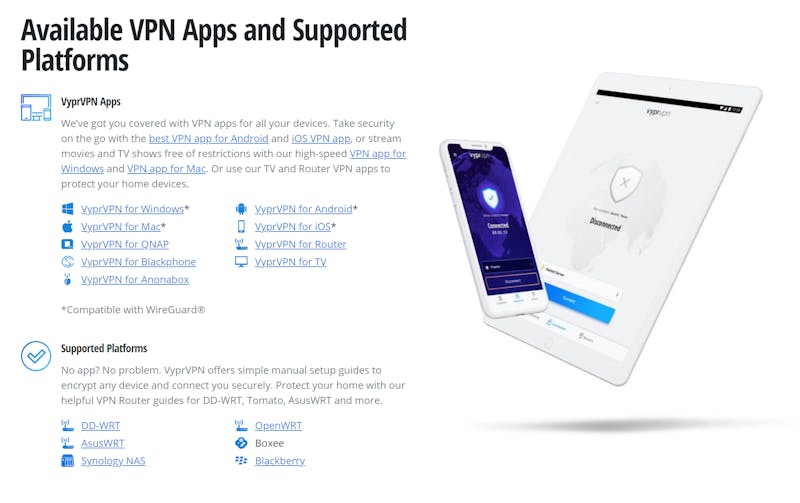 You can find a list of all available apps as well as supported platforms on VyprVPN's website.
The desktop client's interface displays only the most essential VPN features. The "Connect" button is the center of attention, above and below which, servers can be selected from an alphabetically-sorted list.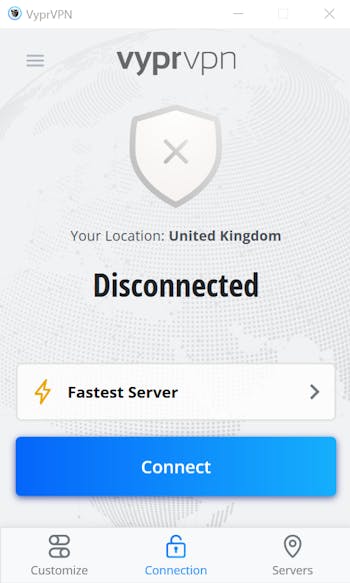 VyprVPN's desktop app relies on a tried and tested design.
Although servers can't be sorted by category, it is possible to mark favorites for easy access. Next to each server's location, you can view information about its quality (ping). It's also possible to find servers using the search bar.
If looking to connect to the best available server, simply click on the "Fastest Server" button.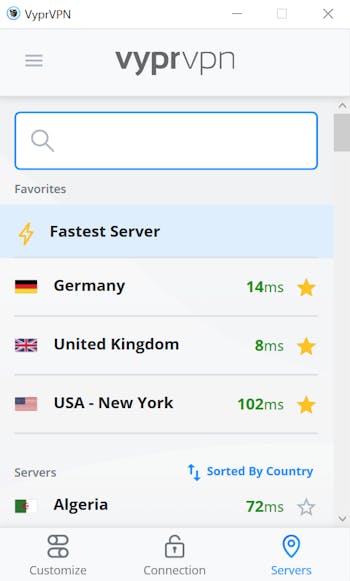 Favorites are always listed at the top of the server list.
The support center can be accessed through the hamburger menu on the interface's upper left along with information about available updates. Settings are found below, in the main menu, under "Customize". It's possible to activate the kill switch here and to configure auto-start options, protocols, and a DNS server, but more on all of that below.
All of the usual options for auto-start can be configured here so that, for example, VyprVPN does not automatically connect to untrusted WiFi networks.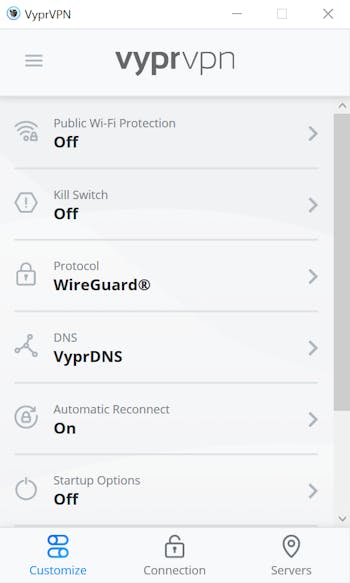 VyprVPN sticks to the basics.
VyprVPN offers most of the basics but misses a few here and there. The biggest absence is split tunneling (Windows), which allows you to select which apps or programs use your VPN connection. This isn't an issue for macOS and Android users. Also missing are multi-hop connections, which simultaneously create numerous VPN tunnels.
Mobile app
VyprVPN's mobile app is identical to its desktop client, apart from the inclusion of "App Connection", the service's split tunneling feature. In addition, it's possible to specify whether a VPN connection should be automatically created when you start your computer, guaranteeing that you always surf anonymously.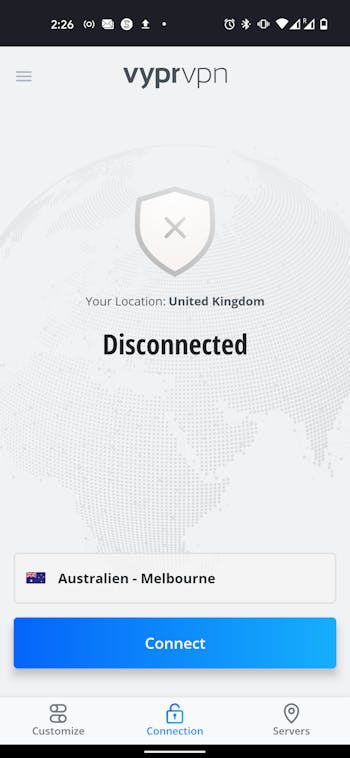 VyprVPN's mobile app is identical to its desktop client.
VyperVPN no longer offers a browser extension (it was deemed redundant some time ago). Nevertheless, the provider does serve up a solid array of features, packaged in an intuitive and easy-to-navigate interface. You'll get all of the basics, but not too many extras.
Installation and Features
8.0 / 10
VyprVPN can call upon more than 700 servers spread across 70 locations in 64 countries, equating to upwards of 300,000 IP addresses. As with most VPNs, the majority of VyprVPN's servers are in North America and Europe, while Africa is barely covered at all, apart from Algeria and Egypt. On the plus side, VyprVPN can lay claim to more servers in Asia and South America than most other providers.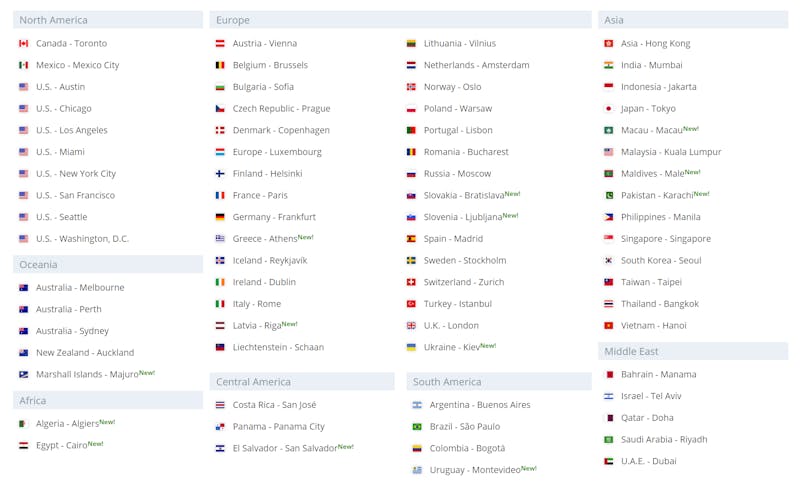 VyprVPN's covers the same regions as most other VPNs, which means that it also suffers from the same shortcomings.
Leading VPN providers like NordVPN, HideMyAss, or ExpressVPN are miles ahead of VyprVPN in terms of server networks, however, the Swiss service does offer decent coverage. It's unfortunate that VyprVPN's server network has barely grown over the past few years, which tells us that there are likely no plans for further expansion.
We determine the speed of all of our sample's VPNs using a server in Europe with a 1 GB/s connection. To do this, we connected to random VyprVPN servers in Germany and the US at different times of the day. More information about our methodology is available in our VPN speed test article.
The table below shows the average results from the last 365 days, arranged in order of download and upload speed (descending):
1.
2.
3.
4.
5.
6.
7.
8.
9.
10.
11.
12.
13.
14.
15.
16.
17.
18.
19.
20.
When the test was conducted, VyprVPN clocked a download speed of 106 MB/s and an upload speed of 12.2 MB/s. These were only good enough for the next-to-last place, putting VyprVPN far off the fastest providers.
A table displaying the average speeds over the past few months can be found below.
CyberGhost VPN
ExpressVPN
hide.me VPN
HideMyAss! VPN
Hotspot Shield VPN
IPVanish VPN
Mullvad VPN
NordVPN
Private Internet Access
PrivadoVPN
PrivateVPN
Proton VPN
PureVPN
TorGuard VPN
TunnelBear VPN
VeePN
VPN Unlimited
VyprVPN
Windscribe VPN
ZenMate VPN
Monat
Download
Upload
9/22
September 2022
Download: 60.9 Mbit/s 60.9
Mbit/s
September 2022
Upload: 11.5 Mbit/s
10/22
October 2022
Download: 63.6 Mbit/s 63.6
Mbit/s
October 2022
Upload: 14.7 Mbit/s
11/22
November 2022
Download: 58.9 Mbit/s 58.9
Mbit/s
November 2022
Upload: 14.2 Mbit/s
12/22
December 2022
Download: 57.7 Mbit/s 57.7
Mbit/s
December 2022
Upload: 14.5 Mbit/s
1/23
January 2023
Download: 57.6 Mbit/s 57.6
Mbit/s
January 2023
Upload: 14.0 Mbit/s
2/23
February 2023
Download: 52.5 Mbit/s 52.5
Mbit/s
February 2023
Upload: 13.3 Mbit/s
3/23
March 2023
Download: 59.5 Mbit/s 59.5
Mbit/s
March 2023
Upload: 13.3 Mbit/s
And when put to the test? We used VyprVPN for an entire day of regular surfing and didn't have to deal with any of the common side effects of VPN usage such as captchas during Google searches.
The provider also did well in terms of video streaming: We were able to access foreign content catalogs for Netflix, Amazon Prime Video, Disney+, and BBC iPlayer.
Should you be looking for a VPN that is capable of getting around the "Great Firewall", VyprVPN might not be your best bet: During testing, we couldn't create a connection from China with any of the protocols.
For everyday usage, VyprVPN's performance is decent, although its speeds, when set alongside those of its competitors, leave much to be desired.
VyperVPN supports the OpenVPN, L2TP/IPsec, and PPTP VPN protocols as well as the new go-to protocol, WireGuard. On Windows as well as in Android, OpenVPN with 256-bit encryption came pre-selected.
Premium subscribers can use 'Chameleon', a proprietary protocol based on OpenVPN. 'Chameleon' is praised for its ability to prevent blocking or throttling of VPN connections in countries where their usage is restricted or otherwise frowned upon. This might be an interesting option if attempting to connect from China, however, as we noted above, we didn't have any luck in establishing such a connection.
Encryption strength is also dependent upon the protocol that is used, with WireGuard, OpenVPN, Chameleon, and L2TP/IPsec with AES 256 offering the best possible security (a 160-bit OpenVPN option is also available). PPTP (128-bit encryption) lags somewhat behind the other protocols.
The program passed our VPN leak tests for IPv6, DNS, and WebRTC without any difficulties. A potential DNS leak was noted, but this arose owing to our VPN and DNS servers being in two data centers, each of which was managed by a different provider. Since both of these servers are overseen by VyprVPN, there's no reason to suspect that our anonymity was compromised.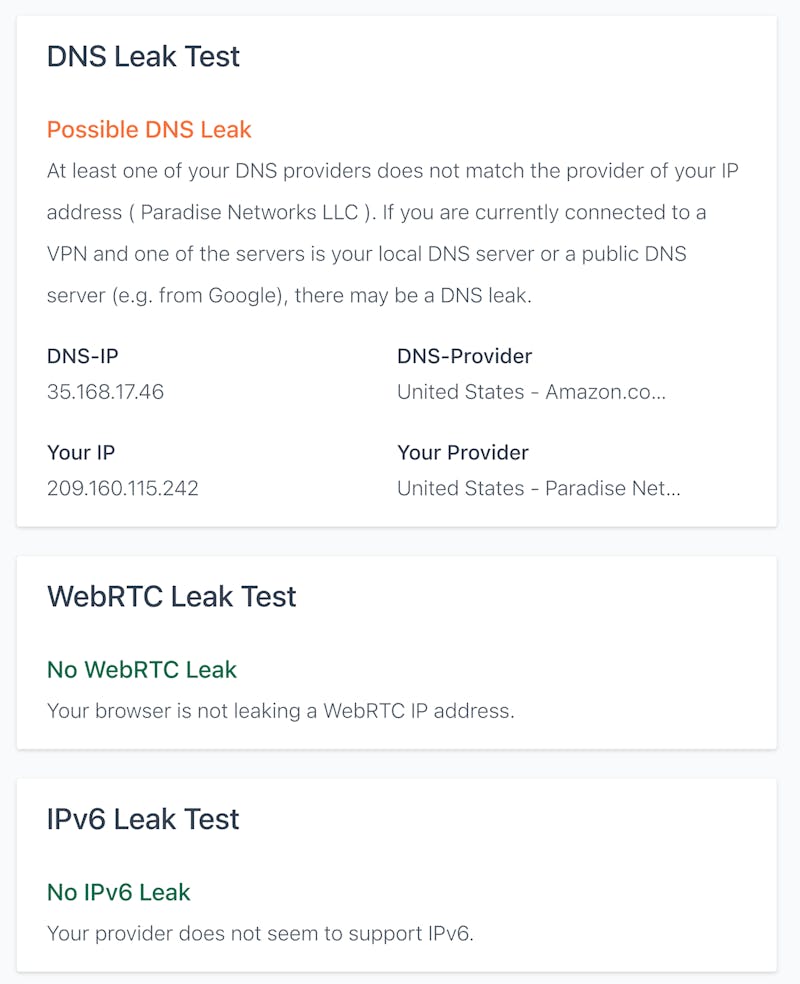 Even though a potential DNS leak was registered, our anonymity with VyprVPN was not compromised.
VyprVPN is headquartered in Switzerland, a country well-known for its data security laws, and which is not a party to any of the various international intelligence-sharing agreements.
Additionally, like many other VPN providers, VyprVPN promises not to compile or save any logs. In contrast to its competitors, however, VyprVPN has put its money where its mouth is and undergone an independent audit of its service. A 2018 report by Leviathan Security confirmed VyprVPN's users "that the company is not logging their VPN activity." The other shortcomings Leviathan identified were quickly rectified.
For privacy-focused users, VyprVPN does a lot to emphasize its commitment to their digital anonymity. To truly stand behind this policy, however, it's necessary that VyprVPN continually review its efforts. For example, the last security audit was in 2018. In the interim, much could have transpired, and for that reason, we would like to see a more proactive approach from the provider.
Security and Privacy
7.4 / 10
VyprVPN offers a support chat that is staffed around the clock with bilingual personnel. For cases where a support team member does not speak a language other than English, automatic translations are used. When entering the support chat, a bot first attempts to solve the problem, however, should this fail, you will be connected with an actual person.
Wait times vary somewhat, however, we received help within seconds or minutes when we tested the service.
Beyond the support chat, it is also possible to file a support ticket. Our email query was answered in less than 2 hours, on a Sunday.
Guides, FAQs, and links to useful blogs are provided In the help center.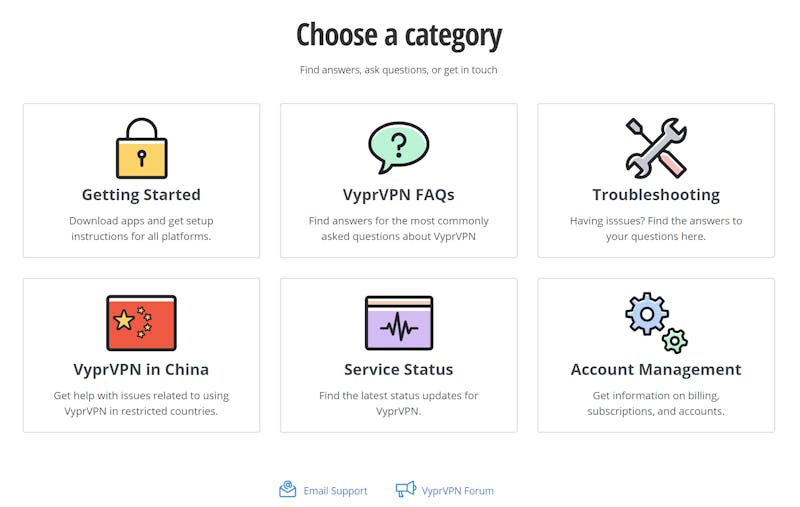 VyprVPN's help center is solid, and features a live support chat.
From our point of view, VyprVPN does everything right in terms of customer support.
VyprVPN offers a wide array of subscription options, ranging from monthly to three-year plans, all of which support simultaneous connections on up to five different devices. As is common, the longer the subscription, the lower the monthly price, however, VyprVPN takes this to the next level. As of the time of testing, the service's three-year plan costs just $1.67 per month.
A current price list can be found below:
12 months
1 month
Set-up Fee
$0.00
$0.00
Monthly Price
$5.00
$10.00
Contract Period (Months)
12
1
Limits
Data Volume
unlimited
unlimited
Number of Devices
5
10
Features
Number of Servers
700
700
Number of Countries
70
70
No Server Logs
P2P Allowed
Tor Access
Kill Switch
Protocols

OpenVPN

WireGuard

PPTP

IPSec

L2TP

Eigenentwicklung

OpenVPN

WireGuard

PPTP

IPSec

L2TP

Eigenentwicklung
Two subscription options are offered for organizations, 'VyprVPN for Business' and 'VyprVPN for Business Cloud'. These include extras such as a fixed IP, and a unique, dedicated server.
No free version of VyprVPN exists, however, the desktop app comes with a 30-day money-back guarantee, while the mobile app can be tested for three days. Credit cards, PayPal, Alipay, or Google/Apple Pay are accepted as payment methods.
Conclusion
Installation and Features
8.0 / 10
Security and Privacy
7.4 / 10
In nearly every regard, VyprVPN is a solid service, which sets itself apart from its competitors owing to its low price. In the chaotic marketplace of online service providers, we're often forced to take companies at their word, however, VyprVPN underwent an independent audit to back up its promises. Of course, this was back in 2018, and we think it's time for a check-up.
With reliable and intuitive apps, a decent network of servers, and good features, VyprVPN does well. Unfortunately, VyprVPN was one of the slowest services we tested, taking the next-to-last place in our speed ranking. In terms of features, the absence of split tunneling in the Windows client is frustrating, as are the limited settings on offer.
Data Volume
Devices
Protocols
Contract Period
VyprVPN 12 months
$5.00
monthly price
Visit Website*
30 days money-back guarantee
Customer Reviews
Based on the customer reviews that we examined for VyprVPN, the service was rated 'good'. Some criticism was leveled against the company's support, which appeared less helpful to some than had been our experience. Connectivity issues and slow connections were also frequently cited. The price-performance ratio was seen as a positive, along with the program's easy installation, and features like 'Chameleon'.
Customer Ratings
85,532 Bewertungen
Visit Website*
We analyzed the reviews and ratings from various portals and found 85,532 ratings with an overall rating of 4.5 out of 5 .
Alternatives
If you're looking for a better-performing VPN, you're in luck, because there are a number of options to choose from. The fastest providers in our sample were NordVPN, Surfshark, and MullvadVPN. NordVPN has repeatedly allowed its "no-logs" commitment to be independently tested and offers an excellent server network and tons of features.
Should VyprVPN be too expensive, you'll likely want to take a look at free VPNs. Most freemium services come with some sort of data restrictions, however, ProtonVPN, also from Switzerland, allows for unlimited surfing.
NordVPN is our number one VPN because it combines speed, ease-of-use, and functionality in a slick package that's also pretty affordable.
5,500+ servers, 60 countries
affordable 2-year package
9.4

excellent
Data Volume
Devices
Protocols
Contract Period
NordVPN 2-year plan
$3.49
monthly price
Visit Website*
30 days money-back guarantee
ExpressVPN can impress with a strong performance, a huge server network, and excellently designed applications, but this quality also comes at a higher price.
Data Volume
Devices
Protocols
Contract Period
ExpressVPN 12 Months
$8.33
monthly price
Visit Website*
30 days money-back guarantee
With its open source philosophy and extra security features, Proton VPN targets security-conscious VPN users. But thanks to its user-friendly interface and suitability for streaming, it's worth a look for a wide audience.
open source & external audits
2,900+ servers in 67 countries
free plan without data limit
9.1

excellent
Data Volume
Devices
Protocols
Contract Period
Proton VPN Free
$0.00
monthly price
Visit Website*
Free forever
* Ad disclaimer:
For links marked with an asterisk, EXPERTE.com may earn a commission from the provider. The commission has no influence on our editorial rating.

Martin Gschwentner majored in American Studies and Media Studies in Germany, the USA and France and works as a freelance editor in Paris. He is a doctoral student at the Institute for English and American Studies at the University of Paris Diderot, where he is researching the influence of money on US politics. On EXPERTE.com he writes about IT security, data protection and software for the self-employed and small businesses.

Translation: D Bare
Continue Reading
Reviews
Comparisons
Tools & Guides