Proton VPN Review 2023: The Best Free VPN?

Our editors test and evaluate all services independently. For links on this page, EXPERTE.com may earn a commission from the provider.
Proton VPN began as a companion product to the similarly named Proton Mail, an email service designed to protect journalists and activists. Since then, Proton VPN has become known among the latter's user base, continually expanding as a result.
What Is Proton VPN?
Proton VPN* is a VPN service designed by Proton Technologies AG, a Swiss email provider. Since it's relatively new, its server infrastructure is still growing. In this review, we'll take a look at whether the 'new kid' can go head-to-head with the established players in the market.
Proton VPN Review
Installation and Features
10 / 10
Security and Privacy
10 / 10
User-friendly applications

Integrated safety features like "Secure Core"

Open-source and externally audited
Doesn't support WireGuard

Server network still growing
1.
Installation and Features
Proton VPN offers applications for Windows, macOS, Linux, Android, iOS, Chromebooks, and Android TVs. It can also be manually configured for other operating systems or routers. The number of simultaneous connections you'll be able to establish depends on the subscription package you purchase, ranging from one to ten.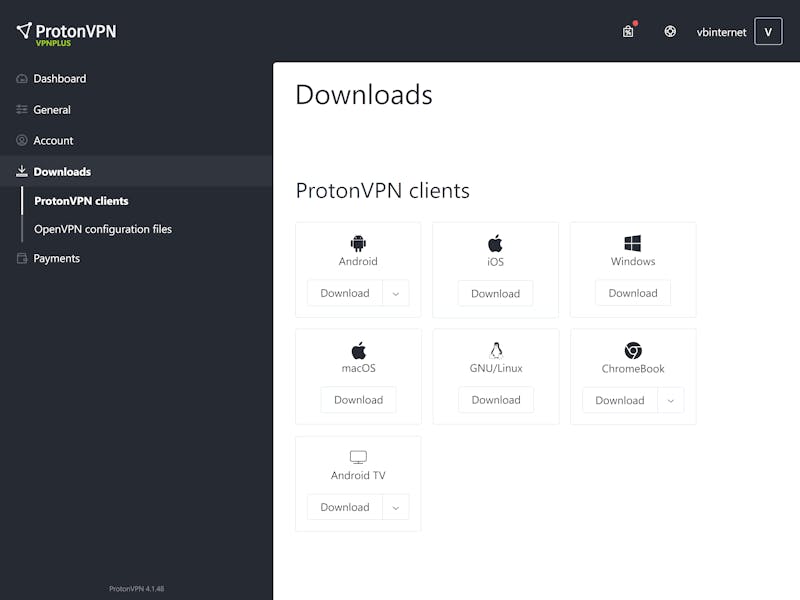 You can view all available apps and OpenVPN configuration files after logging in to your user account.
Proton VPN's interface offers the best of both worlds, providing a quick connect feature, as well as an expandable world map. In addition to showing all available servers and their locations, the latter also displays statistics from your current session.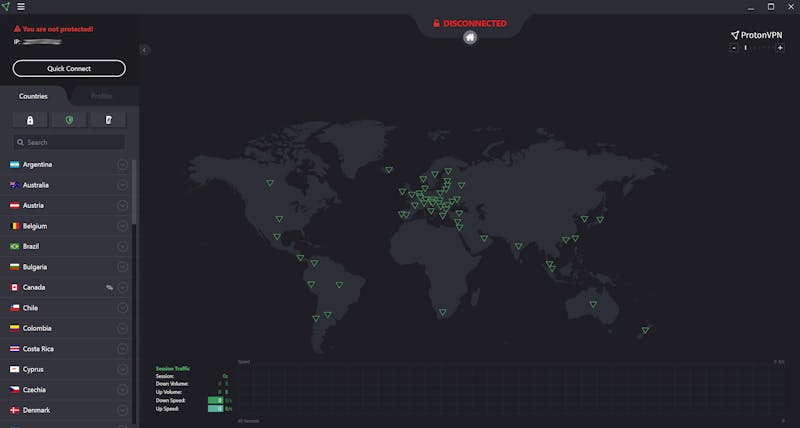 Proton VPN's app features a slightly futuristic design with an expandable world map.
You don't need to use the world map to find a VPN server: By clicking on "Quick Connect" you'll automatically be linked to the best option available. Under the button, you can select from a complete list of server locations, with a search box helping you to find what you're looking for. Small symbols next to each location indicate whether servers are suitable for Tor or P2P.
After clicking on a country, a server menu opens, providing information about all available servers there, along with their usage.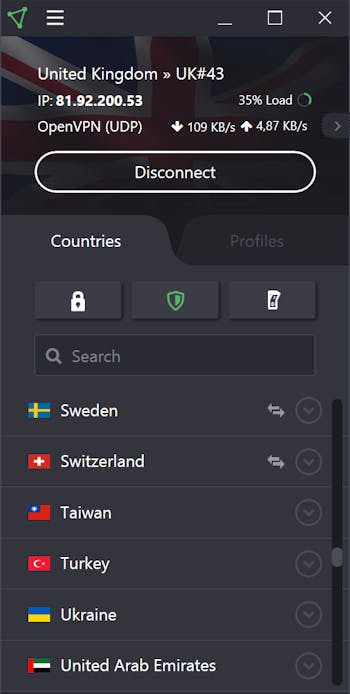 All important features can be accessed with a single click in the expandable window.
You can't mark favorites in Proton VPN, however, it is possible to configure your connection profile in the client's main window. Profiles for "Fastest Available" or "Random" connections come pre-installed, however, the number of these is limited. Should you regularly use a VPN for torrenting, it makes sense to create a P2P profile, which will connect you to the nearest and best P2P-capable server.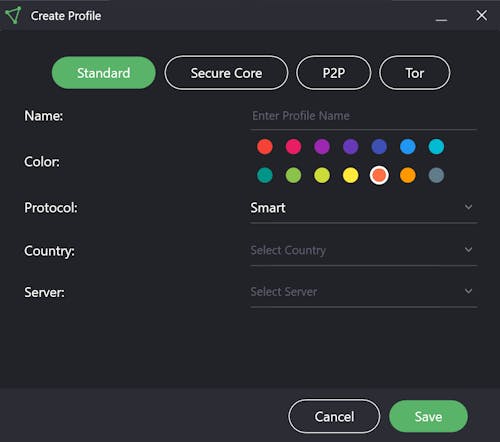 It's possible to create a profile for VPN tunnels that you regularly use.
The three buttons above the search bar give you control over three of the client's most important features. The kill switch automatically severs your Internet connection whenever your VPN tunnel is disrupted, while Netshield is a lightweight adware and malware blocker. Secure Core allows you to additionally route your data traffic through a secure server in a country with strict data privacy laws.
Standard VPN features, like auto-start options, DNS leak protection, and split tunneling, can be found under Settings. With the last of these, it's possible to exclude specific applications or IP addresses from your VPN tunnel or to limit access to certain apps. Under connection settings, you can also select which of your profiles should be used by default for "Quick Connect".
For VPN protocols, you're stuck with OpenVPN but can switch between TCP and UDP (more on this topic below in the "Security and Privacy" section).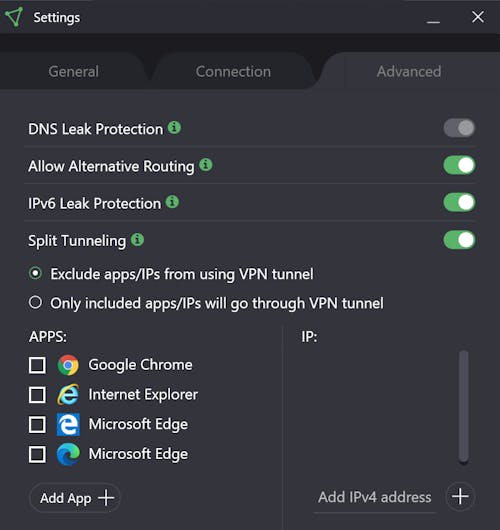 Split tunneling makes it possible to limit access to your VPN tunnel to specific programs or IP addresses.
Mobile App
Proton VPN's mobile version uses IKEv2 instead of OpenVPN. Apart from that, the Android app is basically identical to its desktop counterpart: Clicking on the "Quick Connect" button connects you to the nearest and best server based on the profile you're using. The world map and connection profiles can also be accessed here through separate tabs, however, the profiles you create in the desktop client aren't synchronized with the mobile app.
Under Settings, split tunneling allows you to specify which apps use your VPN connection, and Secure Core is included too. Unfortunately, the kill switch did not make the cut, but this functionality should be integrated automatically from Android 7.1. Since you probably use your smartphone for other things than your desktop, the differences between the mobile app and the client shouldn't be too noticeable.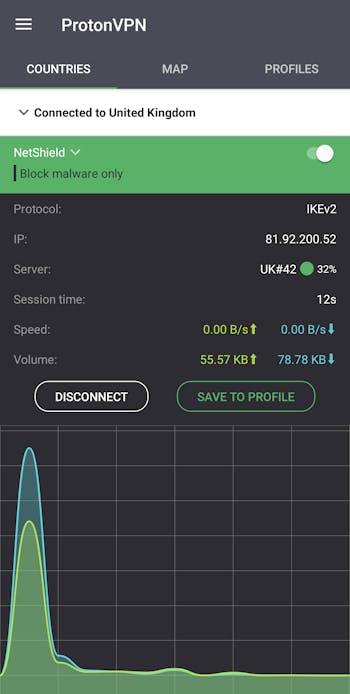 Proton VPN's smartphone app has nearly all of the desktop client's most important features.
Proton VPN doesn't reinvent the wheel, but that's no reason to complain: Its apps are user-friendly and intuitive, possessing almost everything desired from a VPN. Split tunneling comes with plenty of additional options, which, together with Secure Core, is a nice bonus. User profiles come in handy for tailoring your VPN experience to your exact needs.
We also really liked the app's futuristic design and world map, which has a lot of interesting details: For example, when you create a VPN connection to a specific country, you'll see that country's flag in the background. The feature buttons in the client's main window are also very practical. These small touches round out Proton VPN's overall concept and make its app one of the most user-friendly on the market.
Installation and Features
10 / 10
Proton VPN's network is still growing: At the time of writing, the service had 1,237 servers in 55 countries, representing a considerable improvement over its 2019 numbers. Europe is well-covered, and South America has also picked up more representatives, but Africa and Asia still lack coverage.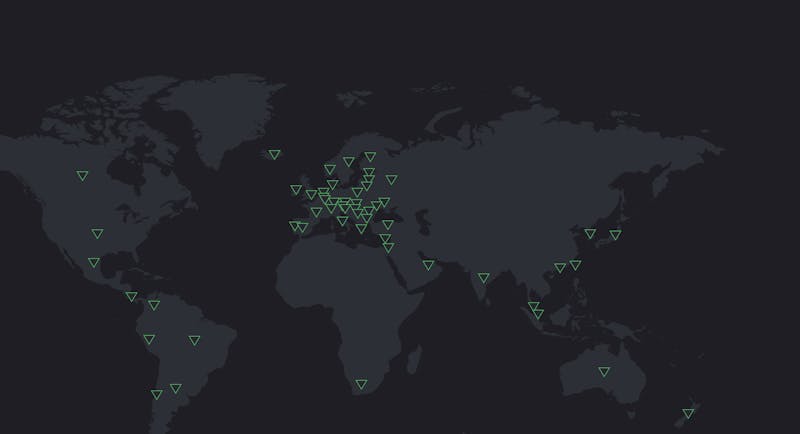 Proton VPN's network isn't huge, but has grown quite a bit over the past two years.
These continents are usually overlooked by most of Proton VPN's larger competitors. Even though Proton VPN is still far off the top, its infrastructure has noticeably improved.
We test the speed of all VPNs from our sample using a server in Europe with a 1 GB/s connection. To do this, we connected to random Proton VPN servers in the US and Germany at different times of the day More information concerning our methodology can be found in our VPN speed test.
The table below shows the average results from the last 365 days, arranged in order of download and upload speed (descending):
1.
2.
3.
4.
5.
6.
7.
8.
9.
10.
11.
12.
13.
14.
15.
16.
17.
18.
19.
20.
During testing, Proton VPN clocked a download speed of 154.8 MB/s and an upload speed of 18.8 MB/s, which was good enough for ninth place in our ranking. In terms of speed, Proton VPN can't run with the big dogs, but it isn't too far behind them either.
The diagram below shows Proton VPN's average speeds over the past months.
CyberGhost VPN
ExpressVPN
hide.me VPN
HideMyAss! VPN
Hotspot Shield VPN
IPVanish VPN
Mullvad VPN
NordVPN
Private Internet Access
PrivadoVPN
PrivateVPN
Proton VPN
PureVPN
Surfshark VPN
TorGuard VPN
TunnelBear VPN
VeePN
VPN Unlimited
VyprVPN
Windscribe VPN
ZenMate VPN
Monat
Download
Upload
6/22
June 2022
Download: 169.5 Mbit/s 169.5
Mbit/s
June 2022
Upload: 34.9 Mbit/s
8/22
August 2022
Download: 189.8 Mbit/s 189.8
Mbit/s
August 2022
Upload: 36.3 Mbit/s
9/22
September 2022
Download: 196.9 Mbit/s 196.9
Mbit/s
September 2022
Upload: 35.8 Mbit/s
10/22
October 2022
Download: 193.5 Mbit/s 193.5
Mbit/s
October 2022
Upload: 34.0 Mbit/s
11/22
November 2022
Download: 189.9 Mbit/s 189.9
Mbit/s
November 2022
Upload: 34.8 Mbit/s
12/22
December 2022
Download: 191.2 Mbit/s 191.2
Mbit/s
December 2022
Upload: 37.3 Mbit/s
1/23
January 2023
Download: 182.8 Mbit/s 182.8
Mbit/s
January 2023
Upload: 35.7 Mbit/s
2/23
February 2023
Download: 192.2 Mbit/s 192.2
Mbit/s
February 2023
Upload: 38.0 Mbit/s
3/23
March 2023
Download: 199.7 Mbit/s 199.7
Mbit/s
March 2023
Upload: 36.2 Mbit/s
4/23
April 2023
Download: 203.2 Mbit/s 203.2
Mbit/s
April 2023
Upload: 37.0 Mbit/s
5/23
May 2023
Download: 200.2 Mbit/s 200.2
Mbit/s
May 2023
Upload: 36.4 Mbit/s
6/23
June 2023
Download: 216.1 Mbit/s 216.1
Mbit/s
June 2023
Upload: 40.2 Mbit/s
Speed is one thing, but how does Proton VPN do for everyday usage? To find out, we used the service for an entire day and didn't encounter any problems. Our connections were consistent and created/ended quickly.
Streaming fans will also be pleased with Proton VPN: We were able to access foreign content on Netflix, Amazon Prime, Disney+, and BBC iPlayer.
We don't recommend Proton VPN for your next trip to China, since it isn't possible to establish connections from there.
Proton VPN promises to safeguard the security and privacy of its users. Connections are secured using the industry-standard, AES 256. The desktop client relies on OpenVPN, widely considered to be the safest protocol available. WireGuard, the newest state-of-the-art protocol, is not supported.
The Swiss service also offers additional security features such as "Secure Core", which routes your connection through an additional, secure server. This protects you and your data, should your VPN connection be compromised in any way.
The program passed our VPN leak tests for IPv6, DNS, and WebRTC without difficulty.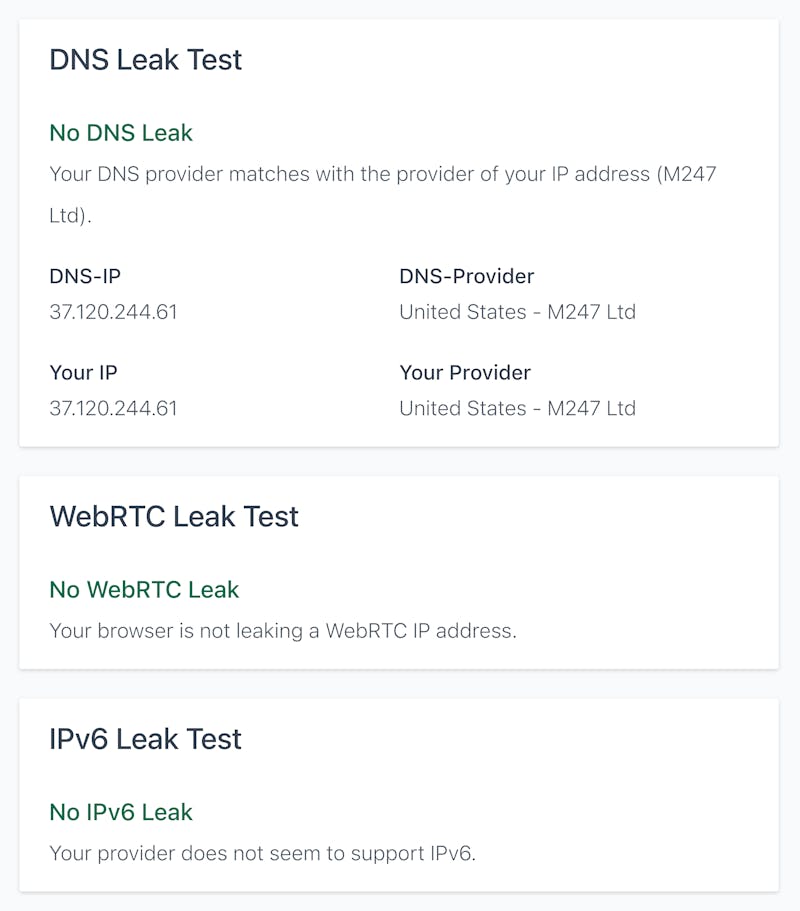 Proton VPN didn't slip up on any of our leak tests.
Proton VPN promises not to save any logs of its users' activity. The company is based in Switzerland, and as such, needs to conform to that country's strict and transparent data privacy laws. Adding to this, Switzerland is not a party to the Five-, Nine-, or Fourteen-Eyes intelligence-sharing agreements.
To reinforce its commitment to security and privacy, Proton VPN went further than any other VPN service in 2020: It made all of its apps open-source. This allows for their source code to be checked for weaknesses by anyone.
Proton VPN has also submitted its Windows, macOS, iOS, and Android apps for security audits conducted by SEC Consult. Two weaknesses, rated as moderately dangerous, were identified in its Windows client. With that said, the results were overwhelmingly positive and speak to Proton VPN's security.
Open-source apps, independent audits, and additional security features mean that Proton VPN is not only one of the safest VPNs but also one of the most transparent, allowing for its commitment to be checked from top to bottom.
Security and Privacy
10 / 10
In contrast to most other VPNs, Proton VPN does not offer a live support chat. The support team can only be contacted via support tickets filed on the company's website. On the positive side, we received extensive and detailed answers to our test questions after roughly an hour. This is markedly better than the usual 24- or 48-hour response time with most other providers.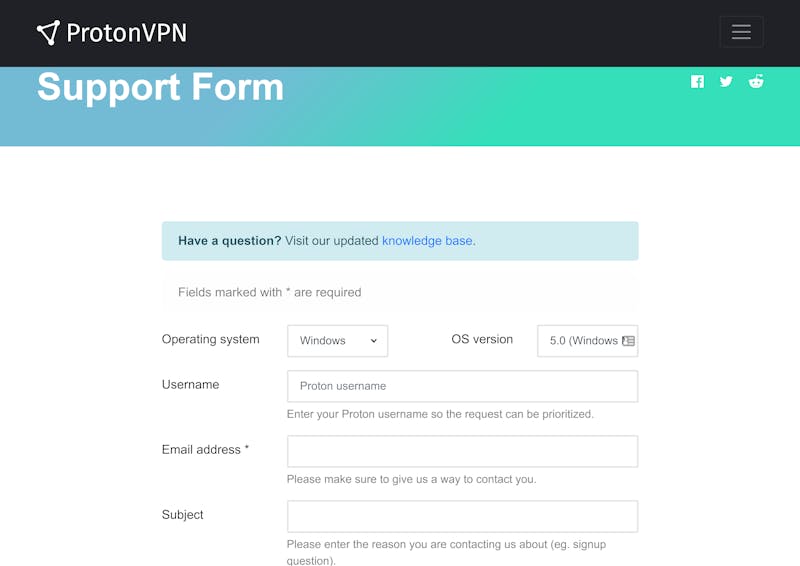 There isn't much substance to the rest of the provider's support center. Although a forum isn't available, Proton VPN does have a fairly active Reddit community.
Proton VPN's ticket system seems to function well, however, the addition of live chat support would be a big plus.
Proton VPN offers a free version that allows prospective customers to test the service on a single device and three server locations.
The paid version is divided between "Basic", "Plus", and "Visionary" plans which allow 2, 5, and 10 connections, respectively. Secure Core, access to the service's TOR network, and streaming content are only offered to "Plus" and "Visionary" subscribers.
Proton VPN is not the most affordable service we evaluated, however, its two-year plans are reasonably priced. "Visionary" plan members also get access to Proton Mail.
You can find a current price list below:
Free
Plus (2 years)
Plus (1 year)
Plus (1 month)
Set-up Fee
$0.00
$0.00
$0.00
$0.00
Monthly Price
$0.00
$4.99
$5.99
$9.99
Contract Period (Months)
0
24
12
1
Limits
Data Volume
unlimited
unlimited
unlimited
unlimited
Number of Devices
1
10
10
10
Features
Number of Servers
83
1,900
1,900
1,900
Number of Countries
3
60
60
67
No Server Logs
P2P Allowed
Tor Access
Kill Switch
Protocols

OpenVPN

IKEv2

IPSec

OpenVPN

WireGuard

IKEv2

OpenVPN

WireGuard

IKEv2

OpenVPN

WireGuard

IKEv2
Conclusion
Installation and Features
10 / 10
Security and Privacy
10 / 10
Proton VPN has been very busy since we last checked in. Making its apps open-source and submitting to independent audits have given the Swiss provider a real edge in terms of security, while its steady network growth is impressive. Its apps are some of the most user-friendly on the market, offering split tunneling as well as extras like Secure Core servers.
Of course, Proton VPN still can't compete with the market leaders; Its performance is 'only' good, and live support is a bit lacking. We also can't recommend Proton VPN for your next trip to China. Anyone that can live with these shortcomings will get one of the best VPN allrounders out there, whose commitment to security and transparency sets an example for the entire branch.
With its open source philosophy and extra security features, Proton VPN targets security-conscious VPN users. But thanks to its user-friendly interface and suitability for streaming, it's worth a look for a wide audience.
open source & external audits
1,900+ servers in 67 countries
free plan without data limit
8.7

good
Data Volume
Devices
Protocols
Contract Period
Proton VPN Free
$0.00
monthly price
Visit Website*
Free forever
Customer Ratings
In the customer reviews that we examined, Proton VPN received good scores. The price, which is somewhat higher than that of other providers, was frequently criticized, as was the lack of a live support chat. In contrast, its privacy and security measures were praised.
Customer Ratings
118,687 Bewertungen
Visit Website*
We analyzed the reviews and ratings from various portals and found 118,687 ratings with an overall rating of 4.4 out of 5 .
Alternatives
Should independent security audits be important to you, you'll also find your needs taken care of with ExpressVPN, NordVPN, or TunnelBear.
Free VPNs are offered by a few other providers as well, however, unlike Proton VPN, these typically have data limits. With Windscribe, you can get 10 GB of VPN usage per month for free after registering.
The best alternatives can be found below:
NordVPN is our number one VPN because it combines speed, ease-of-use, and functionality in a slick package that's also pretty affordable.
5,500+ servers, 60 countries
affordable 2-year package
9.4

excellent
Data Volume
Devices
Protocols
Contract Period
NordVPN 2-year plan
$3.49
monthly price
Visit Website*
30 days money-back guarantee
ExpressVPN can impress with a strong performance, a huge server network, and excellently designed applications, but this quality also comes at a higher price.
Data Volume
Devices
Protocols
Contract Period
ExpressVPN 12 Months
$8.33
monthly price
Visit Website*
30 days money-back guarantee
Surfshark is one of the cheapest providers on the market, but it's a lot more than a great budget option: the relatively new VPN boasts strong protection, many features, and a great support with 24/7 live chat.
3,200+ servers in 100 countries
unlimited number of devices
many apps (Linux, FireTV, ...)
8.8

good
Data Volume
Devices
Protocols
Contract Period
Surfshark 24 months
$2.49
monthly price
Visit Website*
Get 83% Discount
HideMyAss' main claim to fame is its impressive server infrastructure, but the VPN also delivers solid speeds and handy features like its IP Randomizer. When it comes to streaming, however, it's not always the most reliable choice.
Data Volume
Devices
Protocols
Contract Period
HideMyAss! 36 months
$2.99
monthly price
Visit Website*
30 days money-back guarantee
Hide.me secures its place in our top 10 with good to very good grades in all test categories. The app is filled to the brim with handy features, the performance is solid, and with 10 GB of data per month, the free tier is also worth a look.
78 locations in 49+ countries
many features, incl. split tunneling
free plan with 10 GB monthly
8.4

good
Data Volume
Devices
Protocols
Contract Period
hide.me Free
$0.00
monthly price
Visit Website*
Free forever

Martin Gschwentner majored in American Studies and Media Studies in Germany, the USA and France and works as a freelance editor in Paris. He is a doctoral student at the Institute for English and American Studies at the University of Paris Diderot, where he is researching the influence of money on US politics. On EXPERTE.com he writes about IT security, data protection and software for the self-employed and small businesses.

Translator & Editor: D Bare
Continue Reading
Reviews
Comparisons
Tools & Guides
Ad disclaimer
* For links marked with an asterisk, EXPERTE.com may earn a commission from the provider. The commission has no influence on our editorial rating.