KeepSolid VPN Unlimited: Our In-Depth Review 2023

If you're serious about maintaining your privacy online and surfing anonymously, there's just no getting around VPNs. Countless providers, among them KeepSolid VPN Unlimited, promise security, privacy, and speed. In this review, we'll let you know whether KeepSolid holds true to its name.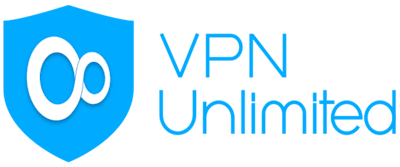 What Is KeepSolid VPN Unlimited?
VPN Unlimited ⇱ is KeepSolid's VPN service. The New York-based provider of security solutions also markets a password manager and a privacy browser.
In 2013, KeepSolid launched a client exclusively for iOS and offering only two servers. Since then, it has expanded its offering to include apps for most operating systems and platforms, as well as servers around the globe. We evaluated VPN Unlimited for Windows and Android.
Review
Customer Support
7.4 / 10
Installation and Features
7.4 / 10
Security and Privacy
5.4 / 10
Pros and Cons
Quick support response times

Offers static IPs and VPN servers
Installation and Features
VPN Unlimited offers desktop clients for Windows, macOS, and Linux, as well as smartphone apps for iOS, Android, and Windows Phone. But that's not all: The service also has browser extensions for Chrome, Firefox, Opera, and Edge, and supports streaming devices like Amazon Fire or Apple TV. If none of those apply to you, the provider also has plenty of guides ⇱ for manually setting it up on routers.
Overall, VPN Unlimited seems to have something for everybody, but, you can only simultaneously connect five devices, all of which need to be registered in the customer area. Should you reach your limit, you'll need to remove one of the five devices before you can add a new one. Other VPN providers are both more generous in terms of how many devices can be connected, while also offering greater convenience when linking those devices.

VPN Unlimited was originally only for iOS - now, it's available on nearly all important platforms.
The user interface is sleek and by and large, intuitive, suffering only a few faux pas here and there. Like other services, your location, and that of the VPN server you're connecting to, are visualized on a map, however, this map is static. In other clients featuring similar designs, such as NordVPN or Tunnelbear, it's possible to scroll across the map or zoom in and out, offering a more dynamic experience.
Apart from that, VPN Unlimited's main window includes all features expected from a VPN: A prominent On/Off button which you use to create and close connections, as well as a server selection button, that is set by default to automatically connect you to the server with the most optimal performance.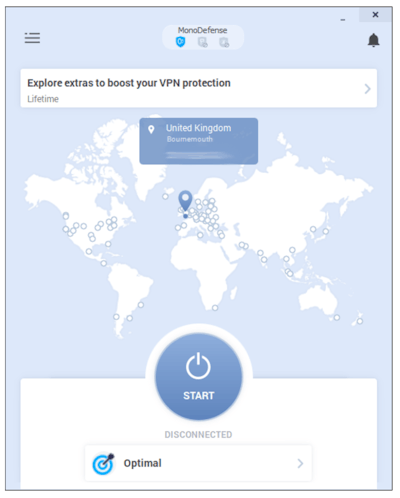 The user interface is tidy but could be more dynamic.
Your actual and virtual IP addresses (the latter only when connected via VPN) are always displayed. Under "Extras for the best possible performance", you can buy add-ons such as a personal VPN server, static IP, or slots for additional devices.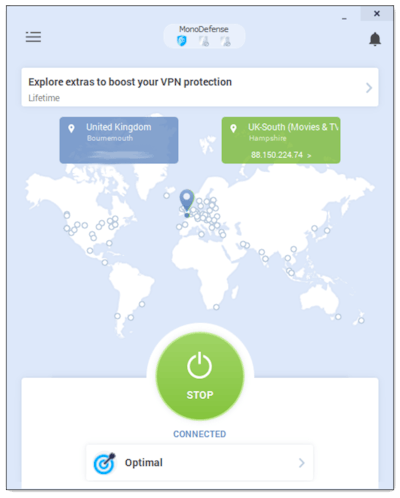 Your actual and virtual IP addresses are always displayed when connected.
All servers are listed alphabetically in the server list and marked as being streaming and/or torrent capable. There's also a favorites list, which you can supplement by clicking on the star next to a server's name. As a nice touch, streaming servers note which services (Netflix, Disney+, etc.) they're optimized for. In the "Performance" section below, we'll go into greater detail about how good these actually were.
It's possible to generate an up-to-date ping by clicking on "Ping Test", providing you with real-time information about how the server is performing. Should you want to quickly find a particular server, you can also search for it using the integrated search function.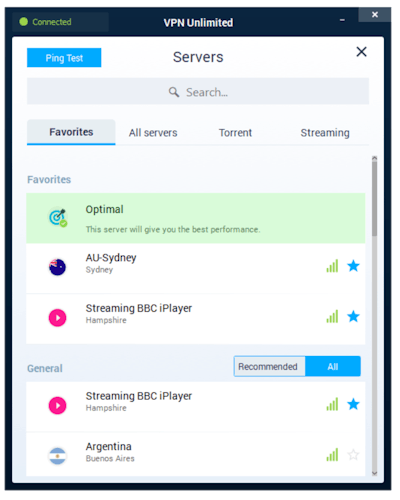 Servers are grouped into different categories and can be marked as favorites.
To access settings, click on the hamburger menu in the upper left of the interface. No surprises here: In addition to protocol selection and a kill switch, which servers your connection in the event of a disruption to your VPN, you'll also find DNS leak protection and a whitelist. The last of these is for designating trusted networks that can be used without a VPN connection.
There's also a DNS firewall, but this needs to be purchased separately as it's actually another KeepSolid product. Split tunneling is not supported.
Mobile App With Split Tunneling
VPN Unlimited's smartphone app borrows heavily from the desktop client's design while making it more dynamic. To connect to a specific server, you can scroll across the world map or select one from the server list.
Apart from the notable addition of split tunneling (Android), the mobile app offers nearly the same functionality as the desktop client. Android users can make exceptions for apps that should or shouldn't use your VPN tunnel.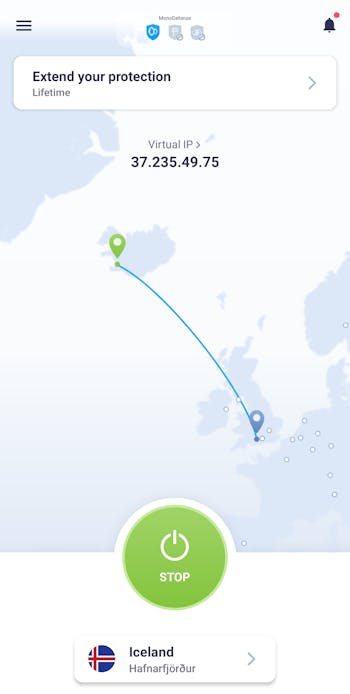 The Android app includes split tunneling, which is missing from the desktop client.
VPN Unlimited's desktop client and mobile app are functional, featuring interfaces that are slightly less dynamic than those of the providers which they attempt to emulate. When it comes to features and settings, you shouldn't expect anything beyond the basics. The device cap (5) is low and impractical.
It's good that servers are grouped into categories and extras like static IPs, which might be important for some users, are offered. Overall, not bad, but there's definitely room for improvement when it comes to features and design.
Score: 3.7 / 5
Server Network
VPN Unlimited was launched in 2013 with a network consisting of two servers (Los Angeles and the Netherlands). Today, it has grown to more than 500 servers scattered across 80 locations in around 50 countries. Quite a lot of growth, but the network is small, particularly when it comes to pure numbers, as some of its competitors offer thousands of servers.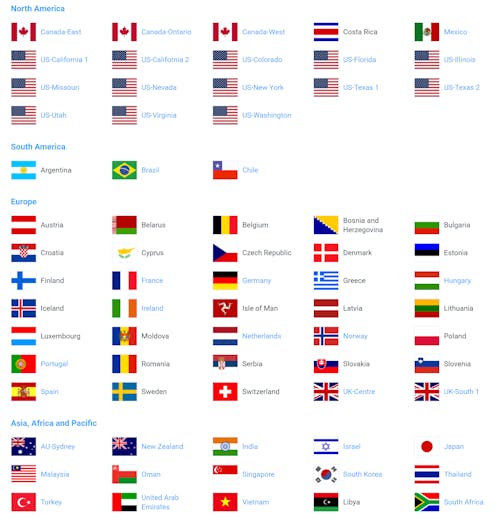 Looking at the geographic spread, the picture becomes a bit rosier. Most of the provider's servers are grouped around Europe and North America, with Africa, South America, and Asia drawing the shorter stick(s). Still, the network is decent, albeit slightly below our sample's average.
Score: 3.3 / 5
Performance
The speed of all VPNs which we tested was evaluated using a server in Europe with a 1 GB/s connection. We assessed random VPN Unlimited servers in the US and Germany at different times of the day to more accurately gauge their speeds and performance. More information concerning our methodology can be found in our VPN speed test.
The table below shows the average results from the last 365 days, arranged in order of download and upload speed (descending):
1.
2.
3.
4.
5.
6.
7.
8.
9.
10.
11.
12.
13.
14.
15.
16.
17.
18.
19.
20.
VPN Unlimited registered a download speed of 109.6 MB/s and an upload speed of 37.6 MB/s, which, taken together, were good enough for 13th place in our speed ranking, in the lower middle of the pack.
The chart below shows VPN Unlimited's average speeds over the past months:
CyberGhost VPN
ExpressVPN
hide.me VPN
HideMyAss! VPN
Hotspot Shield VPN
IPVanish VPN
Mullvad VPN
NordVPN
Private Internet Access
PrivadoVPN
PrivateVPN
ProtonVPN
PureVPN
Surfshark VPN
TorGuard VPN
TunnelBear VPN
VeePN
VPN Unlimited
VyprVPN
Windscribe VPN
ZenMate VPN
Monat
Download
Upload
1/22
January 2022
Download: 102.1 Mbit/s 102.1
Mbit/s
January 2022
Upload: 40.8 Mbit/s
2/22
February 2022
Download: 79.1 Mbit/s 79.1
Mbit/s
February 2022
Upload: 29.5 Mbit/s
3/22
March 2022
Download: 64.2 Mbit/s 64.2
Mbit/s
March 2022
Upload: 22.8 Mbit/s
4/22
April 2022
Download: 93.1 Mbit/s 93.1
Mbit/s
April 2022
Upload: 30.4 Mbit/s
5/22
May 2022
Download: 88.7 Mbit/s 88.7
Mbit/s
May 2022
Upload: 29.9 Mbit/s
6/22
June 2022
Download: 87.1 Mbit/s 87.1
Mbit/s
June 2022
Upload: 31.2 Mbit/s
7/22
July 2022
Download: 112.0 Mbit/s 112.0
Mbit/s
July 2022
Upload: 36.7 Mbit/s
8/22
August 2022
Download: 106.5 Mbit/s 106.5
Mbit/s
August 2022
Upload: 34.1 Mbit/s
9/22
September 2022
Download: 103.4 Mbit/s 103.4
Mbit/s
September 2022
Upload: 32.8 Mbit/s
10/22
October 2022
Download: 89.9 Mbit/s 89.9
Mbit/s
October 2022
Upload: 33.9 Mbit/s
11/22
November 2022
Download: 94.5 Mbit/s 94.5
Mbit/s
November 2022
Upload: 37.3 Mbit/s
12/22
December 2022
Download: 89.8 Mbit/s 89.8
Mbit/s
December 2022
Upload: 37.2 Mbit/s
1/23
January 2023
Download: 61.2 Mbit/s 61.2
Mbit/s
January 2023
Upload: 32.5 Mbit/s
Good For Everyday Usage, Reliable Streaming
When testing how the service handles day-to-day tasks, we were pleasantly surprised at its robustness. Connections were quickly established and didn't suffer from unexpected disruptions or frustrate us with annoying captchas. Of course, performance depends largely upon the distance to a server, but we were satisfied with our surfing experience using the VPN, noting little difference between optimal servers and regular connections.
We were also pleased with the service's streaming capabilities as we were able to view foreign content on the four platforms we tested (Netflix, Amazon Prime Video, Disney+, and the BBC's iPlayer).
Despite average numbers in the speed test, we were very satisfied with VPN Unlimited's overall performance.
Score: 4.3 / 5
Security and Privacy
VPN Unlimited permits users to choose from a number of different VPN protocols: Depending on your operating system, these include WireGuard, OpenVPN, IKEv2, L2TP, IPSec, and the developer's own KeepSolid Wise protocol. The last of these uses ports 443 (TCP) and 33434 (UDP) to make VPN connections even less detectable. All connections are encrypted with AES 256.
No issues were identified during our VPN leak tests (IPv6, DNS, and WebRTC):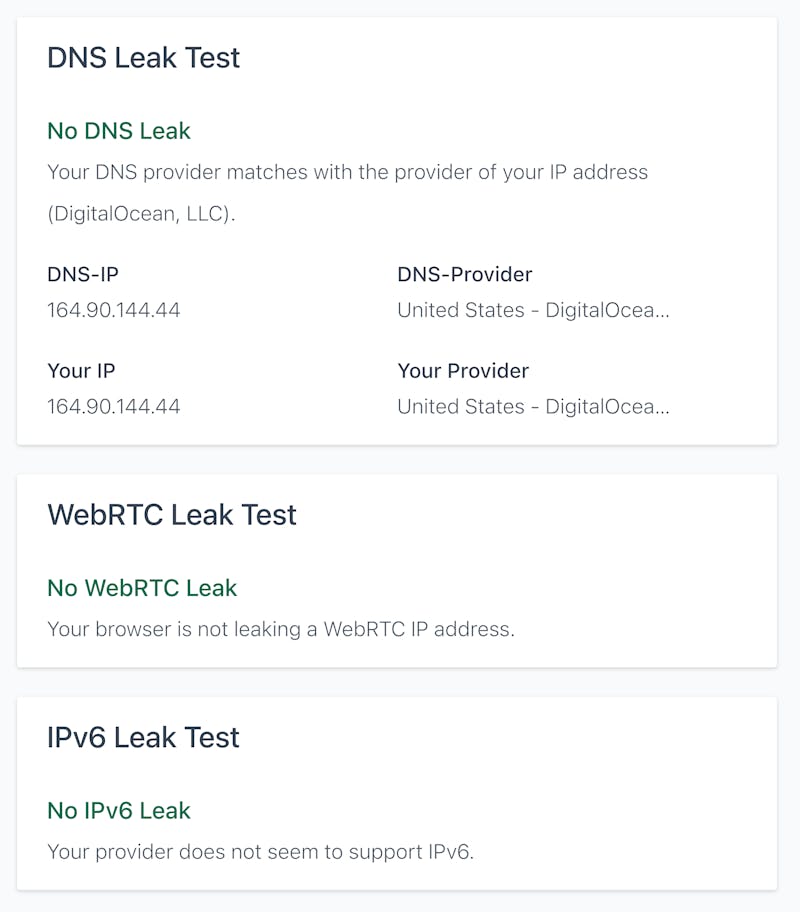 VPN Unlimited passed all of our leak tests.
Zero-Logs Promise - With a Loophole
As is the case with the majority of VPN providers, VPN Unlimited guarantees "Zero Logs", however, a closer look at KeepSolid's privacy policy ⇱ shows this to be less convincing than elsewhere. This notes: "KeepSolid does not monitor, store, or log your online activity, including your browsing history, connection times, metadata, downloads, server usage, or data content during your session in the VPN Services."
However, when connected, KeepSolid does save information such as your IP address, operating system, as well as the names of your WLAN and device. The provider guarantees that IP addresses are immediately deleted once a session ends.
But that's not all, we also found this interesting passage in KeepSolid's privacy policy: "We may also collect personal data, such as names and contact information, from third parties, such as marketing, research, sales lead generator companies, social networks, as well as from any publicly-accessible sources."
That begs the question, what does KeepSolid do with such data? Further down, under the "How We Use Personal Data" section, item C states "For compliance with our legal obligations [including] I. Carry out or exercise our rights and obligations arising from any orders; and II. In the process of litigation and regulatory investigations, when appropriate or necessary."
Similarly, under legitimate interests, item D includes "IV. Detecting and preventing fraud, illegal activity, and any other activity that infringes upon the legal rights of KeepSolid, our other users, or other third parties."
Taken together, the service seems to collect and store more information than other providers from our sample and, what's worse, to have few qualms about sharing it with authorities or "legitimate third-parties."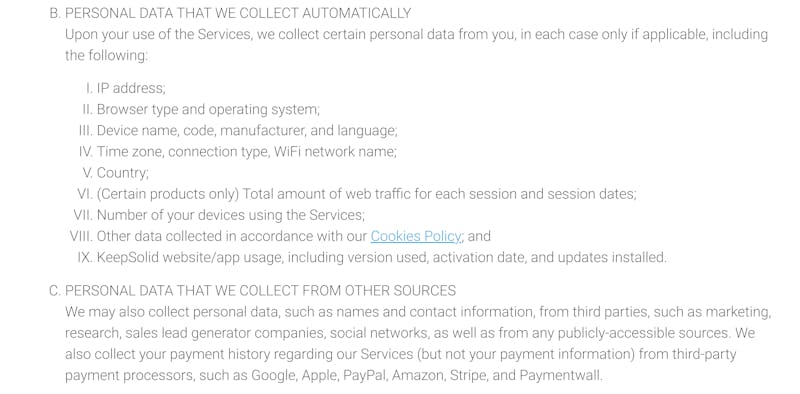 KeepSolid's privacy policy is transparent, but raises quite a few red flags if read closely.
Making matters worse, VPN Unlimited has yet to undergo an independent security audit which would put its "Zero-Logs" guarantee to the test. As such, there are simply too many areas of concern when it comes to privacy for us to award VPN Unlimited a good score.
Score: 2.7 / 5
Customer Support
On VPN Unlimited's website, you'll find comprehensive FAQs and guides for setting up its VPN, all of which are full-text searchable.
Direct email support is available around the clock, while a live chat operates somewhat erratically. For example, on a Tuesday afternoon, we had no success contacting live chat. In acknowledgment of this, KeepSolid promises an average response time of less than an hour. Our email query was answered within 20 minutes with a comprehensive and competent response.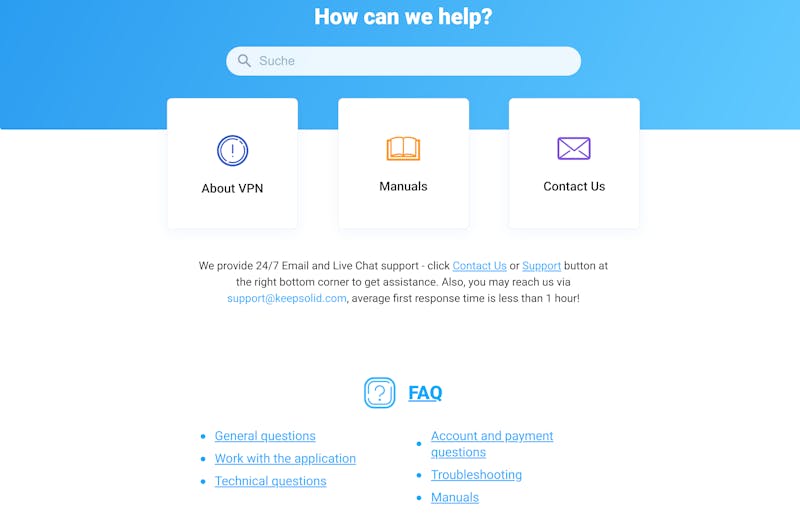 VPN Unlimited's support area features comprehensive FAQs and guides.
It would be nice if the live chat were staffed 24/7, but the email response time was one of the best from our sample. Our experience with VPN Unlimited's support was very good, and its guides are ideal for DIY types.
Score: 4.7 / 5
Pricing
As in most areas, VPN Unlimited also finds itself in the middle of our sample when it comes to price. You can use the service either with a monthly or yearly subscription. For anyone who wants to make a long-term commitment, it's also possible to purchase a lifetime subscription, which was discounted at 50% off as of the time of writing, making it fairly competitive.
Below, you can find an overview of current prices:
3 Years
1 Year
Lifetime
Set-up Fee
$0.00
$0.00
$199.00
Monthly Price
$2.78
$5.00
$8.29
Contract Period (Months)
36
12
0
Limits
Data Volume
unlimited
unlimited
unlimited
Number of Devices
5
5
5
Features
Number of Servers
500
500
500
Number of Countries
56
56
56
No Server Logs
P2P Allowed
Tor Access
Kill Switch
Protocols

OpenVPN

WireGuard

IKEv2

IPSec

L2TP

Eigenentwicklung

OpenVPN

WireGuard

IKEv2

IPSec

L2TP

Eigenentwicklung

OpenVPN

WireGuard

IKEv2

IPSec

L2TP

Eigenentwicklung
Should you not be willing to go in for the long haul, there's also a 7-day free trial. All subscriptions come with a 30-day, money-back guarantee.
In addition to credit cards and PayPal, cryptocurrencies are accepted via BitPay.
Conclusion
Customer Support
7.4 / 10
Installation and Features
7.4 / 10
Security and Privacy
5.4 / 10
KeepSolid VPN Unlimited seems to be well-named. The service is steady, combining user-friendly applications, good performance, and 24/7 support in a robust package while lacking in only a few areas. The largest of these was in terms of privacy as the service's "Zero-Logs" promise doesn't really hold up following closer inspection of the company's privacy policy. This could easily be rectified with an independent security audit.
To make itself more competitive, KeepSolid could also invest in VPN Unlimited's server network and endow its desktop client with a more dynamic interface. For anyone that can live with these limitations, VPN Unlimited is definitely solid, especially at the lifetime subscription's attractive price.
500+ servers in 50 countries
Data protection questions
7.3

good
Data Volume
Devices
Protocols
Contract Period
VPN Unlimited 3 Years
$2.78
monthly price
Visit Website »
Customer Reviews
What do regular users have to say about VPN Unlimited? We recommend taking a look at the reviews from verified aggregators that we've collated below to gain a clearer picture of how the service handles.
Customer Ratings
56,643 Bewertungen
Visit Website
We analyzed the reviews and ratings from various portals and found 56,643 ratings with an overall rating of 4.3 out of 5 .
Alternatives
Looking for a better overall package, containing more features, more dynamic applications, and performing even better than VPN Unlimited? Your first stop should be our winner, NordVPN, which is priced similarly but regularly submits to independent security audits.
Or maybe you're after a free VPN? So long as you're ready to accept a few limitations, ProtonVPN and Windscribe are worth checking out.
The best alternatives to VPN Unlimited can be found here:
NordVPN combines speed, user-friendliness and functionality into a coherent overall package that is also fairly affordable.
5400+ servers, 60 countries
Inexpensive 2-year package
9.4

excellent
Data Volume
Devices
Protocols
Contract Period
NordVPN 2-year plan
$2.99
monthly price
Visit Website »
30 days money-back guarantee
ExpressVPN impresses with strong performance, a huge server network and excellently designed applications, but this quality also comes at a higher price.
160 cities in 94 countries
30-day money-back guarantee
9.4

excellent
Data Volume
Devices
Protocols
Contract Period
ExpressVPN 12 Months
$8.33
monthly price
Visit Website »
30 days money-back guarantee
Surfshark is one of the cheapest providers on the market, but besides the price also impresses with strong protection, many features and a great support with 24/7 live chat.
3200+ servers in 65 countries
Unlimited number of devices
Many apps (Linux, FireTV, ...)
Very cheap on the 24-month plan
8.8

good
Data Volume
Devices
Protocols
Contract Period
Surfshark 24 months
$2.49
monthly price
Visit Website »
Get 83% Discount
1200+ servers in 55 countries
Headquarters in Switzerland
Open Source & external audits
8.7

good
Data Volume
Devices
Protocols
Contract Period
ProtonVPN Free
$0.00
monthly price
Visit Website »
30 days money-back guarantee
Data Volume
Devices
Protocols
Contract Period
HideMyAss! 36 months
$2.99
monthly price
Visit Website »
30 days money-back guarantee

Author (German Version): Martin Gschwentner
Martin Gschwentner majored in American Studies and Media Studies in Germany, the USA and France and works as a freelance editor in Paris. He is a doctoral student at the Institute for English and American Studies at the University of Paris Diderot, where he is researching the influence of money on US politics. On EXPERTE.com he writes about IT security, data protection and software for the self-employed and small businesses.

Translator & Editor: D Bare
Continue Reading
Reviews
Comparisons
Tools & Guides