Proxy Alternatives: Use These Instead of Proxies

Author
Janis von Bleichert
Ad disclaimer:
For links on this page, EXPERTE.com may earn a commission from the provider. This supports our work and has no influence on our editorial rating.
Would you like to anonymously browse the Internet, access websites that are censored in your location, or watch streaming content from abroad? If so, proxy servers can come in handy, since they create a connection between your device and the Internet, hiding your IP address in the process. However, they are far from the only option.
Proxy servers are used by many people, organizations, and businesses, but they also have some disadvantages. In this article, we'll let you know more about their shortcomings as well as what sort of alternatives you might want to consider trying out.
Disadvantages of Proxy Servers
In comparison to other options, proxy servers suffer from a few drawbacks, such as:
No encryption
Even though they conceal your IP address, proxy servers don't encrypt your connection. This means that you're still exposed to cyber criminals and other third parties.

Not designed to cover your entire Internet traffic
When manually configuring a proxy server, it will work at the operating system level, but only for those applications that feature a proxy option and support the protocol you've selected. Other operating system-level solutions will better guard all of your Internet traffic.

Usually slow and unreliable
Since they're typically free, proxy servers are popular. All the same, you get what you pay for, so, don't be surprised if your connection is unreliable and/or slow.

Potential security risk
Most of the time you won't be able to find out who manages the proxy server you're using, especially if it's free. Operators can monitor your activities or manipulate HTML.

Not user-friendly
Web proxies and proxy browser extensions exist, however, for greater flexibility, you'll need to manually configure a proxy connection on your system. Novices should be capable of doing this, however, other solutions are more user-friendly.
3 Alternatives to Proxies
Determining which alternative is best for you depends on what it is that you want to do, and which of the disadvantages of proxy servers you'd like to overcome. Basically, three options exist:
1.
VPNs: Safe & User-Friendly
A VPN is probably the readiest alternative to a proxy server. They also function as an intermediary between your device and the Internet but encrypt all of your Internet traffic rather than just concealing your IP address. VPNs work at the operating system level and guard online traffic regardless of where it comes from.
With a VPN, you can also get around pesky geo-restrictions and surf anonymously, all the while protecting yourself and your data thanks to their encryption. This is particularly important if using public WiFi. All of these features are offered in a user-friendly package, making it possible to virtually jump around the globe with just a few clicks, and safely connect to servers practically anywhere.
In contrast to proxy servers, VPNs are typically paid services, with completely free offers usually being suspicious. However, most of the services from our sample are priced competitively, with quite a few offering solid free versions of their software (with limitations, of course).
Advantages and Disadvantages
Encrypts your entire Internet connection
Speed loss owing to encryption

Some VPN services lack credibility
EXPERTE.com's Top Pick: NordVPN
NordVPN is our number one VPN because it combines speed, ease-of-use, and functionality in a slick package that's also pretty affordable.
5,500+ servers, 60 countries
affordable 2-year package
9.4

excellent
Data Volume
Devices
Protocols
Contract Period
NordVPN 2-year plan
$3.49
monthly price
Visit Website*
30 days money-back guarantee
There are many VPN providers out there, so, to make your choice easier, we comprehensively assessed 27 of the most popular platforms. We compared their performance, security, and user-friendliness to one another. When the dust settled, NordVPN was victorious, excelling across the board thanks to its plentiful features, intuitive apps, and adherence to strict security standards.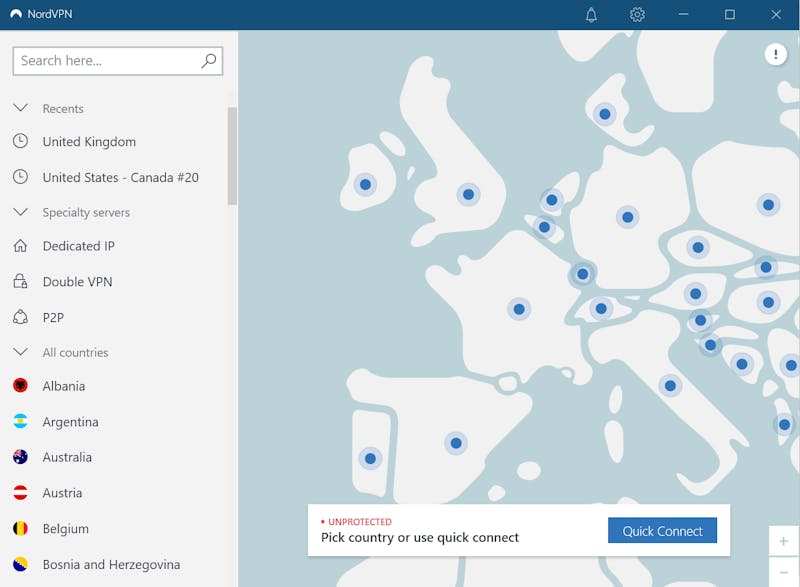 NordVPN offers one of the best VPN packages on the market.
The provider's price-performance ratio is superb, with a monthly subscription (as part of a 2-year contract) costing just $3.99 per month.
Installation and Features
9.4 / 10
Security and Privacy
9.4 / 10
If looking for even greater anonymity, Tor might be what you're after. This program encrypts your Internet traffic in several layers, routing it through multiple nodes (Tor relays), rather than just a single server (as with a VPN). Since the sequence is random, and the servers are operated by volunteers, you'll benefit from even stronger encryption than VPNs offer.
Whenever someone speaks about Tor, they generally mean Tor Browser, which is based around Firefox and pre-configured for accessing Tor's network. With Tor Browser, you can access both the World Wide Web as well as the so-called Darknet. Tor Browser can be downloaded for free from Tor Project.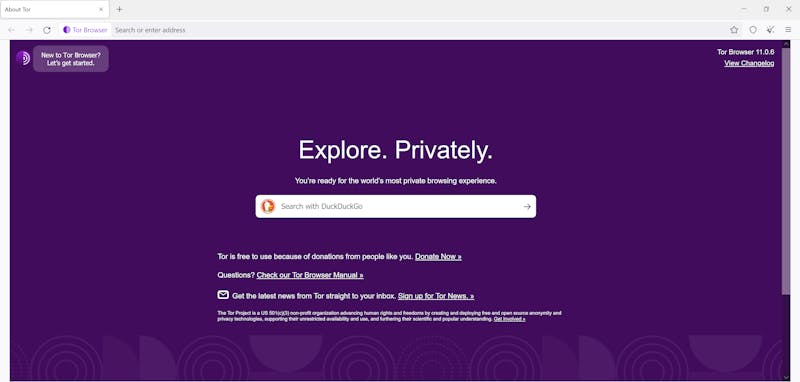 Tor Browser's start page looks like this.
It's nearly impossible to gain any insights into users or their activity if they're connected to Tor. For that reason, it's the go-to tool for journalists, whistleblowers, and anyone who wants to maintain the confidentiality of their communications and sources.
All the same, your Internet service provider (ISP) and other third parties can see that you're using Tor, with some services even blocking Tor traffic. Owing to its sophisticated encryption, Tor connections are also slower, with the added drawback of not being able to change your virtual location (such as for video streaming).
Advantages and Disadvantages
Extremely robust encryption

Highly reliable thanks to its decentralized structure
Only anonymizes traffic, not your entire Internet connection
3.
Smart DNS: Streaming Alternative
Should you be using a proxy server primarily to circumvent geo-restrictions, Smart DNS could be a nifty alternative. These are often premium services that allow users to borrow the DNS addresses of servers located elsewhere. This overcomes geoblocking, allowing anyone to access content from streaming libraries that would otherwise be unavailable where they're physically located.
One particularly neat feature of Smart DNS is that you don't need to install any extra software: The required DNS settings can be configured directly in your operating system. All that's necessary is a DNS address, which you can get from Smart DNS services like Unlocator.
If you're using Windows 11, go to Settings > Network & internet > Advanced network settings and click on "More network adapter options".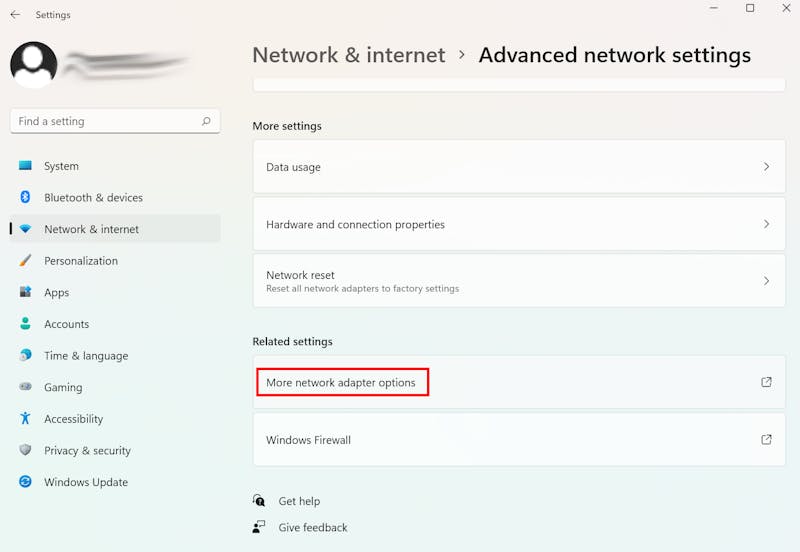 Smart DNS can be configured on Windows with just a few clicks.
Next, right-click on the network connection that you'd like to modify, and click on Properties in the pop-up window that opens.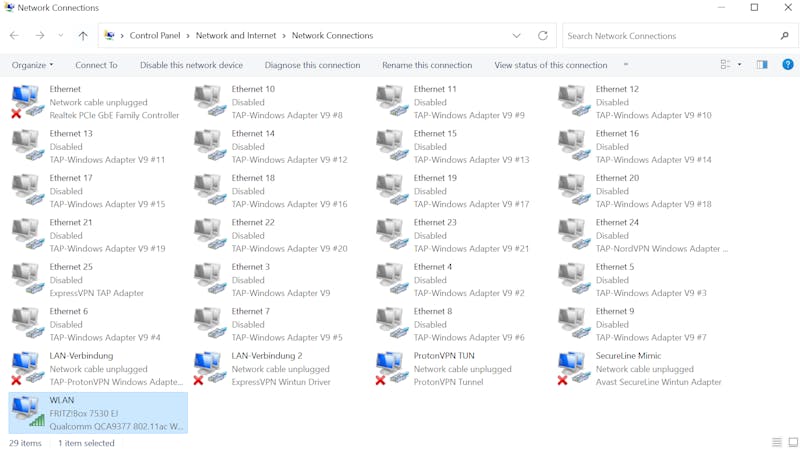 Choose the right network connection.
Now, double-click on Internet Protocol Version 4 (TCP/IPv4), and in the next window, choose Use the following DNS server addresses. After that, simply input the DNS address you received from your Smart DNS in the field.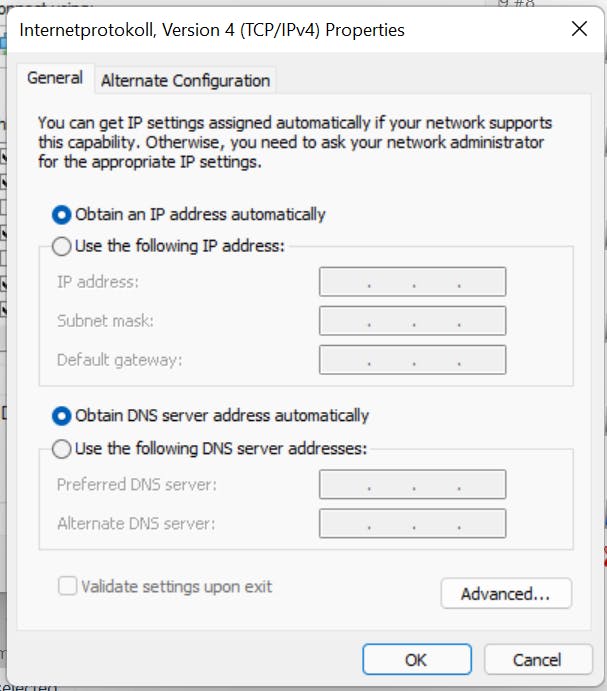 Enter the DNS address you received from your Smart DNS provider.
After restarting your system, annoying geo-restrictions will be a thing of the past on your device.
Advantages and Disadvantages
Works on most end devices
Typically only allows access to specific websites
Overview: Proxy Alternatives
Below, we've summarized the most main differences between the various solutions introduced above:
Proxy server
VPN
Tor
Smart DNS

Usually free (with limitations)

Generally premium (from a few dollars per month)

Often premium (starting at a few dollars per month)

Manual setup/configuration (except web proxies and browser extensions)

Manual setup/configuration

Theoretically no change, however, free servers are usually slow and unreliable

Some loss owing to encryption; connections more reliable

Significant loss owing to robust encryption

Depends on the proxy server

Depends on the Smart DNS provider

Circumvent geo-restrictions
Surf anonymously (with limitations)
Filter content
Enhance speed
Burden-sharing

Circumvent geo-restrictions
Surf anonymously
Safeguard your privacy

Surf anonymously
Secure communications
Circumvent geo-restrictions and DNS blocks
Access the Darknet

Circumvent geo-restrictions
Conclusion
Proxy servers are useful companions to digital life, however, they aren't without alternatives. Should you prefer a more user-friendly and reliable solution that encrypts all of your Internet traffic, and offers stringent security standards, a VPN could prove even more practical. These can also be used to bypass geo-restrictions and more effectively safeguard your privacy.
On the other hand, if you're a journalist and anonymity is essential, Tor is the best solution. For just accessing geo-restricted content from abroad, a Smart DNS will likely meet your needs.
Or maybe you'd still prefer to work with a proxy server? In our step-by-step guide, we'll show you how to configure one on your system.
* Ad disclaimer:
For links marked with an asterisk, EXPERTE.com may earn a commission from the provider. The commission has no influence on our editorial rating.

Janis von Bleichert studied business informatics at the TU Munich and computer science at the TU Berlin, Germany. He has been self-employed since 2006 and is the founder of EXPERTE.com. He writes about hosting, software and IT security.
Continue Reading
Proxy Server