Proxy Server: Current List of Free Proxies
You'd like more anonymity online, to bypass annoying geo-restrictions, or to get around local censorship? Proxy servers act as an intermediary between you and the Internet, effectively disguising your IP address and concealing your physical location. In order to manually set up a proxy connection, you'll need to find a suitable proxy server.
And there are a lot of these, many of which are free. Unfortunately, their reliability and speeds vary considerably. For that reason, we continuously check thousands of proxy servers. In the list above, which we update constantly, you can see all of the servers we were able to connect to.
Our list also includes the following information:
Type
All servers in our list are either HTTPS or SOCKS5 proxies. For more information on the differences between proxy server types, please consult our article on proxy meanings.

Country
Should you need an IP address from a specific country in order to circumvent geoblocking, you can specify it here.

Reliability
This shows how successful our attempts to establish a connection using the proxy were (on average).

Last checked
We assess the availability of proxies at regular intervals. Here, you can see when we last checked the server in question.
Set Up a Proxy
Setting up a proxy depends largely on your browser or operating system. In general, you'll need to look for proxy options under settings. Once you've found these, you can manually input data from our proxy list, namely, the proxy's IP and its port.
For Windows, open Settings and head to Network and Internet > Proxy > Manual Proxy Setup > Use a Proxy Server.
On macOS, navigate to System Preferences > Network, select the network you wish to create a proxy on and click Advanced > Proxies.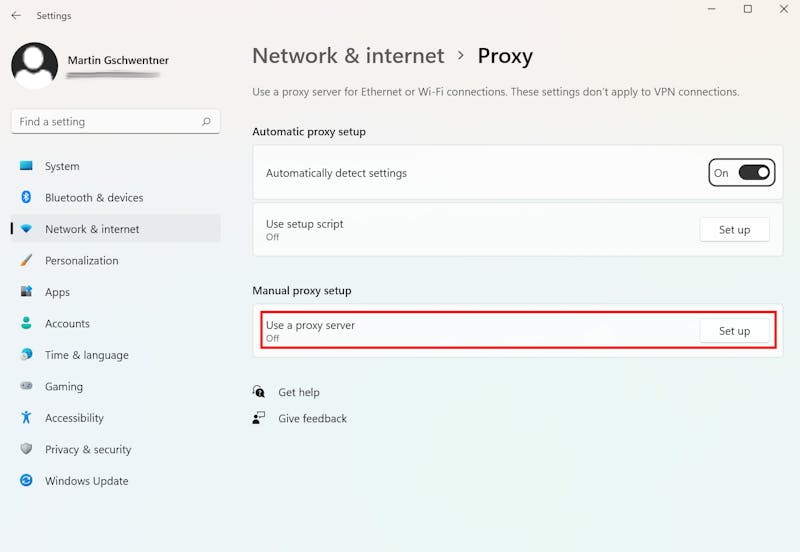 The location of proxy settings varies from operating system to operating system.
Whether you use Windows, macOS, Android, or iOS, to make things easier, we've created a step-by-step guide with screenshots.
Alternatives
Manually configured proxy servers aren't the only way to conceal your IP address. Depending on what it is you'd like to do, the following options might actually better match your needs:
1.
VPN: The Safe Alternative
If safety and security are at the top of your list of priorities, and you're interested in completely encrypting your Internet connection, VPNs are the best choice. Like proxy servers, virtual private networks act as an intermediary between your device and the Internet, however, thanks to their state-of-the-art encryption standards, they also provide comprehensive protection.
Another advantage is that you'll connect to your VPN through user-friendly apps, requiring only a few clicks to digitally jump to your new location. Once established, connections cover all applications on your device that use the Internet regardless of their proxy or protocol settings.
VPNs are especially useful if you:
Want to protect again cyber attacks, such as those launched over public WiFi

Intend to regularly change your digital location, in order to stream content from abroad

Have an interest in directing lots of simultaneous traffic through a secure connection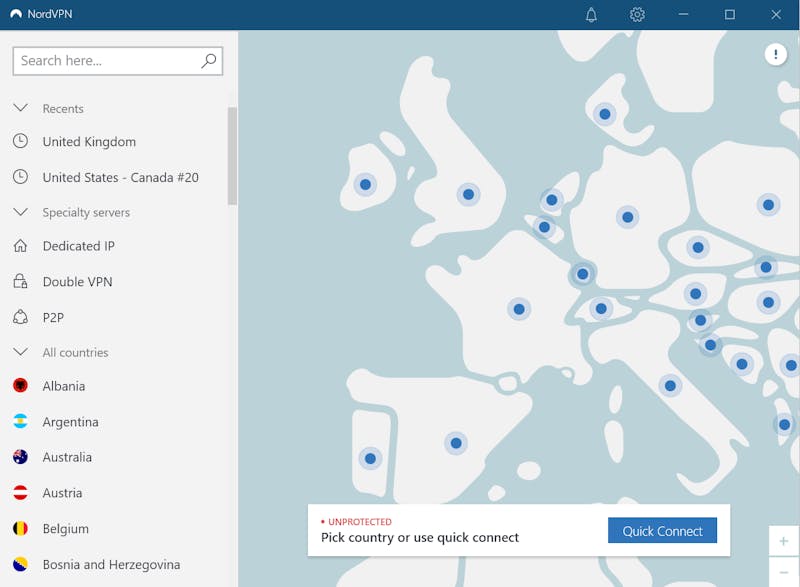 VPN services like NordVPN make it incredibly easy to change your IP and digital location, as well as to encrypt your connection.
The selection of available services is sizable. For our part, we thoroughly assessed 22 VPNs, crowning NordVPN as our overall winner. The Panama-based provider combines performance, security, and breadth of features in an excellent package. Particularly if signing on for a longer period of time, their rates are also very reasonable.
2.
Web Proxies: The Easy Alternative
Should you just need a fast proxy connection for a specific website, let's say, to access a page that is blocked for your geographic location, a web proxy can come in handy. These are online services that allow users to create an HTTP proxy connection for accessing a specific URL right in their browser.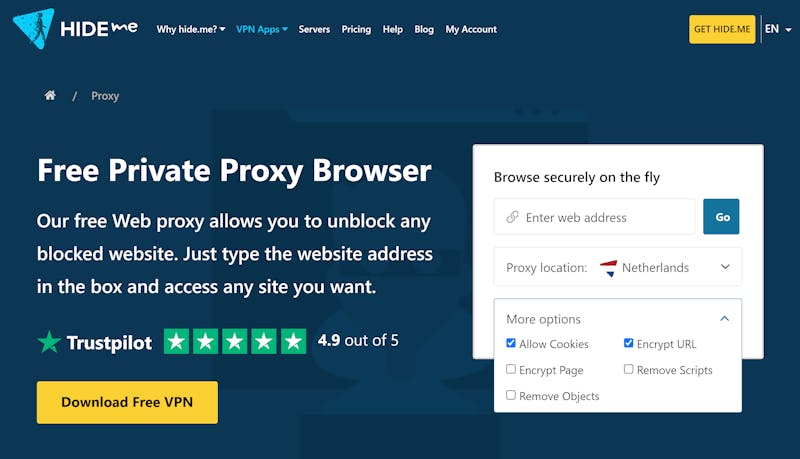 Numerous free web proxies are available online.
You won't need to set anything up manually, however, performance can be limited, with only a few server locations on offer. As a result, web proxies are not ideal for video streaming. For the security-minded user, web proxies only use HTTP, which might pose another issue.
Web proxies are usually free. To help you find the best option, we assessed seven popular services.
3.
Browser Extensions: Convenient to Set Up
In the event that you don't want to head to a web proxy's website in order to create a proxy connection, you can install a browser extension that does this. Among these you'll also find plenty of free options, such as that from CyberGhost, a VPN provider: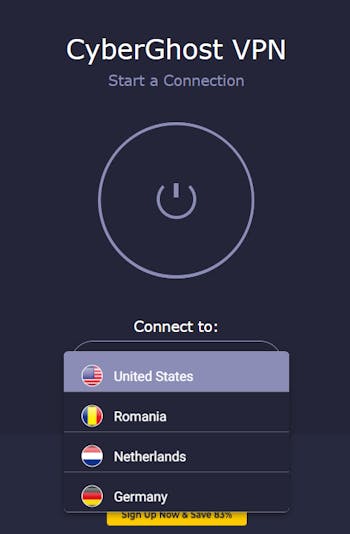 CyberGhost offers a free proxy extension as marketing for its premium VPN packages.
With proxy extensions, you can establish a proxy connection for HTTP traffic directly in your browser, offering a slightly more convenient solution than web proxies. All the same, these share the same disadvantages when it comes to server locations and performance.
We took a closer look at the best browser-based proxy options for both Chrome and Firefox.
FAQs
Proxy servers act as intermediaries between your network and the Internet, concealing your IP address and location. In technical terms, requests sent from an end device are forwarded to a web server, preventing direct contact between the client (your browser, for example) and the target (the website you'd like to visit). For that reason, proxy servers help users to navigate the Internet more anonymously.
How can I set up a proxy server?
⊖
Should you want to take advantage of the benefits a proxy server offers, you'll need to set one up manually on your system. To do this on Windows, head to Settings > Network and Internet > Proxy. We've compiled step-by-step instructions with screenshots for Windows, macOS, Android, and iOS in our EXPERTE.com guide.
What is the difference between a proxy and a VPN?
⊖
Proxy servers only conceal your IP address, whereas VPNs encrypt your entire Internet connection. Another difference is in terms of cost, since proxy servers are usually free, albeit less reliable and slower (however, there are premium options available). Reputable VPN services are typically subscription-based, however, far more reliable, even though their added encryption can have some impact on performance.

Janis von Bleichert studied business informatics at the TU Munich and computer science at the TU Berlin, Germany. He has been self-employed since 2006 and is the founder of EXPERTE.com. He writes about hosting, software and IT security.
Continue Reading
Proxy Server