Web Proxy: 7 Free Proxies In The Browser

Author
Janis von Bleichert
Proxy servers are useful companions, serving as intermediaries between you and the Internet, concealing your IP address in the process. By employing them, you can circumvent geo-restrictions and surf the Web anonymously. Setting them up manually can be somewhat tricky, however, browser-based web proxies offer a convenient solution.
Web proxies don't need to be manually configured: Simply go to the service's website and input the URL for the page you want to visit. Most of the time, you'll be able to specify the server location or adjust cookie or script settings.
Compared to traditional proxy servers, which are set up via your operating system and can be used by multiple browsers and apps at the same time, a web proxy is only designed for basic Internet traffic within a browser window. At the end of this article, we'll let you know what disadvantages these have as well as several alternatives that are available. Next, we're going to introduce you to a few free web proxies that you can use immediately.
7 Free Web Proxies
A quick Google search will likely turn up hundreds, if not thousands of free web proxies. However, you'd be wise not to expect too much from these: After all, you get what you pay for, and free web proxies are no exception, often being slow and unreliable. For non-essential tasks or purposes, they can come in handy though.
So without further ado, here are seven free web proxies worth taking a closer look at:
HideMyAss is known primarily for its VPN, which impressed us during our EXPERTE.com review owing to its large server network and top speeds. The company also offers a basic web proxy ⇱. Users can select between servers in the US (New York and Seattle), Germany (Frankfurt), the Netherlands (Amsterdam), the UK (London), and the Czech Republic (Prague).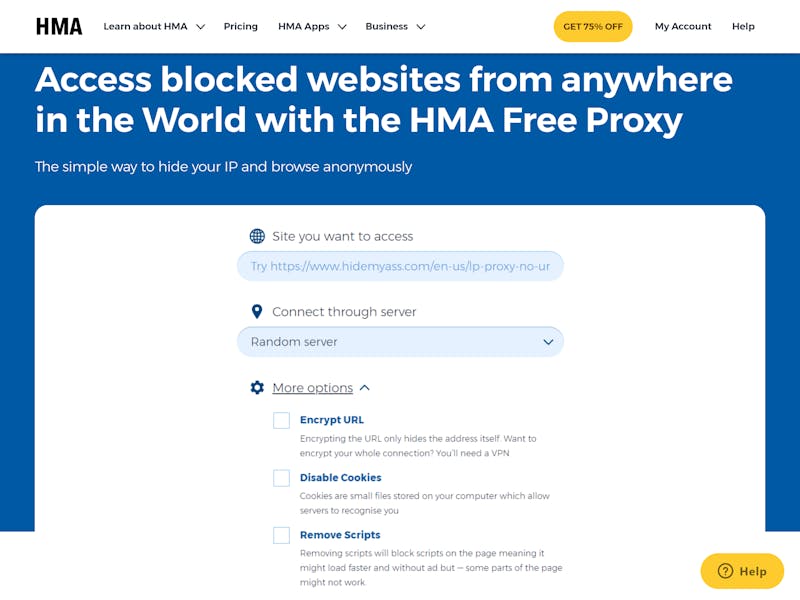 With HMA's web proxy, you can easily circumvent geo-restrictions.
The proxy also offers three other options:
Encrypt URL: Checking this option conceals your web address (your connection will not be encrypted).

Disable Cookies: With this, you'll prevent websites from saving cookies that include information about your behavior.

Remove Scripts: By blocking scripts, websites will load faster.
Like HMA, Hide.me is also primarily known as a VPN provider. During our assessment, it came in just behind HideMyAss. We particularly liked its wide variety of features and solid free version, despite having to occasionally contend with connectivity issues.
Hide.me's web proxy ⇱ includes three server locations to connect to: the Netherlands, Germany, and Finland.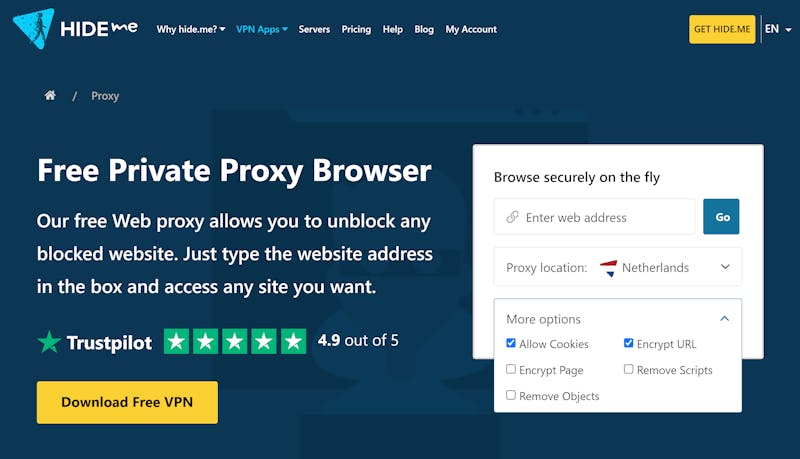 Hide.me, mainly known for its VPN, has also added a free web proxy to its product portfolio.
You're also able to configure cookie settings and disable scripts. In addition, you can go beyond concealing your URL by encrypting the entire page you visit.
4everproxy ⇱ offers proxy servers in a number of countries including Germany, France, the US, and Australia. Along with all of the customary proxy features, you'll also be able to create permanent URLs. This makes it possible to share proxy-based links to websites with others.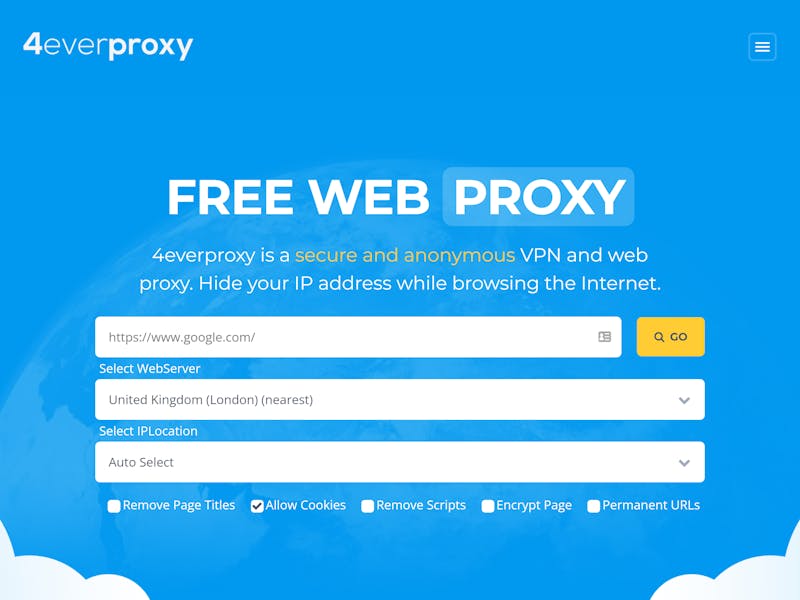 4everproxy makes a number of different server and IP locations available.
kproxy ⇱ serves up a simple web proxy tool without any bells and whistles: Just input a URL and click "surf!" to connect to the site you want to visit. Although a number of different servers are available, kproxy doesn't disclose their location.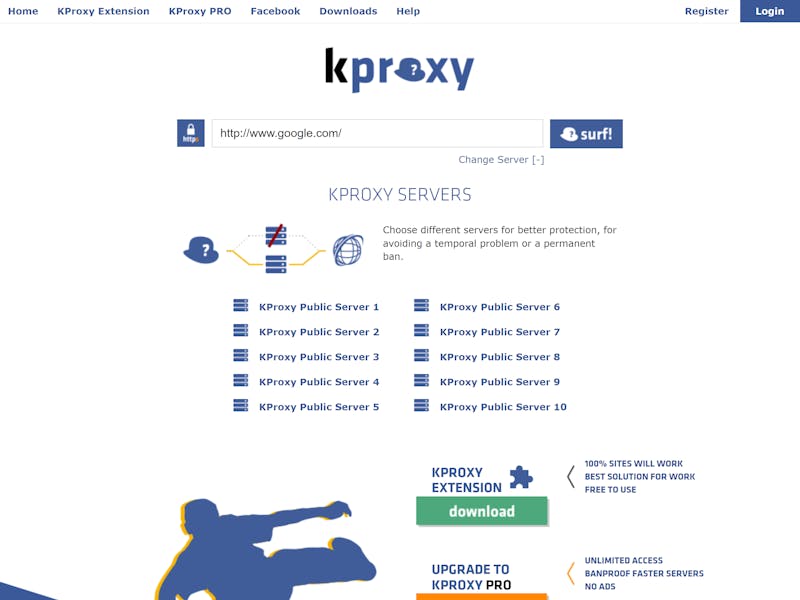 kproxy keeps things simple.
The free version of CroxyProxy ⇱ doesn't include any extras, not even the ability to choose a specific server location. Somewhat offsetting this, its quick links to popular websites like Reddit, Wikipedia, or Google add a new dimension of convenience to the web proxy experience.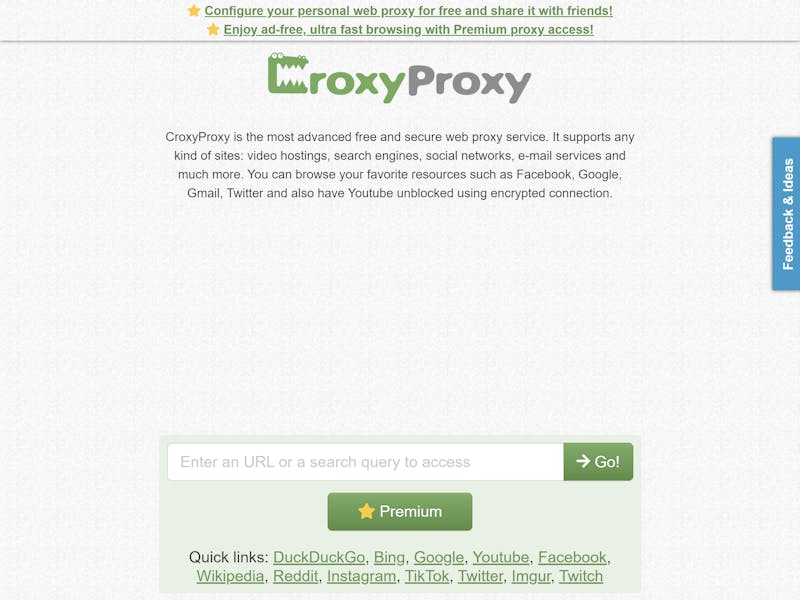 CroxyProxy also doesn't include any extras, going so far as to not offer a choice of server locations.
With ProxySite ⇱, you'll be able to choose between servers located in the US and those in the EU. Once a connection has been established, you can specify whether cookies, as well as scripts and objects, should be allowed.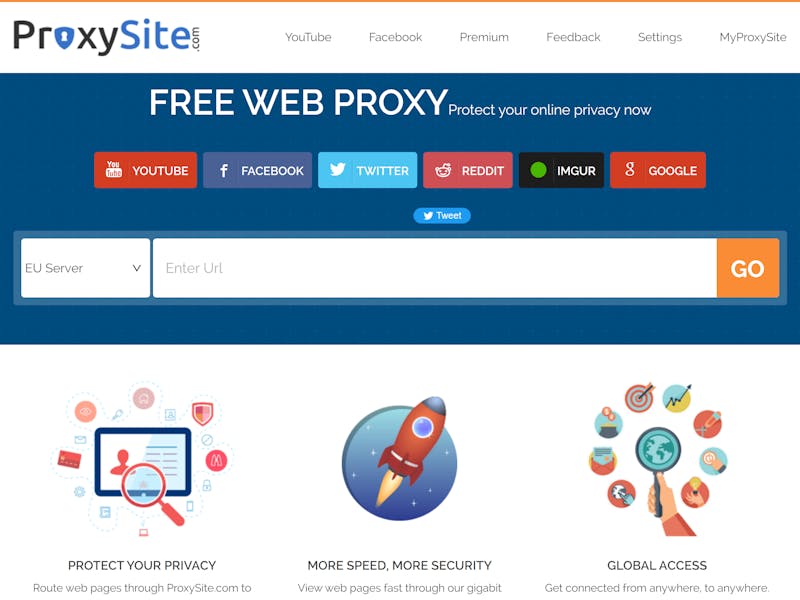 ProxySite offers users the ability to connect to free servers in the US and the EU.
Rounding our list is hidester ⇱ through which you can also create proxy connections to servers in the US or the EU. After you visit a website via hidester, you can adjust cookie settings, enable URL encryption, and disable scripts and objects.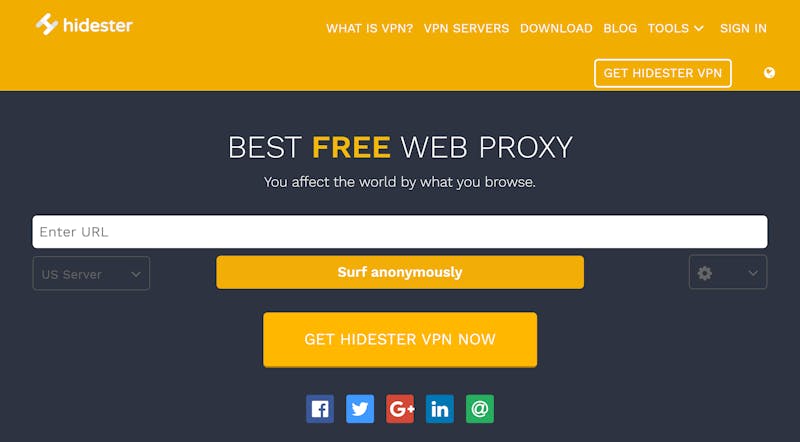 Hidester's US servers are optimized for use in China.
Alternatives to Web Proxies
There's no shortage of free web proxies for anyone looking to quickly and conveniently create a browser-based proxy connection. All the same, these services suffer from a few key disadvantages:
Connections with free web proxies are generally very slow and unreliable

Web proxies only handle HTTP traffic, limiting their usefulness to simple web activities

Proxy servers often conceal your IP, however, they usually don't encrypt your connection

Although easy to use, you'll still need to access the proxy's website
Depending on which of the above are issues for you, some of our alternatives might better match your needs:
VPN: Safer Than Web Proxies
Like proxy servers, VPNs also act as middlemen between your device and the Internet. However, when it comes to security, VPNs take this to a whole different level, encrypting your entire Internet connection, since they work on the operating system level. With features like split tunneling, you can even specify which apps use your VPN and which stay on your regular Internet connection.
VPNs come with user-friendly desktop and smartphone apps, which make it possible to access a server with just a few clicks. The resulting connection will be more stable than that of a web proxy too. Good VPNs are almost always paid services, however, there are a few exceptions, if you're willing to make do without a few features.
EXPERTE.com Winner: NordVPN
NordVPN is our number one VPN because it combines speed, ease-of-use, and functionality in a slick package that's also pretty affordable.
5,500+ servers, 60 countries
affordable 2-year package
9.4

excellent
Data Volume
Devices
Protocols
Contract Period
NordVPN 2-year plan
$3.49
monthly price
Visit Website »
30 days money-back guarantee
In our comprehensive VPN comparison, we put 22 of the leading providers to the test, examining them from top to bottom. NordVPN emerged as the best in show. The Panama-based service combines excellent speeds with stringent security standards and user-friendly apps.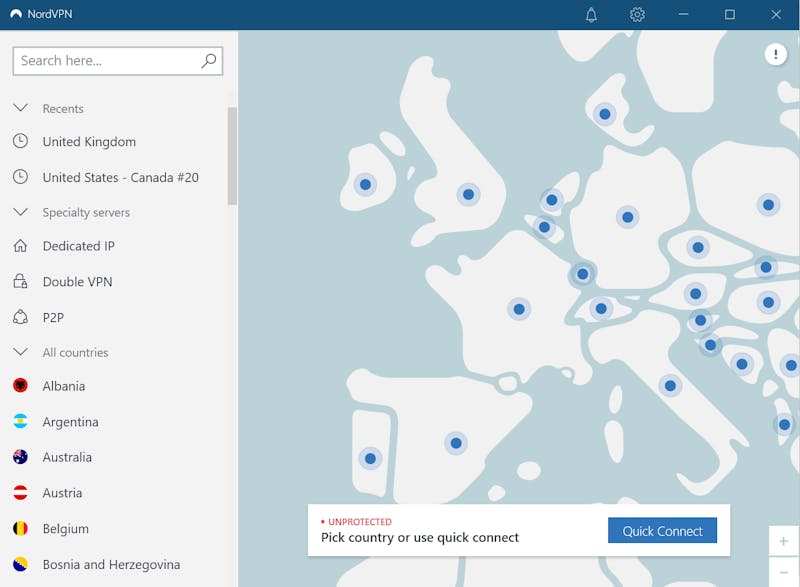 NordVPN offers a great combination of speed, tough security standards, and user-friendly apps.
NordVPN is priced well too: Its 2-year subscription only costs $3.99 per month.
Installation and Features
9.4 / 10
Security and Privacy
9.4 / 10
Browser Setup: Proxies in Chrome and Firefox
Manually Configure a Proxy
In the event that you want to make use of a proxy connection not only in your browser, but also on your operating system (for example, to route multiple browsers at the same time, or applications with the appropriate protocols), you'll need to do this manually. Our step-by-step guide walks you through this process.
To finish setting up the connection, you'll need the IP address of a proxy server. These can be had either for free or against payment. As with most things: Free offers are usually slower and less reliable than paid ones.
We've compiled an up-to-date overview of available free proxy servers in our proxy list.
Conclusion
Web proxies offer a simple way to create a free proxy connection in your browser in order to circumvent geo-restrictions on a particular website. The old adage "you get what you pay for", applies, since free web proxies are often slow, unreliable, and only support HTTP traffic, limiting their applicability.
For greater flexibility, you can manually set up a proxy server. We're constantly checking our EXPERTE.com list of free proxy servers. In the event that you require a more consistent connection and/or would like it to be fully encrypted (and, by extension, safer), VPNs offer a fantastic alternative.
FAQs
A web proxy is an online service that allows you to create HTTP proxy connections within your browser. To use one, simply navigate to a web proxy, input the URL of the site you'd like to visit, and you'll be connected anonymously. The connection conceals your IP, preventing others from collecting information about you and your surfing behavior.
Which web proxy is the best?
⊖
What's the difference between a proxy and a VPN?
⊖
A proxy server only conceals your IP address, whereas a VPN masks your entire Internet connection. Generally speaking, proxy servers are free and often slow and unreliable, however, there are more consistent paid options. Since most VPNs are premium services, they're generally more reliable. Owing to the encryption they offer, upload and download speeds can vary.

Janis von Bleichert studied business informatics at the TU Munich and computer science at the TU Berlin, Germany. He has been self-employed since 2006 and is the founder of EXPERTE.com. He writes about hosting, software and IT security.
Continue Reading
Proxy Server