Proxy Setup: Proxy Settings in Windows, macOS, Android, and iOS

Author
Janis von Bleichert
Whether you're on a PC, smartphone, or tablet, proxy servers can conceal your IP address, allowing you to surf the Web anonymously and access otherwise geo-blocked content. However, in order to make the most of a proxy server, you'll need to manually set it up on your operating system. Below, we'll show you just how to do this with screenshots.
Before configuring a proxy connection, it's important to consider what device and operating system you're using. All of the methods eventually come to the point where you're asked to input the IP address of the proxy server you intend to connect to. These can be either free or premium. For an overview of free proxies, be sure to check out our continuously updated list.
So now, without further ado, let's take a look at how to set up a proxy connection in Windows, macOS, Android, and iOS:
Windows: Configure a Proxy Server
To configure a proxy server in Windows 11:
1. Open Settings, go to Network & internet, and click on Proxy.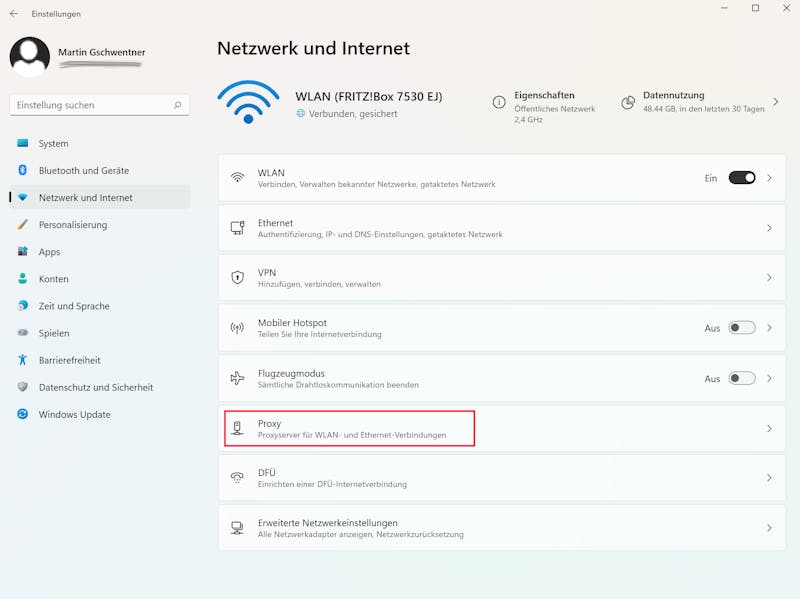 In Windows 11, proxy options are accessible via the Settings menu.
2. Click on the Setup button under the Manual proxy setup heading.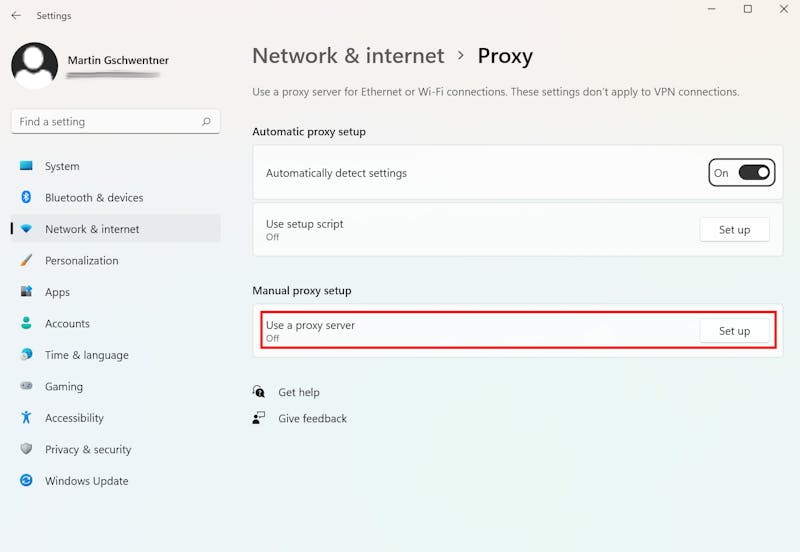 Open the manual proxy settings in Windows.
3. Under Use a proxy server, set the toggle to On and input the proxy IP from the server you'd like to connect to in the Proxy IP Address field, as well as the accompanying port. Below, you can specify which addresses should be exempted from the proxy connection, or prevent local addresses from using it.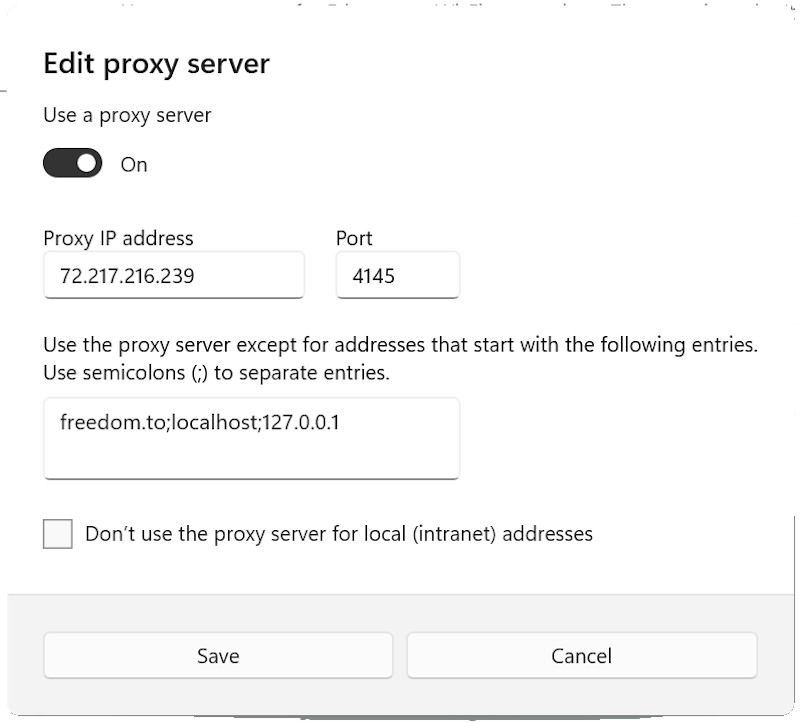 Now, input the proxy server's IP and port.
Now, all of your connections will occur over the proxy server (below, we'll let you know how to test this).
macOS: Configure a Proxy Server
To setup a proxy connection in macOS:
1. Open System Settings via the Apple menu and click on Network.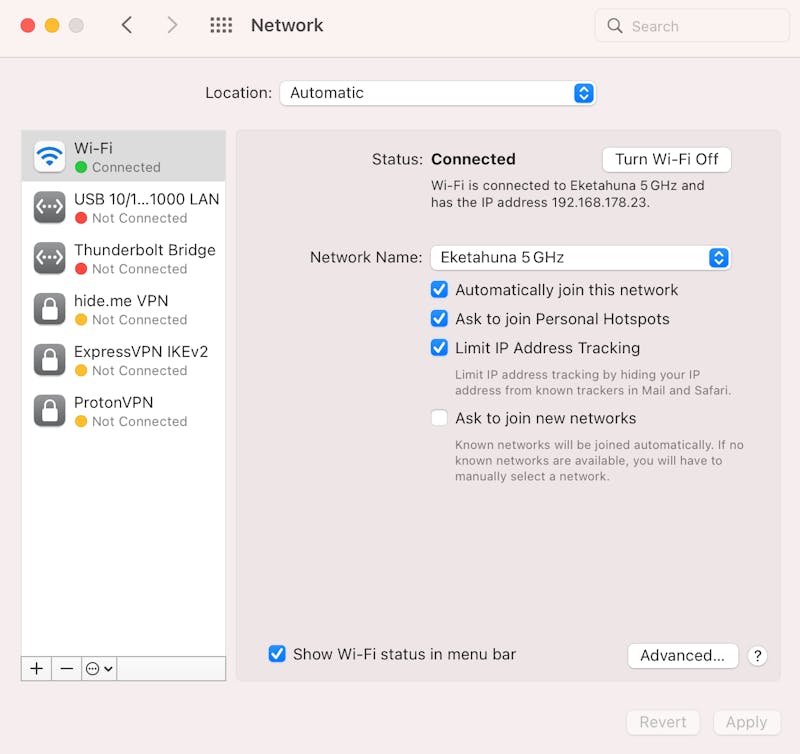 To setup a proxy server in macOS, go to Network options.
2. Select what type of network you'd like to create from the drop-down menu (WiFi, Ethernet, etc.).
3. Click on Advanced Options and then on Proxies.
4. Specify the protocol type and input the proxy server's IP and port. All of this information can be found in our proxy list.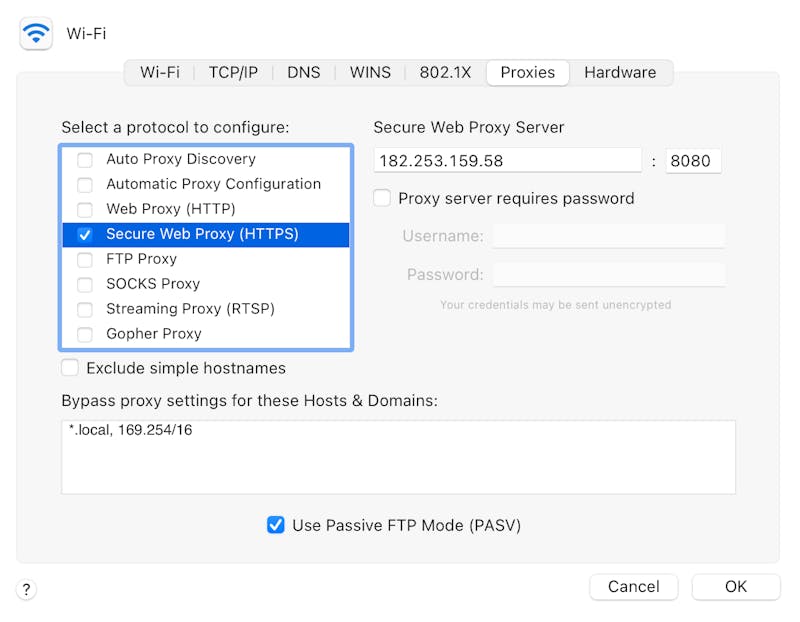 Select a protocol, specify the server's IP address, and input its port.
5. To complete the setup process, click on OK and then Accept. From now on, the connection will operate via the proxy server you've specified.
Android: Set Up a Proxy Server
On an Android device, you'll need to configure a proxy server for each network individually. Here's how to do it:
1. Go to Settings and select Network & internet. In the menu that opens, tap on Internet.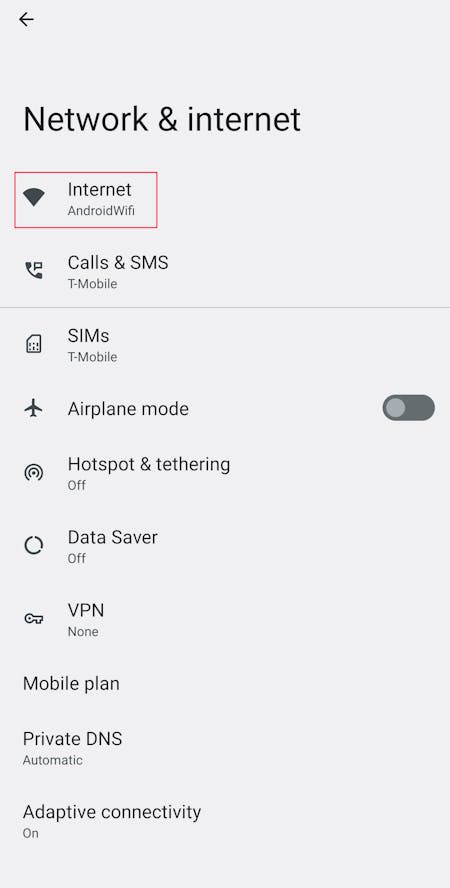 To get started, you'll need to open your Android device's Settings menu.
2. Tap on the network that you'd like to create a proxy connection for in order to open its network details. Select the pencil symbol in the upper right to open network settings.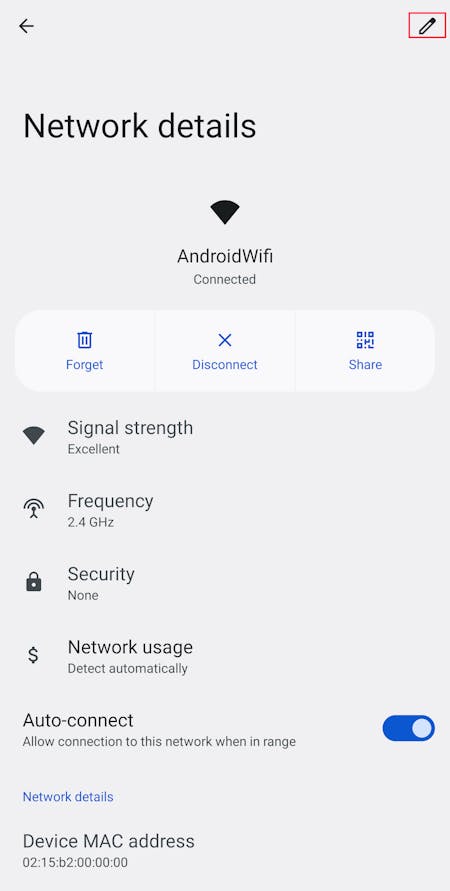 Proxy settings can be found under network details.
3. Expand Advanced options and tap on Proxy. In the drop-down menu that opens, select Manual.
Proxy connections are not configured by default on Android devices.
4. Now, input the IP address under Hostname, and include the proxy server's port in the appropriate field. In order to tap on Save, you'll need to enter the WiFi network's password again.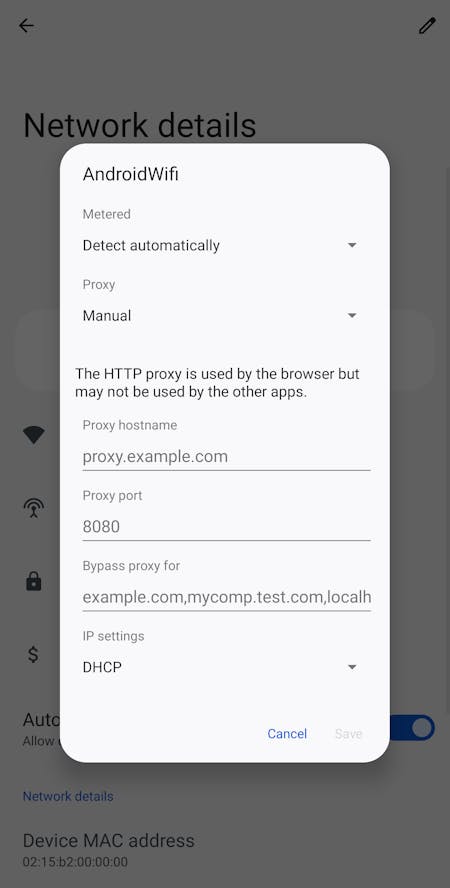 At this point, you'll need to have the proxy server's details close at hand.
5. The proxy connection is now configured, however, only for the network you selected.
iPhone: Configure a Proxy Server
To setup a proxy server on an iOS device:
1. Tap on Settings and select Wi-Fi.
2. Specify the WiFi network you'd like to connect to a proxy server on.
3. Under HTTP Proxy at the bottom, tap on Configure Proxy.
4. Select Manual, and input the proxy server's IP address under Server, supplying its port below. Use the information from our proxy list.
5. Once input, go back to the network's WiFi settings to save your changes.
Test a Proxy Connection
Proxy servers are invisible intermediaries that work in the background. Once you've completed setting one up, you might want to check whether it actually works and if your connection has been reliably anonymized. An easy way to do this is with WhatIsMyIPAdress.com ⇱, by seeing whether the displayed IP address for your connection matches that of the proxy server. Only if they do is your connection correctly configured.
Slow Proxy Connection
Is your proxy connection too slow or sporadic? Unfortunately, if you're using a free proxy IP, this is nothing out of the ordinary. On these, you'll need to share bandwidth with lots of other users, reducing the connection speed for everyone.
Should you have more need for speed, you can try a different server from our list or rent your own premium proxy server, from providers like Smartproxy ⇱. Your connection with these will be both faster and more reliable.
Alternative: VPN
More reliable connections, frequent IP address changes, and enhanced anonymity online. If these sound appealing to you, VPN services might be an option worth looking into. They don't only conceal your IP address in order to help you circumvent geo-restrictions, but also encrypt your entire Internet connection, effectively warding off digital snoops.
Another advantage is that you won't waste any time manually setting up a VPN, since they connect to servers via user-friendly, operating system-level clients, regardless of which protocol settings your network uses. All the same, VPNs are usually premium, however, for a small monthly investment (less than $4), you can take full advantage of what the leading platforms have to offer.
EXPERTE.com's Top Pick: NordVPN
NordVPN is our number one VPN because it combines speed, ease-of-use, and functionality in a slick package that's also pretty affordable.
5,500+ servers, 60 countries
affordable 2-year package
9.4

excellent
Data Volume
Devices
Protocols
Contract Period
NordVPN 2-year plan
$3.49
monthly price
Visit Website »
30 days money-back guarantee
In our exhaustive assessment of 22 leading VPN providers, we compared their performance, features, and security, among other factors. First place went to NordVPN: The Panama-based provider combines speed, user-friendliness, and a hefty collection of features in an excellent package that won't break the bank.
Installation and Features
9.4 / 10
Security and Privacy
9.4 / 10
Conclusion
Regardless of whether you're using Windows, macOS, Android, or iOS, it doesn't take much effort to set up a proxy server on your operating system. All you'll need is a proxy IP, which you can get from our regularly updated proxy list.
If you would like to learn more about proxy servers, we recommend consulting our overview on the topic. On the other hand, should you be after a more reliable means of concealing your IP address that doesn't require making changes to your operating system, VPNs could be worth looking into.

Janis von Bleichert studied business informatics at the TU Munich and computer science at the TU Berlin, Germany. He has been self-employed since 2006 and is the founder of EXPERTE.com. He writes about hosting, software and IT security.
Continue Reading
Proxy Server