Antivirus Software Review: Avast
The prominence of cyber crime is one of the most worrying developments reflected in criminal statistics over recent years. While countries and physical spaces become more and more secure, the virtual world seems to post an ever-increasing number of threats. This makes having a solid line of defense against malicious behavior online more important now than ever before. Avast Antivirus is one of the most popular free antivirus programs. Our test will show whether it has earned its good reputation.

Avast Antivirus is an award-winning antivirus program for Windows, MacOS, Android, and iOS. Its basic version is free-of-charge, however, to unlock all of the program's features, you will need to pay, either for a "premium" or "ultimate" subscription (more on these below). For this review, we evaluated the premium version, but will also reference the freeware version as well.
Installation & Usage
4.7 / 5
Security & Performance
4.0 / 5
Functional freeware version
Excellent support area for DIY types
Limited possibilities to contact support
Noticeably slows your computer
User complaints about billing irregularities
It only takes a few minutes to install Avast, and concludes (optionally) with the first scan of your computer. This helps the program determine if your system is infected with any malware, or if outdated software has created any vulnerabilities. At installation, you can also sign on for an optional, one month free trial premium trial.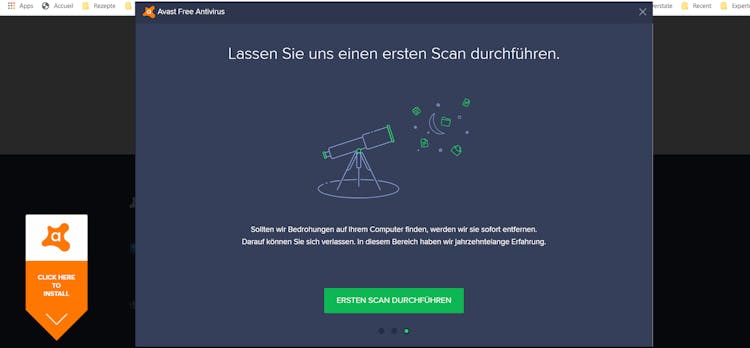 Avast's user interface is streamlined, and aesthetically harmonized with its blue tones, orange accents from the company's logo, and green 'all clear' buttons (if your computer is secure). In the menu on the left, alongside seeing your current status, with the option to perform a quick "Smart Scan", you can also view all of Avast's features, divided into categories like "Protection", "Privacy", and "Performance".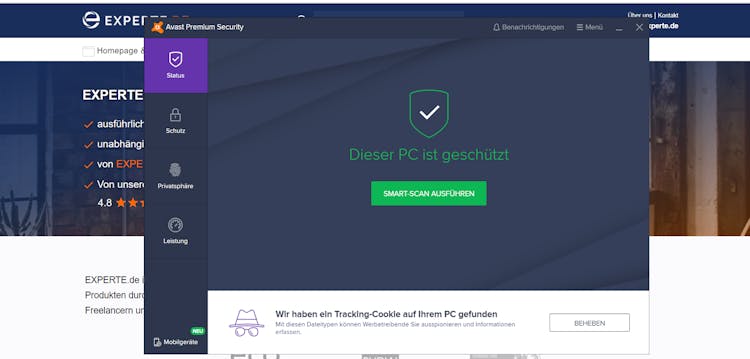 Notifications, for example warnings or information about updates, appear in the upper menu bar. Here, you can also access the program's settings, which have a very practical integrated search feature, helping you find what you need quicker. Even without the search tool, the app is well-arranged, making finding the feature or setting you need relatively easy.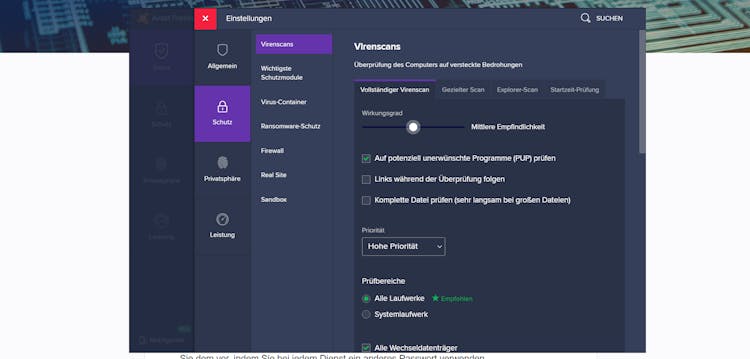 Despite the program's variety of features, navigating Avast is both easy and enjoyable, owing to its well-conceived and 'clean' interface: It shouldn't take long to find any feature or setting you might be looking for, and the most important information always seemed to be just a click away, but never more.
Score: 4.7 / 5
Avast Antivirus does not suffer from a shortage of features. In fact, the program, even in its freeware version, does not seem to be missing any features that we look for in an antivirus program.
The core competence of any antivirus program is its security scan, and the related real-time protection features. The latter can be configured under the Web or Email Protection options in Settings. Here, for example, you can set whether the program automatically checks your incoming and outgoing messages, or blocks web attacks and unsafe downloads.
Expanded real-time protection features are only available for paying subscribers. These include ransomware protection, which defends you against extortion attacks, a particularly nefarious type of malware that encrypts your data, only returning access to it for a fee. Webcam protection too, which prevents unauthorized access to your webcam and microphone, is likewise only available for premium users.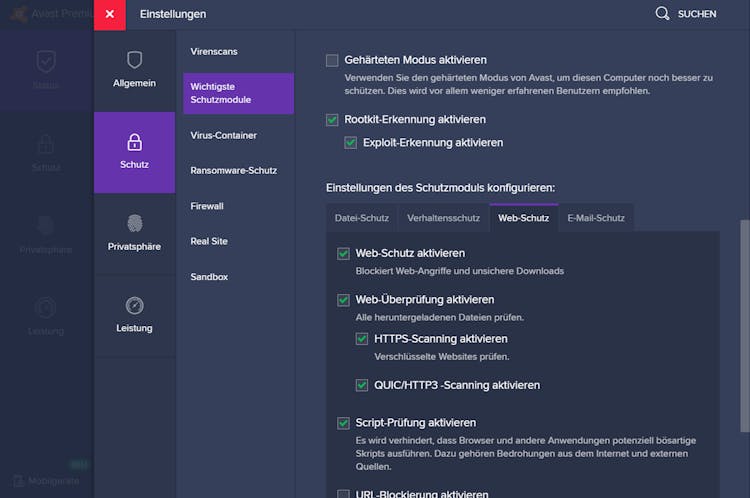 All versions of Avast Antivirus come with a password manager. Even though this isn't comparable to the dedicated programs in our password manager review, you can still safely save login data, credit card information, and notes. During installation, you can also choose whether to install Avast Secure Browser, which features an integrated adblocker.
That about covers the features available to both freeware users. For paying customers, Avast Antivirus offers a firewall that monitors all incoming and outgoing data traffic on your network, all the while preventing unauthorized access. This can be customized for your needs under settings, for example, if you want to set a specific time when suspicious network packets should be monitored, or if joint-use of your internet connection should be temporarily allowed or disallowed.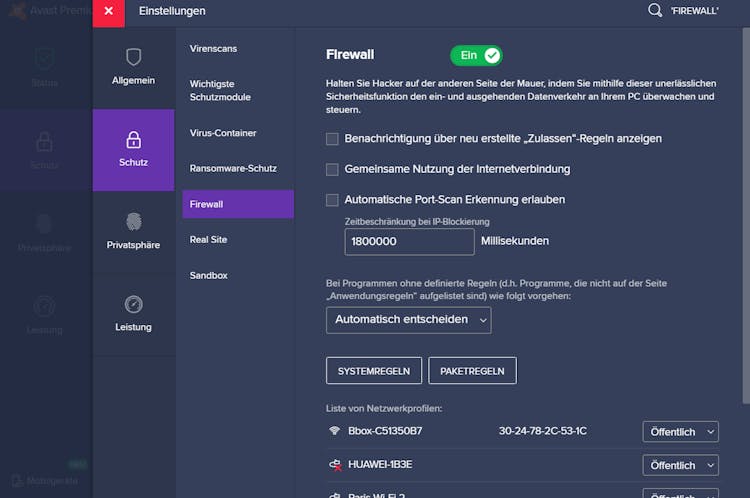 The data-shredder allows you to completely destroy files, preventing them from being reconstructed or recovered. This is particularly handy for users who want to recycle or throw away a hard drive, memory stick, or other storage device, without concerns relating to data theft hanging over their heads.
The "Sandbox" is one of Avast Antivirus's special features. It allows you to open questionable apps or data in a secure partition, without endangering the rest of your computer (imagine a robot opening a suspicious package or letter in a sealed room). This protects from the dangers accompanying unknown software. For example, if you want to know what is contained within a suspicious .exe file, you can launch it securely by clicking on it with the right mouse button, and clicking on "Open in Sandbox".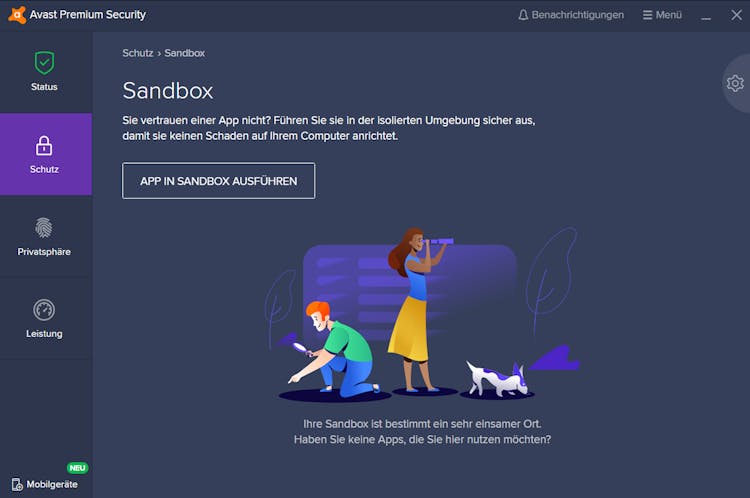 Avast's "Wi-Fi Inspector" scans the network you are connected to for security issues. At home, this allows you to find out if there are problems with your router, or if any connected devices are in danger (or a danger). On public networks, you'll be able to see whether there are any threats nearby.
Avast's ultimate version also includes an integrated VPN, which has 55 servers in 34 countries. Although far off the mark of the leading VPN providers (for more on them, see our exhaustive provider evaluation), it's still a nice bonus for users of Avast's most expensive subscription option.
Mobile Features
The mobile version of Avast Antivirus offers additional security features, including a "Photo Vault", which encrypts and PIN-protects pictures in your device's gallery, and the so-called "WiFi Scan", which assesses the security of the network you're connected to.
Since smartphones are a common target for (physical) thieves, the mobile app includes a number of "anti-theft" measures. You can configure Avast to mark your device as "lost", for example, if an unknown SIM card is entered. You can also remotely access your device, and locate it using GPS. These anti-theft measures are included in all versions, however, some can only be used by premium subscribers, such as "Camera Trap", which allows you to secretly photograph your phone's thief.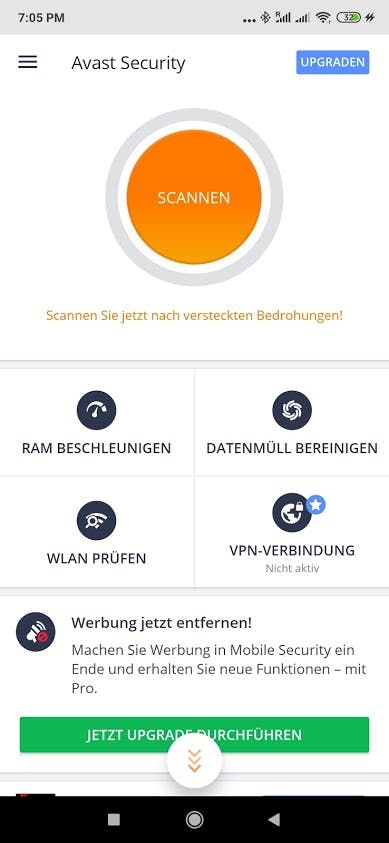 Also only for premium users is the "App Lock" feature, which provides an added layer of security for your apps, requiring entry of a PIN or fingerprint to open them.
Avast Antivirus has all of that features expected from a product of its caliber, as well as a few nice extras to boot.
Score: 4.3 / 5
To assess Avast Antivirus, we consulted AV-Test and AV-Comparatives, each of which gives separate scores for performance and security.
Tests performed in: January 2020 (AV-Test) and October 2019 (AV-Comparatives)
Avast Antivirus cuts a very good figure in both areas: AV-Test gave it very high scores in both categories, whereas the program aced the performance test from AV Comparatives, collecting 90 from 100 points. The most recent real world protection test (July-October 2019) withheld a third star from the program owing to an above average number of error messages, as well as a handful of vulnerabilities.
Score: 4 / 5
Note: January 2020 Controversy surrounding the sale of user data
An investigative report published jointly by Motherboard (Vice) and PCmag in January 2020 revealed that Avast, through its subsidiary, Jumpshot, had sold user data on a massive scale to third-parties, including Google, Microsoft, McKinsey, Pepsi, and Yelp. According to the authors, this data refers to "Google searches, GPS coordinates used in Google Maps, LinkedIn site history, YouTube videos, and porn browsing history, including the entered search terms and the videos watched." Even though no personal data was sold, it would not have been difficult for the buying companies to identify individual user IDs on the basis of movement data and device numbers. In the interim, Avast's CEO Ondrej Vlcek apologized for the incident and closed Jumpshot.
For DIY users, Avast's support center will definitely be to your liking, providing a variety of resources which can be easily searched for using keywords. To gain an even better idea of net security, or digital matters, Avast's Academy, which is a component of the company's efforts to not only protect, but also educate users, is worth a visit. Additionally, there is also a forum.
The company's self-help offerings are so good, that in most cases, it really isn't necessary to speak with support. This is probably Avast's hope, since directly contacting the company and its support personnel are much more problematic. As a freeware user, no provisions are made for filing support tickets, whereas premium users can send emails. At present, the company does not offer a live chat. During testing, our query was answered within nine hours.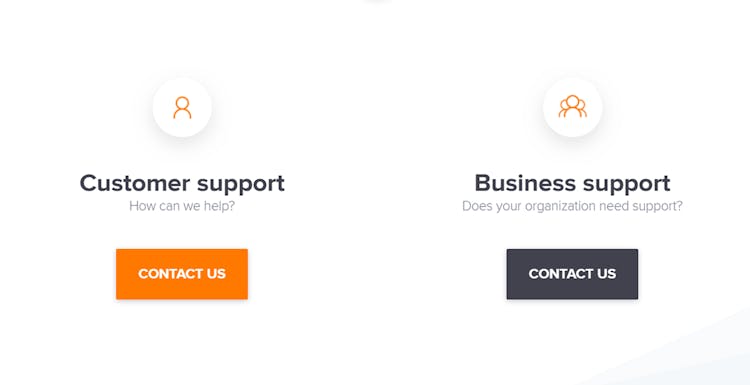 In terms of support, Avast is a tale of two services: Its FAQs and guides are authoritative and exhaustive, whereby, the inability for all but premium users to file support tickets and lack of a live chat are greatly disappointing. As such, we can only rate Avast's support as acceptable.
Score: 3.3 / 5
Avast is available in free, premium, and ultimate versions, the last of which is only offered for Windows. Premium is sold in single and somewhat more expensive, multi-device packages.
The service also offers three different business subscriptions.
A current overview of the service's prices can be found below:
Free
Premium Security
Ultimate
Pricing
Set-up fee
$0.00
-
-
Price per year
$0.00
from $39.99
from $69.99
Contract period (months)
0
12
12
Software
OS

Windows

macOS

Android

Windows

macOS

Android

Windows

macOS

Android

Max. Number of devices
unlimited
10
1
Special Protection Features
Real-time Protection
Internet Security
Email Protection
Ransomware Protection
Webcam Protection
Premium Features
Firewall
Password Manager
VPN Access
Adblocker
Cloud Backup
File Shredder
Parental Control
Performance Tuning
Mobile Features
App Lock
Location Tracking
Remote Lock
Camera Trap
Avast Antivirus's premium version is, in comparison to other similar services, somewhat more expensive. Since subscription packages for each program vary, the table below compares each provider's offering on the basis of a sample, with similar conditions:
$26.99
Visit Website
$29.95
Visit Website
$29.99
Visit Website
Bitdefender
Internet Security
$34.99
Visit Website
$34.99
Visit Website
360 Total Security
Premium
$35.98
Visit Website
$39.99
Visit Website
$39.99
Visit Website
$39.99
Visit Website
Kaspersky
Internet Security
$39.99
Visit Website
$42.74
Visit Website
$44.99
Visit Website
$45.00
Visit Website
$47.15
Visit Website
$49.99
Visit Website
It is worth mentioning that a number of complaints were found on Trustpilot in regards to billing irregularities, such as incorrect invoices, or automatic bank withdrawals despite cancellation. Perhaps these only impact a smattering of users, however, even when using the free trial month for premium, we recommend paying close attention to your bank account or payment method in the following month.
Installation & Usage
4.7 / 5
Security & Performance
4.0 / 5
Avast Antivirus offers a wide-range of features in a very nicely designed package that is not only easy to use, but also reliable where it counts, in terms of security and performance. Free users can access the most important features, and there are a few bells and whistles to entice potential clients to the premium or ultimate versions: These include "Sandbox" and the "Wifi Inspector", both of which add further security, setting the program apart from other premium providers.
Avast überzeugt mit einer Gratis-Version, die bereits die wichtigsten Funktionen abdeckt. Lediglich bei der Performance gibt es leichte Abzüge.
Plan
Devices
Protection Features
Premium Features
Avast Free
$0.00
Visit Website »
Download for Free
We had to deduct points in terms of support, since, despite the excellent FAQs and guides, the lack of a 'human touch' was felt, especially for users who may not be so technically-inclined and need a helping hand. In terms of performance, Avast Antivirus can slow down your PC, however, this is a problem common to most antivirus programs.
All-in-all Avast Antivirus was rated very highly in the customer reviews that we examined, attributable, in large part, to the significant number of perfect scores in the Play Store. There, many users commended the program for doing its job well and discretely. As hinted at above, on Trustpilot, the program performed less favorably: There, a number of reviewers decried billing irregularities, such as automatic withdrawals from their bank accounts even after cancellation. Additionally, the company's poor support was also a subject of frequent criticism.
Customer Rating
6,738,116 Ratings
excellent
We analyzed the reviews and ratings from various portals and found 6,738,116 ratings with an overall rating of 4.7 out of 5 .
Show sources
Alternatives to Avast Antivirus
The antivirus software market is large and highly competitive, making some of Avast's rivals worth a look. Bitdefender offers both better support, and even stronger test lab results, with a similar package of features and usability. Should Avast's premium version's price be an issue, Sophos Home Premium and 360 Security Premium are two of the most affordable antivirus programs (apart from freeware) on the market. A list of solid alternatives to Avast Antivirus can be found here:
excellent protection results
configurable quick actions
good support with 24/7 live chat
Our test winner Bitdefender not only offers high security, confirmed by independent test laboratories, but also convinces with its flawless usability and a comprehensive feature package.
Plan
Devices
Protection Features
Premium Features
Bitdefender Free
$0.00
Visit Website »
special features like VPN
Kaspersky Internet Security is a user-friendly anti-virus protection with perhaps the best feature package on the market.
Plan
Devices
Protection Features
Premium Features
Kaspersky Antivirus
yearly price
Visit Website »
Free Trial Version
elegant-intuitive application
good protection performance
incl. password manager and VPN
missing standard features on macOS
Plan
Devices
Protection Features
Premium Features
Norton Antivirus Plus
$19.99
yearly price
Visit Website »
intuitive Benutzeroberfläche
keine Firewall oder Webcam-Schutz
Plan
Devices
Protection Features
Premium Features
Trend Micro Antivirus+
$29.95
yearly price
Visit Website »

Author: Janis von Bleichert
Janis von Bleichert studied business informatics at the TU Munich and computer science at the TU Berlin, Germany. He has been self-employed since 2006 and is the founder of EXPERTE.com. He writes about hosting, software and IT security.