Internet Censorship Check for China: Website Blocked in China?
With the "Great Firewall of China", China filters and blocks critical or undesirable websites. Besides Chinese websites, many international news and information websites are also affected. With the EXPERTE.com Internet Censorship Check, you can find out if a website is blocked in China.
Just enter the desired page in the field above and press Start Test. EXPERTE.com operates servers in Beijing, Shanghai and Shenzhen and tries to connect to the website from them. Please note that the test may take up to 15 seconds.
Examples
The following popular websites are currently blocked in China:
How It Works
To ensure a reliable check, EXPERTE.com operates servers in Beijing, Shanghai and Shenzhen. If you want to check a website, we send the URL to each of these servers and try to connect to the website from the respective region.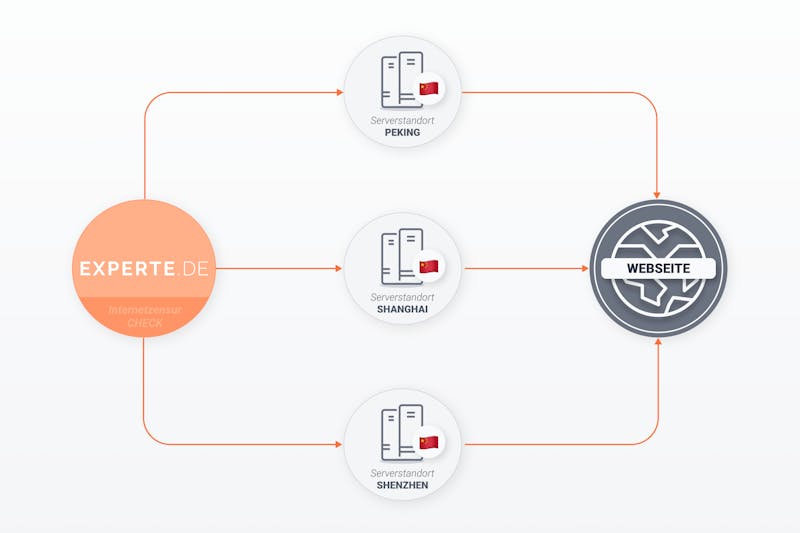 If the page is not accessible from the servers, the status is set to Blocked.
For control purposes, we additionally check the website from servers in Germany, the USA and Hong Kong. If the page is unreachable from there as well, there may be a problem with the page itself.
If you would also like to check the accessibility from Russia and Turkey, please use our general Internet Censorship Check.
If you are in China and want to access a blocked site, we recommend using a VPN provider. We have tested 22 providers and present you 5 providers that can unblock websites in China.

Janis von Bleichert studied business informatics at the TU Munich and computer science at the TU Berlin, Germany. He has been self-employed since 2006 and is the founder of EXPERTE.com. He writes about hosting, software and IT security.
Continue Reading
Other languages
Deutsch