How to Create a Website in 2023: The Ultimate Guide

Author
Janis von Bleichert
Have you always dreamt of having your own website, but don't know where to start? If so, you're in the right place: Below, we'll introduce you to the different options that are available, their advantages and disadvantages, as well as what you'll need to get your website online.
Ad disclaimer:
For links on this page, EXPERTE.com may earn a commission from the provider. This supports our work and has no influence on our editorial rating.
Key Takeaways
Website builders offer the easiest way for creating a website.

Wix

* was the best website builder from our sample that can be continuously used for free.

Alternatively, websites can be self-programmed, created with a CMS (like WordPress), or designed and built by a third party (freelancers/agency).

For the three alternatives listed in the last bullet point, you'll also need to register a domain and organize hosting on your own.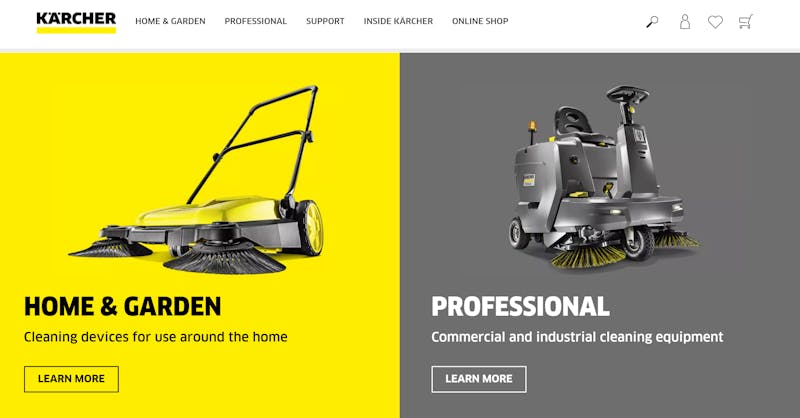 Professional websites aren't just for large corporations like Kärcher (Source: Kärcher).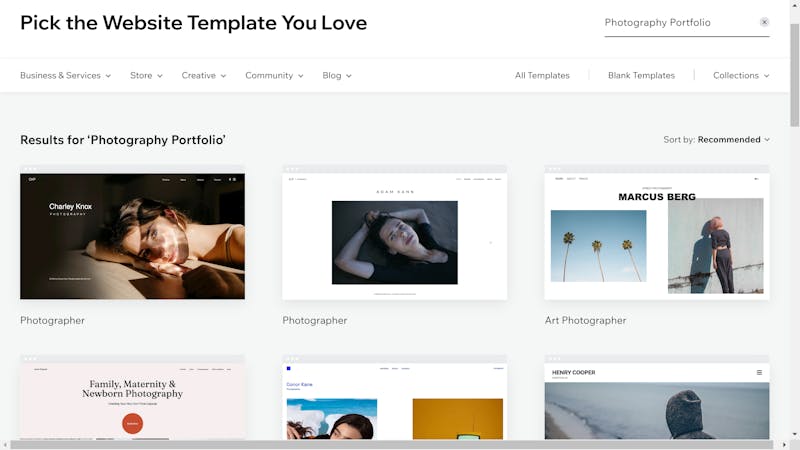 Website builders like Wix offer special templates for certain branches.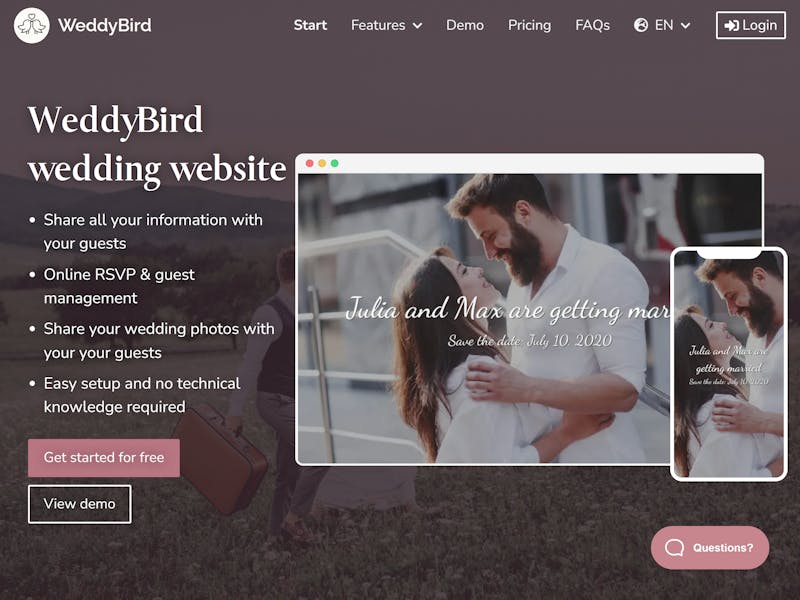 If you need a website for your wedding, you can try creating one with a specialized service, like WeddyBird.
Blog
Would you like to have a small corner of the Internet where you can share your thoughts with the world? If so, a straightforward blog could be more than enough. You can use it to write articles, post pictures or videos, and categorize your entries.

Dedicated blog software and website builders with built-in blog templates make creating one of these particularly easy.

Difficulty: Easy

One-page website/one pager
Perhaps you've wondered what the difference is between a website and a homepage. Homepages are a website's main page, however, there exist entire websites that are just one page. Known as one pagers, visitors can get all the information they need on a single page. Since they're so compact, they're great for small businesses or specific purposes (like portfolios).

A landing page is a type of one pager that's optimized for conversions.

Difficulty: Easy to medium

Regular website
If a one pager is too limiting, you'll need a regular, multi-page website. This is the go-to option for small businesses and generally consists of a homepage and several subpages (for example, "About Us", "Contact", and "Services", etc.).

Difficulty: Medium

Advanced websites
Corporations and businesses that are expecting lots of visitors will need something more substantial than a regular website. To keep up with visitor expectations and demands, more features and even self-developed web applications are required.

Difficulty: Medium to hard

Online store
If you're planning to sell products on your website or want an online store, you'll need ecommerce tools, such as product management, the ability to accept payments, delivery options, and marketing features.

Difficulty: Medium to hard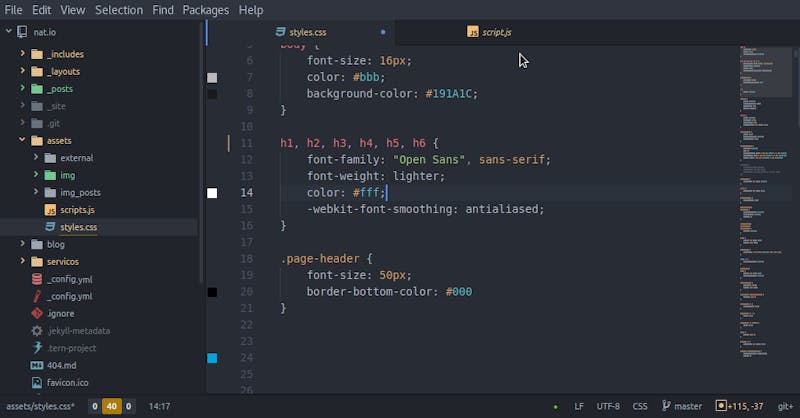 Self-programming a website from scratch is only an option for pros.
100 % flexibility: By programming everything yourself, you can do what you want without being limited by the features a website builder or CMS offers.

Total design freedom: The only limitation to your creativity is what you're able to program. You won't need to communicate with programmers and designers or work with the templates a website builder offers.
Lots of experience necessary: HTML, CSS, FTP: Even for a 'basic' website, you'll need quite an array of technical skills. The more features you want to integrate, the harder your task will be.

Considerable effort: Even if you have the technical know-how, you'll need to have enough time to bring your vision to life. Hiring someone to build the website for you could prove more cost-effective in the long term.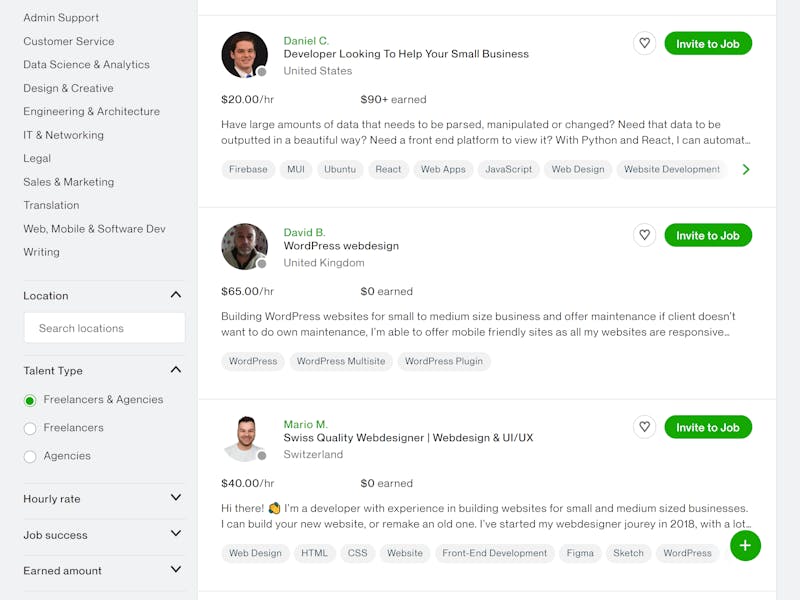 There are plenty of eager freelancers of platforms like Upwork, willing to help you design and create your website.
Huge selection, for every budget: There are plenty of web design freelancers and agencies that do nothing more than create websites. Solutions exist for every budget and branch.

Flexibility: With the right partner, you can bring nearly any vision to life. Communicate your ideas and wishes clearly. Just remember that the more complicated your requirements are, the more they'll cost.

Always stay in touch: If you work with an agency or freelancer, you'll have someone to interact with at any time regarding questions, issues, or changes.
Expensive: Even though there are options for any budget, 'good' programmers and designers know their worth and charge accordingly. A professional website can cost anywhere from $1,500-$20,000, or even more.

Varying quality: Complete satisfaction is never guaranteed: You'll only know if the finished website aligns with your taste when the project is nearing completion. For that reason, be selective when choosing a freelancer or agency and try to reduce misunderstandings by clearly communicating your wishes and desires.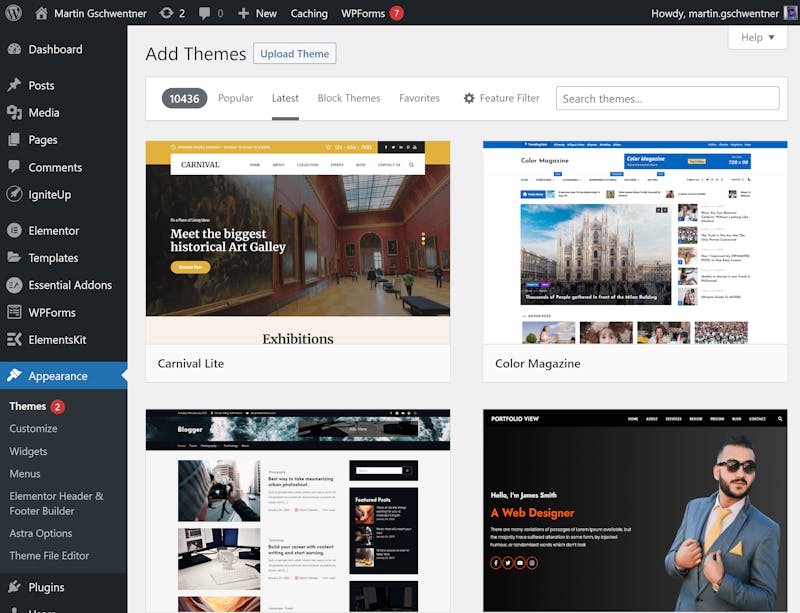 With WordPress, you'll design your website using its numerous themes.
Beginner
Advanced
Other Topics
Free and open source: Most CMSs, like WordPress, are open source and free to use (you pay for your website's hosting and domain). As such, they make it possible to affordably create a web project.

Flexible and scalable: When using a CMS, you'll have significantly more control over your website than you would with a website builder. In terms of features, design, and content, you're in charge.

Lots of plugins: WordPress seems to have a plugin for any features you might want. Installing these is easy too, and only requires a few clicks.

Endless themes: WordPress's design templates make it possible for anyone to create a visually-appealing website without any programming skills or experience. Lots of free and premium themes are available.
Difficult to set up: Managing a website with a CMS is easy, however, getting started can be tricky (at least in comparison to a website builder).

Programming skills are advantageous: You don't need to know how to code in order to use a CMS, however, some basic knowledge will allow you to get the most out of the platform you're using.

Initiative required: If using a CMS like WordPress, you'll need to handle hosting, a domain, security, and backups.
Templates and designs
You don't start from scratch with a website builder. Ready-made templates make sure that your website is visually balanced: All you have to do is fill them with content.

Building system
Website builders visualize intricate coding processes in browser-based editors. Users drag and drop ready-made website elements, placing and arranging them at will.

Blogging features
Blogs are popular and an excellent way to add new content to any website. Every good website builder should offer blogging features.

Ecommerce
Most website builders offer users the ability to create online stores. Good product management, plenty of customization options, as well as tax, delivery, payment, and marketing settings and tools, are all important. Typically, there are significant differences between platforms in these areas so find the combination that best matches your needs.

Analytics & statistics
In order to know how your website is doing as well as what is and isn't working, your building software should make some analytics tools available (or, at the very least, allow external software to be easily integrated).

App market
Even the best website builders from our list don't offer every feature users need out of the box. Thankfully, most have app markets where additional tools can be installed or purchased.

Mobile apps
As phones and tablets become more powerful, website owners have started managing and building on the go using their platform's mobile apps.
Well-suited for complete beginners: You don't need any programming or web design know-how to use a website builder and access all of its basic features. As such, anyone can make a professional-looking website with one in a fairly short amount of time.

All-in-one: Website builders make creating a web presence easy thanks to their all-in-one approach: You don't need to give a second thought to hosting, your domain, or security since your provider handles this for you. Even advanced features, like marketing, SEO, or ecommerce, are included.

Affordable and flexible monthly pricing: Access to most website builders is usually subscription based, with a variety of different options offered for users depending on their needs. A professional website with a domain and hosting should cost around $15 per month.
Limited features and customization options: In exchange for all of their ease of use and convenience, website builders restrict creative freedom. Each platform is limited by its integrated features as well as what its editor is capable of. Don't expect the same degree of flexibility as our other methods.

Design by numbers: Since website builders come with ready-made design templates and elements, your finished product might look similar to other websites.

Technical disadvantages: Websites built with a website builder usually can't compete with independently programmed ones in terms of search engine optimization or loading times.
Wix beats out the competition with an unmatched variety of features, intuitive editors and a jam-packed app store. Overall, the platform offers the best balance of usability and features on the market today.
lots of features and elements
simple & intuitive interface
9.6

excellent
Space
Domains
Templates
Contract Period
Wix Free
$0.00
monthly price
Visit Website*
Try for Free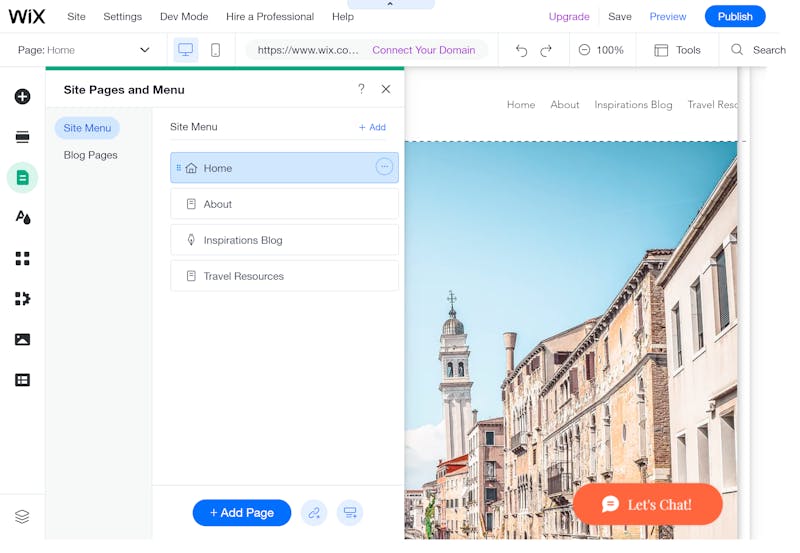 Wix was EXPERTE.com's top website builder pick.
Marketing, SEO & Ecommerce
10 / 10
Templates & Design
9.4 / 10
Configuration & Usability
9.4 / 10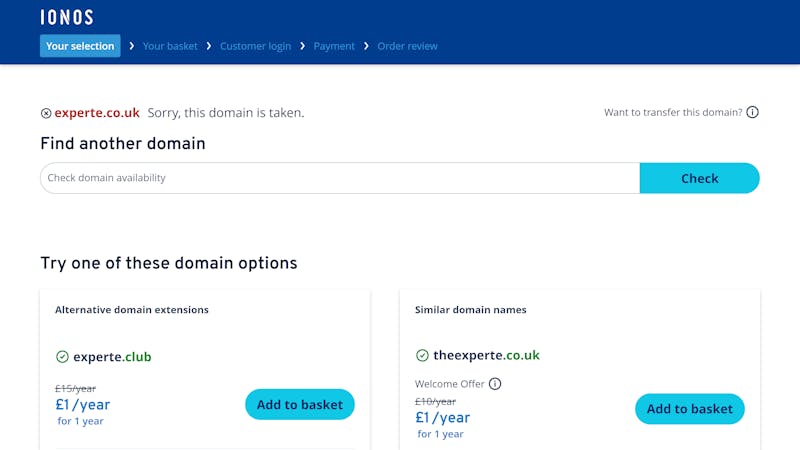 If a domain is available, you can begin the process of registering it.
Domains With Website Builders
If you're using a website builder, you can often directly purchase your website's domain without needing to buy it from a provider. Making things even better: The domain is usually free for the first year.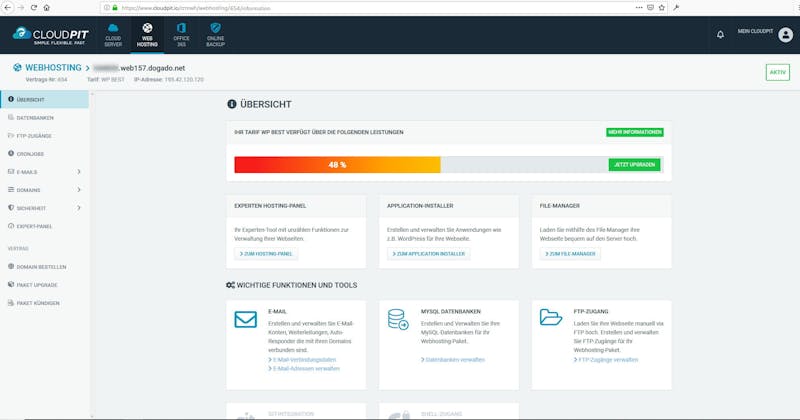 With hosting providers like dogado, you'll manage your online storage space through a convenient web interface.
How can I make a website?
⊖
Broadly speaking, you have four options: You can program it yourself, pay experts to code it for you, use a content management system like WordPress, or design it with a website builder.
How much does a website cost?
⊖
The cost of a website depends on many different factors, such as how it's made and its complexity. If hiring pros, expect to pay anywhere from $1,500-$20,000, however, this is just a rough estimate. With a website builder, depending on the subscription tier you choose, $10-$40 per month is likely. With an open source CMS like WordPress, you'll 'only' pay for hosting and a domain, or $5-$15 per month.
How can I build a website for free?
⊖
Some website builders offer free, ad-financed subscriptions. You won't be able to use a custom domain though, and will have limited (or no) access to many features. Free subscriptions are not a viable option for creating professional websites or online stores.
What's a website builder?
⊖
A website builder is a web-based tool that allows users to create a website, even if they don't have any programming knowledge. This is achieved by visualizing complex coding processes and intuitive tools. Ready-made templates can be customized to your liking, while content can be placed by dragging and dropping in user-friendly editors.
How can I have a website made for me?
⊖
If you'd like to pay someone else to make your website for you, start by looking for web design agencies or freelancers. You can either use a regular Internet search or check on freelancer platforms like Upwork.com.

Janis von Bleichert studied business informatics at the TU Munich and computer science at the TU Berlin, Germany. He has been self-employed since 2006 and is the founder of EXPERTE.com. He writes about hosting, software and IT security.
Continue Reading