Create a Vacation Rental Website in 2023: Transform Digital Visitors Into Paying Guests

Author
Janis von Bleichert
Ad disclaimer:
For links on this page, EXPERTE.com may earn a commission from the provider. This supports our work and has no influence on our editorial rating.
Are you looking for guests for your vacation rental or property? Since the Internet is the first place most vacationers look when planning their trips, there's no way around having your own website. Whether a mountain getaway or a beach bungalow, if you've got it, promote it on your own website! The only question is: How?
Below, we'll summarize which options are available for creating a vacation rental website and what you should keep in mind.
Why a Vacation Rental Website?
Perhaps you're unsure about whether you really need a website for your vacation rental property. If so, the advantages below might help to make up your mind:
Let guests know about your vacation property
Most people planning a vacation these days do their research online. As long as your website ranks highly among search engines, it will be a great signboard for your vacation property.

Convert digital visitors into paying guests
Your website should give potential guests a good idea of what they can expect from your vacation property. Include high-quality photos, a detailed description of what amenities are available, and local sightseeing tips. If your website is able to impress digital visitors, your bookings should go up.

Save time for both you and your guests
Directions, parking, payment methods, and cancellations: Use your vacation rental's digital presence to answer any questions prospective guests might have. Beyond that, you can add a booking calendar, showing guests when the property is available. You'll not only save your time but also theirs since you won't need to answer calls or emails requesting the same information.

Add a personal touch
Sure, there are rental marketplaces like Airbnb, but plenty of guests these days want to have a unique vacation experience. Your website enables you to give your accommodation a personal touch. What makes it so special? Does the nearby town have an interesting history? Use the "About Us" section or a blog to captivate and intrigue potential visitors.

Avoid booking fees and commissions

Third-party websites like Booking.com can help to inform potential guests about your property, however, they usually charge fees and take commissions on any reservations that are made. When booking guests on your own website, you won't need to pay these fees and can either increase your profits or pass on the savings to visitors.

Total freedom
You can showcase your vacation rental exactly how you want on your website. Would you like to add a video tour? No problem. Or perhaps you want to write a more detailed description of what you offer? That's possible too: On your website, you're in charge of the content and don't need to adhere to any character, line, or file size limits.
Important Considerations When Creating a Vacation Rental Website
There are plenty of good reasons to create a website for your vacation rental property. Websites, like properties, can differ significantly: A luxury beach villa calls for a different web presence than a family-friendly bungalow or vintage mountain cabin.
To make sure that vacation rental website you create matches your property, ask yourself these important questions:
How Big Should My Website Be?
Do you own a single vacation property or several? The more you have to offer, both in terms of properties and services, the more comprehensive your website will need to be. And the larger your website is, the more expensive and time-consuming making it will be. Below, we've listed three general types of websites:
One pager: A one pager is a website that uses a single page. These are ideal for smaller projects and more compact offers, such as a room in a bed and breakfast. If you just have a single vacation property and don't need any subpages, a one pager could be the perfect solution.

Basic website: If you need more than a single page for your vacation rental and want to include important information and features across multiple pages, a small website could fulfill your needs. On these, it's possible to add subpages for photo galleries, showcasing different rooms or accommodations.

Complex website: Should you own multiple vacation properties and want to add advanced features like a booking system, guest reviews, or integrations for other digital services, a basic website with a few subpages won't cut it. In this case, you'll need a complex website, which takes a bit more time and effort to put together.
Which Features Does My Website Need?
By adding the right features to your website, you can help guests book and prepare for their stays. The most important features include:
Booking system: With a smart booking system, visitors can reserve a room in your vacation property with just a few clicks (and specify the number of visitors, whether they want breakfast, etc.).

Calendar: Guests can check this to see whether you have availability on certain dates.

Guestbook: This allows guests to read feedback and leave their own. Including this gives your website and accommodation more credibility, while also helping potential guests see what others have to say.

Directions: What's the easiest way to get to your vacation rental? Include accurate, up-to-date directions and integrate tools like Google Maps.

Integrations: External services for bookings or a calendar can be integrated via APIs onto your website. Should your vacation rental be listed on portals like Airbnb or Expedia, link it to your website.
Which Content Do I Want to Include?
To convert visitors into guests, your vacation rental website will need high-quality content. The most important elements are:
Photos: Capturing the best view of a room is difficult. Have professional and up-to-date photos taken of your accommodation(s) that encourage visitors to book a stay.

Videos: Unfortunately, pictures can be doctored or not reveal the full truth. With videos, this is more difficult. Add a short video tour of your vacation property, and show visitors that you have nothing to hide.

Text: Photos and videos are great, however, don't underestimate the importance of well-written text. Whether your homepage or room descriptions, write concisely, correctly, and in a way that matches the mood of your accommodation.
Which Domain Can I Use?
In order for your vacation rental to be seen as reputable, you'll need a custom domain. This should be the property's name, or something close to it, such as "Vacation Rentals - Surf City".
You can either register the domain immediately and secure the name, or (depending on which method you use) purchase it when creating your website. Our guide to domains tells you everything you need to know about the process:
How Can I Create a Website for My Vacation Rental?
Now that you know what a vacation rental website should look like, there's only one more question to ask: How can you translate your ideas into a professional website?
There are several different ways to bring your virtual vision to life. We've briefly summarized each of these below, also specifying who each method is best for.
1.
Self-Program a Vacation Rental Website
It's possible to completely self-program a vacation rental website from scratch. To do this, you'll need:
Programming skills

Online storage space from a hosting provider

Enough time for development
Keep in mind that with this method, you'll also be entirely responsible for managing your website and its security.
Who Is This Method For?
The advantage of a self-programmed website is that your abilities are the only limit to what you can achieve. You'll have 100% control over its features and content.
However, this approach is only recommended for pros. Unless you're a web developer, who's made an investment in a vacation property to generate extra income, you probably don't have the required skills. Even if you've dabbled in coding and can put a website together, chances are that it won't be as professional as needed.
2.
Have a Vacation Rental Website Programmed for You
Chances are that you let the pros handle renovations, repairs, and, cleaning for your rental property, so why not do the same with your website? Entrusting professionals to create your website for you gives all the benefits of a custom site, with the only limitation being your budget.
Broadly, you'll be able to select between two sets of pros, either of which has its own advantages and disadvantages:
Agencies generally cost more than a freelancer, since they have dedicated experts for each area of a web project. This is to your advantage though, as their cumulative expertise is almost always more than a single freelancer's. To find the right agency for your needs, do some Google research or read through online reviews. Most agencies also have a presence on freelancer platforms.
Who Is This Method For?
If you're not interested in playing a hands-on role in your website's construction, it's best to leave it to the experts. You won't need to compromise on flexibility either. In fact, the only limitation is a monetary one, depending on what sort of budget your project has. Keep in mind that the higher and more detailed your demands and requirements, the more you'll have to pay a freelancer or agency.
3.
Create a Vacation Rental Website With a Content Management System
You can't program and professionals are beyond your budget? If so, you could try a content management system (CMS). Since they come with all of the most important components of a website already designed and ready to use, you won't have to code anything.
WordPress is the most popular CMS on the planet.
Of course, you'll still have to take care of a domain and hosting on your own, however, setting up a website with a CMS is significantly easier than programming one from scratch. As another benefit, most CMSs are open source, meaning that they're free to use.
The most well-known (and used) CMS is WordPress, accounting for an estimated 75% of all websites online.
Who Is This Method For?
Even though programming skills aren't needed to use a CMS, creating a website with one is far from self-explanatory. A CMS is a great choice if you're ready to set aside the time to familiarize yourself with the platform you've selected and need more flexibility than website builders offer.
4.
Create a Vacation Rental Site With a Website Builder
Website builders offer the easiest way to create a vacation rental website on your own: Their beginner-friendly tools are less complex than those of a CMS and require much less time to get used to. Thanks to their straightforward drag and drop user interfaces, designing a website is intuitive for anyone, regardless of skill level.
Every platform comes with a selection of design templates that you can easily customize to your needs. In addition, you'll get ready-made features and content elements that are important for vacation rental websites, such as room reservation tools and contact pages.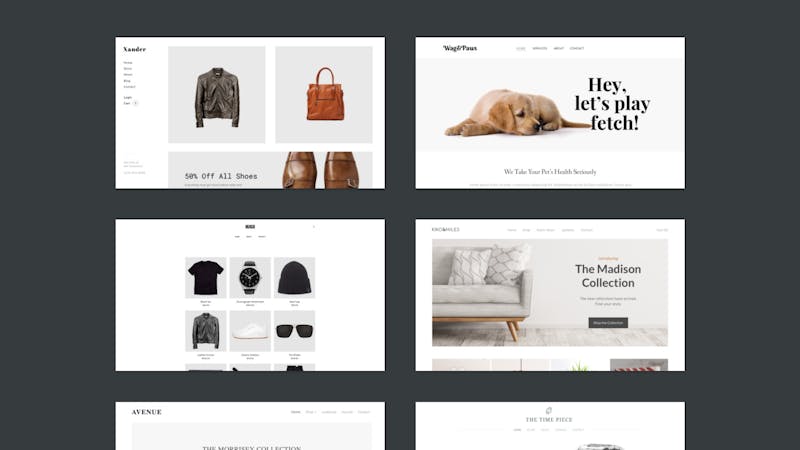 Website builders like Weebly offer users plenty of design templates to choose from.
Website builders are all-in-one solutions: Subscriptions include everything you'll need to launch, operate, and manage your vacation rental website (including hosting, a domain, and a security certificate).
There are some drawbacks though: First, website builders are less flexible than the other methods we've described above. They give you four walls and a (large) selection of furniture, colors, and wallpaper to decorate the room with. You can freely choose from among these options and customize them to your preferences, however, it's difficult to break out of the mold.
Who Is This Method For?
If you can't program a website on your own, afford to hire others to design it for you, and find CMSs to be too complicated, website builders are the best option. Despite their relative lack of flexibility, they make it possible to quickly create a professional-looking website for a very affordable monthly fee.
Which Website Builder Is the Best? The Top Programs From Our Test:
Are you ready to try a website builder? If so, it's time to make a decision: Which platform will you use to set up your vacation rental website? In addition to all-purpose solutions (we tested 12 of them in our EXPERTE.com website builder comparison) there are also platforms specifically designed for creating vacation rental websites.
Basically, there are three options: Website builders with dedicated templates for vacation property rentals, platforms that were specifically designed for vacation rentals, or site builders that lack vacation rental features but can be adjusted to your preferences. Below, we'll introduce you to our Top 3 website building platforms featuring one of each type:
Wix: EXPERTE.com's Winner and Leading All-Arounder
Wix beats out the competition with an unmatched variety of features, intuitive editors and a jam-packed app store. Overall, the platform offers the best balance of usability and features on the market today.
lots of features and elements
simple & intuitive interface
9.6

excellent
Space
Domains
Templates
Contract Period
Wix Free
$0.00
monthly price
Visit Website*
Try for Free
In our comprehensive EXPERTE.com test, the best all-around website builder on the market was Wix. The first-placed service from our sample combines user-friendly drag and drop editing with a wide array of features, making the platform perfect for almost any sort of project, including vacation rental websites.
Why is Wix a good option for vacation rental websites?
Wix wows with its versatile design templates, some of which are ideal for the hospitality industry. Beyond that, there are plenty of useful content elements that come integrated or can be added with just a few mouse clicks. In addition, it offers a booking system and a chat tool for interacting with prospective guests.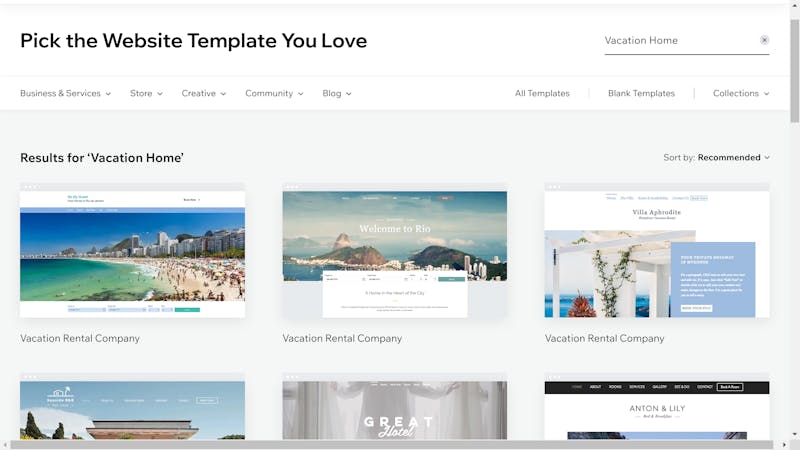 We found lots of templates on Wix that were ideal for vacation rental websites.
In case you want to test out the platform's features, there is a free version of Wix. However, you'll want to upgrade to a premium subscription to make a professional impression since only paying customers can use a custom domain.
Marketing, SEO & Ecommerce
10 / 10
Templates & Design
9.4 / 10
Configuration & Usability
9.4 / 10
Lodgify: The Website Builder for Vacation Rentals
Lodgify is a website builder that was specifically designed for the owners of vacation rental properties. As such, it includes a number of relevant features, such as a booking system that is more developed than those offered by regular website builders like Wix.
Why is Lodgify a good option for a vacation rental website?
The platform was specifically designed for vacation rental websites: It combines a standard website builder with booking software, an accommodation management system, and lots of other useful features. Keep in mind that its site-building capabilities are not as well-developed as those of the all-purpose solutions on our list.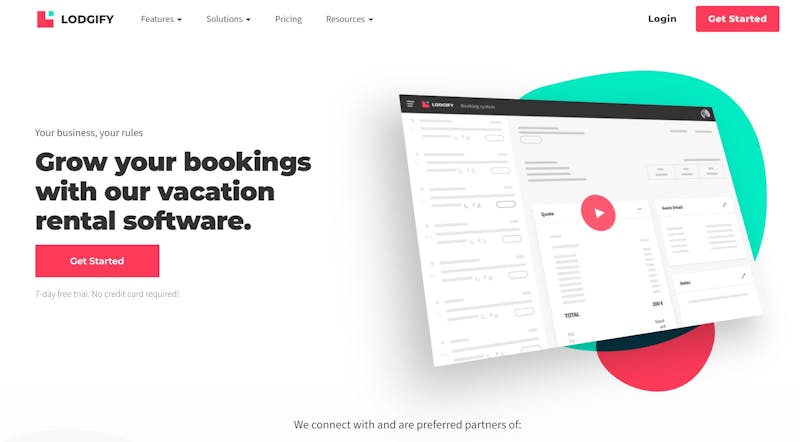 Lodgify scores with its integrated booking software and accommodation management.
A free version of Lodgify is available, however, it doesn't offer as many features as a premium subscription. In addition, for both the free version (and the Starter subscription), you'll need to pay a booking fee. This isn't charged in the more expensive Professional and Ultimate subscription plans.
Squarespace: Stunning Templates
Squarespace Website Builder
Squarespace can impress with flawless designs and high quality templates, which make the creation of professional websites a piece of cake – but comes at a higher price compared with the competition.
Space
Domains
Templates
Contract Period
Squarespace Personal
$16.00
monthly price
Visit Website*
14 Days Trial Period
Not every website builder was designed for creating vacation rental websites. Case in point: Squarespace. The US platform is internationally known for its elegant templates, and we prefer them over Wix's offerings. However, the New York-based website builder lacks dedicated designs and features for vacation rentals, even though you can still build breathtaking websites with it.
Why is Squarespace a good choice for a vacation rental website?
Even though it lacks dedicated vacation rental website templates, its designs, such as Suffolk or Palermo, can be repurposed into suitable options in a matter of minutes. And for bookings, there are plenty of third-party integrations, such as Lodgify's, which can be added to your Squarespace website.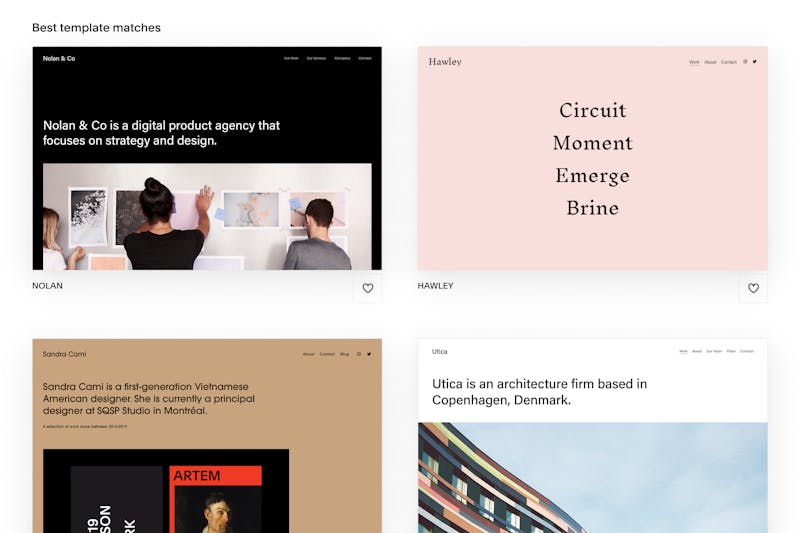 Squarespace is known for its elegant templates.
Squarespace doesn't offer a free version of its platform. You can, however, try it out for free for 14-days without needing to supply payment information.
Configuration & Usability
10 / 10
Marketing, SEO & Ecommerce
8.6 / 10
Templates & Design
8.0 / 10
Other Providers
Of course, there are many more website builders that you can use to create a vacation rental website. Below, we've included the complete ranking of all providers from our sample:
Conclusion
Do you own a good vacation rental property? If so, you'll need to book some space online in order to promote it. With your own website, you can attract more guests for your accommodation and help them plan and manage their upcoming vacation or holiday. Thanks to built-in features like a booking system or calendar, you won't even need to pick up a phone or answer an email.
In terms of creating the actual website, you have a few options: If you don't want or are unable to program it from scratch, you can hire freelancers or an agency to do it for you, so long as they're within your price range.
If you'd like to play a more hands-on role and show off your creative side, you can use a CMS like WordPress, or a website builder. CMSs offer more flexibility in terms of web design, however, website builders are much easier to use. In addition to all-around options like Wix and Squarespace, there are also more specialized solutions for vacation rental websites like Lodgify.
* Ad disclaimer:
For links marked with an asterisk, EXPERTE.com may earn a commission from the provider. The commission has no influence on our editorial rating.

Janis von Bleichert studied business informatics at the TU Munich and computer science at the TU Berlin, Germany. He has been self-employed since 2006 and is the founder of EXPERTE.com. He writes about hosting, software and IT security.
Continue Reading