Website Builder Review: Weebly
Dragging and dropping instead of programming: Weebly is just one of many website builders making the claim that creating websites can be as easy as pie. The freedom that this brings should allow you to completely focus on your website's content, or at least, that seems to be the thought Weebly's creators had in mind. In this review, we'll show you whether Weebly is as easy to use as its developers claim, as well as how it matches up with the other services we've tested.

Weebly is a website builder and hosting service based in San Francisco that has helped create more than 50 million websites. In 2018, the service was purchased by Square Inc., a financial services company, to augment its e-commerce portfolio. Weebly aims to provide customers with the best of both website creation and e-commerce in a user-friendly interface.
Marketing, SEO & Ecommerce
4.7 / 5
Configuration & Usability
4.0 / 5
Templates & Design
3.7 / 5
Convenient and intuitive drag and drop interface
Unrivaled mobile app for tinkering with your site on the go
App center for third-party extensions and add-ons
Powerful e-commerce features
Little variety among design themes
Rudimentary blog features
Configuration and Usability
Configuring Weebly is very simple, with new users walked through the first few steps of using the service. For example, you can choose if you want to create a website with or without an online shop, before being taken to the dashboard.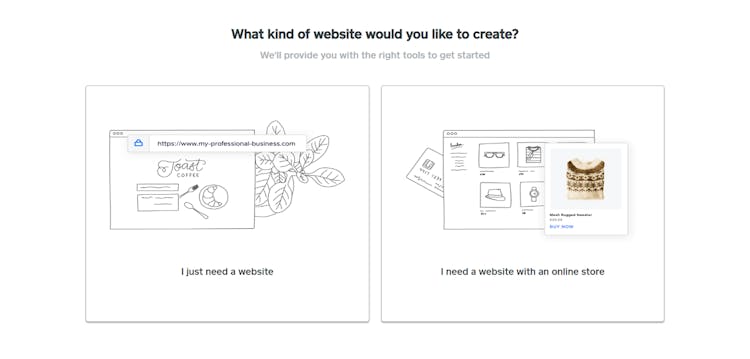 Here, you can select if you would like to start by creating a website or adding products to sell. You can also purchase a domain, or transfer one that you already own.
Before you can start tinkering with your site though, you'll need to select one of several ready-made themes. After a brief preview, you can switch to the editor, and start building. Weebly embraces the "what you see is what you get" (WYSIWYG) principle, which means that the design you see in the editor, is that which users of your site will be shown once it's published.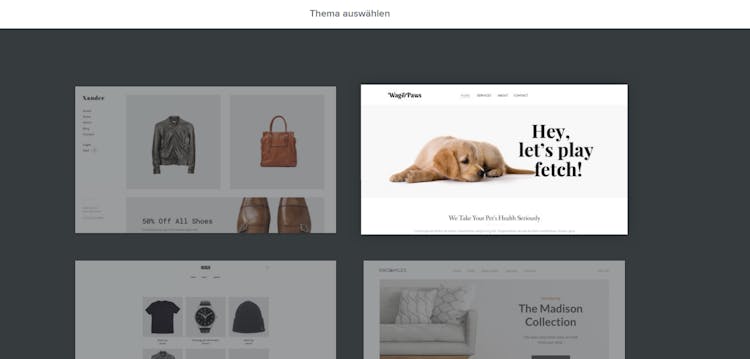 In the editor, elements are arranged like blocks and can be moved around by dragging and dropping them. Weebly's approach is the real deal since unlike other website builders, you can drag blocks out of the menu bar and position them anywhere.
Alongside the usual suspects such as text, images, and slideshows, you can also move audio and video content, newsletter forms, and even entire sections, like a team page, or restaurant menu.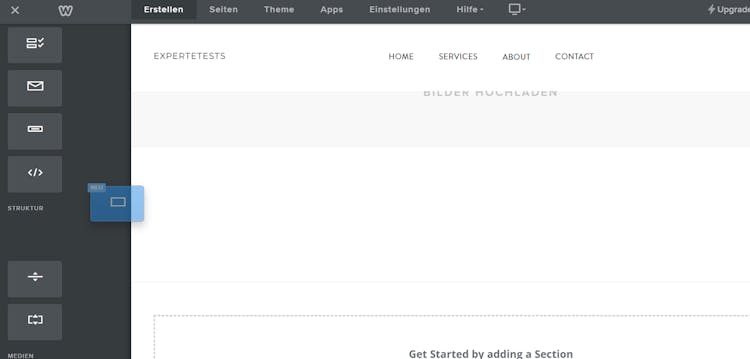 You can manage and arrange various pages via the menu bar above, changing themes and fonts, as well as alternating between mobile and desktop views. Here, you'll also find an extensive app center for third-party extensions and add-ons, something which other website builders might want to include in their offerings.
Weebly doesn't take any half-measures: you can drag and drop practically anything, and after a bit of getting used to, this approach actually enhances the service's user-friendliness. Few website builders make the WYSIWYG approach so convenient and intuitive as Weebly does.
Score: 5 / 5
As already mentioned, Weebly provides access to a fully-packed app center, which is teeming with even the most specialized features. In the service's vanilla version (without any external add-ons) Weebly is also well-equipped, so much so that you might not even need to stop off at the app center when creating a standard website.
Editors make or break website builders, and Weebly's is definitely formidable, doing almost everything right. In terms of functionality and content, there is not much that sets Weebly apart from its competitors, however, its excellent drag and drop interface, as well as a mobile app, which we'll discuss in greater detail next, give the service a solid boost.
Weebly App
For Android or iOS users, you don't have to limit your site-building with Weebly to your laptops or PCs, since a simplified app version of the desktop editor, including the same drag and drop functionality, is available.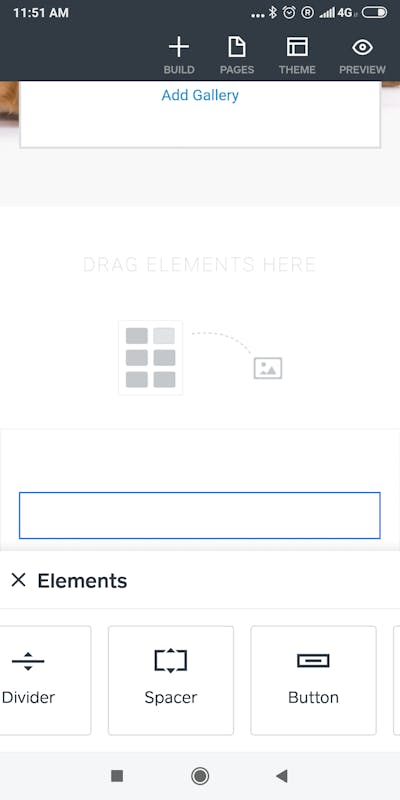 No other website builder that we've examined makes it so easy to work on your website on the go. For anyone who values building anywhere, you won't be disappointed with Weebly.
Blogging
Less impressive is Weebly's attention to blogs and blogging, which can be found in the upper menu under "Pages". New blog entries can be created by dragging and dropping content, while you can set how many entries should be displayed per page, as well as if and how comments should be shown. You can also add a Facebook or Disqus widget, as well as user-defined HTML code in the page headers or footers.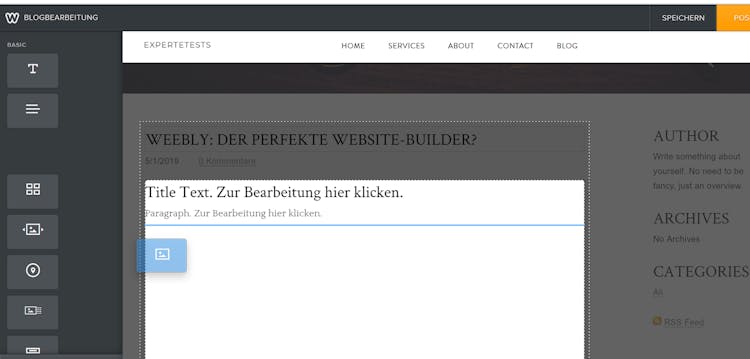 The available blogging tools are more than adequate for creating a basic blog, however, the settings are really too meager. You can tag entries, but designating an entry as featured, or adding different authors is not possible. In this area, Weebly certainly has a lot of work to do.
App Center
You can search for any features which might not be included in the vanilla version of Weebly in the clearly-arranged app center. Here, apps are divided into four categories, with a search function easing your quest. Available extensions include those that add testimonials, forum widgets, or customer service chats to your page. Like in every app center, you'll need to sniff out the 'good' extensions largely by trial and error. Perhaps helping somewhat is that Weebly's app center is not nearly so crowded as those of WordPress or Wix.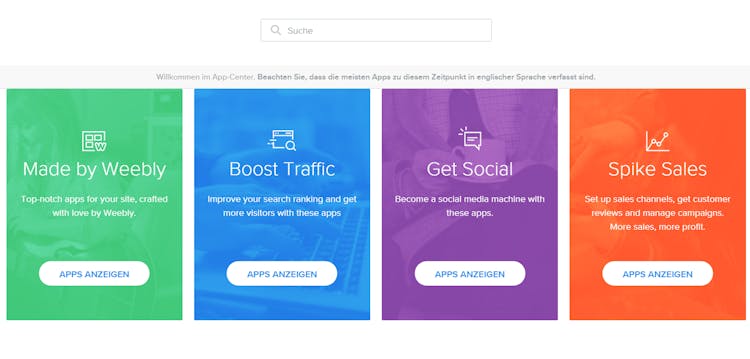 In sum, Weebly, even in its vanilla version, offers an impressive package of features, which can be augmented with additional tools from the app center. The service also surpasses its competitors thanks to its excellent mobile app which makes site-building on the go incredibly easy. Bloggers get the shorter end of the stick though and might be scared off owing to Weebly's lack of attention to their needs.
Score: 4.3 / 5
With 35 different themes, Weebly offers a solid, albeit not an all too expansive choice. These themes are not nearly as diverse as those which WordPress or others provide, and all look very similar. Weebly seems to embrace sleek, stylish designs, which are well-suited for large images and setting clear divisions between content blocks, both of which are a necessity for successful scrolling site navigation. If you're looking for this kind of theme, you'll be very pleased with what Weebly offers, however, we prefer more variety.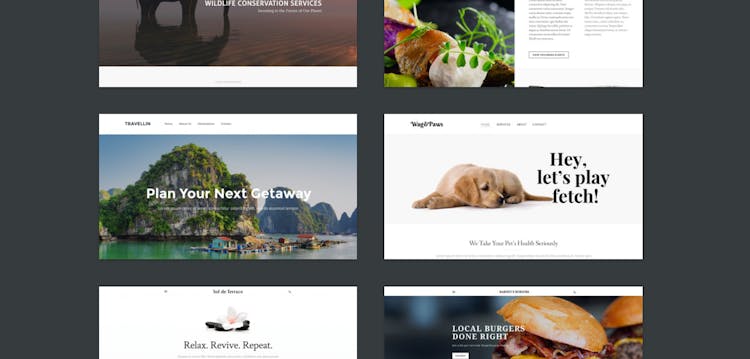 Once you've selected a theme, you can further personalize it using the upper toolbar. Here too, your options are fairly limited, and only in terms of the color scheme and font are you allowed a relatively free hand.
For anyone with a knowledge of programming, it is possible to add more oomph to the default templates by modifying the page through HTML or CSS. There's also the app center, where you can buy Weebly themes, or sell those that you've made.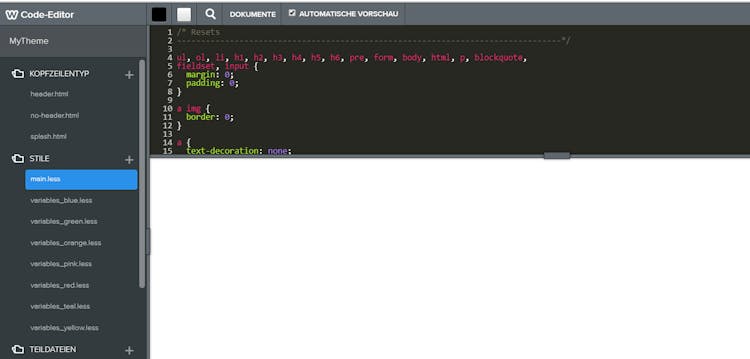 Weebly comes with visually-appealing themes, but after a while, these all look the same, and the provider's lack of variety ultimately shows rather poorly when set against the templates offered by their competitors. Nevertheless, these themes do create seamless pages and sites, while the service's drag and drop functionality means that so long as you can look past the somewhat limited choice of templates, you'll have a fairly easy time putting your site together. The ability to import elements, or work directly with your site's source code means that for those intent on personalization, Weebly is there to lend a helping hand.
Score: 4 / 5
Marketing, SEO, & E-Commerce
In terms of e-commerce, Weebly flexes its capabilities, due, in no small part to its parent company, the payment processing provider, Square Inc. In the store dashboard, you can add products, with the service helping you to set prices and configure additional settings, should you be so inclined.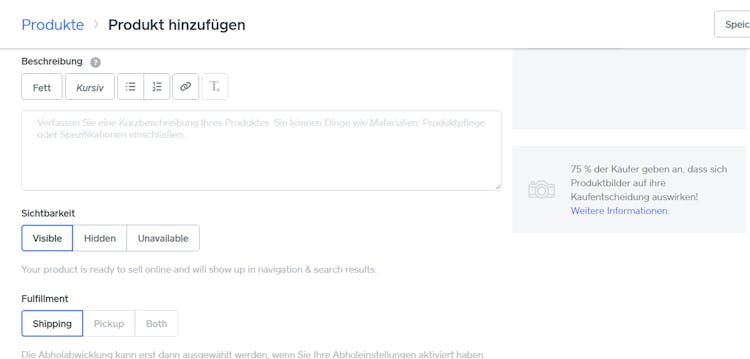 In this way, you can create a catalog of products, item by item. Further, you can integrate these on your site by dragging and dropping them in the editor. Beyond that, Weebly offers a number of additional options: You can add functionality for gift cards and coupons, create product categories, and set tax, shipping costs, as well as payment options. The last of these includes PayPal and Stripe for credit cards and digital wallets. You can also set when customers should receive emails from your shop, and what these emails should say.
To access most of the e-commerce features, you'll need to subscribe to a paid version of Weebly. We'll discuss these further in the Pricing section below.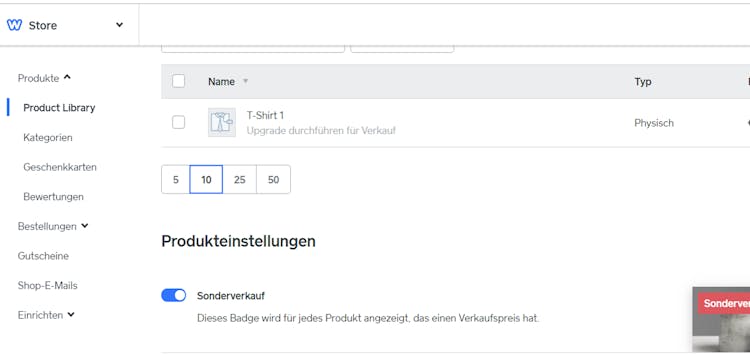 Weebly's expanded marketing features are limited to paying subscribers. Alongside the ability to integrate Google Analytics and powerful SEO tools, the service also offers highly versatile and configurable e-mail marketing.
As a platform for creating a web business, Weebly does almost everything right, impressing with its versatile marketing and sales tools, all of which can be at your fingertips, so long as you're ready to pay for them.
Score: 5 / 5
Weebly's support center offers extensive FAQs, allowing for most questions to be answered without contacting the support team directly. However, in contrast to other website builders, Weebly makes getting in touch, either through live chat, telephone, or email, as easy as possible.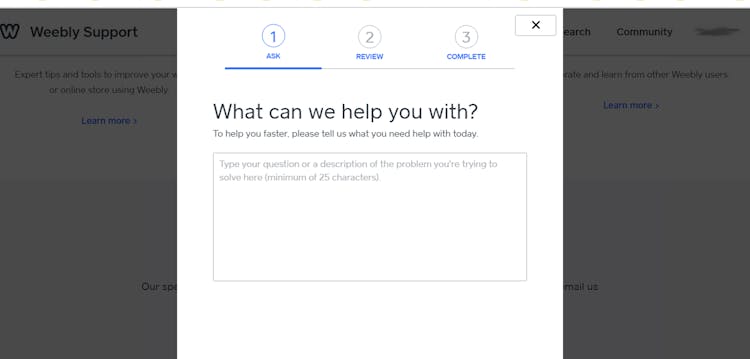 Should you have a question or issue outside of business hours, you can send e-mails to the support team. During testing, we received an answer to our e-mail query within 10 hours.
The business hours are: 6:00 AM - 6:00 PM (PST, weekdays)
8:00 AM - 5:00 PM (PST, weekends)
In total, Weebly shines in terms of support, offering a great deal more than its competitors.
Score: 4.7 / 5
There is a free version of Weebly, which includes all editor features, albeit forces users to utilize a less-than-aesthetic Weebly subdomain, and restricts access to a number of premium tools and metrics. Anyone who wants their own domain will need to open their wallets.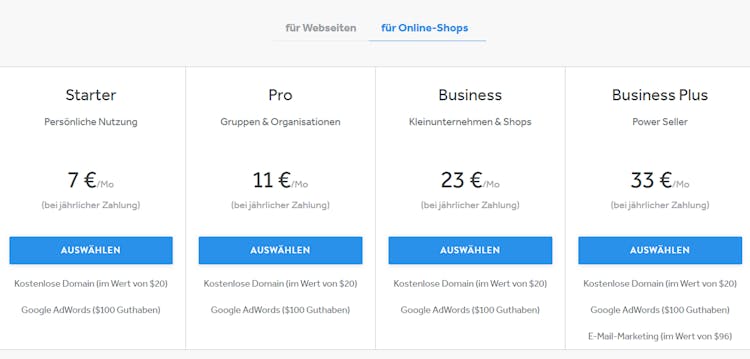 The "Starter" package is really only for those creating a website as a hobby. For anyone wanting to make a serious website, we recommend a "Pro" subscription. This allows you to use all page features, although you'll have to make do without the advanced marketing and analytic tools. These can be unlocked starting with the "Business" and "Business Plus" packages.
As usual, you can save by signing on for longer (yearly) subscriptions. Month-by-month subscriptions, which are also available, are significantly more expensive.
Free
Personal
Pro
Pricing
Set-up fee
$0.00
$0.00
$0.00
Base price per month
$0.00
$6.00
$12.00
Contract period (months)
0
0
12
Included
Space (GB)
0.5
0.5
unlimited
Pages
unlimited
unlimited
unlimited
Traffic (GB)
unlimited
unlimited
unlimited
Custom domain
Domains included
0
0
1
Features
Free of ads
SSL encryption
Blog
Ecommerce
Multilingual sites
Server location

USA

USA

USA
Marketing, SEO & Ecommerce
4.7 / 5
Configuration & Usability
4.0 / 5
Templates & Design
3.7 / 5
Weebly is a powerful website builder that offers true drag and drop functionality, making site creation even easier and more intuitive than its competitors do. The service allows you to tinker around with your site even if you don't have any knowledge of programming, also enabling business owners to utilize a variety of highly versatile e-commerce tools.
Weebly also stands out owing to its nifty mobile app, which makes site building anywhere much easier than other services.
intuitive drag-and-drop editor
powerful e-commerce features
With its intuitive drag-and-drop functionality and an unrivaled smartphone app for mobile website building, Weebly makes homepage creation easy even for beginners.
Space
Domains
Templates
Contract Period
Weebly Free
$0.00
monthly price
Visit Website »
Try for Free
Turning to the negative, we'd like to see more variety in terms of templates. Apart from that, however, there's almost nothing about Weebly that we'd take issue with: The website builder is an excellent choice for beginners lacking in programming knowledge, as well as anyone who wants to easily create an online shop.
In most review aggregators that we consulted, Weebly was among the best performing site builders. Most commended was its ease of use, with a majority of reviews appearing to come from beginners lacking any background in programming. On Trustpilot, reviews were mixed, with some complaining about poor customer support and recurring usage issues.
Customer Rating
137,752 Ratings
good
We analyzed the reviews and ratings from various portals and found 137,752 ratings with an overall rating of 4.5 out of 5 .
Show sources
A number of Weebly's competitors offer equally convenient and intuitive interfaces that appeal to users lacking programming experience. You can find reviews of other website builders in our exhaustive comparison.
many high-quality templates
simple & intuitive interface
jam-packed app marketplace
Domains free for one year only
Wix succeeds with an unmatched feature set, intuitive editors and a packed app marketplace. Only with the blog features do we still see some room for improvement.
Space
Domains
Templates
Contract Period
Wix Free
$0.00
monthly price
Visit Website »
Try for Free
Piani tariffari relativamente costosi
Squarespace impresses with flawless designs and high quality templates, which make the creation of professional websites a piece of cake - but also costs a bit more than most other providers.
Space
Domains
Templates
Contract Period
Squarespace Personal (12 months)
$12.00
monthly price
Visit Website »
14 Days Trial Period
supports multilingual sites
large, established provider
lots of templates, average quality
1&1 IONOS MyWebsite makes getting started a little more complicated, but rewards hobbyists without programming skills with a variety of design options for unique websites.
Space
Domains
Templates
Contract Period
1&1 IONOS Starter
$3.00
monthly price
Visit Website »
30 days risk-free

Author (German Version): Martin Gschwentner
Martin Gschwentner majored in American Studies and Media Studies in Germany, the USA and France and works as a freelance editor in Paris. He is a doctoral student at the Institute for English and American Studies at the University of Paris Diderot, where he is researching the influence of money on US politics. On EXPERTE.com he writes about IT security, data protection and software for the self-employed and small businesses.

Translator & Editor: D Bare