Create a Blog for Free: Cost-Free Options in 2023


Translation
Lisa Torelli-Sauer
Ad disclaimer:
For links on this page, EXPERTE.com may earn a commission from the provider. This supports our work and has no influence on our editorial rating.
Do you have a lot to say on a small budget? Then you might be interested in starting a free blog. There are various platforms available that allow you to blog at no charge. This article explains how it's done.
Just remember, when it comes to free services, there's always a compromise. Free blogging platforms don't include the same features as their premium counterparts. For example:
Potential Disadvantages of Free Blogs
You won't have your own domain
A domain is your address on the Internet. If you want to create your own domain (i.e., choose a custom address for your site) you have to pay for it. Using a free plan/provider means you'll have to settle for the service's subdomain (e.g., https://username.wixsite.com/webaddress).

Missing features
Generally speaking, free plans and platforms offer a limited set of features—otherwise, no one would buy the premium version. For example, there are typically fewer options for customization and limited integrations. You may also encounter limitations in terms of bandwidth and storage space.

Limited monetization opportunities
If you're looking to earn money with your blog, you may be better off with a paid service. Not only do they look more professional, but they also offer more options for monetization. That being said, there are also free blogging platforms on which it's possible to generate a steady stream of revenue, as long as you acquire a large readership.

Your blog doesn't belong to you
Like losing your diary, losing your blog would be a big loss. If you use a free blogging platform, your content is at greater risk of being deleted (e.g., if you violate the company's terms of use). The chance of this decreases if blogging on a paid service.
Not every platform included in this article suffers from all of the drawbacks listed above. However, generally speaking, free blogging platforms are less versatile than their premium counterparts.
That being said, free services are sufficient for many blogging projects. Listed below are some of the best solutions on the market. We've organized them into the following categories: website builders, content management systems (CMS), dedicated blogging platforms, and social networks.
Website Builders
Website builders are cloud-based design tools that allow users to create their own site with zero design or programming experience. Customization with these is easy thanks to their intuitive editors; templates and page elements can be personalized with just a few clicks.
Nearly every site builder offers blogging features. Some platforms even provide them for free. Here are a few of our favorite programs:
Wix
Wix beats out the competition with an unmatched variety of features, intuitive editors and a jam-packed app store. Overall, the platform offers the best balance of usability and features on the market today.
lots of features and elements
simple & intuitive interface
9.6

excellent
Space
Domains
Templates
Contract Period
Wix Free
$0.00
monthly price
Visit Website*
Try for Free
Wix didn't just secure first place in our EXPERTE.com website builder review; they also deliver the best free blogging platform in this category. With the service, you can choose from a variety of templates, and its drag and drop editor has one of the most user-friendly interfaces on the market. You can manually add a blog to any template, with some even including an integrated one.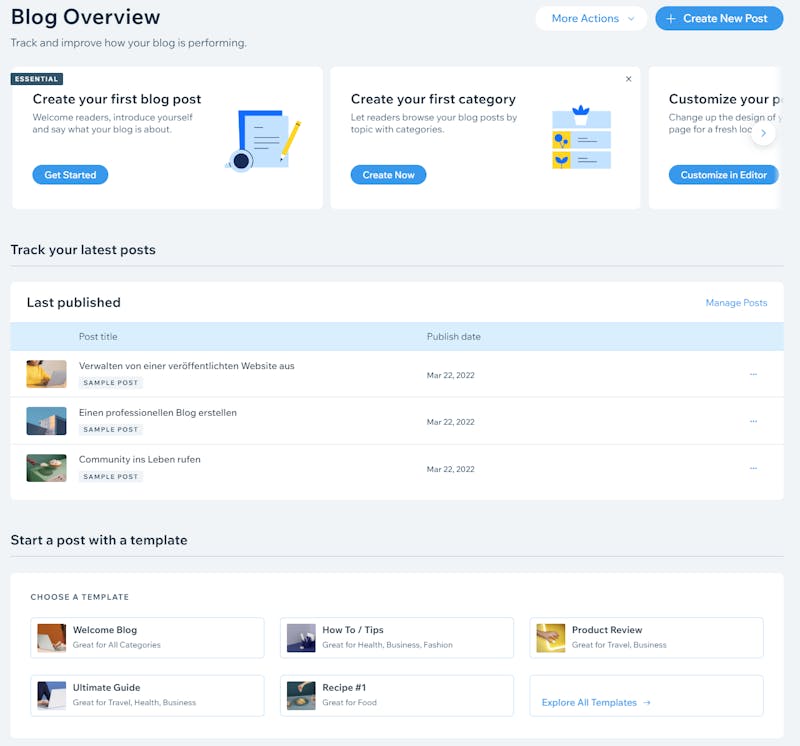 While Wix doesn't offer the most comprehensive blogging platform on the market, it does provide the basics at no cost.
Wix's blogging package isn't terribly exciting, but it includes all of the essentials. You can organize entries with tags and categories, schedule posts in advance, and edit basic SEO settings.
Free plan limitations
Domain: https://username.wixsite.com/webaddress

Advertising: Banner ad for Wix at the top of the page

Data limits: 500 MB storage space and 1 GB bandwidth
Weebly
With its intuitive drag-and-drop functionality and an unrivaled smartphone app for mobile website building, Weebly makes homepage creation easy even for beginners.
Space
Domains
Templates
Contract Period
Weebly Free
$0.00
monthly price
Visit Website*
Try for Free
One of Weebly's unique selling points is its powerful smartphone app, with which you can make changes to your website on the go. This feature is also quite handy when it comes to blogs; if you spontaneously have an idea, you can jot it down no matter where you are. Weebly also scores points for its intuitive operation and huge app store, which offers a multitude of extensions.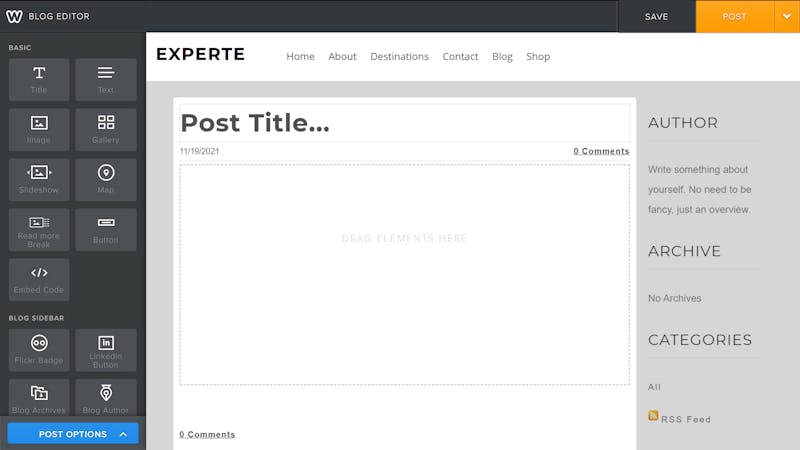 Thanks to Weebly's practical smartphone app, you can edit your blog on the go.
Unfortunately, Weebly doesn't offer as wide of a selection of templates as Wix does.
Free plan limitations
1.

Domain: https://websitename.weebly.com

2.

Advertising: "Powered by Weebly" watermark at your page's footer

3.

Data limits: 500 MB storage space
SITE123
SITE123 deliberately limits users' design freedom in order to streamline and simplify the creation of professional-looking websites. Users can't really make any mistakes – but they can't really create unique looking websites either.
great 24/7 support with chat
intuitive, beginner-friendly editor
unclear pricing structure
8.0

good
Space
Domains
Templates
Contract Period
SITE123 Free
$0.00
monthly price
Visit Website*
Try for Free
SITE123 is a website builder that is specially designed for beginners. Users forgo some features and design flexibility for ultimate ease of use. Unlike Wix and most other website builders, it doesn't have a drag and drop interface, with its designs being mostly predefined. As such, content is arranged and added like puzzle pieces.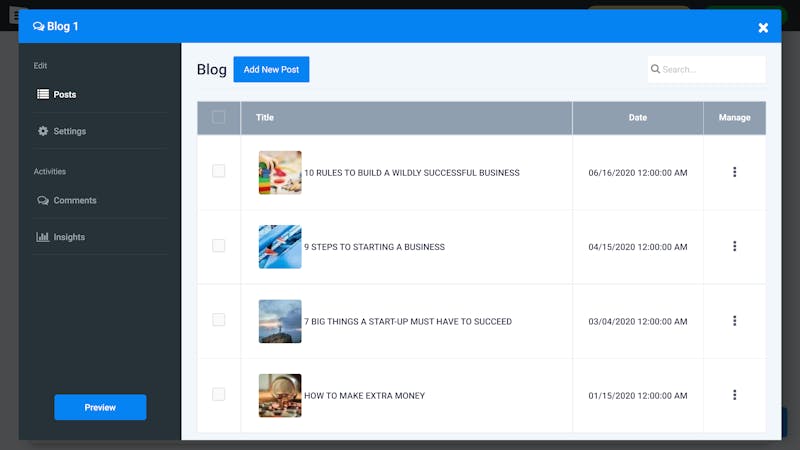 SITE123 offers decent blogging features, even for free users.
This platform's blogging features are solid. You can schedule posts ahead of time, allow reader comments, and view statistics. Unfortunately, it isn't possible to categorize blog posts.
Free plan limitations
Domain: https://random-id.site123.me

Advertising: Reference to SITE123 at the bottom of each page

Data limits: 250 MB storage space and 250 MB bandwidth
Blogging Platforms
Depending on the scope of your blogging project, website builders might overwhelm you with features that you don't actually need. Should you prefer to have a simple place to write your articles instead of an entire website, you can use a blogging platform instead.
Medium
Medium is a blogging portal with a homepage resembling that of a news site. The difference is, that users are responsible for the platform's content. Notable Medium bloggers include former US President Barack Obama and Tim Berners-Lee, the man credited with inventing the world wide web.
However, Medium isn't a portal for celebrities; anyone can publish on it at no cost whatsoever. To get started on this web-based platform, all you have to do is create an account. You can format your text and insert images or videos using its simple editor. Published articles are displayed in Medium's content library and can be commented on by readers.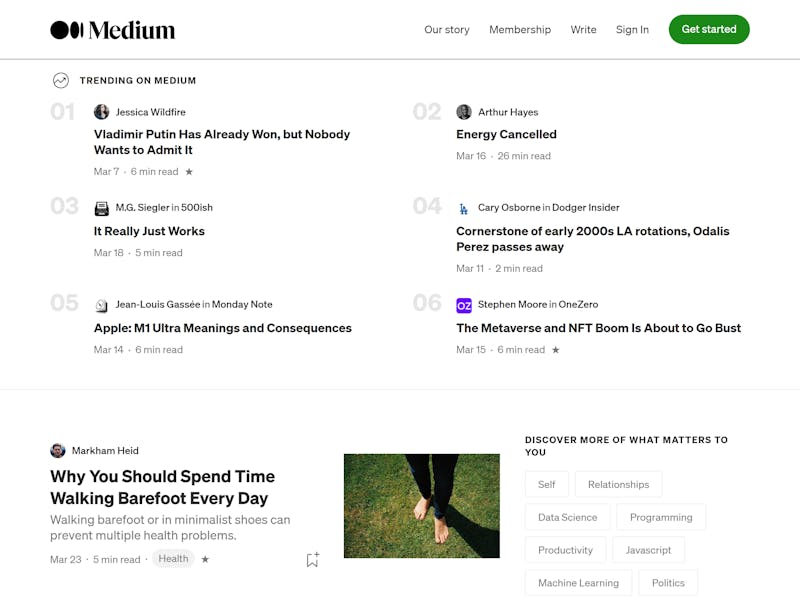 Anyone can start their own blog on Medium.
If you would like to generate revenue with your Medium blog, you can join the Medium Partner Program. The prerequisites for doing so include having at least 100 followers and one published blog post.
Here's how the program works: As a partner, you can place your blog articles behind a paywall so that only paying Medium users can access them (paying customers gain access to all premium blogs on the platform for a monthly/annual fee). You'll receive a share of the subscription revenue based on how many people read your blog posts.
Substack
Substack isn't meant for writing blogs—it's designed for newsletters instead. This US-based platform allows people to host and manage their newsletters, which has helped this method of communication make a real comeback. Unlike Medium, there's no eye-catching front page filled with blog articles; you're responsible for marketing your own content.
Therefore, Substack makes more sense for those who already have an audience or followers on social media, and who want to deliver articles directly to their readers' inboxes on a regular basis. People can subscribe to your newsletter at no cost or for a fee. Unlike Medium, readers only pay for your content—not for all premium newsletters on Substack.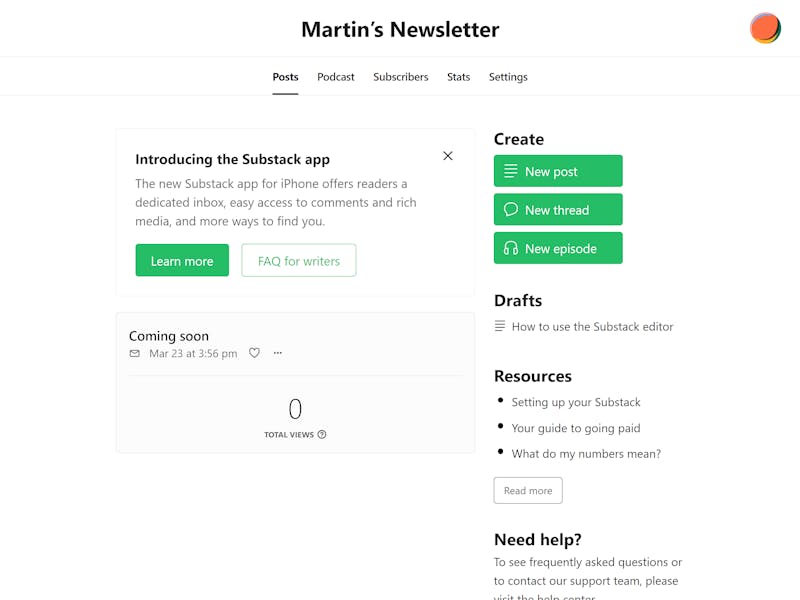 Substack newsletters are more suitable for bloggers who already have an audience and like to do their own marketing.
To attract readers willing to pay for your content, ensure that your articles offer added value. Some established journalists have found the platform to be a lucrative undertaking. In a few cases, they've even given up their positions at prominent papers like the New York Times or Washington Post, siphoning off readers to Substack.
Substack is especially well-suited for niche topics that appeal to a very specific audience willing to pay for good content. However, if you're just looking for a place to write articles, Medium is a much better choice.
Content Management Systems
While blogging portals are a great solution for those who don't need all the aspects of a website builder, content management systems (CMSs) are for people who want far more features than a website builder can offer.
CMSs offer greater flexibility when designing your blog and website. However, these programs also require more effort in terms of setup and design. Beyond that, you'll have to manage some aspects, such as hosting, by yourself.
WordPress
Over the years, WordPress has emerged as the leading CMS on the market. Launched in 2003 and with roots as a blogging platform, there are still traces of its earlier self, with many continuing to blog on WordPress.
WordPress offers almost endless opportunities for customization. Numerous plug-ins and extensions are also available to add even more features to your blog.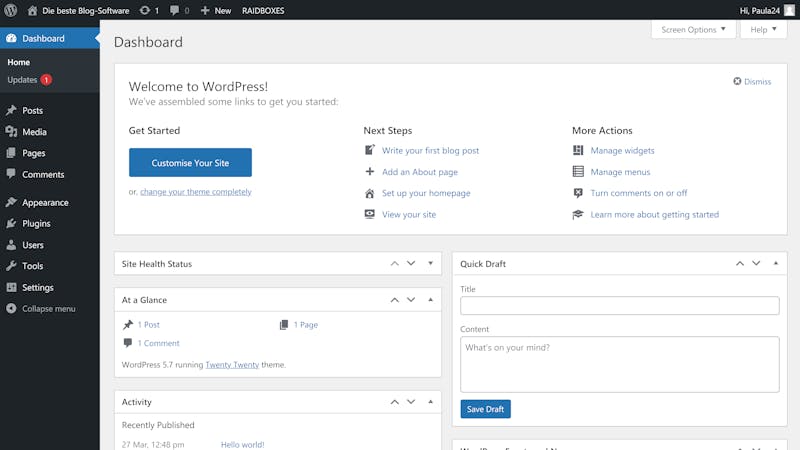 WordPress has roots as a blogging platform but is now the most popular CMS on the market.
While WordPress is open source and free, you'll have to take care of hosting and domain needs yourself. However, there's a free alternative: WordPress.com
Alternative: WordPress.com
The real WordPress is found at WordPress.org. WordPress.com, on the other hand, is a self-publishing platform from AutoMattic, owned by WordPress co-founder Matt Mullenweg. While the name is the same, there is a key difference; WordPress.com includes aspects such as web hosting and domain, just like a website builder.
WordPress.com also offers a free plan, where you can use the provider's subdomain and access limited features compared to its premium plans. For example, storage space is limited to 3 GB, monetization options are very restricted, and you have to tolerate ads from WordPress.
Joomla
Joomla is another full-fledged CMS with which you can create a free, customized blog. However, it's best to have some programming experience if you want to take full advantage of what Joomla has to offer. While there are many templates and extensions to choose from, you'll have to use custom code to get the most out of this CMS.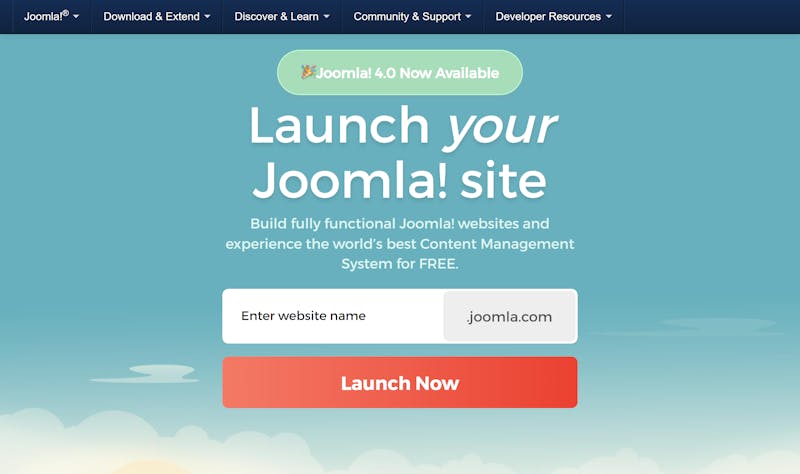 Joomla also allows you to set up a free blog—with some restrictions.
Like WordPress, Joomla is open source and free, but you still have to pay for hosting, domain, etc. However, there's also a free alternative: with the Launch.Joomla service, you can get free web hosting with a Joomla subdomain. Like other free services, there are some restrictions. For example, storage space is limited to 500 MB. However, you can always upgrade your plan as your blog grows.
Social Media
Social media can also serve as a home to your blog. However, not every platform is suitable for blog posts. Twitter's character limit, for instance, prevents longer texts, while Instagram is mainly used for photo and video content. That being said, some social media platforms are appealing to bloggers.
Tumblr
Tumblr is a microblogging service that, like Instagram, is more visually oriented. However, since it lacks character limits and offers basic formatting options, longer blogs can also be written on Tumblr. Its main advantage lies in its social component—like Facebook, you can get in touch with readers and subscribers directly. Posts can also be tagged to make them easier to find and users can like and comment on them.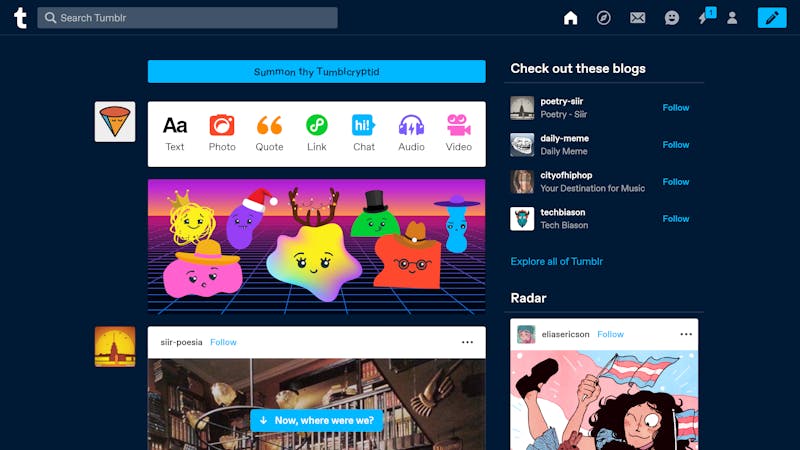 Tumblr is both a blogging platform and social network.
While Tumblr is nowhere near as popular as it was a few years ago, it's still a user-friendly blogging platform with great social media-like features.
LinkedIn
The business networking site LinkedIn has an in-house blogging platform where you can publish articles for free. After logging into your account, simply click on "Write an Article" on the homepage. This will take you to LinkedIn's simple editor, where you can upload a cover image and embellish your text with images, videos, or presentations.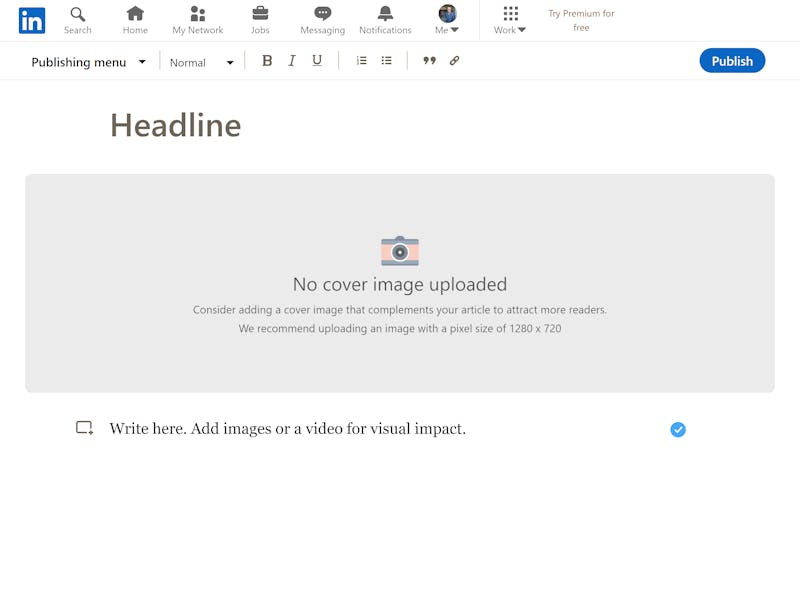 You can also write blog articles on LinkedIn and publish them to your profile.
Your blog will be tied to your LinkedIn profile and shared in your feed. Using this platform makes sense if you're writing about topics that are relevant to your profession. However, if you're writing about a hobby or something that has nothing to do with your job, it doesn't make sense to use LinkedIn as a blogging platform.
It's also difficult to search for specific blog posts on LinkedIn. You can share your posts on LinkedIn and elsewhere; otherwise, LinkedIn's algorithms (or chance) will determine who sees your articles.
Conclusion
There are several ways to create a free blog. If you want to house it on a dedicated website, but would prefer not to invest a significant amount of time and energy in the project, it's worth looking into the free plans offered by website builders. While you'll have to accept a predefined domain and other limitations, you can basically blog for free from your own little corner of the net.
CMSs offer considerably more flexibility. However, while they're open-source platforms that are technically free of charge, you'll still need to spend money on things like a domain and hosting. There are free alternatives in this category as well, but they also come with serious limitations.
If you don't need your own website, you can use blogging portals such as Medium or Substack. These also allow you to monetize your blog, but you'll need a large and loyal audience to earn real money. Last but not least, you can start a free blog on social media platforms like LinkedIn or Tumblr.
What are the most widely-used blogging platforms? In our blogging software comparison, we looked at the numbers to see which are the statistically most popular blogging platforms out there.
* Ad disclaimer:
For links marked with an asterisk, EXPERTE.com may earn a commission from the provider. The commission has no influence on our editorial rating.

Martin Gschwentner majored in American Studies and Media Studies in Germany, the USA and France and works as a freelance editor in Paris. He is a doctoral student at the Institute for English and American Studies at the University of Paris Diderot, where he is researching the influence of money on US politics. On EXPERTE.com he writes about IT security, data protection and software for the self-employed and small businesses.

Translation: Lisa Torelli-Sauer
Continue Reading