GoDaddy Website Builder Review: The Right Tool in 2023?

Just a good idea and some curiosity: That's all you need to create a website with GoDaddy, at least according to the company's marketing materials. Perhaps most well-known for their web hosting, GoDaddy's site-building platform allows users of any experience level to create a digital presence, even if they don't have any background knowledge in coding or programming. Below, we'll let you know how well this worked out for us.
What Is GoDaddy?
GoDaddy is a web hosting provider based in Tempe, Arizona that can lay claim to more than 20 million customers around the world. As the manager of upwards of 84 million domains, GoDaddy is also the largest domain registrar globally.
Among the many cloud tools offered by the service is "Websites + Marketing" ⇱, a site builder launched in 2017. Anyone using it, even those lacking knowledge in coding, can easily create websites. In this review, we took a closer look at what the platform is capable of.
Review
Configuration & Usability
9.4 / 10
Marketing, SEO & Ecommerce
7.4 / 10
Templates & Design
4.6 / 10
Beginner-friendly and easy to use

Quick website creation thanks to ready-made sections

Solid e-commerce features

Practical marketing tools
Little room for customization/personalization

Unimpressive SEO features

Inconsistent support quality
2.
Configuration and Usage
Since GoDaddy's site builder is free to use (you'll only have to pay for your domain and other features), creating an account with the provider is quickly taken care of. As a result, when registering, you won't need to supply any payment information. Should you not want to sign up by email, you can also use your Facebook or Google login as an alternative.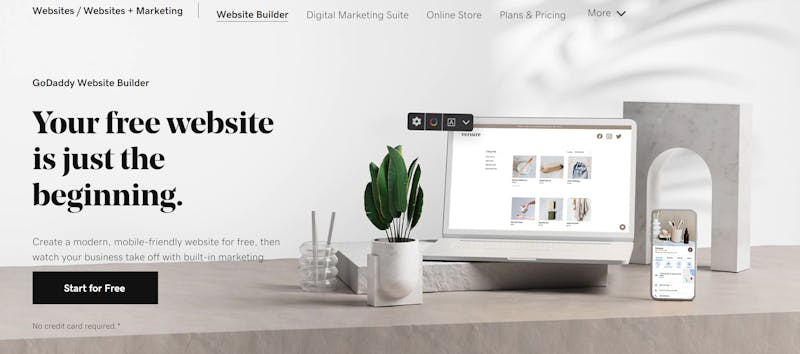 You won't need to input any payment information to register with GoDaddy.
In the next step, select the category that best describes your business. For this, GoDaddy offers a number of options, however, you can also input a term in the search bar if you can't find what it is that you're looking for. After this, you'll be asked to supply a name for your website (you can change this later if desired), and then you'll be taken to the site builder itself.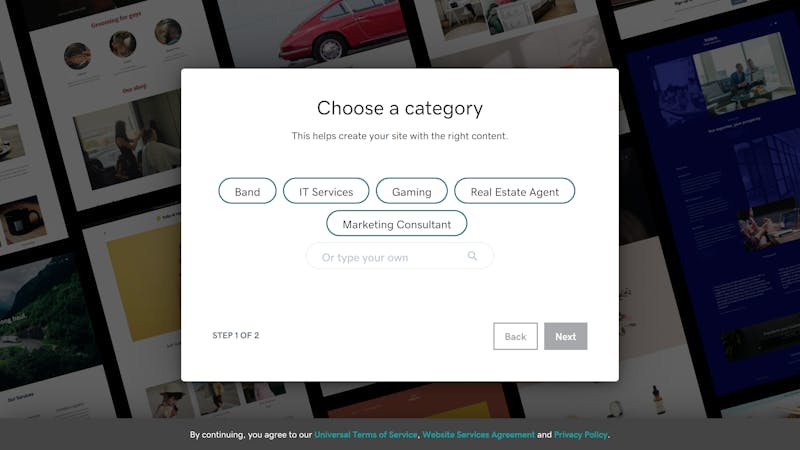 What kind of website are you creating? Based on the information you supply here, GoDaddy will suggest a suitable design template.
Emphasis on user-friendliness
The editor in GoDaddy's site builder is split between two halves. To the left, you'll see the site preview, where you can edit text directly and add new areas and sections to your website. Off to the right, you're able to make changes to your site's design and navigation.
Before all of that though, you'll be welcomed to the editor with a brief tutorial. After clicking on the "Next steps" button, you'll be given some suggestions for what to do. GoDaddy recommends choosing a theme (based on the information you supplied earlier, the platform automatically suggests one). You can do all of this in the upper right, by clicking on "Theme" in the menu.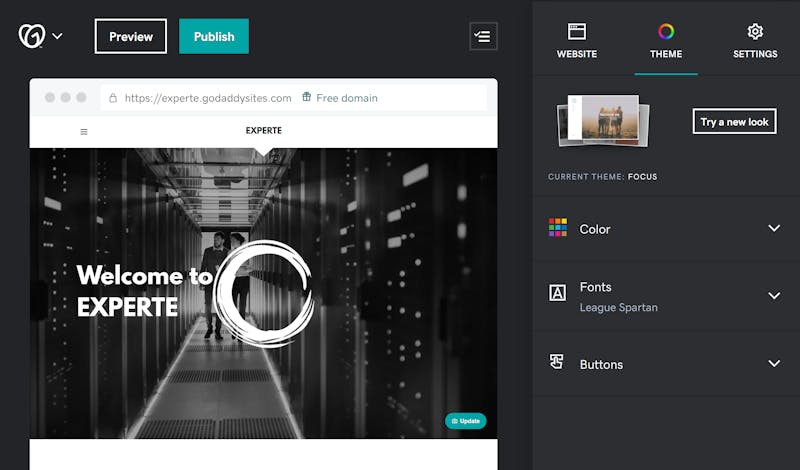 You won't need long to get used to GoDaddy's editor.
There are also two other tabs in the navigation menu: Under Settings, you can make some adjustments to your website, integrate social media links, or add an analytics tracker. By clicking on "Website", you'll be able to manage how your pages are arranged and add new ones if desired. As just a few examples, this is where you can integrate an online store into your website, or add-ons, such as a live support chat for your customers.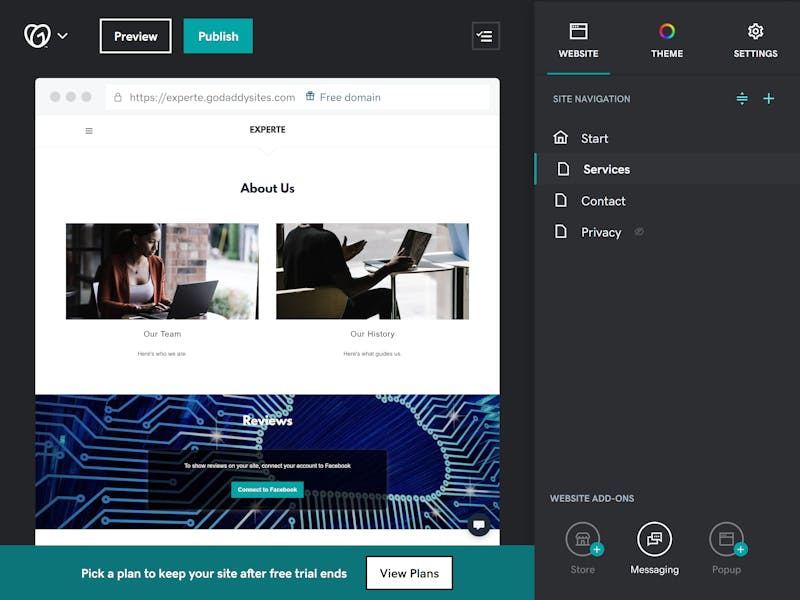 In the "Website" menu, you can add new pages or manage your existing web presence.
All other changes are made directly in the website preview area. There, you'll find content divided among different types, and have the ability to add or move it around. Text can also be edited here, however, GoDaddy's editor doesn't have drag and drop capabilities, meaning that users are tied to the existing layouts.
Generally speaking, GoDaddy's site builder is easy to get a feel for and intuitive, which certainly advantages beginners. At the same time, the limitations cut both ways, reducing creative freedom, but more on that below.
Score: 4.7 / 5
GoDaddy lacks true drag and drop capabilities, meaning that you won't be able to position content elements at will. Instead, the site builder offers ready-made sections that feature in different layouts. To add one of these to a website, click on the plus symbol between the sections.
Cookie-cutter sections
Sections are subdivided into categories like "General", "Audio & Video", "Store, or "Restaurant". In addition to classic types such as image galleries or contact windows, you'll also find more specific options, such as Job Postings, FAQs, or restaurant menus.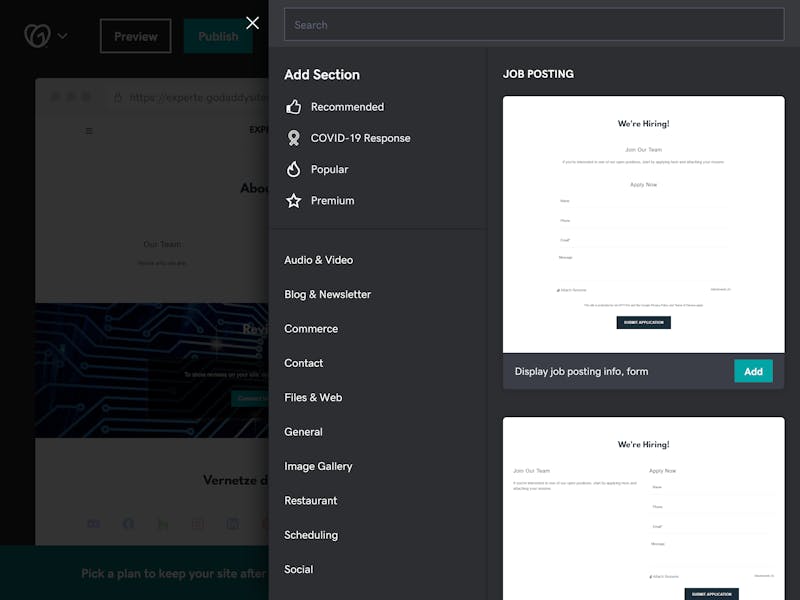 With GoDaddy, you can add all sorts of ready-made sections to your website.
Depending on the type of section you select, you'll have different layout options, however, their arrangement and content cannot be changed. Unfortunately, it also isn't possible to add an empty section and adjust this to your specifications. Instead, you'll need to rely on what GoDaddy offers. Anyone unable to find the type of content block they're looking for will be sorely disappointed.
Making matters worse, the platform also lacks an app marketplace or center where features and content, on top of those offered by the platform, can be integrated. The only consolation is that it is possible to input user-defined HTML code.
Basic blogging features
Blogs are added to sites as sections. Entries aren't written directly in the site builder's editor, but rather, in the superordinate GoDaddy administration menu, under the "Marketing" heading. Through the blog editor, you can add images, videos, and dividers, however, you won't find an HTML editor.
Blog entries can either be published immediately or scheduled for a later point in time. It's also possible to create categories and assign your blog entries to them. Beyond that, there isn't all that much to say about the platform's blog features. For editorial groups, the service's lack of team editing is disappointing. In the past, it was possible to integrate comments via Disqus, however, GoDaddy appears to have removed this capability.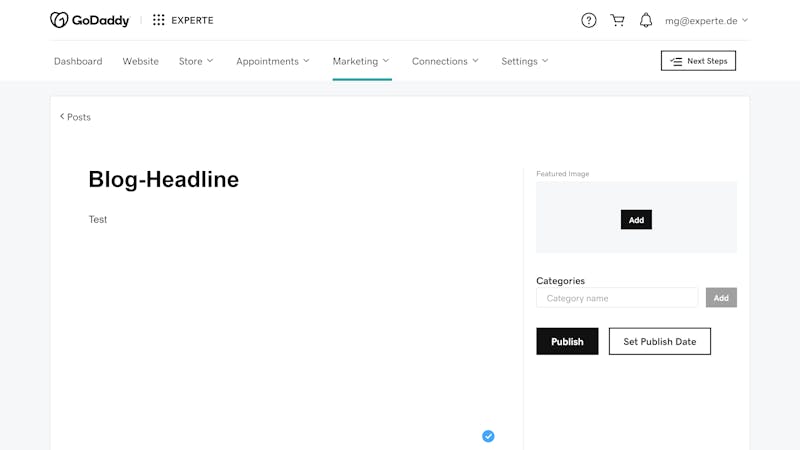 You can create a basic blog and schedule articles.
No multilingual websites
Unfortunately, there's no easy way to configure multilingual websites with the site builder. Since page navigation doesn't occur across multiple hierarchical levels, it also isn't possible to repurpose a higher one as a language menu. Should you need or want a multilingual website, you'll find your needs better met by platforms such as Wix or 1&1 IONOS.
GoDaddy provides the basics expected of a site builder, but little more. The lack of an app marketplace and the inability to create multilingual websites are both very disappointing.
Score: 3 / 5
GoDaddy offers a nice selection of design templates, subdivided into categories like "Music", "Art & Design", or "Store". It's possible to change your existing theme at any time, however, not all of the templates will be available in the selection window. In some cases, this selection is based on the branch you specified earlier, but support wasn't able to provide us with any additional information as to why certain themes are displayed.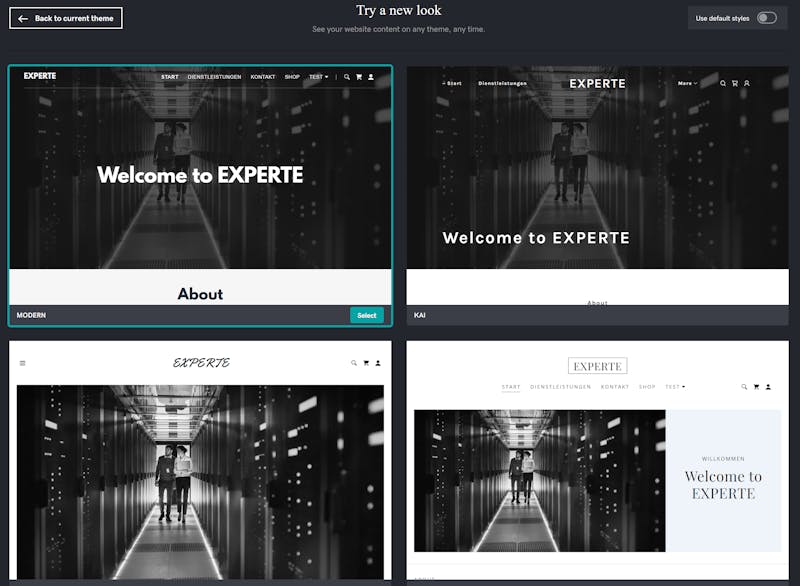 You can change your design theme at any time, however, not all options can be selected.
Little room for customization
As mentioned before, once you've settled on a template, you'll have little leeway when it comes to customizing it to your desires. In the theme menu, you can set colors and fonts, and select from a number of different button designs.
When it comes to the various sections, you'll have to rely on the layouts which GoDaddy provides. Owing to the lack of drag and drop functionality, and the inability to arrange individual content elements within a section, again, your options are severely constrained. As such, customization really only extends so far as the content you include, and the selection and arrangement of sections.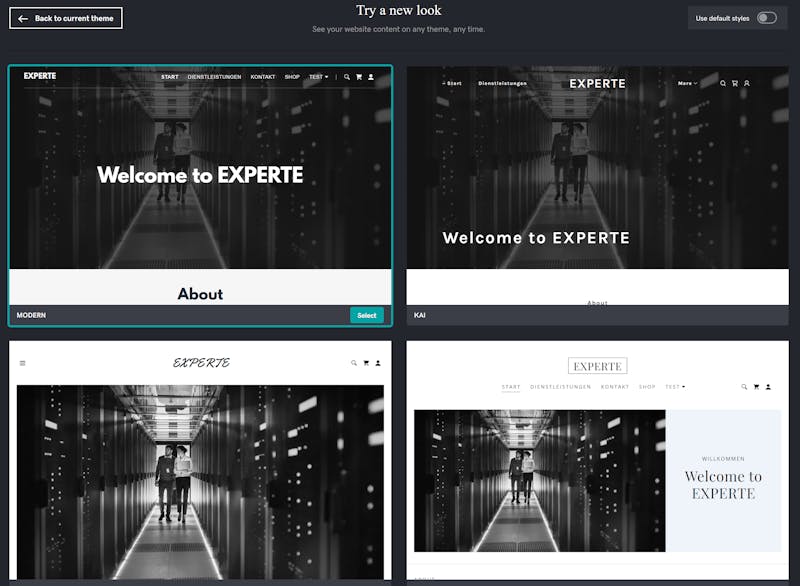 Customization options with GoDaddy are limited.
You'll need to source all image and video content on your own with GoDaddy since the platform lacks a stock photo database or integration. It is possible to connect Facebook and Instagram and use images from either of these.
Shallow menus
GoDaddy only offers a single navigation level, however, you can combine multiple menu options in a drop-down menu in order to slim your main menu down and create a sort of sub-menu.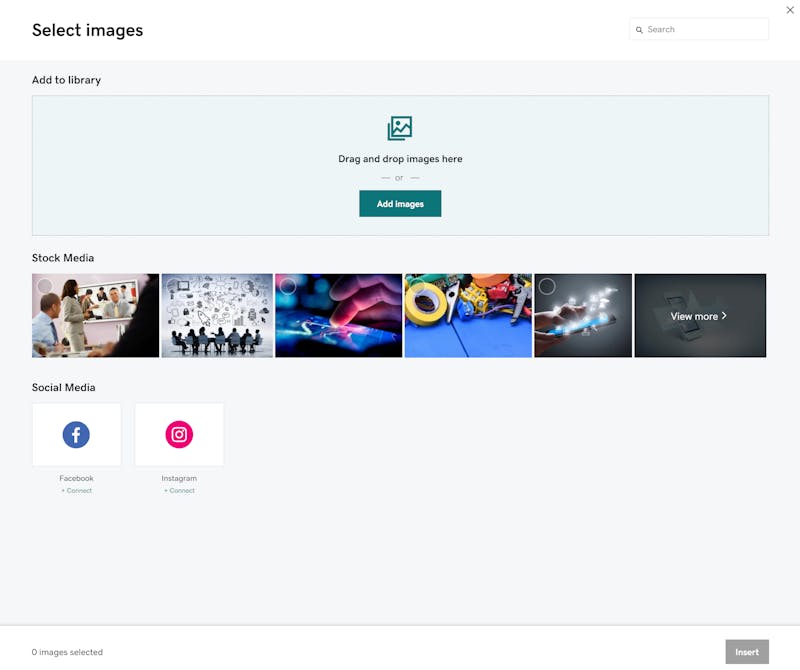 You can integrate photos from your website via Facebook or Instagram.
GoDaddy's site builder never lets you stray far from the basics. With the exception of content, the intuitive editor's toolbox doesn't facilitate much customization. If this is important to you, you'll need to insert user-defined HTML code, which isn't really an option for the rather rudimentary platform's target group.
As a result, we felt incredibly restricted in terms of design freedom when using GoDaddy. Anyone who wants to adjust more aspects of their website than just images and text is better served elsewhere.
Score: 2.3 / 5
5.
E-Commerce, Marketing & SEO
To integrate an online shop onto your website (or create one), you'll need to do so as an add-on. Similar to the blog, you'll be able to manage the shop in the superordinate GoDaddy administrative menu. There, you can add products and manage payments or shipping.
Intuitive product creation
It's possible to offer both physical and digital products. Through the product menu, you'll be able to specify all of the relevant details, including their name, price, SKU, or tax category. You can arrange articles into different groups as well.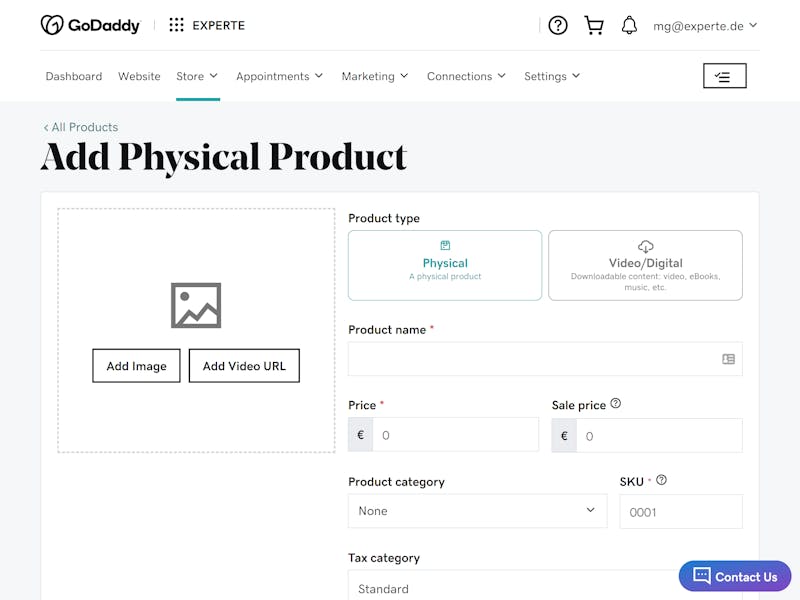 In addition to physical products, it's also possible to offer digital ones.
Further below, next to the product description, you'll also find a few additional tabs. Through the "Inventory and Options" one, you can add all sorts of product variations, such as sizes or colors. GoDaddy handles this well, as you'll only need to specify a new aspect and the available options, with the different combinations then being automatically created and assigned SKUs.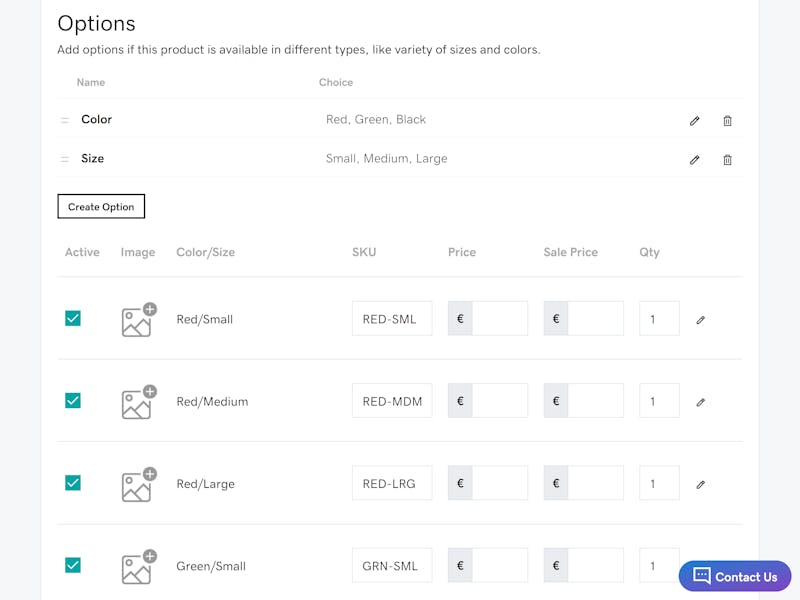 In GoDaddy, you can add all sorts of different variations of the products you intend to sell.
GoDaddy is compatible with both Stripe and PayPal. In addition, you can also accept offline payments. In terms of delivery, it's possible to specify different regions and types of shipping, linking the cost to order volume (but not weight).
Coupons & discounts
To drive up sales in your online store, you can create both lump sum and percent-based coupons, and offer free shipping. It's possible to limit coupons to specific products or categories, the number of times they can be redeemed, and a minimum order total.
Beyond that, you'll also be afforded the ability to set sale prices in the product menu, so that the regular price of a product is stricken-through and shown alongside the new price.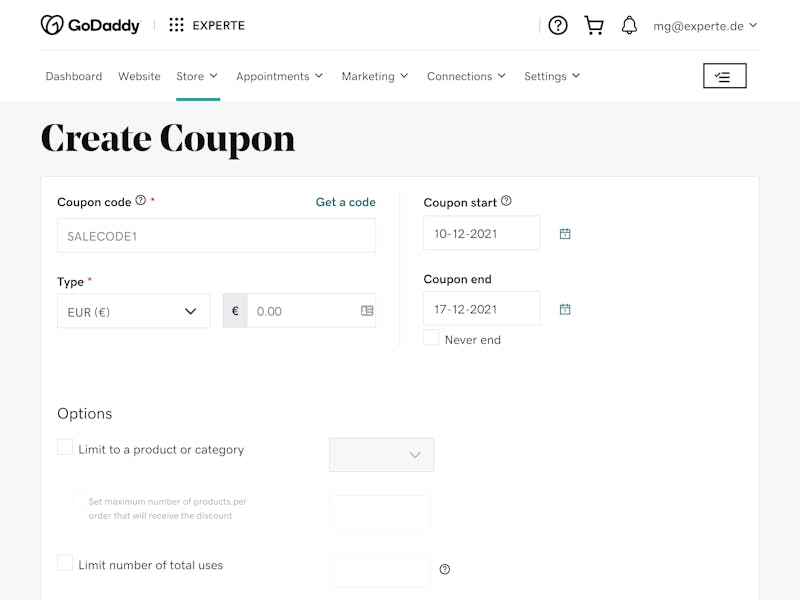 You can encourage sales by offering coupons and sales.
Social media and email marketing
GoDaddy also helps to gain new customers through its marketing tools. With these, you can create and follow social network posts on Facebook, Instagram, or Twitter.
Beyond that, the platform also includes a basic email marketing tool, which comes in handy for launching email campaigns. For this, GoDaddy offers a number of different message templates that you can use to contact your customers, members, subscribers, or even a list of selected email addresses. After you've started, you'll be able to keep tabs on how many of your emails are opened and how high the click rate is.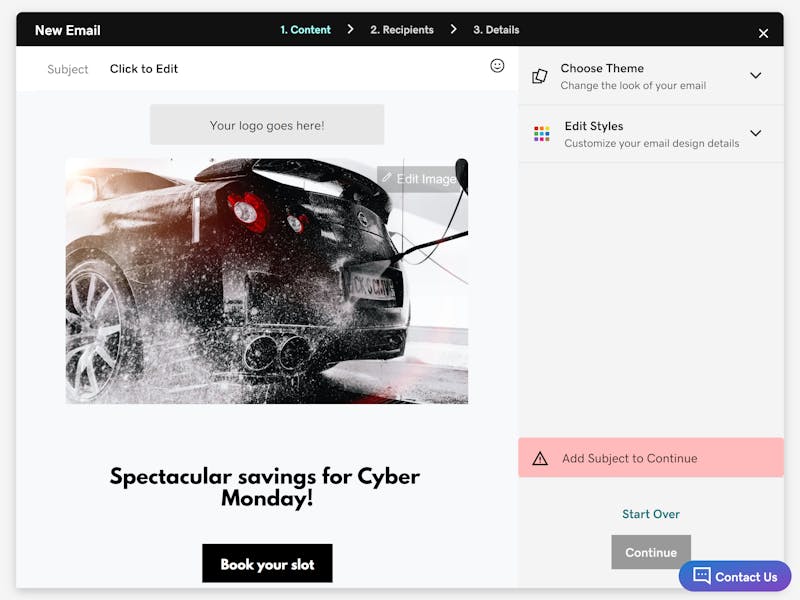 To stay in touch with your customers and subscribers, you can create and launch email campaigns with GoDaddy.
Search engine optimization shortcomings
GoDaddy's SEO settings leave too much to be desired. To access these, go to Settings > Search Engine Optimization. There, you can input page titles and meta descriptions, however, the latter isn't possible for blog entries. GoDaddy also offers an optimization tool that suggests page titles based on keywords, however, it is neither innovative nor particularly useful.
You aren't able to edit page URLs in a separate field, since they're generated from the page title directly. We advise GoDaddy to revisit its SEO support since, at the moment, it needs a lot of work and completely overlooks blog entries.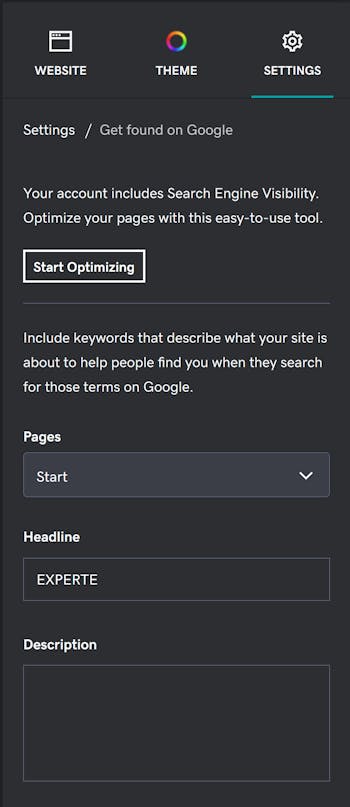 GoDaddy's SEO options haven't kept up with the times.
GoDaddy provides access to some statistics in the dashboard, but you can enhance these through integrating tools like Google Analytics or Facebook Pixel.
Taken together, GoDaddy scores thanks to its solid e-commerce and marketing features, but shows its weaknesses when it comes to SEO.
Score: 3.7 / 5
GoDaddy possesses a comprehensive help center with a dedicated area for its site builder. There, you'll find numerous helpful articles, most of which have accompanying tutorial videos that introduce and explain specific features and capabilities. Full-text search makes it possible to keep an overview of these.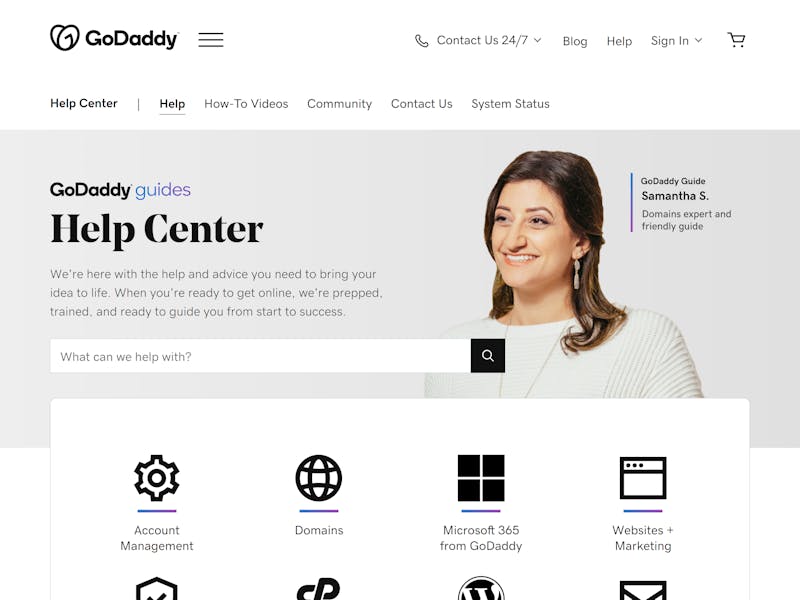 In GoDaddy's help center, you'll find some tutorial videos.
You can get in direct touch with GoDaddy's support Monday-Friday from 8 AM to 8 PM, however, the live chat is staffed around the clock. Our experiences with the latter were mixed: On some occasions, we got answers within seconds, while at other times, it took upwards of 10 minutes.
The quality of the answers we received was not exactly up to the standards we're accustomed to. It seemed that some of the staffers we spoke with weren't familiar with the product we were using, and as such, they couldn't competently answer our queries.
Score: 3 / 5
In addition to the free version, GoDaddy's site builder comes as part of four different subscription packages. The free version includes a GoDaddy domain, whereas the paid Basic, Standard, Premium, and E-Commerce options offer unique domains. In addition, you'll also get an SSL certificate and GoDaddy Insight statistics with each.
The two more affordable plans limit the creation of business pages in social networks, as well as entries and answers in social media channels. Email marketing is restricted to 100 or 500 recipients (in each of the two cheaper subscription options), while you can contact up to 25,000 individuals in the more expensive two plans. SEO is only part of the Premium and E-Commerce package.
E-commerce capabilities are only part of the E-Commerce plan.
In terms of duration, you can choose between monthly or yearly subscriptions, whereby the latter comes at a discount.
Below, you can find a current overview of GoDaddy's pricing:
Free
Basic
Premium
Set-up Fee
$0.00
$0.00
$0.00
Monthly Price
$0.00
from $9.49
from $17.99
Contract Period (Months)
0
1 - 12
1 - 12
Included
Space (GB)
unlimited
unlimited
unlimited
Pages
999
999
999
Traffic (GB)
unlimited
unlimited
unlimited
Custom Domain
Domains Included
0
1
1
Features
Free of Ads
SSL Encryption
Blog
Ecommerce
Multilingual Sites
When deciding on a site building platform, it can often be important how a service is priced compared to its competitors, and below, we've provided a table showing GoDaddy's most affordable annual subscription which is ad-free and includes a unique domain:
1.
2.
3.
4.
5.
6.
7.
8.
9.
10.
11.
For monthly subscribers, you can cancel up to 48 hours after payment, whereby annual subscribers have 30 days to request a full refund.
Conclusion
Configuration & Usability
9.4 / 10
Marketing, SEO & Ecommerce
7.4 / 10
Templates & Design
4.6 / 10
For anyone who values simplicity and doesn't have a knack for design, GoDaddy offers one of the most user-friendly site builders, leaving little guesswork. Thanks to its ready-made sections, anyone using GoDaddy can build a spiffy website and fill it with content in no time flat. Its solid e-commerce features and practical marketing tools round out the advantages of its package.
Of course, the platform also suffers from some disadvantages, the most apparent of which is the ability to do much outside of the ready-made content blocks. Unlike drag and drop editors, which are often more complicated (while still being intuitive), you're barely afforded any creative freedom with GoDaddy. Adding to the negatives, features are limited, multilingual websites can't be created, and SEO settings aren't really up to the current market standard.
As such, GoDaddy's site builder is really only recommended for basic projects and users who want to spend as little time as possible designing their website.
beginner-friendly, easy to use
solid e-commerce features
practical marketing tools
little room for customization
inconsistent support quality
6.7

satisfactory
Space
Domains
Templates
Contract Period
GoDaddy Free
$0.00
monthly price
Visit Website »
Customer Ratings
But what are users saying about GoDaddy's site builder? We collated a number of ratings from various review portals below.
Customer Ratings
80,615 Bewertungen
Visit Website
We analyzed the reviews and ratings from various portals and found 80,615 ratings with an overall rating of 4.7 out of 5 .
Alternatives
GoDaddy is far from the only site builder that emphasizes user-friendliness. Weebly also features an interface that caters to beginners. Of course, compared to other drag and drop editors, your options with Weebly are also limited, however, you'll still have a freer hand than with GoDaddy.
For those looking to take a more active part in their website's design, we can recommend the top performer from our sample, Wix. Although more detailed, it does little to limit its users' creativity.
More of the best alternatives to GoDaddy can be found below:
Wix succeeds with an unmatched feature set, intuitive editors and a packed app marketplace. Only with the blog features do we still see some room for improvement.
many high-quality templates
simple & intuitive interface
jam-packed app marketplace
Domains free for one year only
9.6

excellent
Space
Domains
Templates
Contract Period
Wix Free
$0.00
monthly price
Visit Website »
Try for Free
Squarespace Website Builder
Squarespace impresses with flawless designs and high quality templates, which make the creation of professional websites a piece of cake - but also costs a bit more than most other providers.
Space
Domains
Templates
Contract Period
Squarespace Personal
$14.00
monthly price
Visit Website »
14 Days Trial Period
1&1 IONOS MyWebsite makes getting started a little more complicated, but rewards hobbyists without programming skills with a variety of design options for unique websites.
supports multilingual sites
large, established provider
lots of templates, average quality
8.8

good
Space
Domains
Templates
Contract Period
1&1 IONOS Starter
$3.00
monthly price
Visit Website »
30 days risk-free
Webflow requires an understanding of programming logic and is less suitable for beginners. As a hybrid of website builder and CMS, it offers its target group countless possibilities to create user-friendly dynamic websites.
mix of CMS & website builder
almost infinite possibilities
learning platform "Webflow University"
good ecommerce integration
somewhat steep learning curve
8.7

good
Space
Domains
Templates
Contract Period
Webflow Starter
$0.00
monthly price
Visit Website »
Start for Free
With its intuitive drag-and-drop functionality and an unrivaled smartphone app for mobile website building, Weebly makes homepage creation easy even for beginners.
intuitive drag-and-drop editor
powerful e-commerce features
8.4

good
Space
Domains
Templates
Contract Period
Weebly Free
$0.00
monthly price
Visit Website »
Try for Free

Author: Martin Gschwentner
Martin Gschwentner majored in American Studies and Media Studies in Germany, the USA and France and works as a freelance editor in Paris. He is a doctoral student at the Institute for English and American Studies at the University of Paris Diderot, where he is researching the influence of money on US politics. On EXPERTE.com he writes about IT security, data protection and software for the self-employed and small businesses.
Continue Reading