Start a Travel Blog 2023: Create Your Own Travel Blog in Just a Few Steps

Ad disclaimer:
For links on this page, EXPERTE.com may earn a commission from the provider. This supports our work and has no influence on our editorial rating.
Even in the age of social media, thousands of people continue to blog about their travels and experiences. To join them, all you need is enough inspiration and the right software to create a blog. Below, we'll introduce you to two options and let you know which factors can increase your travel blog's chances of taking off.
Find the Right Niche: The Basis of Your Travel Blog
Do you collect frequent flyer miles, put lots of miles on your mobile home, or enjoy discovering new cities and places? If you do, and you'd like to share your experiences with the world, you're not alone: There are hundreds of thousands of travel bloggers, both professional and amateur. While this means that there's definitely an audience for this kind of content, it also signals that competition is fierce.
To build an audience, think about what your focus will be. When you try to appeal to everyone, you'll please no one: For that reason, don't post one week about a cute small town you visited in New England, and the next weekend about your favorite restaurants in Tokyo or Bedouin customs and traditions.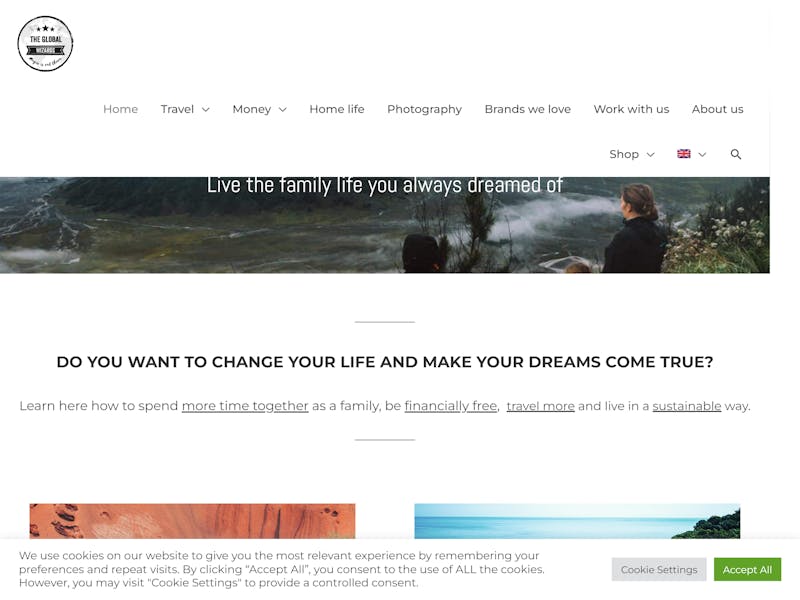 This family blogs about their travels and found their own niche.
The most successful travel blogs are those that target specific groups or discuss certain destinations. Among groups, this can be anything from blogs written by and for women traveling alone, for families, or for pet owners. In terms of your regional focus, pick a continent, a region, or even a single country or state.
Another option is to narrow down your focus to how you travel, such as with a camper, as a backpacker, or on cruises. Alternatively, you might be more of a traveling food blogger, in which case you can write about your culinary excursions. Whatever you decide, make sure that you pick a focus, stay true to it, and post relevant, high-quality content. Ask yourself these questions at the outset:
What makes my trips special?

What do I pay attention to when I travel?

Who is my audience?
Your Travel Blog: Website Builder or WordPress?
Once you have a concept for your travel blog, you'll need the right software to actually create it. Some of the most popular solutions among travel bloggers are website builders like Wix and content management systems such as WordPress. This is because of how intuitive they are to use and the variety of options they offer. Below, we'll let you know about the differences between them, as well as their advantages and disadvantages.
1.
Create a Travel Blog With a Website Builder
Thanks to website builders, travel bloggers haven't needed to touch a line of HTML code for quite a while. With them, anyone can quickly design a website with ready-made elements like menus, boxes, text blocks, and image galleries in their editors. These rely on the "What you see is what you get" principle (WYSIWYG).
Some of the most popular website builders include Wix, Squarespace, IONOS MyWebsite, and Webflow. Each offers plenty of blogging features and templates. Most also allow users to involve readers or feature posts from multiple authors. Before you make your decision, think about which features are important to you.
Many website builders allow users to create a blog for free, however, you'll have to accept ads and make do without a unique domain. Subscription fees as well as templates vary from provider to provider. If you'd like to run a travel blog as a business or source of income, you'll need to invest $5-$10 per month.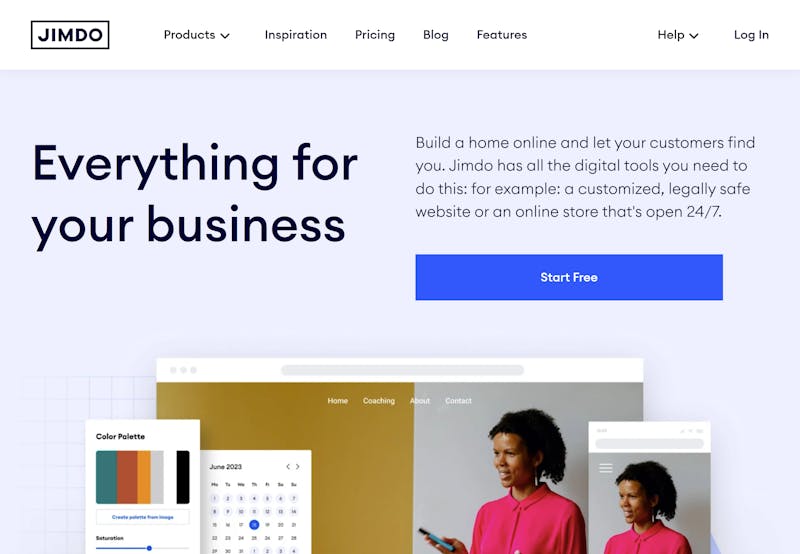 You can also create classic websites and online stores with platforms like Wix, Squarespace, GoDaddy, or Jimdo.
Website builder subscription packages include either one or multiple domains. Since your blog is hosted on your provider's servers, you won't need to manually back it up, or worry about antivirus and firewalls. On the other hand, you won't have much flexibility in terms of technical SEO parameters like page speed. If your provider doesn't have fast servers, your Google ranking will suffer.
Website Builder Advantages and Disadvantages
Plenty of design templates and features

Hosting, domain, automatic updates, and editor all-in-one

No technical know-how required

Additional tools and programs in your provider's app marketplace
Features and quality vary from editor-to-editor

Premium: Free versions always have limited options
2.
Create a Travel Blog With WordPress
The first content management systems (CMS), like WordPress and TYPO, emerged at the beginning of the 2000s. The basic premise was to create a graphic user interface that anyone could quickly and visually build a website in. These days, WordPress accounts for more than 43 percent of all the world's websites.
At first glance, there seem to be more similarities than differences between WordPress and website builders, especially since both make it possible for anyone to create a website, even without coding skills. However, once you've downloaded WordPress (which is free), you'll need to arrange your website's domain and hosting, both of which must be purchased separately.
Another difference is that with WordPress, you'll have total design freedom and can optimize the technical parameters of your website to your heart's content, integrate any plugin, and even program new ones.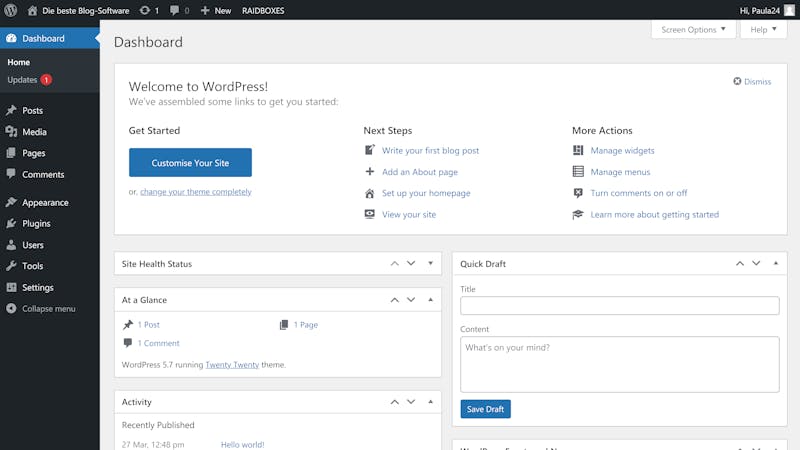 WordPress also offers users a versatile and intuitive interface.
Since WordPress is just a content management system, you'll be responsible for your travel blog's security. This means that you'll need to perform regular backups and software or plugin updates and monitor its firewalls. If you'd prefer to focus entirely on your blog's content, a CMS might not be the best solution. On the other hand, if you want maximum control in terms of design and customization, WordPress is a fantastic tool.
WordPress Advantages and Disadvantages
Lots of design templates and features

Possible to add third-party plugins, or even configure custom ones

Huge community for technical assistance, questions, or issues
...except for hosting, a domain, as well as some plugins and themes

Technical know-how not required, but beneficial
Launch Your Travel Blog With Wix in 6 Steps
Whether you use a website builder or a CMS for your travel blog depends entirely on you. Many bloggers begin with the former and try either the various free versions that are available or trials owing to their accessibility. The great thing about website builders is that a free blog can easily be upgraded to a more professional one as soon as you purchase a subscription, and you won't lose any of your progress or content.
Below, we'll show you how to create a travel blog and make your first post with Wix, the winner of EXPERTE.com's website builder review series. Even though we used the Israeli website builder, the process should be similar for any of the other platforms from our sample.
1. Create an Account
Wix beats out the competition with an unmatched variety of features, intuitive editors and a jam-packed app store. Overall, the platform offers the best balance of usability and features on the market today.
lots of features and elements
simple & intuitive interface
9.6

excellent
Space
Domains
Templates
Contract Period
Wix Free
$0.00
monthly price
Visit Website*
Try for Free
Head over to Wix's website*, input your email address, and create a password. After that, Wix will ask whether the website is for you (or a friend), or for a client. Click continue, and type "Blog" or "Travel Blog" on the next page. Then, Wix will configure your new blog's dashboard.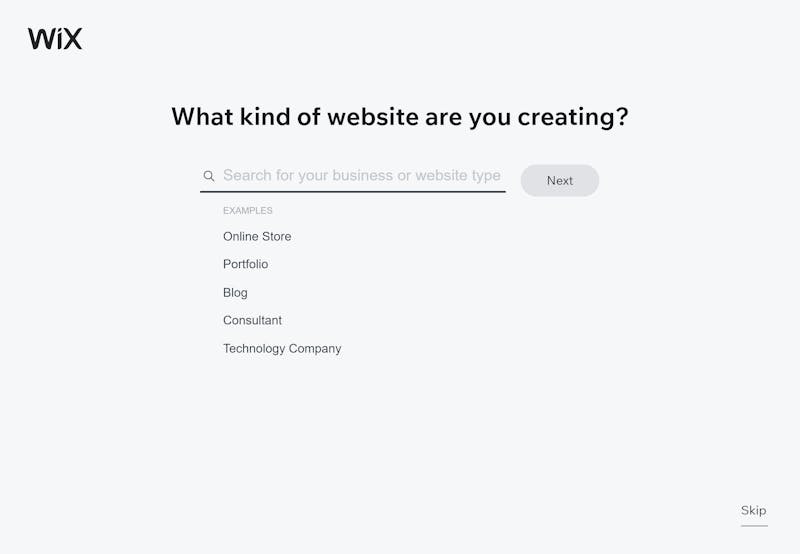 When you create a website with Wix, the platform takes you by the hand and offers a variety of designs for specific categories.
2. Choose a Template
After you've named your travel blog, it's time to choose between Wix's editors: You can use its ADI editor, which automatically generates a website based on your preferences, or the standard editor. We chose the second option since it has more features as well as template and design options. In the next section, we'll show you how to prepare your first post.
Before that though, you'll need to pick a design template for your travel blog. Once you've done that, the editor will open and you can customize the template.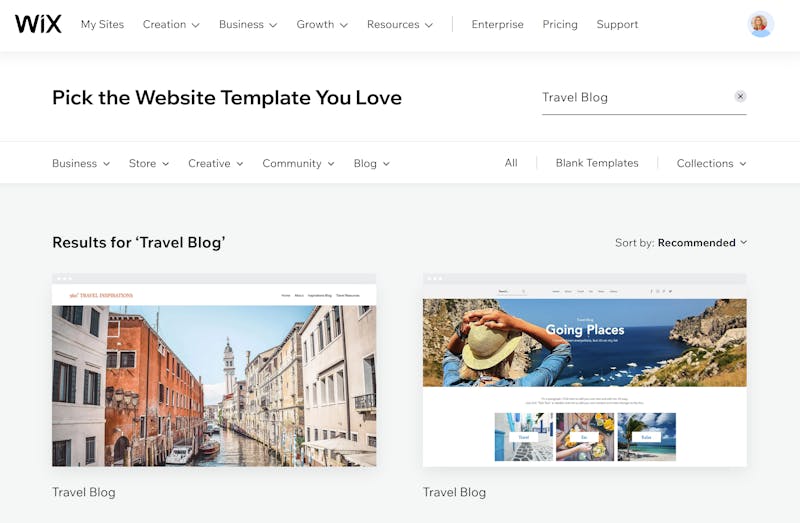 Wix's free version also offers a number of templates.
3. Edit the Template
Now you'll get to adjust the template you've chosen. You can change menu names or the blog's background image. All of the options and tools are available in the menu on the left side of the interface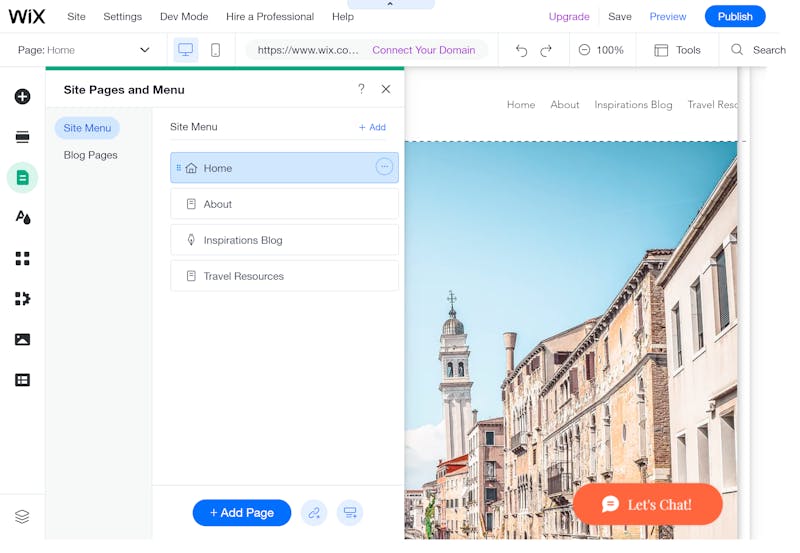 Add and delete subpages in your website builder's editor.
To get your travel blog online, you'll also need to secure a domain. With Wix, this is easy, and you can check if your desired web address is still available. Keep in mind that only Wix subdomains are free, however.
4. Create Your First Post
You're now ready to make your travel blog's first post. Click on Blog in the menu to the left to open Wix's blog editor. If you've never posted before, you'll see a sample entry. Click on + Create New Post either on the Overview or the Posts pages.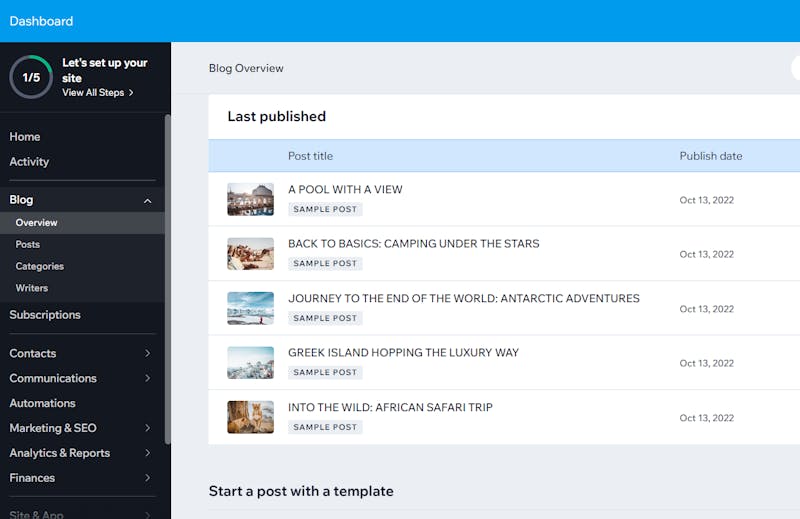 Check on your posts on the Overview page.
Now, the actual post creator/editor should open and you can add content.
5. Add Content
Once you're in Wix's blog editor, you can add elements by clicking on the + Add button at the top of the menu on the left. These can be individual pictures, videos, galleries, or other files. For text, the editor works similarly to Microsoft Word. Along the top of the editor, there are options to add lists and headings, adjust spacing, and much more.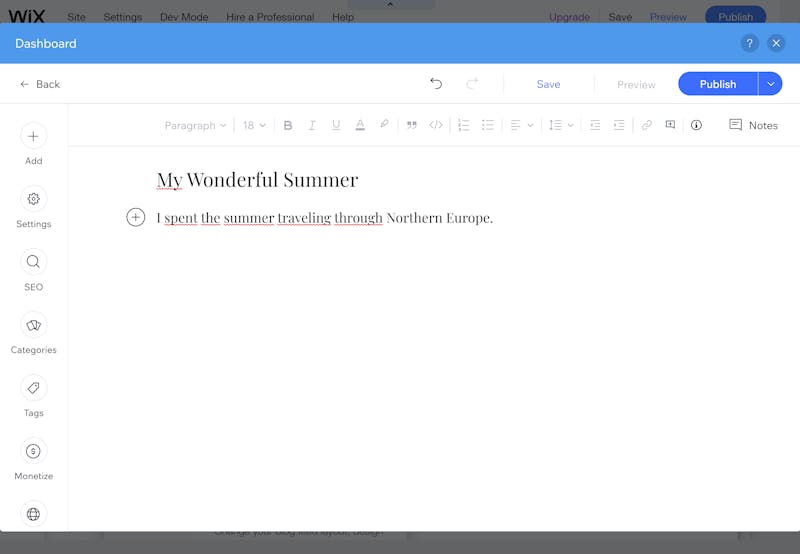 Enhance your blog's SEO and tag its posts in Wix's editor.
The editor also allows you to add buttons, boxes, or other files to posts.
6. Publish
Once you're satisfied with your first post, click on Publish in the upper right. Alternatively, you can save a draft, or schedule the post to go live later on.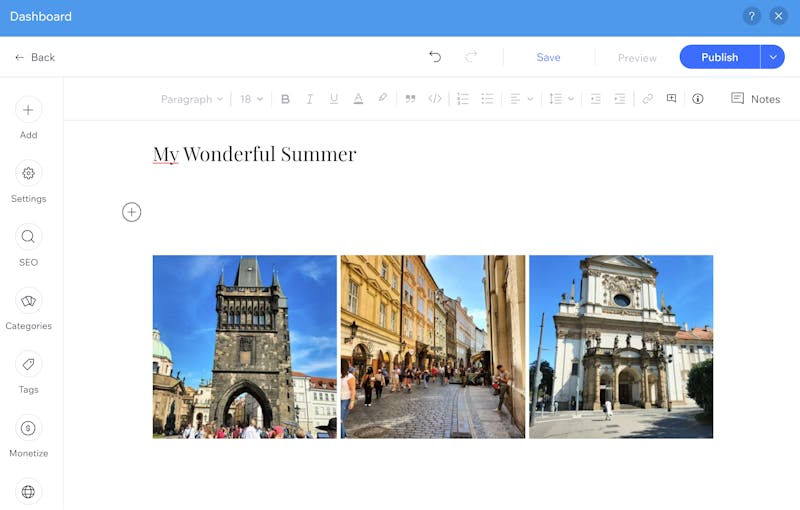 All that's left to do is publish our post.
After you've published a post, you can edit or delete it.
Build Your Audience: Social Media and SEO
Even the most interesting travel blog is useless if its target audience can't find it through Google or social media. Because search engines determine your blog's ranking (how high up it features in a search), you'll want to pay attention to SEO. On Twitter (X) and Instagram, you'll score with relevant tags and stunning images. Below, we'll show you how to enhance your travel blog's SEO and make it a hit on social media.
Optimize for SEO
Search engine optimization refers to everything that can be done to make a website more visible to Google. Even though Google's search algorithms are secret, certain steps have been shown to improve how a website ranks. These include:
Focus on keywords

– Free keyword tools like

Ubersuggest

or

Seobility's TF-IDF checker

. Use these to identify keywords with the greatest search volume, as well as closely related ones. Then, integrate these keywords naturally into the text of your posts or articles, their meta descriptions, and headers, so that they'll place higher in Google searches.

Include high-quality internal and external links

– When you link to one of your older blog posts or relevant and high-quality external pages, you'll boost your blog's authority. Make sure that the links work, for example, with tools like

ahrefs' broken link checker

.

Content, content, content – Even if your blog loads quickly and its posts are keyword optimized, it will rank poorly if your content is boring or copied from somewhere else. When you write original and captivating travel reports, you'll be rewarded by both Google and your readership.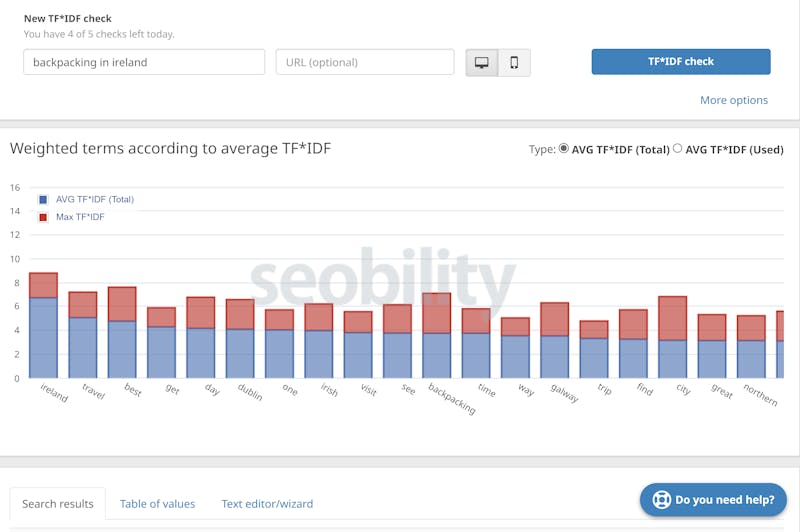 Use a WDF-IDF (or TF-IDF) analysis to identify relevant keywords for Google.
Many website builders offer integrated SEO assistants that can help you optimize your blog. In Wix's App Market, for example, there are plenty of apps that focus on all SEO criteria. The same goes for WordPress, which has SEO plugins like Yoast.
Boost Your Social Media Presence
Both website builders and WordPress allow users to automatically embed posts and articles into social media. On platforms like Facebook, Instagram, Twitter (X), or TikTok, a single post can be seen by thousands of people in a matter of minutes. However, because of information overload, lots of good content is never seen by anyone or only a limited audience. Here are some tips to give your posts a better chance of success:
1.

A picture (or video) is worth a thousand words. Use these to captivate or entice viewers and leave them wanting more. On Instagram in particular, high-quality photos can help you gather followers. For those interested in this approach, invest in a professional camera or high-end smartphone.

2.

Add social media buttons to every post so that readers can easily share your entries.

3.

Use hashtags with relevant keywords. Check out what's trending on Twitter to increase your reach.

4.

Join relevant groups on Facebook, Quora, or Reddit. This allows you to interact directly with those interested in travelling.
Conclusion
If you'd like to start your own travel blog, think about what you'd like to focus on. In terms of software, you can use a CMS like WordPress, or website builders, such as Wix. The latter includes hosting and saves you time. To increase your content's reach, optimize your posts for SEO and share them on social media. To build a strong audience, post original and interesting content.
FAQs
How can I set up a travel blog?
⊖
Two of the best options for creating a travel blog are website builders, such as Wix, or content management systems, like WordPress. All website builders include advanced blog features and powerful editors.
What are the advantages and disadvantages of website builders?
⊖
With a website builder, you don't just get blogging software, but a domain and web hosting. This means that you won't need to sign up for separate subscriptions with a hosting provider or worry about security updates. At the same time, your design options and features are limited to what the platform offers. In contrast to a CMS like WordPress, Wix's assortment of features and tools is fairly limited.
Which website builder is the best?
⊖
Wix is definitely one of the best website builders for blogs. In addition to its large number of templates and designs, the platform also offers a free plan that anyone can use to build and host a website with a Wix subdomain at no cost. Other popular website builders with blog features include Squarespace, IONOS MyWebsite, and Webflow.
* Ad disclaimer:
For links marked with an asterisk, EXPERTE.com may earn a commission from the provider. The commission has no influence on our editorial rating.

After her studies in physical engineering, Silvia Benetti was active in the development of wind turbines. She has been writing about technical subjects as a freelance author for several years. Her focus areas include IT, artificial intelligence, industry 4.0 and renewable energies.
Continue Reading