Create a Real Estate Website 2023: How To Do It


Ad disclaimer:
For links on this page, EXPERTE.com may earn a commission from the provider. This supports our work and has no influence on our editorial rating.
Whether for an apartment, a house, or a commercial property, these days, anyone searching for real estate is likely to start online. Of course, there are plenty of marketplaces like Zillow, but serious realtors should be available on as many channels as possible. One of the most important of these is your very own realtor website.
In this article, we'll let you know what advantages a realtor website offers, how to set one up, and which solutions, depending on your budget and skill level, are worth considering.
What Advantages Does a Real Estate Website Offer?
You might be wondering why you need a realty website considering how many online marketplaces and resources are available and you're likely on. While good, none of these can offer the same benefits as a website. These include:
A central hub for your clients (both potential and existing)
Prospective and existing clients can find everything they need to know about you and your realty business on your website. This includes which properties are available, your business hours, and contact details.

Greater reach
Once you make your real estate website search-engine friendly, potential clients will have a much easier time finding you online. This boosts your reach among your target group(s) and should help to increase your number of clients.

Automates day-to-day tasks
Plenty of clients would prefer not to speak on the phone, and taking calls or replying to emails consumes time that you could spend elsewhere. Let your website do the talking for you by integrating a scheduling widget and FAQ section.

Total control over content
On realty marketplaces, you're only able to use the integrated features and tools and might have to work with certain content limits. With your own real estate website, you're in charge and can include as much information as you'd like.

Gives your business a personal touch
Trust and empathy matter to clients and should never be undervalued. Introduce your team and provide some details about your real estate business to help prospective clients establish a connection.

Effective marketing tool
Do you want to promote your services on social media? If so, having your own website, with special landing pages for your campaigns, is considerably more effective than a link to a real estate marketplace.
These Elements Belong On Your Real Estate Website
Those who visit realtor or real estate websites almost always do so in search of specific information. If they're unable to quickly find it, chances are that you'll lose their business. For that reason, make sure that your website's content is on point. Always include these elements:
Homepage
Your website's homepage is like a digital foyer: It needs to be inviting so that your guests won't turn around and walk out. At the same time, the rest of your 'house' needs to be visible and easy to reach. Make sure that your real estate website has a central and visible navigation menu that directs visitors to wherever they need to go.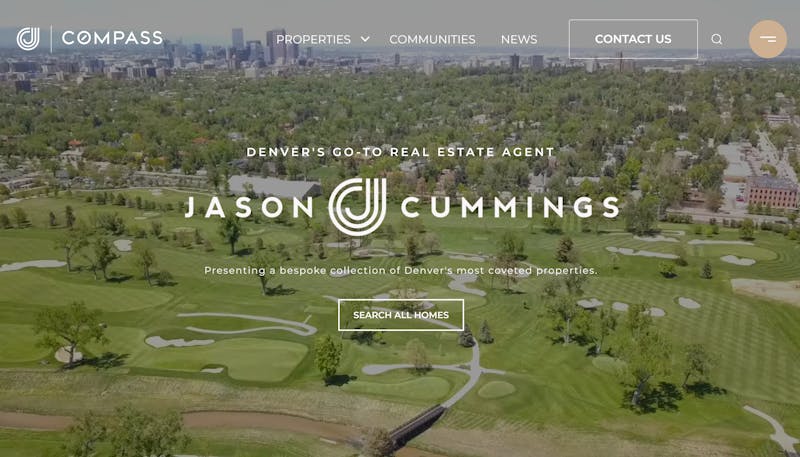 The quality of your homepage plays a huge role in whether visitors tour the rest of your website (Source: Jason Cummings).
Apart from that, you can be as creative as you'd like in designing your homepage. Perhaps a hero image or a slideshow of the properties you're offering might be interesting. Alternatively, you could briefly describe what makes your services so special and unique.
Properties
Most people who visit a real estate website are interested in learning which properties you've been contracted to sell, rent, or lease. With that in mind, make sure to invest a good deal of effort in presenting them. Include plenty of photos and a well-written description. It might sound cliche, but for some clients, you'll be in the 'dream selling' rather than the property business.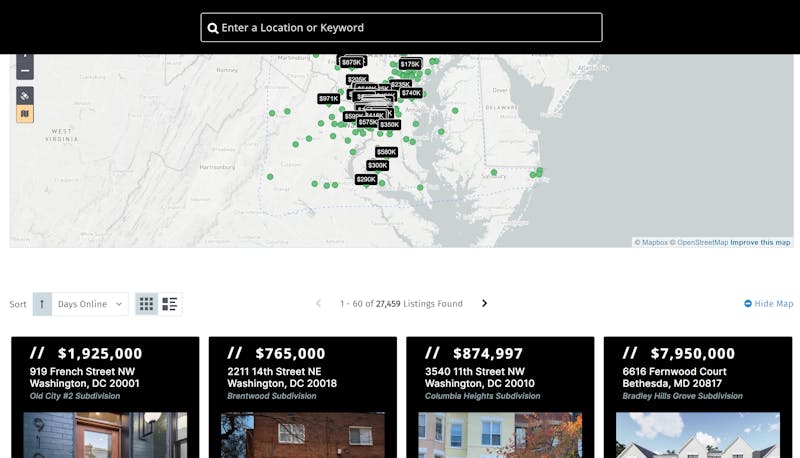 Help your potential clients find the perfect property (Source: One Street).
Also make sure that visitors can easily browse your listings by including multiple filter options (for example, rentals/sales, a price slider, and square footage ranges).
Services
Buying, selling, valuations, and property management: Not every realtor offers the same services. For that reason, let potential clients know how you're able to help them.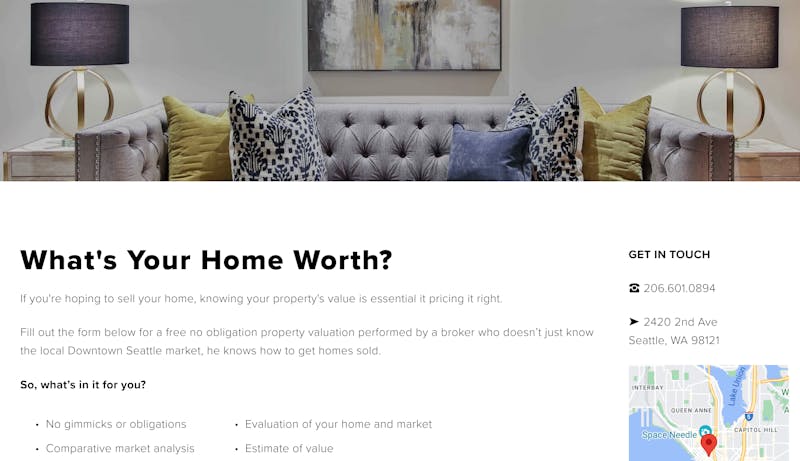 Describe in detail which services you and your company offer (Source: Beshir Abdella).
Describe in detail what each service package includes and how you'll proceed after being contracted. It's a good idea to add a contact button here so that interested users can directly get in touch with you.
Subareas for Target Groups
As a realtor, you know that your clients have lots of individual needs, even though you have one website to service them. For that reason, we recommend creating a few subareas for the most important target groups: Try adding services for buyers, sellers, renters, and rental property owners.
Contact Page
Don't forget to add a contact page detailing how potential clients can get in touch. Should you have different departments and staff that handle specific tasks and clientele, make sure to include their details as well. Adding a contact form can help further centralize communications.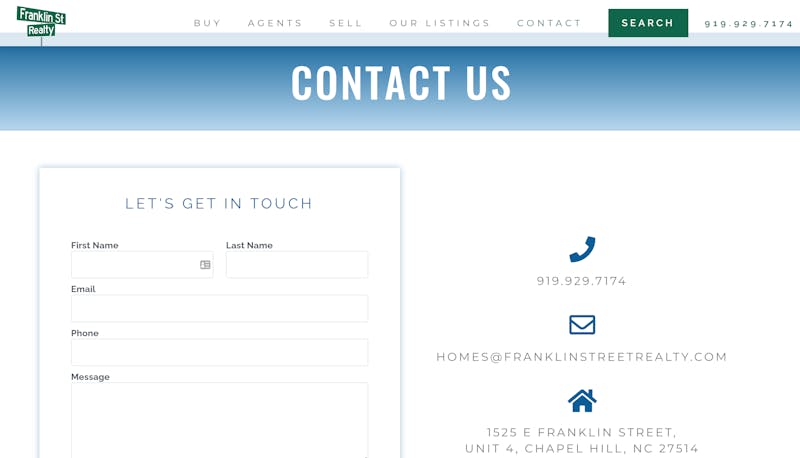 A dedicated contact page is a must, however, you can also include your details elsewhere on your website, such as on your homepage.
About Us Page
Was it your childhood dream to be a realtor? Why do you have access to the best properties on the market? Is there something special about your team? You can answer all of these questions, and more, on an About Us page. Don't underestimate the importance of this: When a potential client feels a connection to your business, they'll be more inclined to work with you.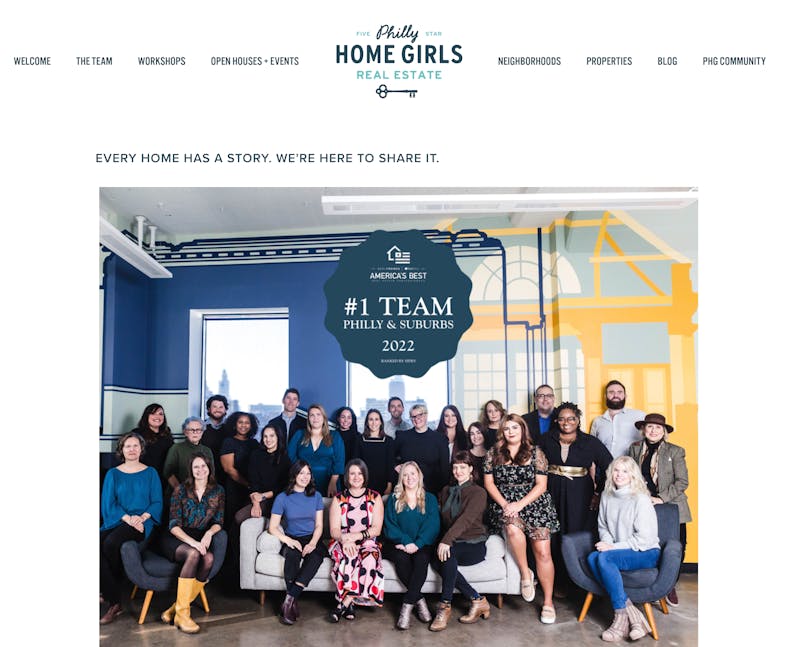 Use the About Us page to introduce your business and your team (Source: Philly Home Girls).
How Can I Create a Real Estate Website?
Have you made up your mind to launch a website for your real estate business? Now comes the difficult part: creating it. Below, we've introduced four different ways you can close on your digital presence:
Self-Program a Real Estate Website
If you're technically able, you can self-program your real estate website. For this, you'll need advanced programming skills and web design experience, as well as hosting, and enough time. After it's built and online, you'll also have to regularly handle updates and other aspects, like security.
Who Is This Method For?
The advantages of a self-programmed real estate website are fairly clear: Your creativity is only limited by your technical skills. However, the sort of knowledge you'll need to actually pull off your own website usually requires at least a degree in computer science or web design. As such, it isn't likely that this option will be viable for most realtors.
Have a Real Estate Website Programmed for You
Do you want the flexibility of a self-programmed website, but don't have the necessary coding skills? If so, you can hire someone else to do it for you, such as a freelancer, a staff member, or an agency.
Freelancers are typically the more affordable option, however, hourly and project rates do vary. You can find them on marketplaces like Upwork and Fiverr, or through search engine queries.

Agencies usually cost more, since the cloth needs to be cut more ways. Web design agencies often have a presence on freelancer marketplaces as well as their own, dedicated websites.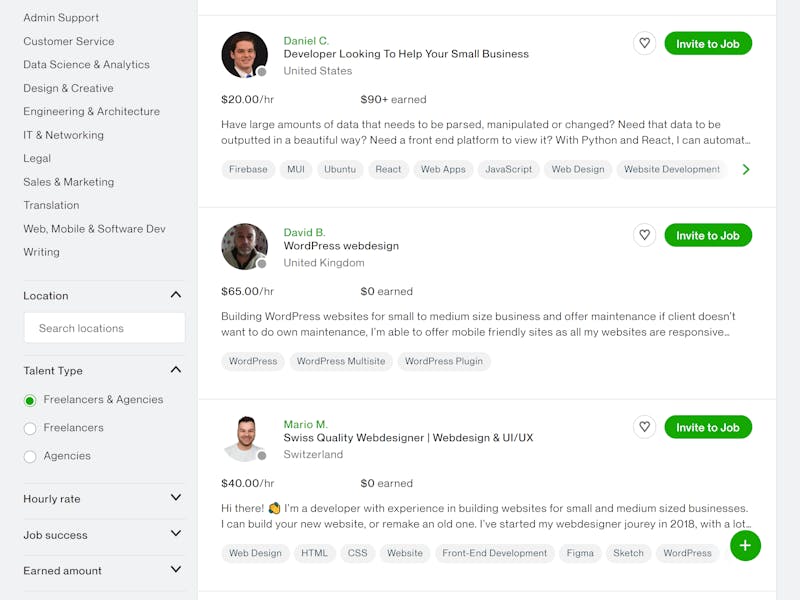 Find the right freelancer or agency on marketplaces like Upwork.
Who Is This Method For?
If you have a clear vision of what your website should look like and the budgetary means to bring it to life, freelancers or agencies can be the right partner.
It's difficult to say exactly how much you'll need since there are both affordable freelancers and high-end agencies. All the same, a professional real estate website will likely cost $1,500-$10,000.
Content Management Systems
In case you'd like to build your real estate website yourself, but don't have the necessary coding skills, you might want to consider using a content management system (CMS). These include everything that you'd otherwise need to program and set up to launch and manage a website, making them an excellent option for less technically-versed users.
Another advantage: CMSs are generally open source, which means that they're free to use. Of course, you'll still have to pay for web space, a domain, and other features.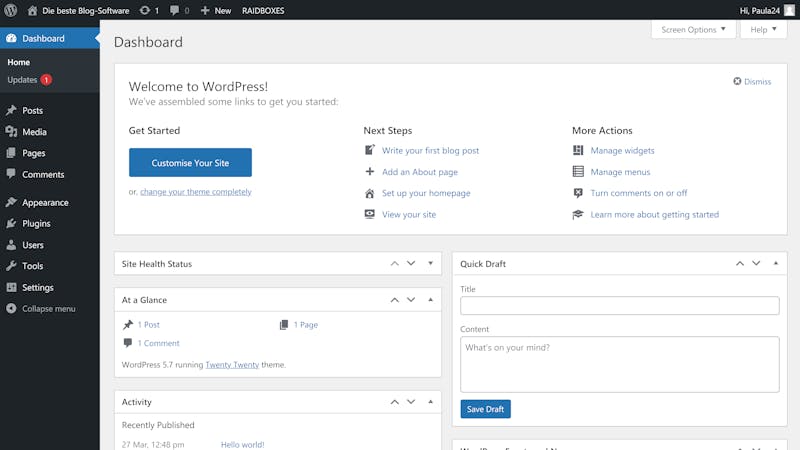 WordPress is the most popular CMS on the planet, having been used to create an estimated 75% of all websites.
According to estimates, WordPress is the world's most used CMS, accounting for more than 75% of all websites online. With numbers like that, it's definitely an option for designing your realty website.
Who Is This Method For?
A CMS is a great choice if you'd like to both create your website and exercise maximum flexibility, without programming it from scratch. However, beginners should keep in mind that even a user-friendly CMS like WordPress will appear very complex. You'll probably need to consult multiple tutorials or even courses to familiarize yourself with the platform's most important features.
Website Builders
Would you like to create a real estate website, but find CMSs to be too complicated? If so, you'll likely want the most beginner-friendly method on our list: website builders. These remove the barrier between the front and back end, making it particularly easy for anyone to visually design a website thanks to their intuitive editors and tools.
Every website-building platform has its own usage concept, design templates, and features, however, the basics needed for creating a professional real estate website are universally available.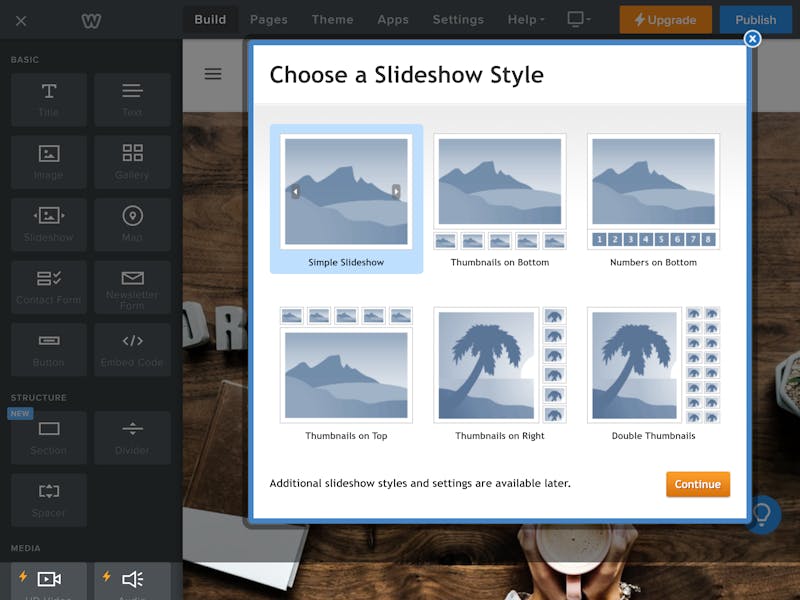 With website builders like Weebly, absolute beginners can quickly design a professional-looking site.
The biggest drawback to using a website builder is its lack of flexibility, particularly in comparison to other methods: Your creative freedom is limited to the features and ready-made designs offered by the platform you're using.
Who Is This Method For?
Less-experienced or new users for whom a CMS like WordPress is too complicated will likely get the most out of website builders. As mentioned above, while markedly less flexible than other options, they do allow beginners to quickly and affordably create a professional-looking real estate website.
The Best Website Builders for Realtors
You're ready to try a website builder. Great! Now you'll have to choose the one that best matches your needs from among the wide variety of platforms that are available. We reviewed 12 of the most popular services and will let you know which might suit your requirements.
1.
Wix: EXPERTE.com's Winner
Wix beats out the competition with an unmatched variety of features, intuitive editors and a jam-packed app store. Overall, the platform offers the best balance of usability and features on the market today.
lots of features and elements
simple & intuitive interface
9.6

excellent
Space
Domains
Templates
Contract Period
Wix Free
$0.00
monthly price
Visit Website*
Try for Free
Wix does almost everything slightly better than the other website builders from our sample. The Israeli platform took the top spot in our ranking thanks to its beginner-friendly approach, versatile templates, a wide range of features, and huge extension/app marketplace.
And it's great for real estate websites too: Numerous, easily customizable templates are available and just waiting to be loaded with images and content. Important content formats, such as contact forms, scheduling systems, or real estate listings, can be easily integrated.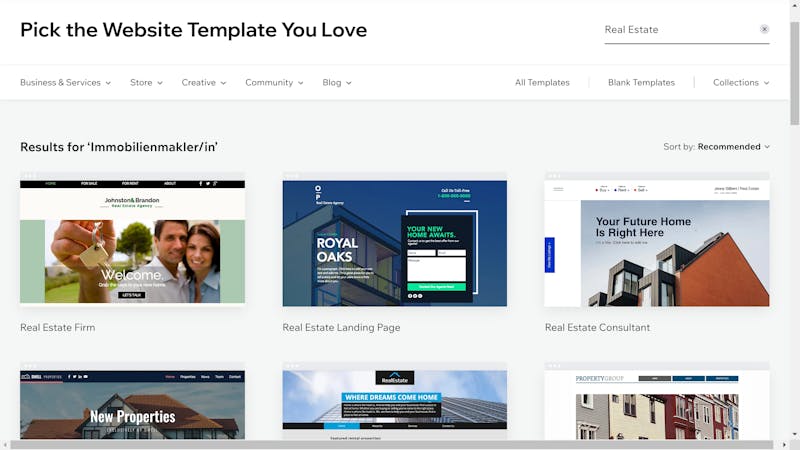 Wix offers a number of templates that were specifically designed for realtors.
A free version of Wix is available, however, this won't include a custom domain. To host a professional website on Wix, you'll need to pay around $16 per month (Combo), however, we recommend booking an Unlimited subscription for a few dollars more ($22).
Marketing, SEO & Ecommerce
10 / 10
Templates & Design
9.4 / 10
Configuration & Usability
9.4 / 10
2.
Squarespace: Image-Centric Website Builder
Squarespace Website Builder
Squarespace can impress with flawless designs and high quality templates, which make the creation of professional websites a piece of cake – but comes at a higher price compared with the competition.
Space
Domains
Templates
Contract Period
Squarespace Personal
$16.00
monthly price
Visit Website*
14 Days Trial Period
Squarespace is known for its optically stunning and elegant design templates. These are great for real estate websites since visitors want to see lots of high-quality images of the properties they're considering buying, renting, or leasing.
The platform offers the most important features for a real estate website. In terms of search engine optimization (SEO), Squarespace is also well-equipped.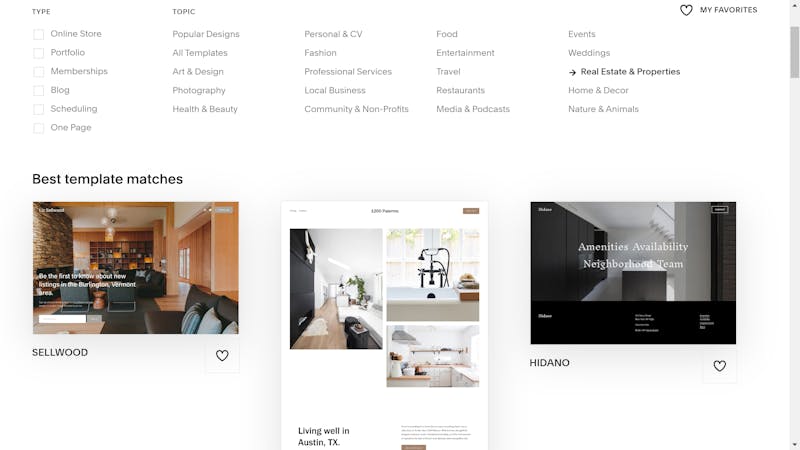 Squarespace also offers dedicated templates for real estate websites.
The most affordable Squarespace subscription also costs $16, however, since you're going to be using it for your real estate firm, we recommend going with the slightly more expensive Business subscription ($23). Unlike Wix, there's no free version of Squarespace, however, you can request a full refund up to 14 days after starting a new subscription.
Configuration & Usability
10 / 10
Marketing, SEO & Ecommerce
8.6 / 10
Templates & Design
8.0 / 10
3.
MyWebsite by IONOS: Versatile Website Builder for Real Estate Websites
Due to its rather complex editor, IONOS MyWebsite comes with a bit of a learning curve, but rewards those who stick with it with wide-ranging creative possibilities that enable unique websites.
supports multilingual sites
not all templates are great
8.8

good
Space
Domains
Templates
Contract Period
IONOS Starter
$10.50
monthly price
Visit Website*
30 days risk-free
At first glance, you might ask yourself how MyWebsite by IONOS made it onto this list: It's far from the most user-friendly solution on the market and requires considerably more time to get used to than either Wix or Squarespace. However, its design options, at least in terms of website builders, are more comprehensive than those of its competitors.
On top of that, there are a number of features that will be interesting for realtors: You can add listings and integrate Google Maps to show properties you have in a specific area.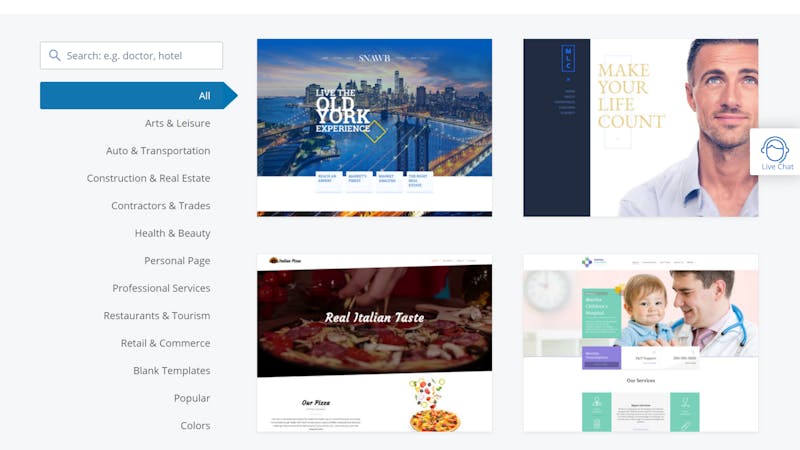 MyWebsite by IONOS offers lots of design templates that are great for real estate websites.
The most affordable MyWebsite subscription will set you back $9 per month, but for $15, you'll get all the benefits of the Plus plan. There's no free version of MyWebsite by IONOS, however, new subscribers can take advantage of a 30-day, money-back guarantee.
Templates & Design
8.6 / 10
Marketing, SEO & Ecommerce
8.6 / 10
Configuration & Usability
8.0 / 10
Other Providers
Although we've only introduced you to what we feel are the three best website builders for real estate sites, there are plenty of other options to choose from. Below, we've provided a complete ranking of all 12 providers from our sample, along with comprehensive reviews:
Conclusion
Don't limit yourself to real estate marketplaces: With your own website, you can increase your reach, gain new clients, and simplify routine processes for your team and customers. When designing your real estate business's website, you're in charge, however, make sure to include an inviting homepage, search filters for your listings, and a clear overview of which services you offer.
For your real estate website, there are two approaches: You can leave it up to freelancers or agencies, or make it yourself. If you don't have the necessary coding skills, you can use a content management system like WordPress or a website builder, which is even easier. Check out our comprehensive EXPERTE.com reviews of 12 leading website builders.
* Ad disclaimer:
For links marked with an asterisk, EXPERTE.com may earn a commission from the provider. The commission has no influence on our editorial rating.

Martin Gschwentner majored in American Studies and Media Studies in Germany, the USA and France and works as a freelance editor in Paris. He is a doctoral student at the Institute for English and American Studies at the University of Paris Diderot, where he is researching the influence of money on US politics. On EXPERTE.com he writes about IT security, data protection and software for the self-employed and small businesses.

Translation: D Bare
Continue Reading
Other languages
Deutsch