Create a Blog: 4 Ways To Start a Blog in 2023

Ad disclaimer:
For links on this page, EXPERTE.com may earn a commission from the provider. This supports our work and has no influence on our editorial rating.
Fitness, traveling, pets, or business advice - nearly any topic can be written about in blog format. This thematic variety is mirrored by the number of platforms available for bringing blogs to life. We've taken a close look at the four best options for blogging, filling you in on the benefits and drawbacks of each.
Right off the bat: Any of the four is great for creating a blog, however, each differs in what technical competence it demands, as well as what sort of freedom it offers in return.
1.

Publishing platforms, like Medium or Substack, are ideal for quickly and easily sharing your published thoughts with the world.

2.

Website builders like Wix or Jimbo remain easy to use, but offer their users more freedom in terms of design.

3.

Self-hosted blogs like WordPress or Ghost require a greater investment of time than either of the previous two categories but make significantly more options for customization and design available.

4.

Those looking to create a blog using Headless CMS or a Static Site Generator should possess considerable technical know-how or be willing to take the time to learn how to use these.
Publishing Platforms
Publishing platforms make it possible for authors to share their musings or writings with a wide audience. These can most readily be compared to an interactive library, in which users look for their preferred topical areas and subscribe to their favorite writers, staying on top of the latest publications.
Generally speaking, no technical background knowledge is needed to quickly get started with this kind of platform. Most are self-explanatory and standardized. Accordingly, few options exist for customizing or personalizing how your content is presented. As an additional disadvantage, the author doesn't own the blog or have the ability to host it using their own Internet address.
However, if you're a beginner or just interested in writing and publishing, publishing platforms do offer a nice solution. In using them, you can practice and see if blogging is really what you want to do, and if you're able to maintain the necessary rhythm and schedule.
Don't require any technical background.

Can be used to quickly and easily publish content.

No need to search for readers: the platforms already have them.
Little-to-no design freedom.

Medium
Medium is a publishing platform that provides a virtual home to storytellers and writers. In a matter of seconds, anyone can register with the platform and get to work writing. You don't need any foreknowledge or programming skills to start using the platform, however, you won't have much of a free hand when it comes to how your content is presented. For anyone that values content over packaging, Medium is definitely worth looking into.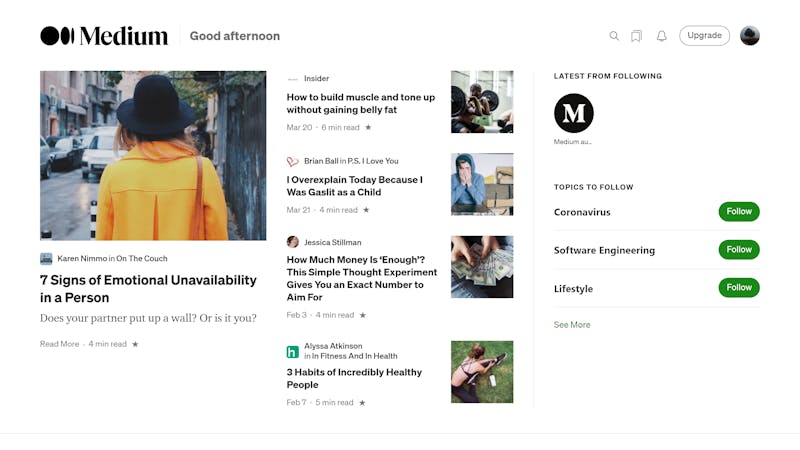 Any content you create is stored in a sort of 'blog library' and made available to readers. These can comment on your texts, rate them, or share them elsewhere, making it ideal for anyone who just wants to publish content without any bells and whistles.
Substack
The newsletter is dead, long live the newsletter. As can be seen from trends in the US, Substack has become the platform for authors interested in publishing newsletters and updates. As an added incentive, some Substack users generate six-figure annual sums from their efforts.
The platform started out in 2017 with the goal of providing authors with a place to better monetize their work. The first author was Bill Bishop, an expert on China, who transferred his newsletter, Sinocism, and its 30,000 readers to Substack, making it subscription-based in the process.
Substack's highly intuitive design makes it not only excellent for creating newsletters but also for use as a blog. Motivation is in supply as well, since the platform offers users the ability to earn money through their writing. Of course, this necessitates that you have enough of a reputation that readers are willing to pay for access to your content.
Website Builders
Website builders have been enjoying growing popularity for the past few years. In our opinion, rightfully so, as they make it possible to create professional websites with a minimum of effort. Site builders offer loads of ready-made design templates, and take care of all background matters, making sure that users stay on top of developments in the world of site design and development.
Most site builders offer basic versions that are free of charge, however, we recommend against these for a few reasons. For example, if creating a blog as a free user, your blog will be hosted on the provider's subdomain. As such, you'll be missing out on promoting yourself, having a unique web address, and worst of all, your blog won't appear professional or serious.
Further complicating things, if using a free version of a site builder, you'll also have to make do with fewer features and design options. You can forget about extensions and the shapest templates and designs and will have to instead worry about how much storage you're using or pages your site has. If you're going to use a site builder, it makes sense to pay for a premium subscription.
These are ideal for anyone who wants to blog seriously and be creative while doing so, but who doesn't have enough time to invest in learning how to code. Of course, you should also consider whether site builders can support your long-term goals or needs.
Easy to use and don't require the installation of any software.

No technical know-how needed.

Offer plenty of customization options.

Make it possible to quickly publish content.
Very limited free versions.

Sites aren't located on your own server.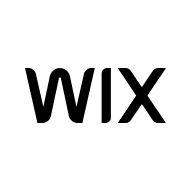 Wix
Wix beats out the competition with an unmatched variety of features, intuitive editors and a jam-packed app store. Overall, the platform offers the best balance of usability and features on the market today.
lots of features and elements
simple & intuitive interface
9.6

excellent
Space
Domains
Templates
Contract Period
Wix Free
$0.00
monthly price
Visit Website*
Try for Free
As of the time of writing Wix is one of the most beloved site builders on the market, offering users a versatile and intuitive platform for bringing their digital visions to life. Put plainly, the Israeli site builder is fun to use, appealing to both beginners and the more technically advanced alike owing to the range of options it makes available for creatively expressing oneself.
Blogs created using Wix are not only unique in terms of their content but also their layout and design. This is because users are offered a huge selection of templates, as well as the ability to customize these to their exact preferences. This also helps to explain why blogs designed using Wix look tailored rather than generic.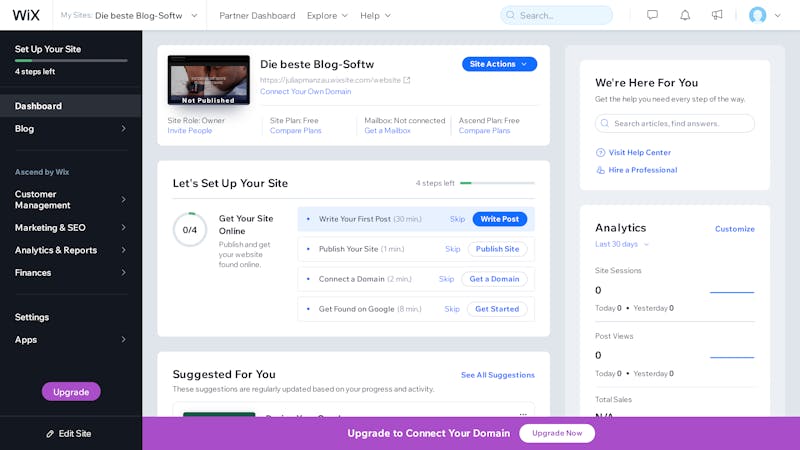 Wix also provides an integrated blog, which offers a variety of useful features. For example, different authors can publish articles on a single blog, and readers can share content directly on social networks, or comment on individual entries and follow authors. It's also possible to mark oneself as the author of a particular blog post.

Jimdo
Jimdo accommodates beginners with its AI-based editor, while offering solid personalization options with its standard editor. The free plan makes the platform a great fit for personal projects and blogs as well.
75 high-quality templates
weak product inventory management
7.9

good
Space
Domains
Templates
Contract Period
Jimdo Play
$0.00
monthly price
Visit Website*
Try for Free
Jimdo is also well-designed for those starting out with a blog, albeit, with one condition. Owing to the presence of two editors (Dolphin and Creator), and the need to select one when designing a site, we can definitely see some confusion arising for those new to blogging. Unfortunately, Jimdo's developer doesn't go into much detail about the differences between the two editors, or that they are mutually exclusive of one another, so choose carefully when starting out.
With that said, the site builder from Hamburg is fairly easy to use and self-explanatory. Dolphin offers fewer features, however, takes a lot less time to get a feel for. Something else you should keep in mind if going with Jimdo: The developer has stated that it will only continue to develop Dolphin, the newer editor of the two. Should you have any doubts, you can try out Dolphin in Jimdo's free PLAY version.
Creator is more targeted at advanced users interested in designing a site using their own HTML/CSS code, but who don't want to go without third-party integrations like Google Tag Manager. This editor is not as intuitive as Dolphin, but does provide more of a free hand in terms of design.
Host Your Own Blog
Hosting your blog on your own definitely isn't rocket science, but it does require more technical know-how and resources than site builders or blog platforms do. As it offers many more options for designing and presenting content, self-hosting is particularly recommended for anyone interested in professionally blogging.
The beginnings of a blog can usually be traced back to a single idea or flash of inspiration, which then develops continually over the course of time. To put such ideas into practice requires a great deal of freedom, which can often create problems when implemented using a blogging platform or site builder. The difficulties in bringing your vision to life on such a platform can tax your enthusiasm for the blog itself and drain your motivation.
If you'd like to self-host your blog, you'll need two things, namely, a webspace, and a content management system (CMS). Webspace can be rented from numerous providers with little more than few clicks.
Your blog belongs to you.
Somewhat more know-how needed.

You are responsible for all technical aspects.

WordPress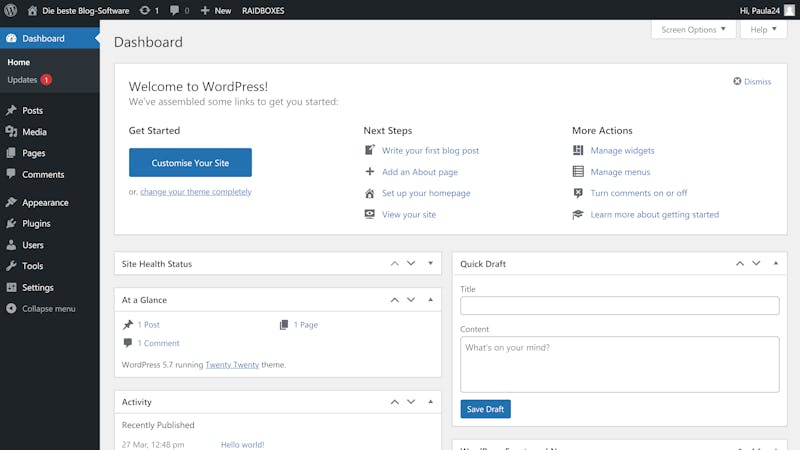 One of the most popular CMS options among those looking to self-host blogs is WordPress. This shouldn't come as all that much of a surprise since the open-source software is fast and easy to install and capable of meeting all sorts of needs. The platform's active developer and support communities, to say nothing of the countless templates and extensions offered ensure that WordPress remains at the head of the pack when it comes to blog software for self-hosters.
Ghost
Ghost was designed to cater specifically to the needs of bloggers. Following its most recent update, the CMS has flexed its figurative muscles, showing off modern SEO options, integrated member and subscription features, as well as a streamlined interface. Ghost can be self-hosted, however, this requires greater technical know-how during installation.
Create Your Own Blog
Static Site Generator
Supposing that you have enough background knowledge in programming, it's also possible to create a blog without a CMS, using what is called a Static Site Generator (SSG). These appeal to anyone for whom WordPress or other CMSs are too extensive, and provide a nifty alternative.
SSGs create a basic code, combining content with a design template, yielding a static website that only needs to be copied to a server.
In essence, this means that, in contrast to a CMS, content isn't saved in a database, but rather, remains on the developer's PC, after which it's uploaded directly to a server. Data is structured similarly to Explorer, with it only being necessary to clearly separate content and design elements from one another. The literary-named Jekyll, Hugo, and Gatsby are among some of the most well-known platforms of this type.
Speaking for the usage of an SSG are their improved performance, enhanced security, and low maintenance. Among their drawbacks, content creation is significantly more complicated for non-programmers, with dynamic content, such as changes in pricing, is only possible with a great deal of effort, if at all.
Headless CMS
Headless CMS is perhaps the newest option on our list for creating a blog. Such systems don't provide any frontend, meaning that you won't be able to view your blog directly. Instead, your content will be gathered and made available via API. Content and the manner in which it is displayed are thus decoupled from one another, making it possible to present content on a variety of different channels. The advantage of this is that those channels can be maintained with a minimum of effort. Of course, should you only want to supply your blog with content, Headless CMS is somewhat excessive.
Conclusion
There exist plenty of ways to create your own blog, with the only real requirements a clear idea of what it is that you'd like to do and what your goals are. Whether you're just planning to write for fun or doing so on behalf of your employer, it's a good idea to ensure that your blog has a professional appearance.
Depending on your needs, publishing platforms may offer the most interesting option. If using Medium, for example, no technical know-how is required to present your content to a wide audience. Should you offer a written product that you feel subscribers would or should pay for, Substack makes it easy to monetize your content.
Premium subscriptions to site builders offer a useful alternative for anyone lacking in technical know-how, but with no shortage of creativity or ideas about design. If you'd prefer nearly complete independence, there are few things better than self-hosting your blog and designing it with a classic CMS.
When creating a blog using Headless CMS or an SSG, you'll have to possess a fair amount of technical competence. As a result, we only recommend these for those bloggers with the requisite experience.
FAQs
Which platform should I blog on?
⊖
This depends on your needs and goals. Should you want to come across as professional, we recommend paying for a premium subscription to a site builder or self-hosting your blog using a CMS like WordPress.
How much does a blog cost?
⊖
Whatever platform you decide to blog on, you should be prepared to invest time, patience, and energy. On paid platforms, you'll also need to reach for your wallet. While publishing platforms are mostly free, we recommend paying for a subscription to site builders. In the event that you self-host your blog, you'll also need to pay for the webspace, and potentially the templates and extensions you use.
How can I create a free blog?
⊖
Should your heart be set on creating a blog with no financial overhead, we recommend doing so on publishing platforms like Medium or Substack. These offer authors the ability to present their content professionally without incurring any fees.
* Ad disclaimer:
For links marked with an asterisk, EXPERTE.com may earn a commission from the provider. The commission has no influence on our editorial rating.

Julia P. Manzau has more than 30 years of professional experience in leading editorial and marketing positions in the premium automotive, mechanical engineering, and healthcare industries. She studied Political Science and History in Bonn, Marketing at the St. Galler Business School and earned a BA in Media Engineering (CCI). Since 2015, she has worked as a freelance writer. For EXPERTE.com, she focuses on software, the Internet, and marketing.
Continue Reading