Sell a Domain Name: 5 Tips for Earning Money on a Domain

Author
Janis von Bleichert
Do you have a domain that's collecting dust? Or maybe you've built up a formidable web presence but don't have time to maintain it anymore? You might be sitting on a pot of gold since there are always people interested in buying domains.
In this article, we'll fill you in on how you can go about selling your domain, what you need to pay attention to, and how much of a windfall you can expect.
5 Tips for Selling a Domain
If you'd like to make money on a domain that you own, the first thing you'll need to do is find a buyer. Our five tips below can help you do that:
1.
Create a For-Sale Landing Page
You know that a home or property is on the market as soon as you see a 'for sale' sign on its front yard. The same holds true for domains - putting up a digital for-sale landing page on your website lets anyone interested know that they can purchase it. This also converts your homepage into a virtual window display for your domain, including the ability to add a price tag and purchase options.
For-sale landing pages are often offered by domain marketplaces like dan.com or sedo.com. When using one of these, potential customers will see a site that looks like this: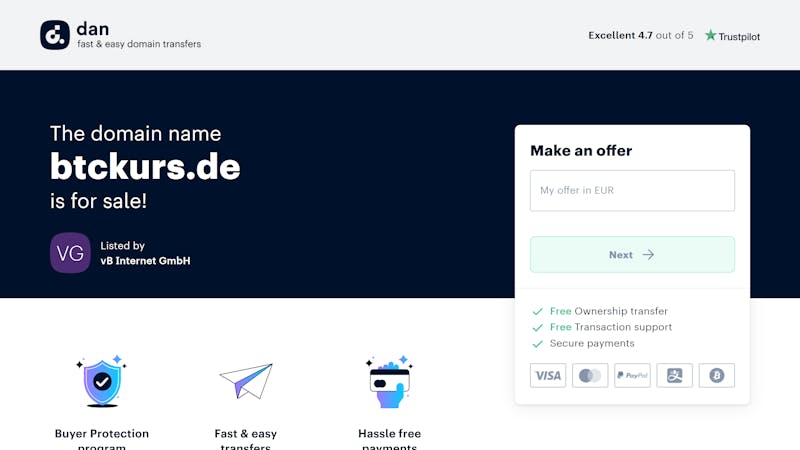 Domain marketplaces like dan.com make it possible to notify interested buyers that your website is for sale.
Using dan.com, those interested in purchasing a domain can immediately make an offer, however, sellers can fix a minimum price or starting bid. Approximate traffic statistics for your domain are listed, to help buyers in making their decision.
Passive Turnover With Domain Parking
Apart from setting up a for-sale landing page, you can also earn a bit of money through domain parking.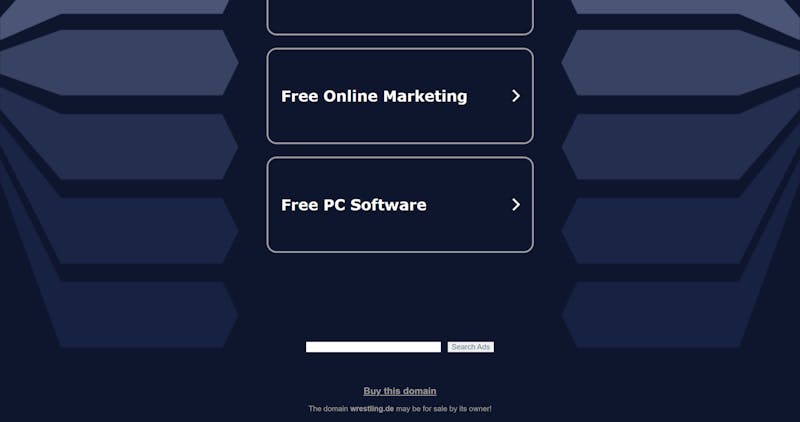 By parking your domain, you can generate some revenue from your website through ads while you wait for it to be sold.
Domain parking, as offered by marketplaces like dan.com or sedo.com, allows providers to post thematically relevant ads on your website, revenue from which goes into your pocket. During this time, your domain will still be listed for sale.
However, don't expect to get rich through domain parking: Parked domains rarely generate lots of traffic, meaning that ad revenues are relatively low, amounting to a few dollars per month.
2.
Listing on a Domain Marketplace
We've already mentioned dan.com and sedo.com above, two digital marketplaces where it's possible to organize domain sales and purchases. Such marketplaces are often the first stop for those interested in finding out whether a domain is available. If you own a domain and are thinking about selling it, it's advisable to register it on one of these platforms.
To do this, you'll need an account. In the user area, you can input the domain you'd like to sell: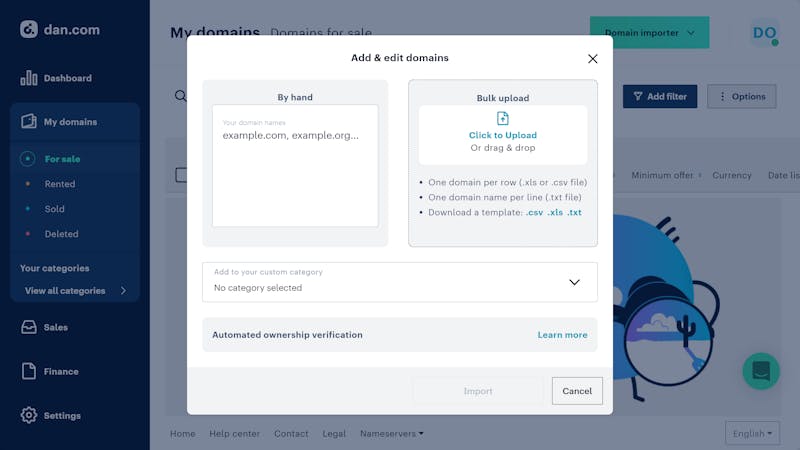 In the dashboard of your domain marketplace, you'll have to provide proof that the domain really belongs to you.
Depending on the service you register with, you'll have different selling options, such as for a fixed price, on the auction block, or to rent it out.
Not every domain sale takes place on a marketplace. Often, interested parties cut out the middleman and get in touch with the domain's owner to directly purchase it. To do this, it's necessary to be able to identify the domain's owner, which isn't always so easy.
One way to do this is by performing a WHOIS query, which provides a user with all publicly available information about a domain. All the same, WHOIS information can be hidden on data privacy grounds.
If you'd like potential buyers of your domain to be able to find you through WHOIS requests, make sure that your WHOIS information is accurate and up-to-date. Doing this is easy as all you'll have to do is reach out to your domain or hosting provider.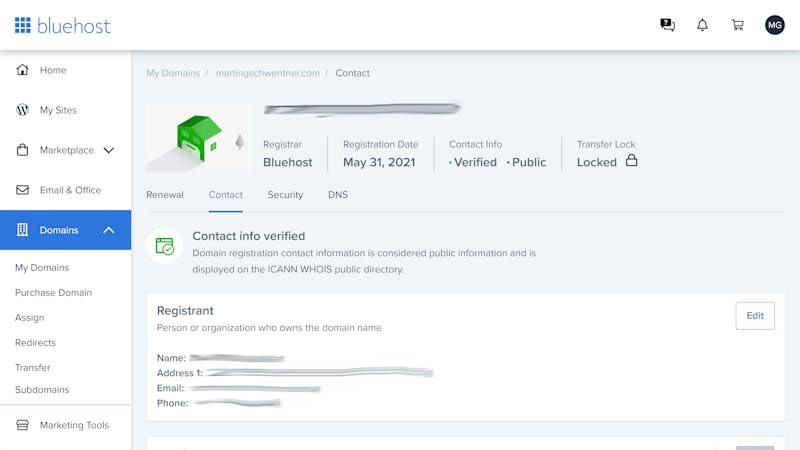 Make sure that your contact details are up to date so that WHOIS queries about your domain can return accurate information.
In case you own a particularly valuable domain and don't want to leave anything up to chance, it's advisable to get in touch with a domain broker. These can help you get top dollar by finding the right buyer.
Broker services are also offered by domain marketplaces. Sedo.com's domain broker claims to have organized some of the "most expensive sales in the branch", including sex.com ($13 million USD) or kaffee.de (€100,000). If you have a domain like this laying around, expert advice on how to maximize its value certainly won't hurt.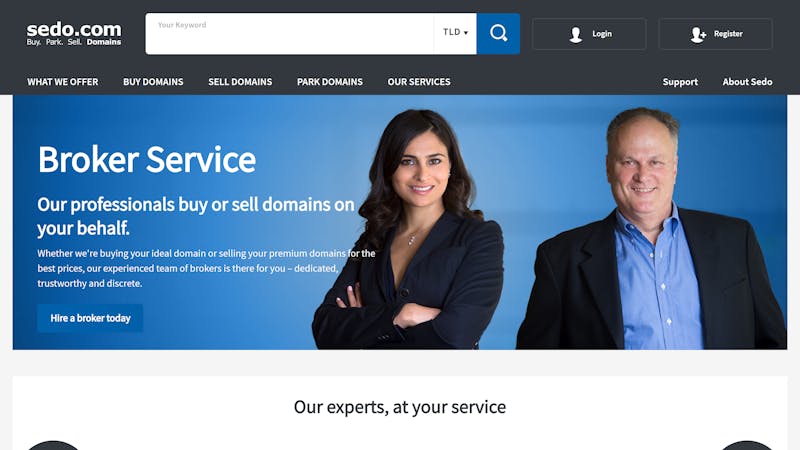 A domain broker can help you sell a high-value domain and get maximum value.
In exchange for this effective marketing, you'll need to pay a commission. With sedo.com, this amounts to 15% of the domain's sale price. No other fees, even in the event that the domain can't be sold, are due.
5.
Notify Interested Buyers
How about doing things the other way around and reaching out to potential buyers? This makes sense if you own a domain with a lot of potential in a profitable niche. Or perhaps you'd be able to find a business that could increase its profits by purchasing yours?
This is nothing more than direct outreach, as practiced for decades by recruiters and headhunters. The easiest and best way to start is with a simple Google search. Any companies or businesses you find can then be contacted via email, in which you'll share your plan and ideas.
Don't write too much, but make sure to do your homework and customize messages so that they look as genuine as possible. Here's an example:
Subject: Domain Sale designerphili.com
Dear John Smith,
I own the domain "designerphili.com", but no longer have any use for it. Accordingly, I'm inquiring among a few design companies in and around Philadelphia to see if there is any interest in purchasing the domain from me. Would you like to discuss this further?
Many thanks and kind regards
Should any of the businesses you reach out to be interested in purchasing your domain, all that's left to do is negotiate a price.
Sale Price: What's Realistic?
The more attractive a domain is, the more you can ask for it. Factors such as brevity, tidiness, and memorability all boost a domain's appeal. A website like coffee.com is worth more than coffeelovers123.com since those searching for coffee probably won't stumble over the latter.
According to DNPric.es, the average sale price of a .de domain is around $3,100. However, there are plenty of domains that sell for more or less. The most expensive .de domain sale recorded on DNPric.es was shopping.de, which went for around $3,000,000.
.com domains are more lucrative, with carinsurance.com bringing in $50,000,000 and vacationrentals.com generating $35,000,000. The average sale price for a .com domain is only $712 according to DNPric.es.
So, whatever the case, keep your feet on the ground and be realistic about your domain. We recommend looking at past sales of similar domains on DNPric.es or comparing your website with those on the block on a domain marketplace.
Step-by-Step: What to Expect From a Domain Sale
Once you've found a buyer, you'll finally be able to go about selling and transferring your domain. Which exact steps you'll need to take depends on how you've reached your buyer (directly or through a marketplace).
Domain Marketplace/Broker
If you've sold your domain on a marketplace or through a brokerage service, all you'll have to do is follow their instructions. Marketplaces have professional transfer services which handle everything for you. Beyond that, marketplaces ensure that both parties (you and the buyer) get what they've agreed to.
Sell a Domain Yourself: Get a Contract
If you've identified a buyer, you can decide how you'd like to proceed with the actual sale. We recommend keeping the following steps in mind:
Step 1: First, both parties need to settle on a price, as well as determine all other conditions such as when the transfer will take place.
Step 2: Contracts aren't required, but we strongly recommend them. These keep everything above board and protect both you and the buyer, so long as all important aspects (price, date of transfer) are anchored in them. You can find some templates online, such as here.
Step 3: Wait for the buyer's payment.
Hint: In order to protect both you and the buyer, you should allow an intermediary or third party to oversee the transfer. Escrow services ensure that transactions go ahead smoothly, and only once both parties have put forward what was agreed to. From your buyer, this entails their payment, and from you, the domain. As an alternative, you can use the transfer service of a domain marketplace, such as sedo.com which is viable even if you haven't used their platform to organize the sale.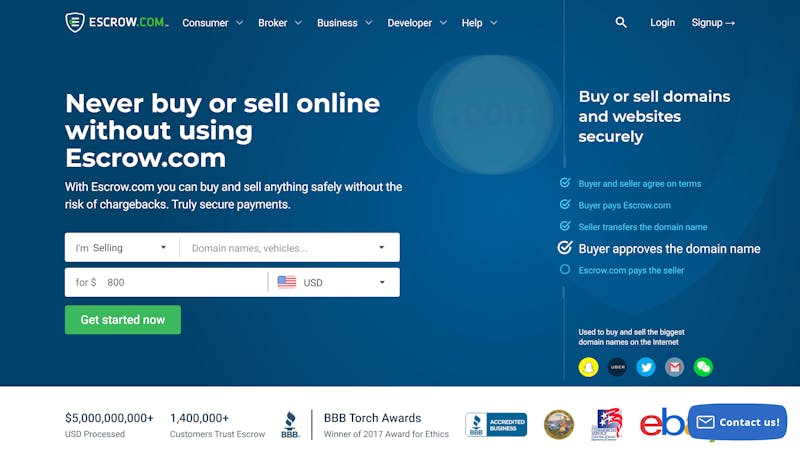 With Escrow, you and your domain's buyer can ensure the validity of the sale by engaging a third party.
In the event that you decide to use such a transfer service, just follow the instructions they give you. Otherwise:
Step 4: Once you've received the funds from the buyer, send them the Auth-Code. With this unique code, which you'll request from your provider, you'll be able to transfer your domain to its new owner.
Now, the transaction is complete: You've been paid, and the rights to your domain have been transferred to the buyer.
Conclusion
There are a number of options for selling a domain that you own the rights to. You can list it on a domain marketplace like sedo.com or dan.com, where potential buyers can find and purchase it. With a for-sale landing page, you can let people know as soon as they visit your website that the domain is available. In case you have a particularly valuable domain, there's always the option to involve a professional domain broker, who will help you get maximum value for it.
Domain marketplaces and brokers aren't the only way to sell your website though: Some suitors might want to cut out the middleman and get in touch with you directly. To make sure that they're able to do this, check with your domain or hosting provider that your WHOIS contact details are accurate and up to date. Alternatively, you can also take a more proactive approach by directly reaching out to people and businesses who might be interested in your domain.
Be sure to set a realistic sale price, agree on a contract, and ideally, involve an independent intermediary to oversee the transfer, such as Escrow or the transfer services some domain marketplaces offer.
Would you like to buy a domain that's already in use? In our EXPERTE.com guide, we'll show you how to do this, as well as let you know what to pay attention to.
FAQs
How can I sell a domain?
⊖
How valuable is my domain?
⊖
The more attractive a domain is, the more it's worth. Determining the former depends on several factors such as its brevity, catchiness, and the subject area it covers. To gauge how much a particular domain is worth, you can check marketplaces or a database like DNPric.es, and compare the prices of domains that have sold and are similar to yours. According to DNPric.es, the average sale price of a .de domain is around $3,100.
Is it safe to sell a domain?
⊖
To make the transaction as smooth and safe as possible for both parties, we strongly advise drawing up and agreeing to a sales contract for your domain. This should include all important details about the sale, such as the price, the domain to be purchased, and the timeframe it should be transferred within. In addition, it's advisable to involve a third party, which will make sure that both parties give to the other what they're contractually obliged to. Options include Escrow or the transfer services offered by many domain marketplaces.

Janis von Bleichert studied business informatics at the TU Munich and computer science at the TU Berlin, Germany. He has been self-employed since 2006 and is the founder of EXPERTE.com. He writes about hosting, software and IT security.
Continue Reading
Other languages
Deutsch