WordPress Costs: How Much Does a WordPress Website Cost?

Ad disclaimer:
For links on this page, EXPERTE.com may earn a commission from the provider. This supports our work and has no influence on our editorial rating.
Cost is no longer a factor when it comes to starting a website. The most affordable way to do so is with WordPress. Still, since there are so many different hosting subscription options and pricing models, it can be tricky to prepare a website budget. So, how much does it really cost to create and run a WordPress website?
In this guide, we'll let you know how much money to set aside to get your WordPress website up and running, as well as what you'll be paying for.
How Much Does WordPress Cost?
WordPress itself is free, however, this doesn't mean that your WordPress website won't cost anything. Even though it sounds illogical, hear us out: WordPress software (the content management system, or CMS) is free to download and use since it's open-source and available at WordPress.org.
However, to get your WordPress website online, you'll need more than just the CMS. Hosting, a domain, plugins: There are seemingly endless costs, some of which are unavoidable, while others are optional.
Necessary Costs
Let's take a look at the necessary or unavoidable costs associated with running a WordPress website. Thankfully, there are only two of them: Hosting and a domain.
Hosting: From $36 to $360 per Year
Web hosting is an expense that you won't be able to avoid paying for. To get any website online, you'll need storage space on a web server, as well as a few other services offered by hosting providers. This is no different for WordPress websites, however, there are companies that specialize in providing hosting solutions exclusively designed for WordPress websites, WordPress hosting.
How Much Does Managed WordPress Hosting Cost?
What you pay for managed WordPress hosting varies significantly from provider to provider. Not helping to clarify things is that each service also offers a range of different subscriptions intended to meet the needs of different kinds of websites. Comparing the lowest-priced plans is a good yardstick for determining how affordable each provider's plans are. In the table below, you can compare how the 9 providers from our sample measured up:
1.
2.
3.
4.
5.
6.
7.
8.
9.
As you can see, there are huge differences even for beginner plans and packages. Some providers charge in a month what others ask subscribers to pay over the course of a year.
We're able to make one conclusion about the higher-priced services from our ranking: They offer better support. With more affordable hosts, you'll need to accept weaker and/or slower customer support. Of course, there are differences in other areas too, such as in terms of performance and the variety and number of features that are included.
Free Hosting: Not an Option for a Professional Project
As you might have noticed from the table above, there's also a free hosting option. Like most things in life though, you get what you pay for, and free hosting is not an option for a serious website. Among the 9 services in our comparison, only WordPress.com offers free hosting. Keep in mind: You won't be able to install any plugins or contact the provider's support.
EXPERTE.com's WordPress Hosting Winner: SiteGround
SiteGround WordPress Hosting
SiteGround won us over with excellent speeds, extensive features, and an intuitive interface – all at comparatively low prices, domain and email included.
great speeds with CDN & caching
automatic updates & backups
staging and multisite support
9.1

excellent
WP Installations
Space
Domains
Contract Period
SiteGround StartUp
$8.49
monthly price
Visit Website*
30 Tage Geld-zurück-Garantie
The winner among our sample of managed WordPress hosting services was SiteGround: Hailing from Bulgaria, it didn't only impress us with its excellent performance, but also its user-friendly design concept, huge selection of features, and top-notch security standards.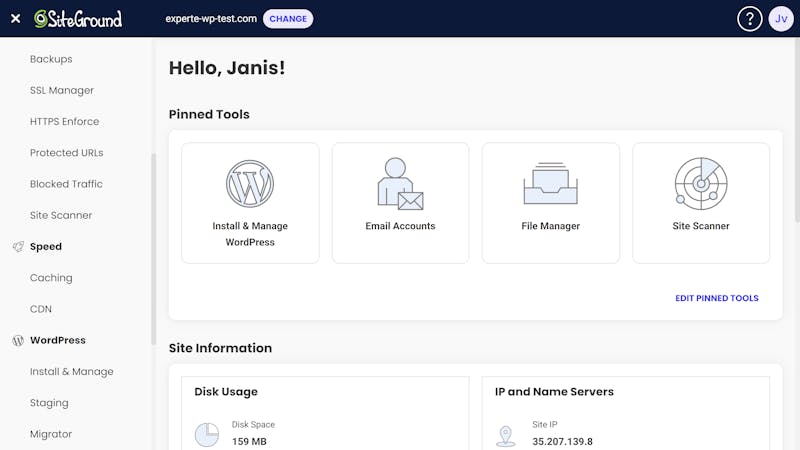 SiteGround served up our sample's best combination of performance, features, security, and user-friendliness.
And it's priced right too: Since subscriptions include free email hosting and a domain (for the first year), you'll get excellent value for money in an all-in-one package.
In terms of blemishes, we did miss having hotline support as well as the limitation of on-demand, manual backups to GrowBig and GoGeek subscribers.
Configuration & Usage
9.4 / 10
Technology & Features
9.4 / 10
Domain Costs: $10 to $100 per Year
Just like hosting, there's no getting around paying for a domain. This is your WordPress website's name and the address where it can be found online. Thankfully, many hosting services throw in a free domain (at least for the first year) in their subscription packages. If the provider you've selected doesn't, you'll need to purchase one separately. Even then, if hosts don't offer domains, they usually allow subscribers to purchase them separately.
But how much does a domain cost? This depends on the domain name and domain ending. For a .com or .org domain, you can expect to pay around $10 per year, however, this can increase. Should your desired domain already be owned by someone else, you can also expect higher costs if you intend to purchase it from them.
Optional Costs
Apart from the mandatory costs above, there are also a number of potential fees and charges that you might decide to pay. To make sure that your website meets your requirements, you'll need more than just the features your hosting package and WordPress include.
Below, we've summarized some of the most common (optional) WordPress website costs:
Premium Plugins: $0 to $500 per Plugin/Year
It's hard to talk about WordPress without mentioning its plugins. Whenever you can't find a feature or tool that you're looking for, there's a 99.9% chance that there's a WordPress plugin for it. The only drawback: Most of the time, these cost extra.
Just how much a plugin costs varies dramatically. For some, you'll pay a monthly or annual fee, while others have a one-time charge. Expect to pay anywhere from $0 to $500 per plugin, per year.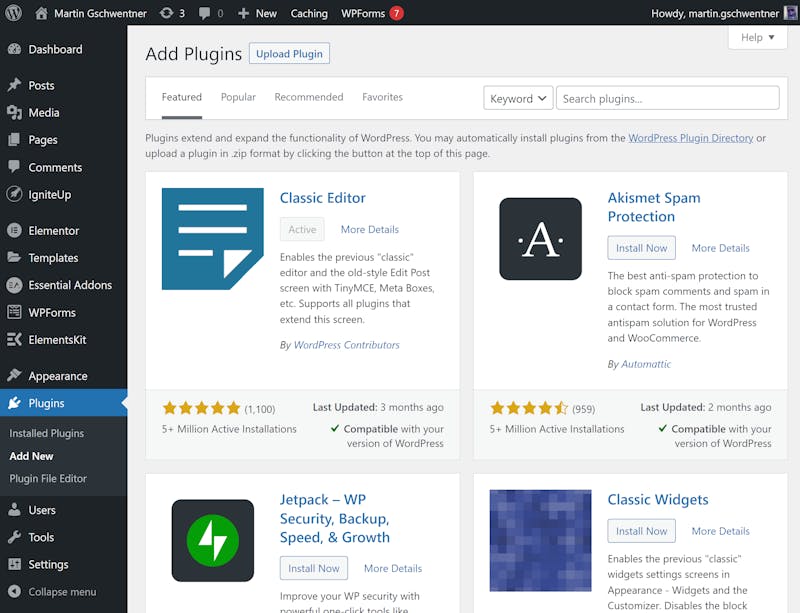 Browse available plugins either on WordPress.org or directly in the WordPress Admin Dashboard.
Premium Themes: $20 to $200 per Theme
WordPress themes provide the design framework for your WordPress website. Each theme makes a range of different tools, features, and elements available for you to customize your WordPress website's appearance, layout, and design.
In terms of price, themes are a lot like plugins: There are free options, however, the highest-quality ones are often premium. Thankfully, you only have to pay for most themes once, with the subscription model being far less common. Expect to pay anywhere from $20 to $200 for a premium WordPress theme.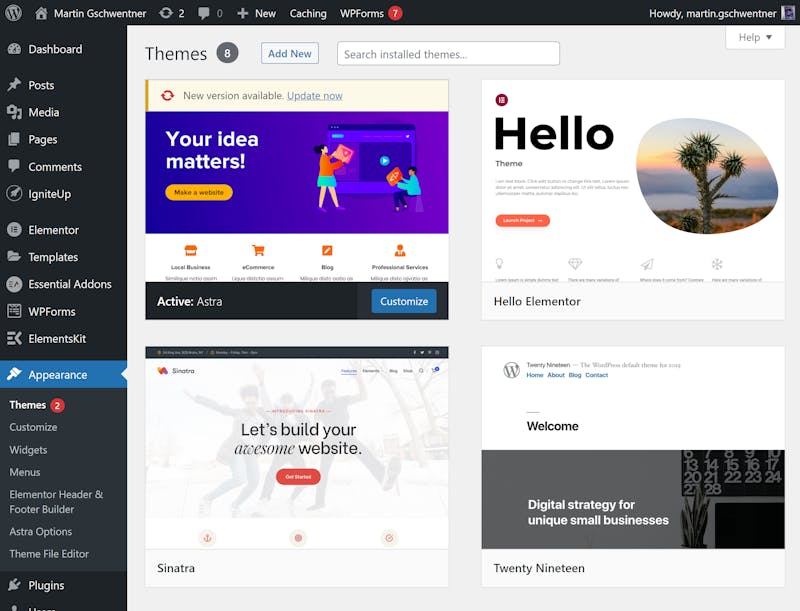 Luckily, there are lots of free WordPress themes, however, if you can't find what you're looking for, you'll need to purchase a premium alternative.
Hosting Add-Ons
Some managed WordPress hosting services also occasionally try to extract more from their paying subscribers by offering certain non-subscription features as at-cost add-ons. Most of the time, these are performance or security features kept behind paywalls that aren't necessary, but nice to have. These include:
Security features
A web application firewall (WAF), enhanced malware protection (against brute force or DDoS attacks), and automatic plugin updates are just some of the security features that a few hosts charge extra for.

Performance features
Performance-enhancing features like a CDN (content delivery network), that speeds up loading times for visitors from far away, are also commonly offered for a surcharge.
Development, Design, Text, Marketing, etc.
Do you need professional assistance in designing your WordPress website? Or maybe you want a graphic designer to create a logo for your business page? Perhaps you need custom code, that can only be written by a developer? Or ad-copy and marketing expertise?
These are just some of the services you might need to bring your WordPress website to the next level. Options, and the associated costs, are nearly endless. To learn more about the best places to find freelancers, as well as what sort of costs they entail, and what you can expect to pay for a custom-built website, be sure to check out our guides:
Conclusion
Do you have $50? If so, congratulations, you have enough to design and host your own WordPress website on a unique domain with a managed WordPress hosting service for a year. Of course, in terms of costs, the sky is the limit. Many hosting services charges significantly more, offering better service and performance in exchange.
In addition to the unavoidable costs of operating a WordPress website (hosting and a domain), there are many other (optional) costs, such as for premium themes, plugins, or hosting add-ons. The great thing about WordPress is that it can fit just about any budget, allowing you to make a truly professional website for whatever kind of investment you can afford.
FAQs
Do I need to pay to use WordPress?
⊖
No, WordPress (the software) is free and open-source. However, you will need to pay for hosting and a domain to get your WordPress website online. In addition, you might want to include premium plugins or themes, which also cost extra.
How much does WordPress cost per month?
⊖
WordPress is free, however, the cost of keeping a WordPress website online depends on which hosting provider you select. Among the 9 leading WordPress hosts we reviewed, the cheapest subscriptions ranged from $3 to $30 per month per year. Additional costs can be incurred based on the themes, plugins, add-ons, and other services you use (web design, development, marketing, etc.).
Is there free WordPress hosting?
⊖
Yes, there is free WordPress hosting, offered by WordPress.com. However, free hosting is not suitable for running a professional website since it significantly limits many important features or doesn't offer them (such as plugins and support).
* Ad disclaimer:
For links marked with an asterisk, EXPERTE.com may earn a commission from the provider. The commission has no influence on our editorial rating.

Martin Gschwentner majored in American Studies and Media Studies in Germany, the USA and France and works as a freelance editor in Paris. He is a doctoral student at the Institute for English and American Studies at the University of Paris Diderot, where he is researching the influence of money on US politics. On EXPERTE.com he writes about IT security, data protection and software for the self-employed and small businesses.
Continue Reading
Beginner
Advanced
Other Topics
Other languages
Deutsch