Small Business Website: How to Create One in 2023?

Author
Janis von Bleichert
Our editors test and evaluate all services independently. For links on this page, EXPERTE.com may earn a commission from the provider.
If you plan on doing business these days, even just as a side hustle, you'll need a website. While Instagram and Facebook will connect potential customers with your products or services, there's nothing quite like a stable and dedicated Web address you can point clients to. Large companies devote entire budgets to professional websites and/or have development teams working exclusively on them, but you don't have to go that far.
These days, even the smallest startup can easily and affordably launch a Web presence. In this guide, we'll show you how, and let you know what to pay attention to along the way.
Why Does My Business Need a Website?
If business is booming and/or you've made it this far without one, you might be wondering why exactly you need a website. That's a fair question that has a few good answers:
Customers expect it
Studies show that 70-80% of people research small businesses online before paying a visit or buying from them. Should you not have a website, these potential customers will likely get what they're after somewhere else, maybe even from your competitors.

Present your business on your terms
You might think a website is unnecessary since you already enjoy a healthy Facebook, LinkedIn, and/or Instagram presence. On social media though, you're subject to the whims of the masses, with the court of public opinion being a fickle thing. With a website, however, you have full control over your message, making it possible to show off the best features of your business.

Gain new customers and expand your reach
If you have your own website, you'll appear in search engine results, like those from Google. Potential customers, who you might never have encountered through other channels, can connect with you and your offerings in this way. In turn, your presence can exceed the local, helping your business to become a regional, national, or even international one.

Maximize your opening hours
Unlike brick-and-mortar shops, online businesses never close meaning that orders can be placed around the clock. As an added bonus, websites are a great way to clearly and helpfully inform your customers about your policies, reducing the number of queries directed at your customer service.

Compete with rivals - of all sizes
When given the choice, the majority of shoppers prefer buying from smaller businesses local to their communities. Unfortunately, national and international traders enjoy an unfair advantage thanks to their more highly ranked and easier-to-use websites. Still, with a well-conceptualized online store, you can stake out a corner of your local or regional market (since search engines like Google pay close attention to these criteria), allowing you to go head-to-head with digital giants.

It's both affordable and easy
One of the best arguments for creating a website is asking yourself, "Why not?" Creating a professional website has never cost less or been easier, so, what are you waiting for?
How Can I Create a Website for My Business?
If you've determined that your business needs a website, you have three options for doing so: You can program it yourself, contract the job out to pros, or use tools like website-building software.
Should you possess the coding and Web design skills necessary to create a website, chances are that you've already stopped reading. For everyone else, there are two options:
Have a Website Created for You
Assuming that you lack programming knowledge, but have very clear ideas about what your website should look like and a sizable budget, why not allow pros to handle it for you? For this, there are two main options:
Agencies: These take care of the planning, design, and publishing of a website, offering a variety of related services on the side. Both their size (in terms of staff on the books) and quality mean that you'll pay a premium.

Freelancers: If you don't have a blank check, these offer a more affordable alternative to agencies, since you'll only be dealing with an individual. Still, it's important to find the right person, capable of bringing your vision to life and willing to communicate with you every step of the way.
How to find agencies/freelancers?
There are dozens of online platforms where you can contract your website project out to eager freelancers and agencies. Among the most well-known are Upwork and Fiverr. On those sorts of sites, you can specify what exactly you're looking for, by searching for "small business website", and thereafter limiting hits by price or other filters. Payments are made directly through the platform, which takes a cut before passing the rest on to the freelancer or agency you've hired.
Of course, you could also search for a freelancer or agency via Google, looking for those that specialize in working with small businesses, or who are from your area.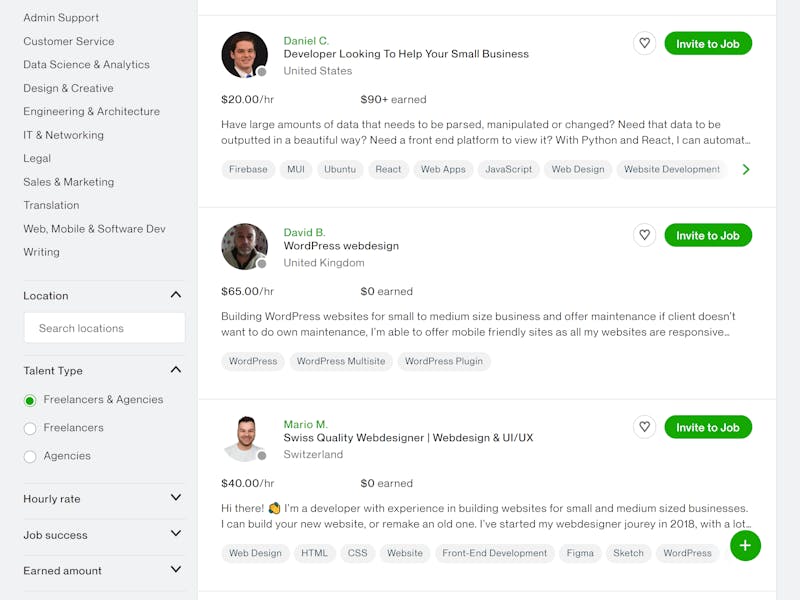 On freelance platforms like Upwork, you can look for those with experience in designing websites for small businesses.
How much does an agency/freelancer cost?
Depending on the freelancer or agency, costs can range from several hundred to tens of thousands of dollars. We recommend against looking to cut costs if going this route since your end product will be a high-quality, long-term investment in the future of your business.
Especially on platforms like Upwork, you'll likely come across unbelievably attractive offers, however, we strongly caution against letting the price tag for a custom website guide your choice. With lower costs often come compromises in other areas, such as quality, willingness to work, and/or poor communication. Similarly, freelancers can and do work from anywhere with an Internet connection and electricity, making it crucial not to assume that their standards are the same as those in your home country or that of your target market. Should this contrast come to light or be visible once your website goes live, it can adversely impact your reputation or standing.
Have a Website Created for You: Advantages and Disadvantages
100 % flexibility: With pros and an unlimited budget, anything is possible: Your website can be tailored to your exact preferences and whims.

Big selection: There's something of an oversupply of freelancers and agencies, making it a buyer's market for those looking to create a website.

Work with pros: By contracting your website out to professionals, you can touch base at any time to ask questions, see how things are going, or make adjustments.
Expensive: Good Web designers and developers don't come cheap, especially since their services are always in demand. The further down market you shop, the more compromises you'll likely have to make.

No guarantee of quality: Not every freelancer or agency is capable of delivering exactly what their client wants. To be fair, it can be difficult or nearly impossible to bring someone else's vision exactly to life. For that reason, don't be surprised if you end up paying a lot for an end product that you aren't entirely satisfied with.
Create a Website With a Site Builder
Alternatively, you could create a website for your small business using something called a site builder, even if you don't have any knowledge of coding or programming. These are user-friendly, online platforms in which you'll be able to manipulate and adjust ready-made content blocks visually which don't require a snippet of code.
Site Builders: Advantages and Disadvantages
Affordable: Site builders are among the most reasonably priced tools for creating websites. Prices do vary from provider to provider, however, for about $10 a month, you should be able to get a website, including hosting and a unique domain.

User-friendly: You won't need any coding or Web design knowledge, making it possible for anyone to create a website.

All-in-one: Site builders usually take care of everything for their users, ranging from web hosting to your domain, to security certificates, and much more. This allows you to focus solely on your content.
Less flexibility: Not every element can be placed exactly where you might want it, depending of course on the features and design options that your site builder offers. Customization is somewhat limited as a result.

Technical shortcomings: In terms of loading speed or search engine optimization (SEO), site builders do lag a bit behind.

Bland results: Since it's difficult to break out of the design template mold without additional coding skills, your business's website might wind up looking like dozens of others.
Top 3 Website Builders for Small Businesses
1.
Wix Site Builder: EXPERTE.com's Best In Class
Wix beats out the competition with an unmatched variety of features, intuitive editors and a jam-packed app store. Overall, the platform offers the best balance of usability and features on the market today.
lots of features and elements
simple & intuitive interface
9.6

excellent
Space
Domains
Templates
Contract Period
Wix Free
$0.00
monthly price
Visit Website*
Try for Free
Wix won our EXPERTE.com review, offering the best all-arounder on the market. The platform combines a nice variety of features, user-friendliness, and top-notch support into what we feel is the best overall package out there.
Particularly appealing for those looking to create a small business website are the testimonials, contact forms, and other ready-made elements. In terms of ecommerce and marketing, Wix also cuts a fine figure.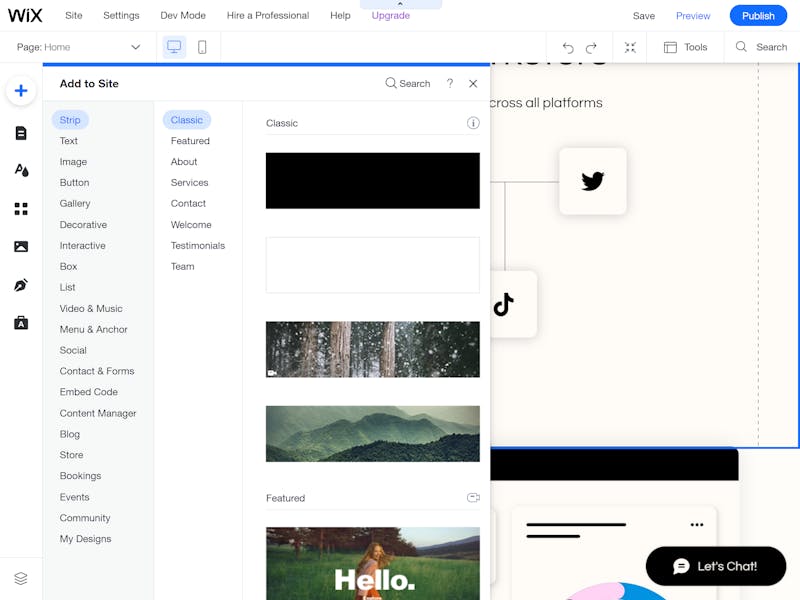 Wix was the best performer in EXPERTE.com's review series, and is worth looking into for small businesses.
In addition, Wix has two editors: Along with its regular one, the platform offers a simplified, AI-assisted editor for beginners. As might be expected, the latter (ADI editor) severely limits its users' customization options, so we advise using the former. Even for newcomers, the standard editor isn't all-too-hard to get a feel for.
And should the features that Wix comes with out of the box not provide what you need, you can check out the platform's app market, which includes seemingly endless numbers of extensions and add-ons.
If you're interested in seeing exactly how site building with Wix is, be sure to have a look at our step-by-step guide.
User-friendly editor with free drag and drop

Lots of features and content elements

Numerous design templates
Templates can't be swapped out after you've started building with them

ADI Editor too rigid, even for beginners
Marketing, SEO & Ecommerce
10 / 10
Templates & Design
9.4 / 10
Configuration & Usability
9.4 / 10
2.
Squarespace Site Builder: Stylish Design for Small Businesses
Squarespace Website Builder
Squarespace can impress with flawless designs and high quality templates, which make the creation of professional websites a piece of cake – but comes at a higher price compared with the competition.
Space
Domains
Templates
Contract Period
Squarespace Personal
$16.00
monthly price
Visit Website*
14 Days Trial Period
In comparison to Wix, with Squarespace you'll be more tied to the platform's design presets. However, the templates are eye-catching: Squarespace actually made a name for itself with its striking and elegant templates, which have helped to elevate thousands of businesses in the digital sphere.
New content blocks are added as "sections" and cover key elements like contact forms, FAQs, or team pages, as well as branch-specific content like tour information or reservations.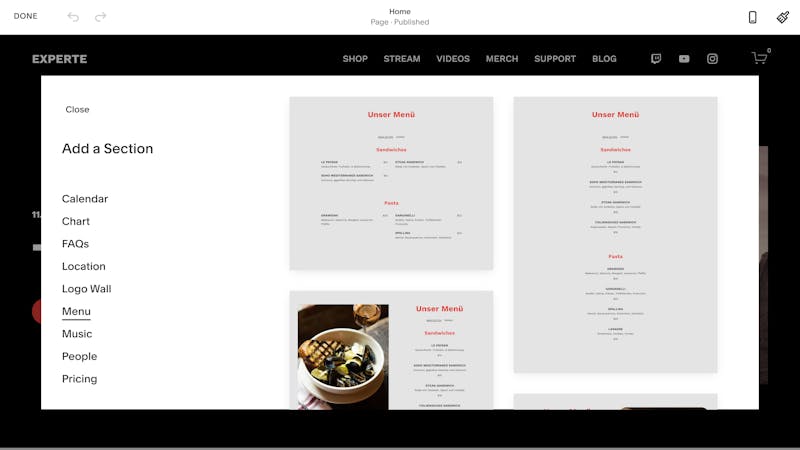 Your Squarespace website will be composed of ready-made sections that you can personalize.
Supposing that your business is working internationally, we should point out that Squarespace doesn't handle the creation of multi-lingual websites as elegantly as other platforms. In addition, it lacks a true app market, offering only a few extensions.
Solid help center and support featuring live chat
Templates can appear too similar to one another

Multi-lingual sites are difficult to set up

Lacks a real app marketplace
Configuration & Usability
10 / 10
Marketing, SEO & Ecommerce
8.6 / 10
Templates & Design
8.0 / 10
3.
IONOS Site Builder: Complex, but Flexible
Due to its rather complex editor, IONOS MyWebsite comes with a bit of a learning curve, but rewards those who stick with it with wide-ranging creative possibilities that enable unique websites.
supports multilingual sites
not all templates are great
8.8

good
Space
Domains
Templates
Contract Period
IONOS Starter
$8.00
monthly price
Visit Website*
30 days risk-free
MyWebsite by IONOS is a bit more complicated to get a feel for than the other platforms we've introduced above, however, learning to use it is worth it: Based on Duda, you can personalize your website to a considerable degree, customizing each content element to your exact preferences.
Creating multi-lingual websites is straightforward, and in terms of ecommerce, IONOS cuts a good figure. All content blocks important for small and large businesses are offered.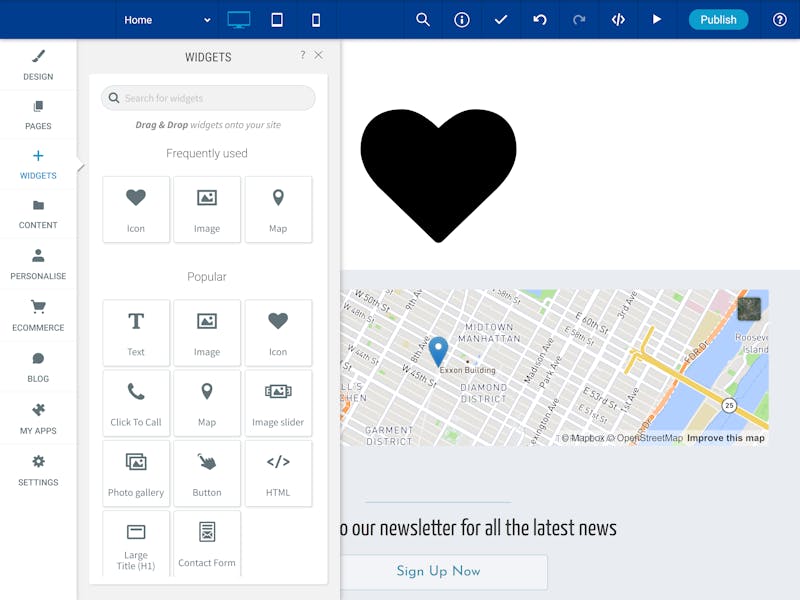 IONOS's editor takes somewhat more time to get accustomed to, however, it offers unparalleled customization.
Personalization is important since the design templates offered by IONOS weren't as appealing to us as those of its competitors. It is unfortunate though that IONOS doesn't have an app marketplace.
Powerful editor allows comprehensive personalization
Somewhat complicated to use
Templates & Design
8.6 / 10
Marketing, SEO & Ecommerce
8.6 / 10
Configuration & Usability
8.0 / 10
Which Elements Does a Small Business Website Need?
Your website should be a reflection of your taste and preferences, however, a few elements should be present:
Inviting Homepage
Your homepage is your digital shop window and where your visitors will first connect with your business. As such, make sure that they feel welcome and encouraged to have a look around by clearly presenting which products or services you offer. Finally, try to provide some information about what differentiates you from your competitors.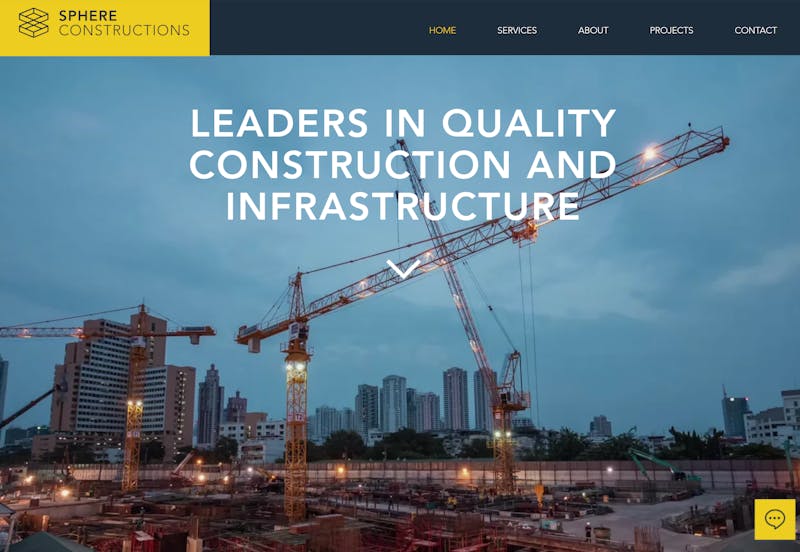 Your homepage should both welcome and wow your visitors.
Make sure that you avoid plastering your homepage with generic stock photos, meaningless phrases, or huge blocks of text. Instead, use high-quality visual material and succinct and proven ad or marketing copy. First-time shoppers want to get to know the business they're intending to work with, but also, what they have to offer. As such, try to look at your homepage through the eyes of your visitors.
Intuitive Navigation
Visitors to your website should be able to readily find what they're looking for. This requires intuitive navigation menus since these make it possible to divide your website into pages and subpages that are logically organized.
Most website builders make creating navigation menus very straightforward, even automatically adding new pages to them. At the same time, make sure that your navigation menus aren't overloaded, and that important information doesn't get buried on subpages.

Do your visitors a favor and make sure that your website's navigation menus are easy to use and efficient.
Services
What exactly are customers looking for from your business - and how much do your goods or services cost? Help visitors to your site by clearly presenting your services or offers along with price tags.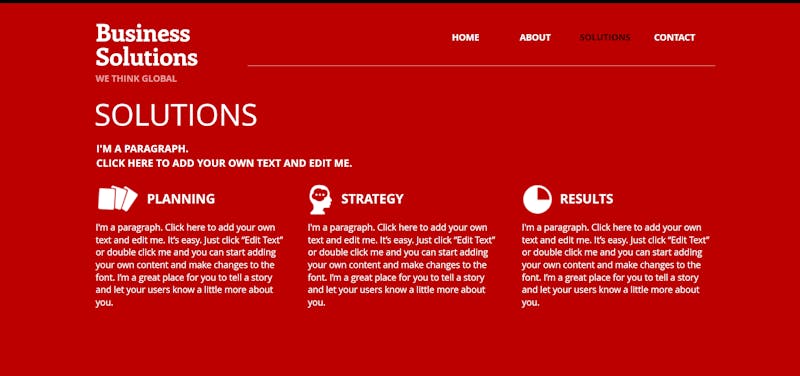 What exactly does your business do?
About Us Page
Keep things simple on your homepage. Detailed origin stories about how your business got started, or what your corporate philosophy have their place, and it's on your 'About Us' page.
Those who click on this page want to know more about your business, your team, or who you are. Make sure that the information is current, accurate, transparent, and sympathetic. After all, the end goal is to leave a good impression.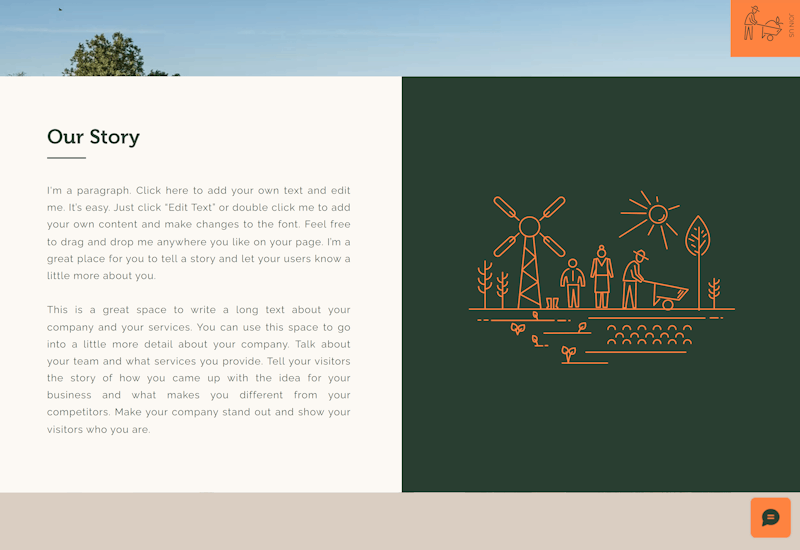 On your 'About Us' page, feel free to introduce your team, your business, and/or detail your corporate philosophy.
Contact Page
Let visitors to your site know how they can get in touch with you. Site builders offer ready-made contact pages, meaning that all you'll have to do is supply a current email address, phone number, or other information. Such forms can usually be customized to your exact needs.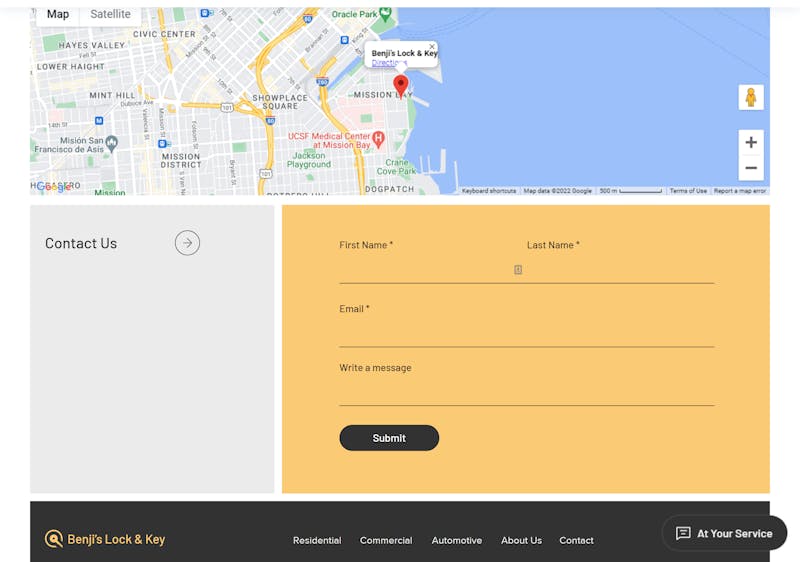 The Contact page on your website should be relatively easy to find and include current information.
Customer Reviews
One of the most important resources for potential customers are testimonials and reviews left by others speaking to the quality of your past work or projects. Don't downplay these, as they allow you to show off what you've accomplished and how customers have perceived it. Make sure to get your client's permission to use their reviews and/or name when promoting your goods or services.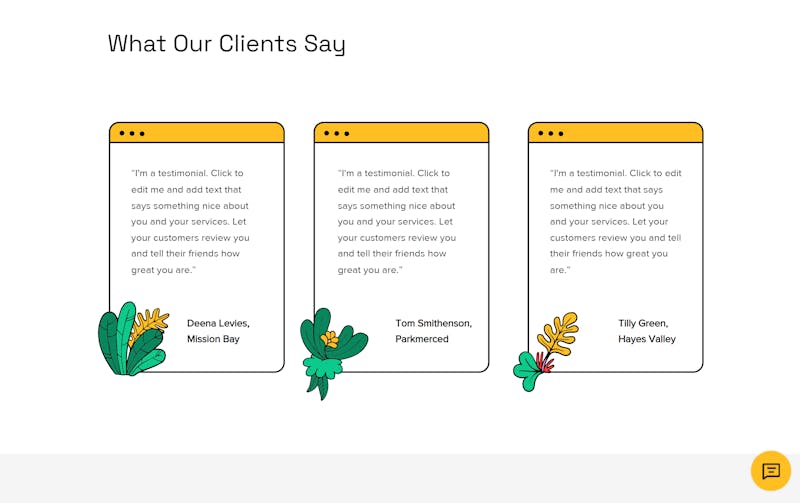 Reviews and testimonials are an important selection criteria for potential customers.
Imprint & Privacy Policy
Then there are a few pages that relate to legal aspects of running a business online, namely, the Imprint and Privacy Policy.
If planning to do business in the European Union, having an imprint might be a legal requirement. This should include your business's name, your full name, the business's address, and contact options (telephone number and email address). Depending on what sort of business you're operating, this can vary.
Privacy policies are also legally required according to the EU's General Data Protection Regulation (GDPR). This must specify what you will do with the information visitors to your site leave behind. A suitable policy could be drawn up by your legal representative, or, you could use one of the samples that are available online.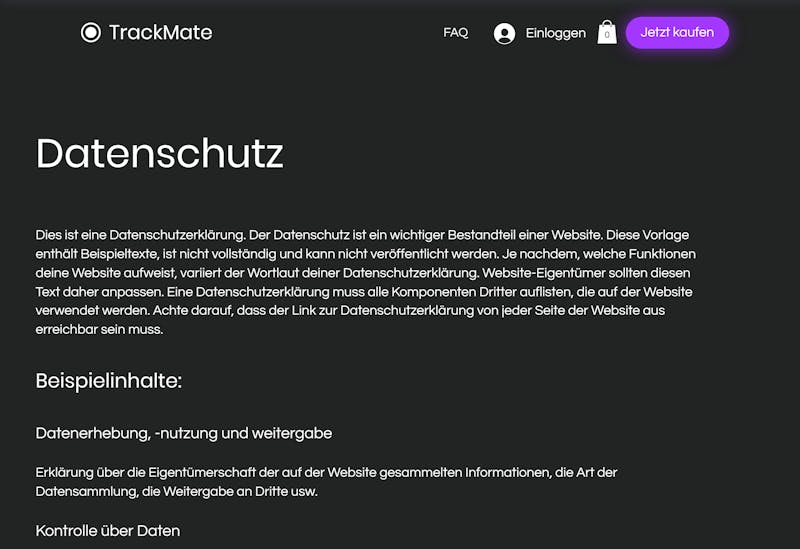 If you're doing business in the EU, an imprint and privacy policy are legally required.
Create an Online Store: How to Sell Digitally
Do you want to market your goods or services online? You can with most site builders, however, you'll need to purchase an ecommerce subscription, which can cost a bit more than the standard plan. Businesses focused on selling online can also take advantage of dedicated platforms like Shopify: Alongside classic site-building features, these offer comprehensive dashboards for managing your products, payments, and shipping.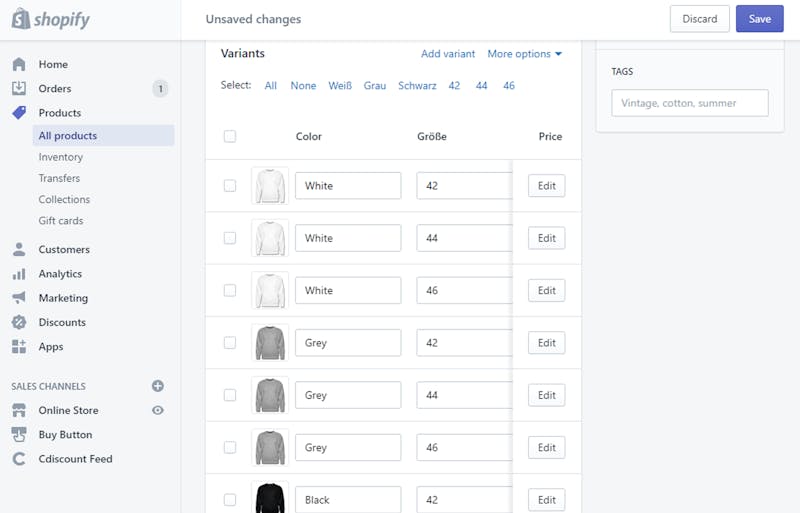 Ecommerce systems like those offered by Shopify are specifically designed for setting up business websites.
To see how to set up an online store and find out which ecommerce platform is best for doing so, be sure to consult our EXPERTE.com guide.
Conclusion
Websites are a must these days, even for small businesses. If you can't code, don't worry, you can contract the job out to an agency or freelancer, or give things a go yourself with a site builder.
While expensive, paying pros to build a website for your business gives you maximum flexibility, freedom, and control over how the final product looks. Site builders, on the other hand, cost considerably less and are easy enough for anyone to use, even beginners or those with no coding knowledge. Still, just how much you'll be able to achieve depends on which platform you wind up using. Among the best choices for small businesses are Wix, Squarespace, and MyWebsite by IONOS.
Comprehensive reviews for both site builders and ecommerce platforms are available on EXPERTE.com.
FAQs
What's the best way to create a website for my business?
⊖
You could program your website yourself from scratch, contract the job out to freelancers or an agency, or use a site builder. Site builders are relatively affordable and accessible, even to beginners without any background in programming. Still, if using one of these, you'll have to make do with some design and feature limitations. Among the best solutions are Wix, Squarespace, and MyWebsite by IONOS. Contracting the job out to freelancers or an agency is somewhat more expensive, however, does give you maximum control over the final result.
How much does a small business website cost?
⊖
If using an agency or freelancer, depending on how much they charge, and how extensive your website is supposed to be, the price can range anywhere from $1,000 to $20,000. Site builder subscriptions, on the other hand, cost around $10 per month, with ecommerce plans slightly more expensive.
Which elements should a small business website include?
⊖
Your business's website should have a striking homepage, clear navigation menus, an overview of what products or services you offer, a contact page, and customer reviews/testimonials. If doing business in the EU, you'll also need an imprint and privacy policy page.

Janis von Bleichert studied business informatics at the TU Munich and computer science at the TU Berlin, Germany. He has been self-employed since 2006 and is the founder of EXPERTE.com. He writes about hosting, software and IT security.
Continue Reading
Other languages
Deutsch
Ad disclaimer
* For links marked with an asterisk, EXPERTE.com may earn a commission from the provider. The commission has no influence on our editorial rating.