GoDaddy WordPress Hosting Review 2023: Is It Fast Enough?

Author
Janis von Bleichert
Ad disclaimer:
For links on this page, EXPERTE.com may earn a commission from the provider. This supports our work and has no influence on our editorial rating.
Managing a WordPress website is a lot of work. So why not have someone else do it for you? Managed WordPress hosting services like GoDaddy gladly take care of all the technical work associated with operating a WordPress website, allowing you to focus your attention elsewhere. So, what can GoDaddy do?
We took a closer look at all of GoDaddy's WordPress hosting options and below, will let you know whether it's suitable for your WordPress project.
What Is GoDaddy?
Founded in 1997, GoDaddy* is a web hosting provider with around 7,000 employees and more than 21 million customers, making it one of the largest hosting services in the world. For a long time, GoDaddy was known primarily as a domain registrar, however, has also diversified its service portfolio, offering everything from marketing tools to a website builder.
Of course, the company also provides dedicated WordPress hosting. We set up a WordPress website with GoDaddy hosting to find out just what the service is capable of.
GoDaddy WordPress Hosting Review
Configuration & Usage
9.4 / 10
Technology & Features
6.0 / 10
Solid performance
GoDaddy is not the fastest hosting service from our sample, however, its overall performance was solid. Especially during our load test, GoDaddy did very well.

Easy to use
It's difficult to make a mistake in GoDaddy's control panel...
Limited features and configurability
...however, this is largely because there isn't much to do. GoDaddy's WordPress hosting doesn't provide many options that users can customize.

Security issues
Unfortunately, GoDaddy suffered from a number of security incidents in the past. For that reason, we don't feel like our data is in safe hands.
GoDaddy makes both registering and installing your WordPress instance straightforward. First, create a GoDaddy account and purchase a managed WordPress hosting package. After that, log in to your GoDaddy product page, where you should see your WordPress package listed.
Then, click on "+ Create Site" to host a WordPress website. Three options are included, "Use Default WordPress" (for setting up a new site), "Migrate My Site" (for an existing website), and "Browse Templates" (to select a professional, pre-built website). Make your choice and follow the setup wizard's instructions. During this process, you'll be able to select which data center you'd like to use (we chose Europe).
Once finished, WordPress will be set up, which can take a few minutes.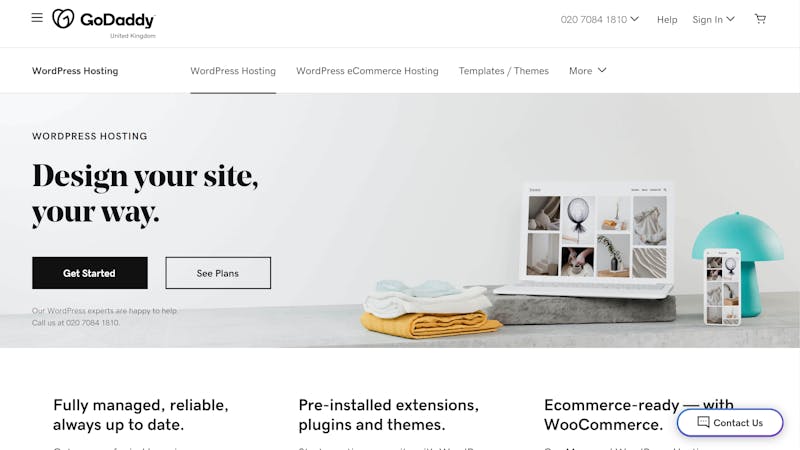 It's easy to set up WordPress with GoDaddy.
Migrate a WordPress Website to GoDaddy
It's also possible to migrate an existing website from another provider to GoDaddy. To do this, you'll use the free transfer service, which will migrate your website with little more than a few clicks. Follow the steps above, however, instead of the "Use Default WordPress" option, select "Migrate My Site".
Then, follow the instructions and input the domain name of the website you want to migrate as well as your WordPress login credentials; GoDaddy handles the rest for you. Once the migration is complete, you'll receive an email notification.
Minimalistic WordPress Admin
After your WordPress project has been set up, it should appear on your product page. To open your WordPress settings, click on its entry followed by the "Manage" button.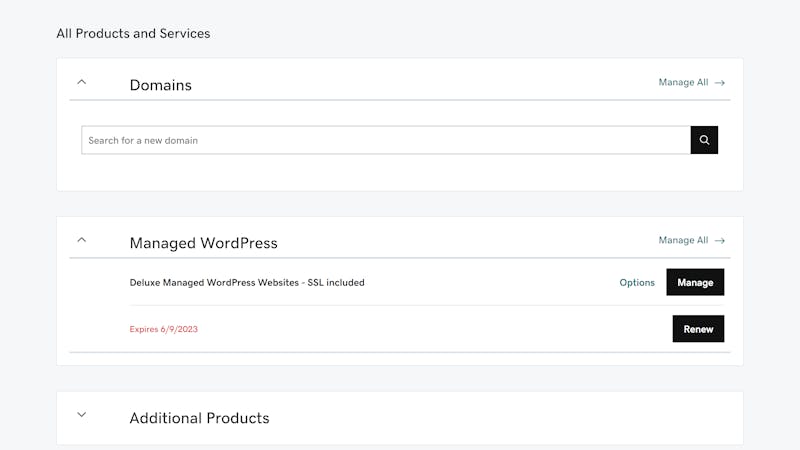 Manage your WordPress website in GoDaddy.
GoDaddy's WordPress dashboard is fairly minimalistic and divided into three areas:
1.

In the Overview tab, you'll manage your WordPress instance and find a few quick action options and links to important resources, such as tutorials.

2.

The Backups tab is where you'll manage secure copies of your WordPress project(s) and, if needed, be able to restore an older version of it.

3.

The Settings tab features all other WordPress features and options, from database management to staging.
In the Overview tab, you can make modifications to your website by clicking on the "Edit Site" button in the upper right. There isn't anything else to do here, which was slightly confusing to us (more on this below), even though it does make the platform very user-friendly. All the same, a more systematic control panel with some WordPress features would have been nice.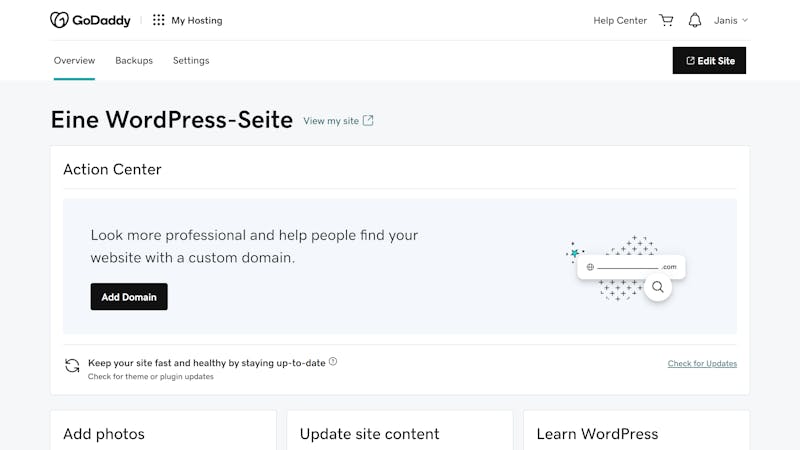 You won't find many WordPress management tools in GoDaddy's control panel.
GoDaddy's streamlined control panel makes it easy to use the service. The same goes for installing WordPress instances or migrating an existing WordPress website.
Configuration & Usage
9.4 / 10
User-friendliness is important, however, when it comes to hosting, performance and the technical features that enhance this, are even more critical. For that reason, in this part of the review, we looked at GoDaddy's specifications, checking which settings and options users can adjust to their needs.
To start, we checked the default configuration after installing a WordPress instance by consulting the server report. This can be found in WordPress by going to Tools > Site Health > Info.: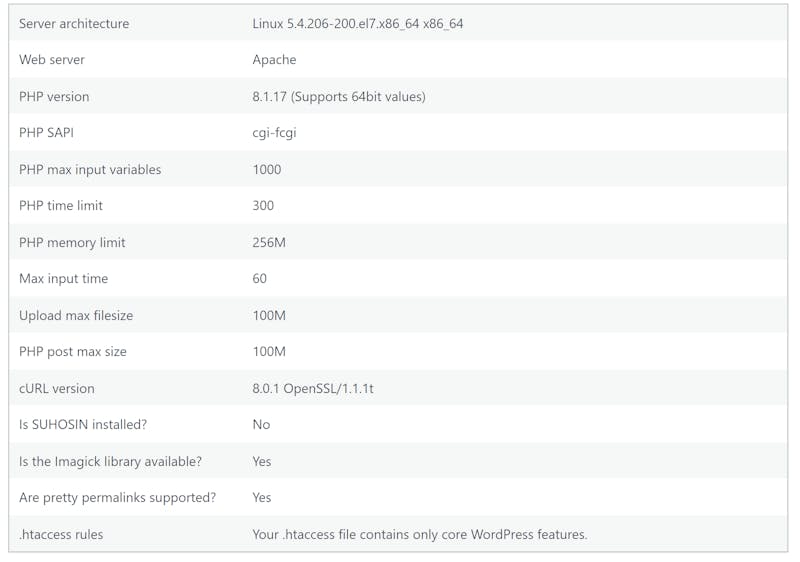 Server report after installing a WordPress instance in GoDaddy.
The server report provides a few important details about the technical aspects of GoDaddy's WordPress hosting. For example, we can see that it uses an Apache web server and PHP version 8.1. However, keep in mind that many factors depend on both your GoDaddy subscription and WordPress settings.
NGINX & Apache
GoDaddy doesn't only use Apache web servers, but also the performance-heavy alternative, NGINX. By combining these, users should benefit from improved loading times and enhanced security.
For its databases, GoDaddy uses MySQL, like most of its peers. In the Settings area of your WordPress instance, you can check your database and see more information about it. There's also a link to phpMyAdmin.
New databases aren't configured here: Regardless of the WordPress package you select, only one database is allowed per website.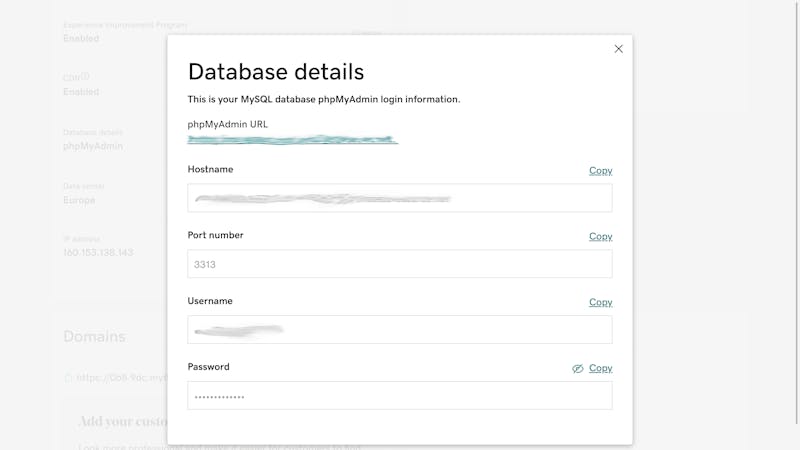 In the Settings area of your WordPress instance, you can find more details about your website's database.
Few PHP Settings
As of the time of testing, GoDaddy supports PHP up to version 8.1 (but not the newest version, 8.2). It's possible to change your production website's PHP version to a previous one, however, there aren't any additional options.
Other WordPress hosts offer considerably more flexibility in their control panels.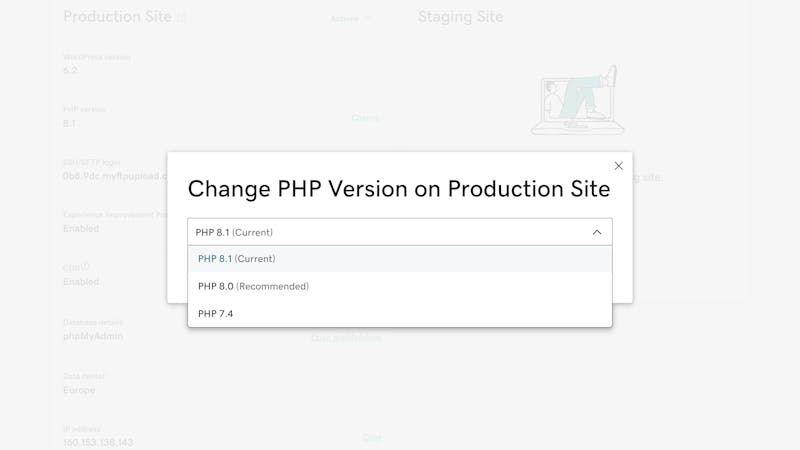 It's possible to change your WordPress website's PHP version, however, you cannot adjust any other PHP settings.
GoDaddy Performance Features
GoDaddy promises "faster" loading times owing, among other things, to its usage of powerful SSD drives. HTTP/2 is also supported.
There are also a few more performance features that should give your website a speed boost. These include a content delivery network (CDN) entailing more than 200 locations around the world. This ensures that even users located far away from the server your website is hosted on will be able to quickly load its content.
Object Cache Pro is a server-side caching solution that stores database queries in the background. Other hosts utilize more comprehensive caching tools. As was the case above, you won't find more detailed settings or options in the control panel and are limited to clearing your cache.
You can read more about how GoDaddy did in our performance section.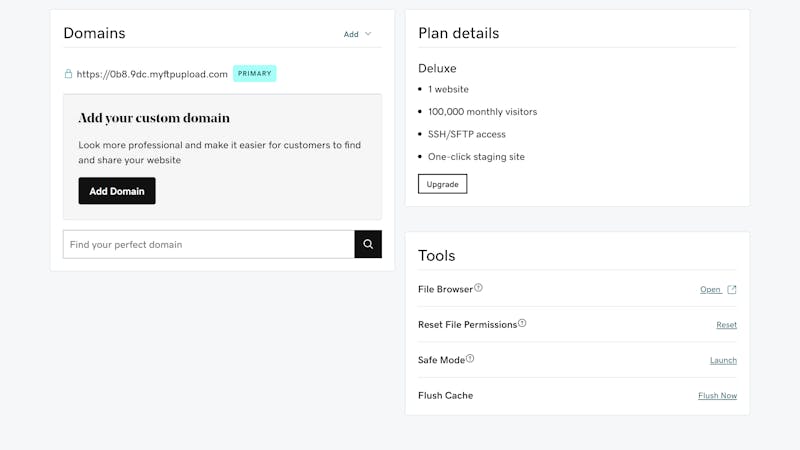 GoDaddy comes with integrated object caching.
Additional GoDaddy WordPress Hosting Features
Alongside the above, you'll also find the following among GoDaddy's WordPress hosting features:
SSH, SFTP, and WP-CLI: Starting with the Managed WordPress Deluxe subscription, you'll have SSH/SFTP access to your website. Command line tools from WP-CLI are also included.

Website staging: Also starting with the Managed WordPress Deluxe subscription, you'll be able to create a staging copy of your website with a single click. This allows you to make changes and test them out risk-free before going live.

Domain

: GoDaddy includes a free

domain

for the first year.

Email hosting: Up to five Microsoft 365 email mailboxes with 10 GB of dedicated storage space are also included at no charge for the first year of your subscription.
Unimpressive Variety of Features
With GoDaddy, your WordPress project rests on a robust technical foundation, however, this isn't anywhere near as customizable or flexible as those offered by its competitors. Users have almost no say in terms of settings and won't find any advanced features: Even basics, like its caching tool, can't compete with what its rivals offer. GoDaddy, unfortunately, doesn't offer multisite support.
It's disappointing that GoDaddy hides information about its technical specifications. Whereas other hosting services are much more transparent, we had to extract our information from GoDaddy's support staffers. Even then, no one was able to tell us whether certain plugins were prohibited owing to security concerns.
Technology & Features
6.0 / 10
In a general sense, GoDaddy is optimized to meet WordPress's security requirements and fulfills some standard criteria, such as free SSL certificates, automatic Google Core updates, and integrated malware scans. However, its competitors offer all of that too, and without the seemingly regular security incidents that plague GoDaddy one year after another.
GoDaddy's Security Issues
Unfortunately, GoDaddy has made headlines for all the wrong reasons: The insecurity of its web hosting and WordPress packages.
In 2021, for example, hackers penetrated GoDaddy's WordPress hosting environments, allowing them to view data from more than 1.2 million users. They made off not only with email addresses and customer numbers but also admin passwords for WordPress websites, as well as passwords for SFTP gateways and SSL keys.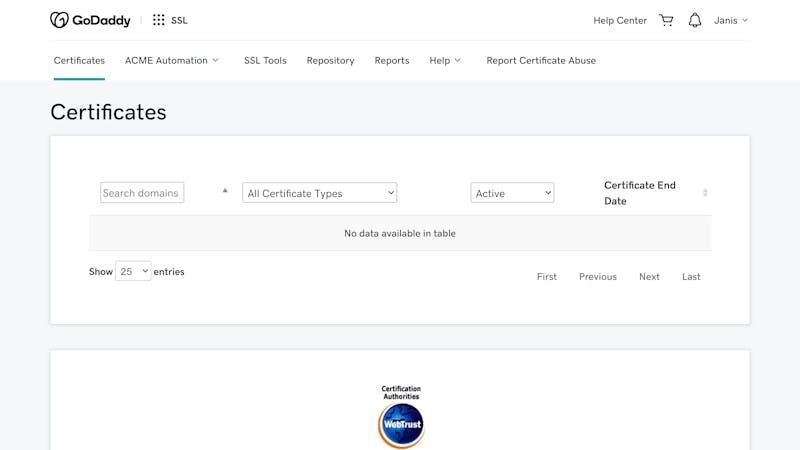 At the beginning of 2023, GoDaddy reported a data breach that had gone unnoticed for several years. Through the breach, hackers gained access to GoDaddy's source code and were able to install malware on the company's servers. Since then, the hosting service has tightened its security standards and introduced new safeguards, however, its reputation and trustworthiness are definitely tarnished.
Lack of Transparency
WordPress users who value security and data privacy aren't likely to be pleased with GoDaddy's lack of transparency: You won't readily find information about where its data centers are located or how your data is used anywhere on the service's website.
Beyond that, even though GoDaddy promises automatic malware protection, its control panel doesn't have any security features. In other words, you'll need to trust the provider that its protection for your website is strong enough, and the precedent isn't particularly encouraging.
Advanced security features like a web application firewall (WAF) or DDoS protection can only be booked at cost through the premium "Website Security" program.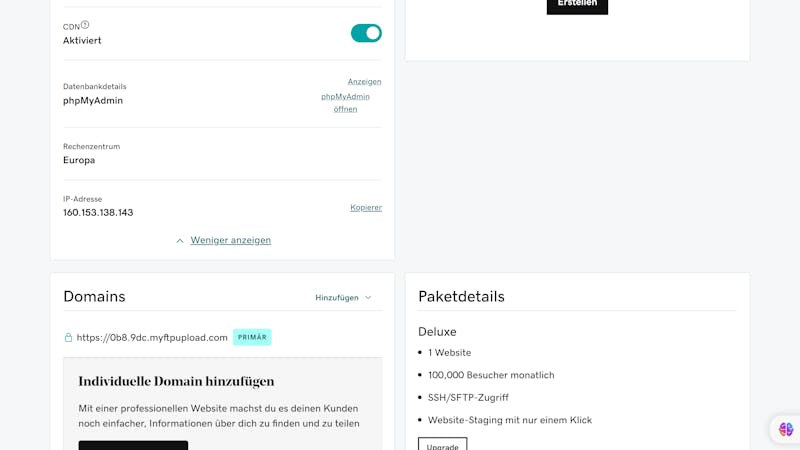 Our server is located in Europe - we don't know anything more than that.
GoDaddy Backups: Retained for 90 Days
We don't have much to complain about GoDaddy's approach to backups: These are automatically created by the provider and stored for up to 90 days. In comparison to what other hosts offer, this is very long. Making things even better, you can create manual backups as often as you want.
In the Backups area, you can view your backups in a calendar view, downloading or restoring your WordPress website to them with a single mouse click.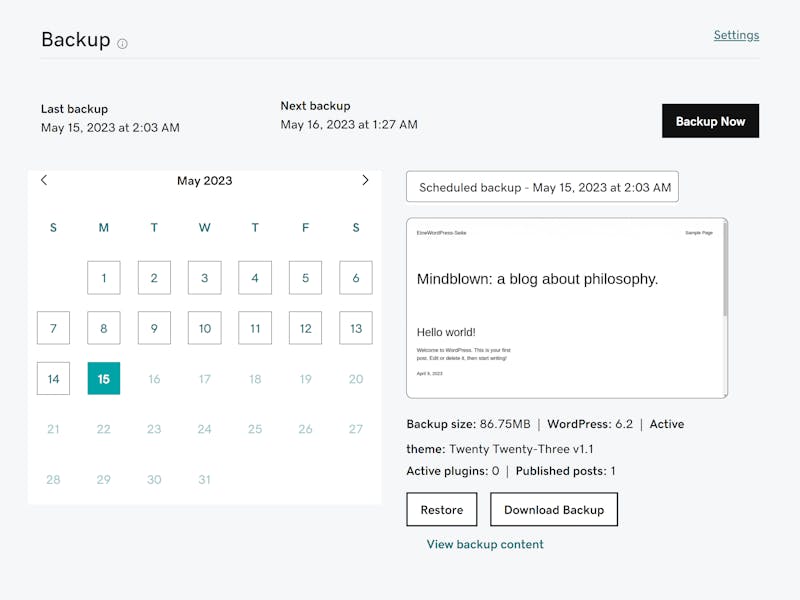 GoDaddy stores backups for up to 90 days.
In light of the multiple and serious security incidents which have recently plagued GoDaddy, we cannot in good faith claim that your WordPress project is in good hands with the provider. Its lack of transparency and the rudimentary security features on offer make us even more skeptical. The silver lining is that GoDaddy does well in terms of backups.
Does GoDaddy do better in terms of performance than security? To find out, we assessed four of the most important website metrics over the course of six weeks of GoDaddy hosting.
Provider Comparability
Comparing different hosts is not as easy as it might seem. Not only does each differ from one another, but, technical specifications and performance vary from plan to plan. In order to be as fair as possible, we booked the plan from each provider that was priced nearest to $20. For GoDaddy, this was the "Deluxe" plan, which costs $18.99 for a monthly subscription.
Response Time (Time to First Byte)
The first metric we measured was Time to First Byte, which is a good indicator of how powerful the server hosting a website is. This reflects the amount of time that elapses between when the first byte of a website is requested to when it's delivered to the user.
We measured TTFB with a disabled cache over the course of six weeks to find out whether there were any fluctuations or significant discrepancies. The graphic below shows the results (the slowest response time per hour):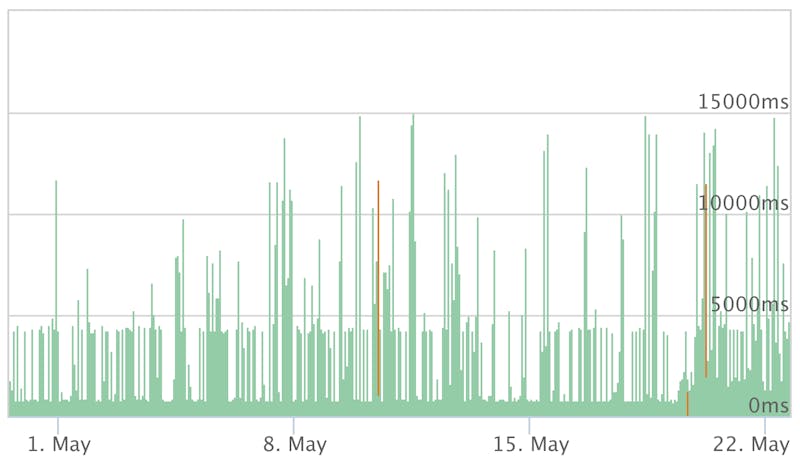 GoDaddy's TTFB over the course of six weeks.
As can be seen from the multitude of peaks, GoDaddy's response speed was inconsistent. Generally speaking, GoDaddy was among the slower services from our sample:
Page Speed (Largest Contentful Paint)
The second factor we measured was the largest contentful paint (LCP). This is one of Google's Core Web Vitals and reflects how long it takes for the most important and/or largest content element on a page to load. Since images, JavaScript, and CSS files are taken into consideration, LCP gives a good indication of a website's overall performance.
Over the course of six weeks, we performed multiple (daily) page speed tests (with caching enabled) and recorded the LCP. Here are our results:

LCP remained relatively stable throughout testing, but other providers were consistently faster.
When comparing GoDaddy's result with the average page speeds of other providers from our sample, GoDaddy was again among the slower services:
Load Test (50 Simultaneous Users)
In order to determine whether the WordPress website you're hosting on GoDaddy can handle a sudden increase in visitors, we checked how the platform reacts when 50 users requested our website at the same time. To be thorough, we ran the test once with caching enabled and once with it disabled.
GoDaddy didn't have any issues with caching enabled (just like the rest of the services from our sample). Even with caching disabled, overall response times, despite a few outliers, were solid.
From the diagram below, you can see how response times changed (as the number of visitors grew):

Even with caching disabled and a sudden increase in visitors, response times remained solid.
When comparing the average response time of an uncached page in our load test with the results from the other hosting providers from our sample, GoDaddy finished in the middle of the pack:
Availability (Uptime)
Fast load times only matter if your website is actually online. To find out how reliable each provider from our sample was, we checked once per minute over the course of six weeks whether the website was available.
In terms of uptime, getting as close to 100% is important - Even though 99.5% might seem good, it actually indicates that over the course of a month, a website is unavailable for three-and-a-half hours. With 99.98% uptime, GoDaddy was actually one of the less reliable services from our sample:
Overall Performance
GoDaddy is definitely not one of the fastest nor most powerful hosting providers from our sample. All the same, GoDaddy still managed to earn a "good" overall performance score:
| Provider | TTFB | Pagespeed | Load Test | Uptime | Total |
| --- | --- | --- | --- | --- | --- |
| WP Engine | 0.21 s | 1.17 s | 0.26 s | 100 % | 10 |
| Siteground | 0.22 s | 0.98 s | 0.21 s | 99.98 % | 10 |
| WordPress.com | 0.20 s | 1.36 s | 0.16 s | 100 % | 9.5 |
| Cloudways | 0.13 s | 1.17 s | 1.64 s | 100 % | 9.4 |
| IONOS | 0.27 s | 1.09 s | 2.22 s | 100 % | 8.7 |
| GoDaddy | 0.34 s | 1.38 s | 0.54 s | 99.98 % | 8.7 |
| Kinsta | 0.31 s | 1.16 s | 2.37 s | 99.99 % | 8.6 |
| Hostinger | 0.49 s | 1.30 s | 0.21 s | 99.83 % | 7.5 |
| Flywheel | 0.13 s | 0.98 s | 3.38 s | 99.78 % | 7.5 |
You can access GoDaddy's support center by clicking on the question mark symbol in the upper right of the dashboard. Along with several FAQs, there's also a search tool that you can use to find answers to specific problems or issues.
For an overview of all support articles GoDaddy offers, you can head to the Help Center by clicking on the similarly named option in the upper left. Articles there are organized by subject, and there's a dedicated area for managed WordPress hosting.
The articles themselves are well-written and nicely structured: They include screenshots, hyperlinks, and a list of relevant titles for further reading.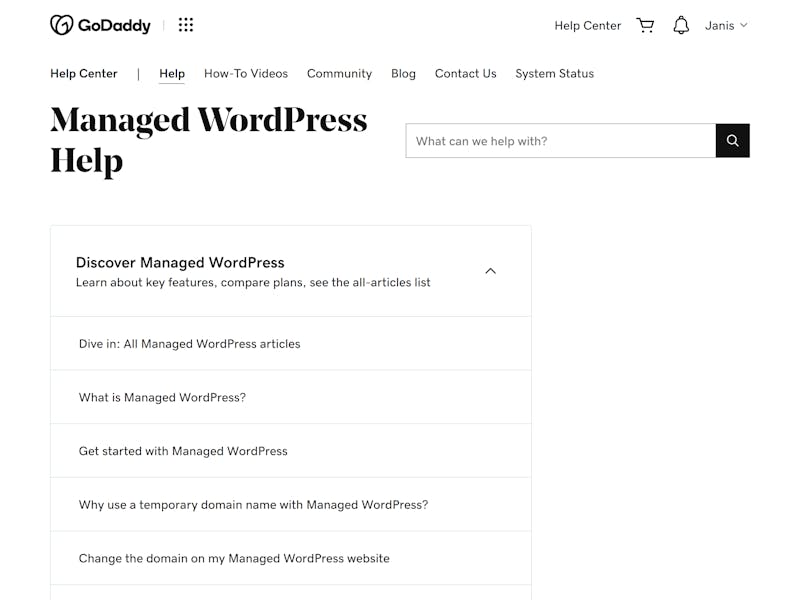 GoDaddy's static support is well-organized and informative.
In addition to guides and articles, there are also several courses with video tutorials.
Hotline and Chat Support
Live support is available either on the phone or through a chat. The hotline is staffed Monday-Friday, 24 hours a day. When calling, we were connected to a support team member within less than a minute. Unfortunately, they weren't able to answer our questions either about GoDaddy or its managed WordPress hosting packages.
Our live chat experience was even worse: The support staffers appeared to have worked off a script and didn't actually answer our questions. Even basic questions, such as whether GoDaddy supports HTTP/3, went unanswered.
Static support is solid, however, our experiences with the provider's live support were far from ideal.
Should you only need a single WordPress page, GoDaddy offers four WordPress subscription plans: Managed WordPress Basic, Managed WordPress Deluxe, Managed WordPress Supreme, and Managed WordPress-E-Commerce.
These vary in terms of storage space (20 GB, 40 GB, 60 GB, 80 GB) and the number of integrated mailboxes (2, 3, 5, 5). Beyond that, certain features are only included in the more expensive packages, such as staging (starting from Managed WordPress Deluxe) or WooCommerce (starting from Managed WordPress E-Commerce).
In addition to the standard packages, there are also several plans for agencies and designers who need the ability to host multiple websites.
Below, you'll find an overview of all of GoDaddy's rates:
Basic
Deluxe
Supreme
E-Commerce
Set-up Fee
$0.00
$0.00
$0.00
$0.00
Monthly Price
from $5.87
from $10.49
from $13.99
from $20.99
Contract Period (Months)
1 - 24
1 - 24
1 - 24
1 - 12
Included
WP Installations
1
1
1
1
Storage
20 GB
40 GB
60 GB
80 GB
Domains
1
1
1
1
Databases
1
1
1
1
SSL Certificates
1
1
1
1
Features
SSD Storage
SSD Database
HTTP/2
SSH
External Domains
Automatic Backup
Cronjobs
But how does GoDaddy compare in price to the other WordPress hosts from our sample? Owing to the large number of plans that each provider offers, direct comparisons are difficult. For that reason, we used the lowest-priced subscription from each as a template:
1.
2.
3.
4.
5.
6.
7.
8.
9.
GoDaddy does not offer a free trial of its hosting packages. It does, however, provide a money-back guarantee: When booking a yearly package, you'll have 30 days to request a refund; monthly subscribers can cancel within 48 hours.
Overall, GoDaddy is one of the more affordable hosting services, however, you'll have to make do with fewer features, worse security, and unimpressive performance. As such, the price-performance ratio isn't great.
Conclusion
Configuration & Usage
9.4 / 10
Technology & Features
6.0 / 10
When comparing GoDaddy head-to-head with other services from our sample, it rarely comes out on top: The platform is definitely user-friendly, however, it's noticeably less flexible and customizable than its competitors. Its performance is decent, but many of its rivals offer faster loading speeds and better uptime. Our biggest issue is with its security, as the major incidents in the past are serious and worrying.
At the very least, GoDaddy is affordable, making it worth checking out for those on a budget. However, if you can afford a different provider, there are much better hosting solutions on the market.
GoDaddy WordPress Hosting
GoDaddy is affordable and reasonably intuitive, but less flexible and powerful than its competitors. We also can't look past the company's many security incidents over the years – and its continuing lack of transparency.
WP Installations
Space
Domains
Contract Period
GoDaddy Basic
$5.87
monthly price
Visit Website*
Customer Reviews
And what do GoDaddy's customers have to say about the platform? We compiled verified reviews from a number of leading online sources for you below:
Customer Ratings
101,327 Bewertungen
Visit Website*
We analyzed the reviews and ratings from various portals and found 101,327 ratings with an overall rating of 4.6 out of 5 .
Alternatives
Are you willing to pay slightly more for a hosting provider specialized in WordPress that is equally user-friendly and offers more features? If so, Kinsta is a good choice.
Below, we've listed our first best WordPress hosting alternatives to GoDaddy:
SiteGround WordPress Hosting
SiteGround won us over with excellent speeds, extensive features, and an intuitive interface – all at comparatively low prices, domain and email included.
great speeds with CDN & caching
automatic updates & backups
staging and multisite support
9.1

excellent
WP Installations
Space
Domains
Contract Period
SiteGround StartUp
$8.49
monthly price
Visit Website*
30 Tage Geld-zurück-Garantie
Kinsta is a highly polished WordPress hoster that combines solid speeds, high security standards, and a beautiful interface into a premium offering worth its premium price tag.
strong performance results
integrated Cloudflare CDN
only 14 days of backup retention
8.8

good
WP Installations
Space
Domains
Contract Period
Kinsta Starter
$29.17
monthly price
Visit Website*
Free Demo Account
WP Engine WordPress Hosting
WP Engine ranks first in our performance test – testament to the platform's 100 % WordPress focus. User-friendly dashboards, high security standards, and solid support round off the package.
100 % specialized in WordPress
top performance with CDN & caching
staging & multisite support
some features behind paywalls
8.6

good
WP Installations
Space
Domains
Contract Period
WP Engine Startup
$20.00
monthly price
Visit Website*
Hostinger WordPress Hosting
Hostinger offers a comprehensive set of features, high security standards, and a neat user interface. When it comes to support and performance, however, it's not top of the line.
WP Installations
Space
Domains
Contract Period
Hostinger Premium
$2.99
monthly price
Visit Website*
WordPress.com WordPress Hosting
WordPress.com lives up to its name: the hosting service from the people behind WordPress offers excellent speeds, reliable support – and the only free plan among the providers we tested.
WP Installations
Space
Domains
Contract Period
WordPress.com Free
$0.00
monthly price
Visit Website*
FAQs
Can GoDaddy host a WordPress website?
⊖
Yes, GoDaddy hosts WordPress websites. The hosting service even offers special plans for WordPress users, making it easy to install WordPress instances and manage them.
How much does GoDaddy's WordPress hosting cost?
⊖
GoDaddy markets four WordPress subscription plans. The most affordable of these, with which you can host a single website, only costs a few dollars per month. However, the more storage space and features you need, the higher the price will be. Overall, GoDaddy's managed WordPress hosting is very affordable.
Is GoDaddy a good choice for WordPress hosting?
⊖
GoDaddy wasn't among the leading WordPress hosts in our EXPERTE.com comparison. This is owing to its lack of customization, past security issues, and poor support.
How does GoDaddy perform?
⊖
GoDaddy performed well, especially during our load test. Several hosting services offer faster loading speeds and better availability.
* Ad disclaimer:
For links marked with an asterisk, EXPERTE.com may earn a commission from the provider. The commission has no influence on our editorial rating.

Janis von Bleichert studied business informatics at the TU Munich and computer science at the TU Berlin, Germany. He has been self-employed since 2006 and is the founder of EXPERTE.com. He writes about hosting, software and IT security.
Continue Reading