Wix Alternatives 2023: Comparing 11 Site Builders

Our editors test and evaluate all services independently. For links on this page, EXPERTE.com may earn a commission from the provider.
If you want to create a website, but lack programming or design skills, site builders like Wix should definitely be on your radar. The intuitive platform offers users a considerable degree of creative freedom, access to tons of features, and a well-stocked app marketplace. For these reasons and more, Wix came out on top in our comprehensive EXPERTE.com assessment. Still, just because we liked it doesn't mean that it's the best solution for you.
Every site builder has advantages and disadvantages, so, even though Wix offered the best overall package in our eyes, plenty of other platforms excel in specific areas where Wix isn't a match for their software. In this review, we've taken a closer look at the best alternatives to Wix and will let you in which aspect each outperforms the Israeli service.
1.
More Aesthetic Templates: Squarespace Site Builder
Squarespace Website Builder
Squarespace can impress with flawless designs and high quality templates, which make the creation of professional websites a piece of cake – but comes at a higher price compared with the competition.
Space
Domains
Templates
Contract Period
Squarespace Personal
$16.00
monthly price
Visit Website*
14 Days Trial Period
A website's design is usually the first thing that a visitor notices, with an unappealing layout unable to salvage even the best content. With Squarespace, templates and appearances are the stars of the show: First-class designs are something like the site builder's calling card, and have propelled it into becoming one of the most popular tools on the market.
Squarespace offers considerably fewer templates (122) than Wix (more than 800), however, the quality of Squarespace's designs is indisputable. You'll be able to select from five different templates types (Online Store, Portfolio, Memberships, Blogs, or One Page), categorized according to topics such as "Professional Services", "Entertainment", or "Fashion".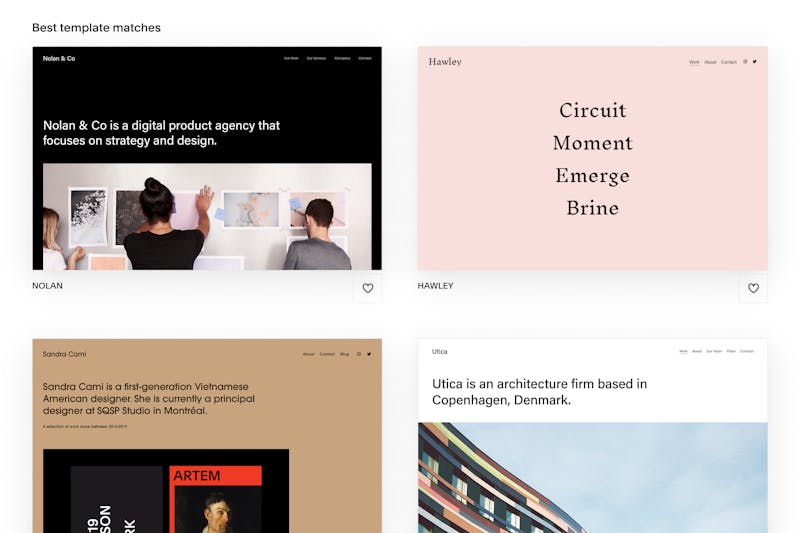 Squarespace scores with its top-of-the-line designs, which we favored over those offered by Wix.
Since most websites created with Squarespace are eye-catching, all you'll have to worry about is filling your new page with content. All the same, these will have the "Squarespace look", especially since the platform lacks full drag and drop, meaning that users can make fewer changes or adjustments than with Wix. Accordingly, it's difficult to break out of the Squarespace mold and customize your website.
Still, Squarespace is a good choice for those who are in the market for a clean, elegant, visually-driven design for their digital presence. You can find a more in-depth comparison of our two frontrunners in our Wix vs. Squarespace article.
120+ high-quality, visually appealing templates

Solid help center featuring a live chat
Relatively expensive; no free version

Lacks a dedicated app marketplace and has few extensions

Some templates look very similar to one another
Configuration & Usability
10 / 10
Marketing, SEO & Ecommerce
8.6 / 10
Templates & Design
8.0 / 10
2.
For Dedicated Online Shops: Shopify
Shopify is a great all-rounder for small, medium, or larger shops. If you're looking for a platform that's more powerful than a regular website builder, but not as complicated as other ecommerce platforms, Shopify might offer the right mix.
Number of Products
Transaction Fee
Sales Channels
Payment Options
Shopify Basic
$29.00
monthly price
Visit Website*
14 day free trial
Alongside all-in-one site builders like Wix, there also exist dedicated ecommerce platforms, such as Shopify, which focus entirely on helping users to open and manage a digital business.
In terms of ecommerce, Shopify definitely has a leg up over Wix: The service allows users to sell products in different currencies, access more payment gateways, and integrate a greater number of ecommerce apps. When it comes to dropshopping and POS, Shopify also has the Israeli service beat.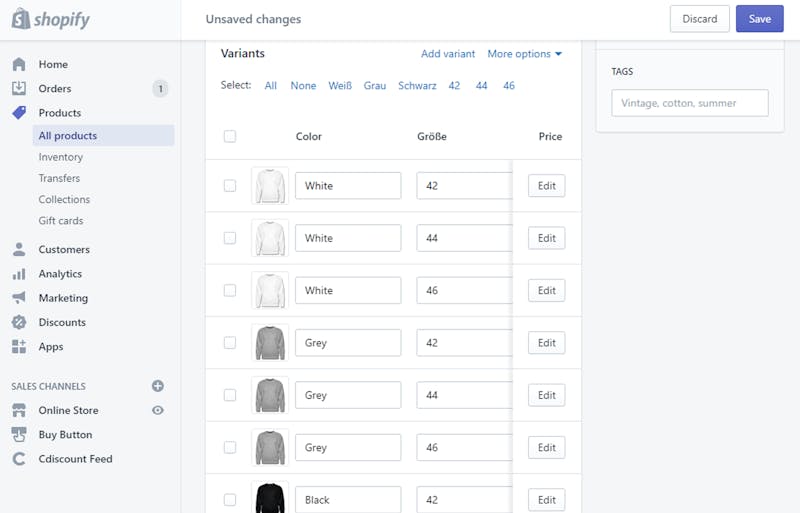 For ecommerce projects, Shopify offers more developed features than Wix.
Still, Wix is the better option for multi-purpose websites that feature an online shop, since you'll have access to a better editor at a lower price. Unlike Wix, Shopify doesn't offer a free version, and with the former, you won't have to worry about transaction fees.
All the same, Shopify is recommended if you're intending to open a dedicated online store.
User-friendly and easy to navigate dashboard

Sizable app store packed with plenty of features
Transaction fees, should you use external payment gateways
Configuration & Usage
9.4 / 10
Marketing & Analytics
9.4 / 10
Product Management
8.6 / 10
Personalizing Your Store
8.6 / 10
3.
More Powerful Editor: MyWebsite by IONOS
Due to its rather complex editor, IONOS MyWebsite comes with a bit of a learning curve, but rewards those who stick with it with wide-ranging creative possibilities that enable unique websites.
supports multilingual sites
not all templates are great
8.8

good
Space
Domains
Templates
Contract Period
IONOS Starter
$8.00
monthly price
Visit Website*
30 days risk-free
Wix isn't the only site builder that grants its users full drag and drop freedom. Subscribers to MyWebsite by IONOS will also be able to move and format content to their heart's content, adjusting the appearance of their website's front end accordingly. As a result, MyWebsite's editor offers greater customization over the editors that come with Squarespace, Weebly, or SITE123, which only allow limited adjustments.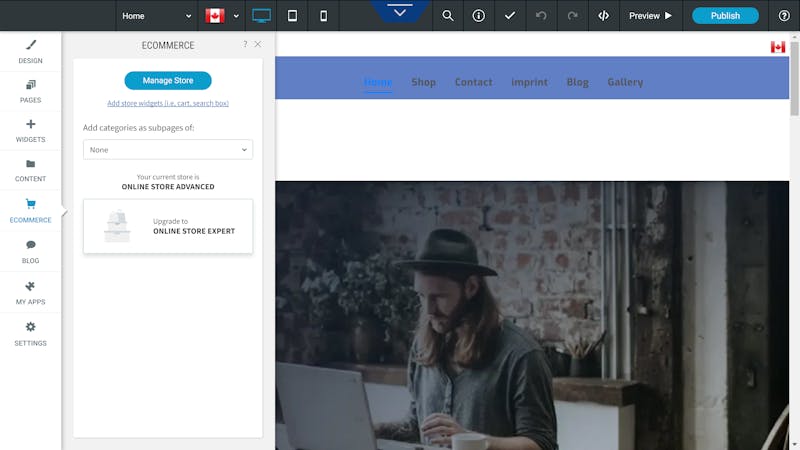 MyWebsite by IONOS allows users to let their creative freedom run wild, however, it drops a few points in terms of beginner-friendliness.
Beginners will have a tougher time with MyWebsite by IONOS than Wix, owing to the former's multiple pop-up menus and somewhat confusing setting options. Those who take the time to get familiarized with the platform though will be rewarded with a powerful site builder providing nifty features, solid marketing tools, and comprehensive tools that are conducive to maximum customization.
Powerful editor offering lots of customization options

Wide selection of templates
Somewhat complicated and overfilled editor
Templates & Design
8.6 / 10
Marketing, SEO & Ecommerce
8.6 / 10
Configuration & Usability
8.0 / 10
4.
Best of Both Worlds: Webflow Site Builder
Webflow is a hybrid between website builder and CMS, and requires a basic understanding of coding logic. It's less suitable for beginners – but its visual design tools are a great way for more advanced users to create dynamic websites.
mix of CMS & website builder
more powerful than WYSIWYG editors
learning platform "Webflow University"
visual design with zero code
8.7

good
Space
Domains
Templates
Contract Period
Webflow Starter
$0.00
monthly price
Visit Website*
Start for Free
When it comes to the site builders we assessed, Webflow is almost in a league of its own. The content management system (CMS)/website builder hybrid is definitely more technically demanding than any of the other platforms we evaluated.
This brings both advantages and disadvantages. Should you be in the market for a website builder in order to avoid programming, Webflow likely won't be your cup of tea. The entire platform is based around coding logic, even though back end processes are intuitively visualized. As a result, there are fewer restrictions on your creativity with Webflow than Wix, however, you'll need to have some familiarity with web design and programming to take full advantage of them.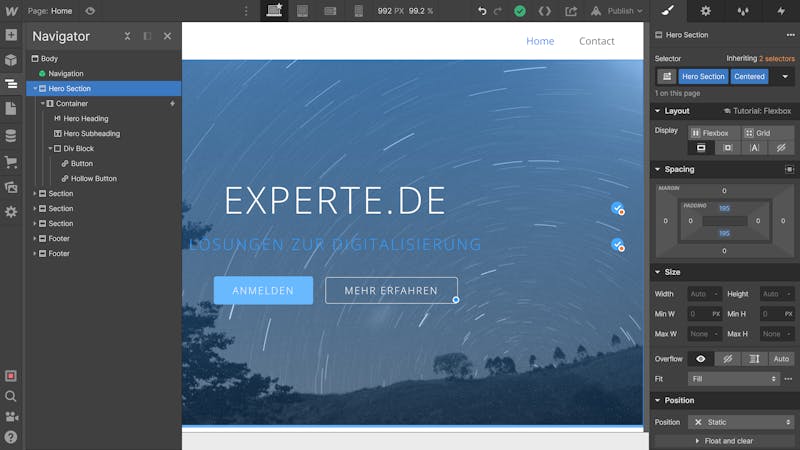 Webflow is more complicated to use than Wix, but also more flexible.
If you're undecided, perhaps the excellent "Webflow University" learning center will help. This includes numerous tutorials and courses which do a fantastic job of explaining the platform's ins and outs. As a result, whereas with other site builders pretty much anyone can start using them out of the box, those beginning with Webflow should be ready to learn. Your diligence and patience are rewarded though, as the service does almost nothing to limit your creativity or how you manage your site.
Offers nearly endless possibilities

Excellent learning platform (Webflow University)
Knowledge of programming and design advantageous
Templates & Design
9.4 / 10
Marketing, SEO & Ecommerce
8.6 / 10
Configuration & Usability
7.4 / 10
Other Alternatives
Weebly
Weebly is beginner-friendly, setting itself apart from its competitors owing to its nifty mobile app. With this, building or managing your website on the go is made easy. In general, Weebly somewhat curbs freedom of design with its 'paint by numbers' approach to drag and drop. Another weak spot is its template gallery, which in our opinion, could be augmented and varied.
With its intuitive drag-and-drop functionality and an unrivaled smartphone app for mobile website building, Weebly makes homepage creation easy even for beginners.
Space
Domains
Templates
Contract Period
Weebly Free
$0.00
monthly price
Visit Website*
Try for Free
SITE123
SITE123 also sets relatively strict limits on how far users can customize the design of their site or edit templates. Ready-made layouts can only be modified only slightly, and it isn't possible to freely move content around, like with Wix. The upside to this is that beginners can design a website in no time at all with the platform.
SITE123 deliberately limits users' design freedom in order to streamline and simplify the creation of professional-looking websites. Users can't really make any mistakes – but they can't really create unique looking websites either.
great 24/7 support with chat
intuitive, beginner-friendly editor
unclear pricing structure
8.0

good
Space
Domains
Templates
Contract Period
SITE123 Free
$0.00
monthly price
Visit Website*
Try for Free
Jimdo
Similar to Wix, Jimdo offers two editors, one of which is an AI-assisted option for beginners that makes creating a website even easier. In our opinion, Jimdo's balancing act between user-friendliness and versatility is less impressive than Wix's approach, and especially in terms of ecommerce, you'll have to make do with fewer options. For a comprehensive comparison of the two, be sure to check out our Wix vs. Jimdo article.
Jimdo accommodates beginners with its AI-based editor, while offering solid personalization options with its standard editor. The free plan makes the platform a great fit for personal projects and blogs as well.
75 high-quality templates
weak product inventory management
7.9

good
Space
Domains
Templates
Contract Period
Jimdo Play
$0.00
monthly price
Visit Website*
Try for Free
Overall Ranking
We tested 10 website builders according to five scored and one unscored criterion. Our final ranking, headed by Wix, is presented below:
Conclusion
We're going to say it again: Every site builder has benefits and drawbacks. In our eyes, Wix is the best all-rounder, however, that doesn't mean it should be the first pick for every kind of website project. Should you value high-quality, elegant designs, Squarespace might be a better option. For purely ecommerce projects, Shopify provides a wider array of options, and for those with some programming experience looking for unlimited design freedom, Webflow seems like the right ticket.
Since Wix offers a free version of its software, there's not really any argument against giving it a shot. In the event that it doesn't match your expectations, don't worry, there are plenty of excellent alternatives just a few clicks away. To consult our reviews for 9 of the best of these, be sure to take a look at our comprehensive site builder comparison.
Wix beats out the competition with an unmatched variety of features, intuitive editors and a jam-packed app store. Overall, the platform offers the best balance of usability and features on the market today.
lots of features and elements
simple & intuitive interface
9.6

excellent
Space
Domains
Templates
Contract Period
Wix Free
$0.00
monthly price
Visit Website*
Try for Free

Martin Gschwentner majored in American Studies and Media Studies in Germany, the USA and France and works as a freelance editor in Paris. He is a doctoral student at the Institute for English and American Studies at the University of Paris Diderot, where he is researching the influence of money on US politics. On EXPERTE.com he writes about IT security, data protection and software for the self-employed and small businesses.

Translator & Editor: D Bare
Continue Reading
Ad disclaimer
* For links marked with an asterisk, EXPERTE.com may earn a commission from the provider. The commission has no influence on our editorial rating.