Squarespace vs. Wix: Top Site Builders Go Head-to-Head 2023

So you want to create your own website and are currently looking for the best site builder? In that case, you've likely crossed paths with Squarespace and/or Wix. Both are well-suited for beginners lacking a background knowledge of programming or web design, and are two of the most popular platforms out there. Only one question remains: Which is best for your project?
In our comprehensive EXPERTE.com comparison of site builders, we thoroughly assessed Wix and Squarespace. Here, we wanted to have an even closer look and put each head-to-head across seven aspects to let you know which platform performs better in which area.
Squarespace vs. Wix
many high-quality templates
simple & intuitive interface
jam-packed app marketplace
Domains free for one year only
9.6

excellent
Space
Domains
Templates
Contract Period
Wix Free
$0.00
monthly price
Visit Website »
Try for Free
Squarespace Website Builder
Space
Domains
Templates
Contract Period
Squarespace Personal
$14.00
monthly price
Visit Website »
14 Days Trial Period
We didn't only pay attention to which platform was easiest to set up in this category, but also, how user-friendly each's editor was.
Squarespace scores with its clear usage concept
It doesn't take long to create a Squarespace account, and even though the provider doesn't offer a free version of its software, you can take advantage of its 14-day trial to try the service without having to supply any payment information.
Squarespace's editor is intuitive and should make it possible for beginners to harness its power in no-time flat. In it, you'll add content to your website step-by-step via ready-made content blocks, the content of which you can adjust, but not freely move around. This makes it very simple to use the editor, even if limits the level of creative freedom you'd enjoy with services like Wix (which offer full drag and drop functionality in their editors).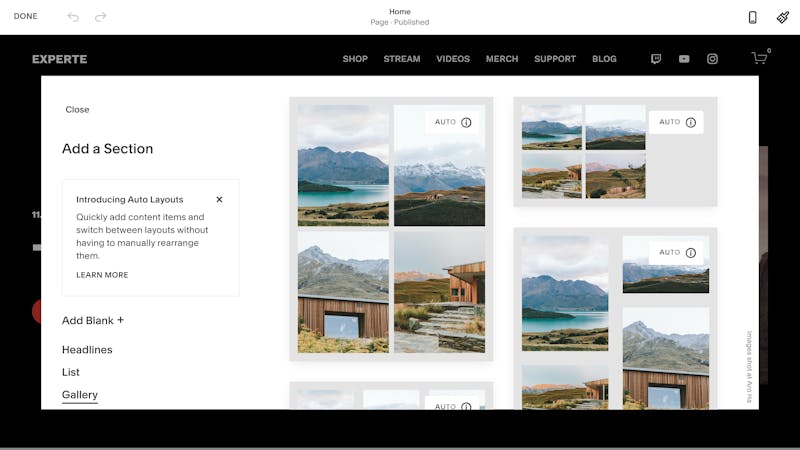 With its ready-made sections, building a website with Squarespace is a little bit like putting Legos together.
Squarespace is geared towards users of any experience level, as readily reflected in its tidy and intuitive interface.
Wix offers a simpler editor for beginners
Wix also doesn't put any hurdles in your way when it comes to registering with its service. In contrast to Squarespace, Wix offers two editors (a standard one, and an AI-assisted ADI version). The latter is great for beginners, making the process of creating a website with ready-made and visually-harmonized pages particularly easy.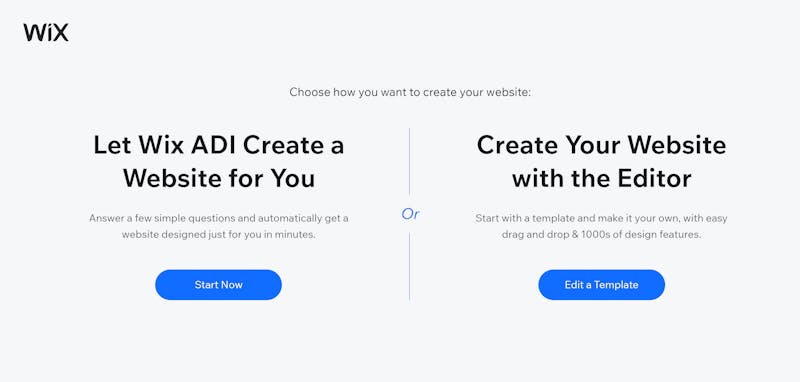 With Wix, you can choose between two different editors.
Of course, the standard editor offers considerably more features and design freedom. With it, you can move all elements around freely and arrange your website to your exact preferences. Unlike Squarespace, you'll have full drag and drop freedom, meaning that you won't need to adhere to any specific positions or guidelines.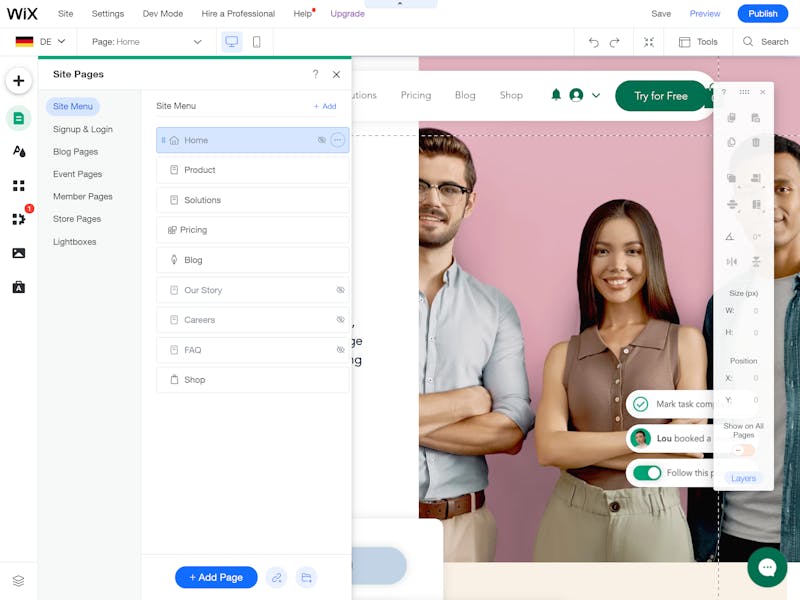 Wix's standard editor is more complex than its ADI editor, however, you're afforded a greater variety of features and more creative freedom.
Since Wix's ADI editor is too limited in its capabilities, we would recommend that beginners take the time necessary to get to know its standard editor. Without a doubt, this is more complicated than Squarespace, which manages to strike a slightly better balance between beginner-friendliness and the variety of features on offer.
Winner: Squarespace
When it comes to features, there isn't much separating Wix and Squarespace.
Squarespace: Solid features with some shortcomings for multi-lingual websites
Squarespace provides its users with access to a solid package of features. Versatile content blocks can be found for all of the most important and common types of content, even pertaining to specific branches, such as menu templates for restaurants. Accentuating this are powerful blogging capabilities, which make it possible to endow your posts with tags, categories, and enhanced features, such as geotagging.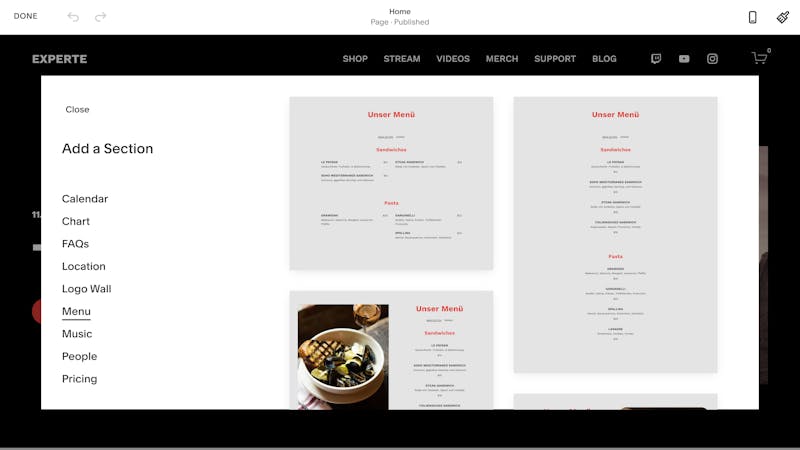 Squarespace provides ready-made content templates such as restaurant menus, FAQ sections, or price lists.
Squarespace reveals one of its weaknesses when it comes to the creation of multi-lingual websites. So long as you don't plan on using a paid, third-party tool, you'll need to create a separate folder in your navigation menu to do this, duplicating every page on your site and filling them with translated content in your target language. Adding insult to injury, Squarespace's app market is fairly small and more a shabby strip mall than a sprawling bazaar.
Wide variety in terms of content and features with Wix
Wix has solutions ready for each of Squarespace's weaknesses. Its app market is teeming with hundreds of integrations, many of which are free. And multi-lingual websites can be set up with just a few clicks in the editor's language settings area.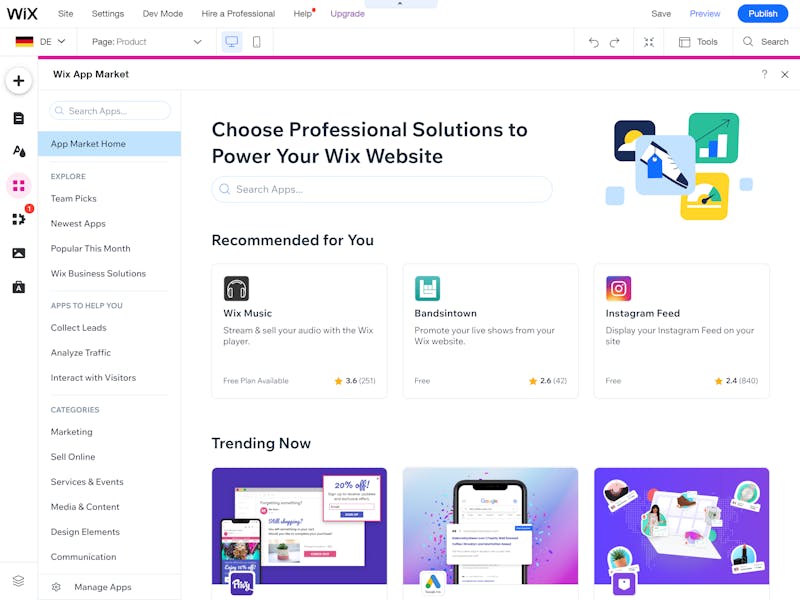 In Wix's app market, all sorts of extensions are waiting for you.
Looking beyond those strengths, Wix provides access to nearly all features that Squarespace does, and even a few that it doesn't. The selection of content elements is a bit greater and in terms of Marketing and Ecommerce, Wix has more to offer (but more on that below). As such, this round goes handily to Wix.
Winner: Wix
For this category, we didn't only rate the selection and quality of templates on offer, but also, the extent to which each platform's editor allows you to modify or adjust these to your preferences.
Top designs, limited editing with Squarespace
If there's something that Squarespace is known for, it has to be its high-quality and iconic templates. The platform has built a reputation around its elegant, clean, and responsive designs, 122 of which were available for use when we wrote this review.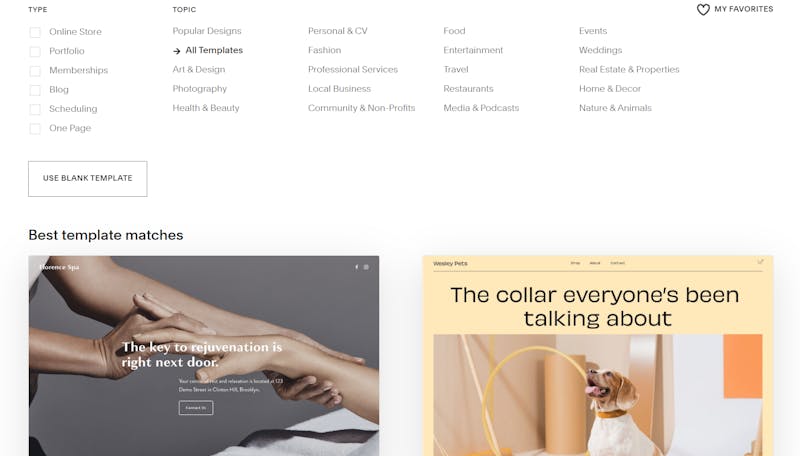 With Squarespace, quality is clearly preferred to quantity, with each and every template measuring up to the platform's high standards.
Owing to its editor's limited drag and drop functionality, these templates cannot be as readily or flexibly customized as in some of the other site builders from our sample. With Squarespace, the templates determine where you can place buttons, images, and text. Should a particular template catch your eye, filling it with content is really the only thing you'll have to worry about. At the same time, customizing designs is somewhat more difficult than elsewhere because of this approach.
Wider selection and more freedom with Wix
Wix offers more than 800 different templates, with quite a few either not being of the same high quality. All the same, you will be afforded quite the variety of templates, even though Wix (like other site builders) had started to move towards image-intensive, scroll-friendly designs.
Within a template you'll be afforded a much freer hand than with Squarespace: In addition to customizing settings, you can also adjust colors, backgrounds, add effects, such as mouseover or parallax, and freely move nearly any content element.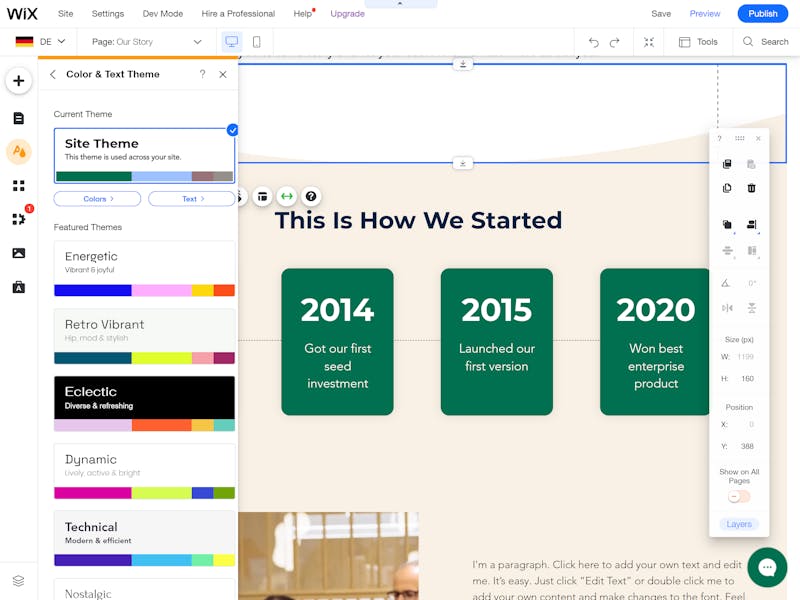 With Wix, you'll be afforded considerably more creative freedom than with Squarespace.
Despite Squarespace's template quality, the design freedom you'll have with Wix puts it just ahead of the New York-based platform.
Winner: Wix
4.
E-Commerce, Marketing & SEO
Right upfront: With both Squarespace and Wix, you'll be able to set up and manage an online store.
Solid ecommerce and marketing features with Squarespace
If using Squarespace, you'll be able to add an online store to your website as a new page via the main menu. After that, you can take care of managing your physical and digital products or services. The platform offers quite a few options for these as well: You can tag and categorize your wares and create different variations of the same product.
Squarespace also comes with a number of integrated marketing features. These include a simple email marketing tool, user-defined coupons, and Facebook and Instagram integrations that come in handy for promoting your products on social media channels.
Unfortunately, even in its Business subscriptions, Squarespace charges transaction fees. Should you want to avoid these, you'll need to book the most expensive ecommerce package.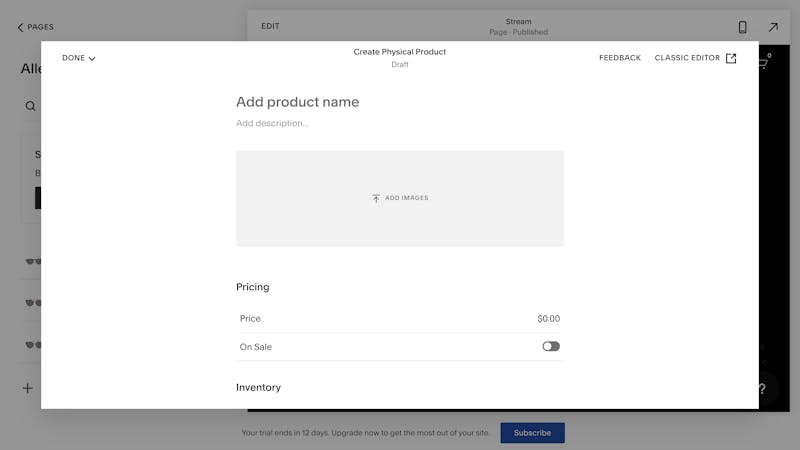 Squarespace facilitates the sale of physical and digital products, services, and even subscriptions.
Enhanced ecommerce features with no transaction fees from Wix
Wix also facilitates the sale of physical and digital products as well as services. Beyond that, you can promote your goods with sales and other tools. In Wix's marketing center, you'll be given the ability to send email newsletters, create marketing videos, and even ads. You won't have to worry about transaction fees in any of Wix's subscription packages, and as a result, can hold onto more of your earnings than with Squarespace.
Features that Wix doesn't offer itself are usually available in the form of apps from the platform's marketplace. There, you'll find an app that allows you to display your goods in different currencies, something that isn't possible with Squarespace.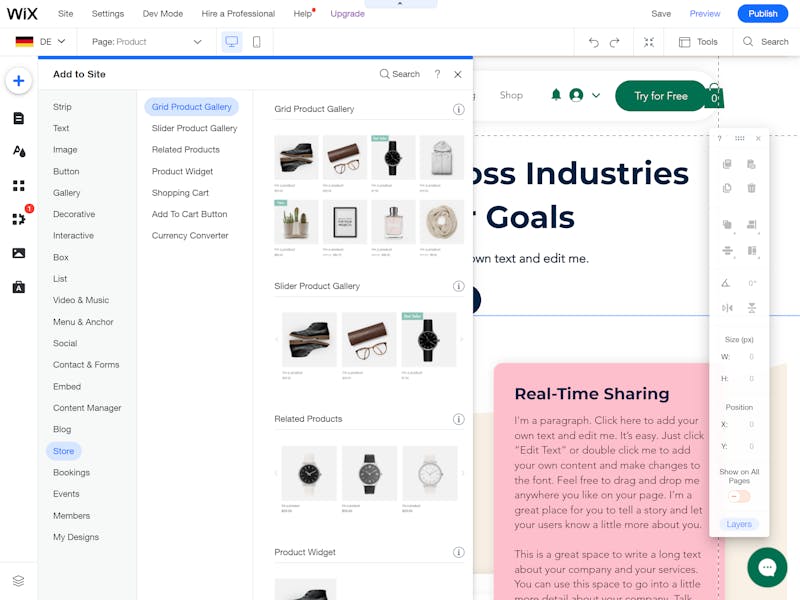 Wix offers comprehensive ecommerce features.
However, Squarespace also provides a few options that Wix doesn't cover, such as rescuing abandoned shopping carts or interrupted sales.
The platforms are just too close in this category for us to call a clear winner. We think that the better provider depends largely on what your ecommerce and marketing needs and goals are. In terms of SEO, there's little separating the two.
Winner: Draw
Customer support was an area for improvement among quite a few of the providers from our sample. Thankfully, we had good experiences with both Wix and Squarespace.
Faster support with a live chat from Wix
Wix scores thanks to its comprehensive guides and well-stocked, full-text searchable Help Center. Direct support is somewhat hidden (only after marking an entry as "Not helpful" in the Help Center will a link to a contact window appear). All the same, we were assisted in short order: In the live chat, it only took a few seconds for a support staffer to respond to our query and questions can be posed 24 hours a day. The Israeli provider also offers a call-back hotline service.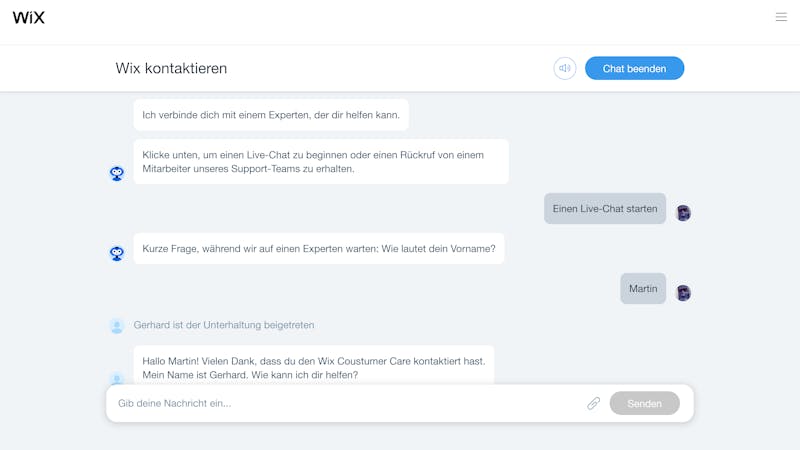 We were helped in no time in Wix's live chat.
We liked Squarespace's help center even more than Wix's. Essential guides are provided in video format, and the service offers regular webinars and a forum where users can pose questions or discuss aspects of the site builder.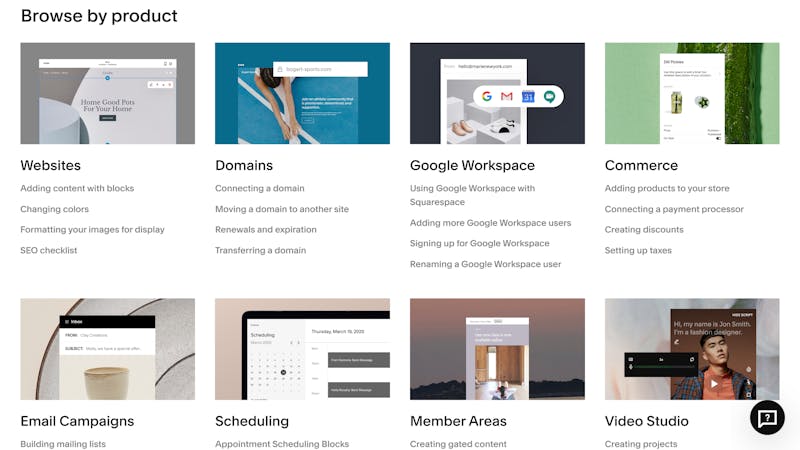 Squarespace makes plenty of support content such as webinars and tutorial videos available.
As with Wix, Squarespace also offers a live support chat, however, this has somewhat limited hours of operation. An email option is also available, with answers sent 24 hours a day.
When it comes to live support, Wix has an edge, however, we liked Squarespace's static support just a bit more. Overall, you're in good hands with either provider.
Winner: Draw
Wix offers a free version - Squarespace doesn't. As such, should you want or need a free website, there's only one choice.
Wix's Rates
Beyond that, Wix offers a total of seven premium subscriptions, divided into four website (Connect Domain, Combo, Unlimited, and VIP) and three business/ecommerce packages (Business Basic, Business Unlimited, Business VIP).
All of the above include a unique domain, SSL certificate, and 24/7 customer service. In terms of storage, these increase with each package, starting from a mere 500 MB in the Connect Domain package, and extending up to 35 GB (VIP ) and 50 GB (Business VIP). The two least expensive website packages cap bandwidth at 1 and 2 GB, respectively. The other five packages come with unlimited bandwidth. Wix is ad-free starting with the Combo subscription.
Free
Combo
Unlimited
Set-up Fee
$0.00
$0.00
$0.00
Monthly Price
$0.00
from $10.00
from $13.00
Contract Period (Months)
0
1 - 36
1 - 36
Included
Space (GB)
0.5
3
10
Pages
unlimited
unlimited
unlimited
Traffic (GB)
1
2
unlimited
Custom Domain
Domains Included
0
1
1
Features
Free of Ads
SSL Encryption
Blog
Ecommerce
Multilingual Sites
Squarespace Subscriptions
Squarespace only offers four subscription packages: Two for regular websites (Personal and Business) and another two for online stores (Basic and Advanced). Each comes with a user-defined domain, an SSL certificate, as well as unlimited bandwidth and storage. Certain features are tied to specific subscriptions, and you'll need to contend with the above-mentioned 3% transaction fee if booking either of the two website subscriptions.
Personal
Business
Commerce
Set-up Fee
$0.00
$0.00
$0.00
Monthly Price
from $14.00
from $23.00
from $27.00
Contract Period (Months)
1 - 12
1 - 12
1 - 12
Included
Space (GB)
unlimited
unlimited
unlimited
Pages
unlimited
unlimited
unlimited
Traffic (GB)
unlimited
unlimited
unlimited
Custom Domain
Domains Included
1
1
1
Features
Free of Ads
SSL Encryption
Blog
Ecommerce
Multilingual Sites
With its free version and more competitive rates, Wix again edges out Squarespace in terms of pricing.
Winner: Wix
When it comes to customer ratings, Squarespace is slightly ahead of Wix. Many of its users commend the platform's beginner-friendliness and sleek designs. Criticism can be found though, primarily on Trustpilot, regarding its support and lack of customizability. Wix also comes in for some harsh words on Trustpilot, with most of the reviews negative in character, citing disruptions and long loading times.
Squarespace Customer Ratings
Customer Ratings
23,626 Bewertungen
Visit Website
We analyzed the reviews and ratings from various portals and found 23,626 ratings with an overall rating of 4.4 out of 5 .
Wix Customer Ratings
Customer Ratings
75,300 Bewertungen
Visit Website
We analyzed the reviews and ratings from various portals and found 75,300 ratings with an overall rating of 4.5 out of 5 .
Factoring all of the ratings together, Wix only achieved a "good" score, whereas Squarespace managed a "very good".
Winner: Squarespace
Conclusion
After seven rounds, Wix claimed victory in three: Features, Designs, and Pricing, just edging out Squarespace in each. Squarespace is somewhat more beginner-friendly and enjoys better customer and user ratings. We couldn't separate the two in terms of the other two areas, ecommerce and support.
As such, Wix ⇱ emerges victorious from its head-to-head with Squarespace, however, we should temper this by saying that it didn't knock Squarespace out (or vice versa) across any of the seven rounds. For anyone in the market for a site-building editor with complete drag and drop freedom and ready to come to terms with a somewhat more complicated user interface, Wix looks to be a good choice. If, on the other hand, you place a great deal of value on elegant, premium templates that you can edit and modify intuitively, Squarespace ⇱ could be right up your alley.
Full reports on all 10 of the site-building platforms we assessed in our sample can be found in our comprehensive EXPERTE.com review. In the event that you are planning to create a website to use as a basis for an ecommerce project or doing business online, we also suggest consulting our evaluation of the best online shop systems.
Wix succeeds with an unmatched feature set, intuitive editors and a packed app marketplace. Only with the blog features do we still see some room for improvement.
many high-quality templates
simple & intuitive interface
jam-packed app marketplace
Domains free for one year only
9.6

excellent
Space
Domains
Templates
Contract Period
Wix Free
$0.00
monthly price
Visit Website »
Try for Free
Marketing, SEO & Ecommerce
10 / 10
Templates & Design
9.4 / 10
Configuration & Usability
9.4 / 10

Author: Martin Gschwentner
Martin Gschwentner majored in American Studies and Media Studies in Germany, the USA and France and works as a freelance editor in Paris. He is a doctoral student at the Institute for English and American Studies at the University of Paris Diderot, where he is researching the influence of money on US politics. On EXPERTE.com he writes about IT security, data protection and software for the self-employed and small businesses.
Continue Reading