SiteGround WordPress Hosting Review 2023: Still as Good as Before?

Author
Janis von Bleichert
Ad disclaimer:
For links on this page, EXPERTE.com may earn a commission from the provider. This supports our work and has no influence on our editorial rating.
Do you know how much time and energy you could save by entrusting the technical aspects of your WordPress website to someone else? SiteGround is one of many managed WordPress hosting services that gladly take the burden off your shoulders in exchange for a monthly fee.
But why choose SiteGround? In this review, we'll discuss what SiteGround does better or worse than its competitors, and let you know what you can expect from the host's WordPress packages.
What Is SiteGround?
SiteGround* is a web hosting provider from Bulgaria (Sofia) that was founded in 2004 by a few college friends. From their project, a hosting empire spanning the globe has grown, with SiteGround operating data centers across seven countries, providing web hosting for more than 2.8 million domains.
In addition to regular web hosting, SiteGround offers dedicated WordPress hosting. We took a closer look at what this includes and will let you know in detail below.
SiteGround WordPress Hosting Review
Configuration & Usage
9.4 / 10
Technology & Features
9.4 / 10
Excellent performance
In all four of our performance tests (response time, page speed, load, and uptime) SiteGround received very good scores, making it one of the most powerful WordPress hosts on the market.

Lots of options in a user-friendly package
SiteGround is easy for beginners to come to terms with while also offering more advanced users a range of settings and configuration options.

Everything but a domain
The Bulgarian host serves up a nearly all-in-one package that includes email hosting. The only thing you'll need to purchase separately is a domain. There are also few paywalls in comparison to its competitors.
Manual backups are not included in all subscriptions
If automatic backups aren't enough, you'll need to purchase a GrowBig subscription (or higher) to be able to manually back up your website.
Anyone thinking about using SiteGround will probably ask "How quickly can I set up WordPress?" with it. The answer: In a matter of minutes, since SiteGround makes installing your WordPress instance easy.
The first thing you'll need is an account. After that, specify which data center you'd like your website to be hosted from (we chose Frankfurt, Germany).
Once you've created your SiteGround account and logged into the user portal, click on the blue "Set Up Website" button, select WordPress from the list of applications, and follow the instructions. From there, SiteGround will get your WordPress project ready, which should only take a few minutes.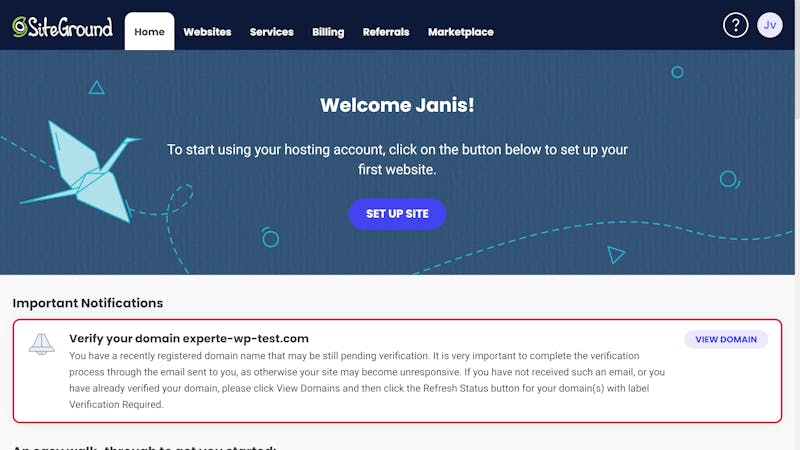 Configuring a WordPress website on SiteGround is straightforward.
Migrate Websites to SiteGround
Would you prefer to migrate an existing website to SiteGround rather than create an entirely new one? If so, you have two options: You can use a free plugin or pay SiteGround to handle the migration for you.
The migration plugin is very easy to use: Begin the site setup process in SiteGround's dashboard as detailed above, but select "Migrate Website" in the next step. You'll then receive a migration token, which you'll need for the transfer.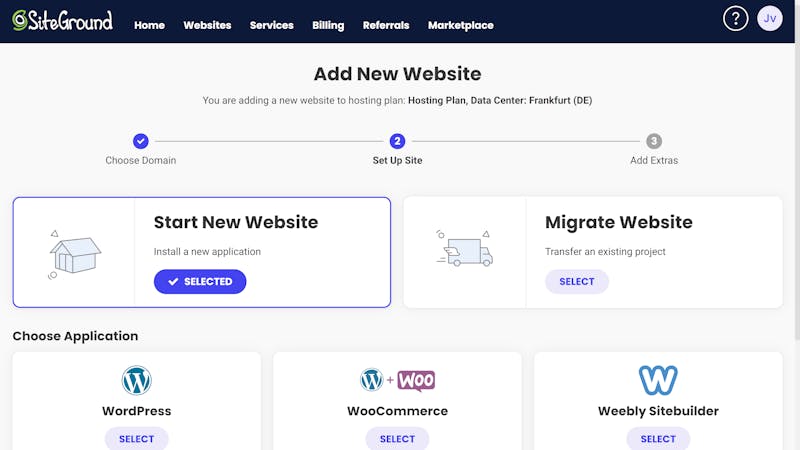 Migrating a WordPress website from another provider to SiteGround is no problem.
Now, all you have to do is install SiteGround's Migrator plugin in the WordPress Admin Dashboard of the website you'd like to migrate. After that, open the plugin, copy the migration token that you received earlier into the appropriate field, and follow the instructions. The plugin handles everything else for you.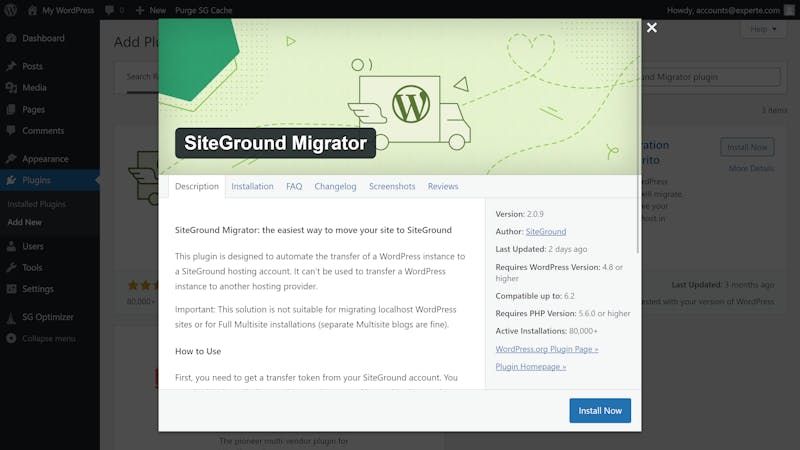 To transfer a WordPress website to SiteGround, you'll need to install the Migrator plugin in your WordPress dashboard.
Bye-bye, cPanel: SiteGround's New User Interface Has It All
After covering setup and site migration, it's time to discuss SiteGround's user interface. After logging in, you'll find yourself in the client area. The home page features a few tutorials. Using the main menu at the top, click on "Websites" to manage any WordPress instances that you've installed. Here, it's also possible to jump directly to the WordPress Admin Panel area or access "Site Tools", which is SiteGround's WordPress dashboard.
Until recently, the service offered the very popular cPanel dashboard, which was highly functional, but a bit behind the times. In 2019, SiteGround overhauled its user interface, however, since cPanel was so widely used, the changeover was somewhat controversial. We like the more modern dashboard and feel that it's better for beginners than cPanel, especially in terms of WordPress management.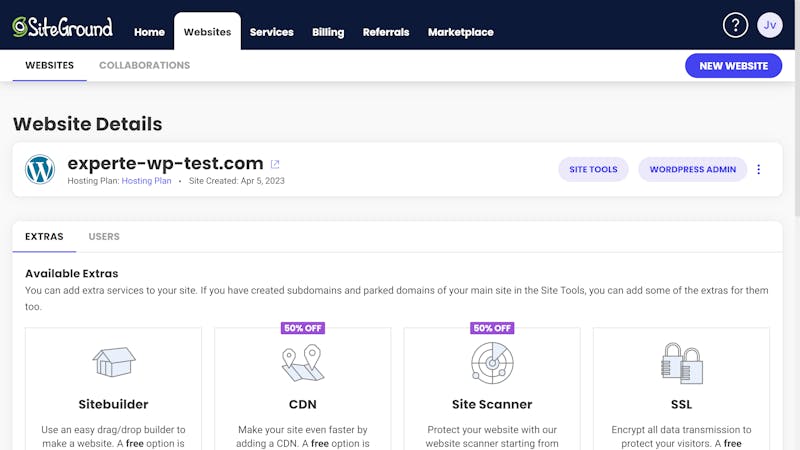 In the past, SiteGround used cPanel, however, in 2019, it developed its own WordPress user interface.
Site Tools: Everything In One Place
It doesn't take long to get used to Site Tools. The home page has a few features, such as links to your WordPress installations, your email account, and the file manager. Under these, some site statistics are displayed.
Off to the left, you can access more features, ranging from database management to caching to backups (we'll discuss these in greater detail in the next section). Overall, we never spent long looking for a feature or setting.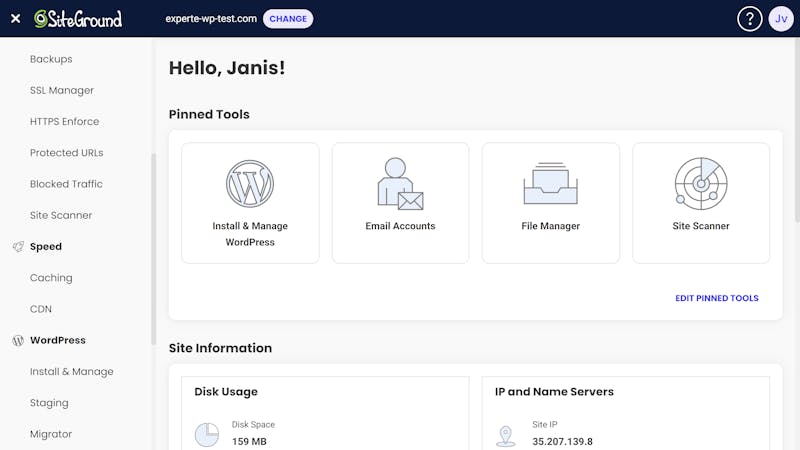 Any WordPress feature is never more than a click away in SiteGround's Site Tools.
SiteGround offers fast registration and WordPress setup in a user-friendly and straightforward dashboard. Since the cPanel/client area debate is a matter of taste, we found very little to complain about.
Configuration & Usage
9.4 / 10
For website operators, having a user-friendly WordPress dashboard is certainly nice, but it doesn't do much for your project's visitors. A hosting provider's technical specifications greatly impact a WordPress website's performance and security. This, in turn, determines whether visitors to your website have a positive or a negative experience.
To get a broad idea of what sort of technology a hosting provider is using, we check the server report in WordPress. This shows the default configuration (and settings) after installing your WordPress instance. To access it, go to your WordPress website's Admin Dashboard and navigate to Tools > Site Health > Info.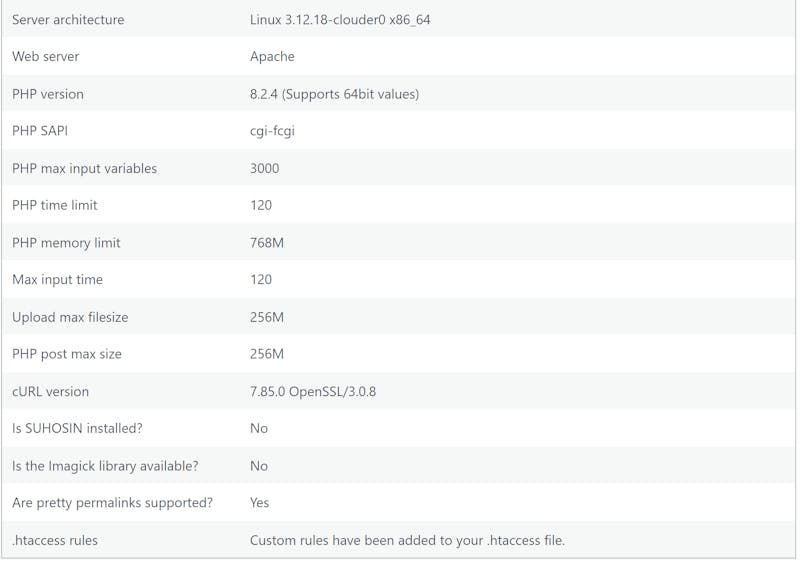 Our server report after installing our WordPress instance on SiteGround.
Our WordPress instance hosted by SiteGround uses Apache web servers, the newest version of PHP (8.2), and has a PHP memory limit of 768 MB. Keep in mind that the information found in the server report only provides a broad overview of a host's technical power, and can change based on the subscription you select or settings you change in Site Tools.
For that reason, we took a closer look at SiteGround's technology stack:
Tried and Tested: NGINX + Apache + MySQL
All of SiteGround's servers are Linux-based (Fedora 31) and use both Apache and NGINX. Like most WordPress hosts, its databases are MySQL, however, PostgreSQL databases are supported for more complicated workloads. You can link as many databases as you'd like, however, each is limited to 1,000 MB (1 GB).
It's possible to manage databases for your WordPress website by heading to Site > MySQL (or PostgreSQL). There, you can add new databases and users or set up remote access with just a few clicks. Direct access to your databases is facilitated through the integrated phpMyAdmin console.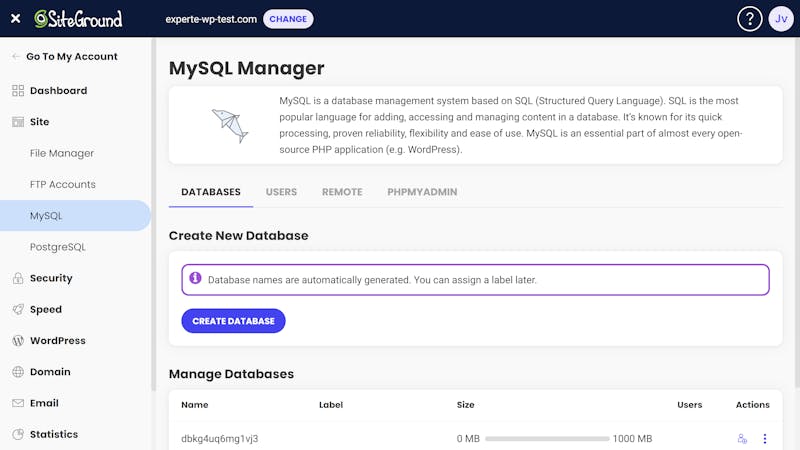 SiteGround supports both MySQL and PostgreSQL.
PHP up to 8.2: Lots of Settings and Options, Current Updates
The PHP version a host uses has a direct impact on the loading speed and security of the WordPress website it hosts. This is because each new version of PHP adds and updates features. The most current version, 8.2, is only supported by a few of the hosting providers from our sample, one of which was SiteGround.
You can access PHP settings by going to Devs > PHP Manager. There, it's possible to manually change your WordPress website's PHP version. Alternatively, you can activate the managed PHP service, which automatically updates your PHP version for you.
Also among the settings, you can manually adjust some parameters. Exceptions include the memory limit, which cannot be changed.
The mix of beginner-friendly managed services and options to configure settings in detail for developers and pros is exactly what we expect from a WordPress host - point for SiteGround.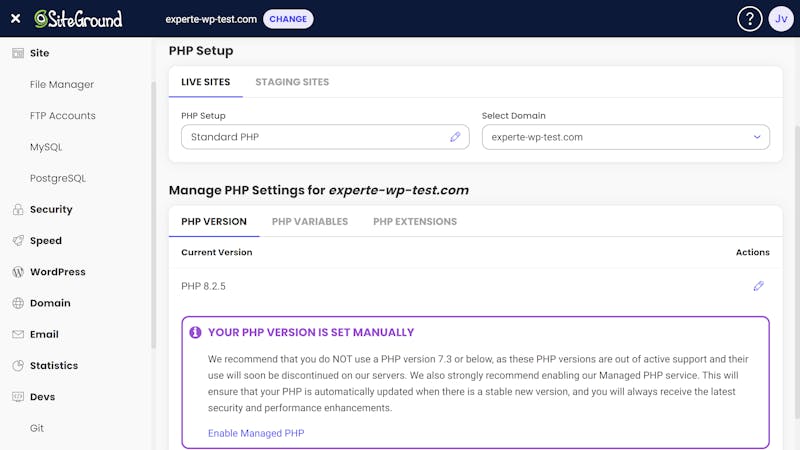 Performance Boost With SuperCacher + CDN
SiteGround optimizes your website's performance, in particular, its loading speed, with two features: Its caching service and a content delivery network (CDN).
Caching ensures that your website's elements are temporarily stored, making it unnecessary to completely reload them every time someone visits your site. SiteGround's caching service is called SuperCacher and is comprised of three levels:
1.

NGINX direct delivery: Static resources, like images or JS and CSS files, are made available directly by NGINX, boosting loading speeds.

2.

Dynamic cache: This is a full-page caching mechanism for non-static resources that aren't covered by direct delivery.

3.

Memcached: The cache option for database requests reduces the number of times a database is queried, enhancing the loading speeds for dynamic content that isn't serviced by the dynamic cache (such as checkout pages or backends).
Both NGINX direct delivery and the dynamic cache are automatically enabled for all of your pages, whereas memcached needs to be separately configured.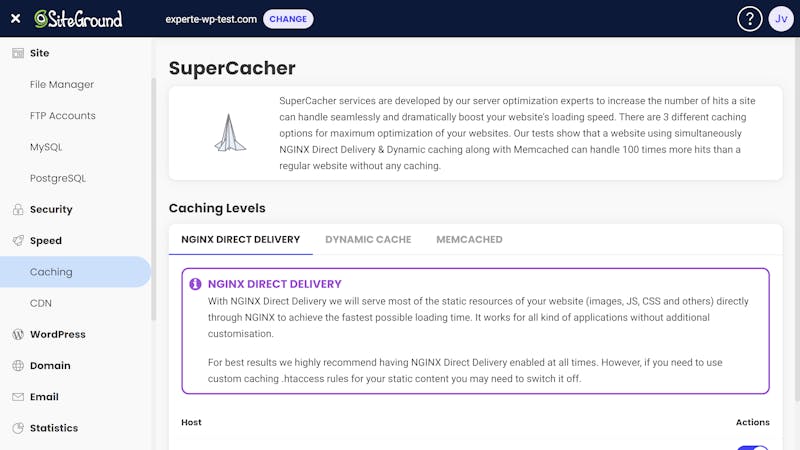 SiteGuard claims that a website equipped with SuperCacher can handle up to 100-times as many requests as one without a caching solution.
Should your website be expecting lots of international visitors, SiteGround's embedded CDN is practical. Your website's content will be stored at multiple data centers around the world. Whenever a visitor requests your website, it will be fulfilled by the next nearest server, shortening the loading time.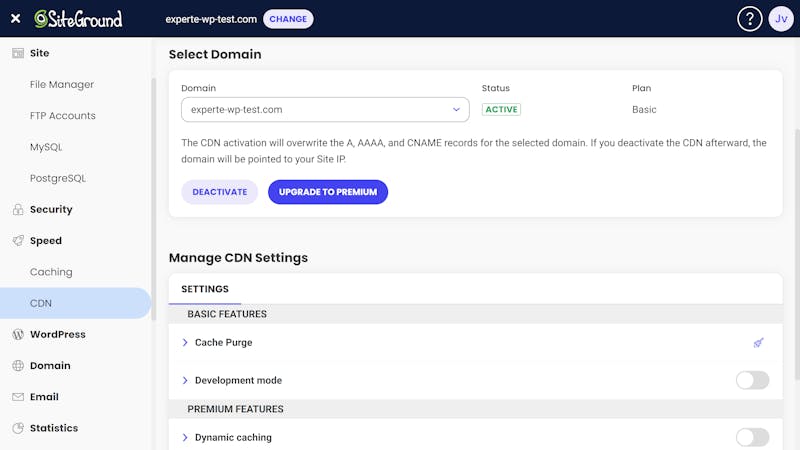 SiteGround's CDN improves the user experience for visitors from far away by improving loading times.
In the performance section, we'll let you know whether SiteGround's features really enhance loading speeds.
Additional SiteGround Features
SiteGround's WordPress tool chest is full to bursting and we couldn't possibly review every feature in detail, however, here are a few of the highlights:
Staging tool: Starting with a GrowBig subscription, it's possible to clone a website with a single click and set up a staging environment. This comes in handy for testing changes to your website before going live with them.

SSH and SFTP access: All SiteGround subscriptions support secure file access via SSH and SFTP.

WP-CLI: Users get a pre-installed WP-CLI integration that helps to manage their WordPress installations via the command line.

Edit wp-config.php: It's possible to edit wp-config.php either using the Site Tools file manager or via FTP.

SSDs: SiteGround only uses fast SSD drives for both storage and databases.

Emails: All subscriptions include free email hosting which you can manage in a user-friendly webmail interface embedded in the SiteGround dashboard.

Faster PHP: Starting with the GrowBig subscription, SiteGround offers a PHP solution that promises up to 30% faster loading speeds.

Collaboration tools: Add collaborators to your projects and grant them rights and access privileges.
SiteGround does not impose any limitations when it comes to installing plugins: Whereas many of its competitors block certain plugins for security or compatibility reasons, you can install and use whatever you want with SiteGround.
Overall, SiteGround serves up plenty of useful features that make life easier for WordPress users. Its provision of free email hosting also means that you'll only need to take care of a domain for your WordPress project.
Technology & Features
9.4 / 10
Integrated security features are one of the major advantages managed WordPress hosting solutions offer: They ensure that your WordPress website is automatically kept up to the highest security standards, without you needing to lift a finger.
SiteGround promises maximum security and convenience. One factor that plays a role in this is account isolation: Thanks to its custom server configuration, SiteGround accounts are isolated from one another. This means that security problems and issues impacting one account do not compromise others.
Beyond that, every subscription includes a free SSL certificate from Let's Encrypt. This entails both a standard certificate as well as a wildcard certificate that covers your subdomains.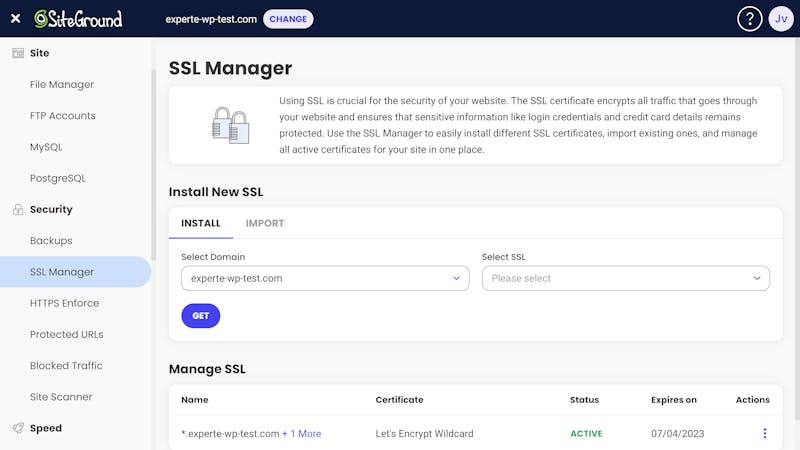 All SiteGround subscriptions include SSL certificates.
Firewall and Integrated Security Tools
SiteGround proactively guards its hosted websites against hackers and malware with a user-defined web application firewall (WAF). In order to ensure that these protect against the newest threats and exploits, hundreds of new rules are added every year. Spam protection is also offered for your email accounts.
Outdated versions of WordPress pose another security risk. SiteGround users don't need to worry about these as the platform's AutoUpdate tool automatically makes sure that your installation is kept up to the newest version. If desired, you can also have your plugins automatically updated.
Beyond that, SiteGround offers the following security features:
Force HTTPS

: When enabled, this allows your website to be accessed only via encrypted

HTTPS

(assuming that SSL is active).

Protect URLs: Limit access to certain URLs on your website by password-protecting them.

Block traffic

: Have you noticed suspicious activity on your website from certain

IP addresses

or from specific countries? If so, you can block requests from these IP addresses or countries to ward off attacks.

Site Scanner: This at-cost add-on serves as an early warning system for malware, automatically scanning your website and allowing operators to perform on-demand scans as well.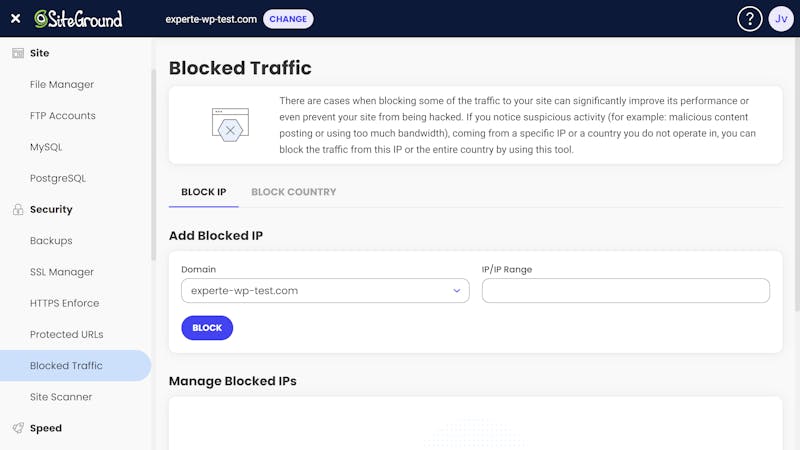 SiteGround fulfills all of the most important security standards, while also offering several dedicated features and extras.
WordPress Backups With SiteGround
You won't need to worry about backups with SiteGround either: Your website is automatically backed up every day and you can easily restore it if desired. SiteGround stores backups for 30 days.
On-demand (manual) backups are also possible, however, not in the StartUp subscription. If you'd like to back up your website yourself, you'll need to purchase either a GrowBig or GoGeek plan.
All backups can be found in the "Security" area of the Site Tools interface. Here, it's easy to restore an older version of your website with just a few clicks. You can select all files and databases, or just files, databases, or emails.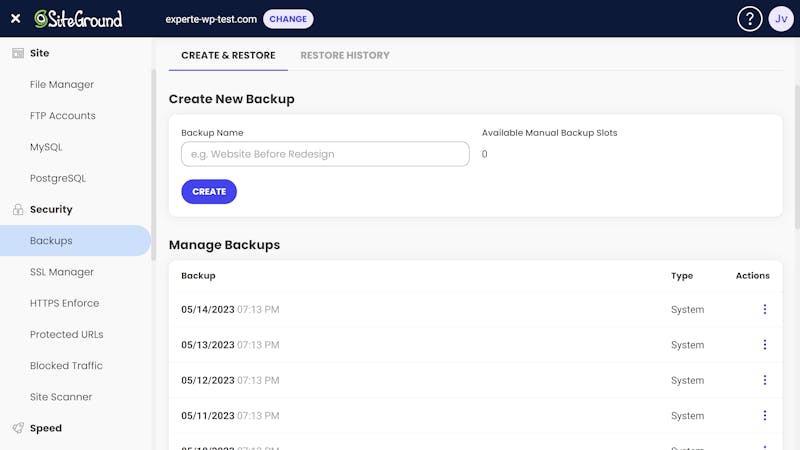 SiteGround backs up your website automatically every day, retaining backups for 30 days.
We're not aware of any major security incidents with SiteGround. The platform fulfills all of the security standards we expect from a managed WordPress hosting service. Its security features and tools are practical, and it stores automatically-created backups for 30 days. While it would be nice for all subscribers to be able to perform manual backups, this isn't a huge issue.
Above, we've introduced SiteGround's vast array of performance features: Now it's time to see how these fare in reality and whether they actually make websites faster. To assess this we measured some of the most important performance factors in WordPress hosting over the course of six weeks.
Provider Comparability
To ensure that our results were as comparable and fair as possible, we selected the subscription from each provider in our sample priced closest to $20. With SiteGround, this was the StartUp plan, which cost $14.99 per month as of the time of writing.
Response Time (Time to First Byte)
The first metric we assessed was the Time to First Byte, or, how long it takes a server to send the first byte of requested website data to a user.
Response time can vary for a number of reasons, such as because of the activity of other websites that are on the same server. For that reason, we regularly tested TTFB over the course of six weeks in order to get an average value and identify any fluctuations. You can see the results here: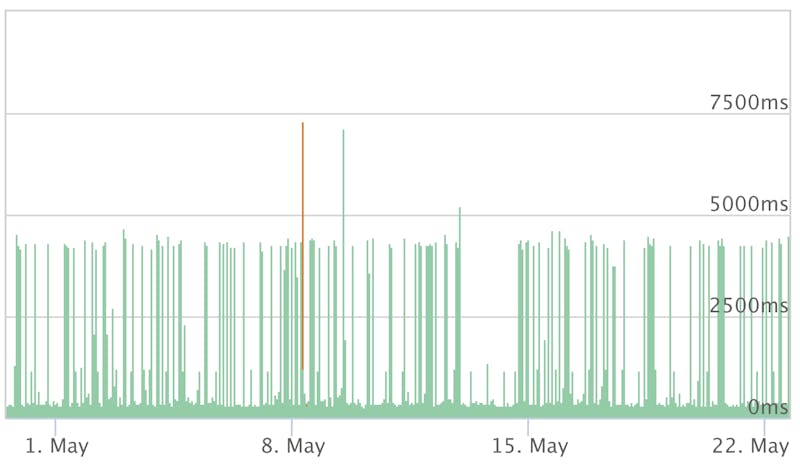 SiteGround's Time to First Byte: Even though there were a number of outliers, SiteGround's response times were relatively fast.
Despite a number of fluctuations, in comparison with other hosting providers, SiteGround's response times remained relatively fast:
Page Speed (Largest Contentful Paint)
Next, we measured the Largest Contentful Paint (LCP). This reflects how much time it takes for the largest or most important content element on a page to load.
Images, CSS files, and JavaScript are all factored in when determining LCP, providing a good indication of a website's overall performance. LCP is also important for SEO since it's one of Google's Core Web Vitals. These help the Internet giant to measure how user-friendly a website is.
Over the course of six weeks, we measured page speed several times per day (with caching enabled). Speeds remained relatively consistent:

SiteGround's Largest Contentful Paint.
SiteGround again did very well in comparison to the other providers from our sample, this time storming to second place:
Load Test (50 Simultaneous Users)
What happens when more users request a website than normally? The user experience should not be impacted, otherwise, a website becomes a victim of its own popularity.
In our load test, we simulated what would happen when 50 users suddenly visited a WordPress website hosted by SiteGround. We performed the test once with caching enabled and once with it disabled. With caching, none of the providers from our sample had any issues. When caching was disabled, we noticed occasional differences in response times, however, they still remained well below our sample's average.

SiteGround did very well during our load test.
When ranking the average response times of the providers from our sample, SiteGround secured a very impressive second place, sharing the silver medal with Hostinger:
Availability (Uptime)
Rounding things out, we wanted to see how often our SiteGround-hosted website was available. We checked once per minute for six weeks to see whether our website was online or not.
Results should come as close to 100% as possible since even a "good" availability of 99.5% translates into three-and-a-half hours offline over the course of a month. Our website was available 99.98% of the time, which isn't perfect, but still very good:
Overall Performance
Thanks to its excellent scores in each of our four performance categories, SiteGround surpassed nearly all of the other providers from our sample. In fact, only one service achieved a better overall ranking: WP Engine.
| Provider | TTFB | Pagespeed | Load Test | Uptime | Total |
| --- | --- | --- | --- | --- | --- |
| WP Engine | 0.21 s | 1.17 s | 0.26 s | 100 % | 10 |
| Siteground | 0.22 s | 0.98 s | 0.21 s | 99.98 % | 10 |
| WordPress.com | 0.20 s | 1.36 s | 0.16 s | 100 % | 9.5 |
| Cloudways | 0.13 s | 1.17 s | 1.64 s | 100 % | 9.4 |
| IONOS | 0.27 s | 1.09 s | 2.22 s | 100 % | 8.7 |
| GoDaddy | 0.34 s | 1.38 s | 0.54 s | 99.98 % | 8.7 |
| Kinsta | 0.31 s | 1.16 s | 2.37 s | 99.99 % | 8.6 |
| Hostinger | 0.49 s | 1.30 s | 0.21 s | 99.83 % | 7.5 |
| Flywheel | 0.13 s | 0.98 s | 3.38 s | 99.78 % | 7.5 |
Whenever you encounter an issue or problem with SiteGround that you can't resolve on your own, your first stop should be SiteGround's Knowledge Base (earlier, Help Center). To access this in SiteGround's dashboard, click on the question mark icon in the upper right.
The articles featured there are well-written, with a practical search tool making it easy to find relevant resources. Our sole complaint is that the Knowledge Base website appears to load slower than SiteGround's regular website.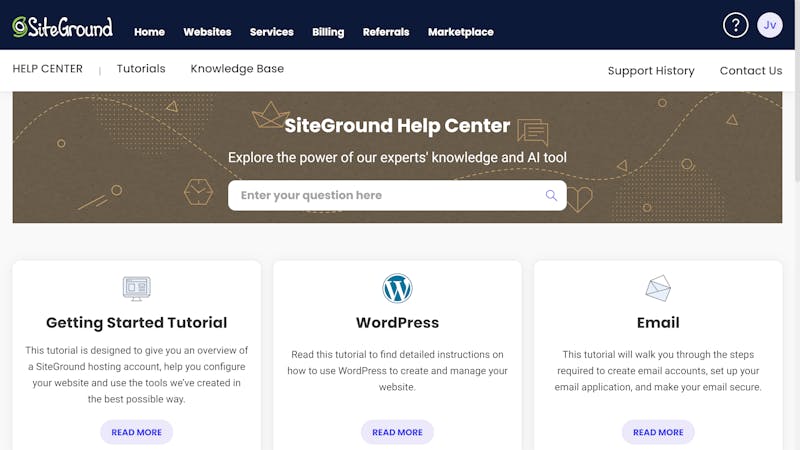 SiteGround's Help Center.
Direct support is offered through two channels: Live chat or support ticket. In the former, we were almost always immediately connected to a support assistant. Our ticket was answered within around six hours. The answers we received were competent, professional, and polite.
It is somewhat unfortunate that a support hotline isn't offered, however, SiteGround's static and live support are both of high quality.
SiteGround makes choosing a WordPress plan very easy since there are only three options: StartUp, GrowBig, and GoGeek. These differ in terms of the (estimated) number of visitors (ca. 10,000, 100,000, and 400,000), web space (10 GB, 20 GB, 40 GB), the number of hosted websites (1, unlimited, unlimited), and server resource availability.
Certain features are part of the pricier packages, such as staging environments, manual backups, and faster PHP (all GrowBig). GoGeek subscribers additionally get priority support and SiteGround's Git tool for creating repos of the most popular WordPress applications.
We've provided an overview of all SiteGround subscriptions here:
StartUp
GrowBig
GoGeek
Set-up Fee
$0.00
$0.00
$0.00
Monthly Price
from $8.49
from $14.49
from $22.99
Contract Period (Months)
1 - 24
1 - 24
1 - 24
Included
WP Installations
1
unlimited
unlimited
Storage
10 GB
20 GB
40 GB
Domains
0
0
0
Databases
unlimited
unlimited
unlimited
SSL Certificates
unlimited
unlimited
unlimited
Features
SSD Storage
SSD Database
HTTP/2
SSH
External Domains
Automatic Backup
Cronjobs
Comparing providers in terms of price is difficult since plans vary from host to host. For that reason, we used the most affordable beginner package in our price comparison. As you can see, SiteGround does very well:
1.
2.
3.
4.
5.
6.
7.
8.
9.
Note: At first glance, SiteGround's subscriptions look extremely affordable, however, keep in mind that you'll pay a lower rate for the first year only. From the second year, the price will increase. Still, in light of its excellent performance, huge selection of features, and free email hosting, the price-performance ratio is good.
SiteGround does not offer a free trial, however, new subscribers have 30 days to request a full refund if they're not entirely satisfied with the service.
Conclusion
Configuration & Usage
9.4 / 10
Technology & Features
9.4 / 10
SiteGround does nearly everything right. Setup is straightforward, performance is above average, and the variety of features on offer is large. With its cPanel alternative, the platform's user interface is intuitive and beginner-friendly. Typically, most providers offering such a comprehensive package of features and performance are priced accordingly, but that's not the case with SiteGround - It's affordable and free of annoying paywalls.
When we did encounter issues, they were primarily of a cosmetic nature: More support channels could be offered and response times could be improved. Apart from that, there isn't much to take SiteGround to task for, making it one of the best WordPress hosts on the market.
SiteGround WordPress Hosting
SiteGround won us over with excellent speeds, extensive features, and an intuitive interface – all at comparatively low prices, domain and email included.
great speeds with CDN & caching
automatic updates & backups
staging and multisite support
9.1

excellent
WP Installations
Space
Domains
Contract Period
SiteGround StartUp
$8.49
monthly price
Visit Website*
30 Tage Geld-zurück-Garantie
Customer Reviews
And what do customers have to say about SiteGround's hosting packages? We compiled verified reviews from some of the most reputable aggregators:
Customer Ratings
15,926 Bewertungen
Visit Website*
We analyzed the reviews and ratings from various portals and found 15,926 ratings with an overall rating of 4.8 out of 5 .
Alternatives
Are you looking for a similarly priced hosting solution that won't break the bank? If so, check out the beginner packages from IONOS.
Here, we've listed the five best alternatives to SiteGround:
Kinsta is a highly polished WordPress hoster that combines solid speeds, high security standards, and a beautiful interface into a premium offering worth its premium price tag.
strong performance results
integrated Cloudflare CDN
only 14 days of backup retention
8.8

good
WP Installations
Space
Domains
Contract Period
Kinsta Starter
$29.17
monthly price
Visit Website*
Free Demo Account
WP Engine WordPress Hosting
WP Engine ranks first in our performance test – testament to the platform's 100 % WordPress focus. User-friendly dashboards, high security standards, and solid support round off the package.
100 % specialized in WordPress
top performance with CDN & caching
staging & multisite support
some features behind paywalls
8.6

good
WP Installations
Space
Domains
Contract Period
WP Engine Startup
$20.00
monthly price
Visit Website*
Hostinger WordPress Hosting
Hostinger offers a comprehensive set of features, high security standards, and a neat user interface. When it comes to support and performance, however, it's not top of the line.
WP Installations
Space
Domains
Contract Period
Hostinger Premium
$2.99
monthly price
Visit Website*
WordPress.com WordPress Hosting
WordPress.com lives up to its name: the hosting service from the people behind WordPress offers excellent speeds, reliable support – and the only free plan among the providers we tested.
WP Installations
Space
Domains
Contract Period
WordPress.com Free
$0.00
monthly price
Visit Website*
Cloudways WordPress Hosting
Despite its rather plain interface and occasional paywalls, Cloudways offers top-notch performance, extensive features, and flexibility, making it a good choice for experienced developers.
multiple infrastructure providers
some features behind paywalls
8.3

good
WP Installations
Space
Domains
Contract Period
Cloudways DO 1GB RAM
$11.00
monthly price
Visit Website*
FAQs
Is SiteGround a good WordPress host?
⊖
During our EXPERTE.com test, SiteGround did extremely well: In terms of page speed, response time, and load, SiteGround surpassed most of the other providers from our sample. Its availability was also solid. Overall, SiteGround performs better than most hosting services.
Is SiteGround good for beginners?
⊖
SiteGround is a good option for beginners. Its user interface and WordPress management are intuitive and its subscriptions include almost everything you could need, except for a domain.
Can I host multiple websites with SiteGround?
⊖
Yes, depending on your subscription, it's possible to host multiple websites on SiteGround. Starting with the GrowBig package, you can host unlimited websites. The platform also offers support for multisite projects.
SiteGround's security standards are robust and include SSL, a firewall, malware protection, backups, and automatic updates. To date, we aren't aware of any major security incidents.
* Ad disclaimer:
For links marked with an asterisk, EXPERTE.com may earn a commission from the provider. The commission has no influence on our editorial rating.

Janis von Bleichert studied business informatics at the TU Munich and computer science at the TU Berlin, Germany. He has been self-employed since 2006 and is the founder of EXPERTE.com. He writes about hosting, software and IT security.
Continue Reading