IONOS WordPress Hosting Review 2023: The Best Hosting Deal for WordPress?

Author
Janis von Bleichert
Ad disclaimer:
For links on this page, EXPERTE.com may earn a commission from the provider. This supports our work and has no influence on our editorial rating.
Managed WordPress hosting is fairly common these days. To set themselves apart, providers make all sorts of claims and promises. IONOS, for example, markets itself as having "reinvented" WordPress hosting. So, what have they actually done?
In this review, we'll take a closer look at IONOS's WordPress hosting, and let you know whether what they offer is truly "next-level".
What Is IONOS?
IONOS is a German Internet service provider known for its web hosting, cloud, and B2B solutions. With more than eight million customers and 100,000 servers, IONOS is one of Europe's largest hosting services.
We've reviewed several products from the IONOS portfolio, including their cloud backup solution, ecommerce platform, and website builder. Now, we're going to examine its WordPress hosting packages*.
IONOS WordPress Hosting Review
Configuration & Usage
8.6 / 10
Technology & Features
6.0 / 10
Good performance
IONOS did well in our performance test thanks to its good response times, page speeds, and perfect uptime.

Competitively priced
With IONOS, you'll get one of the most affordable WordPress hosting solutions on the market - a real bargain.

All-in-one package including a domain and email hosting
You won't need to worry about anything as IONOS's hosting plans include a free domain and email hosting.
Few configuration options
Users have little control over their WordPress installation, most of which is done automatically. While helpful for beginners, more experienced users will likely miss having greater control over settings and options.

Limited backups
IONOS automatically saves backups for emergencies, however, these are difficult to manage: You'll need to either contact the provider's support team or install a special backup plugin to use them.

No migration service
Would you like to start hosting an existing website on IONOS? If so, you'll have to take care of it yourself as IONOS does not offer an integrated transfer service.
Hosting a WordPress website on IONOS is relatively straightforward. First, create an account and purchase a WordPress hosting subscription. After that, log in to your IONOS account and click on "Websites & Shops" in the main menu.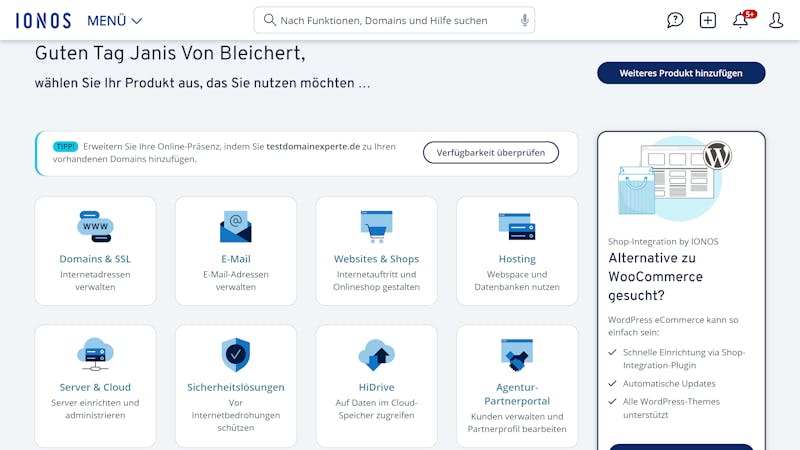 You can find your WordPress package in the "Websites & Shops" area.
Here, you should see your WordPress package listed as "Unnamed". It's also marked as "not set up" and that's what we're going to change. To do so, click on the "Configure website" button to start the IONOS setup wizard.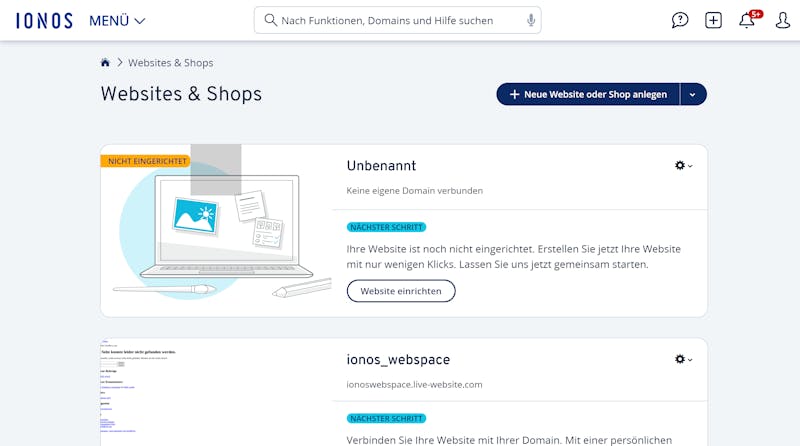 IONOS walks you through the process of installing your WordPress instance.
From this point on, it's hard to make any mistakes, since IONOS handles everything for you. After you've named your project, the installation will start. This only takes a few minutes. Once finished, you'll be able to start WordPress and begin modifying the first settings, such as selecting a theme and adding plugins, together with IONOS's assistant.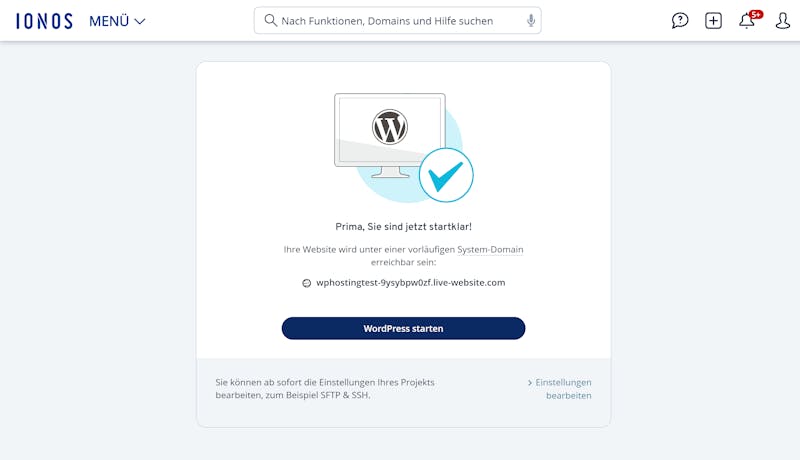 Just like that, your WordPress instance has been installed.
WordPress Management With IONOS
Your new WordPress website should now appear in the "Websites & Shops" area of your IONOS user dashboard, in the same place you installed it. To start managing your WordPress instance in IONOS, hover your cursor over the installation's entry and click on "More Details".
IONOS's WordPress area is compact and well-organized. All options, settings, and tools are divided between two areas: "Overview" and "Settings". In the first area, you'll be able to review important information and details about your WordPress installation, such as how much storage space it uses and any potential security risks, as well as check statistics, optimizations, and support content.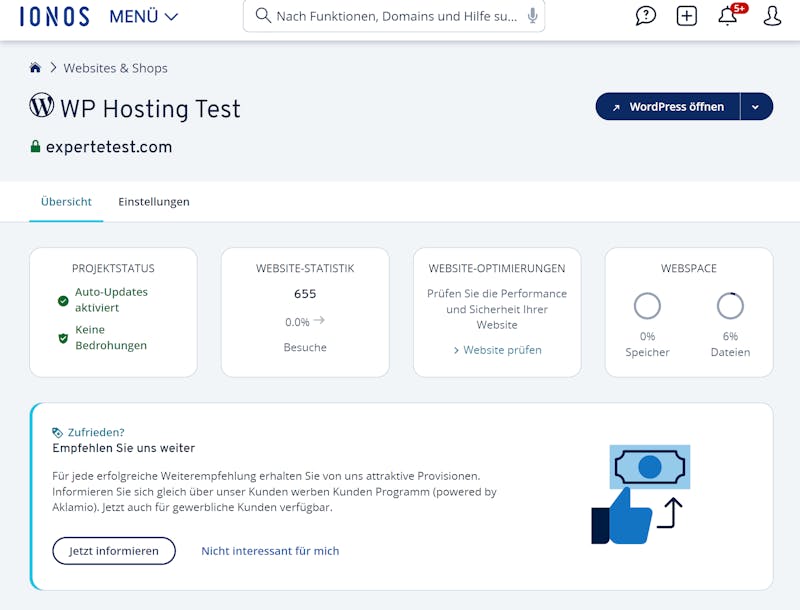 Like WordPress itself, IONOS takes a very compact approach to management.
Things get more exciting in the "Settings" area: There, you'll be able to configure your WordPress installations further, assigning them a domain, adjusting their PHP version, or linking databases. The WordPress quick link in the page bar to the left is particularly convenient, as this allows you to jump directly to certain features in your site's WordPress Admin Dashboard.
While on the topic: A button in the upper right of the interface takes you directly to your WordPress Admin Dashboard.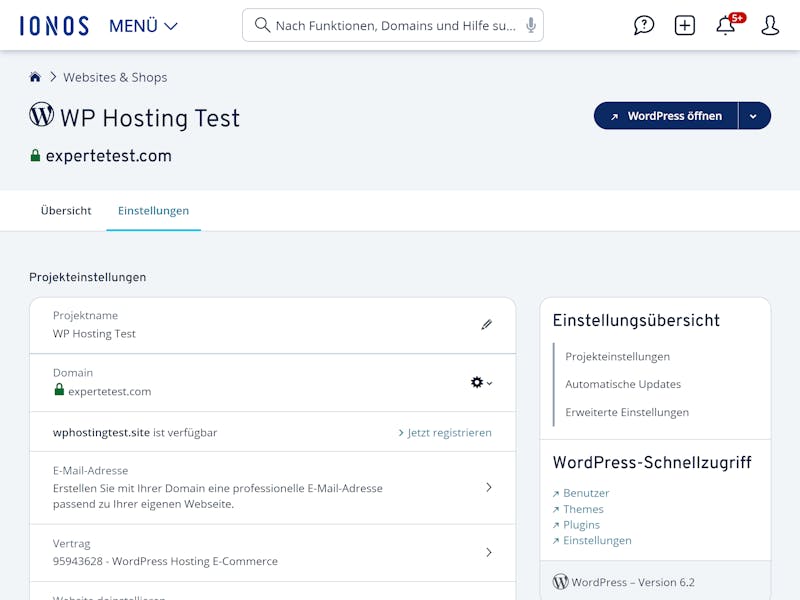 WordPress settings in the IONOS control panel.
No Integrated Migration Service
Many managed WordPress hosting services make it easy to transfer an existing website hosted by one of their competitors to their platform. Unfortunately, IONOS isn't one of these: The provider lacks a user-friendly transfer service to handle migrations. If you already have a WordPress website and want to transfer it to IONOS, you'll be on your own.
Apart from its lack of a migration service, we have no complaints about IONOS's user interface. Its ease of use can largely be traced to the limited number of options that are customizable in IONOS's WordPress management area. We'll discuss these in greater detail in the next section.
Configuration & Usage
8.6 / 10
IONOS's WordPress hosting is definitely more geared toward beginners than professional developers. Many of its features work unnoticed in the background, and users are unable to make changes or modify them. Before discussing these though, let's start by taking a look at which technology the platform uses.
We can get our first glimpse into what IONOS's technology stack looks like by checking its server report. You can access this by heading to your website's WordPress Admin Dashboard and navigating to Tools > Site Health > Info. Immediately, we're able to see that IONOS uses Apache servers and PHP version 8.0.
Keep in mind that the server report reflects default settings directly after installing your WordPress instance on IONOS. Other factors, such as the subscription you've selected, as well as how you've configured your WordPress instance will impact these.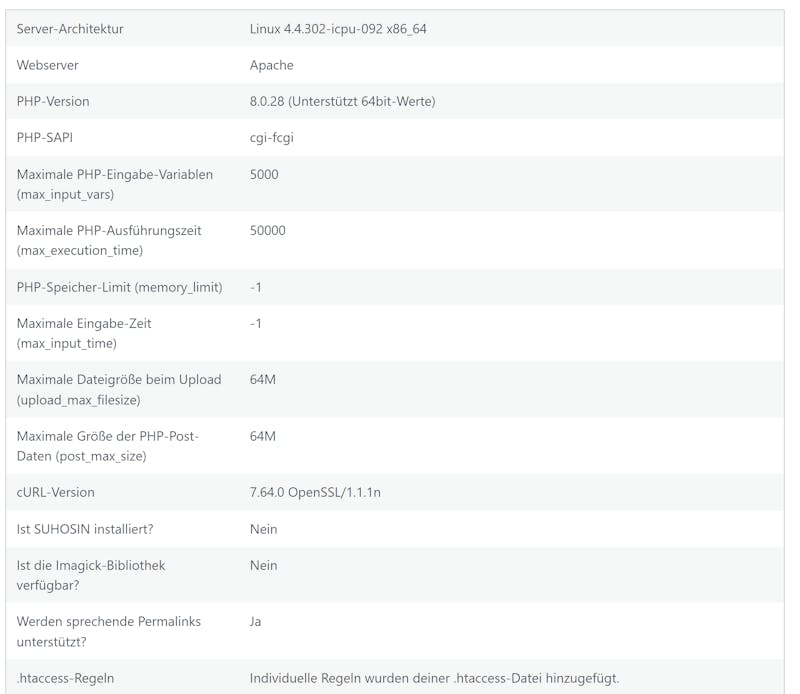 We get our first glimpse into IONOS's technology stack by checking our website's server report.
Technical Basis: Server, Databases, PHP
Alongside Apache servers, IONOS uses MariaDB databases. In comparison to MySQL, these are considered particularly fast and well-performing. To access database settings, go to the bottom of the WordPress management area and click on "Advanced Settings". There, you'll be able to directly access your database through phpMyAdmin.
Unfortunately, it isn't possible to utilize multiple databases for a WordPress project since IONOS limits these to one per website.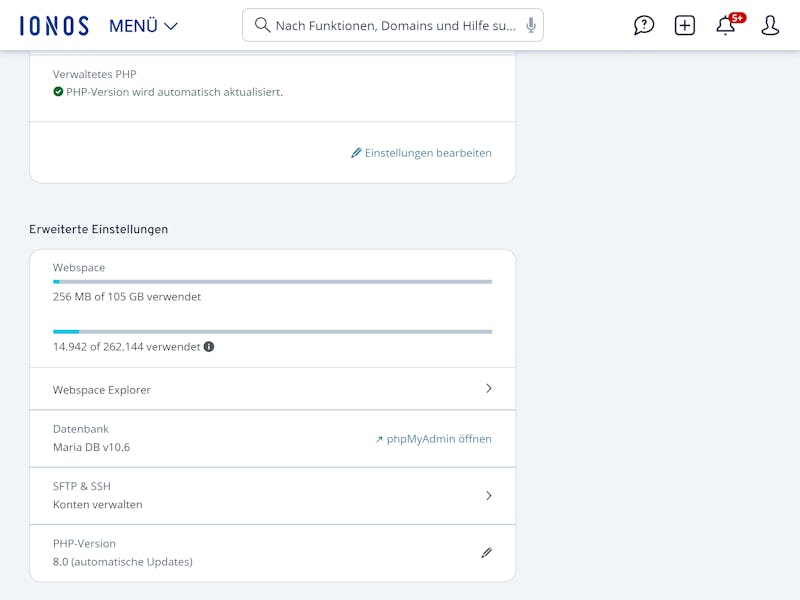 Directly access databases with phpMyAdmin.
It is possible to change your website's PHP version in the "Advanced Settings" area. As of the time of writing, versions 7.4, 8.0, and 8.1 were available, with 8.0 active by default. The newest PHP version, 8.2, which is supported by several of IONOS's competitors, is not included.
There aren't any other PHP settings: Aspects such as memory limit are determined by your subscription and cannot be modified.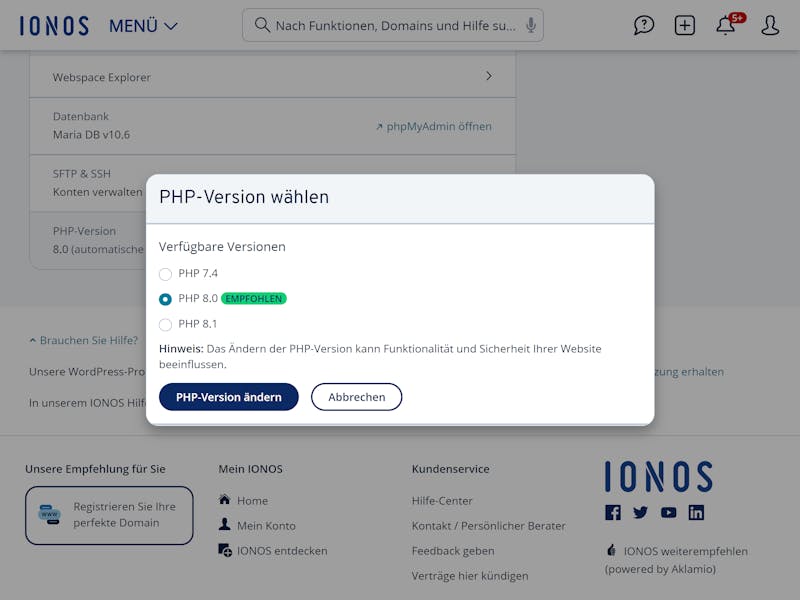 It's possible to manually update your website's PHP version.
Caching, but No CDN
IONOS claims to offer WordPress users "Performance without compromises". Thanks to its fast drives (exclusively SSD) and isolated hosting, high speeds are guaranteed. HTTP/2 is supported.
A variety of integrated caching solutions are also offered: Alongside OpCache, a PHP OpCode caching solution, Grow subscribers get a free caching plugin that optimizes load times by temporarily storing HTML content. The plugin can be activated directly in your WordPress console, thereafter going about its business automatically.
Unfortunately, none of the provider's WordPress hosting subscriptions include a content delivery network (CDN). Should your website have an international audience, it's a good idea to make sure that loading speeds for those visiting from far away remain acceptable.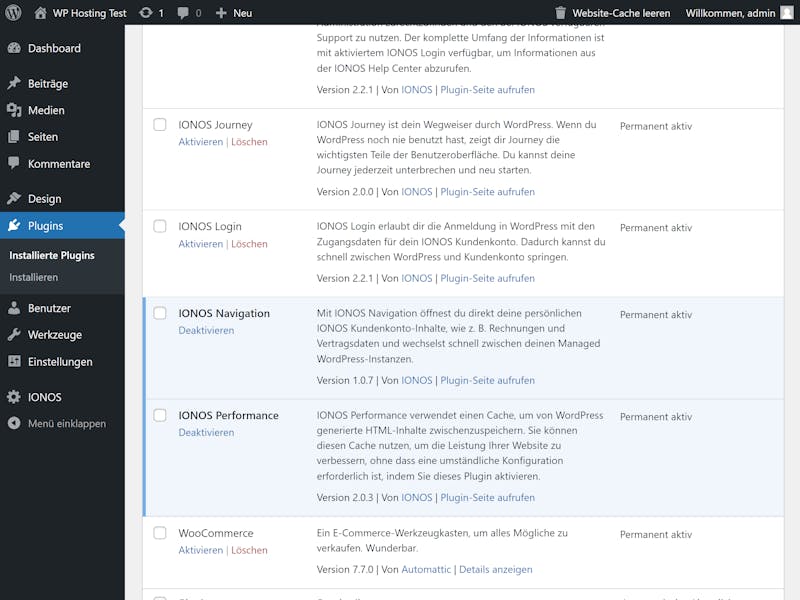 Both the Grow and Boost subscriptions include a caching plugin that lowers your website's loading times.
Other IONOS Features
In addition to the above, IONOS subscribers benefit from a few more features:
WP-CLI, SSH, and SFTP access: It's possible to use secure SSH and SFTP gateways to access your website(s). WP-CLI, WordPress's command line tool, is also supported.

Blueprints: Combine themes and plugins on an existing WordPress website into a template for a new project.

Other developer tools: IONOS also offers a number of features for developers, such as a Domain API, .htaccess, Git, and server-side includes (SSI).

Domain and email: All subscriptions include a free domain for the first year and hosting for at least one email address.

Website statistics: In IONOS's Analytics area, you'll find a number of useful statistics that can help you better understand visitor behavior, in order to improve your reach.

Website optimization: IONOS assesses your website according to specific criteria, offering suggestions for how you can improve its performance and security.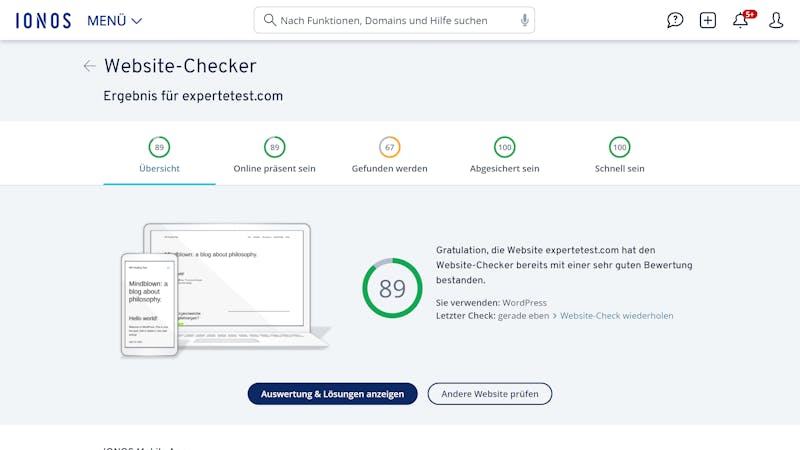 IONOS helps users optimize their WordPress website.
WordPress for Dummies
IONOS's WordPress hosting rests on a solid technological foundation, however, it does constrain users by offering limited options in the admin area, making it hard to configure projects to individual specifications. Some features, such as backup management (more on this in the next section) or support for multisite projects, are nowhere to be found, while advanced settings can only be adjusted in WordPress's backend.
At the end of the day, other WordPress hosts do a better job of appealing to beginners with intuitive dashboards, without limiting the options for more advanced users.
Technology & Features
6.0 / 10
IONOS makes it fairly easy to keep tabs on your website's security status. All IONOS hosting packages include access to SiteLock's Site Scan security solution.
On the WordPress management homepage, you'll see a project status box displaying your current security status as well as potential threats. By clicking on this, you'll be taken to the Site Scan overview. This informs you which of your websites are secure, which are at risk, and which have been compromised by malware.
Site scans are included in all subscriptions, however, you can only counter malware with the enhanced "Site Scan + Repair" solution, which is part of the Boost and E-Commerce plans. If you've booked a different subscription, you'll need to fight malware on your own and/or improve your digital defenses.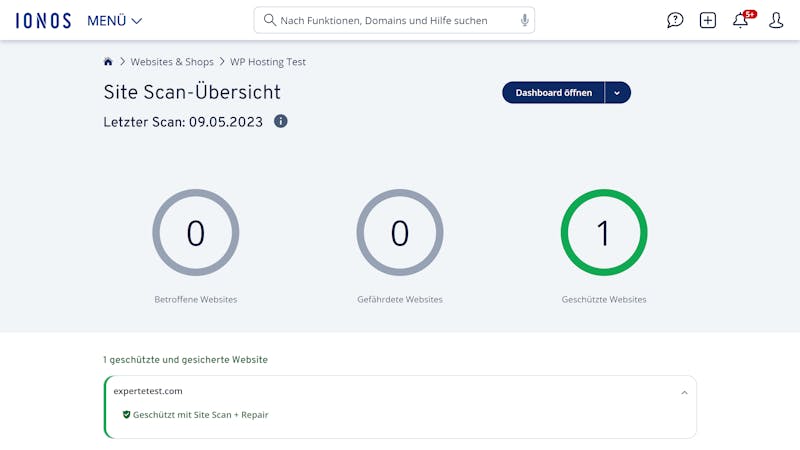 IONOS regularly scans your website for malware and threats.
Premium Malware Protection With Site Scan + Repair
Supposing that you have access to Site Scan + Repair, you won't just be able to automatically neutralize threats to your website, but also, have access to the SiteLock dashboard. This provides a variety of security scans, and the ability to manually perform a scan.
It's also possible to create a SiteLock trust seal, showing visitors that your website is secure. In addition, you can download security reports.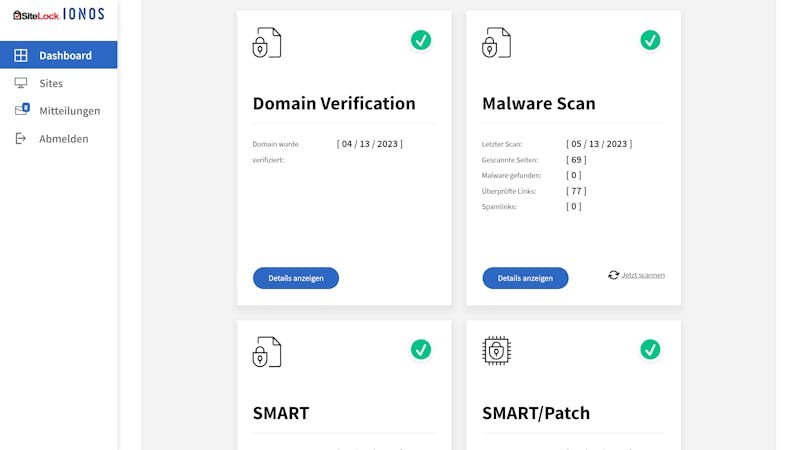 In the SiteLock dashboard, you can perform a number of different security scans.
Other Security Features Offered by IONOS
In addition to multi-level malware protection offered by SiteLock, IONOS supports the following features:
SSL certificates: All subscriptions include a free SSL wildcard certificate for protecting not just your domain, but all of its subdomains.

DDoS protection

: IONOS uses reverse

proxies

to protect against

DDoS attacks

. Its firewall has spoofing, egress, and bogon (fake IP address) filtering.

Geo-redundant data centers: All data is stored in a second data center in another physical location.

Phishing protection and spam filters: IONOS also protects your email mailboxes from viruses and spam.
It isn't possible to configure your own firewall in IONOS's managed WordPress hosting subscriptions. This can only be done with root name servers, or self-managing ones (such as VPS).
IONOS Backups
When it comes to backups, IONOS's offerings are somewhat disappointing: The provider automatically backs up your data twice a day, however, this is only for emergencies, like server crashes. You can only restore your website using one of these backups with the help of IONOS support since the user dashboard lacks a backup area. None of the support staffers we asked could tell us how long IONOS stores backups.
Grow, Boost, and E-Commerce subscribers get more control over their backups since they're given 12 months of free access to the Jetpack Backup Daily plugin. This is activated in your WordPress dashboard, and allows you to manage your backups, restoring your website with a single click if desired. Starting from the second year, users have to pay for this.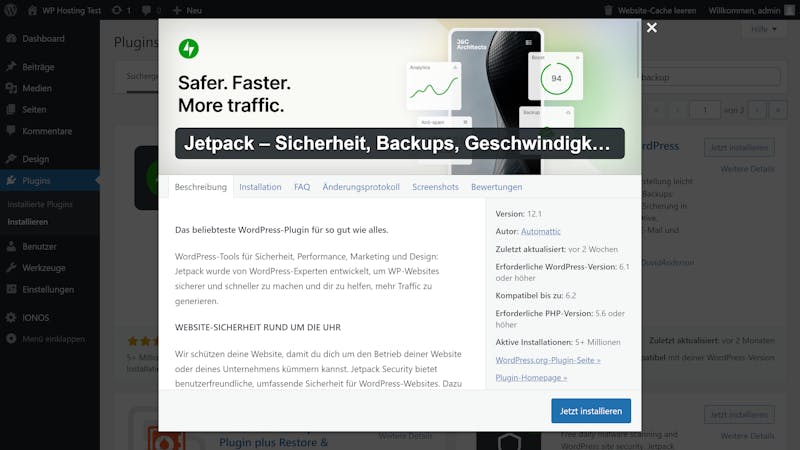 IONOS's dashboard doesn't offer true backup management.
IONOS's security standards are solid, even if it isn't possible to configure a firewall. So far as backups are concerned, IONOS is far behind its competitors: It should be possible to review, manage, and restore backups without a plugin or asking support for help.
So, what about IONOS's claim of "performance without compromises"? Over the course of six weeks, we measured four of the most important website metrics to see how IONOS compared to its competitors. To keep the comparison as fair as possible, we booked the subscription offered by each provider from our sample that was priced closest to $20. For IONOS, this was WordPress Hosting E-Commerce.
Response Time (Time to First Byte)
Time to First Byte reflects how quickly a server reacts to a user query. Said differently, it indicates how much time elapses between when a server receives a request from a client to when the client receives the first byte of the requested website.
We measured this value over the course of six weeks with caching disabled in order to see how powerful each provider's servers were. The graphic below displays the worst response time per hour for the duration of our testing: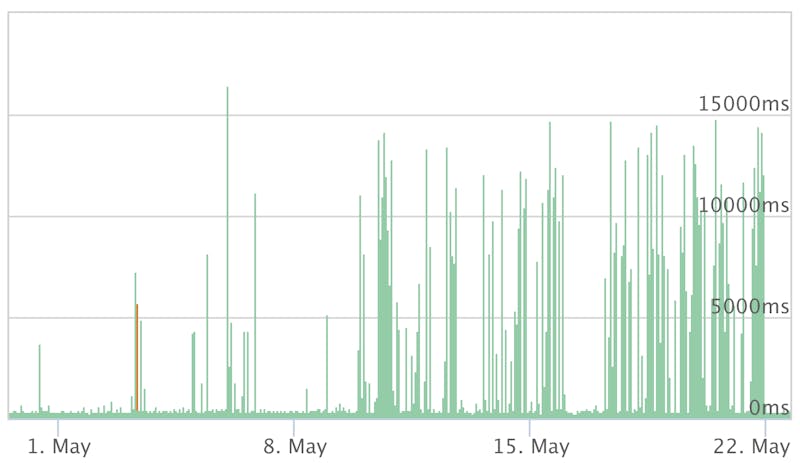 IONOS's response times during testing were solid.
As you can see, although there were some fluctuations, IONOS's overall speeds remained relatively consistent. Its average response time was absolutely solid:
Page Speed (Largest Contentful Paint)
Our second metric was the largest contentful paint (LCP). This indicates how much time passes until the largest content element on a page finishes loading. Since it includes images, JavaScript, and CSS files, this figure provides useful insight into how a website's performance optimizations interact. It's also very important for SEO since it's one of Google's Core Web Vitals.
Over the course of six weeks, we measured page speed (with caching enabled) several times per day. Below, you can see our findings:

IONOS's page speeds also remained consistent throughout our testing.
In comparison to the other providers from our sample, IONOS was one of the fastest in this area:
Load Test (50 Simultaneous Users)
The next assessment we performed simulated how an IONOS-hosted WordPress website would react to a sudden influx of visitors: During our load test, we checked this on the basis of 50 users, once with caching enabled, and once with it disabled.
As with all of the providers from our sample, IONOS had no difficulty during the load test with caching enabled. Unfortunately, when we disabled caching, our results were inconclusive (perhaps owing to an internal firewall). We recorded a high error rate (red line in the graphic below) and since the response time increased significantly, we can infer that IONOS would have trouble with a sudden influx of users who hadn't cached the website.

During the load test, we simulate how a website reacts to a sudden influx of visitors.
IONOS's response times during the load test were far from ideal, and only good enough for a place near the bottom of our ranking:
Availability (Uptime)
In order for a website to perform well, it needs to be online. For that reason, we also measured uptime over the course of six weeks, checking once per minute whether the website was available. Luckily, we didn't record any downtime and can award IONOS maximum points in this area:
Overall Performance
Taken together, there isn't too much to take IONOS to task for when it comes to performance: Its load test results weren't great, however, the error rate (likely owing to a firewall) might have skewed these out of IONOS's favor. Beyond that, the hosting service delivers excellent speeds and perfect uptime.
| Provider | TTFB | Pagespeed | Load Test | Uptime | Total |
| --- | --- | --- | --- | --- | --- |
| WP Engine | 0.21 s | 1.17 s | 0.26 s | 100 % | 10 |
| Siteground | 0.22 s | 0.98 s | 0.21 s | 99.98 % | 10 |
| WordPress.com | 0.20 s | 1.36 s | 0.16 s | 100 % | 9.5 |
| Cloudways | 0.13 s | 1.17 s | 1.64 s | 100 % | 9.4 |
| IONOS | 0.27 s | 1.09 s | 2.22 s | 100 % | 8.7 |
| GoDaddy | 0.34 s | 1.38 s | 0.54 s | 99.98 % | 8.7 |
| Kinsta | 0.31 s | 1.16 s | 2.37 s | 99.99 % | 8.6 |
| Hostinger | 0.49 s | 1.30 s | 0.21 s | 99.83 % | 7.5 |
| Flywheel | 0.13 s | 0.98 s | 3.38 s | 99.78 % | 7.5 |
IONOS offers a comprehensive support center, the content of which can be sorted using a convenient search tool. Its articles are well-organized and structured, however, could do with a few more screenshots.
Since IONOS offers so many products, finding the answer you're looking for can be difficult. On many occasions, we weren't sure if the article we were reading was for the provider's managed WordPress hosting, or something else from its portfolio.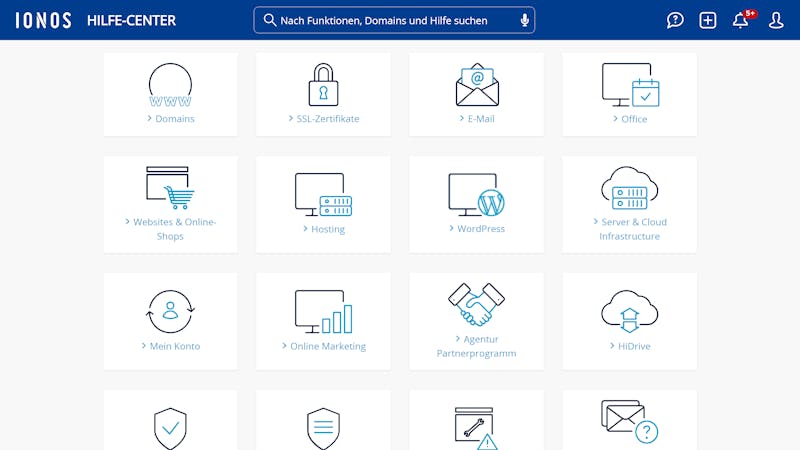 IONOS's help center is full of content.
Should you be unable to find what you're looking for in the help center, you can reach out to the provider's customer support. This is available via hotline or email. A live chat is offered, however, this is just for sales questions.
IONOS's hotline support is not without its perks though: For example, you'll be assigned a personal adviser who (depending on their availability and schedule) handles your issues. Since IONOS's phones are manned 24/7, your adviser might not be available on occasion and you'll need to work with a different one.
During testing, we rarely waited longer than a few minutes and were often connected with our preferred adviser.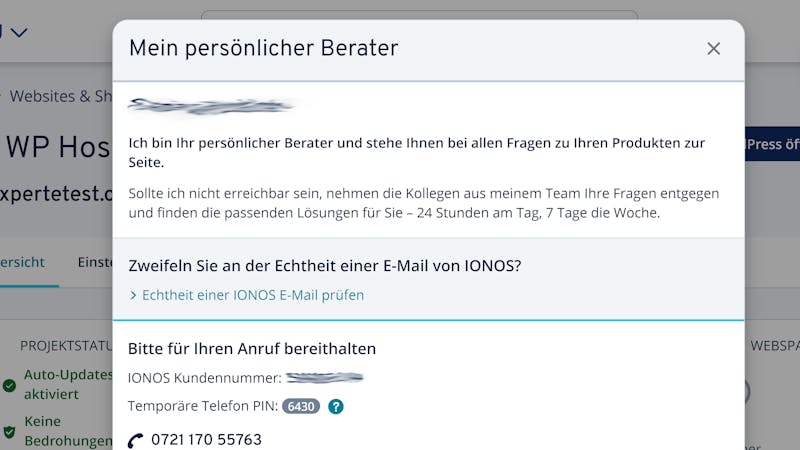 IONOS assigns every user a personal adviser.
We were able to rely on our personal adviser to navigate us through most of the questions we posed. Unfortunately, IONOS's help center could do with a bit more organization, with its articles somewhat too stiff for us. Of course, a live support chat would be nice, since it would simplify customer service queries.
IONOS offers four managed WordPress hosting plans (Start, Grow, Boost, and E-Commerce), all of which allow users to host one website. Differences between the plans mostly revolve around technical specifications (such as storage space, RAM, etc.), performance (performance level, PHP memory limit), and features.
For example, Grow subscribers and above can use IONOS's caching plugin, while Boost and E-Commerce subscribers get "Site Repair".
Below, we've prepared an overview of all of IONOS's plans:
Start
Grow
Boost
E-Commerce
Set-up Fee
$0.00
$0.00
$0.00
$0.00
Monthly Price
from $5.25
from $7.75
from $13.00
from $17.50
Contract Period (Months)
1 - 12
1 - 12
1 - 12
1 - 12
Included
WP Installations
1
1
1
1
Storage
25 GB
50 GB
75 GB
100 GB
Domains
1
1
1
1
Databases
1
1
1
1
SSL Certificates
1
1
1
1
Features
SSD Storage
SSD Database
HTTP/2
SSH
External Domains
Automatic Backup
Cronjobs
In comparison to other WordPress hosting services, IONOS is very affordable. For our price ranking, in which we take the least expensive beginner package offered by each provider from our sample, IONOS's Start subscription came in the first place:
1.
2.
3.
4.
5.
6.
7.
8.
9.
Managed WordPress hosting from IONOS is far more affordable than most of its competitors. You will need to make do with a few shortcomings in terms of features, however, performance is absolutely solid for the price. If you can live with its limitations, IONOS serves up a very good price-performance ratio.
Conclusion
Configuration & Usage
8.6 / 10
Technology & Features
6.0 / 10
IONOS might not have "reinvented WordPress hosting", however, it does offer great performance at a low price. It comes packaged in a user-friendly dashboard where mistakes are hard to make. Taken together, IONOS is a good choice for smaller or more simple projects, as well as those on a budget.
At the same time, for larger or more intricate websites, IONOS might not be the best choice: Its configuration options are limited, features like a CDN or true backup management aren't included, and support seems less polished than other premium hosting services, even if they cost more.
IONOS provides strong performance and user-friendly WordPress hosting at a low price, which makes it ideal for small, simple projects. Because configuration is limited, it might not be the best solution for larger and more complex projects.
WP Installations
Space
Domains
Contract Period
IONOS Start
$5.25
monthly price
Visit Website*
30 Tage Geld-zurück-Garantie
Customer Reviews
But what do IONOS users have to say about its WordPress hosting solutions? To find out, we compiled verified reviews from reputable aggregators for you below:
Customer Ratings
34,539 Bewertungen
Visit Website*
We analyzed the reviews and ratings from various portals and found 34,539 ratings with an overall rating of 4.2 out of 5 .
Alternatives
If performance is the most important factor for you, and you're ready to pay a bit more, our fastest hosting services, WP Engine, and SiteGround might be worth exploring.
Out Top 5 best alternatives to IONOS can be found here:
SiteGround WordPress Hosting
SiteGround won us over with excellent speeds, extensive features, and an intuitive interface – all at comparatively low prices, domain and email included.
great speeds with CDN & caching
automatic updates & backups
staging and multisite support
9.1

excellent
WP Installations
Space
Domains
Contract Period
SiteGround StartUp
$8.49
monthly price
Visit Website*
30 Tage Geld-zurück-Garantie
Kinsta is a highly polished WordPress hoster that combines solid speeds, high security standards, and a beautiful interface into a premium offering worth its premium price tag.
strong performance results
integrated Cloudflare CDN
only 14 days of backup retention
8.8

good
WP Installations
Space
Domains
Contract Period
Kinsta Starter
$29.17
monthly price
Visit Website*
Free Demo Account
WP Engine WordPress Hosting
WP Engine ranks first in our performance test – testament to the platform's 100 % WordPress focus. User-friendly dashboards, high security standards, and solid support round off the package.
100 % specialized in WordPress
top performance with CDN & caching
staging & multisite support
some features behind paywalls
8.6

good
WP Installations
Space
Domains
Contract Period
WP Engine Startup
$20.00
monthly price
Visit Website*
Hostinger WordPress Hosting
Hostinger offers a comprehensive set of features, high security standards, and a neat user interface. When it comes to support and performance, however, it's not top of the line.
WP Installations
Space
Domains
Contract Period
Hostinger Premium
$2.99
monthly price
Visit Website*
WordPress.com WordPress Hosting
WordPress.com lives up to its name: the hosting service from the people behind WordPress offers excellent speeds, reliable support – and the only free plan among the providers we tested.
WP Installations
Space
Domains
Contract Period
WordPress.com Free
$0.00
monthly price
Visit Website*
FAQs
IONOS scored highly in our EXPERTE.com performance test: Over the course of six weeks, it posted good page speeds and response times, as well as 100% uptime. The service only stumbled during our load test.
Who is IONOS WordPress hosting for?
⊖
The provider's managed WordPress hosting is designed for smaller projects and those just starting out with WordPress. Users get good performance at a low price, however, features and configuration options are fairly limited.
Is there a free trial version of IONOS?
⊖
No, free trials aren't available for any of IONOS's managed WordPress hosting packages. New subscribers do get a 30-day, money-back guarantee, however.
Does IONOS include domains and email hosting?
⊖
Yes, domains and email hosting are included in all of IONOS's managed WordPress hosting packages. Domains are free for the first year, while each package includes hosting for at least one email address.
* Ad disclaimer:
For links marked with an asterisk, EXPERTE.com may earn a commission from the provider. The commission has no influence on our editorial rating.

Janis von Bleichert studied business informatics at the TU Munich and computer science at the TU Berlin, Germany. He has been self-employed since 2006 and is the founder of EXPERTE.com. He writes about hosting, software and IT security.
Continue Reading