CMS Comparison: Most Popular CMS in 2023 (Statistic)


Valuable, high-quality, and captivating content encourages visitors to keep coming back to your website. But good articles, videos, and images aren't enough on their own: Content has to be up-to-date and effectively managed. All of this is possible with a content management system (CMS).
A CMS helps site owners create, edit, and publish content without any programming know-how. Owing to their convenience, there's a wide selection of platforms to choose from. To narrow down your search, we've prepared a list of the most-used and popular CMSs on the market.
Statistics: The Most Popular CMS
Just because lots of people use something doesn't make it the best. At the same time, there are usually good reasons why services or products become as popular as they do. We checked the 5 million most visited websites in the world and determined CMS integrations for 887,130 of them. Most rely on the world's undisputed king of CMSs: WordPress.
WordPress is by far the world's most popular CMS solution: More than 75% of the websites that we could identify CMS integrations for relied on the platform. From its humble roots as blogging software, WordPress has been enhanced with more and more features and capabilities, developing into a complete CMS.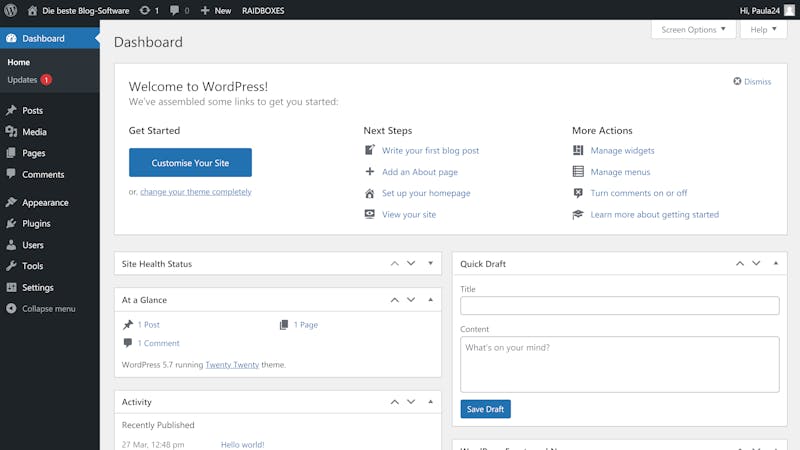 WordPress, already versatile on its own, can be enhanced with countless plugins.
WordPress is used by plenty of bloggers, however, its versatility has seen it become the go-to solution for small businesses, Fortune 500 companies, and everything in between. Of course, being open-source and free has also helped the platform's popularity.
The CMS dominates, however, its competitors haven't thrown in the towel. For those with less technical know-how or patience, website builders have emerged as a popular choice. This is in large part because they're even more convenient than self-hosted CMSs like WordPress and often include hosting and a free domain.
User-friendly content management

Countless extensions and plug-ins

Large community and plenty of support documentation
Steeper learning curve than newer, easier-to-use CMSs

Sometimes overkill for smaller projects

Vulnerable to hackers owing to userbase size
Drupal is a versatile, open-source CMS that helps its users create everything from basic blogs to social networks. Accounting for around 5.6% of the CMS integrations from our sample, Drupal claims second place on our list. Still, it's quite far off WordPress.
Setup is slightly more complicated than WordPress, and you will likely want to change some default settings. With that said, Drupal is well-suited for experienced developers looking to bring more detailed websites to life.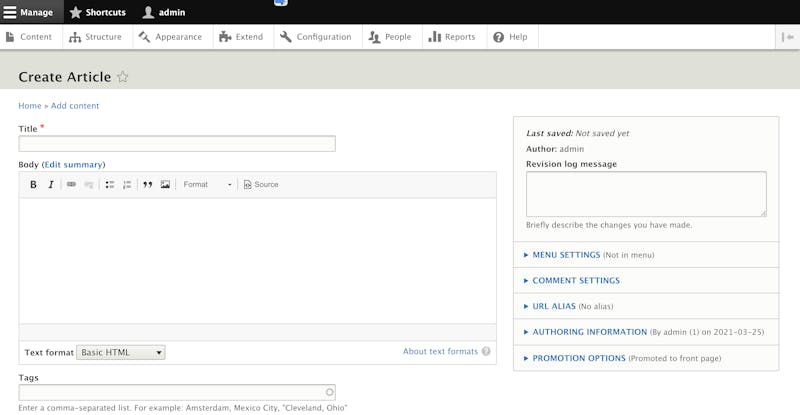 Drupal takes second place in our list, but is far behind WordPress.
As an open-source CMS, Drupal is free. Since it's a self-hosted CMS, you will have to pay separately for hosting, a domain, securing your website, and more.
Versatile, developer-friendly, and great for detailed projects

Can be enhanced with various modules
Setup more complicated than WordPress

Many modules must be paid for
Representing 3.7% of our sample and coming in third place behind WordPress and Drupal is Joomla. This open-source CMS is less complicated than Drupal, and in most areas, more flexible than WordPress. It allows users, even without programming know-how, to easily create a detailed website.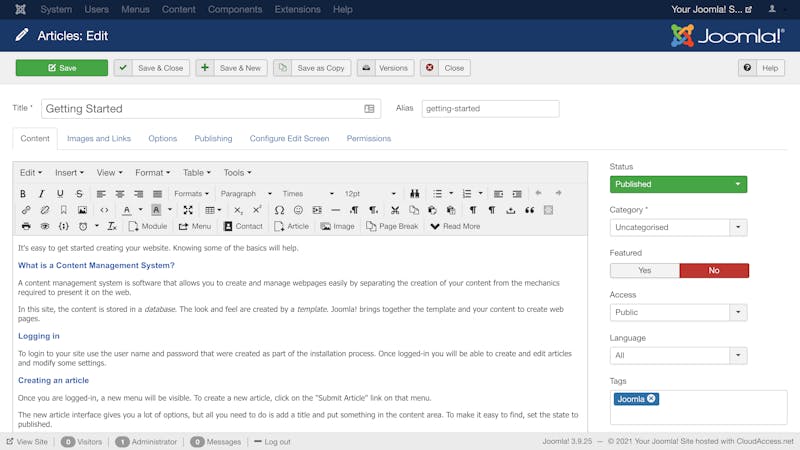 Joomla is also open-source and (basically) free.
One of Joomla's greatest advantages is that it allows users to set up multiple language localizations for a single page. Elsewhere, on WordPress, for example, this is only possible with third-party plugins. Users are also given more freedom when it comes to customizing and designing templates, as well as the ability to use different templates within a single project.
Less complicated than Drupal, more flexible than WordPress

Multiple language localizations possible

No programming knowledge required
Steeper learning curve than WordPress

Unimpressive third-party marketplace
CMS Trends
As more and more people become interested in creating a website, online store, or blog, beginner-friendly CMSs and website builders have grown in popularity. The latter, which handles everything from hosting to security, allows users to design a website by dragging and dropping elements and arranging them to their preferences.
While user numbers for Drupal and Joomla have stagnated or even started to decrease (WordPress continues to grow), those for site builders like Squarespace, Wix, and Weebly have grown.
Below, we'll take a look at headless CMSs, like Contentful. These make managing content across devices easier and have also boomed in popularity.
Contentful is a "headless CMS", a type of content management system that has recently grown in use and popularity. Headless CMS separates the front end (head) from the site's content (body).
In a traditional CMS, a website's content and presentation layers are linked, displaying as a website in a browser (for example). Headless CMS focuses instead on content creation and administration. The channels through which this content is output are regulated through versatile API integrations.
This allows CMS editors to focus entirely on content, which can then be output to all sorts of devices, from websites to smartphone apps, smart speakers, or VR glasses.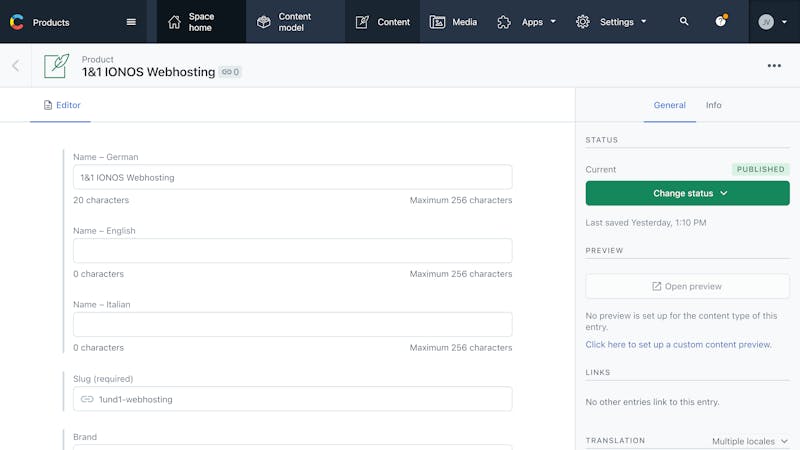 Contentful simplifies how content is output via multiple APIs.
Creating and administering content with Contentful doesn't require any programming know-how, and editors can use the platform on their own. Developers are needed, however, for designing the apps and websites where content will be output.
Wix came in first place when we tested the market's leading website builders. Its users are also highly satisfied with the service, underlined by what we've identified as a 45% growth in usage over the past year.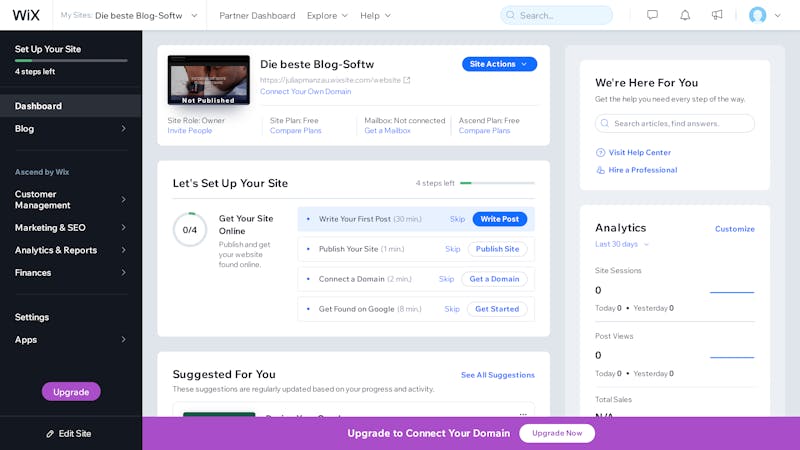 Wix came in first on our list of website builders.
Wix offers an intuitive user interface, and two editors: A regular one and another that's geared towards beginners. Thanks to its wide variety of features, numerous design possibilities, and well-stocked app marketplace, anyone can easily bring their digital visions to life.
Squarespace is another website builder that's grown recently, and again, we think we know why. In our evaluation, the platform earned top marks and a "Very Good" rating.
We particularly liked the elegance and high quality of Squarespace's designs, both of which are the website builder's calling cards. Beyond that, the platform is intuitive to use, boosting its appeal to users of any level of experience.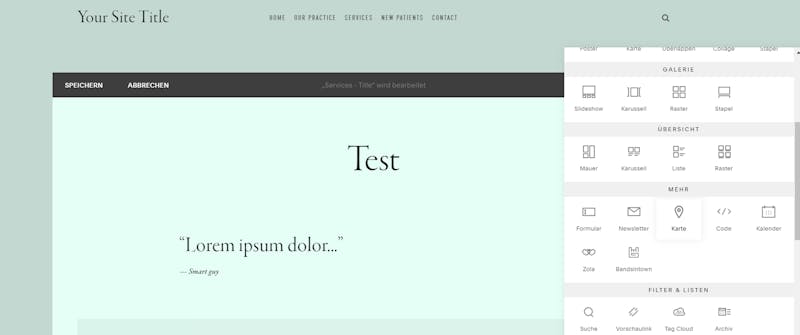 Squarespace's clean and professional design options are one of the platform's claims to fame.
There's a bit less variety when it comes to extensions. Some are available, however, as Squarespace is a closed system, the number of plugins is significantly less than for other site builders, like Wix. When it comes to pricing, Squarespace is a premium service and is sold at a premium price.
Overall Result
WordPress remains the king of CMS and a strong all-arounder. The platform is relatively user-friendly, which caters to beginners, but also expandable enough to offer pros the ability to customize their projects. For those who can handle a steeper learning curve, Drupal or Joomla are also great options.
Apart from the Top 3 most commonly used CMSs, there's a whole world of other site-building platforms. One day, some of these might even challenge WordPress.
Conclusion
The statistics don't lie: WordPress is the world's #1 CMS. The platform dominates website design like no other, and continues to grow, even while its direct competitors stagnate or lose users.
At the same time, as we've shown, there is a lot happening in the world of CMS. Highly intuitive website builders and headless CMS are enjoying an upswing in popularity. We can conclude that simplicity seems to be the name of the game in terms of creating and administering digital content.
We looked closely at 12 popular website builders in our comprehensive EXPERTE.com test, letting you know which impressed us the most.
FAQs
What's the most popular CMS?
⊖
WordPress is by far the most popular CMS, powering 77.9% of websites that we could determine a CMS integration for. From 5 million sites, and 887,130 integrations, 691,237 used WordPress.
Which CMS is right for me?
⊖
Selecting the right CMS depends on your experience and requirements. Open-source options like WordPress, Drupal, or Joomla make it possible to complete complex projects, however, programming know-how is a must. You'll also need to handle hosting and security. Website builders, like Wix, make site creation easier but are less flexible than CMSs. Wix impressed us with its wide variety of features and ease of use.
How can I find out which CMS a website uses?
⊖

Martin Gschwentner majored in American Studies and Media Studies in Germany, the USA and France and works as a freelance editor in Paris. He is a doctoral student at the Institute for English and American Studies at the University of Paris Diderot, where he is researching the influence of money on US politics. On EXPERTE.com he writes about IT security, data protection and software for the self-employed and small businesses.

Translation: D Bare
Continue Reading