What Is WordPress? Easy Beginner Guide 2023

Ad disclaimer:
For links on this page, EXPERTE.com may earn a commission from the provider. This supports our work and has no influence on our editorial rating.
Imagining an Internet without WordPress is like a library missing half (or more) of its books: It would still be a library of course, but you'd have a much smaller choice. So what makes WordPress so popular, and what is it?
In this guide, we'll let you know what WordPress is, why it's so popular, and what you'll need to create your own WordPress website.
What Is WordPress?
WordPress is a content management system, or (CMS). This is a kind of software that allows users to create, manage, and publish digital content. Said differently, you can design and build a website with it, even if you don't have any programming or web design know-how.
Of course, WordPress isn't just any CMS, but the most popular one on the planet, by far: Among a selection of websites that we could identify the CMS for, WordPress was used by more than 75% of them.
What makes WordPress special (and popular) is that it's completely open-source and free: Anyone who wants to download WordPress and use it to make a website can do so at no cost.
WordPress.org vs. WordPress.com
If you type "WordPress" in a search engine, the top two results will be WordPress.org and WordPress.com*. What's the difference? Actually, it's very simple:
WordPress.org is the most important WordPress resource on the Internet. From it, you'll be able to download open-source WordPress software, help in its development, and consult helpful guides, tutorials, and documentation.

WordPress.com

is a hosting service that, in exchange for a monthly fee, manages the technical aspects of your WordPress project for you. This makes it practically identical to the other managed WordPress hosting solutions that we reviewed, like

SiteGround

,

Kinsta

, or

WP Engine

. The one small difference: WordPress.com is owned by Automattic, a company created by WordPress founder Matt Muellenweg.
Possibilities and Examples
WordPress is commonly referred to as blogging software, however, it can do a lot more. Broadly speaking, just about any kind of website can be made with WordPress. With that said, the more complicated the project, the more work, configuration, and skill will be required. Here are some of the types of websites you can make with the world's leading CMS:
Business websites

News sites

Blogs

Internet forums

Resume websites

Social networks
You might be thinking that WordPress is just for smaller projects or those done as a hobby, however, you'd be wrong: WordPress is used by some of the biggest brands in the world, providing the foundation for many of the world's most visited websites. Here are a few examples:
Rolling Stone
Rolling Stone is a popular (online) magazine that explores music, entertainment, pop culture, and politics. Its Internet presence is simple and elegant, with articles grouped according to a range of different filters, along with a paywall that limits access to the subscriber-only area.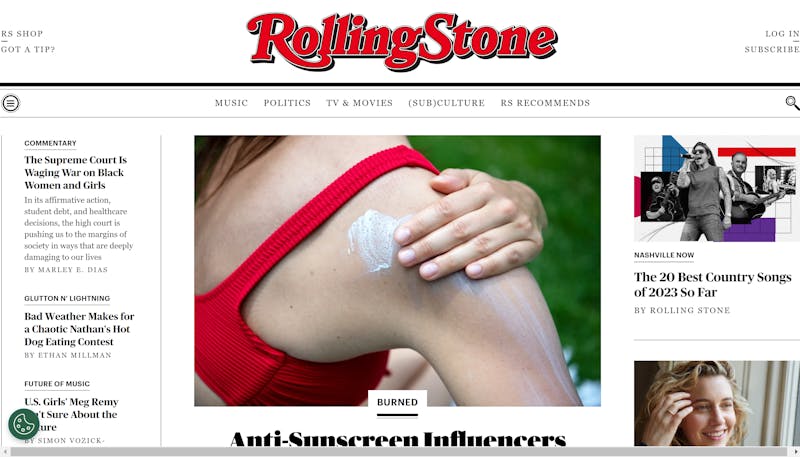 Rolling Stone's website uses WordPress.
The Walt Disney Company
Micky Mouse and Donald Duck use WordPress too: The Walt Disney Company's corporate page is based on WordPress, informing visitors about the long list of partners and subsidiaries.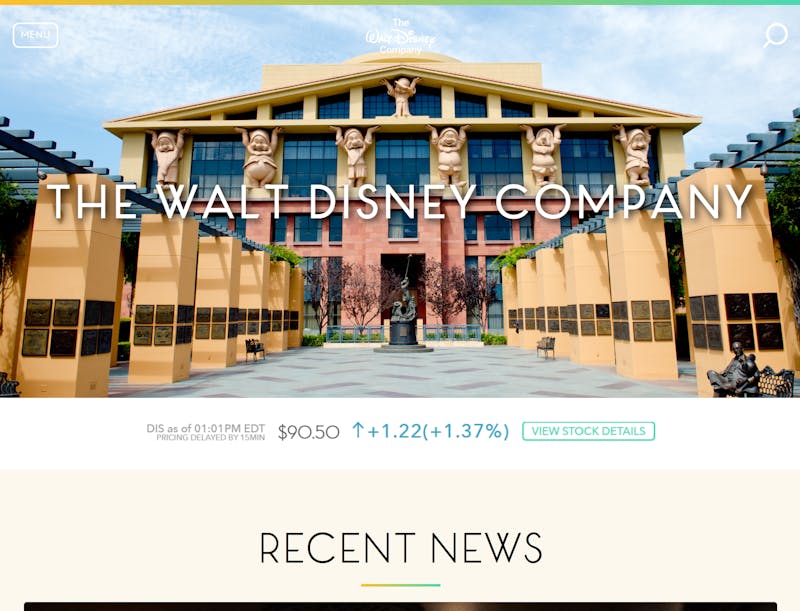 The Walt Disney Company's corporate page also uses WordPress.
The White House
Even the White House uses WordPress for its Internet presence. This very presidential website also provides information about the US government and politics.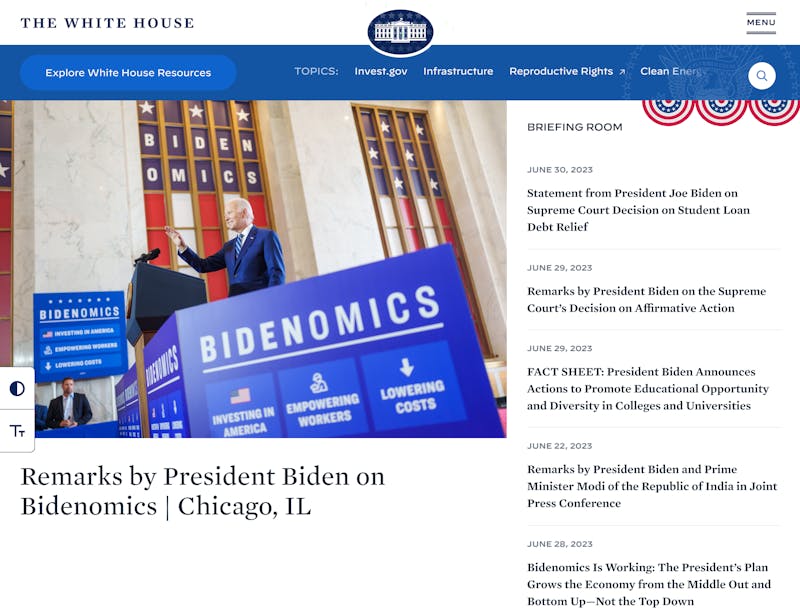 Joe Biden and WordPress – an unbeatable team?
WordPress vs. Website Builders
Create a website without any programming knowledge: Sound familiar? Website builders like Wix make the exact same promise, however, they differ significantly from CMSs.
Broadly speaking, a website builder is a simplified CMS: The former focuses on user-friendliness by making it possible to design a website by dragging and dropping elements. However, a CMS like WordPress offers considerably more flexibility, while requiring more technical know-how and familiarization.
Advantages of WordPress: Why This CMS?
WordPress is far from the only CMS on the market, however, it's definitely the most popular. Even powerful competitors, like Drupal or Joomla, and beloved site builders like Wix or Squarespace, can't come close to its numbers. But why? Below are a few of the CMS's advantages that help explain its popularity:
Free and open source
Since WordPress is open-source and free, anyone can use it at absolutely no cost. The only thing you'll need to pay for is web hosting (more on that below).

Equally good for beginners, intermediate users, and pros
WordPress is very beginner-friendly, however, it doesn't achieve this by limiting features for intermediate users or pros as some site builders do. This makes WordPress appealing to a huge audience.

Easy to install
When it comes to technology, things are usually slow at the beginning. Not so with WordPress, which is simple to set up, even for beginners, especially considering how most hosts have automated the installation process.

Highly flexible
Whether for a blog, a business page, an online store, or a regular website: WordPress's versatility and flexibility make it perfect for websites of any kind.

Expandable with plugins
Do you need more than the basic tools and features? No problem: WordPress is known for its huge selection of plugins, making it possible to add just about any feature to a website. Many plugins are even free.

Plenty of customization with designs and themes
When it comes to design too, WordPress doesn't limit users in any way. Choose between a huge selection of (free and premium) themes and design tools. There's even Elementor, which converts WordPress into a classic, drag-and-drop-style website builder.

Endless resources and tutorials
WordPress's widespread popularity means that its users benefit from a seemingly endless number of tutorials, help content, and other resources. Whenever you have a question or encounter an issue, you can be sure that someone else has had the same experience before and has likely been helped.
Requirements: What's Needed To Create a WordPress Website?
Have we convinced you about the benefits of WordPress? If so, you can start building your website with the world's most popular CMS right now. You won't need too much, and to start, nothing more than an Internet connection. When building, you'll have to invest some time and energy, and once you're ready to go live: Hosting and a domain.
WordPress Hosting
A website needs web space the same way that a house or building needs to own (or rent) the land that it's built on. This means that there's no way around web hosting. For WordPress projects, managed WordPress hosting offers the most convenient solution. These services market special web hosting packages optimized for WordPress websites.
The advantage: WordPress hosting is tailored to the needs of WordPress websites. Installation takes a few clicks and configuration is done in an intuitive admin dashboard with most technical aspects automated. On top of all that, users also benefit from WordPress-specific performance and security features, to say nothing of professional support.
In our comprehensive guides, you can find out everything you need to know about WordPress hosting:
But which WordPress host is the best? We thoroughly tested 9 of the most popular services to help you with your decision. Now, we'll introduce you to our winner and present our full ranking:
EXPERTE.com's Winner: SiteGround
SiteGround WordPress Hosting
SiteGround won us over with excellent speeds, extensive features, and an intuitive interface – all at comparatively low prices, domain and email included.
great speeds with CDN & caching
automatic updates & backups
staging and multisite support
9.1

excellent
WP Installations
Space
Domains
Contract Period
SiteGround StartUp
$8.49
monthly price
Visit Website*
30 Tage Geld-zurück-Garantie
SiteGround placed first in our comprehensive ranking of WordPress hosts. The Bulgarian provider scored with its excellent overall packages, offering what we think is the best combination of performance, user-friendliness, and security on the market. You'll get plenty of features, including everything that's needed (and more) to run a successful WordPress website.
And it isn't over-priced either: While SiteGround isn't the most affordable solution from our sample, it's not the priciest either. Since it offers so much and performed so well in our test, its average price offers great value for money. And the cherry on top? You'll get email hosting and a free domain with your subscription package.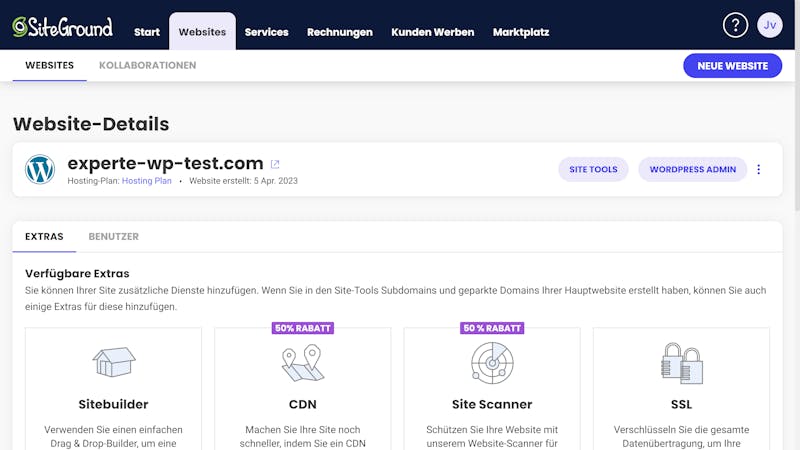 SiteGround was the winner of our EXPERTE.com test.
However, SiteGround isn't perfect: No support hotline is offered, responses could have been faster, and only GoGeek and GrowBig subscribers can perform manual, on-demand backups.
Still, SiteGround was our top pick among the hosting providers we reviewed, surpassing all of its competitors.
Configuration & Usage
9.4 / 10
Technology & Features
9.4 / 10
Of course, SiteGround is just one of the 9 WordPress hosts we reviewed, and might not be the best for your individual needs. We extensively reviewed the leading WordPress hosts in terms of their user-friendliness, security, and performance. Here's our full ranking:
Domains
The second thing a WordPress website needs is a domain. This is your website's name and the address where it can be found online.
Conveniently, many hosting services include free domains (at least for a year) in their subscription packages. In the event that the host you select isn't among these, it's not the end of the world, since buying an available domain is usually very affordable. Most of the time, you can purchase a domain directly through your hosting provider.
Conclusion
WordPress is the world's most popular content management system. This shouldn't come as a surprise since users without any programming know-how can create all kinds of websites with it, ranging from simple blogs to business pages to complicated web portals. Other reasons for its popularity are that it's both open-source and free, can be (endlessly) expanded with plugins, and is beginner-friendly.
All that's needed to get a WordPress website online are web space (which you can purchase from a web hosting provider), and a domain. Plenty of hosting services offer special subscriptions tailored to the needs of WordPress websites. We comprehensively tested 9 of the leading managed WordPress hosting solutions to make your choice a little bit easier.
FAQs
WordPress is an open-source content management system. Its users can create, manage, and publish digital content. This greatly simplifies the process of creating a website, especially for those without any programming know-how.
What can I make with WordPress?
⊖
Since WordPress is so versatile, it's possible to create nearly any kind of website with it. From a simple blog to a professional corporate page to more intricate projects like stores, a forum, or web portals: With WordPress, the sky is the limit.
Is WordPress good for beginners?
⊖
Yes, WordPress is a good option for beginners since setup and installation are easy and no programming knowledge is needed. Creating and managing a WordPress website becomes even easier with specialized WordPress hosting services that offer packages tailored to the needs of WordPress users.
How much does WordPress cost?
⊖
WordPress software is free and open-source, which means that anyone can download and use it at no charge. To publish a WordPress website online, you'll need hosting and a domain. The most affordable subscriptions among the 9 managed WordPress hosting providers we reviewed cost from $3 to $30 per month.
* Ad disclaimer:
For links marked with an asterisk, EXPERTE.com may earn a commission from the provider. The commission has no influence on our editorial rating.

Martin Gschwentner majored in American Studies and Media Studies in Germany, the USA and France and works as a freelance editor in Paris. He is a doctoral student at the Institute for English and American Studies at the University of Paris Diderot, where he is researching the influence of money on US politics. On EXPERTE.com he writes about IT security, data protection and software for the self-employed and small businesses.
Continue Reading
Beginner
Advanced
Other Topics
Other languages
Deutsch