Wix vs. Wordpress: Which Platform Is Better for Website Creation?

Our editors test and evaluate all services independently. For links on this page, EXPERTE.com may earn a commission from the provider.
Do you want to create a website, but don't know where to start? If you don't have coding experience and would prefer not to hire web designers or agencies due to concerns about costs, you have a couple of options: a website builder or a content management system. Two of the most well-known representatives of each genre are Wix and WordPress.
Wix and WordPress are both popular platforms for website creation. They have some similarities, but also numerous differences. In this article, we'll briefly introduce both platforms and compare them to help you choose.
Website Builder vs. CMS
The difference between Wix and WordPress lies in the nature of each system. The former is a website builder, while the latter is a content management system (CMS). These two terms are sometimes used interchangeably, but they actually refer to two different types of platforms.
The biggest difference is that a website builder such as Wix offers user-friendly tools that allow you to create a professional website without any programming knowledge. This is made possible through these platforms' intuitive editors that usually work possess simple drag and drop capabilities. Other aspects, such as hosting and domain, are also typically included in site building packages.
With a CMS such as WordPress, you often have to manage these aspects yourself. On the other hand, you're afforded greater flexibility when it comes to choices and design. Simply put, a CMS allows you to do exactly what its terms imply, namely, to manage content. You can use it to manage all of your website's content, configuring this down to the last detail—to a greater degree than with website builders. There are also customized solutions for CMS platforms that you can use to design your site.
Therefore, a CMS can do everything that a website builder can, and much more. That being said, setting up, managing, and adding new features are more complicated and require more know-how.
Of course, there are also some differences between various website builders and CMSs on the market. Wix and WordPress are among the most versatile products of their respective kinds.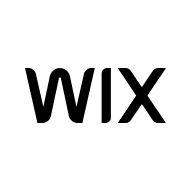 Wix
Wix beats out the competition with an unmatched variety of features, intuitive editors and a jam-packed app store. Overall, the platform offers the best balance of usability and features on the market today.
lots of features and elements
simple & intuitive interface
9.6

excellent
Space
Domains
Templates
Contract Period
Wix Free
$0.00
monthly price
Visit Website*
Try for Free
In our comprehensive EXPERTE.com review of website builders, Wix proved itself a winner. The Israel-based platform came out on top with a large set of features, intuitive operation, and a huge app marketplace for extensions. Wix's editor gets high marks for page sections and content that users can freely arrange and edit via drag and drop. Wix's monthly price includes hosting and a domain, and they even offer a free trial version.
All things considered, Wix delivers what in our minds is the best overall package on the website builder market, striking a good balance between features and ease of use.
Marketing, SEO & Ecommerce
10 / 10
Templates & Design
9.4 / 10
Configuration & Usability
9.4 / 10

WordPress
WordPress originally started as blogging software. Over time, it has evolved into an open-source platform capable of handling any website project—be it a blog, online store, or company website.
WordPress itself is free, but hosting, a domain, and various widgets and plug-ins need to be purchased. For example, if you want to use a modular system to create your website, you first have to install it in WordPress.
Wix vs. WordPress: Which Is Better?
Whether you're better off with Wix or WordPress depends on your needs, skills, and budget, among other things. Essentially, if you want to have as little to do as possible with the technical aspects of creating a website, and only intend to set up a small blog or simple website, you may be happier with a website builder like Wix. However, more complex projects or websites that have the potential to grow significantly in the future are begun on a CMS like WordPress.
Next, we'll go step by step through both solutions, and explain the pros and cons of each platform.
User-friendliness is the number one selling factor when it comes to website builders. These platforms are designed for beginners without any design or programming knowledge. They are also closed, self-contained systems that offer all the most important features under one roof.
Wix has two editors: The AI-supported ADI editor makes site building especially easy. This tool practically creates simple websites automatically, however, it comes with fewer features and content options. On the other hand, Wix's standard editor is also quite intuitive, even if you'll first need to learn its ropes (it's similar to an image editing program, like Photoshop).
Should you get stuck, you can contact Wix's support in a flash via live chat, email, or phone (via callback service).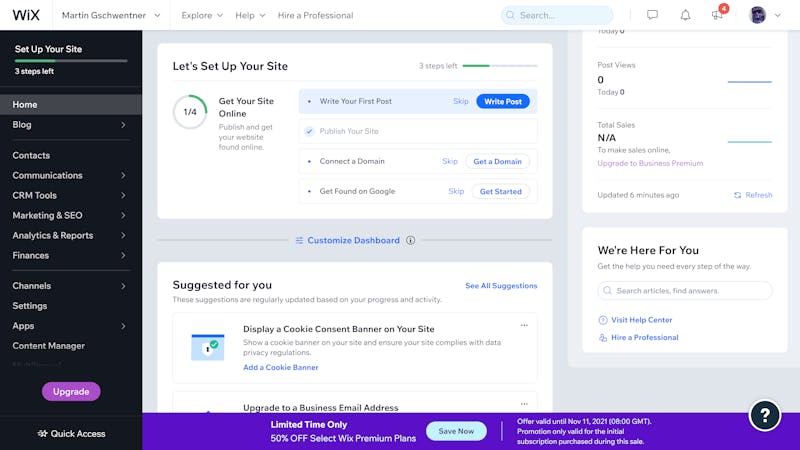 User-friendliness is Wix's number one priority.
Whereas Wix offers a user-friendly, all-in-one package, WordPress basically leaves you to fend for yourself. You'll have to look for and install any feature you want to add to your website. Alternatively, you can build your page with a website builder integrated into WordPress, however, you'll first need to set it up manually.
Of course, the term "user-friendliness" can mean different things depending on your experience level. For advanced users, WordPress is also a very user-friendly solution. However, when it comes to "beginner-friendliness", Wix is a clear winner.
For a website builder, Wix offers a multitude of features. In addition to a huge selection of content elements, you're also afforded access to Wix's Media Manager, which includes a stock photo integration, extensive marketing tools, a logo maker, and a smartphone app for working on the go. Thanks to their integrated features, it's possible to easily create multilingual websites. Any features that Wix itself doesn't offer can often be found in the platform's extensive app marketplace.
Despite the numerous features Wix and other website builders offer, they still can't compete with WordPress when it comes to flexibility. With WordPress, the sky is the limit; what's not offered in the form of plug-ins and apps, you can program yourself. However, you have to find and install these features, extensions, and plug-ins on your own, since they aren't served on a silver platter, as is the case with Wix.
3.
Design and Customization
When it comes to design options, WordPress provides greater variety, whereas Wix offers more convenience. With Wix's website builder, you can simply make a selection from more than 800 templates. Each of these is customizable with relatively few restrictions, at least so far as site builders are concerned: Colors, backgrounds, fonts, and effects are all easily adjusted in the design manager.
That being said, you're still closely tied to the theme's specifications, and you can't simply switch from one template to another.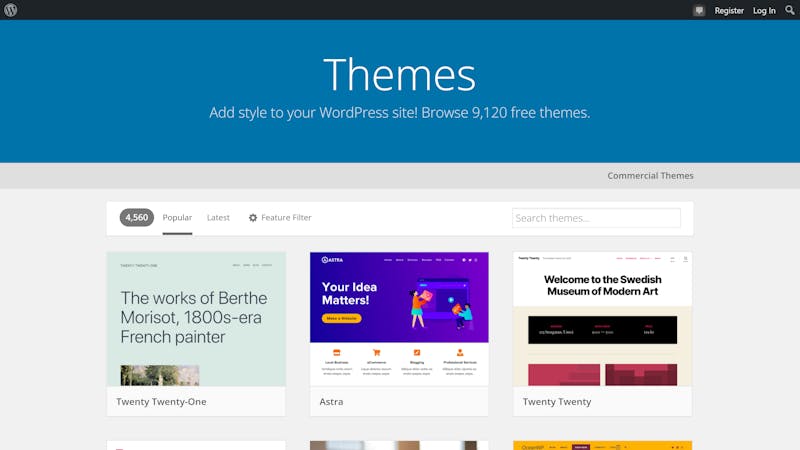 WordPress offers a wide selection of themes that you can freely customize.
WordPress' template selection is even larger. On their platform, you can expect thousands of free and paid themes tailored to all sorts of purposes and website types. If you know how to program or are willing to hire help, you can also create a completely customized template for your WordPress project.
The platform also enables you to change your template at any time. That means your website will always be ready to grow and keep up with your business's progress. As a result, with WordPress, you're afforded greater flexibility when it comes to customizing templates; just bear in mind that custom designs require programming skills.
Wix includes built-in e-commerce features. An online store can be added with the click of a mouse, and it's possible to manage your products via a dedicated dashboard. The platform supports common payment methods and offers some marketing features such as email newsletters, discounts, and a video maker. On the Wix App Market, you'll find apps to enhance your online store's capabilities. However, as to be expected, users are limited by the features included in their subscription package.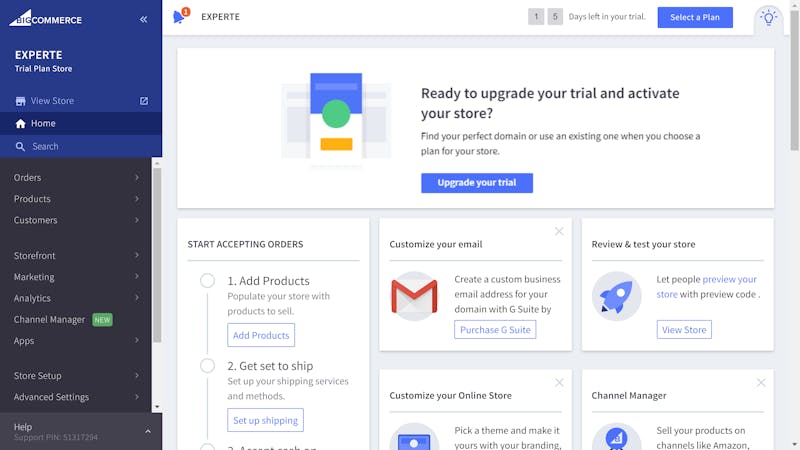 To run your online store, you can install e-commerce platforms such as BigCommerce on WordPress.
In WordPress, you can create an online store using various plug-ins. Among the most popular are WooCommerce and BigCommerce, which also prove more versatile than Wix when it comes to e-commerce. These also come with their own plug-ins and extensions. WordPress again offers enhanced flexibility, even if you have to put the features together yourself.
Wix offers basic search engine optimization (SEO) settings that are vital for every website. With these, you can manually edit SEO-related content such as meta descriptions, or take advantage of Wix's SEO plan.
With WordPress you're afforded significantly more possibilities: These include numerous SEO plugins, such as Yoast or All in One SEO (AIOSEO), which are great for optimizing every aspect of your website for Google and the like.
Wix Costs
Wix is basically free. However, the free version binds you to a Wix subdomain and excludes many premium features. Paid packages can run anywhere from $10 to $40 per month, and vary in terms of storage space, bandwidth, and features, among other factors. Domain (for the first year), hosting, and SSL certificates are included in all paid Wix packages.
Subscriptions can be booked either monthly or annually. The cheapest ad-free plan with your own domain costs around $10 per month.
WordPress Costs
WordPress, as an open-source platform, is also basically free. However, you have to find and pay for both hosting and a domain yourself.
Web hosting costs vary widely and depend on aspects such as the web space. The cheapest rates start at just a few dollars.
At a small added cost, you can also opt for a dedicated WordPress host that will take care of the installation and configuration of your WordPress environment. Entry-level offers are available that also cost just a few dollars. However, depending on the number of WordPress integrations and the webspace size, costs can balloon to $20, $50, or even hundreds of dollars per month.
Overall Result
Wix's* website builder is particularly beginner-friendly. You don't need any programming or web design skills to get your project up and running. Thanks to its intuitive editor, you can create a website, blog, or online store out of various ready-made pieces and blocks. However, while Wix offers a multitude of features by website builder standards, you'll still be bound to the system's inherent limitations.
WordPress requires more training and initiative because you have to take care of your project's configuration, hosting, and domain on your own. In return, WordPress offers more flexibility than Wix in almost every respect: features, e-commerce, blogs, and SEO. However, to take advantage of its full potential, less experienced users will need support from a professional.
Therefore, Wix is a good fit for simple websites like blogs or portfolio pages and for users who don't want to spend time learning a complex system like WordPress. However, for those willing to invest effort and energy into familiarizing themselves with the platform, or for those who can hire external help, a CMS like WordPress is a better choice—especially when it comes to large and complex projects.
Wix — Pros and Cons
Easy, all-inclusive package including setup, hosting, and domain

Beginner-friendly editor with simple drag and drop capabilities

More than 800 templates to choose from
No easy way to switch templates

Less flexibility than WordPress in every respect (features, customizations, e-commerce, SEO...)

Less external extensions than WordPress
WordPress — Pros and Cons
Countless plug-ins and extensions
You need to arrange hosting and a domain on your own

Setup is more complicated than with Wix

Coding knowledge or external help necessary to fully take advantage of the system's flexibility
Wix Alternatives
In our website builder review, we took a close look at 10 platforms and compared them according to a number of different criteria. Wix came in first place, closely followed by Squarespace and 1&1 IONOS.
While we're convinced that Wix offers the best overall package, their platform isn't superior to the competition in every respect. For example, Squarespace's templates are a bit nicer than Wix's, and Shopify is slightly better suited for online stores. To see how the rest of our sample performed in comparison to the Israeli site builder, be sure to check out our compilation of the best alternatives to Wix.
WordPress Alternatives
WordPress is indisputably number one among CMSs, but it's also worth taking a glance at the competition. Open-source platforms like Drupal or Joomla offer similar features and flexibility to WordPress. For multimedia projects, it's also worth taking a look at the headless CMS genre, which makes it especially easy to provide content to different end devices via API.
Conclusion
Essentially, Wix and WordPress lead to the same result: a professional website. However, as a website builder, Wix focuses primarily on making this process as user-friendly as possible, while offering a fairly comprehensive—yet limited—set of tools and features to realize it.
WordPress, as a content management system, provides significantly more features and plug-ins and can help you manage almost any type of website. Set alongside Wix, WordPress is much more flexible and a better choice for fast-growing and complex pages. That being said, CMS requires more initiative on your part and is more complicated to use.
Supposing that you aren't ready to learn the ins and outs of a CMS or get external help, and if your website isn't too extravagant, it's possible to relatively easily create a web presence with Wix. However, for more ambitious projects online, it makes sense to take advantage of the flexibility and barrier-free nature of a CMS like WordPress.
FAQs
Which is better, Wix or Wordpress?
⊖
Wix is better for complete beginners who want to quickly and affordably build a website on their own, and who don't need the flexibility of a content management system. Wix is especially suited for simple projects like blogs, portfolios, or basic business sites. However, WordPress is far more versatile than Wix, and a better fit for complex projects and websites that are likely to grow significantly. Just keep in mind that WordPress is more complicated to set up and manage.
What is better than Wix?
⊖
In our review of the best website builders on the market, Wix took first place. Squarespace came in a close second, with 1&1 IONOS securing third. Squarespace, for example, offers nicer templates, while 1&1 IONOS has a versatile editor on par with Wix's. For more complex website projects, a CMS such as WordPress is usually a more practical choice.
What's better than WordPress?
⊖
WordPress is top dog among content management systems, but other platforms like Drupal or Joomla offer similar features. So far as multimedia projects are concerned, a headless CMS like Contentful or Storyblok might be a better fit, especially since those systems output content to different devices via API. For beginners with simpler website projects, it pays to take a look at website builders like Wix, since you can tinker around and publish websites with zero coding knowledge or web design experience.

Martin Gschwentner majored in American Studies and Media Studies in Germany, the USA and France and works as a freelance editor in Paris. He is a doctoral student at the Institute for English and American Studies at the University of Paris Diderot, where he is researching the influence of money on US politics. On EXPERTE.com he writes about IT security, data protection and software for the self-employed and small businesses.

Translator & Editor: Lisa Torelli-Sauer
Continue Reading
Ad disclaimer
* For links marked with an asterisk, EXPERTE.com may earn a commission from the provider. The commission has no influence on our editorial rating.