Hostinger WordPress Hosting Review 2023: Lightning Fast WordPress Hosting?

Author
Janis von Bleichert
Ad disclaimer:
For links on this page, EXPERTE.com may earn a commission from the provider. This supports our work and has no influence on our editorial rating.
When managed WordPress hosting is done correctly, it's like staying in a five-star hotel: Since all of your website's technical needs are taken care of, you can focus your attention elsewhere. With its claim of offering "everything you need to create a website", from performance to security, Hostinger sounds promising.
Below, we'll let you know what Hostinger can do for your WordPress project and whether it truly is an "all-in-one website solution".
What Is Hostinger?
Hostinger* is a web hosting provider from Kaunas (Lithuania) that has been on the market since 2011. The service doesn't specialize in WordPress hosting, offering instead a range of solutions, from VPS to dedicated Minecraft servers.
According to Hostinger, its WordPress packages combine lightning-fast performance with first-class security and round-the-clock support. Below, we'll let you know how things look from the user's perspective.
Hostinger WordPress Hosting Review
Configuration & Usage
9.4 / 10
Technology & Features
9.4 / 10
Up to 300 websites per plan
Depending on the subscription you select, Hostinger allows you to host 100-300 websites on a single plan.

Free migration service
With Hostinger, you can quickly migrate existing websites for free, and as often as you'd like.

Unlimited databases
Many managed hosting services limit users to one database per website. Hostinger's users can link as many databases to their website as they'd like.

Intuitive user interface
Hostinger's hPanel is intuitive and beginner-friendly, helping even the most inexperienced WordPress user to quickly come to terms with the platform.
Poor performance
Unfortunately, during our performance test, Hostinger finished near the bottom of our ranking. This was owing to its subpar response times and page speeds, as well as disappointing availability/uptime.
Performance and security are the two core aspects of WordPress hosting, however, before you can benefit from them, you'll need to get your WordPress website hosted. For this, a user-friendly interface and intuitive admin tools are key.
Our first impression of Hostinger's usage concept was very positive. After registering and purchasing a WordPress subscription, we found ourselves in a clearly-structured dashboard, the home page of which takes walks you directly through the process of installing your WordPress instance. To start the installation, click on "Setup".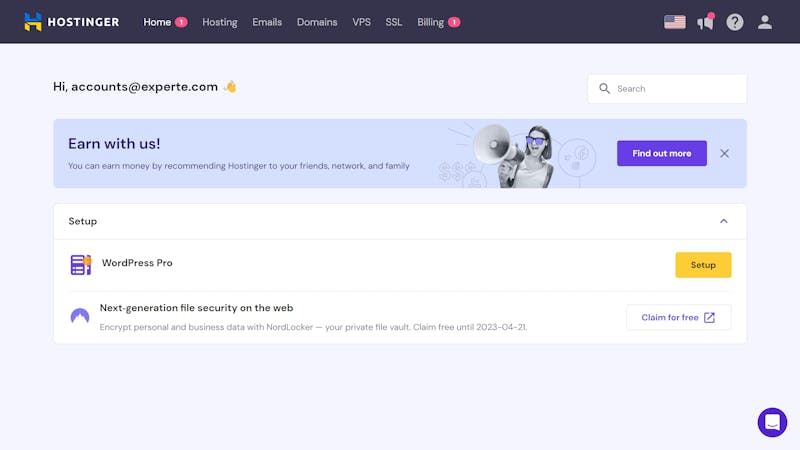 Hostinger's user interface is well-organized and self-explanatory.
Next, answer a few questions about your WordPress instance and input your login details. It's possible to select a WordPress theme here, however, you can easily change this later on.
With Hostinger, users can select where they want their WordPress website to be hosted from. In the EU, Hostinger offers servers in France, Lithuania, and the Netherlands.
Before finishing, you'll be able to check your responses and selections once more. After that, your WordPress instance will be installed.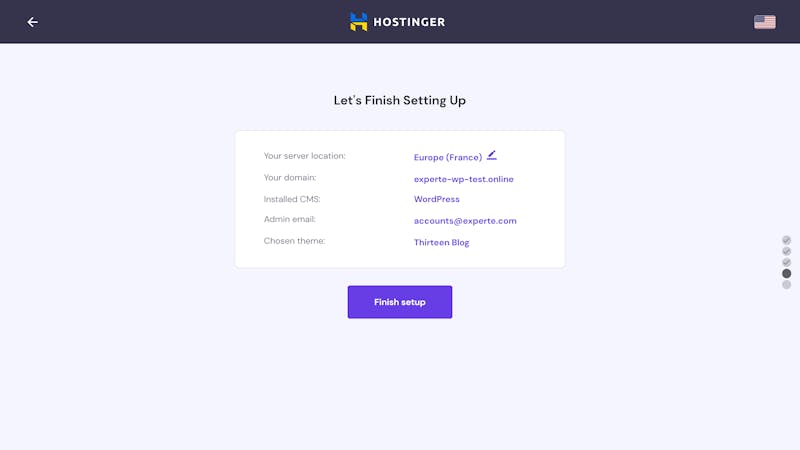 Installing a WordPress instance on Hostinger only takes a few minutes.
Clear Customer Area
Once installation is complete, you'll see your WordPress project, along with its domain(s) and email address(es), listed in your customer area. Click on the "Manage" button to open the hPanel. This is Hostinger's take on the cPanel, and serves as the admin dashboard for your WordPress installation.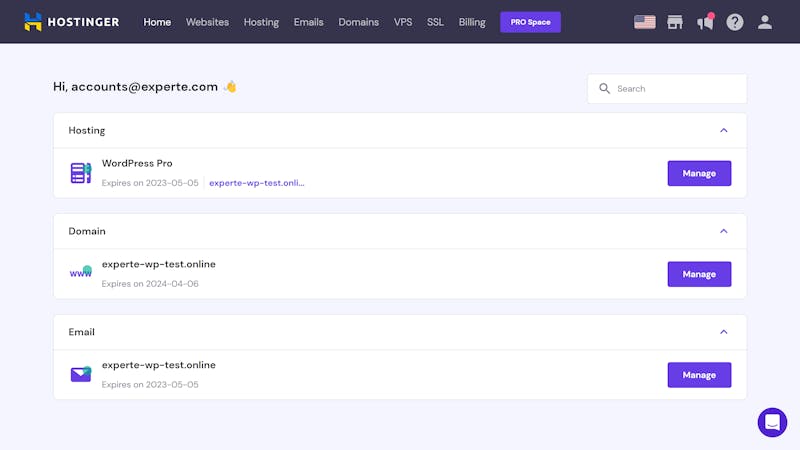 After your WordPress instance has been installed, you can modify it in the hPanel.
hPanel: Modern WordPress Dashboard
The hPanel is modern, sleek, and user-friendly. Off to the left, you'll find a main menu through which you can access several subareas. These include:
Dashboard: This is the hPanel's home page and provides an overview of the most important aspects of your subscription package.

WordPress: In this area, you'll manage the most important WordPress settings, from caching to SSL certificates.

Hosting: This is where your hosting package's technical details can be found, as well as the ability to change or renew your subscription.

Performance: Here, you can review performance features and statistics.

Security

: Use the platform's

malware

scanner and check your SSL certificate's settings.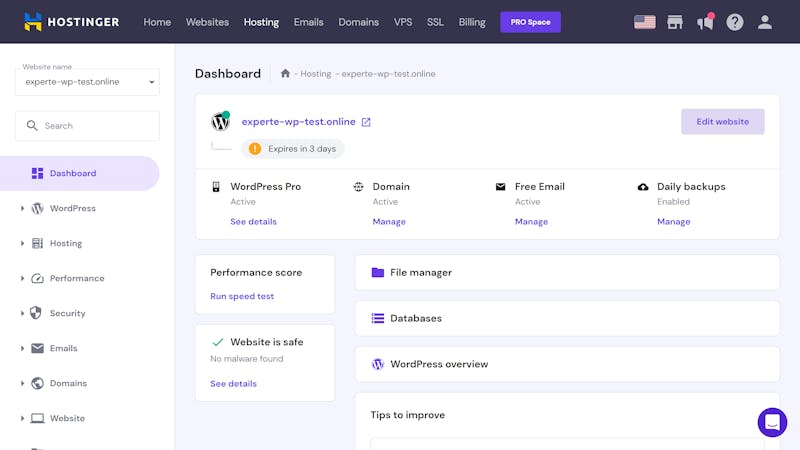 Hostinger's hPanel is its user-friendly management dashboard for WordPress.
In addition, there are separate areas for managing email accounts, domains, and databases. Despite all of the submenus, Hostinger's hPanel remains easy to navigate.
Thanks to the clear separation of areas, it's simple to quickly find whatever it is that you're looking for. In the unlikely event that you're not able to, you can use the convenient search bar that's integrated into the menu.
Migrate a WordPress Website to Hostinger
Do you already have a WordPress website and want to transfer it to Hostinger? If so, you're in luck: The hosting service offers a free migration service that digitally relocates your website for you.
Click on "Create or migrate a website" in the website menu, select what type of project it is, click on "Migrate my website", and follow the instructions. Hostinger promises to complete all migrations within 48 hours - simple transfers are usually finished within six hours.
There's no limit on the number of migrations you can perform: This means that you can make use of the free migration service as often as you'd like. In this regard, Hostinger is significantly more generous than many of its competitors.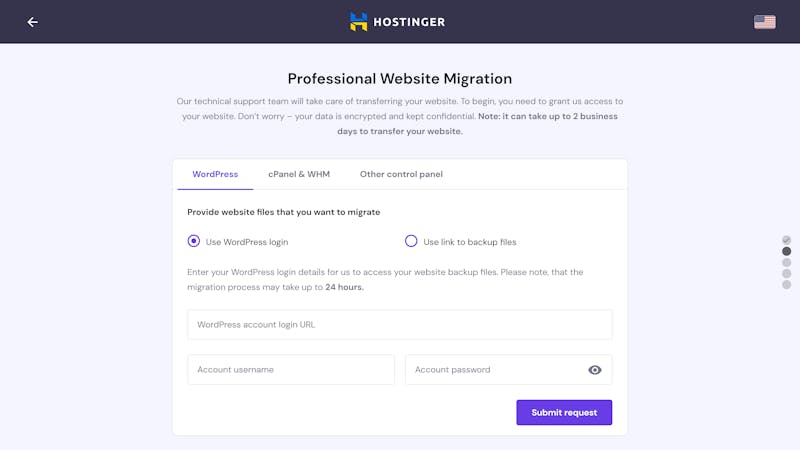 Existing WordPress websites can be easily migrated to Hostinger at no charge.
Registration, migration, and installation: Hostinger makes every step of configuring your WordPress project easy, scoring with its intuitive hPanel.
Configuration & Usage
9.4 / 10
A friendly user interface is nice to have, but it cannot compensate for technical shortcomings or a lack of features. For that reason, the next area we examined at was what Hostinger has under the hood.
In order to get a basic idea of what technology the platform uses, we checked the server report in WordPress. After installing your WordPress instance in Hostinger, this report should reveal many of the host's settings. It can be found in your WordPress admin area by heading to Tools > Site Health > Info.
Our server report after installing our WordPress instance in Hostinger.
The server report provides information about your host's server architecture, which PHP version it uses, as well as the PHP memory limit. However, many of these values can change, depending on the hosting package you select as well as changes you make in the hPanel.
To gain a more comprehensive idea of Hostinger's technical parameters and features, we individually checked each aspect.
Neither Apache nor NGINX: Hostinger Travels at the Speed of Light
Whereas most WordPress hosts use Apache or NGINX for their web servers, Hostinger goes its own way with LiteSpeed. This is a web server that specifically focuses on performance and speed (read more about Hostinger's capabilities in our performance section).
For databases, Hostinger goes a more traditional route, using MySQL. Unlimited databases are allowed in all packages from Starter up. Database management, adding new databases, and assigning user permissions, can be done through the "Databases" option in the dashboard. Users have access to phpMyAdmin and RemoteSQL.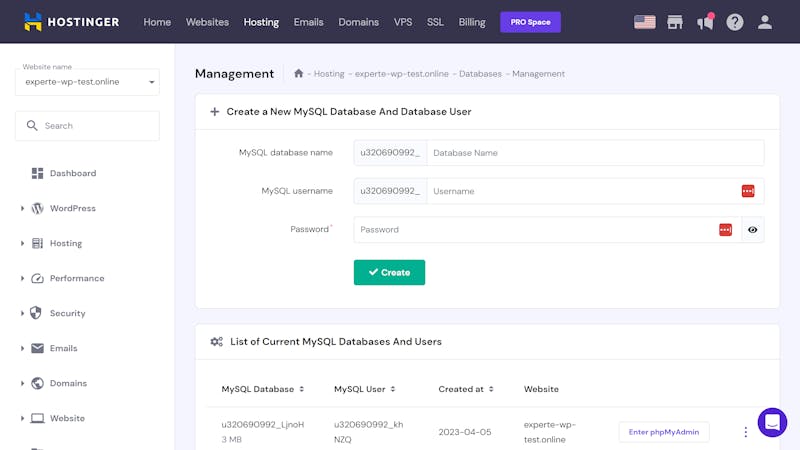 Most Hostinger subscriptions include unlimited databases.
PHP up to 8.1
Your WordPress website's performance doesn't just depend on its web servers, but also, on which version of PHP is used. Each update brings new features that impact your project's performance and security. As of the time of writing, like most of the services from our sample, Hostinger supports version 8.1, but not the newer 8.2.
Version 8.1 comes preinstalled by default. In the hPanel, you can manually change the PHP version and adjust other PHP settings, such as extensions, and parameters like the input time and memory limit. Settings can be accessed by heading to Advanced > PHP Configuration.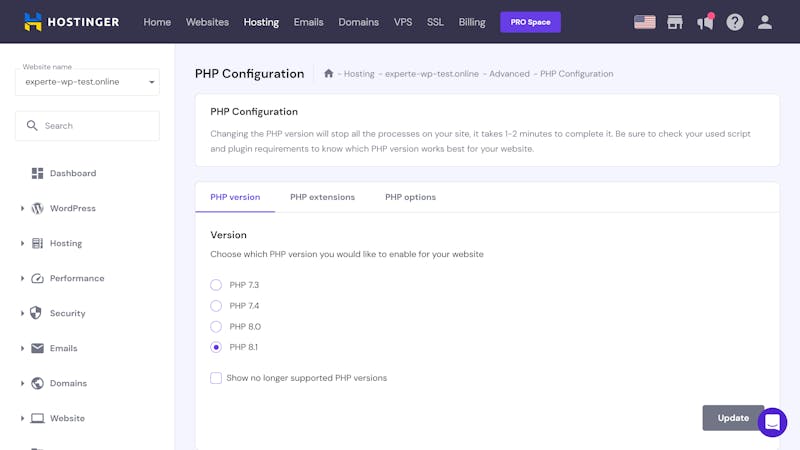 It's possible to revert to an older PHP version.
Enhanced Performance Thanks to Cache Manager and CDN
LiteSpeed isn't the only performance trick up Hostinger's sleeve: Unlike most of the other services from our sample, the host has integrated the HTTP/3 protocol and only uses fast SSD drives.
Its Cache Manager is also worth mentioning: This caching solution, which is part of the hPanel, ensures that your website's static content is regularly cached, improving loading speeds.
Other server-side caching solutions, like SiteGround's SuperCacher which covers all dynamic content, are a bit more sophisticated, however, Cache Manager is a good start. In addition, it can be enhanced through plugins. To activate it, head to the "Advanced" area: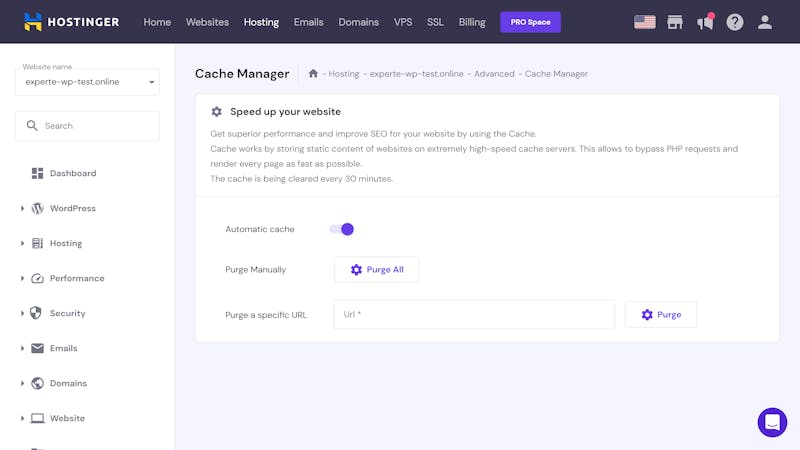 Hostinger's Cache Manager gives your website a loading speed boost.
If you're expecting a large number of international visitors to your website, Hostinger's content delivery network (CDN) might be of interest. As of the time of writing, it's still in the Beta phase.
Other Hostinger Features
Hostinger's hPanel is full of features, and we couldn't possibly comment on each of them. Below, we've listed a few that might be of interest:
Email: Each subscription includes hosting for at least one email account.

Domain: All subscriptions include a free domain.

Multisite support: With a multisite, you can manage multiple websites on a single WordPress installation. All WordPress hosting plans include multisite support.

WP-CLI: WordPress's command-line integration, which allows you to further configure your integration, is also included in all packages.

Staging tool: Business and Cloud Startup subscribers can make use of the platform's staging environment to test updates and changes to their WordPress project before going live.

SFTP and SSH access: Of course, you can use SFTP and SSH gateways to transfer data and access your website.

Dedicated resources and IP: If you'd prefer not to share resources and IP addresses with other users, you won't have to with a Cloud Startup subscription.
Hostinger offers nearly everything a WordPress website needs, including a domain and email hosting.
Technology & Features
9.4 / 10
Hostinger's hPanel features a dedicated security section, which includes entries for SSL and the platform's malware scanner.
Every Hostinger subscription includes a free SSL certificate from Let's Encrypt. Under the SSL menu entry, you can activate or review your certificate. There's also a Force HTTPS option, which allows you to manually create a secure HTTPS connection to your website.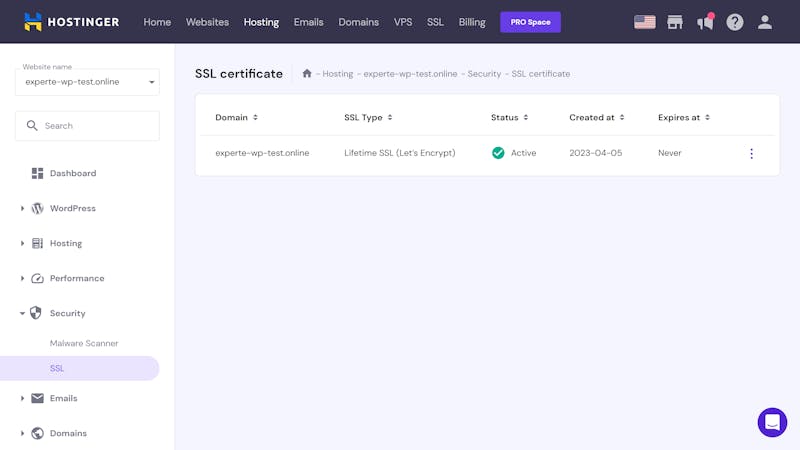 Every WordPress hosting service should include free SSL certificates and Hostinger is no exception.
Malware Scanner and Firewall
In the event that your website falls victim to a malware attack, you'll be notified by Hostinger's malware scanner. Potential or actual threats are listed.
To prevent this from happening, Hostinger protects users with its integrated security features. Its web application firewall (WAF) filters out malicious requests. Beyond that, there's also dedicated DDoS protection from Cloudflare.
Outdated software, whether WordPress itself or third-party plugins, poses another potential danger. With its automatic updates, Hostinger ensures that your WordPress version is always up to date. By heading to WordPress > Security you can check whether your themes and plugins are current and if you're exposed to any potential dangers.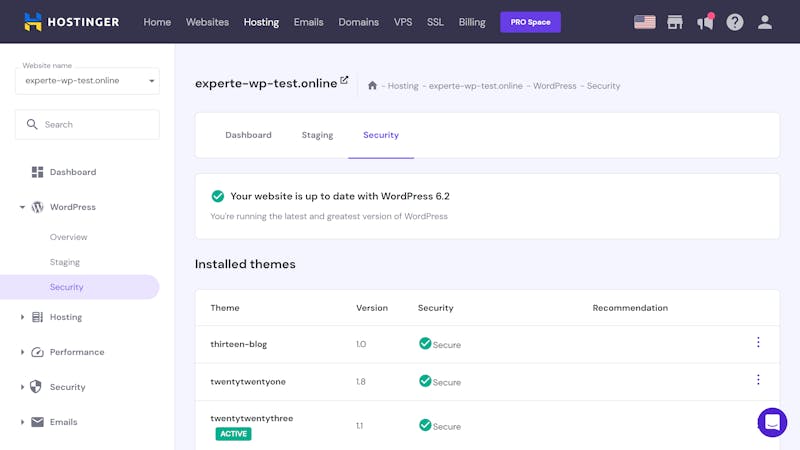 Hostinger automatically updates your WordPress installation.
Hostinger Backups
Digital threats don't only come from malware: Your website can be damaged in other ways too, such as through installing a faulty plugin or deleting important files by accident. For those reasons, it's a good idea to regularly create backups of your WordPress website.
Hostinger automatically handles backups for you. Daily backups, which are the industry standard, are only included in the Business and Cloud Startup packages. Premium subscribers can only perform weekly backups, which is definitely atypical. All the same, backups are stored for up to 60 days, which is fairly long.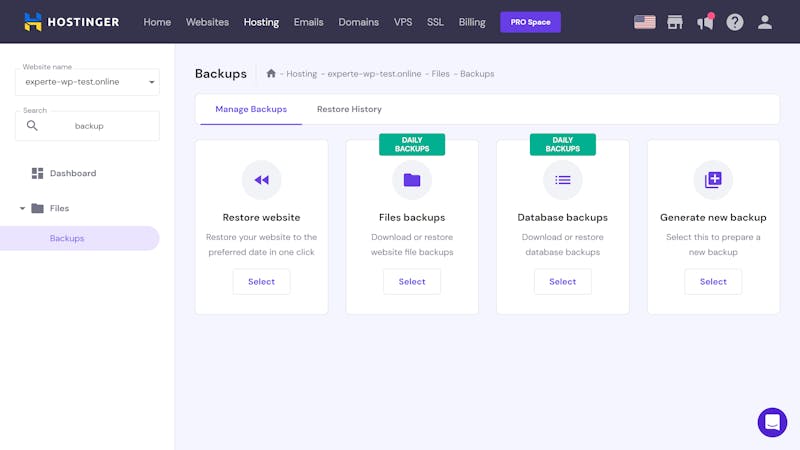 Hostinger automatically creates backups for you.
Manual backups can be made every 24 hours.
To review your backups, create manual backups, or restore your website using a backup, navigate to Files > Backups in the hPanel.
Overall, Hostinger again does well owing to its solid security standards and integrated anti-malware tools. The inclusion of otherwise 'premium' features such as a WAF and DDoS protection is also nice, particularly since most other providers charge extra for these. Our only complaint is that automatic daily backups aren't included in the Premium subscription.
Now that we've reviewed Hostinger's technical specifications, it's time to check whether their claims of lightning speeds measure up in practice. Over the course of six weeks, we measured four important aspects among the providers from our sample:
1.

Response time

2.

Page speed

3.

Response time under load

4.

Availability
Of course, the subscription you select plays a significant role in performance. To keep things fair among our sample, we selected the subscription that was priced closest to $20. With Hostinger, this was the Cloud Startup subscription.
Response Time (Time to First Byte)
We measured the response time of Hostinger's servers according to their Time to First Byte. This reflects how much time elapses between when a user submits a request to their receipt of the first byte of data. Based on this, it was possible to determine a server's power.
Since response times fluctuate, we didn't measure them once, but for six weeks (with caching disabled). The graphic below displays the slowest response time per hour: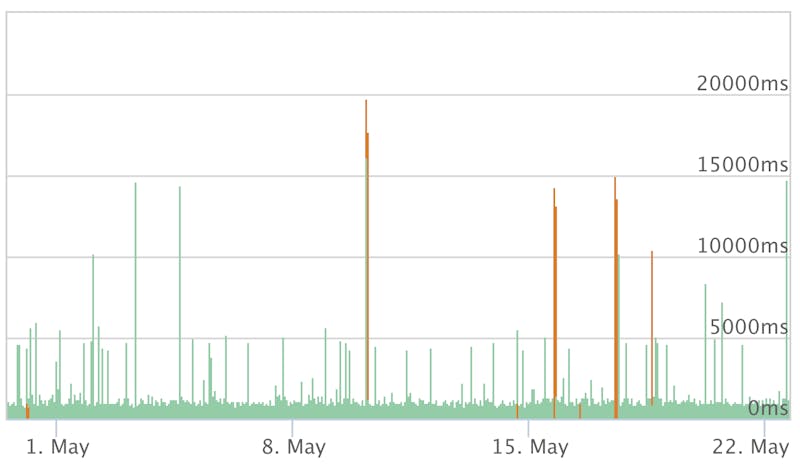 Hostinger's response times according to Time to First Byte.
As can be seen, there were several peaks during the test, which is common. Of greater concern is that the average response time was fairly slow in comparison to the other services from our sample, dropping Hostiner down near the bottom of our ranking.
Page Speed (Largest Contentful Paint)
In the page speed test, we checked how quickly a website loads according to its largest contentful paint (LCP). This reflects how long it takes the largest content element on a page to load, factoring in images, JavaScript, and CSS files.
LCP is a good indicator of how a server's performance optimizations interact with one another. For that reason, it's one of Google's Core Web Vitals, making it relevant not only for user experience but also search engine ranking.
We measured page speed over the course of six weeks with caching enabled. On Hostinger, we noticed quite a few fluctuations:

Hostinger's LCP over the course of time.
In comparison to the other providers from our sample, Hostinger's page speeds secured it a place in the middle of the pack:
Load Test (50 Simultaneous Users)
During our load test, we checked how WordPress websites hosted by Hostinger perform when a large number of visitors request them at the same time. Overburdened servers lead to longer loading times, worsening user experience.
We performed two tests simulating 50 users visiting at the same time. Once with caching enabled, and another with it disabled.
When enabled, Hostinger, like all of the services from our sample, didn't have any problem. After disabling caching, some providers encountered difficulties, however, despite a few high points (blue lines in the graphic), Hostinger passed our test with flying colors:

The graphic shows how response times changed during our load test.
Hostinger had one of the fastest response times during our load test, storming to second place:
Availability (Uptime)
We measured availability once per minute over the course of six weeks. Hostinger's uptime was 99.83%, which sounds good, however, this actually means that our website was unavailable for more than an hour per month.
Below, we've ranked all of the providers from our sample. Hostinger again took one of the lowest places, finishing only ahead of Flywheel:
Overall Performance
Even though Hostinger did well in our load test, taken together, it has to settle for a place near the bottom of our ranking. Its performance is still "good", however, most of the other services we assessed were faster and more reliable.
| Provider | TTFB | Pagespeed | Load Test | Uptime | Total |
| --- | --- | --- | --- | --- | --- |
| WP Engine | 0.21 s | 1.17 s | 0.26 s | 100 % | 10 |
| Siteground | 0.22 s | 0.98 s | 0.21 s | 99.98 % | 10 |
| WordPress.com | 0.20 s | 1.36 s | 0.16 s | 100 % | 9.5 |
| Cloudways | 0.13 s | 1.17 s | 1.64 s | 100 % | 9.4 |
| IONOS | 0.27 s | 1.09 s | 2.22 s | 100 % | 8.7 |
| GoDaddy | 0.34 s | 1.38 s | 0.54 s | 99.98 % | 8.7 |
| Kinsta | 0.31 s | 1.16 s | 2.37 s | 99.99 % | 8.6 |
| Hostinger | 0.49 s | 1.30 s | 0.21 s | 99.83 % | 7.5 |
| Flywheel | 0.13 s | 0.98 s | 3.38 s | 99.78 % | 7.5 |
You can access Hostinger's help center by clicking on the question-mark icon in the hPanel's upper right. There's a search tool that you can use to find whatever you're looking for in the Knowledge Base, as well as a window that informs you about upcoming disruptions or issues.
All of the most important topics are covered with articles grouped into categories like "hPanel", "Domains", and "PHP". Since Hostinger isn't focused entirely on WordPress hosting, there are some categories and entries that aren't relevant.
The articles themselves are well-written and regularly updated, featuring screenshots and hyperlinks.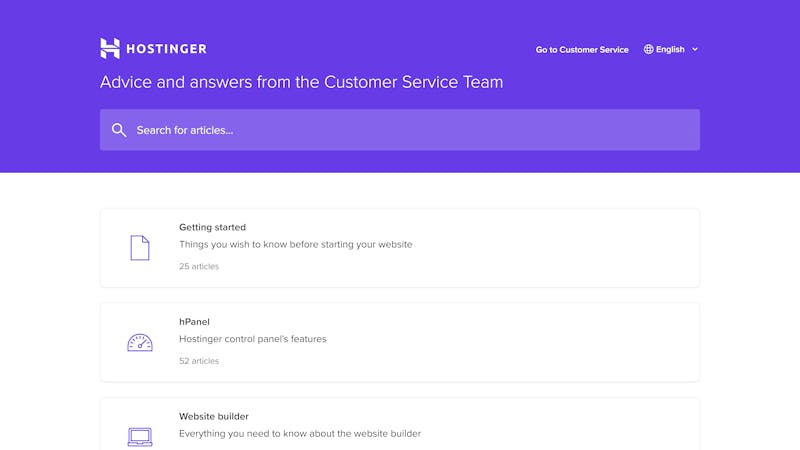 Hostinger's help center isn't the only support resource: In the tutorials area of Hostinger's website, you'll find plenty of content, ranging from video guides to blogs to courses, and even webinars.
Hostinger's Direct Support
Would you prefer to get in touch with Hostinger's support team? If so, you have two options: live chat or email. Both are somewhat hidden and to access them, you'll need to scroll through an article in the help center.
Hostinger promises live chat answers in under three minutes, and our experience confirms this. The staffers we interacted with were helpful and motivated, even if they weren't always able to fully address our issues. The service's direct support doesn't seem to be particularly well-prepared for handling emergencies or serious issues.
Overall, while static content is great, Hostinger's live support could do with some improvement.
Hostinger offers three managed WordPress subscription plans: Premium, Business, and Cloud Startup.
These differ in terms of the number of potential websites (100, 100, 300), SSD storage (100 GB, 200 GB, 200 GB), and subdomains (100, 100, 300).
In terms of features, there are also differences: Business and Cloud Startup subscribers can take advantage of a free CDN, WordPress staging tool, Object Cache, on-demand backups, and enhanced DDoS protection. Cloud Startup subscribers also get a dedicated IP address and priority support.
Below, we've provided an overview of all of the provider's plans:
Premium
Business
Cloud Startup
Set-up Fee
$0.00
$0.00
$0.00
Monthly Price
from $2.99
from $4.49
from $9.99
Contract Period (Months)
1 - 24
1 - 24
1 - 24
Included
WP Installations
100
100
300
Storage
100 GB
200 GB
200 GB
Domains
1
1
1
Databases
unlimited
unlimited
unlimited
SSL Certificates
unlimited
unlimited
unlimited
Features
SSD Storage
SSD Database
HTTP/2
SSH
External Domains
Automatic Backup
Cronjobs
But how does Hostinger compare to the other managed WordPress hosts from our sample? In our price ranking, we compared the most affordable WordPress hosting subscription from each:
1.
2.
3.
4.
5.
6.
7.
8.
9.
Hostinger offers a wide variety of features for a relatively small investment. As such, it has a good price-performance ratio.
Conclusion
Configuration & Usage
9.4 / 10
Technology & Features
9.4 / 10
In many ways, Hostinger offers a good platform for your WordPress project: The Lithuanian host impressed us with its intuitive user interface, a solid package of features, and top-notch security standards. Since email hosting and domains are included, you get a lot of bang for your buck too.
At the same time, even though Hostinger received an overall score of "good" in our performance test, in comparison to the other providers from our sample, it struggled. We were also underwhelmed by its (live) support.
Hostinger WordPress Hosting
Hostinger offers a comprehensive set of features, high security standards, and a neat user interface. When it comes to support and performance, however, it's not top of the line.
WP Installations
Space
Domains
Contract Period
Hostinger Premium
$2.99
monthly price
Visit Website*
Customer Reviews
And what do Hostinger's customers have to say about it? Among the review websites that we consulted, most comments were positive: Customers praise its reliability, service, and easy setup. At the same time, there was some criticism regarding its support and performance.
Below, we've prepared an overview of all of the verified customer reviews that we could find for Hostinger:
Customer Ratings
23,168 Bewertungen
Visit Website*
We analyzed the reviews and ratings from various portals and found 23,168 ratings with an overall rating of 4.6 out of 5 .
Alternatives
Are you looking for a better-performing WordPress hosting service? If so, WP Engine and SiteGround jointly shared first place in our assessment.
Our Top 5 alternatives to Hostinger are:
SiteGround WordPress Hosting
SiteGround won us over with excellent speeds, extensive features, and an intuitive interface – all at comparatively low prices, domain and email included.
great speeds with CDN & caching
automatic updates & backups
staging and multisite support
9.1

excellent
WP Installations
Space
Domains
Contract Period
SiteGround StartUp
$8.49
monthly price
Visit Website*
30 Tage Geld-zurück-Garantie
Kinsta is a highly polished WordPress hoster that combines solid speeds, high security standards, and a beautiful interface into a premium offering worth its premium price tag.
strong performance results
integrated Cloudflare CDN
only 14 days of backup retention
8.8

good
WP Installations
Space
Domains
Contract Period
Kinsta Starter
$29.17
monthly price
Visit Website*
Free Demo Account
WP Engine WordPress Hosting
WP Engine ranks first in our performance test – testament to the platform's 100 % WordPress focus. User-friendly dashboards, high security standards, and solid support round off the package.
100 % specialized in WordPress
top performance with CDN & caching
staging & multisite support
some features behind paywalls
8.6

good
WP Installations
Space
Domains
Contract Period
WP Engine Startup
$20.00
monthly price
Visit Website*
WordPress.com WordPress Hosting
WordPress.com lives up to its name: the hosting service from the people behind WordPress offers excellent speeds, reliable support – and the only free plan among the providers we tested.
WP Installations
Space
Domains
Contract Period
WordPress.com Free
$0.00
monthly price
Visit Website*
Cloudways WordPress Hosting
Despite its rather plain interface and occasional paywalls, Cloudways offers top-notch performance, extensive features, and flexibility, making it a good choice for experienced developers.
multiple infrastructure providers
some features behind paywalls
8.3

good
WP Installations
Space
Domains
Contract Period
Cloudways DO 1GB RAM
$11.00
monthly price
Visit Website*
FAQs
Which server locations does Hostinger offer?
⊖
Hostinger has servers in Europe (France, the Netherlands, Lithuania, and the UK), Asia (Singapore and India), North America (USA), and South America (Brazil).
Does Hostinger perform well?
⊖
Hostinger's performance is fairly average in comparison to the other providers from our EXPERTE.com sample. Its response time, page speed, and availability were below average. During our load test, Hostinger demonstrated very good speeds, coming in second place.
Can I manage multiple websites with Hostinger?
⊖
Yes, Hostinger allows for multiple websites (multisites) to be simultaneously managed. Depending on your subscription, you can host between 100 and 300 sites.
Is there a free trial version of Hostinger?
⊖
No, Hostinger does not offer a free trial version. All subscriptions include a 30-day, money-back guarantee.
* Ad disclaimer:
For links marked with an asterisk, EXPERTE.com may earn a commission from the provider. The commission has no influence on our editorial rating.

Janis von Bleichert studied business informatics at the TU Munich and computer science at the TU Berlin, Germany. He has been self-employed since 2006 and is the founder of EXPERTE.com. He writes about hosting, software and IT security.
Continue Reading