Webnode Review 2023: How Good Is the Website Builder?


Ad disclaimer:
For links on this page, EXPERTE.com may earn a commission from the provider. This supports our work and has no influence on our editorial rating.
Website builders have exploded in popularity. As more services flood the market, it's become increasingly difficult to choose the right one. Among the more established providers are several site-building pioneers whose developers (rightly) predicted that accessibility and ease of use would be the trends of the future.
Webnode is one of these: The joint Swiss-Czech service first appeared in January 2008, and has, to date, been used by more than 40 million people. In this review, we'll show you whether Webnode is past its prime, or can still go head-to-head with the 'new kids on the block'.
What Is Webnode?
Webnode* is a drag and drop site builder developed by Webnode AG, a Swiss company. The service embraces the "what you see is what you get" (WYSIWYG) principle, helping anyone to create and host their own websites. In short, Webnode offers everything needed to bring a website to life, all in a user-friendly package.
In this review, we've taken a closer look at how the platform works in practice.
Webnode Review
Configuration & Usability
9.4 / 10
Marketing, SEO & Ecommerce
7.4 / 10
Templates & Design
6.6 / 10
Clear, easy-to-use editor

Nice selection of templates
Limited number of elements to choose from

Underdeveloped blogging capabilities

Doesn't support digital product sales
1.
Configuration and Usability
Registering with Webnode only takes a few clicks, inputting an email address, and selecting a domain name. After this, you'll be asked whether you want to create a website or an online store. Of course, the differences between the two have become blurred recently, and you can later add a store to your website should the need arise.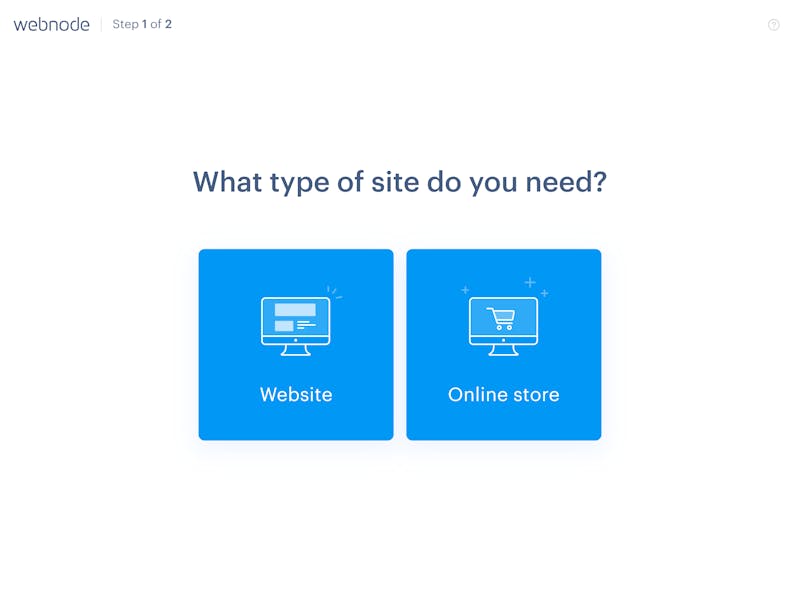 Website or online store? Don't worry, you can add a store to your site later on.
After this, you're provided with a selection of templates, grouped into categories like "Business", "Portfolio", or "Restaurants & Food". Once you've made your choice, you'll be directed to Webnode's editor and greeted with a brief tutorial video.
Even without the tutorial, you should feel immediately at home: Since Webnode only emphasizes the most important features, its interface is streamlined. Apart from a few items in the menu above for editing products, pages, and general settings, everything else involving elements is done directly in the main window, which also provides a live site preview. Through this, you can see what your site will look like.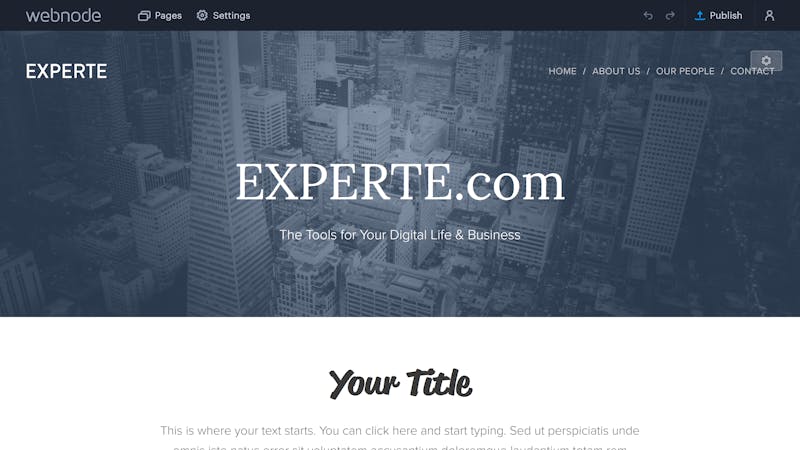 In Webnode's editor, you can modify content directly in the live preview.
17 different section types
Your Webnode website is primarily composed of sections, the selection menu for which is reached by clicking on the plus sign that appears between columns. Using this, you can add text, images, columns, contact forms, and other content. Clicking on this plus symbol also provides the option to insert content into the superordinate section.
So far as the comprehensiveness and variety of content are concerned, other site builders offer more, with Webnode providing little beyond the basics.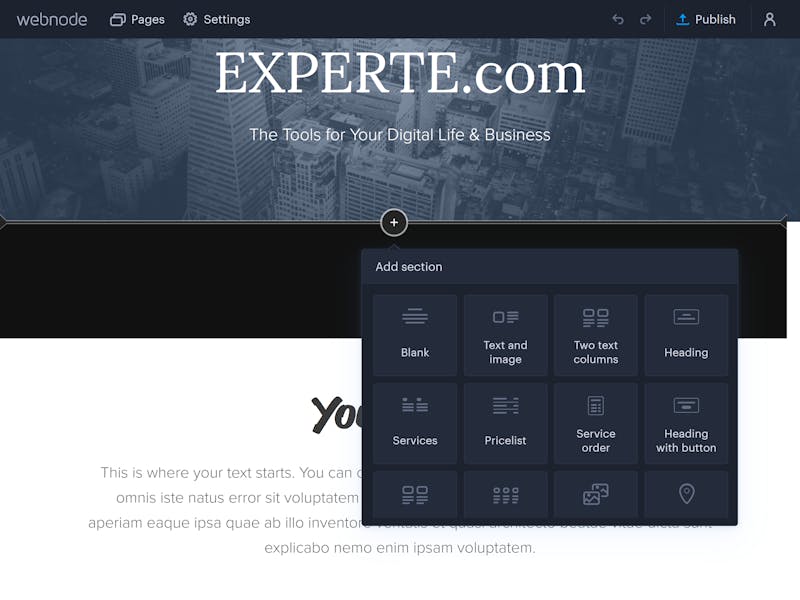 As of the time of testing, 17 different sections were available.
Lacking full drag and drop functionality
Content is moved like puzzle pieces, interlocking with one another. When repositioning an element, Webnode's editor automatically aligns other content to it. As such, your drag and drop freedom is somewhat more limited than in other editors, like Wix's. At the same time, this guarantees that elements are symmetric and aligned with one another. You can easily undo any unwanted changes by clicking on the arrow icon in the upper menu.
Similar to the editor, the settings menu is also sleek and uncluttered. In addition to providing an overview of your account, including your bandwidth and storage capacity, you can connect your Google Analytics account, or tinker with other settings.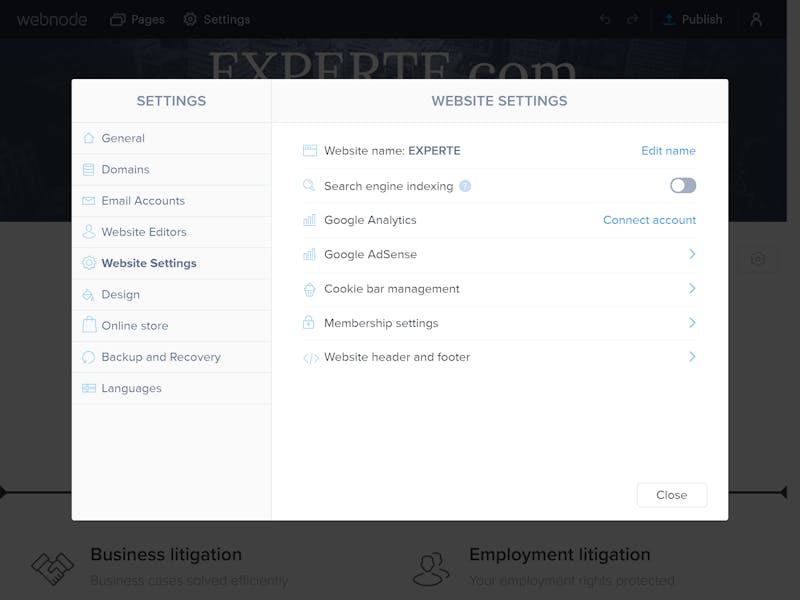 In settings, you can manage your subscription, domain, page design, and your store's data.
Webnode's editor is intuitive and highly accessible, meaning that within a short amount of time, anyone can come to terms with it. Of course, this comes at the cost of certain features, however, in terms of usability, Webnode does little wrong.
Configuration & Usability
9.4 / 10
Webnode offers everything that we look for in a good website builder. As noted above, its editor only emphasizes the most essential aspects, and as such, is somewhat limited in scope when compared to other services. Specialized content, like restaurant menus or tools for doctor's practices, for example, is nowhere to be found.
The menu's features do make sense, however, more choice would definitely do the service a world of good. As two examples, Wix and Weebly serve up far more elements in the menus of their editors than Webnode manages, without overcomplicating things.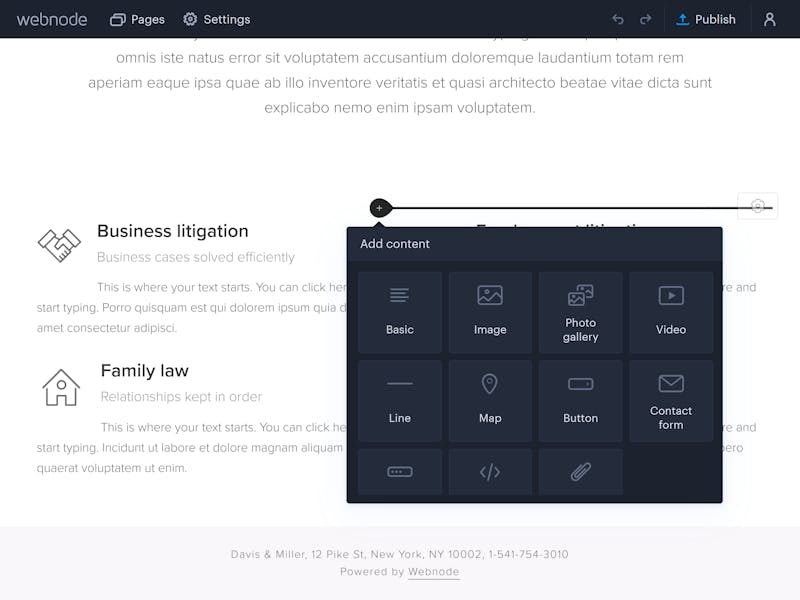 Webnode offers access to the most important website elements, including image galleries, buttons, and contact forms, however, don't expect more than the basics.
Blogging - with limitations
Similarly, Webnode's blogging features are decent but restricted to the bare necessities. In the page menu, you can incorporate a blog onto your site and add entries to it. Existing entries will be arranged according to their date(s) of publication. To work with your blog, you're provided the same tools and elements found in the standard editor.
Additional features like tags or categories aren't included. Webnode recommends setting up sub-pages on your blog to serve as a workaround for the inability to create categories. This works but requires sacrificing a menu level. Other site builders definitely offer easier solutions for grouping blog entries together.
Webnode also doesn't make it possible to add authors to blog entries, meaning that if your blog has an editorial team or multiple contributors, you might want to look elsewhere.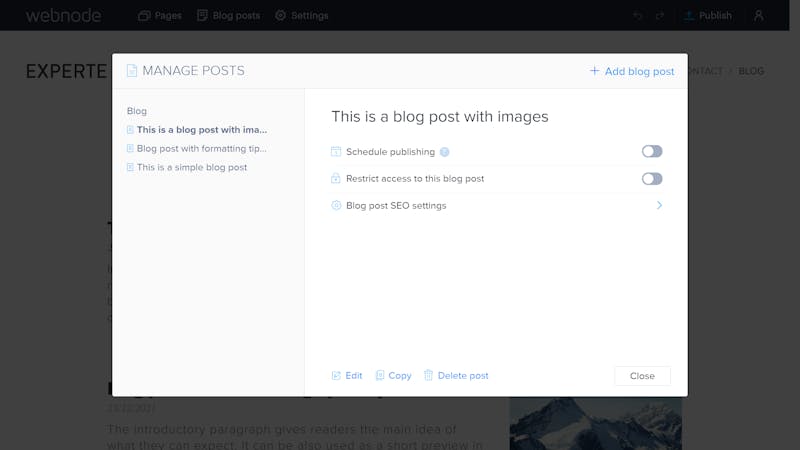 With Webnode, blog features are rather limited.
No app store
Regrettably, Webnode doesn't have an app center to make up for its somewhat limited selection of features. Other website builders like Wix, greatly enhance their features through their app markets or hubs. To offset this, Webnode does allow elements to be added through user-defined HTML code, making it possible to customize your website, so long as you possess the necessary coding knowledge.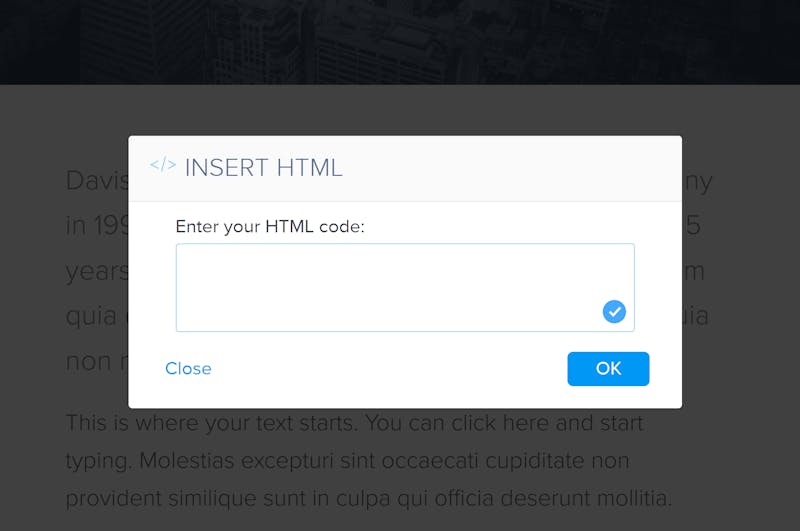 More experienced users can insert HTML code to add content and features which Webnode lacks.
Multilingual websites possible
One of Webnode's neat features is the ability to add new language localizations to your website with the click of a button. After this, your site's content will be automatically copied, allowing visitors to select which language they'd like to view your page in. Of course, we should mention that you'll need to translate all of the content yourself and be a paying subscriber to make use of this feature.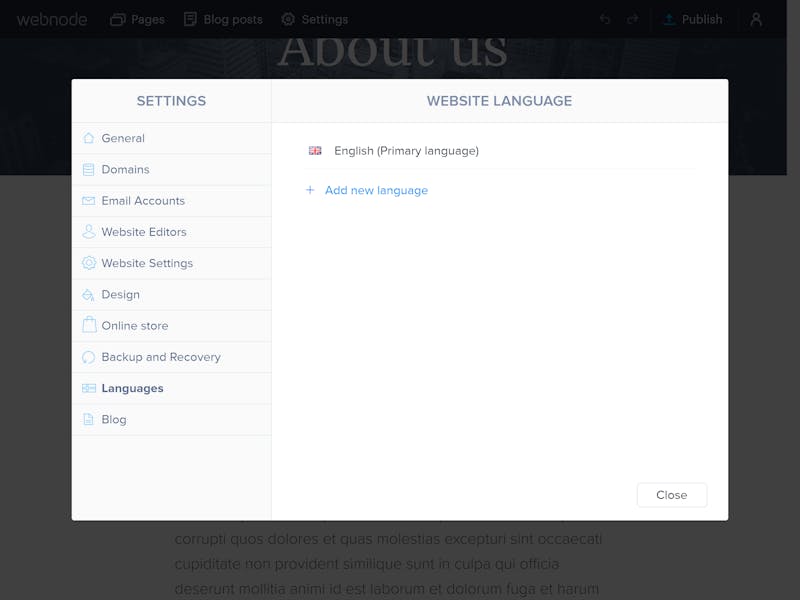 So long as you're a paying subscriber, you can add multiple language localizations to your website with a matter of clicks.
Webnode prioritizes user-friendliness, and its straightforward editor clearly underlines this. Still, other programs have done a better job of balancing between simplicity and functionality. We can't help but feel that Webnode's user-friendliness diverts attention from its lack of features. Users are provided with exactly what they need to create a site or blog, but, not much more.
With around 100 templates, categorized as "Blogs", "Music", or "Portfolio", Webnode offers its users an impressive array of design options. Most of these will give your site a sleek and modern look, however, there aren't too many fancy templates.
Since the designs are striking on their own, it's likely that users will simply add original content or move a few elements around. The results will be stylistic, but, in our opinion, too generic.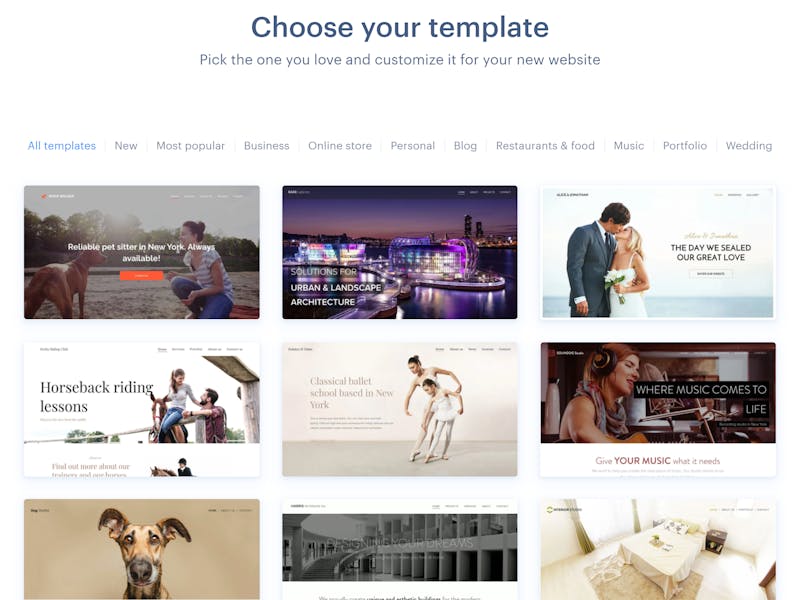 Webnode offers access to nearly 100 design templates.
Switching between templates is not possible without starting from scratch, however, you can modify the background, colors, as well as fonts of your page(s). There are also a few layout options that differ, for example, in how their menus are organized.
Still, even within the templates, choices are limited, and you aren't offered a hex color selector. This again underlines the platform's fixation on beginners: Templates aren't meant to be customized, apart from the text and user-defined content you add.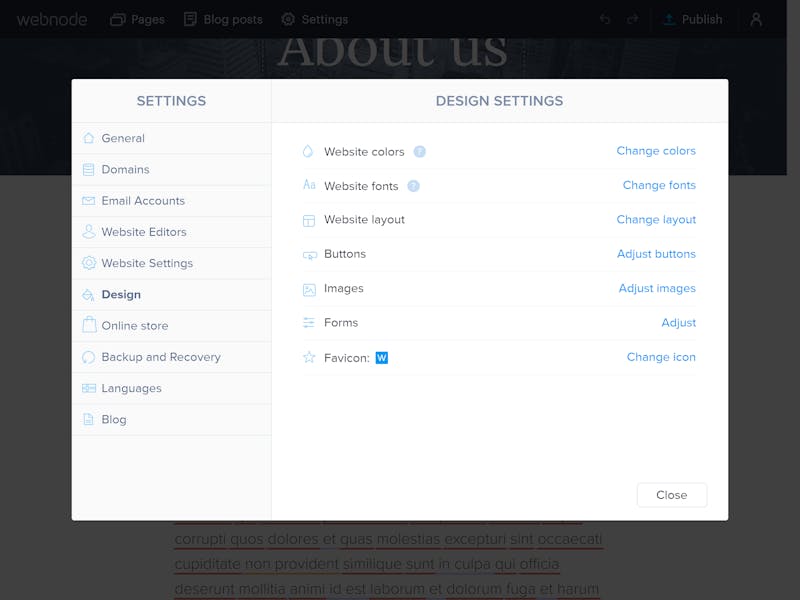 You can adjust some, but not many aspects of your template's style.
As noted above, speed and simplicity are Webnode's priorities, and this extends to their templates, each of which can be quickly and easily applied to a website. This comes at the cost of creative freedom, so, we've deducted a few points. Once again, other site builders strike a better balance between removing obstacles for their users while ensuring that they can express themselves.
Templates & Design
6.6 / 10
4.
E-Commerce, Marketing & SEO
You can add an online store to your Webnode site in the Pages menu. After that, click on Products in the navigation menu on the top right to stock your digital store with new items. You'll be able to provide information about the number of items available, as well as create variations and collections for larger groups of goods.
Product variations can be created here without a hassle: In the add product window, click on the Variants tab, and then specify characteristics, like "Color" or "Size". If you input three colors and three sizes, nine variants will be created. Sounds easy, however, you'd be surprised at how many store builders don't offer their (paying) customers this sort of capability, let alone make it as intuitive as Webnode does.
Unfortunately, Webnode doesn't support digital product sales.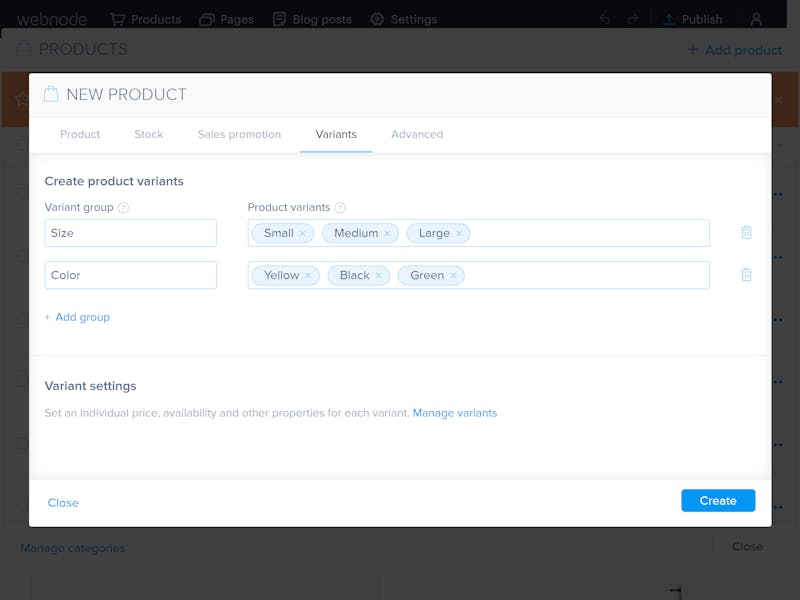 You can create product variants in order to offer your goods in different colors and sizes.
Further adjustments to your online store can be made in the "Settings" menu. There, you'll input your contact information as well as set shipping and payment methods. For the latter, you can integrate Stripe and PayPal, in addition to the usual options.
Orders are managed through the superordinate Webnode dashboard. There, incoming orders are displayed as are visitor statistics and customer profiles.
Discounts and sales
Webnode also provides a few marketing tools, which allow subscribers to offer discounts (either for all orders or those above a specific total). Three kinds of these are offered: Free shipping, percent-based, or fixed-sum discounts.
Somewhat hidden in the menu, under "Discounts", you can also mark down certain products, and direct visitor attention to price changes.
Full-fledged email marketing isn't integrated into Webnode, even if customer metrics are collected and you can prompt visitors to subscribe to a newsletter.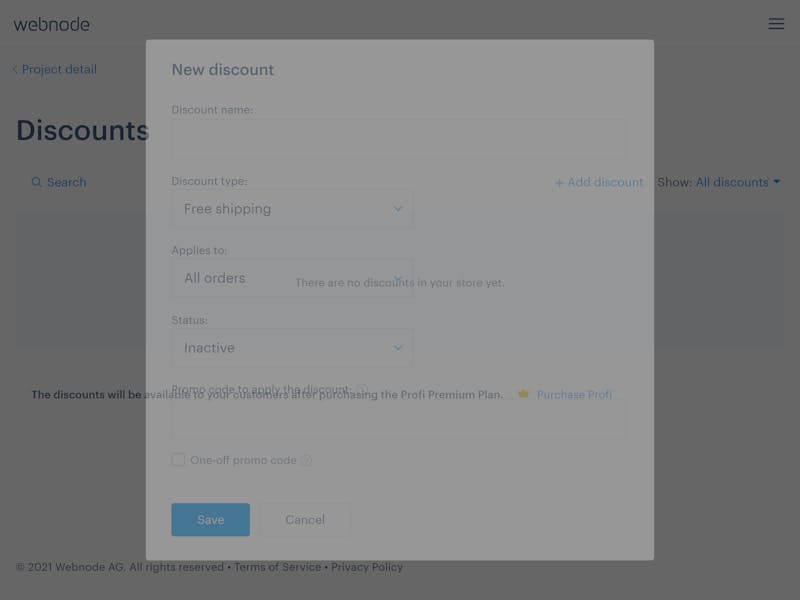 You can boost sales by offering discounts and rebates.
SEO & Analytics
Under "Page Settings" you can attend to the most important aspects of search engine optimization (SEO), such as meta descriptions, titles, tags, keywords, and sub-page URLs. Managing SEO for individual products has also been integrated since our last assessment. Our only criticism is the previously mentioned issue relating to formatting blogs (categories, tags, and authors).
Webnode provides information about purchase statistics and site viewership under the "Project Overview" heading, however, Google Analytics can be easily integrated, in case you prefer to use it.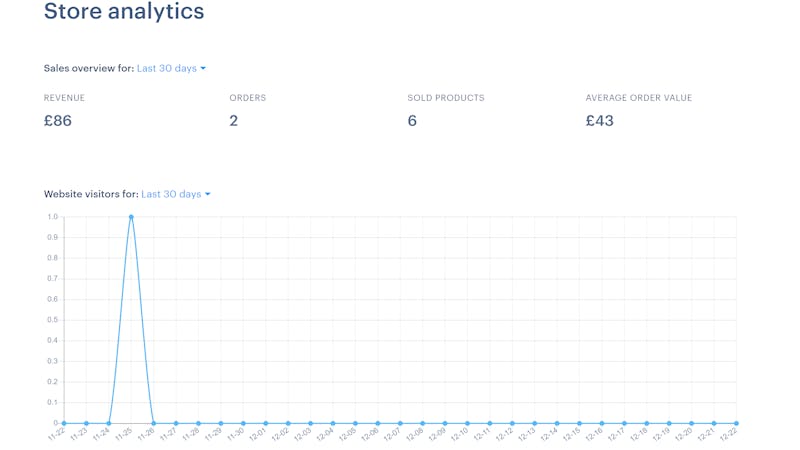 How many visitors does your online store have? Webnode provides some statistical insights to help answer this.
Webnode offers all of the tools needed to create a functional online store, however, in comparison to other site builders, its toolbox is rather empty. As with most everything else, Webnode's simplicity does make it easy to set up a commercial web presence.
Marketing, SEO & Ecommerce
7.4 / 10
Webnode's handbook includes several tutorials, as well as FAQs that can answer most questions that might come up. These short texts are clear and illustrated with a number of pictures, helping to resolve issues step-by-step. While browsing, we happened across a few rather dated support entries, however, most of the time we quickly found what we were after.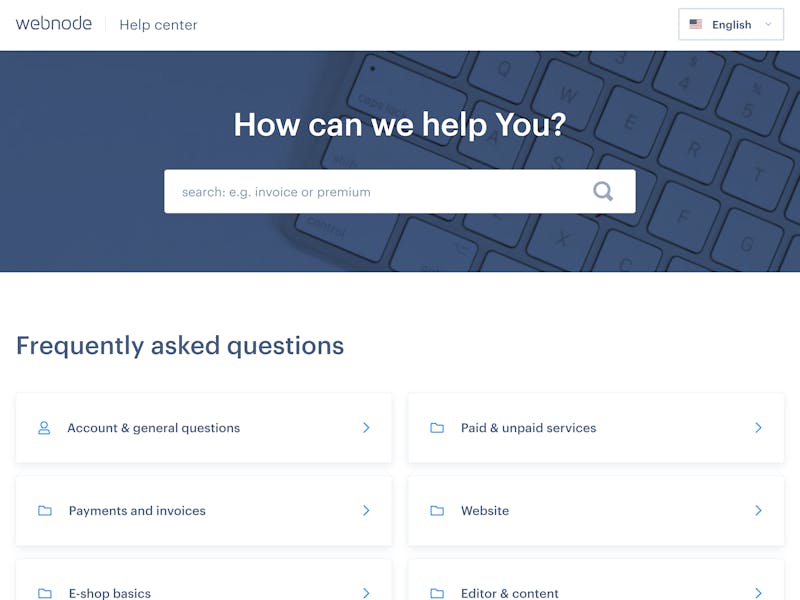 In Webnode's handbook you'll find FAQs and guides grouped into different categories.
If the FAQs don't provide the help you were hoping for, you can also contact the support team by email, which tries to address all queries within 24 hours. During our assessment, we received a comprehensive answer to our numerous questions after 14 hours. Taken together, we were satisfied with Webnode's support, even if more means of getting in touch would be welcome.
A free version of Webnode is available with which you can create a website at no charge. As might be expected, this version's features are limited, and you'll need to stomach a Webnode domain, which doesn't look too professional.
Four premium pricing plans are marketed for those looking to access more of what the platform serves up. These are Limited, Mini, Standard, and Profi and differ in terms of their storage space (100 MB, 500 MB, 2 GB. 5 GB, respectively) and bandwidth (1 GB, 3 GB, 10 GB, unlimited). Free unique domain names are included starting with the Mini subscription.
Should you be looking to set up an online store, you'll need a Standard or Profi subscription. The former allows you to add a second language localization of your site, create up to five backups, and offer 100 memberships. The Profi subscription includes unlimited localizations, backups, and memberships.
Below, we've provided an overview of Webnode's pricing plans:
Free
Limited
Mini
Standard
Profi
Business
Set-up Fee
$0.00
$0.00
$0.00
$0.00
$0.00
$0.00
Monthly Price
$0.00
$3.90
$7.50
$12.90
$22.90
$31.90
Contract Period (Months)
0
12
12
12
12
12
Included
Space (GB)
0.1
0.2
1
3
7
15
Pages
unlimited
unlimited
unlimited
unlimited
unlimited
unlimited
Traffic (GB)
1
1
3
10
unlimited
unlimited
Custom Domain
Domains Included
0
0
1
1
1
1
Features
Free of Ads
SSL Encryption
Blog
Ecommerce
Multilingual Sites
And how does Webnode stack up against other site builders in terms of price? Below, we've compared the least expensive subscription from each platform in our sample that is ad-free and includes a unique domain. Among these, Webnode is one of the least expensive providers:
1.
2.
3.
4.
5.
6.
7.
8.
9.
10.
11.
12.
Webnode offers a 15-day, money-back guarantee on all of its premium subscriptions.
Conclusion
Webnode limits customization in order to make creating websites as simple as possible. Overall, it works, but some other website builders manage to strike a better balance between features and ease-of-use.
100+ high-quality templates
limited selection of elements
7.6

good
Space
Domains
Templates
Contract Period
Webnode Free
$0.00
monthly price
Visit Website*
Try for Free
Webnode consciously refrains from including too many bells and whistles in its dashboard, keeping things as simple as possible without sacrificing too much functionality. It also offers users an experience that, in our minds at least, couldn't be more straightforward. The result is the ability to quickly create a professional-looking website without the involvement of AI.
As noted above, all of this simplicity and usability comes at a cost: Webnode lacks many features that users might eventually need or want. This is understandable, even though in our opinion, Webnode cut too many tools that wouldn't have overloaded the dashboard or interface. For example, more element options, support for ecommerce (digital products, for example), or email marketing campaigns could be added without overwhelming anyone.
For those who can live without these features, access to a highly efficient, no-frills website builder easily capable of creating elegant and visually-appealing end products awaits.
Customer Ratings
Based on the reviews we examined, Webnode only manages a satisfactory overall rating, largely owing to the criticism we found on Trustpilot. These negative reviews complained about slow customer service response times and short answers. Beyond that, difficulties switching from the platform's older version to its newer one were also highlighted.
Customer Ratings
1,067 Bewertungen
Visit Website*
We analyzed the reviews and ratings from various portals and found 1,067 ratings with an overall rating of 4.0 out of 5 .
Alternatives
Depending on which features you're missing from Webnode, there are a number of programs that might better meet your needs. For example, Weebly and Wix both excel in ecommerce, with the trade-off being that they aren't as easy to use as Webnode (although still relatively simple).
More of the best alternatives to Webnode can be found below:
Wix beats out the competition with an unmatched variety of features, intuitive editors and a jam-packed app store. Overall, the platform offers the best balance of usability and features on the market today.
lots of features and elements
simple & intuitive interface
9.6

excellent
Space
Domains
Templates
Contract Period
Wix Free
$0.00
monthly price
Visit Website*
Try for Free
Squarespace Website Builder
Squarespace can impress with flawless designs and high quality templates, which make the creation of professional websites a piece of cake – but comes at a higher price compared with the competition.
Space
Domains
Templates
Contract Period
Squarespace Personal
$16.00
monthly price
Visit Website*
14 Days Trial Period
Due to its rather complex editor, IONOS MyWebsite comes with a bit of a learning curve, but rewards those who stick with it with wide-ranging creative possibilities that enable unique websites.
supports multilingual sites
not all templates are great
8.8

good
Space
Domains
Templates
Contract Period
IONOS Starter
$10.50
monthly price
Visit Website*
30 days risk-free
Webflow is a hybrid between website builder and CMS, and requires a basic understanding of coding logic. It's less suitable for beginners – but its visual design tools are a great way for more advanced users to create dynamic websites.
mix of CMS & website builder
more powerful than WYSIWYG editors
learning platform "Webflow University"
visual design with zero code
8.7

good
Space
Domains
Templates
Contract Period
Webflow Starter
$0.00
monthly price
Visit Website*
Start for Free
With its intuitive drag-and-drop functionality and an unrivaled smartphone app for mobile website building, Weebly makes homepage creation easy even for beginners.
Space
Domains
Templates
Contract Period
Weebly Free
$0.00
monthly price
Visit Website*
Try for Free
* Ad disclaimer:
For links marked with an asterisk, EXPERTE.com may earn a commission from the provider. The commission has no influence on our editorial rating.

Martin Gschwentner majored in American Studies and Media Studies in Germany, the USA and France and works as a freelance editor in Paris. He is a doctoral student at the Institute for English and American Studies at the University of Paris Diderot, where he is researching the influence of money on US politics. On EXPERTE.com he writes about IT security, data protection and software for the self-employed and small businesses.

Translation: D Bare
Continue Reading