Best WordPress Alternatives 2023: 12 Great Options Compared


Ad disclaimer:
For links on this page, EXPERTE.com may earn a commission from the provider. This supports our work and has no influence on our editorial rating.
Complexity
For a simple project, WordPress is probably overkill. Even though the CMS is known for its ease of use, and doesn't require any coding knowledge, there are plenty of solutions that make creating a website even simpler.

Problematic plugins and extensions
The number and variety of plugins WordPress offers are usually seen as two of its advantages. However, extensions might have issues on your website and/or be incompatible with one another.

Security gaps
WordPress isn't just popular with website operators, but also with hackers. Since the CMS is so common, many cyber criminals look for exploits on it in order to attack websites.

Programming knowledge is not necessary but extremely useful
Basic WordPress features are accessible to users of any experience level, however, to harness the platform's full potential, you'll need to be familiar with coding.

Spam magnet
Unfortunately, spam is part of the Internet. If you've enabled comments or published contact details on your WordPress website, it won't take long to realize that spammers are drawn to the CMS like bees are to honey.

You handle backups, security, and other aspects
Unlike the case with most of the alternatives, WordPress users need to take care of a number of aspects on their own, such as their website's security and backups.

No support
Support that will walk you through issues you might be having isn't offered for WordPress's CMS. You can get help with some themes and plugins though.
Wix beats out the competition with an unmatched variety of features, intuitive editors and a jam-packed app store. Overall, the platform offers the best balance of usability and features on the market today.
lots of features and elements
simple & intuitive interface
9.6

excellent
Space
Domains
Templates
Contract Period
Wix Free
$0.00
monthly price
Visit Website*
Try for Free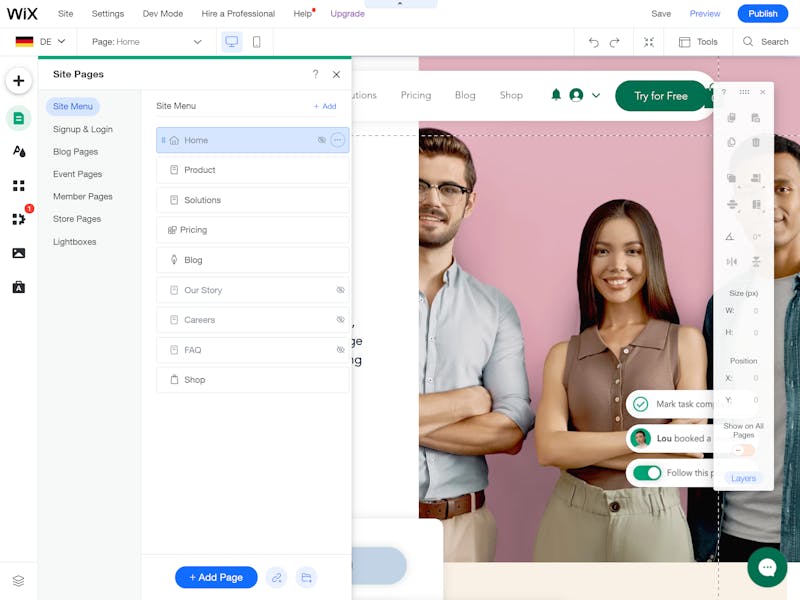 Wix is probably the best all-around site builder.
Free basic package; relatively affordable premium version

Easy to use; no programming knowledge necessary

Fast and safe hosting on Wix servers
The best paid subscriptions are fairly expensive

Ads with the free version and least expensive paid subscription

Not possible to easily change templates like in WordPress
Marketing, SEO & Ecommerce
10 / 10
Templates & Design
9.4 / 10
Configuration & Usability
9.4 / 10
Squarespace Website Builder
Squarespace can impress with flawless designs and high quality templates, which make the creation of professional websites a piece of cake – but comes at a higher price compared with the competition.
Space
Domains
Templates
Contract Period
Squarespace Personal
$16.00
monthly price
Visit Website*
14 Days Trial Period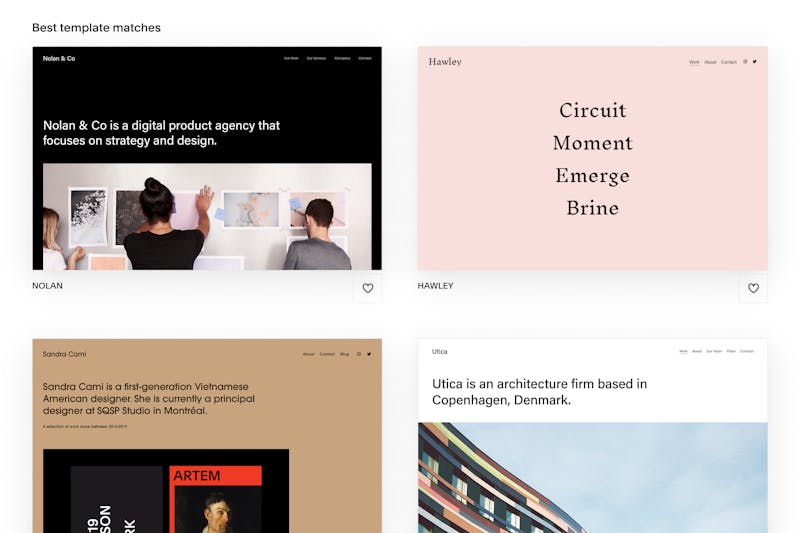 Squarespace is particularly known for the quality of its templates.
Plenty of stunning design templates

Fast and secure hosting included in the subscription price

All-in-one platform; guarantees that everything works
Pricier than its competitors

Lacks some marketing tools and features

No apps or extensions owing to the all-in-one concept
Configuration & Usability
10 / 10
Marketing, SEO & Ecommerce
8.6 / 10
Templates & Design
8.0 / 10
With its intuitive drag-and-drop functionality and an unrivaled smartphone app for mobile website building, Weebly makes homepage creation easy even for beginners.
Space
Domains
Templates
Contract Period
Weebly Free
$0.00
monthly price
Visit Website*
Try for Free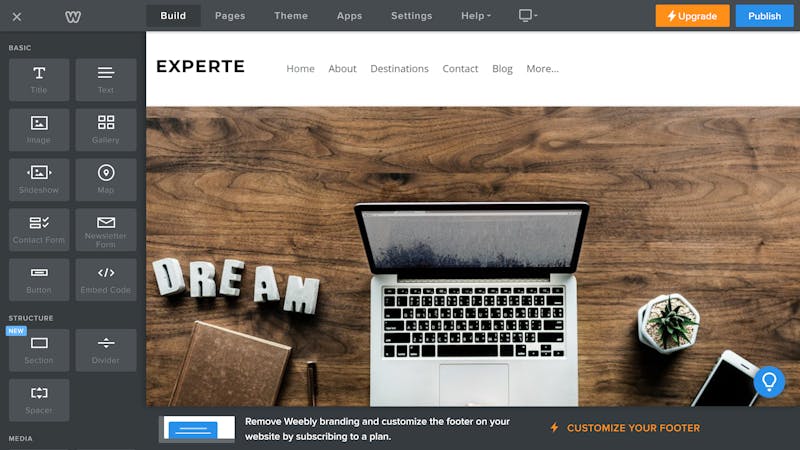 If you'd like to build your website on the go, Weebly is a good option.
User-friendly and intuitive; great for beginners

Free basic version, flexible pricing

Integrated ecommerce features
Little customization possible

Tied to Weebly, no software installation

Limited blogging features
Marketing, SEO & Ecommerce
9.4 / 10
Configuration & Usability
8.0 / 10
Templates & Design
7.4 / 10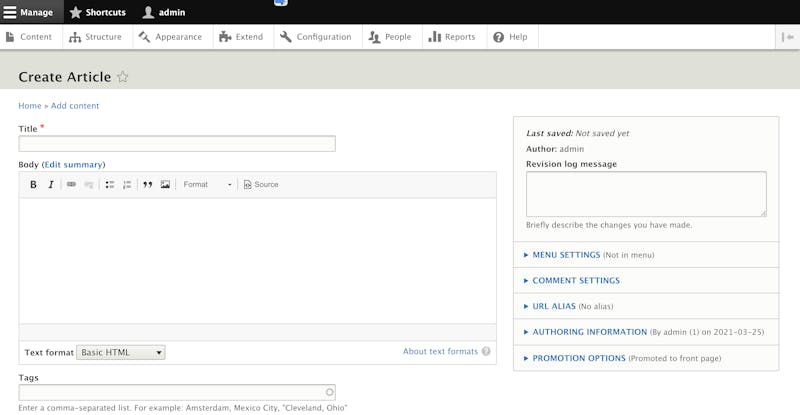 Drupal is a great solution for experienced designers who want to build something unique.
Versatile, expandable, and perfectly suited for complex Web projects
Only an option for experienced developers

Most modules (plugins) are paid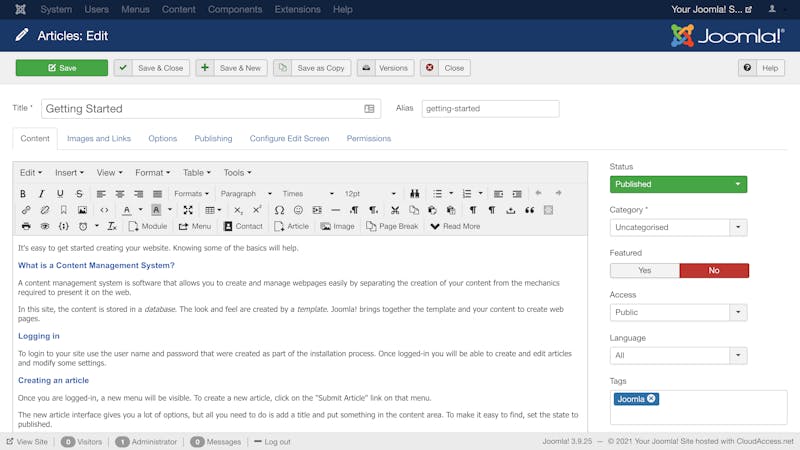 Like many CMSs, Joomla is open source and available for free.
Good compromise between WordPress and Drupal

Detailed, but user-friendly interface

Advanced programming knowledge not necessary
More complicated than WordPress; steep learning curve

Underdeveloped third-party marketplace

Less balanced than WordPress or Drupal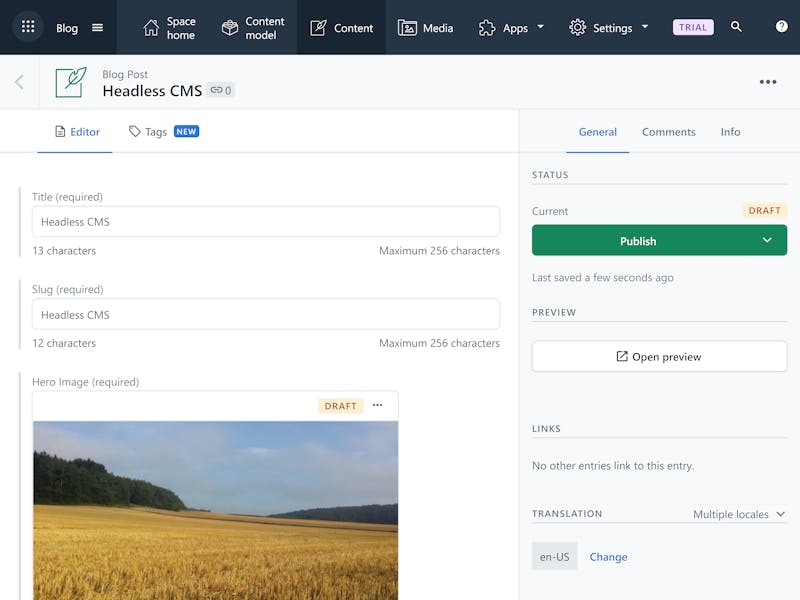 Contentful is one of the most popular headless CMSs.
Maximum flexibility in terms of content output

Considerably eases content management for large websites

Little development work needed after initial configuration
Very complicated, especially when getting started
Shopify is a great all-rounder for small, medium, or larger shops. If you're looking for a platform that's more powerful than a regular website builder, but not as complicated as other ecommerce platforms, Shopify might offer the right mix.
Number of Products
Transaction Fee
Sales Channels
Payment Options
Shopify Basic
$29.00
monthly price
Visit Website*
14 day free trial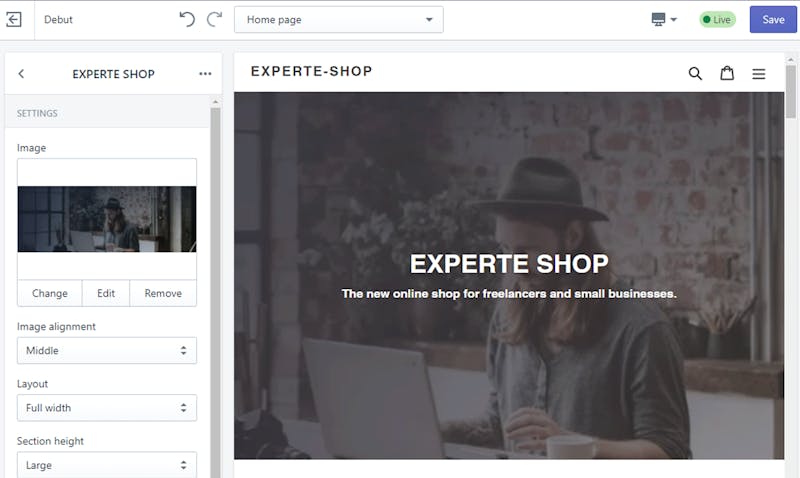 Shopify is a beginner-friendly ecommerce store builder.
Easy to use; no programming knowledge required

Large selection of themes

Numerous apps and plugins

Good, round-the-clock support
Ease of use at the cost of features and customization options

Only a handful of free templates
Configuration & Usage
9.4 / 10
Marketing & Analytics
9.4 / 10
Product Management
8.6 / 10
Personalizing Your Store
8.6 / 10
BigCommerce boasts well-designed product and inventory management features, solid marketing and analytics capabilities, and support for many sales channels. Possibly too complex for smaller shops, it's ideal for larger ecommerce projects.
many features 'out of the box'
up to 600 variants per product
supports multiple currencies
too complicated for smaller shops
8.7

good
Number of Products
Transaction Fee
Sales Channels
Payment Options
BigCommerce Standard
$29.95
monthly price
Visit Website*
Start Free Trial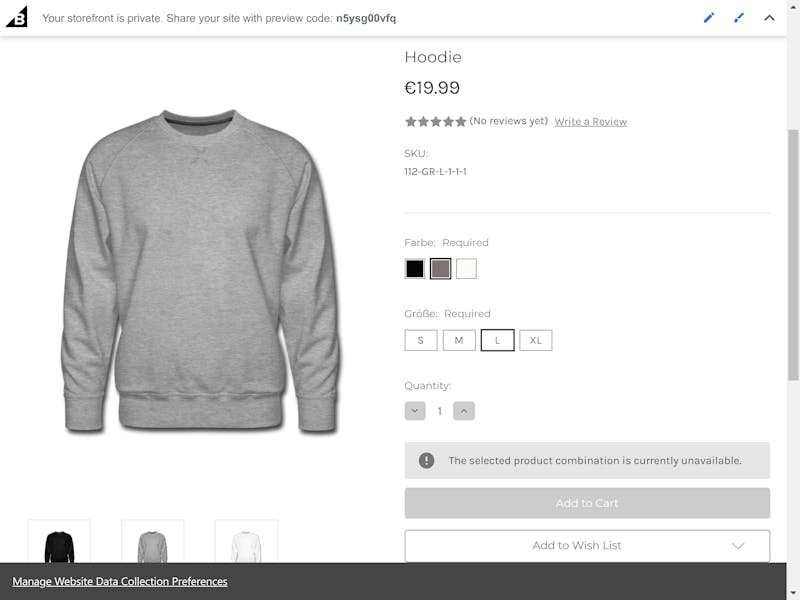 With BigCommerce you can sell as many products online as you want.
Intuitive to use; equally suited for beginners and pros

99.99% availability guarantee and high security

Embedded blogging platform
As you store grows, so do the fees

Few free themes; pricey premium options (around $200)
Product Management
9.4 / 10
Marketing & Analytics
9.4 / 10
Configuration & Usage
8.0 / 10
Personalizing Your Store
6.6 / 10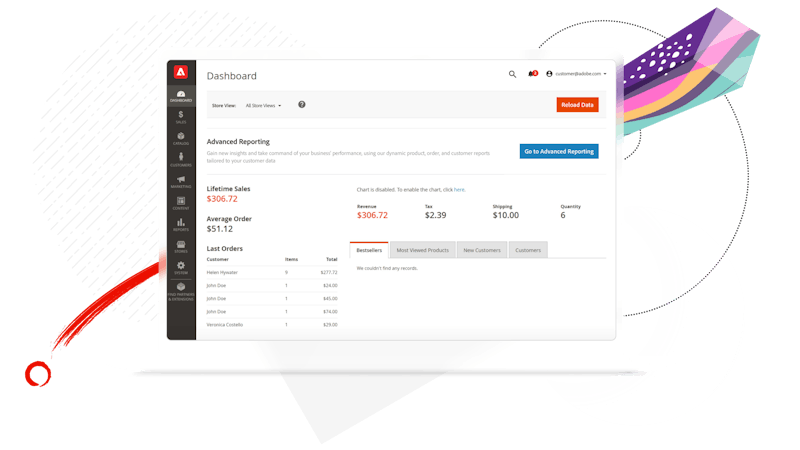 Adobe Magento is significantly more complicated than other ecommerce builders, but also more versatile.
Flexible, powerful, and loaded with features

Large and helpful user community

Good tools for optimizing performance on mobile devices
Unclear pricing structure; expensive premium packages

Not for beginners or those lacking programming knowledge

Magento programmers are few and far between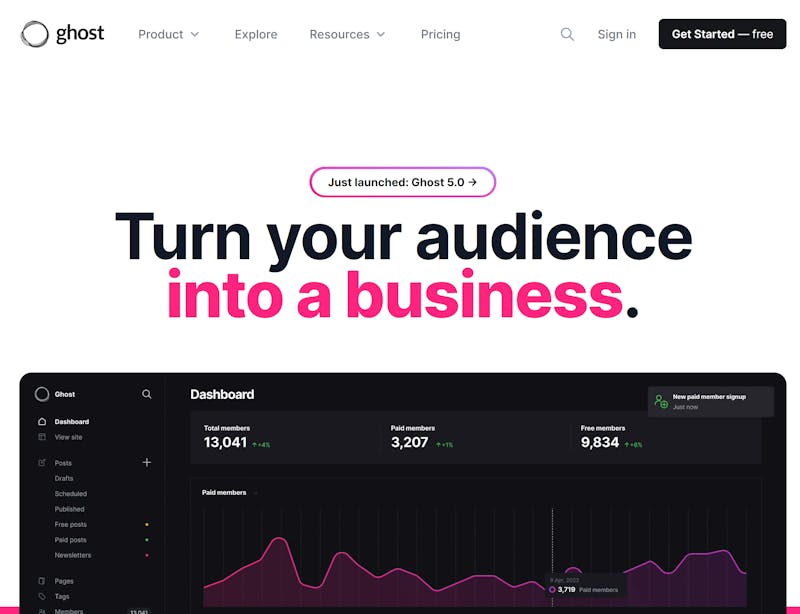 Ghost is a CMS that's focused on blogging.
CMS geared towards blogging

Includes plenty of useful blog features (memberships, newsletters, etc.)

Sleek dashboard; clear design
Pricier than other solutions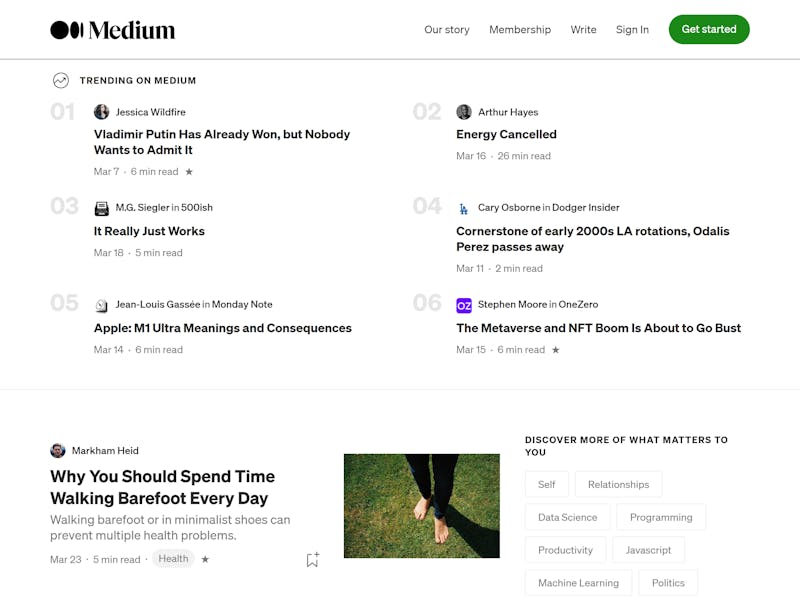 Anyone can start their own blog on Medium.
Possible to earn money through blog entries
Not really a substitute for a dedicated website

Impossible to integrate ads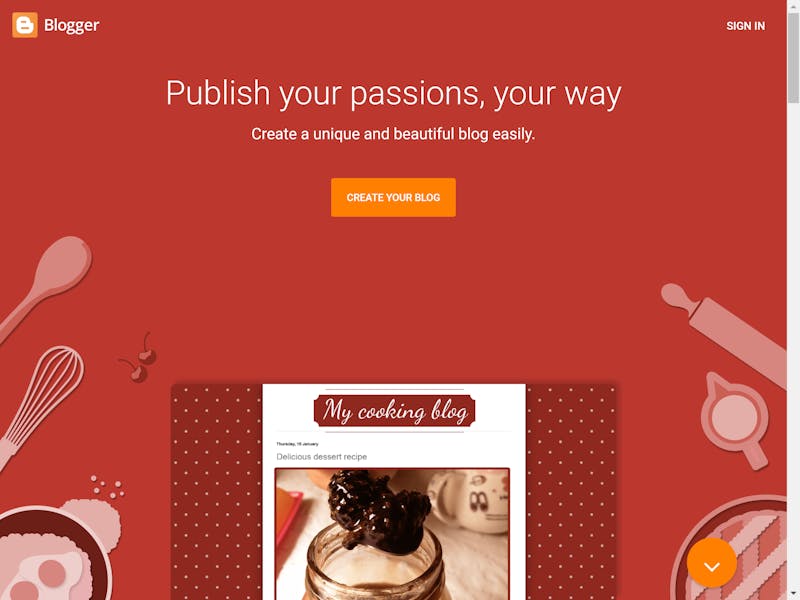 If you just want to get your ideas online, Blogger is a good option.
Solely focused on blogging

Google integrations make it even easier to use (and allow monetization via AdSense!)
Strictly limited to blogging

Few customization options

Martin Gschwentner majored in American Studies and Media Studies in Germany, the USA and France and works as a freelance editor in Paris. He is a doctoral student at the Institute for English and American Studies at the University of Paris Diderot, where he is researching the influence of money on US politics. On EXPERTE.com he writes about IT security, data protection and software for the self-employed and small businesses.

Translation: D Bare
Continue Reading
Beginner
Advanced
Other Topics