Website Builder Review: SITE123
Perhaps as a very young Michael Jackson swooned, "A-B-C, as easy as 1-2-3, or simple as Do-Re-Me" in 1970, the creators of SITE123 were listening in on their parent's radios or record players, with the uber-catchy chorus leaving a lasting impression. Or maybe it's the idea that a website can be made in a matter of seconds that drove SITE123 towards its name. Whatever the case, websites can't be created in so short a period, however, thanks to its limitations on design freedom, the Israeli website builder certainly makes the process much quicker and simpler than its competitors. In this review, we'll explore whether these limitations restrict usage of the service, and what SITE123 is capable of.

SITE123 is a website builder clearly designed with beginners lacking programming knowledge in mind. Rather than relying on drag and drop and "what you see is what you get" (WYSIWYG), SITE123 offers ready-made layouts that users simply have to switch out the content of in order to quickly make a professional-looking website.
Configuration & Usability
4.7 / 5
Marketing, SEO & Ecommerce
4.0 / 5
Templates & Design
3.0 / 5
Well-organized and easy to use editor
Excellent customer support, including live chat
Solid blogging and e-commerce features
Little room for customization
No access to your page's source code
Configuration and Usability
Only a few clicks separate registration and the editor's dashboard. For example, you can select the kind of site you're making: Corporate, blog, online store, or more. After entering your data and the name of your site, you'll be forwarded automatically to the editor's dashboard.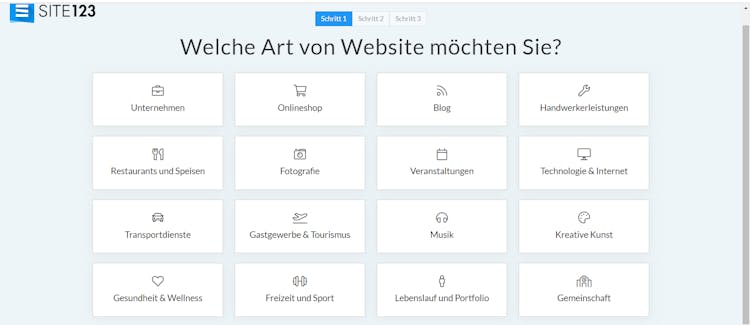 Once in the editor, you have the option to take a digital tour of the dashboard, which introduces you to the tools you'll be working with. From the moment of first usage, SITE123 distinguishes itself from its competitors: In the lower right corner of the screen, a chat window opens, which you can use to directly contact the support team at any time. As readers of our comparative evaluations know, we greatly value live chats, however, to date, few website builders have integrated them for reasons unbeknownst to us. SITE123 bucks that trend, and we heartily applaud it for doing so.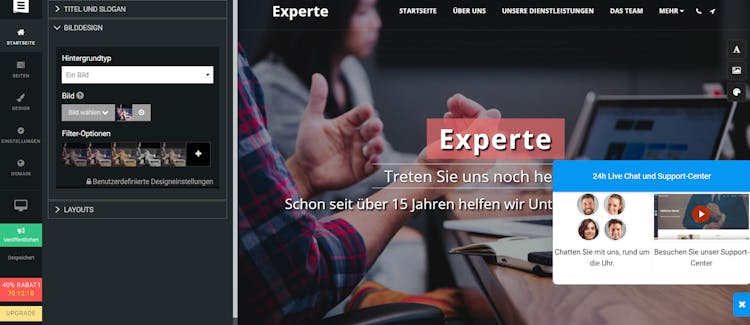 SITE123's editor also functions differently than those of other website builders. Instead of drag and drop, it uses a side menu. As such, text and elements aren't edited in a WYSIWYG fashion (directly on the site), but rather, in a separate window.
The reward for limiting user freedom is a selection of ready-made templates, that can easily be modified using the menu to the side. As such, creativity is definitely not one of SITE123's strong suits, however, owing to the ease of use which comes as a result, we understand the trade-off and certainly see its benefit.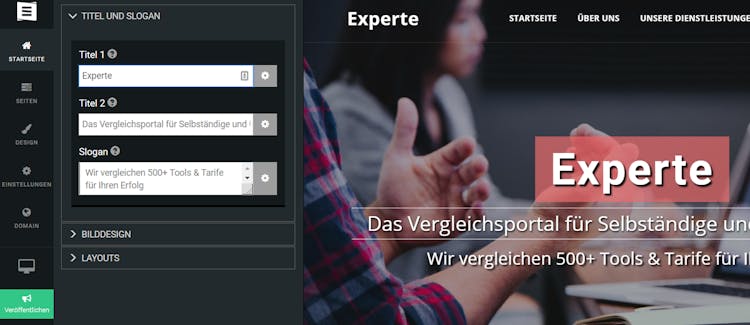 Setup tutorials, a video introduction, an embedded support chat, and the somewhat limited editor all make SITE123 very cozy for those who are new to site building, or, who want a more padded experience. Of course, there is a trade-off between creative freedom and simplicity, but so long as you accept this going in, there won't be any nasty surprises in terms of configuration or usability.
Score: 5 / 5
SITE123 provides users with access to the most important site-building features, all the while placing certain limits on their functionality. These limitations certainly correspond to the service's overall focus on simplicity, however, even with this in mind, the editor lacks depth. Whereas other site builders make complicated code sequences easily modifiable using brushes and other tools as part of the WYSIWYG system, SITE123's editor treats various elements as puzzle pieces that can be colored, but not really personalized prior to or following assembly.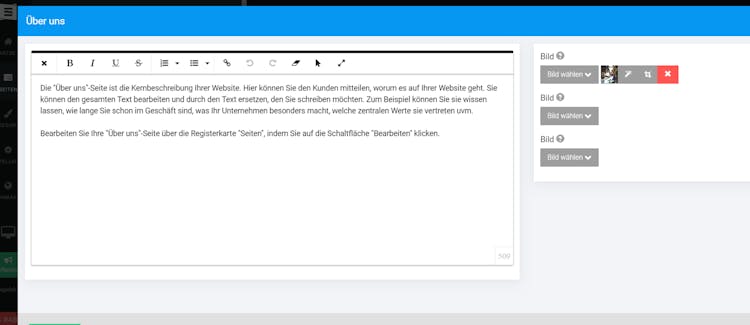 Naturally, the tools that SITE123 provides in its editor can be used freely. As an example, under settings, you can choose whether your site will have a single page or multiple pages.
By selecting the subitem "Start Page" you can set your page's title or slogan, add images, buttons, and more, or select from a variety of ready-made templates. On the "Pages" submenu, you're able to arrange your site's various subpages and modify their layouts. Instead of adding particular elements to every page one by one, like in drag and drop builders, you can simply select a ready-made subpage design and personalize it. You can select from galleries, contact forms, team pages, and more.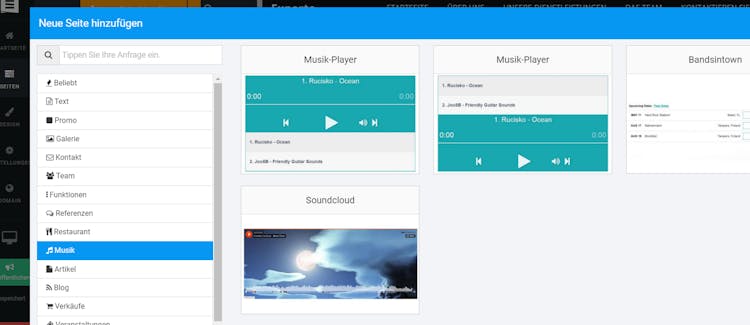 Blogging
SITE123's solid support for blogging definitely makes the Israeli service worth a look for those considering creating a blog. You can manage entries and schedule them for publication at a future date/time. As expected, you can't arrange your blog entries freely, but need to select from a ready-made layout. However, you can manage comments internally via Facebook or Disqus, while the service's visitor statistics keep you up to date on who is visiting your site and from where.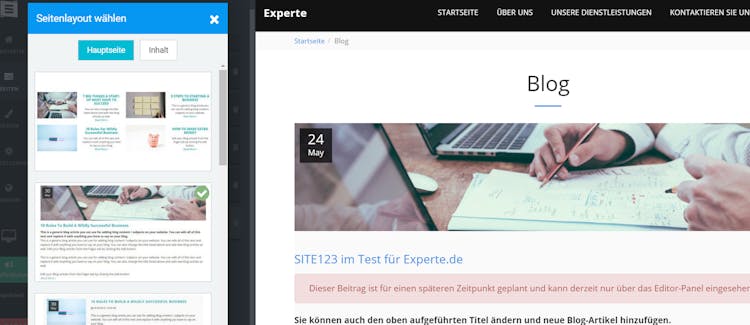 Other features, such as an archive, tags, or categories are, regrettably, nowhere to be found. Similarly to its overall approach, SITE123 offers the basics, but doesn't do well in terms of depth or functionality.
The service has an app market for external plugins, so you can add analytical tools, a support chat, or other features to your page, however, in comparison to the selection of add-ons to be found in the app centers of other providers, those available for SITE123's users are nothing to write home about.
If you want to quickly and easily create an optimized and appealing website, and don't really care about having a free hand in designing or personalizing it, you probably won't have any issue with SITE123. For any other type of user, there'll certainly be a disappointment or two to contend with. As a result, we think that SITE123's developers could have made more of an effort to find a better compromise between ease of use and their editor's depth of features.
Score: 3.3 / 5
Strictly speaking, SITE123 only offers a single design template, however, this is really more of a theme, the layout of which can be modified, creating far more options than one might assume. As a result, users are able to change the look of their sites with relative ease.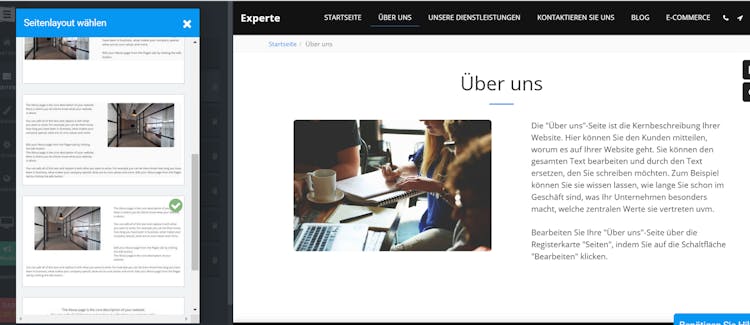 The absence of drag and drop functionality also adversely impacts your freedom to design, and it is impossible, for example, to move screen elements around at will. Instead, you can freely modify color schemes, background images, and fonts. Unfortunately, the service does not offer an HTML editor.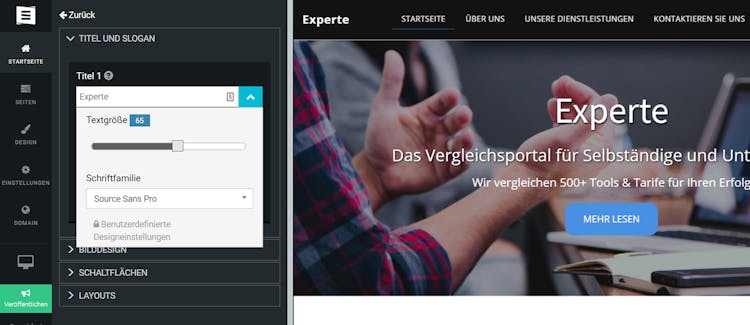 Despite the ease with which SITE123 allows websites to be created, we were left feeling that once again, the trade-off between simplicity and ease of use saw users come out at a disadvantage since we would have liked to see some more design freedom integrated. Other site builders demonstrate that simplicity and a wide selection of templates and options for personalization aren't incompatible with one another. Specifically for SITE123, a greater variety of layouts and a more flexible approach to editing website elements would do wonders, in our opinion, without unbalancing the service's internal logic or dynamic.
Score: 3 / 5
Marketing, SEO, & E-Commerce
Online stores are added to your SITE123 website as a unique page, meaning that you can't add popular products to other pages on your homepage. The service provides access to basic e-commerce features, such as managing products and organizing them into categories, the latter of which can be personalized to a large degree. You can also add options to your products, such as different sizes or colors, attributes, like their form and style, as well as shipping and inventory details.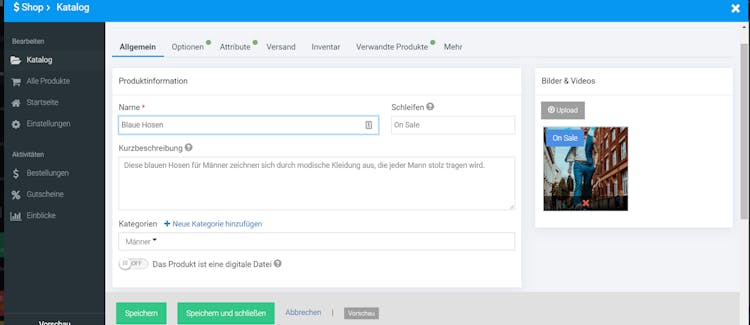 SITE123 integrates several different payment methods (PayPal, Amazon Pay, as well as a number of credit card providers), however, limits their usage to paying subscribers. Similarly, additional features, like creating coupons, are also reserved for premium users.
SITE123 makes it easy to create a clear and well-organized online store. The service offers access to most of the basic e-commerce functions, however, does limit quite a few to paying subscribers.
SEO & Analytics
To be frank, the service's SEO features are a bit lackluster. Using the settings menu, you can add meta-tags and keywords, albeit only to your homepage. However, titles and meta descriptions can be added to each page under page settings, and blog entries can be tagged.
For an analytics tool, you'll have to turn to external plugins. A number of these are available in the service's app market and include all of the big names (Google Analytics, Facebook Pixel, Yandex, etc.).
Score: 4 / 5
SITE123 really shines in terms of customer support. Using the aforementioned integrated live chat, we received answers to our queries within minutes or even seconds, and the main support center is never more than a click away. There, you can find clearly arranged FAQs that provide detailed insight into the most important topics and issues.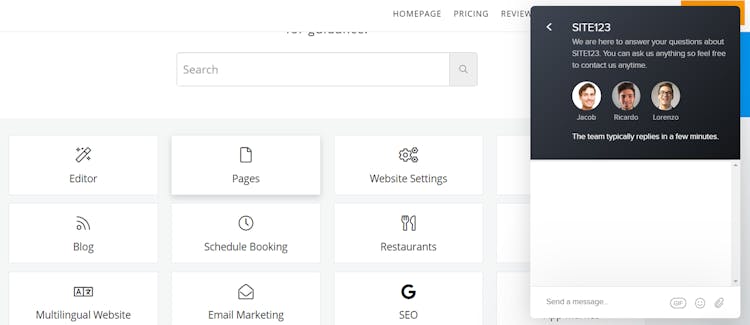 The service's 24-hour live support chat is a real highlight, not just for SITE123, but amongst all of the services that we've reviewed. As such, we have no qualms giving full points in terms of customer support.
Score: 5 / 5
SITE123 is available in a total of four premium packages. You can secure a free domain for a year with the "Basic" subscription, whereby the more expensive packages offer greater bandwidth, storage, e-mail accounts, and language options.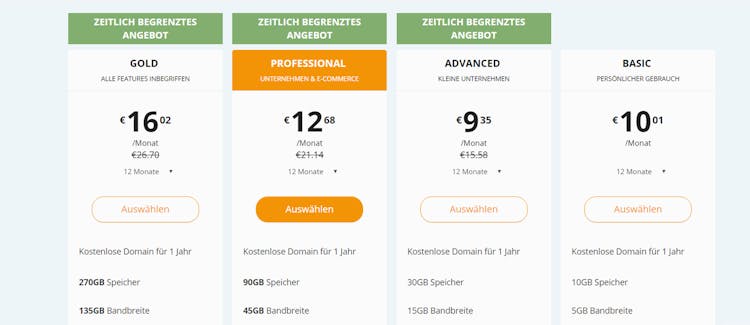 Immediately after registering, a subscription discount was marketed, however, we're unable to say whether this a limited-time offer or standard practice.
Free
Premium
Pricing
Set-up fee
$0.00
$0.00
Base price per month
$0.00
$10.80
Contract period (months)
0
12
Included
Space (GB)
0.5
10
Pages
unlimited
unlimited
Traffic (GB)
1
5
Custom domain
Domains included
0
1
Features
Free of ads
SSL encryption
Blog
Ecommerce
Multilingual sites
Server location

USA

USA
Configuration & Usability
4.7 / 5
Marketing, SEO & Ecommerce
4.0 / 5
Templates & Design
3.0 / 5
SITE123's lack of design freedom is confidently promoted as ensuring that it allows websites to be created in the easiest and quickest manner possible, offering users the most convenient experience. Only a few intuitive clicks separate the service's ready-made templates from complete websites, and the results aren't bad. As a result, SITE123 is truly one of the most user-friendly website builders on the market.
clean editor, easy to use
good blogging and e-commerce features
limited customization options
Space
Domains
Templates
Contract Period
SITE123 Free
$0.00
monthly price
Visit Website »
Try for Free
The price for such enhanced usability is a lack of both functions and the ability to customize. While we understand the developer's approach, there's still quite a bit of room to add more features and design freedom, without sacrificing simplicity. For anyone who wants to create a website that truly stands out, the service's limitations will appear rather quickly.
Most reviews for SITE123 rated the service as excellent, commending its ease of use and helpful live support chat.
Customer Rating
6,115 Ratings
good
We analyzed the reviews and ratings from various portals and found 6,115 ratings with an overall rating of 4.3 out of 5 .
Show sources
SITE123 is well-suited for small businesses that are ready to sacrifice access to a feature or two in exchange for the service's ease of use. Should you be on the hunt for more features and/or design freedom, a number of other services might better fit your needs. Extensive reviews of seven other website builders can be found in our exhaustive evaluation.
many high-quality templates
simple & intuitive interface
jam-packed app marketplace
Domains free for one year only
Wix succeeds with an unmatched feature set, intuitive editors and a packed app marketplace. Only with the blog features do we still see some room for improvement.
Space
Domains
Templates
Contract Period
Wix Free
$0.00
monthly price
Visit Website »
Try for Free
Piani tariffari relativamente costosi
Squarespace impresses with flawless designs and high quality templates, which make the creation of professional websites a piece of cake - but also costs a bit more than most other providers.
Space
Domains
Templates
Contract Period
Squarespace Personal (12 months)
$12.00
monthly price
Visit Website »
14 Days Trial Period
supports multilingual sites
large, established provider
lots of templates, average quality
1&1 IONOS MyWebsite makes getting started a little more complicated, but rewards hobbyists without programming skills with a variety of design options for unique websites.
Space
Domains
Templates
Contract Period
1&1 IONOS Starter
$3.00
monthly price
Visit Website »
30 days risk-free

Author (German Version): Martin Gschwentner
Martin Gschwentner majored in American Studies and Media Studies in Germany, the USA and France and works as a freelance editor in Paris. He is a doctoral student at the Institute for English and American Studies at the University of Paris Diderot, where he is researching the influence of money on US politics. On EXPERTE.com he writes about IT security, data protection and software for the self-employed and small businesses.

Translator & Editor: D Bare