Custom Website Development: These Are Your Options 2023

Author
Janis von Bleichert
Ad disclaimer:
For links on this page, EXPERTE.com may earn a commission from the provider. This supports our work and has no influence on our editorial rating.
You've launched your business - now it's time to let the world know about it. The easiest way is with a dedicated website showcasing your products and services. Before that though, you'll need to conceptualize your digital display case and build it. Since this entails quite a bit of effort, we recommend working with pros who specialize in building websites.
There are a number of options available if you'd like to have a custom-built professional website. Below, we'll introduce you to the three most popular methods, and take a closer look at how much effort and what sort of costs they entail, as well as a few alternatives.
1. Option: Hire a Freelancer
There are plenty of experts who you can hire to work on your website. They usually have professional skills in programming and web design, which allows them to build a custom website for you according to your specifications. All you have to do is find the right one.
How to Find a Freelancer
There are several ways to find the right freelancer for your website project:
Through a Freelancing Platform
There are lots of online platforms that specialize in connecting willing freelancers to eager clients. As a simple search on Upwork, Fiverr, or Freelancer.com will quickly reveal, there are seemingly endless numbers of website experts with all sorts of specialties and for every kind of budget.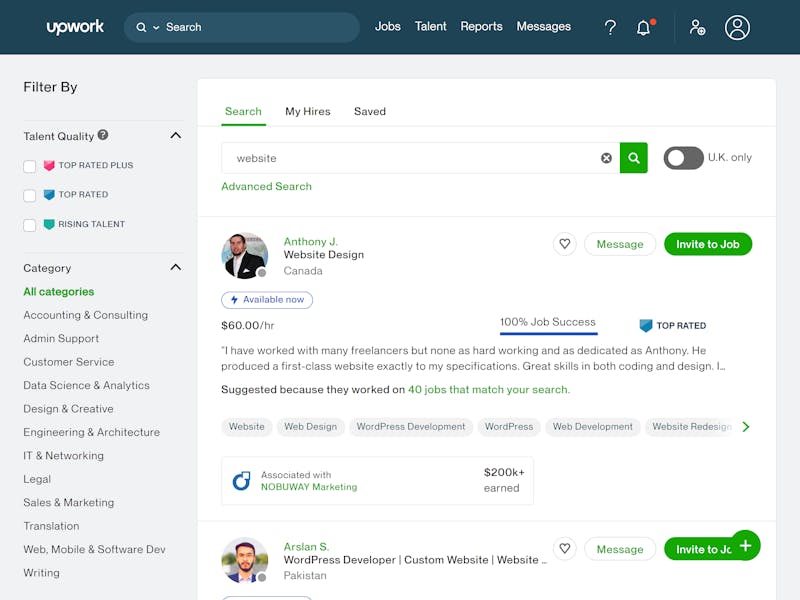 Find website experts for your project on freelancing platforms like Upwork.
Most of the time you'll be able to refine your search by specifying your budget or the freelancer's desired level of experience. Once you have a shortlist of candidates, you can check their profiles to view jobs they've completed in the past, most of which should include client ratings and feedback.
Before assigning the job, make sure that they really have the sort of expertise your project needs. Check if the work they've completed is similar in scope or type to what you're hiring them for. For example, if your website needs an online store, your freelancer should have some ecommerce experience.
Internet Search
Search engines can answer nearly any question, so why not use them to look for a freelance web designer? By specifying your location or a certain niche, you can refine the results even further.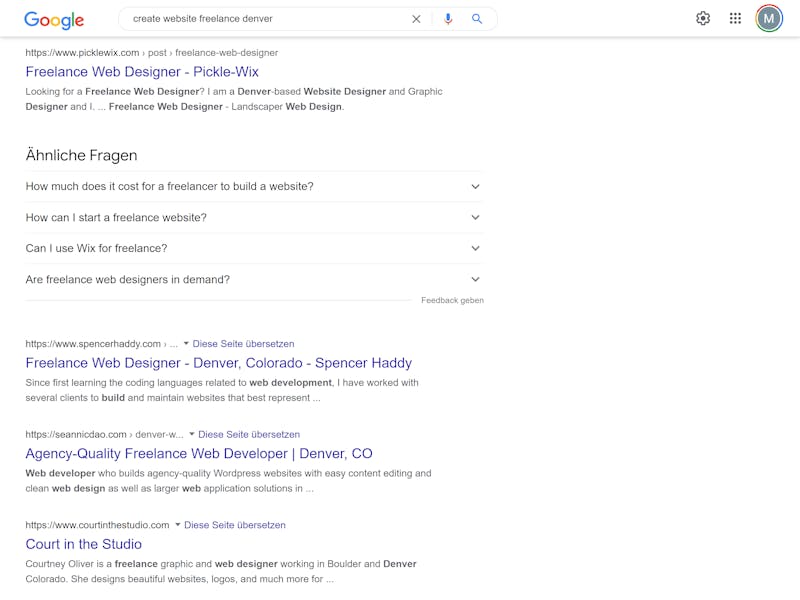 Google can help you find any freelancer who has a website.
Take a close look at websites that look promising to determine if the freelancer is capable of meeting your needs. Most of the time, freelancers will dedicate an area of their website to customer feedback, testimonials, or reviews. Read through these carefully (for example, check that the website or project they completed actually exists) and if you're satisfied, get in touch for an estimate.
Partner Areas of Website Builder Services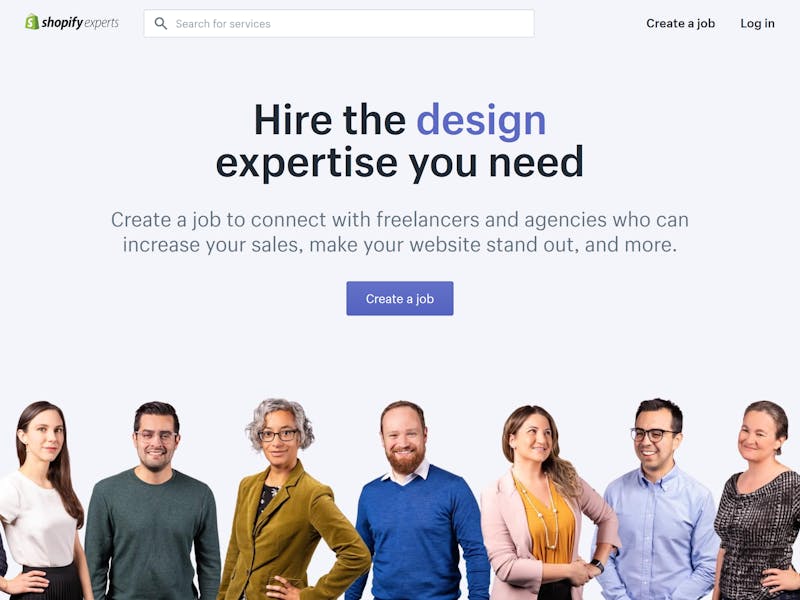 Many web solutions offer ways to directly contact and hire platform-specific freelancers.
Should you have a particular provider in mind or already use that service for something else, it makes sense to browse its partner network for freelancers capable of handling your website project.
Social Networks
Freelancers are active on social media. On Facebook, for example, you'll find dedicated groups where freelancers offer their expertise. Business platforms, like LinkedIn, are another excellent venue to search for freelancers and check if they're accepting new jobs.
Your Network
Never underestimate the power of your own 'network': That co-worker you talk to in the elevator every morning might have a brother who is an ace web designer and between jobs. Or, perhaps someone on your team has a friend who just got a programming degree and is looking for their first big break.
Don't be afraid to ask your friends, acquaintances, and even family members: College students are often more than willing to work side or seasonal jobs (and cost much less than full-time pros). Cast a wide net and perhaps you'll get lucky.
Freelance Website Costs
How much you pay for your website depends on its size and features, as well as the quality, expertise, and location of your freelancer.
Simple one-page websites without lots of bells and whistles are much more affordable than intricate, multi-page websites with custom features.
Even among freelancers, rates vary: On platforms like Upwork, you'll find freelancers willing to work for less than $10 an hour. Typically, these specialists are based in countries where the cost of living is low. Of course, you'll need to factor in the inconvenience of time zone differences, miscommunications, and language barriers, to say nothing about the thorny issue of exploitation.
In developed countries, expect to pay $50-$100 per hour for a freelancer. The cost of a website designed entirely by a freelancer can range from $1,500-$5,000, however, this is just a rough estimate.
Advantages and Disadvantages of Freelancers
More affordable than agencies (usually)

Wide selection of specializations and price points

Easy to find through a variety of different online platforms

Direct communication, whereas agencies rely on intermediaries to pass along requests/questions
Quality depends entirely upon the freelancer

Your project is handled by one freelancer and his/her skillset; with an agency, an entire team will be involved

Less oversight than an agency since there's only one freelancer checking his/her own work

Freelancers can suddenly become unavailable (illness, personal issues, etc.)
2. Option: Hire an Agency
Instead of hiring one freelancer to build your website, why not entrust the project to an agency? With this option, multiple specialists work on different aspects of your web project. This means that you're not reliant on a single pro, but an entire team of them, each of whom is an expert in a different aspect of web development and design. Of course, since the work is shared, costs do go up.
How to Find an Agency
You can find an agency the same way you would a freelancer: They usually have a presence on platforms like Upwork as well as their own dedicated websites.
In addition, consult online indexes and reviews of popular web design agencies listing their specialties and contact details. For example, there are agencies that focus entirely on creating ecommerce websites for their clients.
Agency Website Costs
Agencies are usually more expensive than freelancers since the figurative cloth needs to be cut more ways. Remember, you're paying for a team rather than an individual. Hourly rates typically range from $80-$200.
Depending on its scope and features, an agency-built website can cost anywhere from $2,000-$20,000, however, this is a rough estimate.
Advantages and Disadvantages of Agency Websites
Agencies pool the skills and capabilities of multiple specialists or teams, offering them together

An intermediary handles communication between you and the development/design teams

Since more people are involved, quality control is enhanced

No work stoppages: Agency members can fill in for one another in the event of illness
Almost always more expensive than freelancers

There are fewer agencies than freelancers, limiting your choice (especially for smaller projects)

Can be impersonal, with difficulties in contacting a specific person
3. Option: Website Design Services
Some website builders and hosting services, like GoDaddy, offer site creation (and modification) services, taking care of the entire process for you.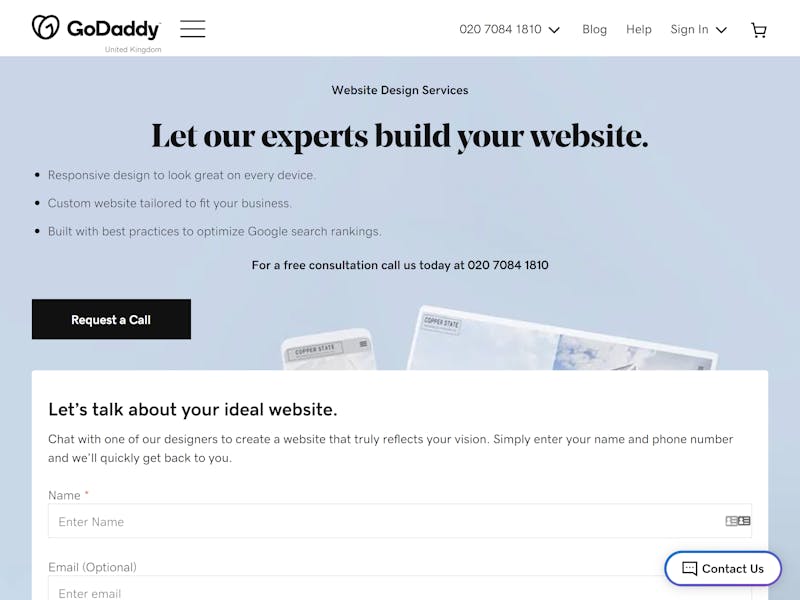 Some website builders and hosting providers will build and maintain your website for you.
Services vary depending on both the provider and the package you select. Should you want to be able to occasionally edit your website, make sure that this is included.
Website Design Service Costs
How much you'll pay depends on the provider. GoDaddy's Web Design Services, which are arranged into four tiers, will build a website but only offer estimates after discussing your needs with you. Other providers charge $40-$80 per month for a custom website, depending on how many subpages you want and whether you need an email address or the ability to make changes on your own.
Aspects that you'd otherwise handle on your own, such as hosting or a domain, are generally included, making them viable all-in-one options.
Advantages and Disadvantages of Website Design Services
Pay smaller monthly fees rather than a significant investment up front

Website management is left to website-building specialists who regularly update your finished website for you
In the long-term, more expensive than a one-time investment in a freelancer or agency

Depending on the service, you might not be able to edit your website on your own.
Alternative: Use a Website Builder
You now have a clearer idea of what to expect if paying experts to create a custom website for you. Perhaps you've decided that you'd like to give it a go yourself? If you lack programming or web design skills, website builders are likely your best bet.
These user-friendly, browser-based platforms make it possible for anyone to create a website, without writing a single line of code. You'll work with an intuitive editor, dragging and dropping content elements around before editing them to your preferences. Since the platform automatically translates your on-screen actions to backend code, you won't need to worry about any programming and can concentrate entirely on your website's design.
However, in exchange for this convenience, you will need to accept a few limitations:
Advantages and Disadvantages of Website Builders
No coding or web design skills needed

Subscription packages include a domain and hosting

Integrated with lots of features and content, like online stores and marketing

Plenty of ready-made templates and designs
Fewer options/less flexibility than with professionally-programmed custom websites

Final results often look similar to one another

SEO and performance shortcomings

Intuitive editors still require some familiarization and an eye for design
Website builders have become a highly popular alternative to freelancers and agencies, and there's no shortage of providers on the market. In our EXPERTE.com website builder comparison, we tested 12 of the best services according to their features, user-friendliness, and a number of other categories.
EXPERTE.com's Winner: Wix
Wix beats out the competition with an unmatched variety of features, intuitive editors and a jam-packed app store. Overall, the platform offers the best balance of usability and features on the market today.
lots of features and elements
simple & intuitive interface
9.6

excellent
Space
Domains
Templates
Contract Period
Wix Free
$0.00
monthly price
Visit Website*
Try for Free
Wix took first place in our EXPERTE.com website builder comparison. The Israeli platform combines user-friendliness with a large variety of comprehensive features. For those who'd prefer an even easier solution, there's an AI editor for beginners which essentially automates the entire website creation process.
Even out of the box, Wix comes with plenty of features and content elements, as well as a comprehensive ecommerce and marketing platform. In case you can't find what you're looking for though, you can browse its sizable app market.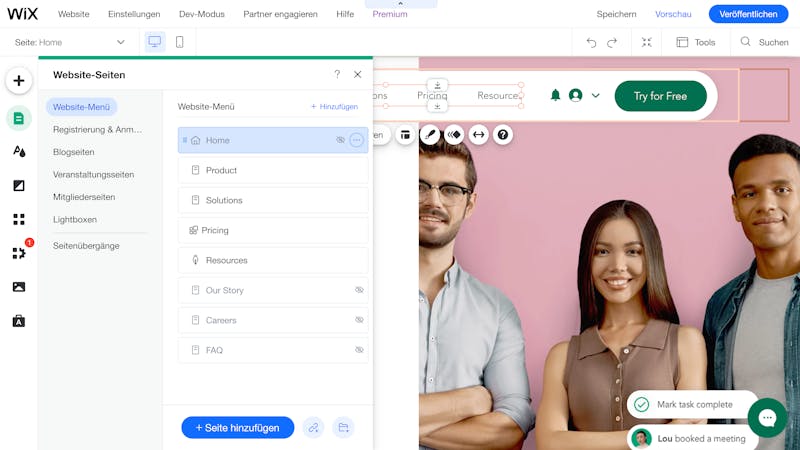 Wix was EXPERTE.com's website building champion, and is one of the most popular platforms on the market.
Should you want to try it before you buy it, you can use the platform's free version. A number of features aren't included, and you'll only be able to publish your website with a Wix domain. Still, you can get a good idea of what the platform is capable of. Paid subscriptions start at $16 per month.
Marketing, SEO & Ecommerce
10 / 10
Templates & Design
9.4 / 10
Configuration & Usability
9.4 / 10
Conclusion
There are a few options if you'd like pros to create a custom website for you.
You can hire a freelancer or agency, which has both advantages and disadvantages: Freelancers are usually more affordable ($1,500-$5,000 for a finished website), however, the final result depends on the talent, ability, and craftsmanship of a single expert. With agencies, multiple specialists will work on different aspects of your website, enhancing both quality control and security. Keep in mind that you will pay more ($2,000-$20,000).
If you'd like to give designing your website a shot, but don't have enough programming or web design know-how to do so, try a website builder. Even though they are somewhat limited in terms of flexibility and customization, they've likely helped millions of beginners launch professional websites.
FAQs
Which options are there for getting a custom website?
⊖
You can either hire a freelancer or an agency to build a custom website for you. Check on freelancing platforms like Upwork, social media, and search engines, or ask your friends and colleagues if they know someone. Freelancers are usually more affordable than agencies, however, agencies offer enhanced quality control and security, since multiple experts will work on your project.
How much does a custom website cost?
⊖
The exact costs depend on two factors: Your website's scope and the features you want it to have, as well as how much your freelancer or agency charges. Expect to pay between $1,500-$5,000 for a website designed by a freelancer, and $2,000-$20,000 for one built by an agency. Prices vary considerably, even among freelancers or agencies, so make sure to get estimates from the most promising prospects.
How can I create a website on my own?
⊖
Website builders are likely the best option if you'd like to take a more hands-on approach to creating your website, but don't have the coding or web design skills to do so from scratch. Their user-friendly editors make site building simple and intuitive, even for beginners. You will be limited to the features offered by the platform you choose, which means less flexibility than a professionally-programmed website.
* Ad disclaimer:
For links marked with an asterisk, EXPERTE.com may earn a commission from the provider. The commission has no influence on our editorial rating.

Janis von Bleichert studied business informatics at the TU Munich and computer science at the TU Berlin, Germany. He has been self-employed since 2006 and is the founder of EXPERTE.com. He writes about hosting, software and IT security.
Continue Reading
Other languages
Deutsch