Webador Website Builder Review: A Good Choice in 2023?


Ad disclaimer:
For links on this page, EXPERTE.com may earn a commission from the provider. This supports our work and has no influence on our editorial rating.
Websites have become a must for almost any business, however, that doesn't mean that programming one has become easier, or has it? Webador promises to make creating your own, professional web presence "surprisingly easy" with its site-building platform. In this review, we'll take a closer look and see if their claims measure up.
What Is Webador?
Webador* is a Dutch site builder geared towards beginners as well as those who prioritize ease of use. The provider's mission: To help anyone create a website that they're completely satisfied with. Beyond that, Webador claims to power its servers with 100% renewable energy, making any websites running off its platform Carbon neutral.
Convenient and good for the environment, who could say no? In this review, we'll let you know whether the environmentally-friendly site builder is really so straightforward and how it compares to its peers.
Webador Website Builder Review
Configuration & Usability
9.4 / 10
Marketing, SEO & Ecommerce
7.4 / 10
Templates & Design
6.6 / 10
Free version with limited features

Easy multilingual websites (paid feature)
Rudimentary blogging tools

Limited customization options

More suited to small shops or businesses
1.
Configuration and Usability
In order to create your own website, you'll need a Webador account. To register, head over to Webador's website, click on Get started, and go through the three steps. You'll need to specify what type of site you're going to create (website, blog, or webshop) and its name. Don't worry though, whatever you input here isn't set in stone and can be changed later on. To conclude the registration process, supply your email address and create a password.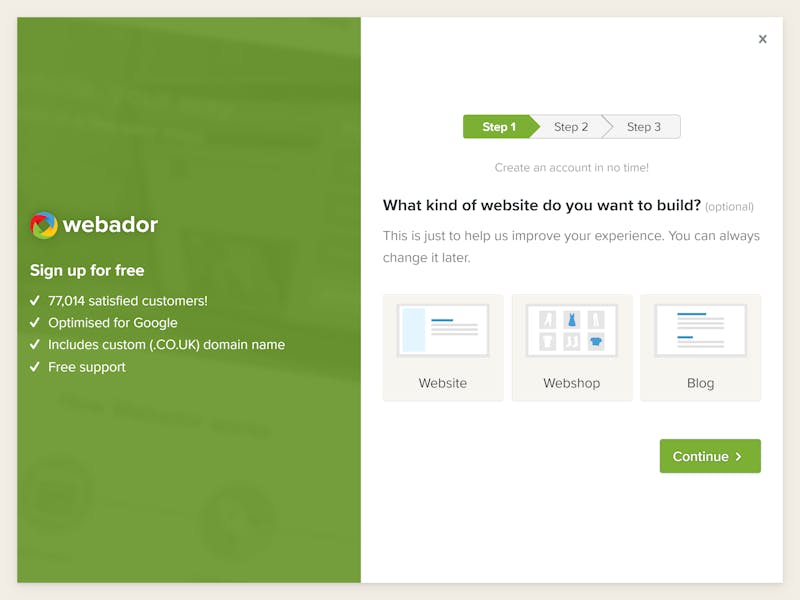 You can change your responses during the registration process at anytime.
After this, select a template for your website, and if desired, customize it. Once again, your choice isn't permanent, since you can change your site's design later on. All told, Webador offers 41 different templates for websites.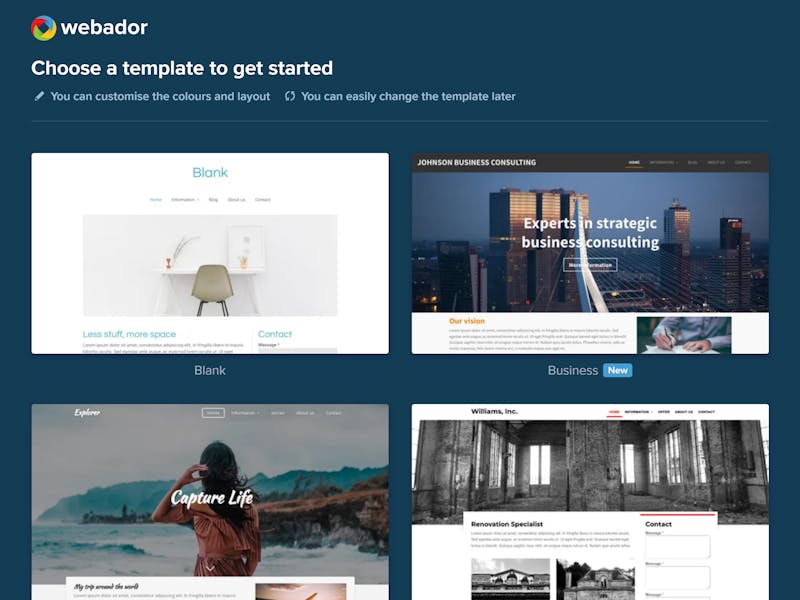 You can adjust the template you've selected later on in the platform's editor.
After settling on a template, you can register a unique domain, or skip this step and come back to it later. Then, you'll be given a choice of subscription plans. In the event that you only want to try Webador out, select the free plan, which includes all basic features. Since setup is now complete, you'll be taken directly to the platform's editor.
Fine-tune your website with Webador's editor
As advertised, Webador's editor is very straightforward. In it, you'll navigate between five main areas, namely, Editor, Pages, Design, Webshop, and Settings.
The Editor area is for modifying your website. Pages is where you'll configure your website's menus and page structure. In the Design area, you can specify colors and format text for your entire website.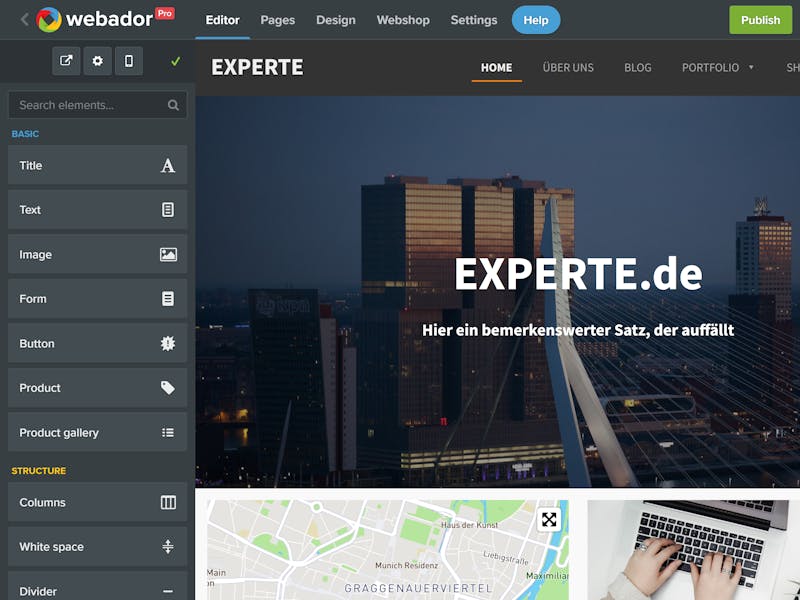 You'll quickly be able to access any feature you need in Webador's editor.
Returning to the Editor area, all of the elements needed to build your website can be found in the menu off to the left. Select an element and drag and drop it to add it to the desired position on your page. We should mention that Webador's editor lacks true drag and drop functionality: Elements can be moved and aspects such as direction can be adjusted, however, to maintain order, elements automatically conform to the page's preset layout.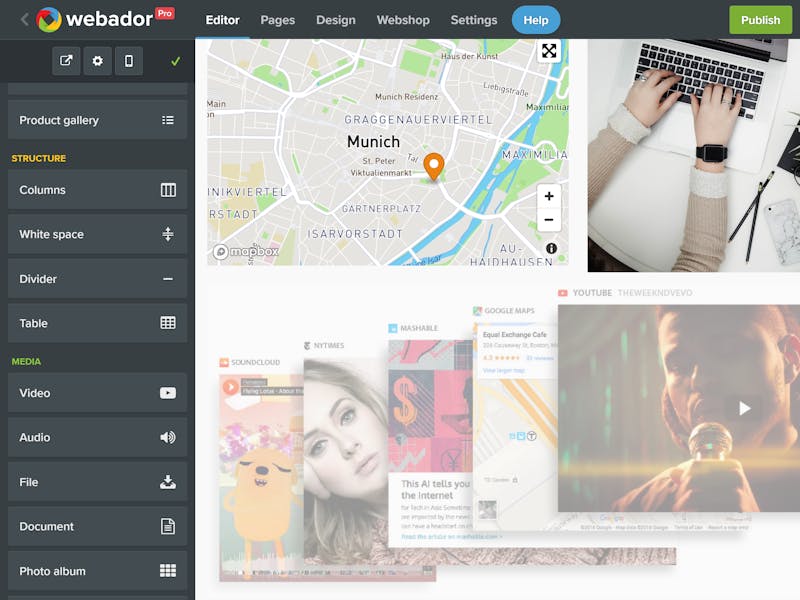 Webador provides the most important website elements.
You can add new pages to your website and specify its hierarchy, by moving pages and subpages to the left or right in the Pages area. Nifty: The hierarchy can be extended as far down as you'd like, adding sub-menus to sub-menus. It's also possible to configure settings and add unique SEO to each page.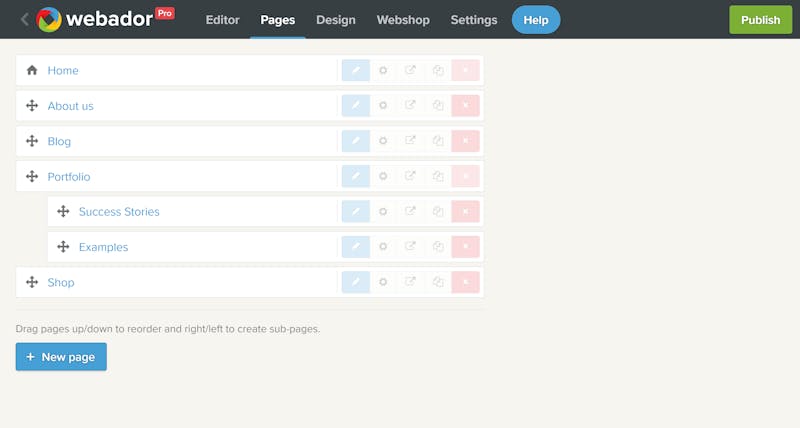 You'll determine page hierarchy in the Pages area.
By clicking on General in the Settings area, you'll be able to adjust your website's name, language, and time zone, as well as the following categories:
Contributors: Designate additional website admins with different rights (more on this in the next section).

Domains: Manage and register your domain.

Mailboxes: Stay on top of your incoming and outgoing emails.

Business listings: Improve the visibility of your business.

SEO settings: Settings for search engine optimization.

Advanced: Options for forwarding, HTML in the HEAD Tag, and a Google Analytics integration.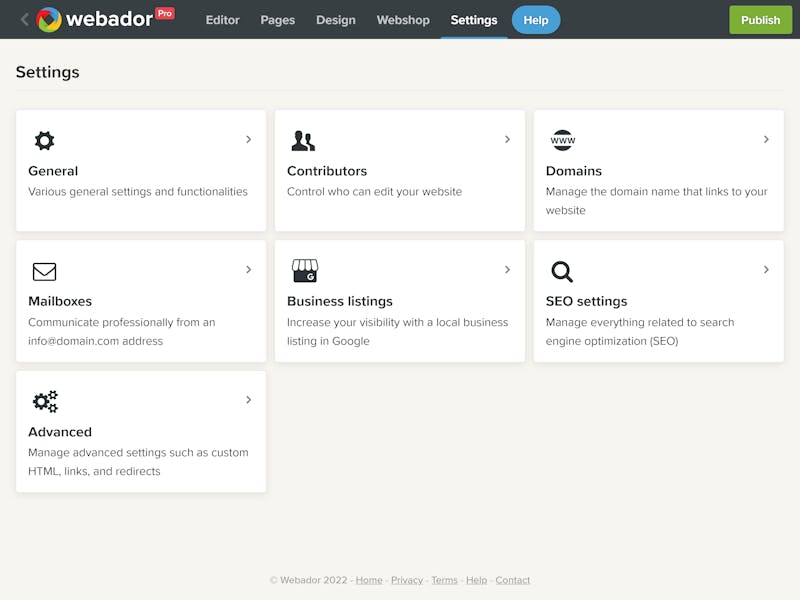 You can take care of basics in Webador's Settings area.
It's possible to generate a live preview of your website in the upper left of the Editor area and to alternate between its desktop and mobile views.
Webador keeps its word: It's easy and intuitive for beginners, making it possible to create a website with just a few clicks. Beyond that, the platform does compromise in terms of customization: The limited drag and drop with fixed guidelines keep things simple but also means that not every on-screen element can be placed exactly where you want it.
All the same, Webador is definitely one of the most user-friendly site builders we've encountered.
Configuration & Usability
9.4 / 10
Generally speaking, your Webador website will be comprised of different elements that can be dragged and dropped on a particular page. The most important content blocks for a website are included. Available elements can be grouped into five categories:
General: Basic content elements like title, text, and images.

Structural: Columns and lines, for adding definition to your website.

Media: Audio, video, or other file types.

Interactive: Maps, social media buttons, and comments.

Other: Sitemap and HMTL code widgets.
In comparison to other site builders, the selection of widgets Webador offers is fairly limited, especially when it comes to specialized content. A customer testimonials widget would come in particularly handy for freelancers or businesses. Similarly, restaurants or medical practices can often look forward to menus or scheduling widgets. With Webador, you'll have to make these on your own, by building a table.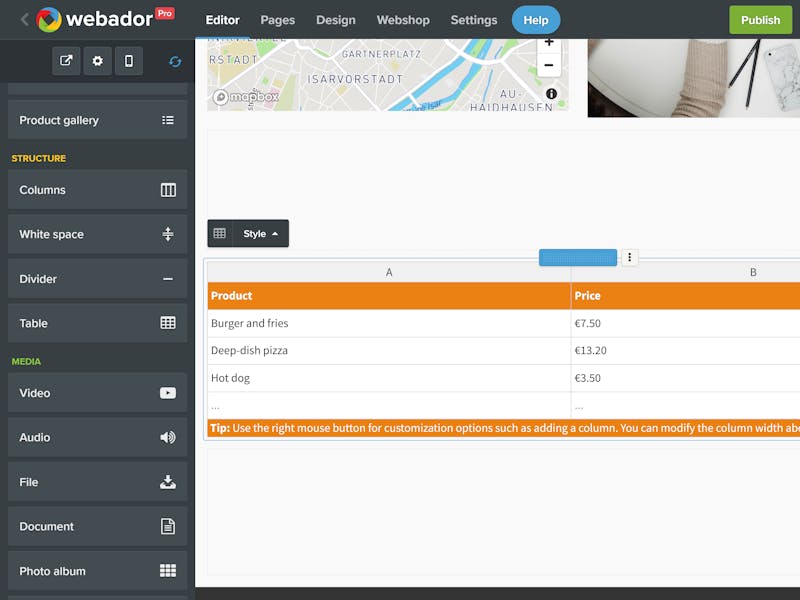 Webador covers all of the basic website elements, however, it could be more versatile.
Simple blogs with limited features
Blogs can be added to your website as an element. Once placed, click on Manage blog in order to edit existing entries or add new ones. It's also possible to schedule articles to be published in advance and to toggle comments on or off. Different categories can be created by dragging various blog elements onto the page.
You won't be able to organize blog entries according to tags or special features such as geo-tagging. Similarly, it isn't possible to add user-defined URLs, which from an SEO point of view is unfortunate. Overall, blogs created with Webador are easy to set up, however, you'll have to make do without additional features. Anyone who enjoys blogging and values content marketing is better served by other site builders.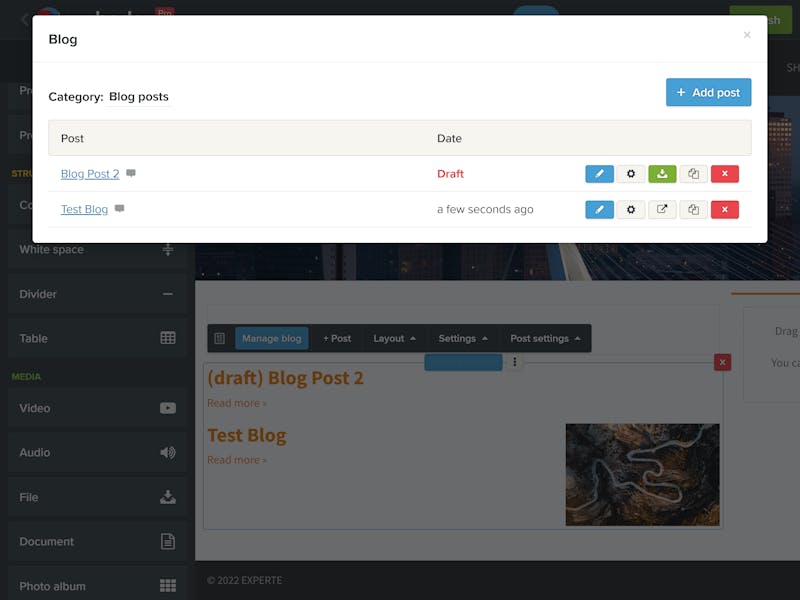 For blogs, Webador only offers the essentials.
Shared website editing
In the Settings area, you can designate additional admins for your website by clicking on Contributors. Two roles are offered:
Co-owners can manage pages and change templates.

Page editors can only manage and edit the website.
Only the account Owner can add new admins.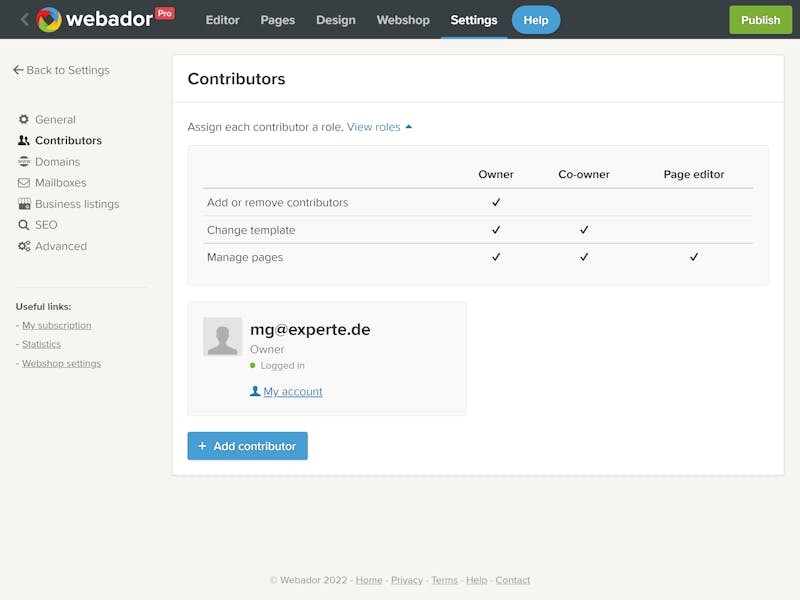 If you'd like to collaborate with others on your website, you can add co-owners and page editors.
Multilingual websites only for paying subscribers
Multilingual websites are easy to set up with Webador, however, you'll need an additional domain or sub-domain and be willing to pay an extra $5 per language. You can add a new language by clicking on the Webador logo in the upper left and then going to My subscription > Multilingual website.
Plenty of site builders make adding a second language more complicated than necessary, so we truly appreciate Webador's straightforward approach. With that said, there are platforms that don't charge extra for this (such as our overall winner Wix, or MyWebsite by 1&1 IONOS).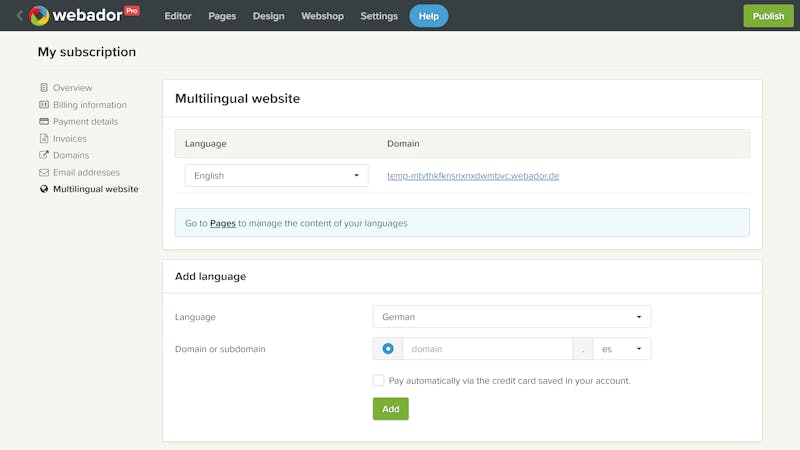 You can create multilingual websites by paying an extra monthly fee per language.
Ease of use seems to be more important to Webador than functionality. The features which the platform includes are decent, ranging from blogging to content elements. All the same, what you see is what you get since Webador does not have an app market. Accordingly, the service is "satisfactory" in this area, but nothing more.
Webador supplies users with more than 50 templates, all of which are responsible and optimized for mobile usage. These designs aren't all too varied or exciting: You've probably seen something similar before. This is hard for site builders to avoid since a number of designs prove time and again to be popular.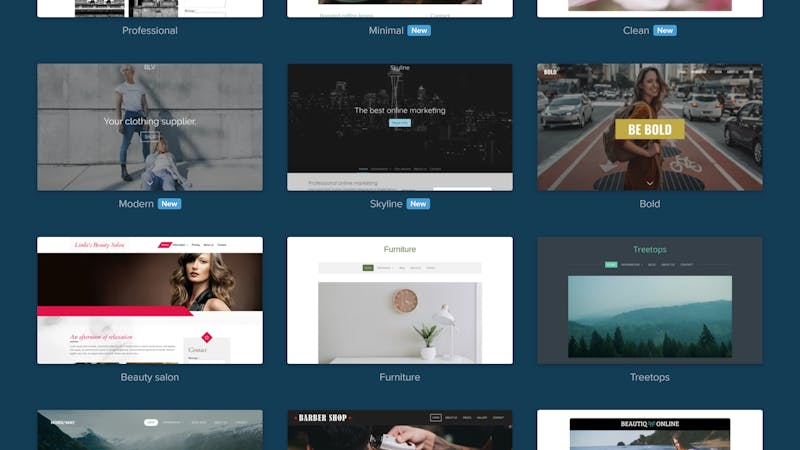 Webador offers all of the classic homepage designs, from image-intensive travel blogs to minimalistic-elegant business pages.
Thankfully, you can alter your site's template at any time. Simply go to the Design area and click on Choose a different design, after which you'll be able to see how the new design would look. This flexibility can be traced to the platform's limited customization options for content elements: With Webador you'll have to work within certain boundaries since it doesn't include real drag and drop.
Unremarkable layout adjustments
In the Design area, you can configure color settings for your entire site, and format text, headers, and menus for individual sub-pages. On the element level, settings are very limited. At the same time, you'll be able to edit your website's basic layout, along with its structural elements, such as columns or white spaces.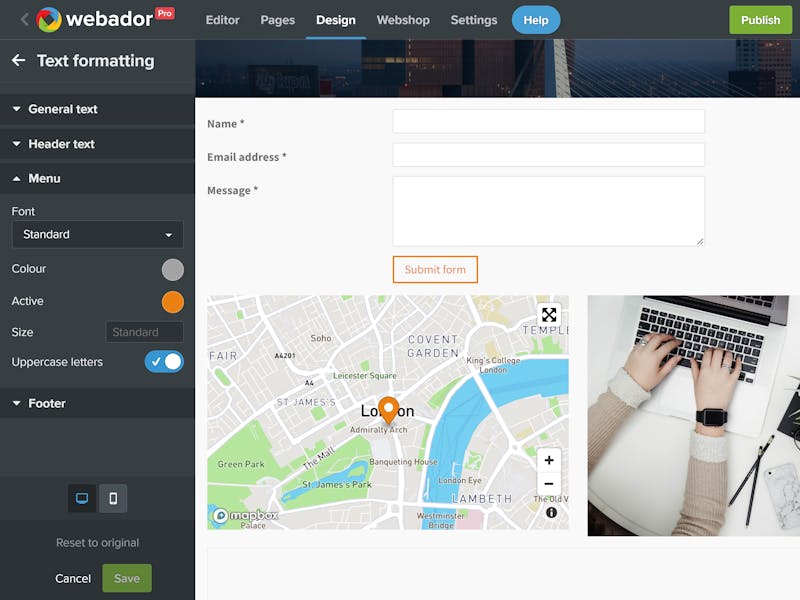 Colors and fonts can be adjusted in the Design area.
Media gallery with stock photo integrations
Should you want to add images to your website, you can either upload them directly from your computer or import them from a media gallery of your choosing. Thanks to the practical Unsplash integration, you'll have access to a nice selection of free and unlicensed stock photos, which you can browse either on their own or by category.
Photos you've added can be edited on the platform. You'll be able to crop them, add layering effects, or include text.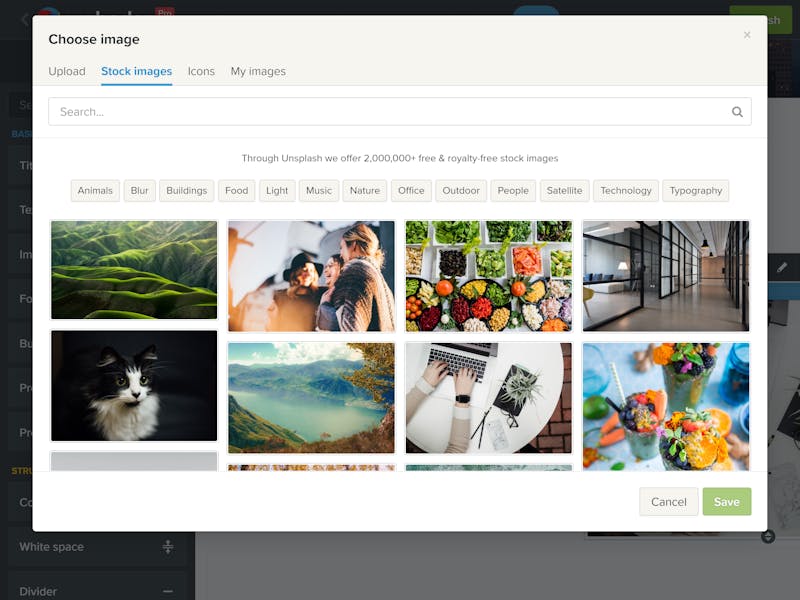 You can search for and add unlicensed pictures from Unsplash directly in Webador's editor.
Webador's templates are solid, but nothing extraordinary. Compared to other site builders, the customization options seem somewhat limited. One positive is that you can change the template at any time, allowing you to experiment with different designs for your website.
Templates & Design
6.6 / 10
4.
E-Commerce, Marketing & SEO
You can manage your online store in Webador's Webshop area. There, you'll find the following options:
Orders: View and manage all of your orders.

Customers: Consult a list of all customers who have ordered from you.

Products: Add new products or edit existing ones.

Settings: Manage your payment and order options, as well as plenty of other shop aspects.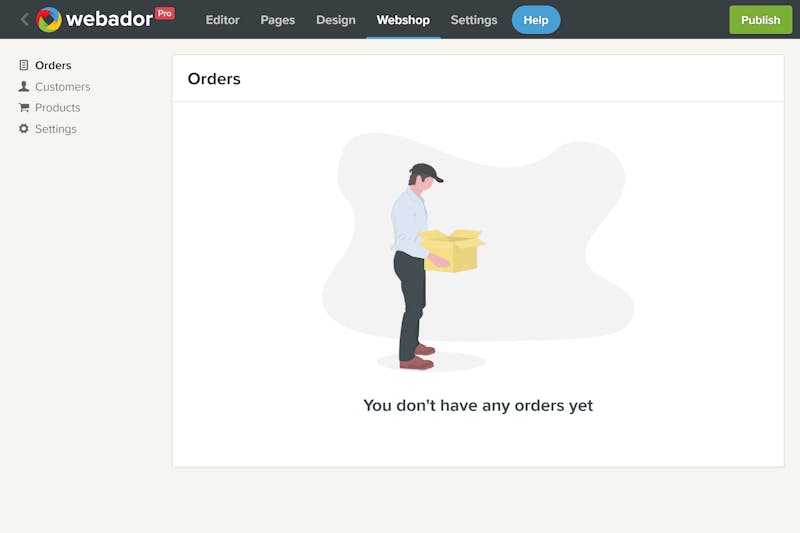 Webador is more suited for smaller webshops.
Easy product management
The foundation of any online store is clear product management, and Webador executes this well: From Product Overview, click on Add a product to create a new product. Next, input the product's name, description, shipping options, price, and quantity available.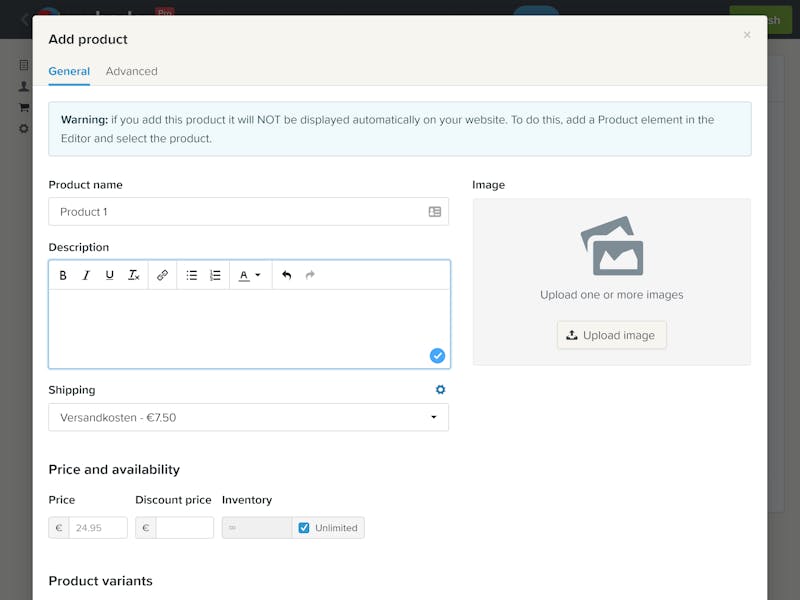 Like everything with Webador, product management is easy and user-friendly.
It's unfortunate that Webador doesn't support digital product sales: There's no integrated feature for downloads meaning that you'll have to settle for a compromise (adding a download link via Plink, for example). Other site builders, like Squarespace, offer integrated support for selling digital products.
The platform's approach to product variations is good: You can add up to four categories per product (such as color or size), after which a product variant will be automatically created for each category. You can then individually specify prices, pictures, and available quantities.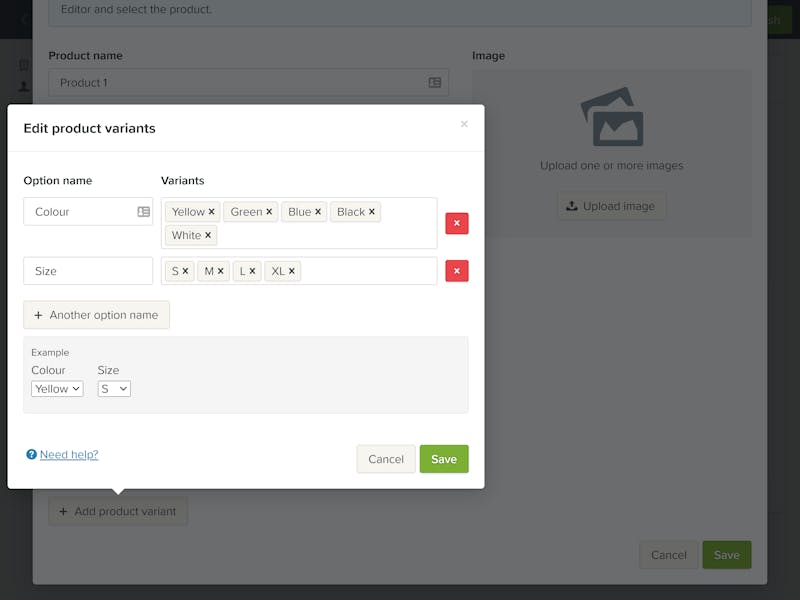 Webador does an excellent job of handling product variations.
You also won't find categories in the product menu. Like blogs, these are created directly in the editor by adding product elements to a page.
Solid payment and shipping options
Webador comes with Mollie, a payment provider, which supports all important payment methods, such as credit cards, PayPal, and others. In the shipping menu, you can configure different delivery options. Here, it's possible to offer free shipping, in-person pick-up, or dispatch to a pickup or delivery station. By integrating Sendcloud, you can also ship your orders with DHL or UPS.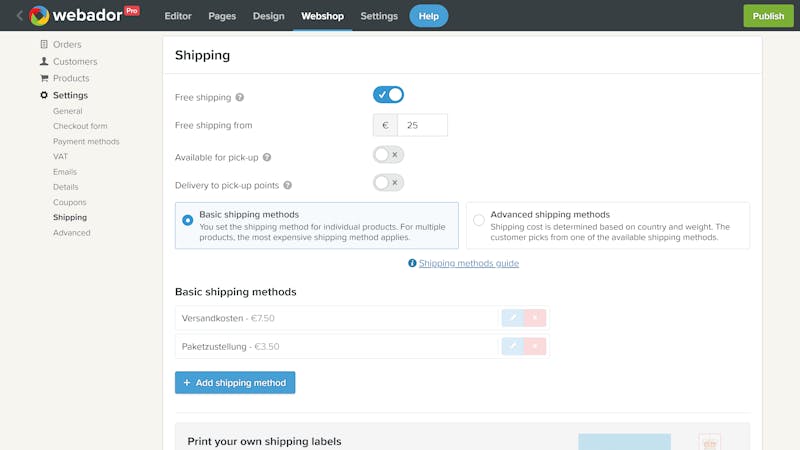 It's possible to specify free delivery for orders exceeding a certain total.
Basic marketing features
Webador only comes with a few marketing options: You can offer different kinds of discounts to your customers. In the product menu, it's also possible to set a sales price which will be visually emphasized.
Beyond that, there aren't many marketing features. There's no email marketing and you won't be able to launch multimedia marketing campaigns, such as those that are possible with Wix.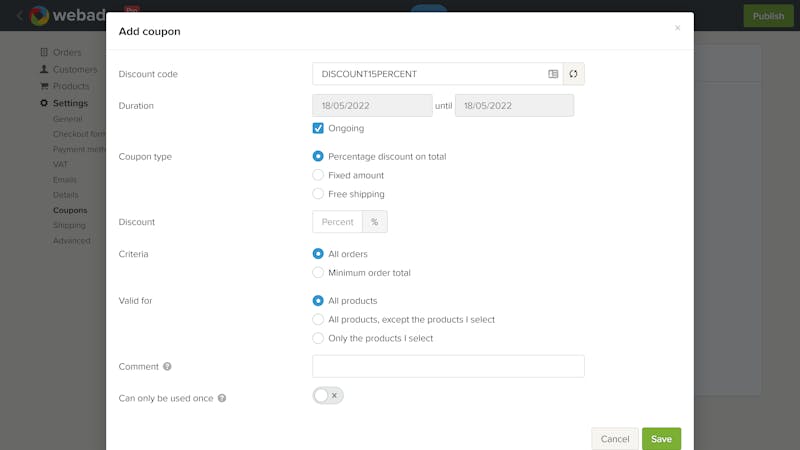 Encourage your customers to complete purchases by offering discounts and coupons.
Analytics & SEO
Webador supports basic SEO settings. Under page settings, you can specify page titles and descriptions, and add a social media image. It's also possible to make your pages visible to search engines. The same options are available for blog entries and shop products. Unfortunately, there's no way to create user-defined URLs.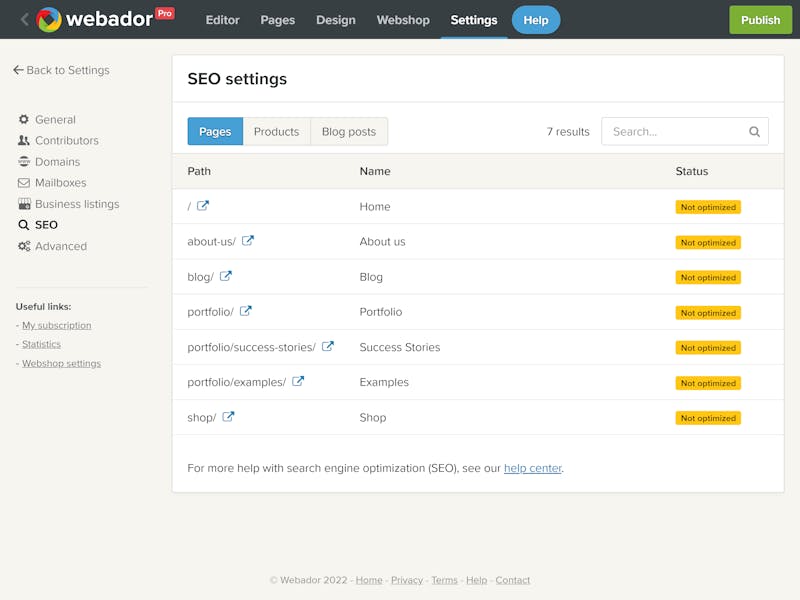 Webador offers SEO settings for pages, products, and blog entries.
Under Statistics, which can be accessed through the Settings area, you'll find information about your visitors, their location, what devices they used to access your site, and traffic sources. If desired, Google Analytics can be integrated.
Overall, Webador is really only suitable for small shops since its product settings and marketing features are limited. User-friendliness is high, and we really appreciated the platform's approach to adding product variations. Analytic and SEO features are also decent, but again, nothing remarkable.
Marketing, SEO & Ecommerce
7.4 / 10
You can access Webador's help center by clicking on the blue Help button in the top right of the dashboard. There, you'll find guides grouped into different categories as well as a search feature. The guides are informative and demonstrate how to use certain features with GIFs and screenshots.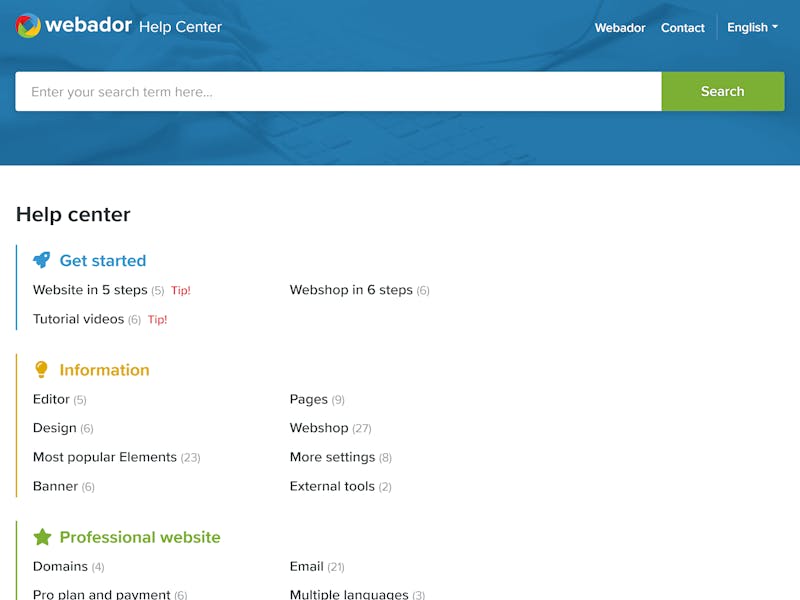 Webador's tutorials are grouped into categories such as Get Started or Information.
And what if you don't find an answer to your question in the tutorials? Then, you'll need to get in touch with Webador's support, which is only available via the contact form in the help area. You won't find a live chat or hotline (an emergency number is available, but it's only for difficult problems).
Webador's staffers competently answered our questions within a few hours. Since the options for getting in touch are limited, we can only award a "good" score.
The platform's pricing system is fairly straightforward: Along with the free version, two paid subscriptions are offered, Pro and Business, which can be booked at a monthly or (more affordable) yearly rate.
Pro package subscribers are limited to 10 products and 1 GB of mailbox storage. Business subscribers can add as many products as they like, and also take advantage of 10 GB of mailbox storage. Pro users have to make do without HD video content elements. Both packages include free domains.
Should you want to use Webador's free version, you'll be tied to a .webador.com address. You also won't be able to use most of the additional features, and can't open an online store. Blogging is possible for free users.
Below, you can find a current price list for Webador:
Free
Lite
Pro
Business
Set-up Fee
$0.00
$0.00
$0.00
$0.00
Monthly Price
$0.00
from $3.94
from $7.00
from $14.00
Contract Period (Months)
0
1 - 12
1 - 12
1 - 12
Included
Space (GB)
unlimited
unlimited
unlimited
unlimited
Pages
unlimited
unlimited
unlimited
unlimited
Traffic (GB)
unlimited
unlimited
unlimited
unlimited
Custom Domain
Domains Included
0
1
1
1
Features
Free of Ads
SSL Encryption
Blog
Ecommerce
Multilingual Sites
How does Webador compare to other site builders from our sample in terms of price? In the table below, we took the most affordable, ad-free, yearly subscription rate that included a user-defined domain from each provider to find out:
1.
2.
3.
4.
5.
6.
7.
8.
9.
10.
11.
12.
Webador does not offer a money-back guarantee.
Conclusion
Webador keeps its promise to make creating a website easy for everyone, regardless of their level of experience. Its editor is intuitive and doesn't take long to get a feel for. Whether structuring your website or setting up its navigation, all of the most important aspects of web design are kept simple.
At the same time, Webador is really only geared towards straightforward projects, such as small webshops, club websites, or blogs. It isn't possible to sell digital products, and you won't have serious marketing tools, advanced blogging features, or an app market. Making things worse, there aren't many options for customizing templates.
If you can live within these constraints and don't have too many requirements, you could be well-served by Webador.
Webador prioritizes ease-of-use over advanced functionality and personalization. Hence, it's more suited for smaller website projects and simple shops that don't need to look super unique.
Space
Domains
Templates
Contract Period
Webador Free
$0.00
monthly price
Visit Website*
Customer Ratings
Webador does well when it comes to customer ratings: On Trustpilot, users praise its ease of use and ease of use. Its customer service was criticized, with users complaining about long response times.
Customer Ratings
8,279 Bewertungen
Visit Website*
We analyzed the reviews and ratings from various portals and found 8,279 ratings with an overall rating of 4.6 out of 5 .
Alternatives
Should you be looking for a site builder that's geared towards beginners, but has more to offer than Webador, you might want to consider Weebly. Our top performer, Wix serves up considerably more features, however, isn't as intuitive as Webador, at least in its regular editor. It does have a simplified editor for beginners though, offering the best of both worlds.
If, on the other hand, you're looking for a great tool to bring your online store to life, consider taking a look at our comparison of the best ecommerce platforms.
More of the best alternatives to Webador can be found here:
Wix beats out the competition with an unmatched variety of features, intuitive editors and a jam-packed app store. Overall, the platform offers the best balance of usability and features on the market today.
lots of features and elements
simple & intuitive interface
9.6

excellent
Space
Domains
Templates
Contract Period
Wix Free
$0.00
monthly price
Visit Website*
Try for Free
Squarespace Website Builder
Squarespace can impress with flawless designs and high quality templates, which make the creation of professional websites a piece of cake – but comes at a higher price compared with the competition.
Space
Domains
Templates
Contract Period
Squarespace Personal
$16.00
monthly price
Visit Website*
14 Days Trial Period
Due to its rather complex editor, IONOS MyWebsite comes with a bit of a learning curve, but rewards those who stick with it with wide-ranging creative possibilities that enable unique websites.
supports multilingual sites
not all templates are great
8.8

good
Space
Domains
Templates
Contract Period
IONOS Starter
$10.50
monthly price
Visit Website*
30 days risk-free
Webflow is a hybrid between website builder and CMS, and requires a basic understanding of coding logic. It's less suitable for beginners – but its visual design tools are a great way for more advanced users to create dynamic websites.
mix of CMS & website builder
more powerful than WYSIWYG editors
learning platform "Webflow University"
visual design with zero code
8.7

good
Space
Domains
Templates
Contract Period
Webflow Starter
$0.00
monthly price
Visit Website*
Start for Free
With its intuitive drag-and-drop functionality and an unrivaled smartphone app for mobile website building, Weebly makes homepage creation easy even for beginners.
Space
Domains
Templates
Contract Period
Weebly Free
$0.00
monthly price
Visit Website*
Try for Free
* Ad disclaimer:
For links marked with an asterisk, EXPERTE.com may earn a commission from the provider. The commission has no influence on our editorial rating.

Martin Gschwentner majored in American Studies and Media Studies in Germany, the USA and France and works as a freelance editor in Paris. He is a doctoral student at the Institute for English and American Studies at the University of Paris Diderot, where he is researching the influence of money on US politics. On EXPERTE.com he writes about IT security, data protection and software for the self-employed and small businesses.

Translation: D Bare
Continue Reading