Best Webflow Alternative 2023: 11 Website Builders Reviewed


Ad disclaimer:
For links on this page, EXPERTE.com may earn a commission from the provider. This supports our work and has no influence on our editorial rating.
Site builders like Webflow help to quickly create a website, even if you're not familiar with CSS or HTML. This is because users can edit templates and modules in user-friendly, foolproof browser-based platforms. Webflow is only one option among many, and considerably more complicated than some of the other solutions available.
For that reason, we closely tested 11 website builders according to categories like their "Configuration and Usability", "Features", and "Templates & Design". We'll save you the anticipation: Webflow staked out a very respectable fourth place in our comparison. The website builder/CMS hybrid offers nearly endless customization options, however, it dropped down our ranking since it's somewhat inaccessible to beginners.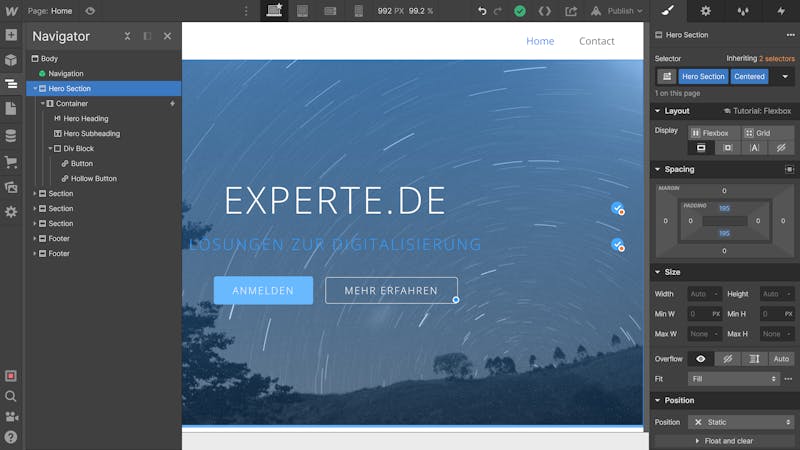 Webflow is less beginner-friendly than most of the other website builders from our sample.
This complexity can be traced to Webflow visualizing coding logic, albeit not as others, like Wix, do. You'll still build your website by dragging and dropping ready-made content blocks, however, it's necessary to pay attention to some programming basics, like the box model.
All of this makes Webflow's editor more flexible than most of the other platforms we took a look at, however, also much more demanding.
Webflow's Disadvantages
Flexible, but overwhelming editor for those unfamiliar with coding or programming.

Relatively few extensions and integrations (compared to full CMS like WordPress).

Somewhat more expensive than most of the other services from our sample.
The 5 Best Alternatives to Webflow
Webflow was not designed for newcomers to the world of website building. However, there are plenty of alternatives that specialize in catering to precisely this target group. Below, we've compiled a list of five great alternatives:
Wix beats out the competition with an unmatched variety of features, intuitive editors and a jam-packed app store. Overall, the platform offers the best balance of usability and features on the market today.
lots of features and elements
simple & intuitive interface
9.6

excellent
Space
Domains
Templates
Contract Period
Wix Free
$0.00
monthly price
Visit Website*
Try for Free
Wix took first place in our ranking since it provides the most well-rounded site-building package. Its editor is versatile, user-friendly, and loaded with features, while its app marketplace is teeming with extensions and add-ons. The service also offers a nice blend of marketing options and ecommerce features, making it a great choice for anyone interested in opening up an online store.
Set alongside Webflow, Wix is definitely targeted toward a wider audience. The editor's drag and drop capabilities make designing a website extremely intuitive, especially for those lacking experience with coding and/or who work better visually.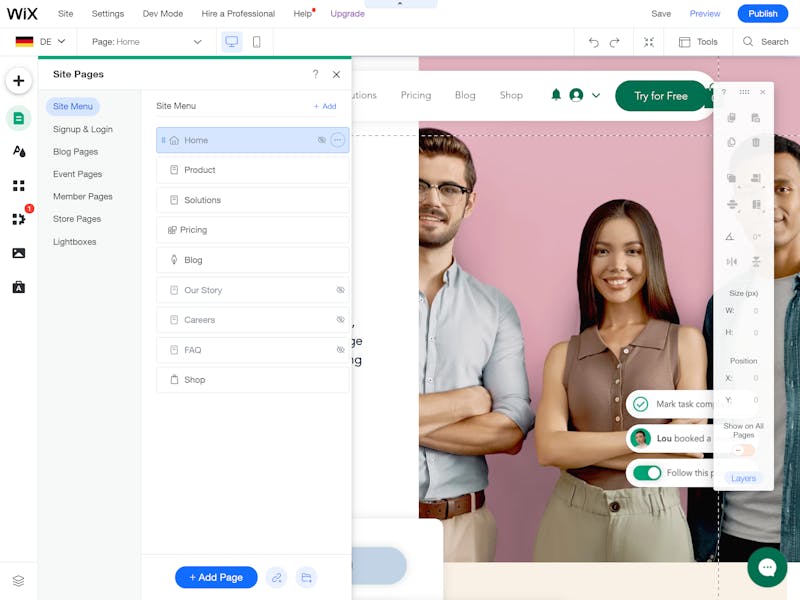 Wix's editor is more beginner-friendly than Webflow's.
Thanks to all of the above, Wix doesn't have as much of a learning curve as Webflow. Its ADI editor offers an even more accessible option, practically automating the entire process of creating a website. With the ADI editor, you won't have as many customization options as with Webflow. This is because Webflow's editor offers more choices in its visual interface; supposing that you can code, the sky is the limit.
However, for less-experienced site builders and anyone who doesn't want to spend time learning some coding basics, Wix is clearly a better option.
Easy-to-use drag and drop interface

Includes plenty of features and an app marketplace

Numerous design templates available
Less customization possible than with Webflow

ADI editor somewhat lacking in features
Marketing, SEO & Ecommerce
10 / 10
Templates & Design
9.4 / 10
Configuration & Usability
9.4 / 10
2.
Better Templates: Squarespace
Squarespace Website Builder
Squarespace can impress with flawless designs and high quality templates, which make the creation of professional websites a piece of cake – but comes at a higher price compared with the competition.
Space
Domains
Templates
Contract Period
Squarespace Personal
$16.00
monthly price
Visit Website*
14 Days Trial Period
If Squarespace is known for one thing, it's iconic templates. The New York-based website builder's design options are seen as some of the most aesthetically appealing on the market, and in our book, a step above what Webflow offers.
Apart from sleek designs, Squarespace provides access to a range of versatile features, is easy to use, and grants users access to comprehensive ecommerce options in a very solid, but somewhat pricey overall package.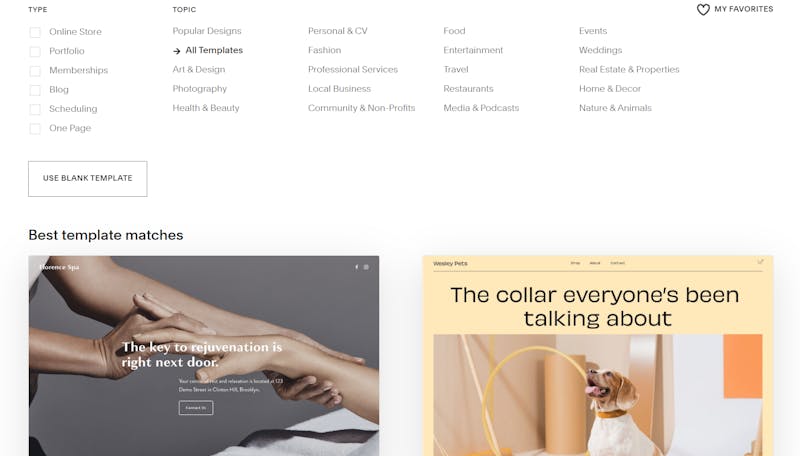 Squarespace is mostly known for its high-quality templates.
Another drawback is that in comparison to Webflow, you'll have considerably less design freedom with Squarespace. If the quality of design templates on your website is important to you, and you're ready to work within the platform's editor's limitations, Squarespace is definitely a good choice.
Eye-catching, high-quality templates

Good support center and live chat
Lacks a dedicated app marketplace, providing instead only a few extensions
Configuration & Usability
10 / 10
Marketing, SEO & Ecommerce
8.6 / 10
Templates & Design
8.0 / 10
3.
Cheaper: MyWebsite by IONOS
Due to its rather complex editor, IONOS MyWebsite comes with a bit of a learning curve, but rewards those who stick with it with wide-ranging creative possibilities that enable unique websites.
supports multilingual sites
not all templates are great
8.8

good
Space
Domains
Templates
Contract Period
IONOS Starter
$10.50
monthly price
Visit Website*
30 days risk-free
With its drag and drop editor, MyWebsite by IONOS offers users a considerable degree of design freedom when building their website. Ready-made content elements can be freely arranged, and most are customizable. However, the service's biggest selling point is its price for new users: "Essential" subscribers pay just $4 a month for the first year, while "Business" subscribers are charged even less ($0.50 per month for the first 12 months).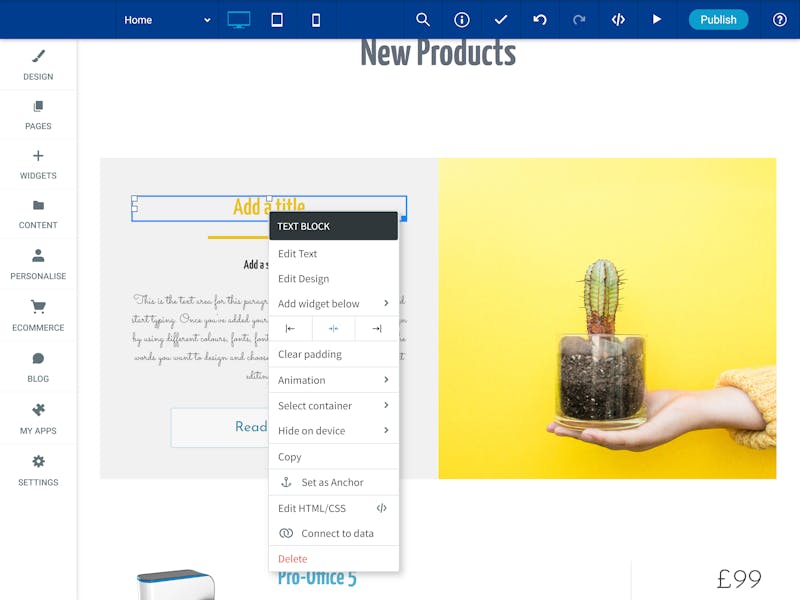 MyWebsite by IONOS has one of the most powerful site-building editors available.
At the same time, MyWebsite by IONOS is more complicated to use than Wix, but not to the same extent as Webflow. All things being equal, Webflow offers more flexibility and creative freedom than MyWebsite.
Still, MyWebsite by IONOS is a great choice at an unbeatable price.
Powerful editor offering plenty of customization options

More than 400 design templates
Somewhat complicated and overloaded editor

Less flexible than Webflow

Unlike Webflow, lacks CMS capabilities
Templates & Design
8.6 / 10
Marketing, SEO & Ecommerce
8.6 / 10
Configuration & Usability
8.0 / 10
4.
Better for Ecommerce: Shopify
Shopify is a great all-rounder for small, medium, or larger shops. If you're looking for a platform that's more powerful than a regular website builder, but not as complicated as other ecommerce platforms, Shopify might offer the right mix.
Number of Products
Transaction Fee
Sales Channels
Payment Options
Shopify Basic
$29.00
monthly price
Visit Website*
14 day free trial
Should you want to open an online store, ecommerce platforms like Shopify can't be beaten. While Webflow does possess similar capabilities, Shopify is built for setting up digital businesses. As such, it includes comprehensive dashboards for managing your store and can offer your customers a wider range of payment options to choose from.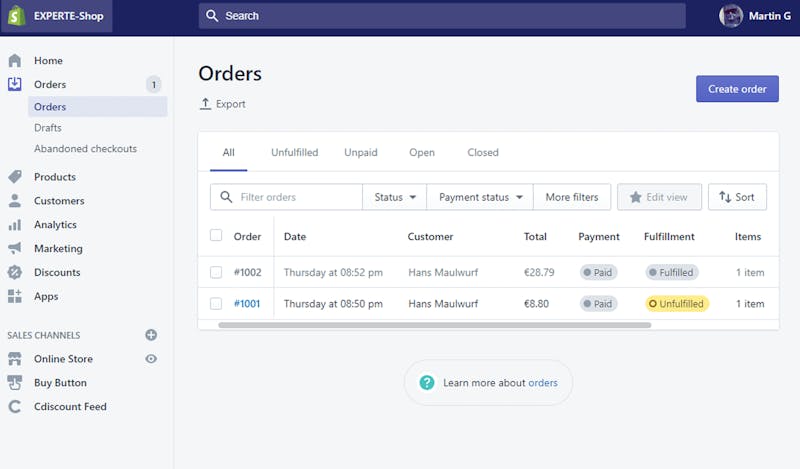 Ecommerce platforms like Shopify are ideal for setting up a new business online.
Shopify combines ecommerce features with the classic advantages of a site builder: Easy editing of templates and intuitive design tools. Of course, Shopify can't match Webflow's flexibility and freedom of design.
User-friendly and easy-to-navigate dashboard

Straightforward site builder for personalizing your store

More developed ecommerce features than Webflow
Transaction fees, if using external payment gateways

Less flexible than Webflow
Configuration & Usage
9.4 / 10
Marketing & Analytics
9.4 / 10
Product Management
8.6 / 10
Personalizing Your Store
8.6 / 10
5.
CMS Alternative: WordPress
Because Webflow is a site builder/CMS hybrid, we just couldn't resist including the king of CMS. WordPress is free, open-source, and can be enhanced through a seemingly endless number of add-ons and integrations (far more than Webflow). Among these are visual drag and drop plugins, which help transform WordPress into an intuitive site builder.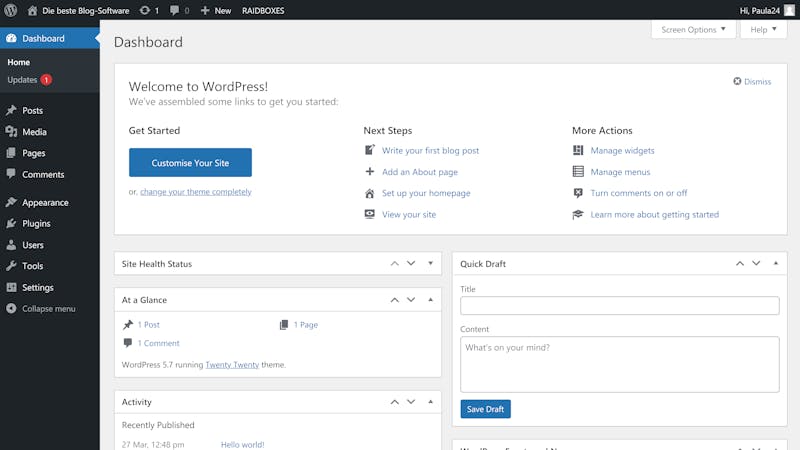 WordPress is the most used CMS worldwide.
However, with WordPress, you will have to pay attention to some aspects that Webflow takes care of, such as hosting and security (although WordPress does offer paid packages that include these). Similarly, you shouldn't expect anywhere near the same level of support from WordPress as you'll get with Webflow.
Basically free and open source

Numerous plugins and extensions
Necessary to take care of key aspects, such as hosting

No direct customer support
Other Alternatives
Weebly
Designed especially for beginners, Weebly impressed us with its clever mobile app, which makes it easy to build or manage your site on the go. Unfortunately, Weebly's editor has limited drag and drop capabilities, restricting your creative freedom more than its competitors, like Webflow.
With its intuitive drag-and-drop functionality and an unrivaled smartphone app for mobile website building, Weebly makes homepage creation easy even for beginners.
Space
Domains
Templates
Contract Period
Weebly Free
$0.00
monthly price
Visit Website*
Try for Free
SITE123
SITE123 also sacrifices flexibility for ease of use, as each template is tied to specific layouts, which you can only somewhat edit. Accordingly, drag and drop design, as with Wix and others, is not possible. All the same, SITE123 is highly beginner-friendly.
SITE123 deliberately limits users' design freedom in order to streamline and simplify the creation of professional-looking websites. Users can't really make any mistakes – but they can't really create unique looking websites either.
great 24/7 support with chat
intuitive, beginner-friendly editor
unclear pricing structure
8.0

good
Space
Domains
Templates
Contract Period
SITE123 Free
$0.00
monthly price
Visit Website*
Try for Free
Jimdo
In balancing between user-friendliness and flexibility, Jimdo favors simplicity. Like Wix, Jimdo includes a second, beginner-friendly editor which is AI-assisted (Dophin). Of course, creative freedom is extremely limited, and compounding this, Jimdo's ecommerce capabilities are fairly weak compared to the rest of our sample.
Jimdo accommodates beginners with its AI-based editor, while offering solid personalization options with its standard editor. The free plan makes the platform a great fit for personal projects and blogs as well.
75 high-quality templates
weak product inventory management
7.9

good
Space
Domains
Templates
Contract Period
Jimdo Play
$0.00
monthly price
Visit Website*
Try for Free
Overall Result
In reviewing all 11 site-building platforms from our sample, we scored each according to five categories, namely, "Configuration and Usability", "Features", "Templates & Design", "E-Commerce, Marketing & SEO", and "Customer Support", with "Pricing", a sixth factor, being discussed but not scored. As we noted above, Webflow took fourth place, leaving it just out of the Top 3 (Wix, Squarespace, and MyWebsite by IONOS, respectively).
Below, you can see how each of the 11 platforms from our sample did:
Conclusion
When it comes to site-building solutions, Webflow is in a league of its own. Thanks to its unique approach to design (visualization of complicated coding logic), the site builder/CMS hybrid is a great tool for veteran web designers more interested in flexibility and versatility than hand-holding.
The most apparent alternatives are those that cater to newcomers. Wix, our EXPERTE.com best-in-show, serves up what might be the best overall package on the market. Squarespace is another good alternative owing to its beautiful design templates, while MyWebsite by IONOS offers something for those on a budget. For an online store, Shopify is worth a look, and finally, if you'd prefer a full-fledged CMS, WordPress is a great choice.
Determining which provider is best suited to your needs depends on quite a few factors, most of which we cannot address. To help in your search, be sure to consult our comprehensive reviews of 11 site builders and 9 ecommerce systems.
Webflow is a hybrid between website builder and CMS, and requires a basic understanding of coding logic. It's less suitable for beginners – but its visual design tools are a great way for more advanced users to create dynamic websites.
mix of CMS & website builder
more powerful than WYSIWYG editors
learning platform "Webflow University"
visual design with zero code
8.7

good
Space
Domains
Templates
Contract Period
Webflow Starter
$0.00
monthly price
Visit Website*
Start for Free
* Ad disclaimer:
For links marked with an asterisk, EXPERTE.com may earn a commission from the provider. The commission has no influence on our editorial rating.

Martin Gschwentner majored in American Studies and Media Studies in Germany, the USA and France and works as a freelance editor in Paris. He is a doctoral student at the Institute for English and American Studies at the University of Paris Diderot, where he is researching the influence of money on US politics. On EXPERTE.com he writes about IT security, data protection and software for the self-employed and small businesses.

Translation: D Bare
Continue Reading