Finding Product Ideas: What Sells Well Online?


Translation
Lisa Torelli-Sauer
Online retail is booming. In 2021, global retail ecommerce sales brought in about 4.9 trillion U.S. dollars—and the trend is growing. It's no wonder that more and more people want to start selling products online. However, success in ecommerce doesn't come easily, so your business needs to be well thought out. The process begins by choosing the right product to market.
Selecting products to sell online is an art in itself. Components of a winning strategy include high demand and product quality, minimal competition, and a straightforward sales process. To succeed in the hotly contested ecommerce market, you need to either carve out a niche or find a way to add value to products with proven selling power. Both require extensive research.
This article covers how to determine good products to sell online, what you need to consider, and which products (and product categories) are especially well suited for ecommerce.
Finding Product Ideas — What Makes a Good Product?
The next hot product is only one good idea away. It's challenging to predict which items will fly off the shelves and which will flop; if it were easy, everyone would do it. That being said, there are a few rules you should follow to avoid slow-sellers:
High demand
You should only sell products that people need. Demand can be determined based on several factors: your own surveys, published studies, search engine trends, and your competitors' sales figures, among other things. We'll cover this in more detail later on.

Little competition
If demand for a product is high, chances are that the market has already been saturated with sellers. It's hard to establish yourself in a niche where many companies are already successfully selling similar products. For that reason, it can pay to anticipate new trends and sell goods that aren't yet widely available.

Problem solvers
In hunting for the next big thing, some aspiring merchants often forget that a product should be useful. You can observe this trend on TV shows such as "Shark Tank", where investors are sometimes pitched ideas for items that no one actually needs. Goods that solve a real problem, especially for a large group of consumers, have a much better chance of success.

Price & manufacturing costs
The more expensive a product is, the smaller your target audience will be. Less expensive wares should have margins high enough for you to make a reliable profit. Be sure to sell goods that have both attractive prices for your target group and decent profit margins for you.

You can also save costs by choosing products that are small and easy to deliver. This will save on shipping and storage costs, and allow you to pass those savings on to your customers (making your products even more attractive).

High quality
The Internet is full of cheaply produced products. Oftentimes, they're nothing more than lousy copies of their pricier counterparts. While there may be a market for these products, you'll gain happier and more loyal customers with high-quality goods that deliver what they promise.

Passion
Online sales should also be fun. Instead of just using products as a means to an end, sell things that you're truly passionate about. You'll be much more likely to enjoy what you do, which can also influence the success of your ecommerce project.
There's no such thing as a perfect product or guaranteed bestseller. There are successful products that don't solve any problems and sellers who earn high profits in highly competitive markets. Nevertheless, it's a good idea to take the above factors into account when deciding what to sell. After this, true product research can begin.
Research Methods — How Do You Find Good Product Ideas?
Never underestimate the power of market research: There are mounds of data and statistics waiting to be accessed free of charge. In addition, methods exist for helping assess a product's existing or potential demand. Here are some of the most important methods and information sources you can use:
Search trends are a good way to find out what people are interested in. For example, Google Trends helps to discover how often people search for particular products and the search terms they use. This tool allows you to apply different filters; for example, you can compare two terms or categorize search trends by market.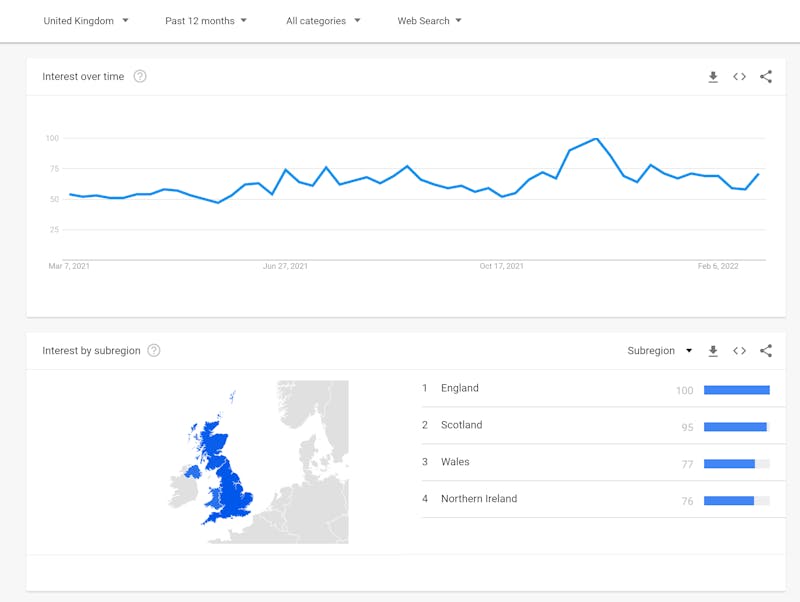 Google Trends is a valuable tool for finding out what people are searching for.
Since you have to search manually for terms on Google Trends, you should have some idea of what you're looking for in advance. However, there are some tools that do the preliminary work for you. For example, Exploding Topics helps to determine which terms in specific categories are currently growing in popularity.
Few online sellers have reinvented the wheel. There's no shame in looking to others when discovering which products are currently popular. After all, quality competition drives business.
Unfortunately, not many companies publish their products' sales statistics. However, there are ways and means to uncover trends. For example, you can view Amazon's current bestsellers by category any time you like.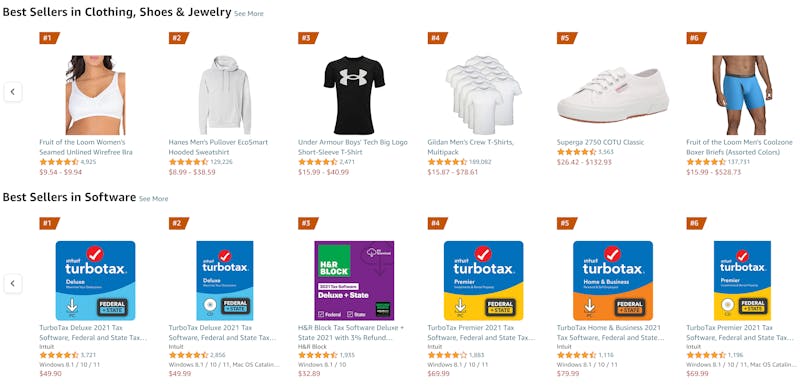 Amazon's bestsellers offer a window into what people are currently buying.
3.
Dropshipping Directories
Dropshipping means selling products that aren't in one's own physical inventory. Such merchandise is sent directly from the retailer or manufacturer to the customer; all you do is arrange the sale. Apps like Oberlo make it easy to find lucrative products for dropshipping, sending them directly to buyers via integration with platforms such as Shopify.
4.
Market and Product Research
"Know your market" is also a basic rule of ecommerce. Before releasing a product, you should understand the market it will be competing in as well as possible. Ask yourself these essential questions:
How large is my market?

With the help of statistics and demographics, you can estimate how many potential customers exist for your product. For example, if you want to sell coffee in your region,

studies

can help you learn how many coffee drinkers there are in a given age group. Of course, there aren't representative studies for every type of product, but even an educated guess can help to estimate the size of your market.

Who are my customers?
If you haven't decided on a product yet, you won't know exactly who you're selling to. Still, it can be helpful to keep different target groups and their needs in mind. For example, premium products aimed at wealthier clientele will need to be presented differently than bargain items intended for a broad audience. Other factors such as age, gender, or location (i.e., are your customers city-dwellers or do they live in the countryside?) are also important.

What does the competition offer?
We've already covered the importance of analyzing your competition. But if you want to launch a truly successful product, don't stop at sales figures. Find out exactly what the competition has to offer and why their product, in particular, sells so well. Once you understand your competition, you'll know what it takes to make your product stand out from the crowd.

Trend vs. fad
Don't blindly rely on the search trends mentioned above. Remember the fidget spinner? Everyone had to have that little gadget in 2017, but today, you hardly hear a word about it. By the time search trends for a product skyrocket, you may have already missed the boat. Keeping an eye on trends for a longer period of time is vital to long-term sales success. Offer products with consistent or continually growing demand.
5.
Product Characteristics
Even if you don't yet have a specific product in mind, ask yourself some questions about the characteristics of the product you'd like to sell:
What price categories do I want to work with?
The cheaper the product, the more of it you'll have to sell to generate significant revenue. The more expensive your product is, the fewer buyers it will attract. Therefore, the price of your product determines how many units you need to sell. Of course, it's possible to find great success at either extreme, but in general, mid-priced products will help to generate decent revenue.

How do I calculate my margin?
Buy low, sell high: At the end of the day, many successful ecommerce businesses operate on this principle. However, don't focus only on the purchase price and manufacturing costs. When calculating your product price and margin, it's also important to factor in taxes, transaction costs, warehousing, and delivery costs, along with other fees.

Which product characteristics will influence my business?
Heavy or light? Disposable or reusable? Fragile or indestructiblele? Seasonal, or available all year round? The success of your product depends on all of these aspects and more. If you sell a product that's long-lasting, a consumer will likely only buy it once. This means that you'll need to constantly attract new customers. If a product is fragile, a lot could go wrong during delivery and you'll have to deal with returns or dissatisfied clients.
Top 5 Product Categories
We've covered what to pay attention to when selecting potentially high-yield products. The more time you invest in product research, the less likely you'll fall for the latest trend or be ruined by slow-sellers.
If you still need some inspiration, we've compiled some product categories that are particularly suited for selling online.
1.
Electronics & Accessories
In 2020, the consumer electronic sector made up 22% of online retail sales. Clearly, serious profits can be made on electronic products and gadgets. The market for accessories is also growing with every electronic product sold.
Examples:
Smartwatches

Bluetooth speakers

Wireless headphones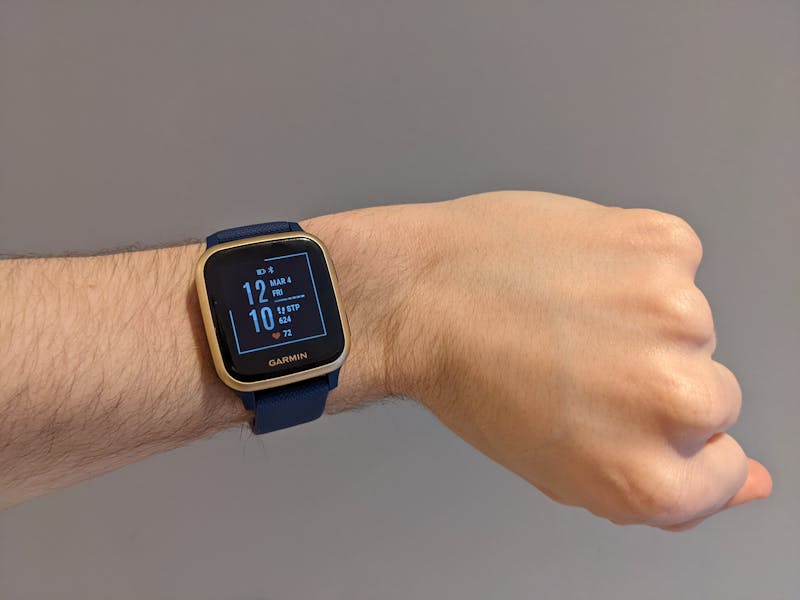 Smartwatches are steadily growing in popularity.
Some longstanding favorites when it comes to accessories include:
Smartphone stands

Mousepads

Wireless chargers

The market for fashion items and apparel ranks second worldwide; in 2022, it's expected to rake in over a trillion dollars in sales. This category also includes countless products that can be sold in large quantities.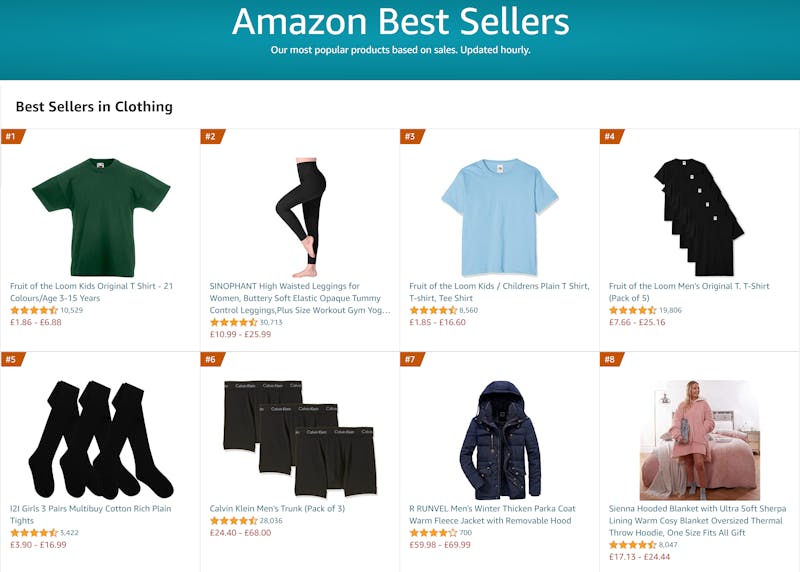 Amazon's bestseller lists can help you find popular clothing.
Examples:
Belt buckles

Activewear, such as Lululemon

Glasses
3.
Leisure, Sports, & Hobbies
Fitness equipment was flying off the shelves even before COVID-19, but for many, the pandemic has awakened a passion for working out at home that's remained even after gyms have reopened. The bottom line: fitness products and accessories are in high demand.
Examples:
Yoga mats

Exercise equipment

Water bottles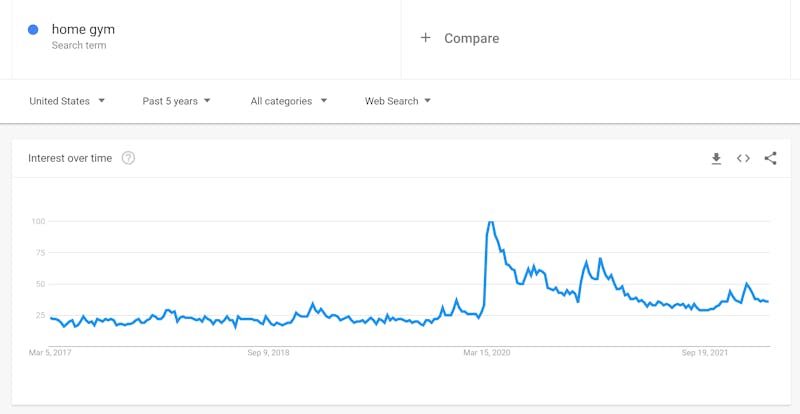 The demand for furniture and home goods certainly increased due to consumers spending more time inside of their own four walls. However, even before COVID-19, home and garden products were growing in popularity. People love adding a personal touch to their living space. Furniture sales come in 3rd place in the global ecommerce market—this category is expected to bring in 492 billion U.S. dollars in 2022.
Examples:
Beanbags

Garden furniture

Home office accessories
5.
Media: Books, Music, & More
Whether digital or paper, books remain a huge business. In 2020, they accounted for around 132 billion U.S. dollars in sales globally. Physical media are particularly popular in the music category, especially when it comes to vinyl records. In fact, their popularity has risen sharply in recent years; sales in the U.S. climbed from $479.5 million in 2019 to $619.6 million in 2020—an increase of 29.2%. Books and music look set to remain lucrative for sellers into the near future.
Conclusion
If you want to enter the world of ecommerce, the first thing you need is a product. What you choose is more than a means to an end; it will be the lifeblood of your online business and determine whether or not your venture will be profitable. Use market research, online tools, and common sense to distinguish potential bestsellers from sales flops.
Still, there's no guarantee of success when it comes to ecommerce. Many businesses—even those with good products—fail within a few months. It's important to stay realistic; don't fall for guides that promise quick cash. If you do your homework, know your market and target audience, and offer high-quality products with reasonable profit margins, you'll already be a few steps ahead of many others seeking success in ecommerce.
Have you already selected a product and are ready to build your online store? We've tested 9 ecommerce platforms to help you get started.

Martin Gschwentner majored in American Studies and Media Studies in Germany, the USA and France and works as a freelance editor in Paris. He is a doctoral student at the Institute for English and American Studies at the University of Paris Diderot, where he is researching the influence of money on US politics. On EXPERTE.com he writes about IT security, data protection and software for the self-employed and small businesses.

Translation: Lisa Torelli-Sauer
Continue Reading