Squarespace Alternatives » Comparing 10 Site Builders

If you want to create a website without having to code it line by line, we recommend taking a look at site builders, like Squarespace. Platforms such as these allow anyone, even without a background in programming or design, to create a professional-looking website and/or online store, while also taking care of hosting and domains. Only one question remains: Is Squarespace really the best choice for your needs?
Disadvantages of Squarespace
Squarespace dropped points in the following areas:
No real app marketplace
While other site builders offer their users access to well-stocked app centers or marketplaces, teeming with all sorts of integrations and tools just waiting to be tried out, Squarespace only provides access to a small selection of extensions. These primarily pertain to ecommerce features, such as order management, dropshipping, or coupons. As such, in this department, the service is miles off the pace of Wix or WordPress.

Similar templates
Squarespace is perhaps best known for its elegant templates, and we're fans of these too. However, their number (122 compared to Wix's 800, for example) simply can't compete with what other platforms serve up. Since Squarespace templates are so readily recognizable, this also means that some of their designs look fairly similar to one another.

Relatively expensive
Squarespace is not one of the most affordable site builders: To have an ad-free website with a unique domain, you'll need to pay anywhere from twice to four times as much as the six most competitively priced solutions from our sample. Further dampening things, Squarespace doesn't offer a free version that limits users to a Squarespace subdomain.
The Best Alternatives to Squarespace
1.
Better Overall Package: Wix
Wix succeeds with an unmatched feature set, intuitive editors and a packed app marketplace. Only with the blog features do we still see some room for improvement.
many high-quality templates
simple & intuitive interface
jam-packed app marketplace
Domains free for one year only
9.6

excellent
Space
Domains
Templates
Contract Period
Wix Free
$0.00
monthly price
Visit Website »
Try for Free
When the dust settled on our comparison of site builders, only one platform finished ahead of Squarespace: Wix. With its user-friendly interface, high-quality templates, and excellent support, you'll get everything that we liked about Squarespace. But that's not all, since the Israeli provider also includes a more versatile drag and drop editor, an AI-assisted editor for beginners, and a full-fledged app marketplace.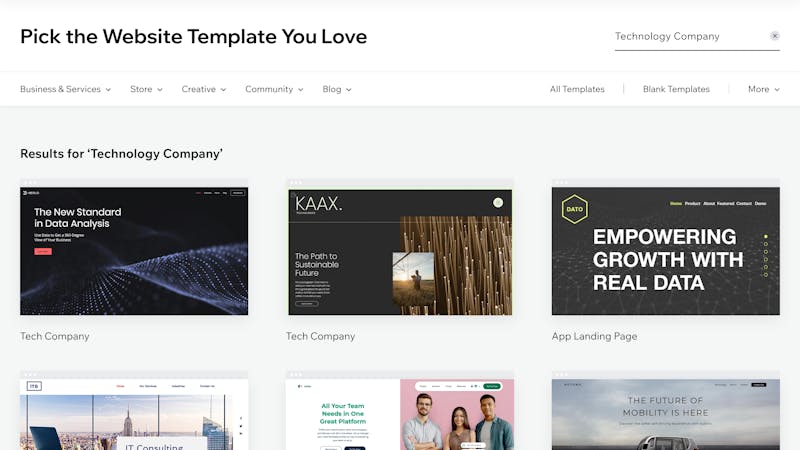 With Wix, you'll be able to choose from a wider selection of design templates than with Squarespace.
Other site builders excel in blogging features, surpassing Wix, and its AI-assisted ADI editor could allow somewhat more creative freedom, without sacrificing any of its user-friendliness. However, apart from those minor issues, Wix offers what in our minds is the best overall package. The cherry on top? It will set you back less than Squarespace too.
More than 800 design templates

Intuitive drag and drop editor

Well-stocked app marketplace
Blogging features could be improved

ADI editor lacking in features
Marketing, SEO & Ecommerce
10 / 10
Templates & Design
9.4 / 10
Configuration & Usability
9.4 / 10
2.
More Affordable: MyWebsite by 1&1 IONOS
1&1 IONOS MyWebsite makes getting started a little more complicated, but rewards hobbyists without programming skills with a variety of design options for unique websites.
supports multilingual sites
large, established provider
lots of templates, average quality
8.8

good
Space
Domains
Templates
Contract Period
1&1 IONOS Starter
$3.00
monthly price
Visit Website »
30 days risk-free
MyWebsite by 1&1 IONOS might have come in just behind Squarespace in our ranking, however, it is considerably less expensive than the New York-based site builder. So far as features, support, and ecommerce capabilities are concerned, MyWebsite by 1&1 IONOS doesn't have anything to be ashamed of.
The MyWebsite editor didn't seem to be as geared towards beginners as Squarespace's, however, with some practice, it becomes easy enough to use. And you'll be rewarded for your patience too since MyWebsite offers considerably more customization options.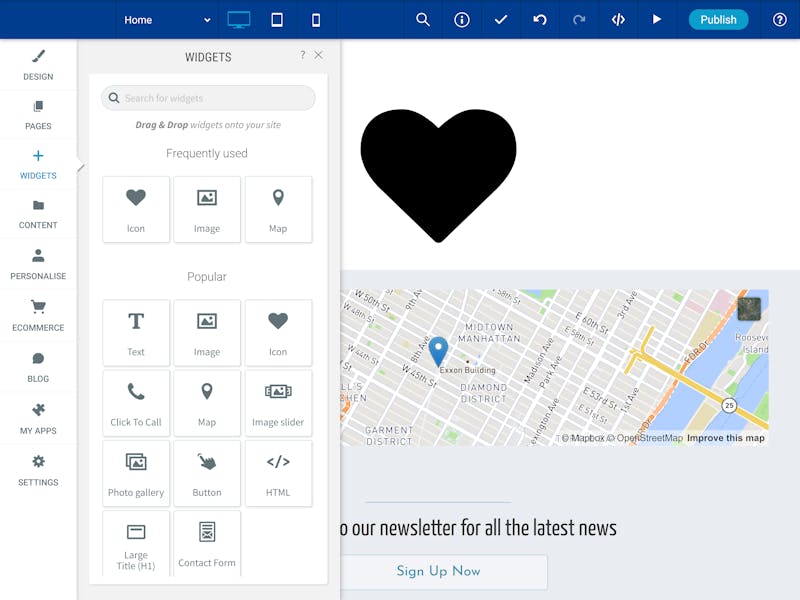 The MyWebsite editor from 1&1 IONOS is based on Duda's site-building software.
1&1 IONOS offers almost four times as many templates as Squarespace, however, we still prefer the quality of the latter. Another downside is that 1&1 IONOS doesn't have an app marketplace or center.
Powerful editor allowing plenty of customization
Somewhat complicated and overloaded editor

Templates more about quantity than quality
Templates & Design
8.6 / 10
Marketing, SEO & Ecommerce
8.6 / 10
Configuration & Usability
8.0 / 10
3.
More Versatility: Webflow
Webflow requires an understanding of programming logic and is less suitable for beginners. As a hybrid of website builder and CMS, it offers its target group countless possibilities to create user-friendly dynamic websites.
mix of CMS & website builder
almost infinite possibilities
learning platform "Webflow University"
good ecommerce integration
somewhat steep learning curve
8.7

good
Space
Domains
Templates
Contract Period
Webflow Starter
$0.00
monthly price
Visit Website »
Start for Free
Most of the site builders from our sample are targeted at beginners and try to make the site designing and building experience as 'code free' as possible. Webflow isn't one of these: The site builder/content management system (CMS) hybrid doesn't rely on code to use, however, its approach to visual design is modeled around programming logic.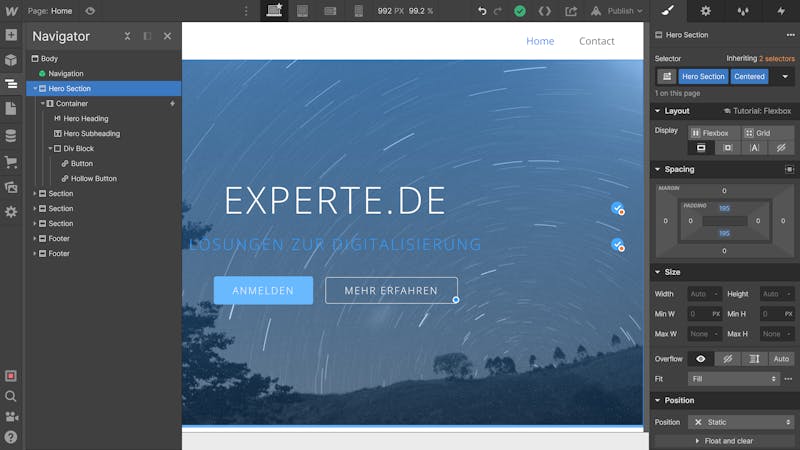 Webflow's user interface is reminiscent of programs like Photoshop and just as intricate.
Should you want nothing to do with programming, Webflow probably won't be the solution you're looking for. However, the benefits of "visual programming" are worth considering, since you'll be able to build anything that could be accomplished via code. As a result, users are afforded considerably more creative freedom and versatility than offered by classic site builders.
Practical CMS/site builder hybrid

Offers nearly endless possibilities

Excellent "Webflow University" learning platform
Background knowledge of programming and design advantageous
Templates & Design
9.4 / 10
Marketing, SEO & Ecommerce
8.6 / 10
Configuration & Usability
7.4 / 10
4.
For Dedicated Online Shops: Shopify
Shopify is refreshingly uncomplicated and cleverly packs many features into a user-friendly dashboard. Flexible extensions make it suitable for larger stores as well.
Number of Products
Transaction Fee
Sales Channels
Payment Options
Shopify Basic
$23.25
monthly price
Visit Website »
14 day free trial
You can certainly open and manage an online store with Squarespace, however, dedicated platforms like Shopify put a wider variety of ecommerce features at your fingertips. These range from enhanced sales and product management tools, to delivery options, dropshipping, and points of sale, all of which surpass what Squarespace brings to the table.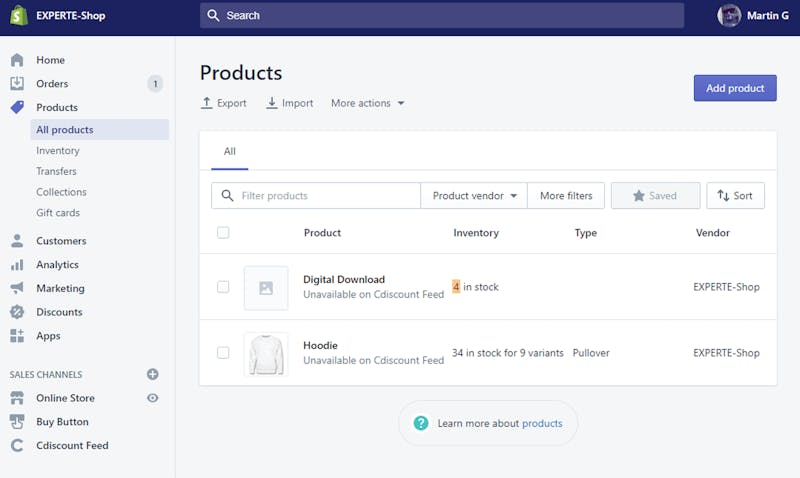 Shopify is a dedicated ecommerce platform and as a result, offers both better and more selling features than Squarespace.
Still, Shopify comes in behind Squarespace so far as classic web design features are concerned: Both blogging and templates are better with the latter.
With that in mind, if your goal is to open an online business, and the other aspects of web design only play a secondary role, it pays to take Shopify into consideration.
User-friendly and easily navigable dashboard

Straightforward editor for customizing your store

Extensive app store with plenty of features
Advanced features (such as user-defined checkouts) often cost extra

Transaction fees, should you use external payment gateways
Configuration & Usage
9.4 / 10
Marketing & Analytics
9.4 / 10
Generating Sales
8.6 / 10
Product Management
8.6 / 10
Personalizing Your Store
8.6 / 10
Weebly
With its user-friendly editor, Weebly makes website creation simple. The platform also scores thanks to its nifty mobile app, with which you can tinker with your website or write blog entries on the go.
With its intuitive drag-and-drop functionality and an unrivaled smartphone app for mobile website building, Weebly makes homepage creation easy even for beginners.
intuitive drag-and-drop editor
powerful e-commerce features
8.4

good
Space
Domains
Templates
Contract Period
Weebly Free
$0.00
monthly price
Visit Website »
Try for Free
SITE123
When it comes to customization, SITE123 doesn't have much to offer: You won't find drag and drop, and only some design aspects can be adjusted. All the same, SITE123 is extremely user-friendly and helps anyone to quickly create a full and professional-looking website.
clean editor, easy to use
good blogging and e-commerce features
limited customization options
8.0

good
Space
Domains
Templates
Contract Period
SITE123 Free
$0.00
monthly price
Visit Website »
Try for Free
Overall Result
In our comparison of 10 site builders, we scored each provider in five areas, namely, "Configuration and Usability", "Features", "Templates & Design", "E-Commerce, Marketing & SEO", and "Customer Support". Based on this, Squarespace finished just behind Wix in second place, followed closely by MyWebsite by 1&1 IONOS (3rd), and Webflow (4th).
Below, you can see the full ranking of all providers from our sample:
Conclusion
As is the case with every site builder, Squarespace has both advantages and disadvantages. Its (high) price is certainly among the latter, as are its rudimentary app market, and the tendency of its high-quality templates to look too similar to one another.
For that reason, it's good that so many alternatives exist, several of which we think are worth taking a closer look at. Wix offers a more well-rounded package (including a dedicated app market) at a better price. MyWebsite by 1&1 IONOS is much more affordable and provides greater customization options. Should you be looking to open up a digital business, you'll be better served by ecommerce systems like Shopify, thanks to their provision of access to more features.
You can consult comprehensive reviews for all 10 of our providers in our EXPERTE.com website builder evaluation. We also analyzed 9 dedicated ecommerce systems as well.
Squarespace Website Builder
Squarespace impresses with flawless designs and high quality templates, which make the creation of professional websites a piece of cake - but also costs a bit more than most other providers.
Space
Domains
Templates
Contract Period
Squarespace Personal
$14.00
monthly price
Visit Website »
14 Days Trial Period

Author (German Version): Martin Gschwentner
Martin Gschwentner majored in American Studies and Media Studies in Germany, the USA and France and works as a freelance editor in Paris. He is a doctoral student at the Institute for English and American Studies at the University of Paris Diderot, where he is researching the influence of money on US politics. On EXPERTE.com he writes about IT security, data protection and software for the self-employed and small businesses.

Translator & Editor: D Bare
Continue Reading