Create a Photography Website in 2023: How to Do It and What You Need


Ad disclaimer:
For links on this page, EXPERTE.com may earn a commission from the provider. This supports our work and has no influence on our editorial rating.
It seems like everyone is a photographer in the age of Instagram. However, if you'd like to go beyond the selfie scene and try to earn a living, you're going to need to showcase your work on a professional website. So, how can you quickly and easily make one?
In the guide below, we'll let you know why a website is so important for photographers, how you can make one of your own, and what you'll need to pay attention to.
What Advantages Does a Photography Website Offer?
There are plenty of ways to share or store photos online: On social media platforms like Instagram or Facebook you can create and publish digital albums, while cloud storage allows anyone to send their photos to others. While good, none of these are capable of completely replacing a website, which offers a few unique advantages:
Comprehensively present your work and services
Your website is the hub of your business. Not only can you curate a portfolio of your best work, but also, inform potential customers how much your services cost and how to get in touch. Perhaps you've specialized in photographing weddings and family events? Let visitors to your website know that you can document their precious moments for them.

Be found by potential customers and partners
Should your website make it to the first few pages of Google's search results, you'll notice an influx of new clients. To do this, you're going to have to focus on search engine optimization (SEO) whether through specific niches or regions. As an example, a search for "baby pictures Albany" is much more precise than "good photographer".

Sell photos/prints directly
Another advantage of having your own photography website is that it can double as an online store for marketing your photos, prints, or other products directly to your clients.

Link your website to job applications
If you're applying for a job, whether as a press photographer or something else that's relevant, such as a designer, you can include a link to your photography portfolio. Set yourself apart from the other applicants with a one-page resume website.

Exercise complete control over its content
Unlike social networks, you're the master of your photography website. Upload higher-quality images without having to worry if they'll be deleted (for example, because they conflict with a social media platform's terms and conditions).
Most people search for services online, and photography is no exception. By not having a website, you risk losing access to clients and jobs. So, how to make one?
How to Create a Photography Website?
Broadly speaking, there are four ways to create a photography website: You can program it yourself, have someone else code it for you, use a content management system (CMS), or try your hand at a website builder. Below, we'll introduce each of the four methods and briefly explain their strengths and weaknesses.
Supposing that you have the skills, you can make a photography website on your own. In addition to IT expertise, you'll also need hosting (digital storage space) and enough time to bring your vision to life. If taking this approach, you'll be responsible for all technical aspects, including security.
Who Is This Method For?
If your goal is a truly professional website, being a web design enthusiast isn't going to cut it: At the very least, you'll need advanced programming knowledge and a decent amount of time. Managing and operating your photography website once it goes live is also a constant commitment, especially since you'll have to handle all of its updates and repairs.
At the same time, this approach gives you total control over your website, with the only limit being what you're able to achieve with your skills. This makes it possible to create a website that exactly matches your vision. Still, since only a few professional photographers are likely also excellent programmers, this won't be an option for most people.
2.
Hire an Agency/Freelancer
If coding isn't your thing, but you have a decent budget and a detailed concept of what your photography website should look like, you can pay a pro to design it for you.
Freelancers can be found on platforms like Upwork or Fiverr. In comparison to agencies, freelancers are often more affordable, however, the quality of results does vary.

Agencies are somewhat more expensive than freelancers since they consist of multiple experts (programmers and designers, usually). You can find a suitable agency through a Google search or on most freelancer platforms. Should neither of those options be appealing, there are also curated lists of the best freelancers online.
Who Is This Method For?
Supposing that you have the financial means and want a truly professional and custom website, paying an expert (or experts) to do it for you is the best option.
What sort of financial means are necessary? This is difficult to say, however, a website can cost anywhere from $1,500 to $25,000. A straightforward photography website will probably only set you back a few thousand, however, quality isn't cheap and a hand-crafted website should be seen as an investment, not an expense.
3.
Content Management Systems
Would you like to build your own photography website, but don't have the coding skills to design it from scratch? In that case, a content management system (CMS) could be a good solution. These come with the most important components of a website, meaning that you don't have to program them yourself. Getting started is easy and no technical knowledge is required.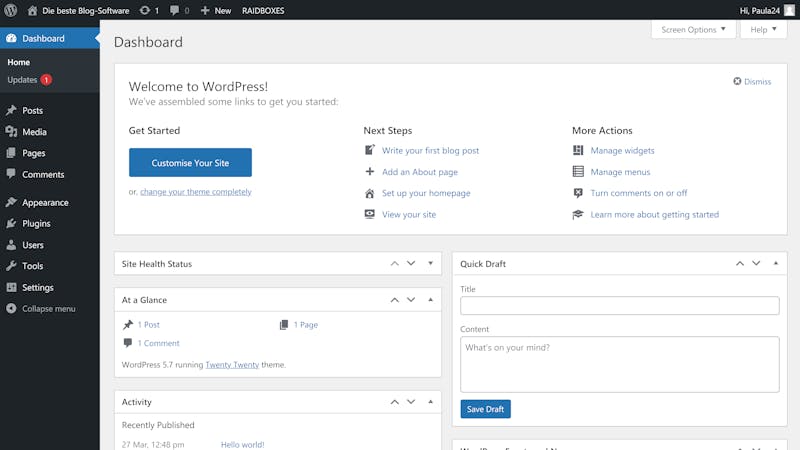 An estimated 75% of all websites that are online have been made with WordPress.
Who Is This Method For?
A CMS is the best choice if you're unable to code, but still want to create and manage your photography website, without the limitations imposed by website builders. CMSs offer greater flexibility when first designing a website, and can be customized to a far greater extent.
Thanks to builder systems like Elementor, you can have the best of both worlds by integrating drag and drop editing into your CMS. Keep in mind that you'll still need to work with the relatively more complex CMS.
If a CMS is too complicated for you, then our most straightforward method is probably the best option. With website builders, you can quickly create a website without any programming skills.
These all-in-one solutions include everything a photography website needs: You'll visually design your site with a drag and drop editor, while everything else, like hosting, a domain, and security, is taken care of by the platform. For this convenience, you'll pay a monthly subscription fee. Some website builders offer free versions, however, these don't support custom domains, giving websites made with them an unprofessional appearance.
Who Is This Method For?
Website builders are the most beginner-friendly option there is to create your own photography website since they guide you through the entire process. They're also very affordable, costing anywhere from $15-35 per month, a price that includes hosting. Thanks to their all-in-one nature, you can spend your time focusing on designing your site.
One of their few disadvantages is the lack of creative freedom they offer: Website builders come with plenty of tools, content, and templates for designing a site, however, you can't break out of these frames. Said differently, with website builders, you trade flexibility for simplicity. For straightforward photography websites, most of which follow a set format, this shouldn't be an issue though.
The Best Website Builders For Photography Sites
Would you like to use a website builder to create your photography site? If so, you'll have to select the right provider. We comprehensively reviewed 12 of the best solutions and below, will let you know what our TOP 3 picks are:
1.
Squarespace: Let Your Photos Speak For Themselves
Squarespace Website Builder
Squarespace can impress with flawless designs and high quality templates, which make the creation of professional websites a piece of cake – but comes at a higher price compared with the competition.
Space
Domains
Templates
Contract Period
Squarespace Personal
$16.00
monthly price
Visit Website*
14 Days Trial Period
Squarespace has made quite a name for itself with its elegant, image-centric templates. For photography websites, where non-image content only plays a secondary role, Squarespace is an ideal choice. As if that wasn't reason enough, the provider offers several templates that were specifically designed for photographers, and optimized for photography websites.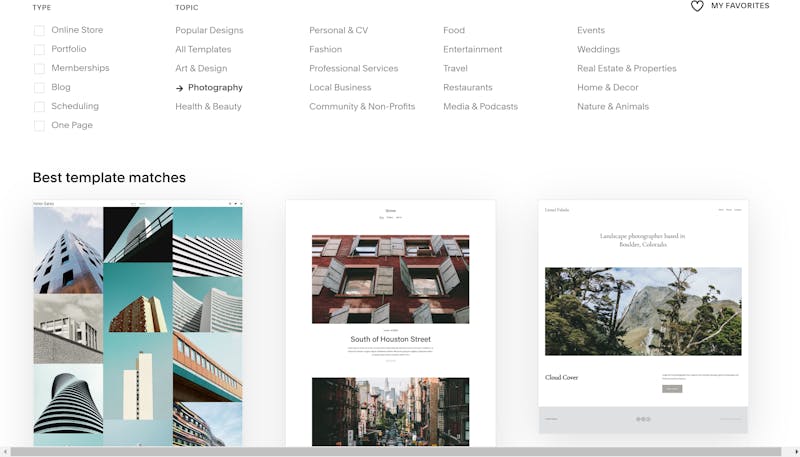 Squarespace's templates allow you to showcase your photographic work.
Why Squarespace is a good choice for photography websites
Squarespace has become something of an all-arounder, however, its templates show that the platform is targeted at creatives who need to visually impress their clients. Its designs are elegant and minimalistic, creating the perfect atmosphere for appreciating high-quality photos. What more could you ask for?
The platform's editor is user-friendly, offering almost all of the features that you'll need to create a professional photography website. Portfolios can be integrated as a separate page type. And since Squarespace offers several templates designed specifically for photographers, you won't need to spend too much time adjusting whichever one you choose.
What we don't like
It's fairly easy to use Squarespace's editor, however, some of its competitors (such as Wix), offer even more intuitive platforms. Another drawback is that Squarespace makes it unnecessarily complicated to create multilingual websites. Finally, compared to the other services from our sample, Squarespace is on the pricier side.
Configuration & Usability
10 / 10
Marketing, SEO & Ecommerce
8.6 / 10
Templates & Design
8.0 / 10
2.
Wix: EXPERTE.com's Winner Is Also Great for Photographers
Wix beats out the competition with an unmatched variety of features, intuitive editors and a jam-packed app store. Overall, the platform offers the best balance of usability and features on the market today.
lots of features and elements
simple & intuitive interface
9.6

excellent
Space
Domains
Templates
Contract Period
Wix Free
$0.00
monthly price
Visit Website*
Try for Free
We think that Wix is the best all-arounder in the website builder market. From its beginner-friendly, drag and drop editor, to its huge selection of templates, features, and content elements, you can't go wrong with the Israeli platform. This applies to photography websites too, not least owing to the large assortments of templates that are available (even more than Squarespace):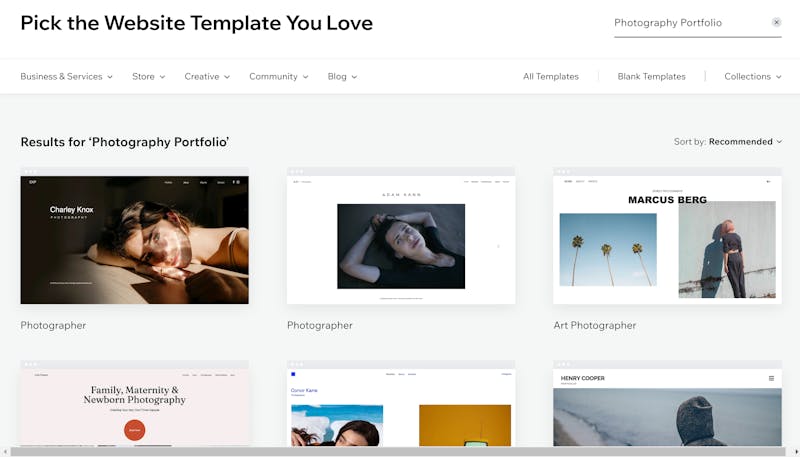 Wix's templates are even more versatile than Squarespace's, but not as uniformly high-quality.
Why Wix is a good choice for photography websites
Wix doesn't focus on a market niche or target group but offers everybody the ability to make any kind of website. It's little surprise, therefore, that the platform is so easy to use: In contrast to Squarespace, you can freely drag and drop content around the screen, placing it wherever you want.
The selection of elements and templates is huge, and in the sprawling Wix Marketplace, you can find and purchase even more apps and features.
What we don't like
By trying to please everyone, Wix puts itself at a disadvantage: Wix's templates can't hold a candle to Squarespace's in terms of quality. It's also unfortunate that after selecting a template for your website, you cannot change it without losing all of your progress, unlike Squarespace.
Marketing, SEO & Ecommerce
10 / 10
Templates & Design
9.4 / 10
Configuration & Usability
9.4 / 10
3.
FORMAT: The Website Builder Designed for Photographers
Photographers have special needs when designing a website and thankfully, there are website builders, like FORMAT, that were specifically designed to meet them. The site-building solution for photographers (and other creatives), offers everything you might expect from a typical website builder, but also, branch-specific features.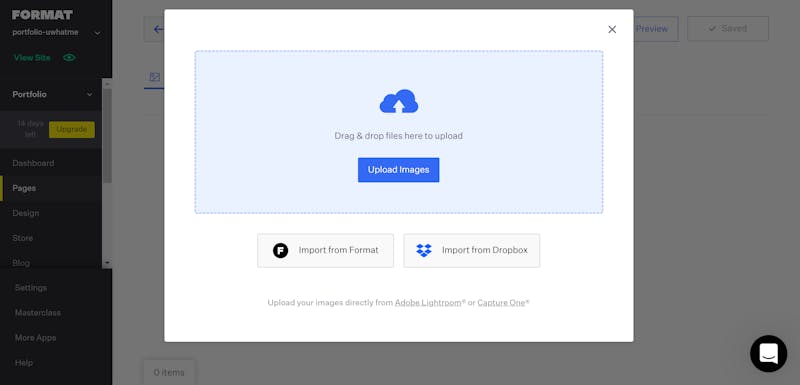 FORMAT is a website builder designed for photographers.
Why FORMAT is a good choice for photography websites
Unlike other website builders, FORMAT has a specific target group, tailoring its features to their needs. These include cloud storage for photos, a marketplace for prints, and workflow features, which support the business side of your work. For example, you can create an image gallery and share it privately with clients.
Particular emphasis is placed on creating a portfolio, with which you can showcase your photos and projects in a sleek and professional manner.
What we don't like
Unfortunately, FORMAT isn't as versatile as all-purpose website builders. Some of its features, like those for blogging, aren't as developed as what its competitors offer.
Other Providers
Of course, there are plenty of other website builders that you can make a photography website with. Below, we've included the full ranking from our EXPERTE.com comparison:
What Does a Photography Website Need?
Your photography website doesn't need to reinvent the wheel: Visitors are usually interested in very specific information, which means that photography websites have similar formats and structures. Do you need some inspiration? Below, we've summarized the most important elements, with a few good examples to drive the points home.
Homepage
Your homepage should be all about your visitors: If they aren't satisfied with what they find, chances are that they won't ever appear in front of your camera. Use the opportunity to highlight your skills and achievements with a (small) selection of your best work in different settings.
Beyond that, make sure that visitors can easily navigate from your homepage to other areas of your website that include important information.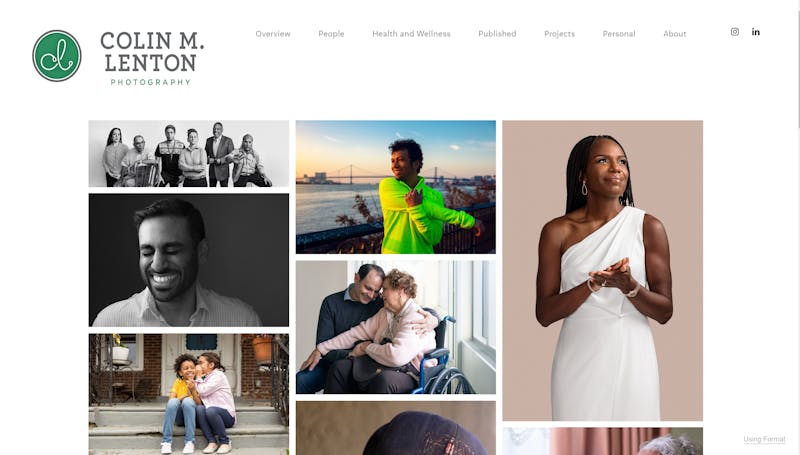 Make it clear on your homepage what you and your camera are capable of achieving (Source: Colin M. Lenton).
Portfolio
Your clients are going to pay for what you can do with a camera, not what you can write. As they say, a picture is worth a thousand words, so impress visitors with your work. Your portfolio should consist of an assortment of your best photos, arranged categorically (for example, portraits, family photos, etc.) or by occasion (weddings, family reunions, etc.).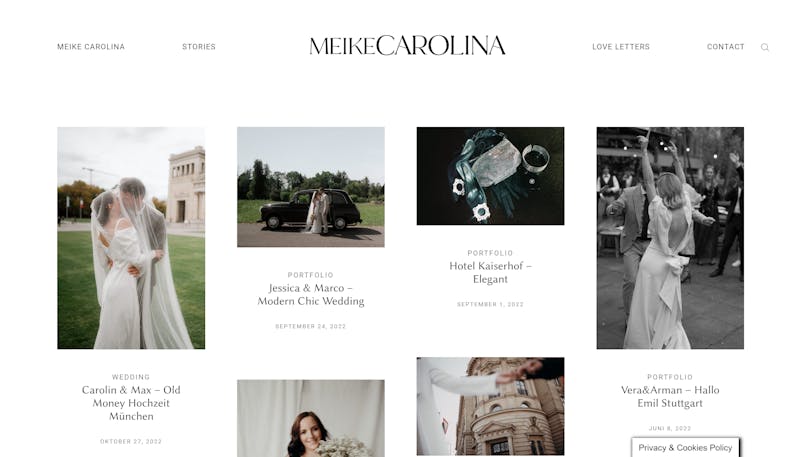 Services
Let visitors know what services you offer and how much you charge. This saves everybody time since you won't need to answer the questions that every potential client ("How much for...?") and lets them immediately know if you're within their price range.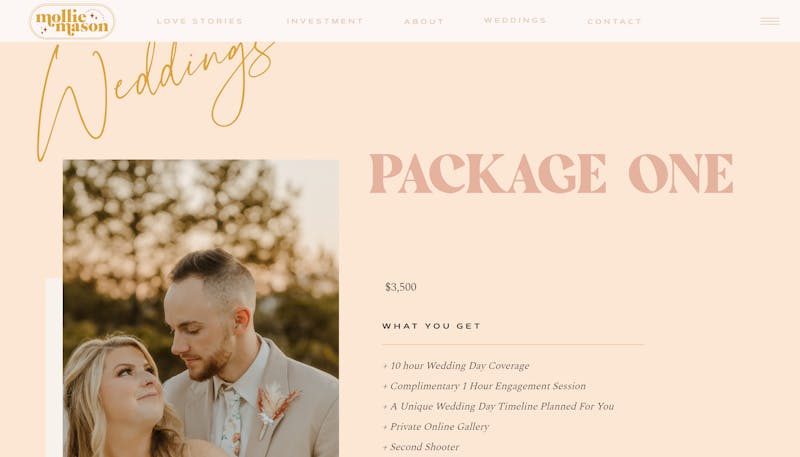 Potential clients want to know what you offer and how much it costs (Source: Mollie White).
About Me
Use this section to tell your story, including how you became interested in photography. This isn't a must for all potential clients, but if a couple is considering you for their wedding or their child's baptism, knowing something about the person behind the lens could make all the difference.
Contact Page
Don't hide your contact details! Make sure that you have a contact page that's accessible via your main menu with a form, your email address, and your telephone number. You can also add contact buttons elsewhere on your website, like your homepage or under your services.
Conclusion
If you're considering working professionally as a photographer or already are, you're going to need a website. There, you can present your work and your services, and be found by potential clients. Should you be unable to program one on your own, you can hire a freelancer or agency, or create one yourself with a CMS or website builder.
CMSs are much more versatile, but also more complicated and need to be set up. Website builders are less flexible but more beginner-friendly and straightforward. You can read comprehensive reviews of all 12 website builders in our EXPERTE.com comparison series.
FAQs
What advantages does a photography website offer?
⊖
You can showcase your portfolio and services on your photography website. This will also help new clients find you. In addition, it's possible to add an online store to directly sell products (such as prints). Another advantage is that, unlike social media, you'll have complete control over your website's content.
How can I create a photography website?
⊖
You can either program one yourself or hire a freelancer/agency to do it for you. Should you lack the technical skills and budget for either of these options, you can use a content management system, like WordPress, or a website builder like Squarespace, Wix, or FORMAT.
How can I create a website for free?
⊖
Some website builders, like Wix, offer free versions of their platforms. However, the results aren't particularly professional since the free version uses a provider domain. If you only need a personal or hobby website, these can be a good option.
* Ad disclaimer:
For links marked with an asterisk, EXPERTE.com may earn a commission from the provider. The commission has no influence on our editorial rating.

Martin Gschwentner majored in American Studies and Media Studies in Germany, the USA and France and works as a freelance editor in Paris. He is a doctoral student at the Institute for English and American Studies at the University of Paris Diderot, where he is researching the influence of money on US politics. On EXPERTE.com he writes about IT security, data protection and software for the self-employed and small businesses.

Translation: D Bare
Continue Reading