Create a Restaurant Website 2023: Serve Up a Tasty Site

Author
Janis von Bleichert
Ad disclaimer:
For links on this page, EXPERTE.com may earn a commission from the provider. This supports our work and has no influence on our editorial rating.
You've got a great chef, an awesome menu, and the perfect location: But, before guests can experience what your kitchen has prepared, they'll want to know more about what to expect. One of the best and easiest ways to do this is with a website.
Your restaurant's website helps foodies discover the next hidden gem and gives them an idea of what your establishment offers. In this article, we'll let you know why a restaurant website is so important and which ingredients you'll need to cook up one of your own.
Why Your Restaurant Needs a Website
According to an MGH survey, 77% of all patrons check a restaurant's website before visiting in person or placing an order. Should a Google search not reveal much about your establishment, prospective customers are likely to be suspicious and feast elsewhere.
Apart from guests these days expecting restaurants to have a website, it also serves a number of other purposes, such as:
Allowing you to digitally advertise your menu

Present important information about hours of operation and upcoming events

Showcase high-quality photos of your dishes

Digitally take delivery or pick-up orders and table reservations
In other words, restaurants and websites go together like bread and butter, so, what's the best way to make one?
Which Ingredients Does a Good Restaurant Website Need?
While consistency is important in the world of gastronomy, your restaurant's website should be as unique as your dishes. With that said, there are some types of content and elements that should feature on every restaurant website, such as:
When entering a restaurant, the first thing you'll notice is its lobby or waiting area - If this is dark, dirty, chaotic, or otherwise unappealing, chances are that you'll walk back out the way you came, even if the food is to die for. In the digital world, this is no different, so make sure that your homepage is as visually attractive and polished as possible.
From here, you'll be able to offer a glimpse of the atmosphere and meals your guests can expect by including pictures of your interior or signature dishes. To add a personal touch, it's also possible to include a picture of your team or head chef.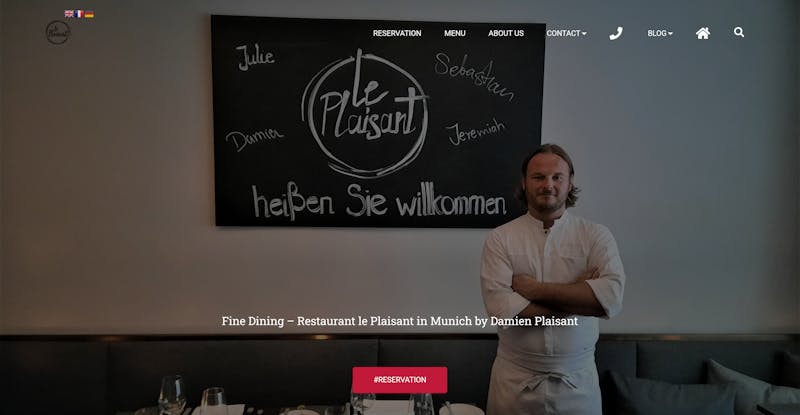 On your restaurant's homepage, you can show the seating area, your signature dishes, your team, or all of the above. (Source: Le Plaisant)
To avoid winding up in the wrong place, most visitors to a restaurant's website are interested in one thing: Its menu. This shouldn't be difficult to find, and easily reachable via a dedicated menu option or direct link on your homepage.
In case your menu changes frequently, or you want to add different daily or weekly specials, make sure that these are reflected on your website. There's nothing worse than visiting a restaurant and finding out that what you wanted is off the menu or that its price has increased significantly. The best way to do this is to link your regular menu and (daily) specials separately so that you'll only need to upload the latter.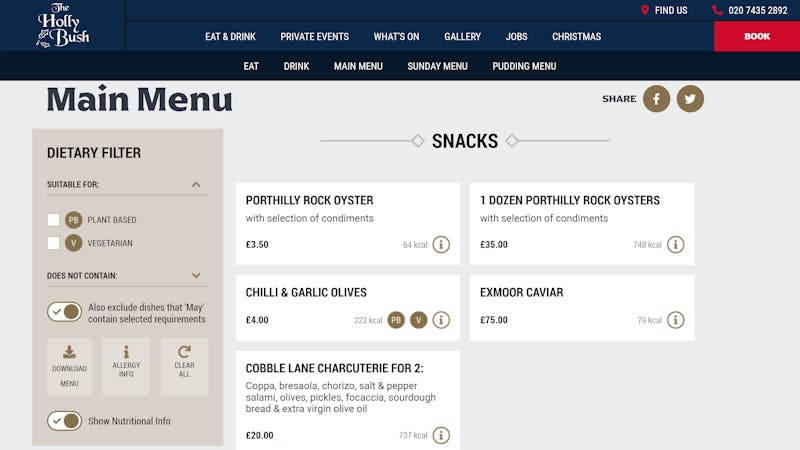 Make sure that your menu is up-to-date to avoid frustrated customers. (Source: Holly Bush)
What your menu looks like isn't as important: A simple PDF file that will be elegantly displayed in your website's menu area is one way, however, there are also interactive options, which allow prospective visitors to filter choices based on their diets (such as 'vegetarian' or 'vegan'), or even to search by keyword.
Make sure to include allergy and calorie information here if legally required.
Integrating a reservation system onto your website can help guests book tables while also allowing your team to devote their energy to more pressing matters than answering the phone or filling out seating charts by hand.
These can be simple, allowing guests to specify a date, time, and size of the party. Online reservation systems make things even easier by showing how many tables are still available for particular dates and times.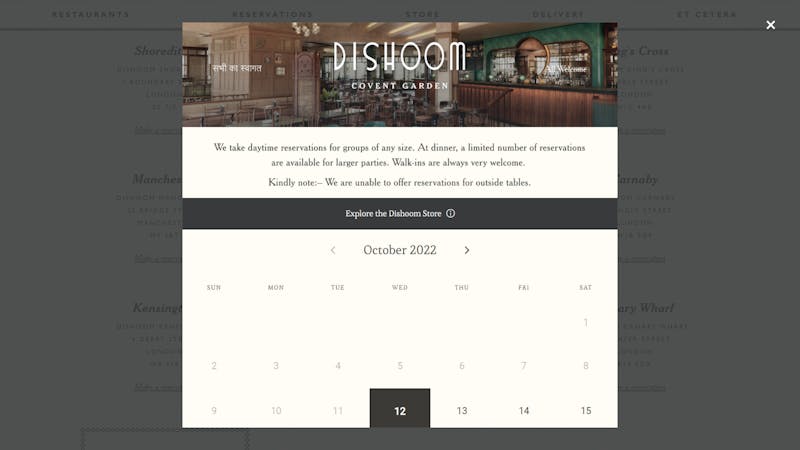 With online reservation systems, you can make booking a table easy for everyone. (Source: Dishoom)
Does your restaurant deliver? If so, you can easily offer this capability through your website, saving patrons and staff time by allowing the former to add menu items to their cart and pay for them digitally, with the orders forwarded directly to your kitchen staff for fulfillment.
There are also third-party online delivery systems and services that handle this and can easily be integrated into your website.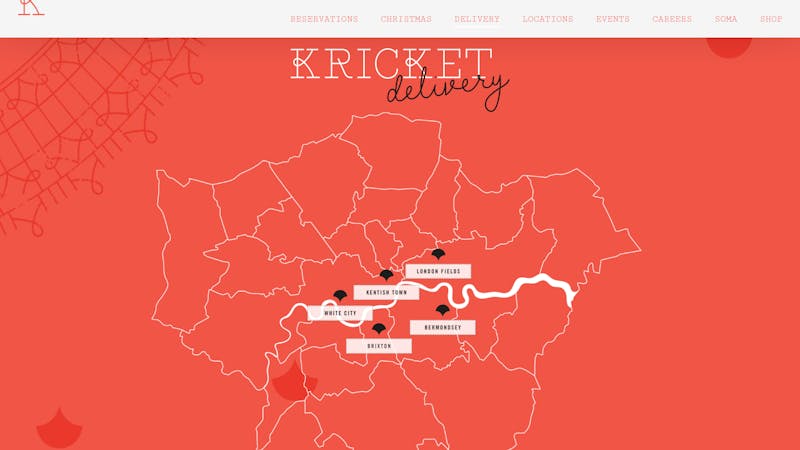 You can enable order placing/delivery on your website or integrate external services. (Source: Kricket).
Does your establishment have a unique story? Is a well-known or up-and-coming chef working in the kitchen? Even though neither will help if your food isn't great, they can transform a good meal into an excellent experience. In the About Us area of your website, introduce visitors to your restaurant and showcase the people behind the menu.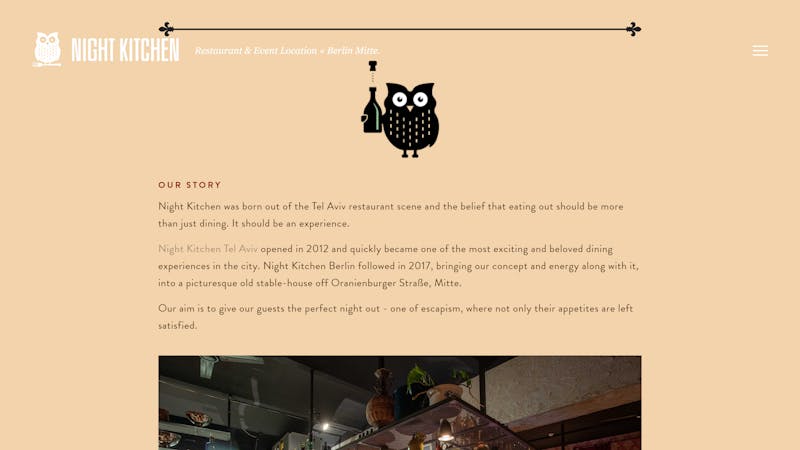 Tell your restaurant's story in the About Us area of your website. (Source: Night Kitchen)
You'll also want to include some basic information on your restaurant's website, such as contact details and hours of operation. The best idea is to display these on the homepage, however, dedicated contact or information pages are also fine.
Directions to your restaurant and/or a map showing where it's located can also help prospective guests find it more easily, whether they're arriving by car or public transport.
Customer reviews, either directly from customers, or linked from a third party like Google Maps, TripAdvisor, or Yelp, are also worth including. If you're confident in your establishment's quality (and you should be), actively solicit these from satisfied patrons. Doing so allows future guests to see what others have to say and base their decisions on (positive) experiences others have had before them.
Avoid These 5 Mistakes When Creating Your Restaurant's Website
Let's take another look at the MGH survey we mentioned above: This doesn't only show what's important for a restaurant website, but also, what a restaurant website shouldn't do. According to it, 68% of those surveyed noted that checking out the restaurant's website discouraged them from visiting in person.
This doesn't necessarily have something to do with the website's quality: Perhaps the menu didn't offer anything appealing, or the ambiance wasn't right for the occasion. However, a poorly-designed website can frighten potential guests.
Below, we've listed the five most common mistakes that you should avoid:
Outdated information
Incorrect hours of operation or old menus can ruin your customers' appetites. Make sure that your restaurant website's information is up-to-date and accurate.

Stock photos
Stock photos can be a useful addition to all kinds of websites and blogs, however, they have no place on a restaurant website: Showcase your unique dishes, location, and team. Stock content on a website sets off alarm bells about why it was chosen over the establishment's own offerings.

Lack of optimization for mobile devices
A significant number of guests will visit your restaurant's website on their smartphone or tablet. To make their experience positive, make sure that your website is optimized for mobile devices, and that important features such as reservations can be viewed on small screens.

Information overload
Your restaurant is your baby and there's no doubt that you could fill its website with all sorts of content. Visitors typically want very specific information though, and it's a good idea to provide them with this as quickly and directly as possible. Text should be brief, to the point, and informative (of course, the About Us section is an exception) and designed around easy-to-navigate menus.

Missing languages
Good food is a language that everyone understands. To make sure that your international guests get the most from their experience, consider offering several language options. For example, if the area where your restaurant is located has lots of Spanish-speakers, include a menu in that language. Similarly, a French restaurant with a French menu alongside its English one gives off a greater sense of authority.
4 Ways to Create a Restaurant Website
Now that you have a broad idea of what's important for a restaurant website, it's time to think about how you're going to make it a reality.
Below, we'll briefly introduce you to four options for creating a website for your establishment:
1.
Self-Program a Restaurant Website
One option is to program your restaurant's website yourself. This requires programming know-how, hosting for online storage, and enough time to bring the project to life. Keep in mind that if selecting this option, you'll also have to handle your website's security.
Who Is This Option For?
A considerable amount of coding and web design knowledge is required to completely program a website on your own. In addition, it's necessary to allocate enough time for both creating the website, as well as regularly maintaining and updating it.
Taking this approach gives you 100% flexibility and total control since the only limitation is your technical ability and design talent. This option is likely not viable for most restaurant owners or operators since sufficient programming knowledge for building a website can't be picked up on the side.
2.
Have a Restaurant Website Programmed for You
Running a restaurant is difficult enough. If you'd rather let pros handle building your restaurant's website for you, so that you can focus on the day-to-day of the service industry, there are freelancers and agencies:
Agencies are best found via search engines, reviewing/rating websites and portals, or even on freelancer platforms. Generally, you'll pay more than for a freelancer since agencies are collectives that offer their combined expertise.
Who Is This Option For?
You'll need deep pockets if you'd like a reliable pro to craft a high-quality website for you. This option is ideal for restaurants with big budgets looking at their digital expansion as part of an overall and long-term investment strategy, as well as those who want to avoid surprises or compromises.
3.
Create a Restaurant Website With a Content Management System
You don't need to program everything yourself: A content management system (CMS) can handle a large part of the work for you. Many important website components come pre-configured, which makes setup particularly easy. In addition, CMSs are usually open source and free, however, you'll still have to pay for web space, domains, and so on.
The most popular CMS is WordPress, accounting for an estimated 75% of the world's websites.
WordPress is the most-used CMS on the planet.
Who Is This Option For?
You don't need to be a professional programmer to use a CMS, however, you should be familiar with some coding basics. In addition, make sure that you're willing to set aside time to familiarize yourself with whatever platform you choose since each differs slightly from one another. As long as you can accept these conditions, CMSs offer a great way to flexibly customize pre-configured features to your liking.
4.
Create a Restaurant Website With a Website Builder
Website builders are even more beginner-friendly than CMSs since they're designed for newcomers without any coding or web design knowledge.
Thanks to their intuitive editors, it's possible to completely design a website on your own. Just select ready-made elements, drag them onto your website, and customize them to your preferences. As an added bonus, website builders typically offer a nice variety of pre-configured templates for different types of sites, including restaurant websites.
Hosting is included in subscription packages, while the templates are automatically optimized for things like mobile-friendliness.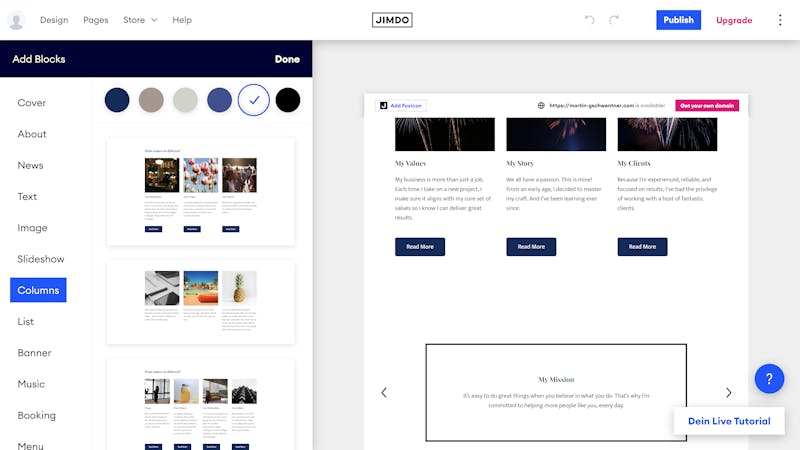 Website builders like Jimdo include lots of pre-configured website elements, such as restaurant menus or reservation forms.
One of the few drawbacks to website builders is that you'll need to order from the menu: That is to say, you have to make do with whatever features and layouts are included, as many make it difficult to 'break out' of these. Your restaurant's website will certainly look professional, but, chances are that it won't be truly unique.
Who Is This Option For?
Website builders can be a great choice if you lack both programming knowledge and the budget to hire a pro. Even though they are less flexible than other options, there's no better way for beginners with limited resources to create a website.
EXPERTE.com's Top Website Builder: Wix
We took a close look at 12 of the leading website builders in our comprehensive comparison, seeing how they performed in a number of areas, like "Configuration and Usability" and "Templates & Design". First place was awarded to Wix.
Wix beats out the competition with an unmatched variety of features, intuitive editors and a jam-packed app store. Overall, the platform offers the best balance of usability and features on the market today.
lots of features and elements
simple & intuitive interface
9.6

excellent
Space
Domains
Templates
Contract Period
Wix Free
$0.00
monthly price
Visit Website*
Try for Free
EXPERTE.com's overall winner impressed us with its wide array of features packed in an easy-to-use interface. Thanks to its drag-and-drop functionality, users are granted complete freedom when it comes to arranging elements. And for restaurant websites, Wix serves up quite a few sleek templates: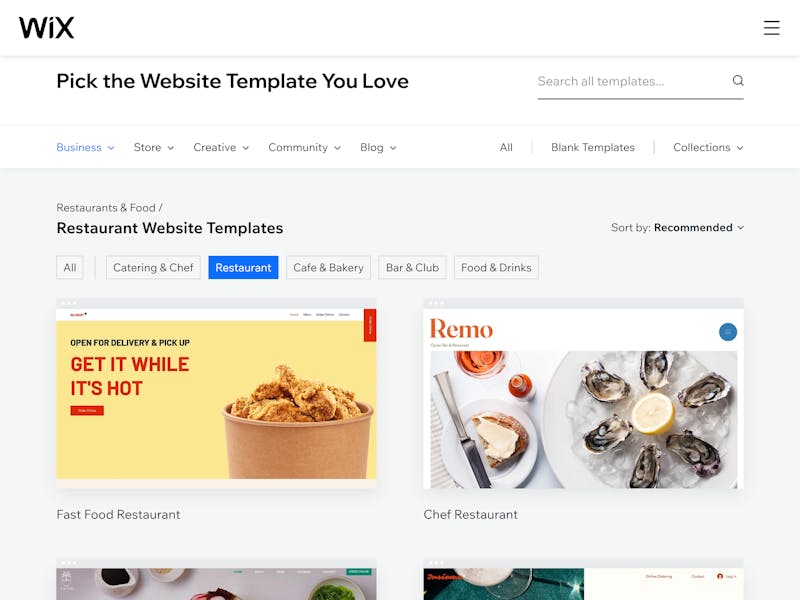 Wix comes with a number of design templates that are perfect for the restaurant business.
But that's not all: Wix Restaurants is a specialized app for restaurant websites that comes with many relevant templates. With it, you'll be able to manage your menu(s), orders, and other important areas of your business.
Since Wix offers a free version of its platform, you can test it out risk-free. If you'd like to be able to access all of its features (and have a custom domain), its most affordable package costs around $16 per month.
Marketing, SEO & Ecommerce
10 / 10
Templates & Design
9.4 / 10
Configuration & Usability
9.4 / 10
Other Providers
Wix is far from the only website-building option out there, as there are dozens of similar services that you can use to create a digital presence for your restaurant. Our full ranking is here:
Conclusion
With a professional website, your restaurant will be able to make prospective guests' mouths water, even without getting a whiff of what's cooking in your kitchen. Make sure to include all of the most sought-after information, like a current menu and your opening times, as well as practical features like table reservations or order forms.
You'll have different options for bringing your restaurant's website to life: If you possess the necessary coding skills, you can program it yourself. With a large enough budget, it's possible to contract the work out to pros. However, if you're lacking both, you'll need to either use a CMS like WordPress or a website builder.
Website builders are a particularly beginner-friendly option, even if they are somewhat limiting in terms of features. In EXPERTE.com's website builder comparison series, we comprehensively reviewed 12 of the leading providers.
FAQs
Why does my restaurant need a website?
⊖
A website is an important resource for prospective guests and regular patrons alike. For the first group, it helps them decide if your restaurant serves something appetizing and whether they'd like to visit. For regular customers, it can provide useful information about changed opening times and upcoming events, and to book a table.
What information should a restaurant website include?
⊖
A professional website encourages visitors to take a look around. Beyond that, prospective guests will likely want to see what's on your menu, reserve a table, place an order for delivery or pickup, or learn more about your establishment on its About Us page. Other information, such as directions and hours of operation, is also important. Most of all, keep everything up to date and current.
How can I create a restaurant website?
⊖
Which method you use to design your restaurant's website depends on your skills, budget, and expectations. If you're familiar with coding, you can program and customize it to your exact needs. With a large enough budget, it's possible to pay someone else to do it for you. Alternatively, you can use a CMS (such as WordPress) or a website builder (like Wix, Squarespace, or MyWebsite by 1&1 IONOS).
* Ad disclaimer:
For links marked with an asterisk, EXPERTE.com may earn a commission from the provider. The commission has no influence on our editorial rating.

Janis von Bleichert studied business informatics at the TU Munich and computer science at the TU Berlin, Germany. He has been self-employed since 2006 and is the founder of EXPERTE.com. He writes about hosting, software and IT security.
Continue Reading