Website Builder Review: Jimdo
Thanks to site builders like Jimdo, the Internet has become more accessible than ever before. No longer is it necessary to feel your way through the back end 'jungle' to create your very own website. In this review, we'll put Jimdo's marketing slogan of "You can too!" to the test and see if the service is all it makes itself out to be.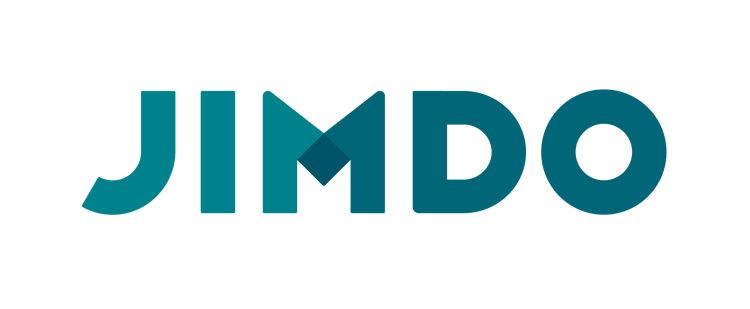 Jimdo is a website builder developed by the Hamburg-based Jimdo GmbH. According to its creators, the first version of the service was hashed out on an old farm in the north of Germany: Now the company has offices in Tokyo and has helped launch more than 20 million unique websites.
The service's drag and drop interface visualizes processes that would normally be accomplished through lines of code, fully embracing the "what you see is what you get" (WYSIWYG) principle. This means that the elements you create, design, move, or delete in the editor appear exactly as they do on the finished site. As a result, Jimdo caters particularly to beginners, but don't let that fool you, it has a lot to offer experienced users as well.
Configuration & Usability
4.7 / 5
Templates & Design
4.0 / 5
Marketing, SEO & Ecommerce
3.3 / 5
Ability to automatically generate websites using the onboard Dolphin editor
Versatile standard editor that embraces the WYSIWYG principle
Secure thanks to SSL encryption on all pages
Integration of third-party apps and extensions is possible
Support only provided via e-mail
No third-party app center
Slightly more expensive than comparable site builders
Configuration and Usability
Jimdo is made for users of any level of experience, however, the focus on simplicity and accessibility is apparent upon registration. The service provides a helping hand from the first minute, allowing you to specify what you intend to use your site for. Of course, more experienced users can skip these steps.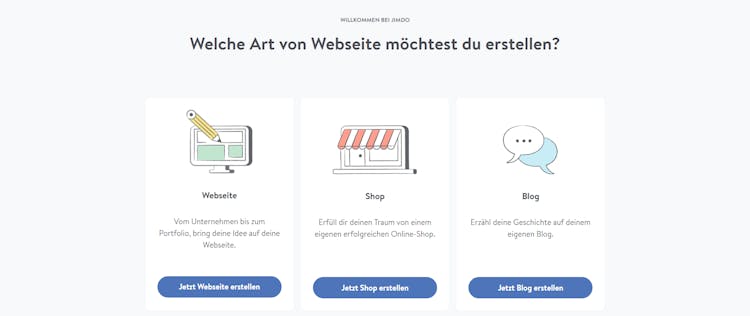 Next, Jimdo allows you to choose between two different editors for creating websites. The standard editor is beginner-friendly and versatile, enabling advanced users to work directly with the source code. However, if you want to make things even easier, the service's AI-supported Dolphin editor might be more preferable. It automates pretty much everything about building a site, promising appealing results in just a matter of minutes.
Standard-Editor
Following the WYSIWYG principle, you can modify or make changes to your site in real-time. For example, if you add a block of text and save your progress, this will automatically update and be reflected upon your published page. If you prefer to work on a variety of things, and only use the "Preview" function to check on your progress from time to time, you might be a bit disappointed. However, we think that Jimdo's WYSIWYG approach is successful.
For anyone familiar with HTML or CSS, Jimdo's standard editor allows you to work directly with your page's source code. You can activate this feature by clicking on "Design" under advanced settings.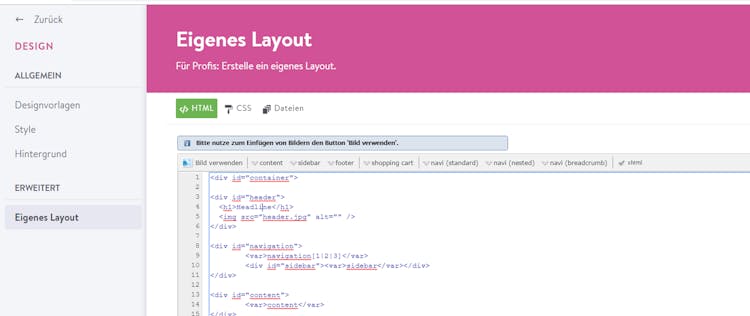 Dolphin
If you want to make things even easier and don't mind surrendering a fair bit of control, you might want to try out Jimdo's Dolphin editor. After selecting whether you want to create a website, a store, or a blog, Dolphin asks you a few more questions relating to design and usage, thereafter taking care of the rest. The end result is a ready-made website that you can fill to the brim with content and text, as well as make some minor adjustments to.
With Dolphin, creating a website becomes surprisingly easy. After a few minutes of tinkering, the end result can be a very professional-looking website. Nevertheless, the possibilities to customize such pages are limited, and we think that the standard editor is already easy enough. As a result, there's little reason to sacrifice even more functionality by using Dolphin.
With Jimdo, users are able to directly edit and adjust each and every element on their website. At first, the interface appears a bit cluttered, however, after some getting used, this feeling went away. Long gone are the days in which those building websites needed to sort through lengthy menus to make small changes to text or other elements. Jimdo's approach, coupled with their incessant focus on accessibility and ease of use, make their product a relatively nice one to work with.
Score: 4.7 / 5
The workhorse of any website builder is its editor. Thankfully, for both of Jimdo's editors, the process of adding new content is very straightforward. Content is divided into blocks, and when you want to add anything new, you can select what type of content it is from the feature list. Because the service's drag and drop functionality is somewhat limited, when arranging these blocks you won't have to worry about differences in margins or spacing, since they'll be automatically aligned with one another.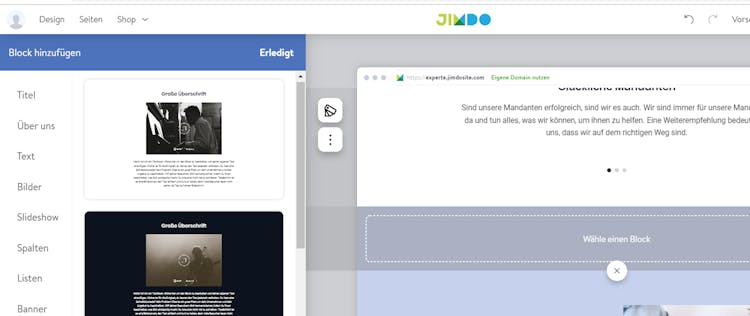 This focus on simplicity does exact a number of compromises though, particularly in terms of creative freedom. For example, in Dolphin, it is sometimes impossible to make small adjustments, which would otherwise be easy to do. The ready-made templates offered by the service, while aesthetically pleasing, are not really flexible. To illustrate this, users are able to select from a number of different layouts for each content block, however, it isn't possible to fit these layouts to any imported images.
The standard editor does offer more flexibility as well as a freer hand in terms of individualizing layouts. You're able to arrange images and other elements, moving and adjusting them to your heart's content. You can also work directly on these ready-made layouts in the page's source code, should you possess the requisite programming knowledge.
We can only recommend Jimdo's Dolphin editor for those completely new to website creation. For anyone with a desire to invest a bit of time in creating their site, the standard editor offers significantly more features and functionality.
Blogging
Blog features are limited to the standard editor, meaning that if you want to create a blog, you won't be able to do so using Dolphin. The standard editor allows you to create dynamic blogs and provides access to a range of different features, namely, the ability to organize entries into categories, add flash animations or downloads, embed Google Maps, configure page and site SEO, and more. Should your blog have several editors or authors, you can also password protect specific areas of its dashboard.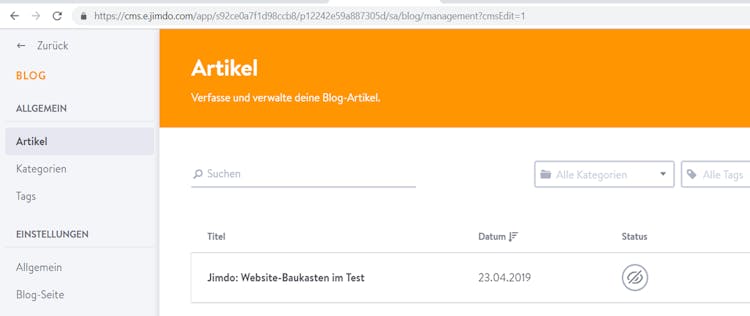 Using the Widget/HTML feature, you can also integrate a number of external applications into your Jimdo website. Among those supported are PayPal, Soundcloud, Vimeo, and Yelp. Nevertheless, despite this 'third-party love', lamentably, Jimdo does not offer an app center for extensions or add-ons.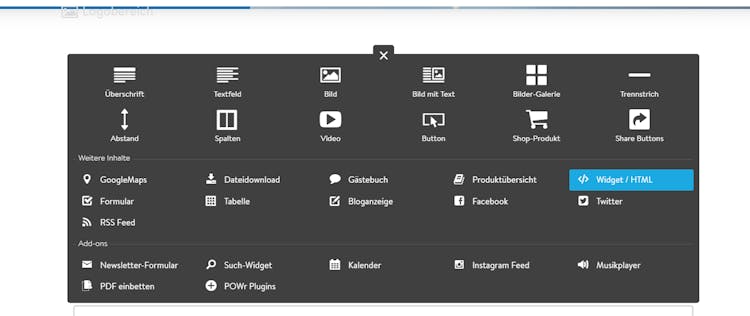 Jimdo's editors cater to both newbies as well as those with advanced programming knowledge; in other words, the entire spectrum of those building websites. We recommend the service's Dolphin editor only for those in a rush, or who don't want to fuss about the design or layout of their site, particularly since its limitations don't take long to become apparent. Unfortunately, it isn't possible to switch between the editors during a single project, meaning that any progress made in one, will not be automatically transferred to the other. For that reason, we are emphatic in advising beginners to use the standard editor from the get-go, since with a bit of time, they'll be pleased with the additional functionality it offers.
Score: 4.3 / 5
Jimdo supplies users with more than 30 templates, all of which can be used in the service's free version. Each of these is recommended for specific types of sites, whether they be blogs, online shops, or corporate pages, however, you do have a free hand in selecting which you'll use on your website. All templates come with a number of variations, for example, in regards to the loadout of content blocks, which you're also free to modify in the standard editor. If desired, you can also adjust the color schemes and fonts of these templates.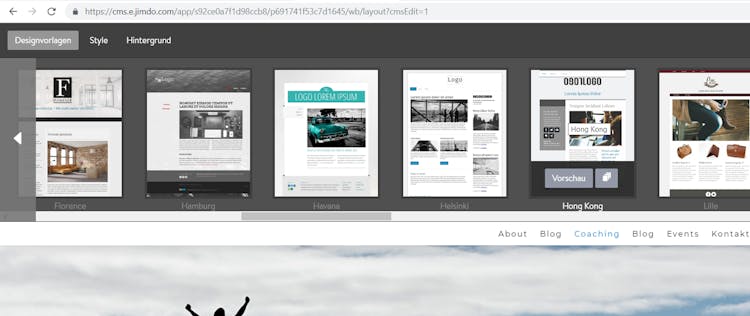 For those with some programming knowledge, it is possible to create unique templates in the editor using HTML or CSS. Not every website builder offers this level of functionality, which in our minds at least, adds an extra benefit to using Jimdo, not least because it helps those interested in programming to practice.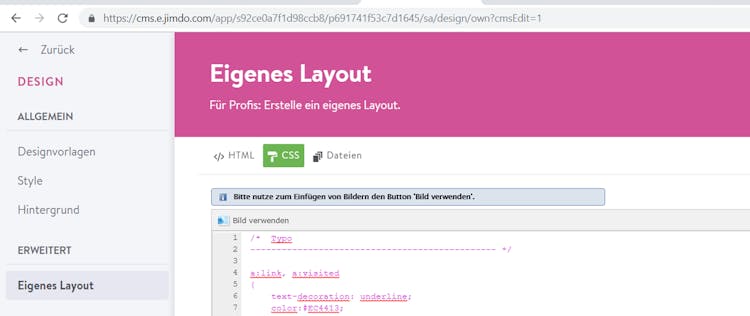 Jimdo's designs are appealing and can be personalized to a significant degree, regardless of whether you possess programming skills. As noted above, the Dolphin editor restricts creativity, whereas the standard editor is highly intuitive and affords a great deal of variety. Our only complaint is that the service could have provided a wider selection of templates to choose from.
Score: 4.3 / 5
Marketing, SEO, & E-Commerce
For those creating e-commerce platforms, Jimdo gives its users a relatively free hand in designing their online shops. You can configure a number of settings, from the amount of tax charged on purchases to shipping details. Like any other content block, you're also able to freely move products around on your page, arranging them as you wish. Apart from its integration of the most common payment methods, Jimdo also supports the usage of PayPal and Stripe.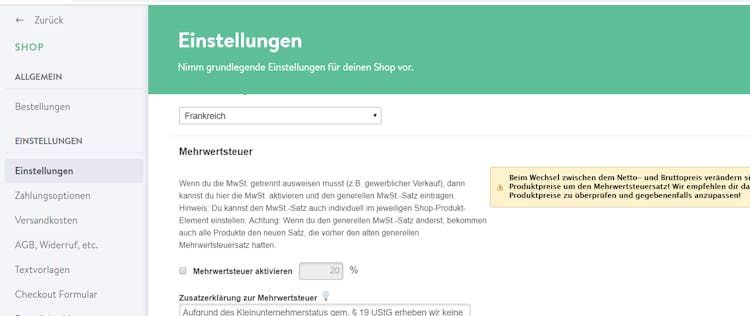 Thanks to the embedding of Google and Facebook Analytics, you're provided with a detailed overview of your site's statistics, as well as the efficacy of individual campaigns. In this way, you can check what visitors do on your site, which features they use, or where they originate from, allowing you to increase your conversation rate. The only drawback is that access to these features is restricted to those who've purchased one of Jimdo's premium packages.
The same goes for advanced SEO features, which are likewise limited to paying subscribers. By default, each new page is prepped for SEO, however, Jimdo makes it easy to add SEO to every subpage, allowing you to enhance your web presence through meta tags and custom URLs.
Jimdo shows itself to be highly configurable, without sacrificing any of its simplicity, offering a strong e-commerce and marketing platform, albeit, only for paying customers.
Score: 4.3 / 5
In Jimdo's support center you can browse FAQs relating to a number of different topics. Should you want a human touch, you can fill out a contact form, on which you'll have to include your subscription level. It seems entirely plausible that those who pay more are prioritized, but in the world of website design at least, there's nothing morally offensive about that.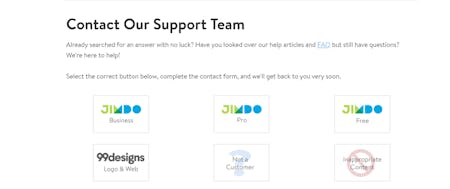 What is deserving of criticism, however, was our service experience with Jimdo. During testing of the service's free version, we received a response to our query from the support team after six days. We say 'response' because our question about the standard editor was answered with tips for how to best utilize the Dolphin editor; in other words, completely irrelevant information. Unfortunately, this seems to be common, as Jimdo's support (or lack thereof) is a frequent target of user complaints.
With that said, on our second attempt to solve our issue, we received a competent and relevant response. Similarly, we think that the significant number of FAQs go far in helping users to resolve most issues on their own, without involving live support. Nevertheless, we still have to deduct points for the poor initial performance.
Score: 3 / 5
Alongside Jimdo's free version, the service also comes in three different subscription packages for creating websites and an additional three for setting up an online shop. Anyone who isn't ready to pay for one of these will have to be content with a Jimdo subdomain, which doesn't exactly endow one's website with a great deal of credibility or professionalism.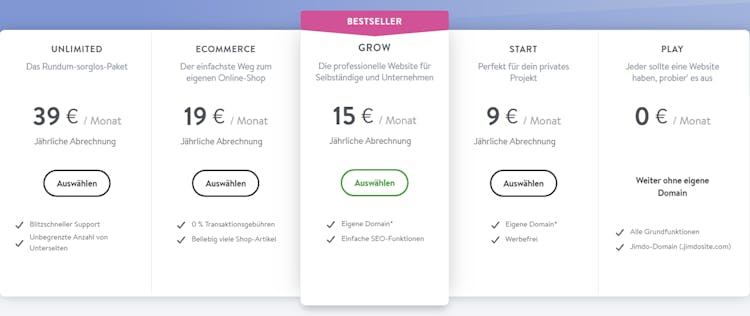 Jimdo's "Start" package, for $9/month, should be enough for anyone looking to create a non-commercial website; if you want to set up a web store, you'll need to pay a bit more ($15/month) to unlock the "Basic" e-commerce package.
Creator Free
Dolphin Play
Creator Pro
Pricing
Set-up fee
$0.00
$0.00
$0.00
Base price per month
$0.00
$0.00
$10.00
Contract period (months)
0
0
12
Included
Space (GB)
0.5
0.5
5
Pages
unlimited
5
unlimited
Traffic (GB)
2
2
10
Custom domain
Domains included
0
0
1
Features
Free of ads
SSL encryption
Blog
Ecommerce
Multilingual sites
Server location

Deutschland

Deutschland

Deutschland
Configuration & Usability
4.7 / 5
Templates & Design
4.0 / 5
Marketing, SEO & Ecommerce
3.3 / 5
Jimdo is a highly versatile website builder that makes creating an Internet presence for both commercial and non-commercial websites simple. The simplicity starts with Dolphin AI, which basically automates the creation of a website, and continues to the intuitiveness of adding content blocks in the standard editor. As above, we advise everyone to learn the ins and outs of the standard editor, since Dolphin's limitations are readily apparent and quick to surface.
In the standard editor, Jimdo strikes a nice balance between simplicity and versatility, permitting anyone, even those just starting out and lacking any and all knowledge of programming, to easily put together a personalized, and professional-looking website.
almost automatic website by AI
Domains only one year free
Space
Domains
Templates
Contract Period
Jimdo Creator Free
$0.00
monthly price
Visit Website »
Try for Free
Onto the negatives: We would have liked to see a few more design templates. External apps can be added through the inclusion of widgets or by coding them in using HTML, but Jimdo's developers can do themselves a world of good by simply integrating an app center for third-party extensions. We also felt really let down by Jimdo's support, or lack thereof, for which we had to both wait, and even then didn't receive any relevant information at first.
Taken together, however, for anyone who wants to create a website in an uncomplicated fashion, Jimdo is definitely a good choice.
In the customer reviews which we analyzed, Jimdo was not among the best providers, but also not one of the worst. Plenty of criticism was leveled at the service's customer support, as well as its pricing policy. On the other hand, Jimdo's simplicity and ease of use were frequently commended.
Customer Rating
40,733 Ratings
good
We analyzed the reviews and ratings from various portals and found 40,733 ratings with an overall rating of 4.3 out of 5 .
Show sources
Jimdo promises that its users "can too!", but it isn't the only website builder that caters to the wide spectrum of those interested in site-building. For example, Squarespace and Wix often top the lists for "Easiest to Use Website Builders". You can scroll through reviews from some of the most well-known website builders in our authoritative service comparison.
many high-quality templates
simple & intuitive interface
jam-packed app marketplace
Domains free for one year only
Wix succeeds with an unmatched feature set, intuitive editors and a packed app marketplace. Only with the blog features do we still see some room for improvement.
Space
Domains
Templates
Contract Period
Wix Free
$0.00
monthly price
Visit Website »
Try for Free
Piani tariffari relativamente costosi
Squarespace impresses with flawless designs and high quality templates, which make the creation of professional websites a piece of cake - but also costs a bit more than most other providers.
Space
Domains
Templates
Contract Period
Squarespace Personal (12 months)
$12.00
monthly price
Visit Website »
14 Days Trial Period
supports multilingual sites
large, established provider
lots of templates, average quality
1&1 IONOS MyWebsite makes getting started a little more complicated, but rewards hobbyists without programming skills with a variety of design options for unique websites.
Space
Domains
Templates
Contract Period
1&1 IONOS Starter
$3.00
monthly price
Visit Website »
30 days risk-free

Author (German Version): Martin Gschwentner
Martin Gschwentner majored in American Studies and Media Studies in Germany, the USA and France and works as a freelance editor in Paris. He is a doctoral student at the Institute for English and American Studies at the University of Paris Diderot, where he is researching the influence of money on US politics. On EXPERTE.com he writes about IT security, data protection and software for the self-employed and small businesses.

Translator & Editor: D Bare