Jimdo Website Builder Review 2023: Websites Without the Effort?


Ad disclaimer:
For links on this page, EXPERTE.com may earn a commission from the provider. This supports our work and has no influence on our editorial rating.
Thanks to site builders like Jimdo, the Internet has become more accessible than ever before. No longer is it necessary to feel your way through the back end 'jungle' to create a website. In this review, we'll check out the merits of one of Jimdo's marketing slogans ("Websites without the effort") and see if the service is all it makes itself out to be.
What Is Jimdo?
Jimdo* is a website builder from Hamburg, Germany. According to its creators, the first version of the platform was hashed out on an old farm. No longer working out of a pigsty (literally), the company now has offices in Tokyo and has helped launch more than 32 million unique websites.
The service's drag and drop interface visualizes processes that would otherwise require inputting lines of code, fully embracing the "what you see is what you get" (WYSIWYG) principle. This means that the elements you create, design, move, or delete in the editor appear exactly as they do on the finished site. As a result, Jimdo is more than suitable for beginners, but don't let that fool you, it has a lot to offer experienced users as well.
Jimdo Website Builder Review
Configuration & Usability
9.4 / 10
Templates & Design
8.0 / 10
Marketing, SEO & Ecommerce
6.6 / 10
Two editors catering to every type of user

Nearly automatic AI-assisted site creation with the Dolphin editor

Supports third-party apps and extensions
Poorly conceived ecommerce features

No third-party app center

Support only via form and limited to paying subscribers
1.
Configuration and Usability
You'll need to create a Jimdo account to start using the platform. This only requires an email address and password (or a Google/social media login). After that, Jimdo gives you the choice between creating a website with or without coding, depending on how familiar you are with programming.
Jimdo is designed for users of any experience level, however, the focus on simplicity and accessibility is clear from this point on. You're given a choice between two editors: The standard one, "Jimdo Creator" is beginner-friendly and versatile, but allows advanced users to work with code. The other option, "Jimdo Dolphin", makes creating a website even easier, automating processes and promising eye-catching designs in a matter of minutes.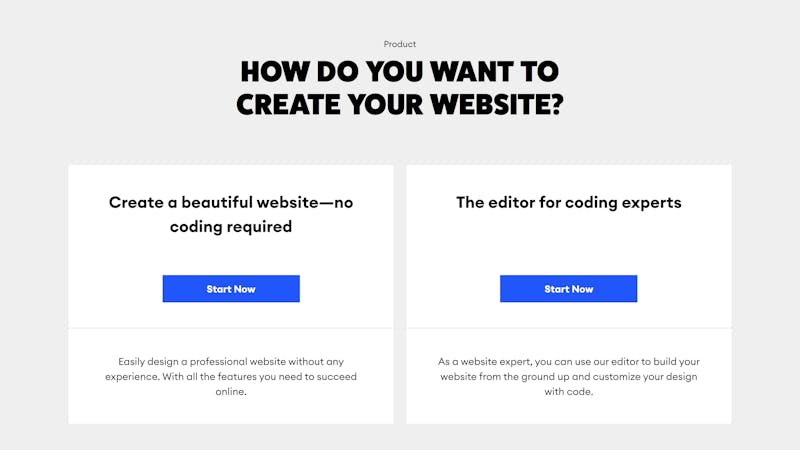 Jimdo offers two editors "Dolphin" and "Creator", although, it doesn't refer to either by name at this point.
To assess the service more thoroughly, we tried our hand at making a website using both editors.
Dolphin
Powered by an AI engine, your first encounter with Dolphin will be when it asks a few questions about your project, goals, and design preferences. After this, it will churn out a website that you can load with content and slightly modify.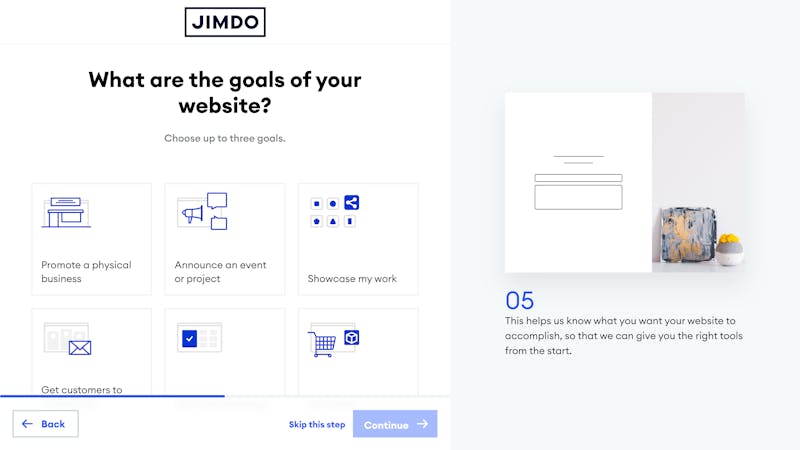 What do you need your website for? Which products are you going to sell? What stage is your business in? This is all the information Dolphin needs to create a website for you.
Once your website is ready, you'll be offered a 15-20 minute, live, step-by-step introduction to Dolphin with a support staffer via video chat. During this, it's possible to share your screen and have the staffer walk you through the editor's ins and outs. This free service is targeted at beginners looking for a bit of extra help.
No room for creativity
There isn't all that much to explain in the Dolphin editor, since its customization options are limited. Using the options in the upper main menu bar, you can adjust some basic aspects like the color palette and fonts (in the "Design" area), or add new pages (under the similarly titled heading). Ready-made templates are offered for sub-pages (such as portfolios, teams, or contacts). Each sub-page's layout can be adjusted in the menu bar off to the left.
Content can be edited directly in the center of the platform's working area. When adding new content blocks, you're able to choose from slideshows, lists, or banners. Some specialized content, like an appointment calendar or restaurant menu, is offered, however, the selection is fairly limited.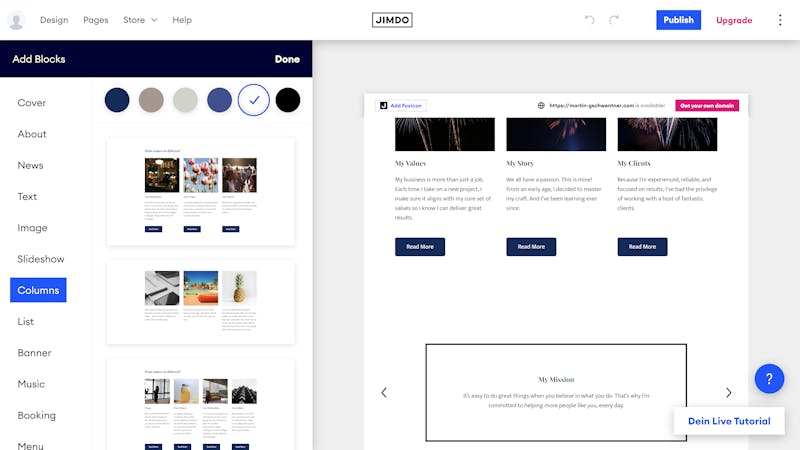 The Dolphin editor does limit creative freedom, however, you'll be able to easily and quickly create a website.
With Jimdo's Dolphin editor, you'll largely have to paint by numbers. This makes it easy, even for beginners, to create and launch a professionally-looking website in a very short amount of time.
Creator
When using the other editor, Creator, you'll first be asked which branch your business is in, before being taken directly to the template gallery. There, select a design that suits you (this can be changed later on), after which you'll wind up in the editor.
Creator is certainly more elaborate than Dolphin. Broadly speaking, you can make changes to nearly any content element directly in the interface's working area. To add new pages, go to the main navigation menu, select "Edit menu", and click on "Add a new page". Next, you'll have the choice between inserting an empty page or selecting from one of the existing templates, afterwards filling it with content.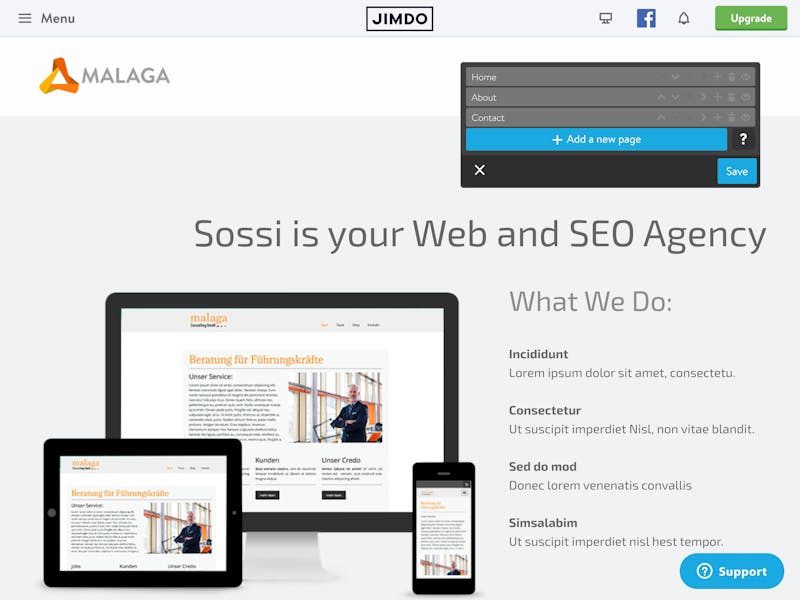 Even though it's more complicated than Dolphin, Jimdo's Creator editor is highly intuitive.
By clicking on the menu in the screen's upper left, you can access your site's blog, activate ecommerce features, and change your website's appearance. In each of these areas, you'll have many more possibilities than you would with Dolphin.
Should you be familiar with HTML and CSS, you can tinker with either in Creator. To start coding, go to "Custom Template" under "Design" in the main menu.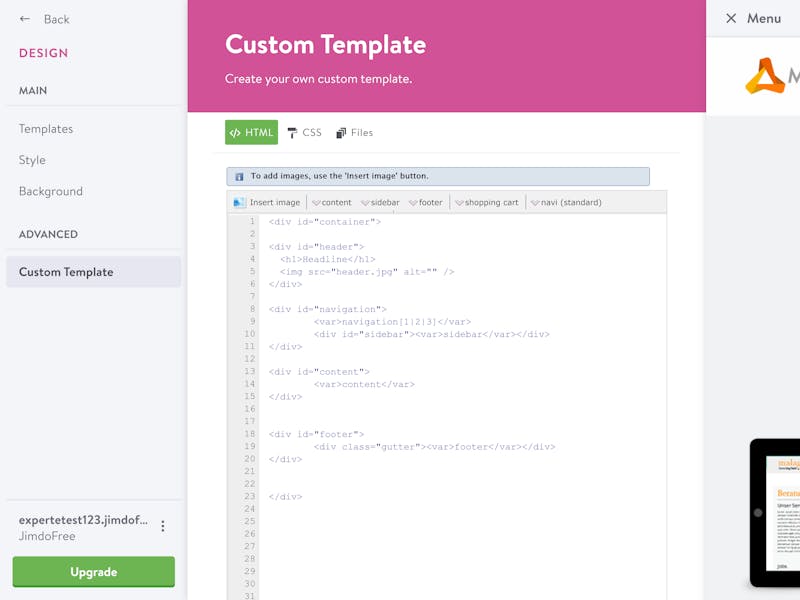 Not afraid of a little bit of coding? Then you can align Jimdo's layouts even more to your specifications via user-defined HTML or CSS.
Overall, both of Jimdo's editors are user-friendly. Creator, the more complicated of the two, is easy enough for newcomers and offers the ability to insert HTML or CSS code. Since Dolphin greatly restricts customization, we can only recommend it to absolute beginners: Anyone else should make a small investment of time in Creator (which we used for the rest of this review). Still, hats off to Jimdo for offering as much support to beginners as it does.
Our only complaint is that Jimdo could be more forthcoming when informing new users about the differences between its two editors and their pricing. All the same, Jimdo offers a good user experience.
Configuration & Usability
9.4 / 10
The workhorse of any website builder is its editor. Thankfully, both of Jimdo's make adding new content very straightforward. Content is divided into blocks. Whenever you want to add something new, select the type of content from the list. One benefit of the platform's limited drag and drop functionality is that you won't have to worry about differences in block margins or spacing since they automatically align.
All these usual suspects, ranging from "Image with text" to user-defined forms, are offered. Unfortunately, several of Dolphin's blocks (such as restaurant menus) aren't offered in Creator.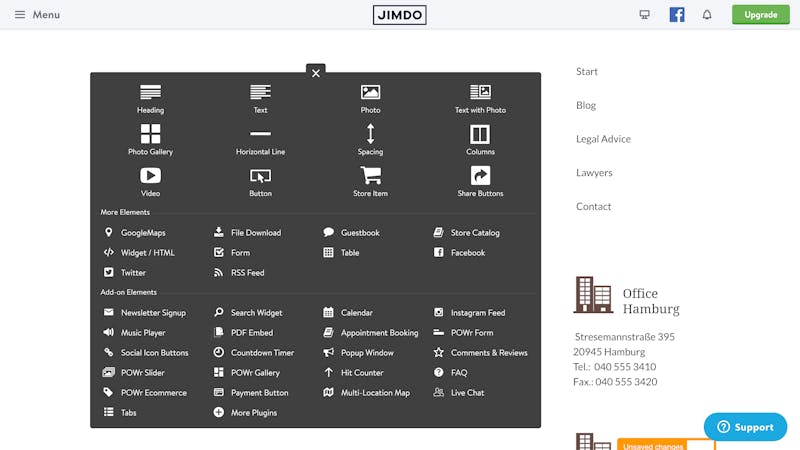 You can choose from a wide selection of content blocks for your site.
No app market
One of Jimdo's disadvantages is that, unlike Wix, it doesn't have a marketplace where users can find additional features and tools. There are some POWr-plugins, any of which can be integrated via HTML, for integrating services like PayPal, SoundCloud, Vimeo, or Yelp. Other platforms make it much easier to add external apps, tools, and widgets to their editors.
Blogging only in Creator
You'll only be able to access blog features in Creator. There, you can make dynamic blogs, organize entries into categories, add flash animations or downloads, embed Google Maps, configure SEO, and more. Should your blog have several editors or authors, you can also password-protect specific areas of its dashboard. Comments can be toggled on or off, and URLs can be freely specified for SEO purposes.
After that, activate your blog under the appropriate menu heading and a link to it will be automatically added to your page.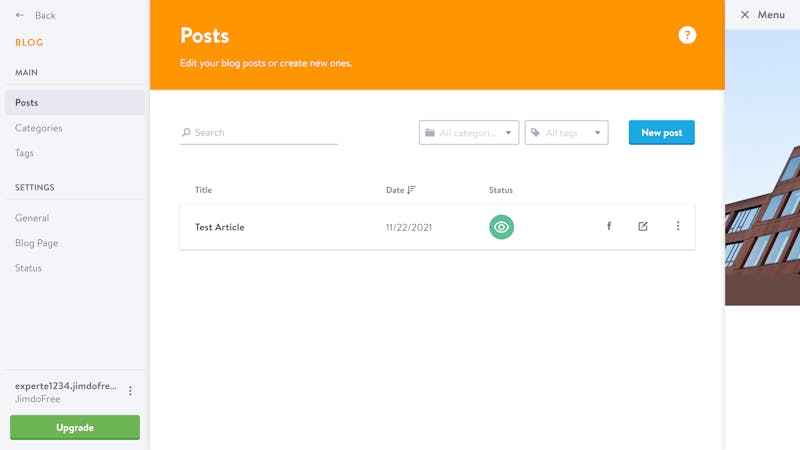 Bloggers on Jimdo will need to use Creator, since the Dolphin editor doesn't support blogs.
Difficulty with multilingual sites
With several site builders, enabling multiple language localizations has become a standard feature. Unfortunately, Jimdo is not one of these: In order to create a multilingual website, you'll need to sacrifice the highest navigation menu, re-purposing it as a language menu. This means that you'll need to create multiple copies of a single page for each language in use. 1&1 IONOS, for example, makes this process much simpler.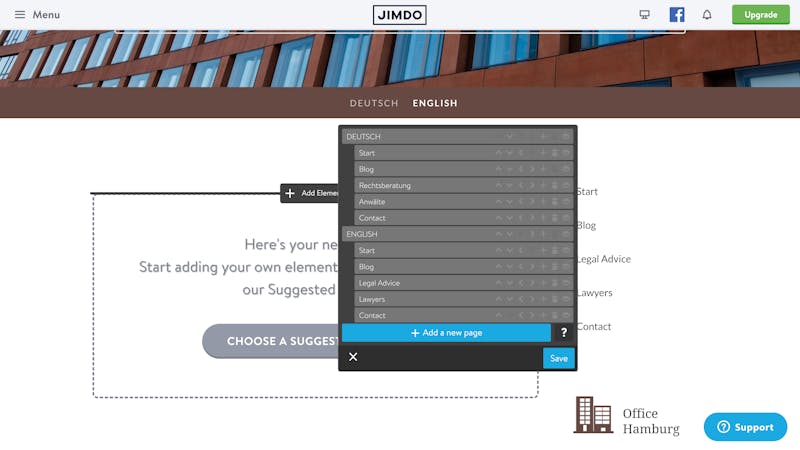 To set up multiple language localizations for a website in Jimdo, you'll need to use a workaround.
Jimdo's editors cater to newbies and those with advanced programming knowledge. As we noted in the last section, we recommend Creator over Dolphin, since it offers far more features. Still, users will have to make do without an app market, less variety in terms of content blocks, and an inefficient system for creating a multilingual website. All told, Jimdo's editors aren't up to the same standard as those of its competitors.
Jimdo currently provides users with more than 40 templates, all of which are offered in the service's free version. Templates are recommended for specific types of sites, such as blogs, online stores, or business pages, however, you can choose which your website uses. All templates come with a number of variations, allowing you to modify how many and which content blocks they have. Color schemes and fonts can also be adjusted.

You can select from 40 templates in Jimdo Creator.
For those with some programming knowledge, it is possible to craft unique templates in Creator using HTML or CSS. Not every website builder offers this level of customization, which in our minds, adds an extra benefit to using Jimdo, not least because it helps those interested in programming to practice.
The Design menu offers two different ways to personalize templates. In regular mode, you can make general changes to the most important style elements, whereas with "Style by Element", each individual content block can be adjusted (but not the elements within).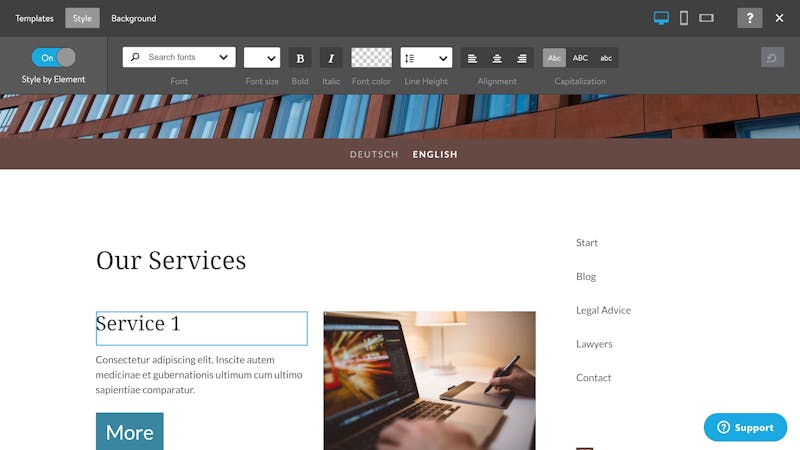 You can adjust a page's font and color by toggling "Style by Element" on in the Design menu.
Jimdo's designs are appealing and can be personalized to a significant degree, regardless of whether you have any experience with coding. As noted above, Dolphin restricts creativity, whereas Creator is highly intuitive and offers a great deal of variety. Our only complaint is that the service could have provided a wider selection of templates to choose from.
Templates & Design
8.0 / 10
4.
Marketing, SEO & E-Commerce
Shop management in Jimdo takes place entirely in the editor, and not in a superordinate dashboard. In Creator, you'll manage your inventory through the menu bar off to the left by heading to Shop > Main, but you'll only see products after you've added them in the editor. To do this, go to the editor's workspace since it isn't possible to do so in the shop interface.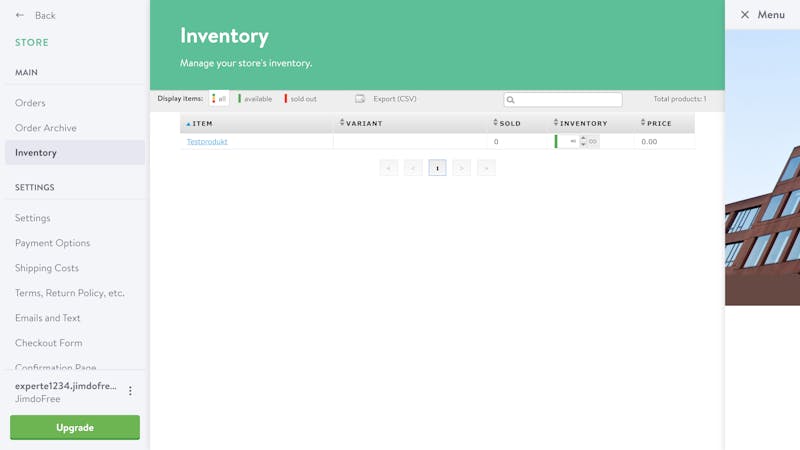 All of your products listed under Inventory.
Unimpressive product variations
It's possible to specify the most important details of your products, including their weight, quantity in stock, and delivery time. To create variations, such as in terms of color or size, click on the "Add variation" button.
Unfortunately, the options here are limited: You won't be able to group variants into categories. This means that you can't combine characteristics like color and size, but need to add a separate variation for each aspect (i.e.: T-Shirt; Color: Black, Size: M). With other ecommerce platforms and even Dolphin, this is much easier.
Another disappointment was that digital products can only be sold indirectly. To do so, you'll need to create a password-protected download page and sell the password. Jimdo is aware of the issue and even offers a guide for how to set up this functionality.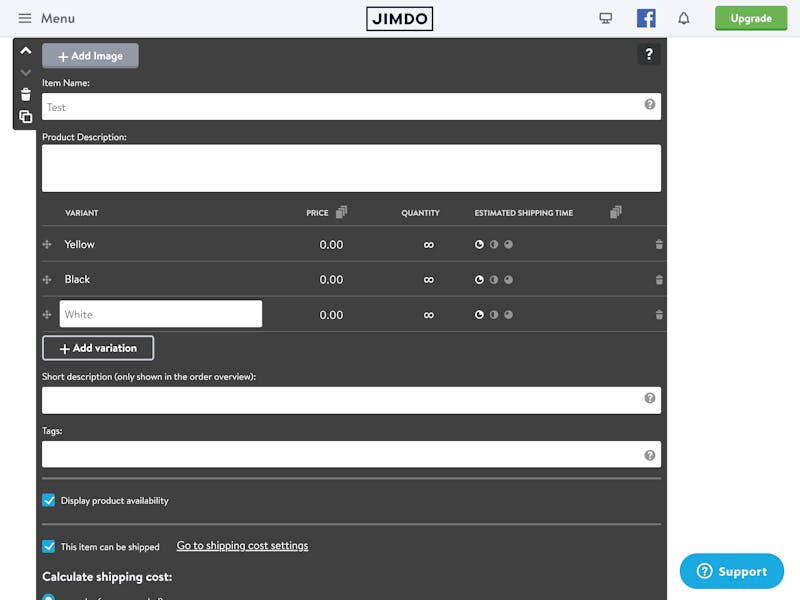 Jimdo's ecommerce features aren't as developed as those of its competitors. As just one example, it isn't possible to combine individual product variations.
Basic marketing features
Jimdo's marketing options also aren't as good as those of its competitors. For anyone considering one of the service's more expensive subscriptions, you can create and offer coupons, either as fixed sums or percents. In Creator, it's possible to mark items down by checking the "Set sale price" box next to an item, emphasizing the discount to shoppers.
Beyond that, Jimdo doesn't offer much in terms of marketing tools. This means that you'll need to make do without integrated email marketing, customer testimonials (and reviews), as well as external solutions, like plugins.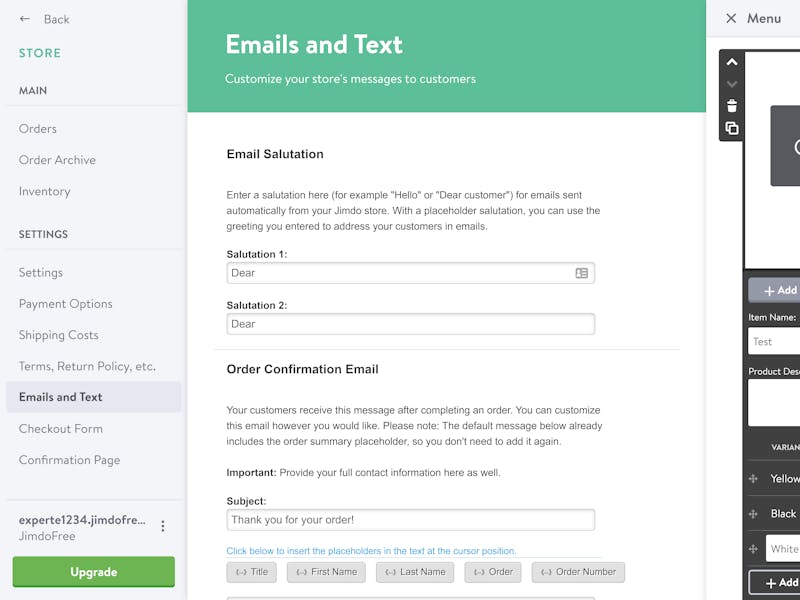 You can make some changes to your email templates with Jimdo, but not engage in any real email marketing.
SEO & Analytics
Thanks to the embedding of Google and Facebook Analytics, you're provided with a detailed overview of your store's statistics, as well as how effective specific campaigns are. This allows you to check what visitors do, which features they use, or where they originate from, making it possible to increase your conversion rate. The only drawback is that access to these features is restricted to premium subscribers.
The same goes for advanced SEO features, which are likewise limited to Start account subscribers and above. By default, each new page is prepped for SEO, however, Jimdo makes it easy to add meta tags and custom URLs to every subpage, allowing you to enhance your web presence even further.
For ecommerce, Jimdo didn't sweep us off our feet, mostly due to its shortcomings in terms of product management and marketing tools. Should you want more detailed information about what the platform is capable of, be sure to consult our review of its store builder.
Marketing, SEO & Ecommerce
6.6 / 10
In Jimdo's Help Center, you can browse FAQs relating to a number of different topics under headings such as "Basics", "Store", "SEO", and "Social Media". Finding what you need is easy thanks to the nifty search feature. In the bottom left, there's a chatbot, which will forward you to specific articles and FAQs.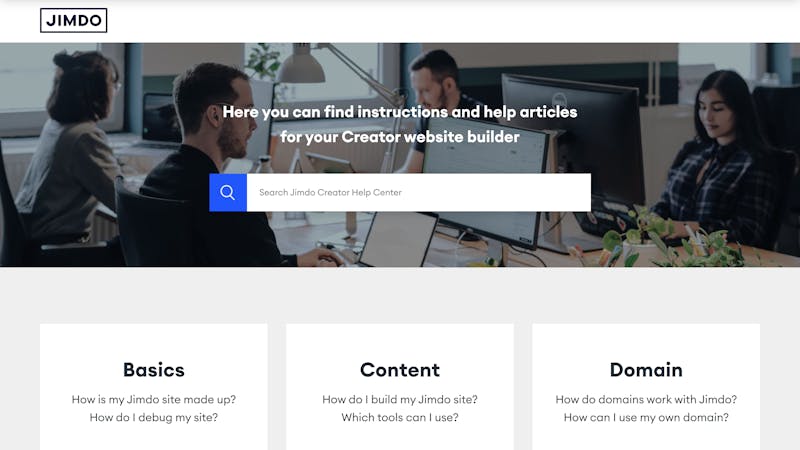 Dedicated support areas are offered for both Dolphin and Creator.
Should you want a human touch, click on the sidebar menu to the left of the editor, and fill out the contact form. To get an answer, you'll need to be a Pro subscriber or higher - users of the free version aren't able to directly contact Jimdo's support staff.
Unfortunately, we waited three days for an answer, which was very comprehensive and personal. Overall, better and more options for getting in touch would be welcome, as would faster response times. With that said, the quality of the answers we received was very high.
Alongside Jimdo's free version, four paid plans are offered, with special rates for Dolphin and Creator (which don't really differ from one another in terms of price).
Anyone who doesn't want to pay for the service will have to settle for a Jimdo domain, which isn't really conducive to establishing a professional reputation online. All plans include an SSL certificate.
Bandwidth, storage, and the number of forwarded emails differ from plan to plan. Ads are removed in all paid subscriptions, with the free version also lacking a number of ecommerce tools such as sale prices, shipping charged by weight, and product tags.
Below, we've included an overview of Jimdo's current subscriptions:
Play
Start
Grow
Store Business
Store VIP
Set-up Fee
$0.00
$0.00
$0.00
$0.00
$0.00
Monthly Price
$0.00
from $8.00
from $13.00
from $16.00
from $19.00
Contract Period (Months)
0
1 - 24
1 - 24
1 - 24
1 - 24
Included
Space (GB)
0.5
5
15
15
unlimited
Pages
5
10
50
50
unlimited
Traffic (GB)
2
10
unlimited
20
unlimited
Custom Domain
Domains Included
0
1
1
1
1
Features
Free of Ads
SSL Encryption
Blog
Ecommerce
Multilingual Sites
How does Jimdo compare to the other site builders from our sample? Below, we selected the most affordable, ad-free subscription from each provider that included a unique domain. Among these, Jimdo was in the middle of the pack:
1.
2.
3.
4.
5.
6.
7.
8.
9.
10.
11.
12.
Since a free version of Jimdo is available, you can test out the platform's basic features without any pressure or having to input payment details. After signing up for a paid plan, you'll have two weeks to request a full refund.
Conclusion
Configuration & Usability
9.4 / 10
Templates & Design
8.0 / 10
Marketing, SEO & Ecommerce
6.6 / 10
Jimdo is a highly versatile website builder that emphasizes user-friendliness. This is clear starting with its Dolphin editor, which automates website creation. In Creator too, you'll notice how intuitive the process of adding content blocks is. We advise everyone to get familiar with Creator, since Dolphin's many limitations are quick to surface.
Unfortunately, Jimdo hasn't been entirely successful in balancing simplicity and versatility, cutting some corners in terms of ecommerce. Creating websites in multiple languages, which is standard among other site builders, is much more complicated than necessary. There are also shortcomings in terms of design options and templates, with the lack of an app store or market rounding out the platform's negatives.
Overall, Jimdo's developers would be well-advised to allow Creator users to do more, especially since other site builders, like Wix or Weebly show how to perfectly balance user-friendliness and creative freedom.
Jimdo accommodates beginners with its AI-based editor, while offering solid personalization options with its standard editor. The free plan makes the platform a great fit for personal projects and blogs as well.
75 high-quality templates
weak product inventory management
7.9

good
Space
Domains
Templates
Contract Period
Jimdo Play
$0.00
monthly price
Visit Website*
Try for Free
Customer Ratings
In the customer reviews we analyzed, Jimdo was rated decently, receiving a good overall score. Jimdo's support in particular was praised on more than one occasion.
Customer Ratings
44,207 Bewertungen
Visit Website*
We analyzed the reviews and ratings from various portals and found 44,207 ratings with an overall rating of 4.2 out of 5 .
Alternatives
One of Jimdo's marketing slogans is "Websites without the effort", however, other site builders offer great opportunities for personalization while not necessarily being more difficult to use. One of these, Weebly, scored with its user-friendliness and limited drag and drop capabilities, serving up more features than Jimdo.
The top performer from our sample, Wix, is slightly more complex to use. At the same time, it offers nearly unlimited drag and drop, in what we think is the best package on the market. In our Wix vs. Jimdo article, we took a closer look at exactly which platform outperforms the other in each area.
Wix beats out the competition with an unmatched variety of features, intuitive editors and a jam-packed app store. Overall, the platform offers the best balance of usability and features on the market today.
lots of features and elements
simple & intuitive interface
9.6

excellent
Space
Domains
Templates
Contract Period
Wix Free
$0.00
monthly price
Visit Website*
Try for Free
Squarespace Website Builder
Squarespace can impress with flawless designs and high quality templates, which make the creation of professional websites a piece of cake – but comes at a higher price compared with the competition.
Space
Domains
Templates
Contract Period
Squarespace Personal
$16.00
monthly price
Visit Website*
14 Days Trial Period
Due to its rather complex editor, IONOS MyWebsite comes with a bit of a learning curve, but rewards those who stick with it with wide-ranging creative possibilities that enable unique websites.
supports multilingual sites
not all templates are great
8.8

good
Space
Domains
Templates
Contract Period
IONOS Starter
$10.50
monthly price
Visit Website*
30 days risk-free
Webflow is a hybrid between website builder and CMS, and requires a basic understanding of coding logic. It's less suitable for beginners – but its visual design tools are a great way for more advanced users to create dynamic websites.
mix of CMS & website builder
more powerful than WYSIWYG editors
learning platform "Webflow University"
visual design with zero code
8.7

good
Space
Domains
Templates
Contract Period
Webflow Starter
$0.00
monthly price
Visit Website*
Start for Free
With its intuitive drag-and-drop functionality and an unrivaled smartphone app for mobile website building, Weebly makes homepage creation easy even for beginners.
Space
Domains
Templates
Contract Period
Weebly Free
$0.00
monthly price
Visit Website*
Try for Free
* Ad disclaimer:
For links marked with an asterisk, EXPERTE.com may earn a commission from the provider. The commission has no influence on our editorial rating.

Martin Gschwentner majored in American Studies and Media Studies in Germany, the USA and France and works as a freelance editor in Paris. He is a doctoral student at the Institute for English and American Studies at the University of Paris Diderot, where he is researching the influence of money on US politics. On EXPERTE.com he writes about IT security, data protection and software for the self-employed and small businesses.

Translation: D Bare
Continue Reading