Create a Wedding Website 2023: Make a Website for Your Big Day

Author
Janis von Bleichert
Ad disclaimer:
For links on this page, EXPERTE.com may earn a commission from the provider. This supports our work and has no influence on our editorial rating.
No one wants something to go wrong on their big day which is why couples spend months (or even years) planning their wedding. A dedicated website can handle much of the work for you and also make everything smoother for your guests too.
In this guide, we'll show you how to make your own wedding website, what to include, and which platforms are best suited for the task.
Why Do I Need a Website for My Wedding?
Websites not only help to plan and organize your wedding but also, to share important information and updates with your guests. There are plenty of good reasons to set up a website for your wedding, such as:
Save time and money on invitations
Gone are the days of licking hundreds of envelopes with wedding invitations crammed in and mailing them to your friends and family. Wedding websites can often cost nothing, while even those that do require a subscription fee are very affordable.

Keep everything in one place
No one likes answering the same question over and over. Help yourself and your guests by providing all of the most important information in a single place - your wedding website. Did you forget something, or make a change? No problem - Just update your wedding website and notify your guests.

An important resource for your guests
How do I get there? When does it start? If there are questions before your big day, don't worry about printing out hundreds of maps or replying to dozens of texts - create a page on your wedding website with the information they need.

More environmentally friendly
Conserving paper is always a good idea. With a wedding website, you'll do the environment a favor and make your wedding more sustainable.

After the wedding: Ready-made platform for pictures
With a link to a special area of your wedding website, your guests can relive the big event through pictures. There, they can browse through a password-protected image gallery, download pictures they like, or even upload their own to the collection.
How Can I Make a Website for My Wedding?
Once you've decided to make a wedding website, all that's left to do is select your method and provider. Of course, you could program the website on your own, however, you'll need some serious coding and web design skills to do so. Another option is to hire an agency or freelancer to build it for you. For a limited-purpose website, the significant financial investment this method requires is likely too high.
The easiest and most cost-effective way to set up a wedding website is with a website builder. Some of these are even specifically designed for creating wedding websites.
Website Builders for Wedding Sites
Let's start by taking a look at some "classic" website builders. With these, you can create almost any kind of website, whether for your business, a blog, or even, a wedding website.
A number of website builders have caught on to the popularity of wedding websites, and offer special templates for these. All you have to do is make a few adjustments and add your own content.
Below, we'll introduce you to our Top 3 website builders for wedding websites:
1.
Wix Website Builder: EXPERTE.com's Winner
Wix beats out the competition with an unmatched variety of features, intuitive editors and a jam-packed app store. Overall, the platform offers the best balance of usability and features on the market today.
lots of features and elements
simple & intuitive interface
9.6

excellent
Space
Domains
Templates
Contract Period
Wix Free
$0.00
monthly price
Visit Website*
Try for Free
Wix won EXPERTE.com's website builder test, coming in first place. The platform excellently balances user-friendliness, complexity, and features: Thanks to its intuitive, drag-and-drop interface, you also aren't as limited as with other platforms. This is important since it allows you to fine-tune your website's content without being overwhelmed by all of the available design options.
The Israeli platform is also well-equipped for wedding websites with a number of sleek templates on offer: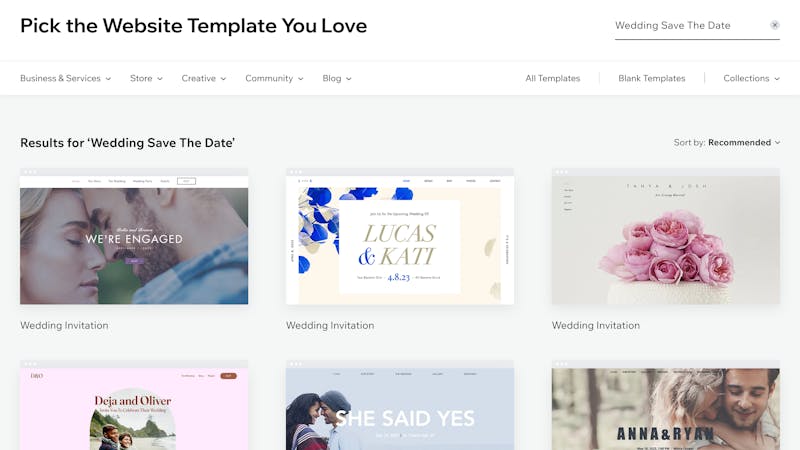 Wix offers several design templates for wedding websites.
Wix serves up all important elements and features (more on these in the Which Website Elements? section below). You can add an RSVP form to your website, allowing visitors to digitally confirm their participation. Of course, it's also possible to add password-protected photo galleries and upload pictures to them to give each of your guests a virtual scrapbook.
Easy to use and includes lots of features

Several wedding website templates
Might be too complicated for a straightforward wedding website
Marketing, SEO & Ecommerce
10 / 10
Templates & Design
9.4 / 10
Configuration & Usability
9.4 / 10
2.
Squarespace Website Builder: Elegant Designs for Your Big Day
Squarespace Website Builder
Squarespace can impress with flawless designs and high quality templates, which make the creation of professional websites a piece of cake – but comes at a higher price compared with the competition.
Space
Domains
Templates
Contract Period
Squarespace Personal
$16.00
monthly price
Visit Website*
14 Days Trial Period
We found 8 wedding templates on Squarespace, a website builder that's gained a reputation for its stylish designs. Its timeless and elegant approach to web design makes the provider an easy choice for your wedding website project.
Unlike Wix, Squarespace's templates are a bit more restrictive. However, for a wedding website that will have limited functionality anyways, this shouldn't be a problem.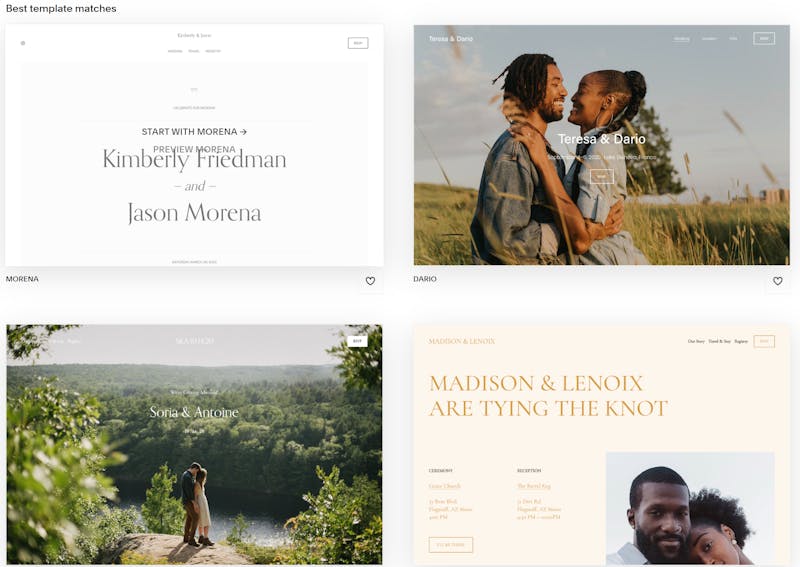 Squarespace scores with its elegant designs.
Templates like Dario or Bleecker include ready-made directions and gift subpages, as well as an RSVP form, all of which you can customize to your exact needs.
The only downside to Squarespace in comparison to Wix is that it doesn't offer a free version.
8 wedding website templates

Easily customizable forms
Slightly more expensive than other website builders
Configuration & Usability
10 / 10
Marketing, SEO & Ecommerce
8.6 / 10
Templates & Design
8.0 / 10
3.
Jimdo: German Quality for Fast and Easy Wedding Websites
Jimdo accommodates beginners with its AI-based editor, while offering solid personalization options with its standard editor. The free plan makes the platform a great fit for personal projects and blogs as well.
75 high-quality templates
weak product inventory management
7.9

good
Space
Domains
Templates
Contract Period
Jimdo Play
$0.00
monthly price
Visit Website*
Try for Free
Jimdo finished in the middle of our website builder comparison, mostly owing to its lack of features. In terms of ecommerce tools, the platform is a step or two behind its competitors, and it also doesn't offer an app marketplace like Wix. However, these shortcomings don't have much impact on wedding websites, while its advantages, such as its ease of use, actually make it a great option.
In case you'd like to create a simple wedding website, Jimdo is an excellent choice. The platform actually features two editors, one of which (Jimdo Dolphin) is AI-based and simplifies the website creation process even further. It offers a number of useful features for creating a wedding website, like contact forms and password-protected photo galleries.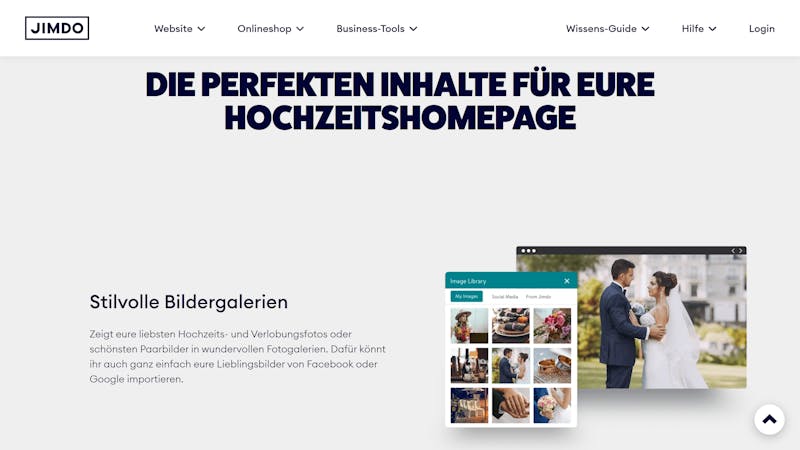 Quickly and easily make your wedding website with Jimdo's editors.
Jimdo Creator, its "classic" editor, comes with even more features. You'll be able to integrate Google Maps to show your guests just how to get to your wedding's location. And with Jimdo logo creator, you can even make a custom design to celebrate your big day.
Straightforward, AI-based editor (Jimdo Dolphin)

Plenty of useful features for wedding websites
Less flexible than other website builders
Configuration & Usability
9.4 / 10
Templates & Design
8.0 / 10
Marketing, SEO & Ecommerce
6.6 / 10
Even Easier: Dedicated Wedding Website Platforms
Because website builders like Wix are jacks of all trades and target every industry imaginable, they include lots of features and content that you probably won't need. If you're just looking to create a simple wedding website, some of these platforms might be a bit too complex.
For those reasons, you might want to try a website builder that was specifically designed for wedding sites – and luckily, there are quite a few to choose from these days.
There's Joy, for example, which is a slick, one-stop shop for all of your wedding's digital needs: It will help you set up a wedding website, send invitations to guests, and handle the registry. You can even offer your guests a smartphone app that provides them with their own, personalized wedding experience and everything they need to know.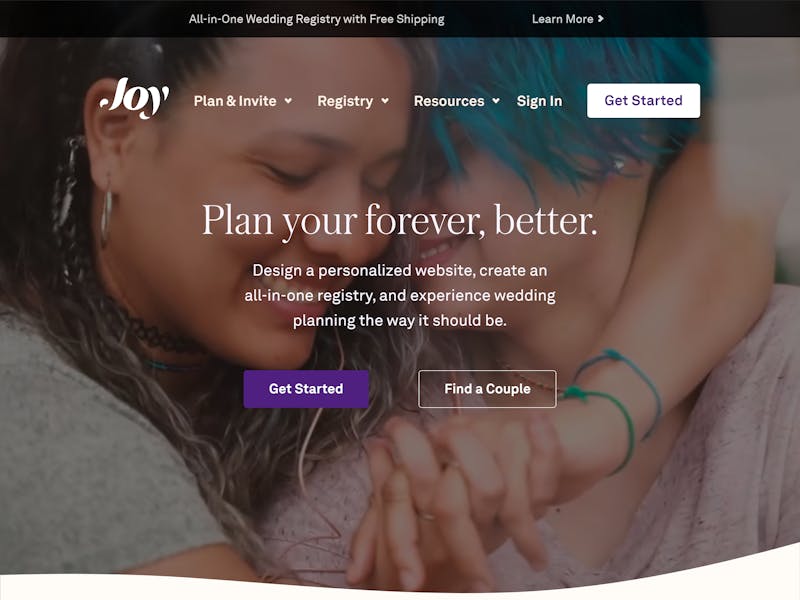 Joy is a wedding platform with with lots of handy features, from smart RSVPs to a dedicated wedding app.
Another popular option is Zola. It's an easy-to-use wedding platform that has all the features you'll need, from online RSVPs with meal choices and password protection, to a powerful registry system that will make it easy for your guests to find the right gift.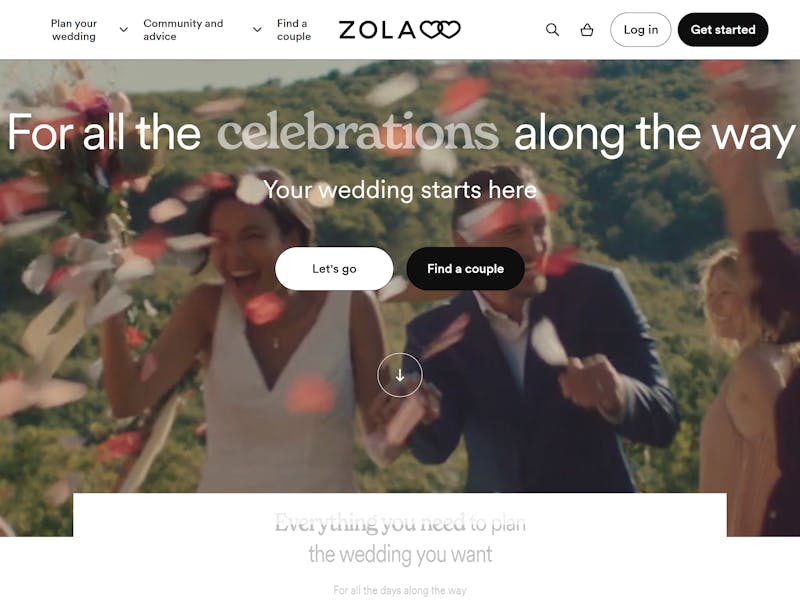 Zola is one of the most popular wedding platforms – for good reason.
Can I Create a Wedding Website for Free?
Yes. Generally speaking, you can create and publish a wedding website for free. This is possible with more traditional website builders (like Wix, Weebly, or Jimdo) as well as wedding platforms like Weddybird.
However, keep in mind that this doesn't include a unique domain. Guests won't simply type "www.smith-jackson-beach-wedding.com" but need to add a provider subdomain, like wixsite.com or weddybird.com to it.
To make a more professional impression, you'll need to invest a bit of money into your website and purchase a premium subscription. Since it's possible to cancel the contract a few weeks or months after your wedding, the costs aren't high.
Which Elements Belong on a Wedding Website?
A wedding website should be as unique as you and your partner's love story, however, there are some elements and features every site should have:
This is where you'll be able to flex your creativity. Perhaps with a picture of you and your significant other? A countdown to the big day? Or maybe a few lines about how you and your soulmate met? Your homepage is the first thing guests and visitors will see (some wedding websites are nothing more than a single page), so personalize it and give them a taste of what to expect.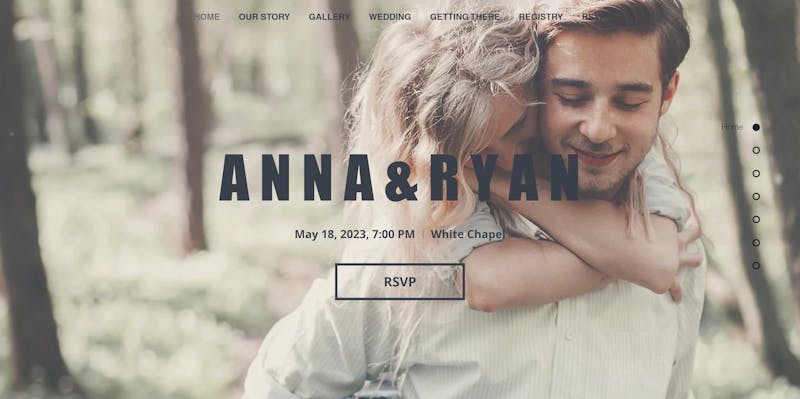 Your wedding website's homepage should prominently feature a photo of you and your partner.
To find out which guests are coming to your wedding, your website should feature a centrally located RSVP form (from the French "Répondez s'il vous plaît", or "Please answer"). In addition to answering yes/no, you can add extra fields, such as those for meal choices, allergies, or dietary needs. In other words: Ask your guests everything you want to know ahead of time here.
Responses will be sent to an email address of your choosing. To stay on top of these, you might want to consider setting up a free email account specifically for wedding RSVPs ahead of time (many website builders offer users the ability to do this).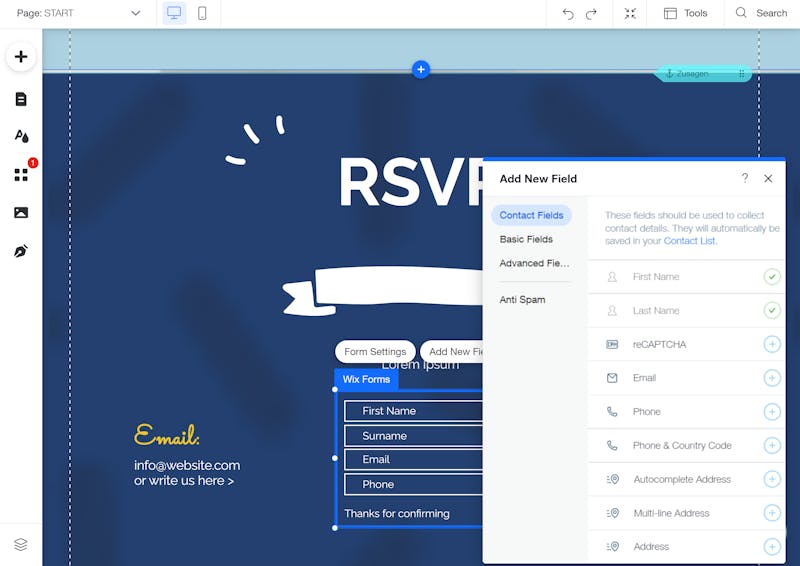 On platforms like Wix, you can customize your wedding website's RSVP form.
So, you and your significant other are getting married, but when and where? On this part of your website, be sure to list important information about the wedding day schedule: The ceremony, the reception, and breakfast on the next day.
To help those coming from out of town, make sure that you provide directions and details about on-site parking, car-pooling, or shuttle services. Of course, this is also a great place to suggest nearby accommodations or information about staying in the hotel where the reception is being held.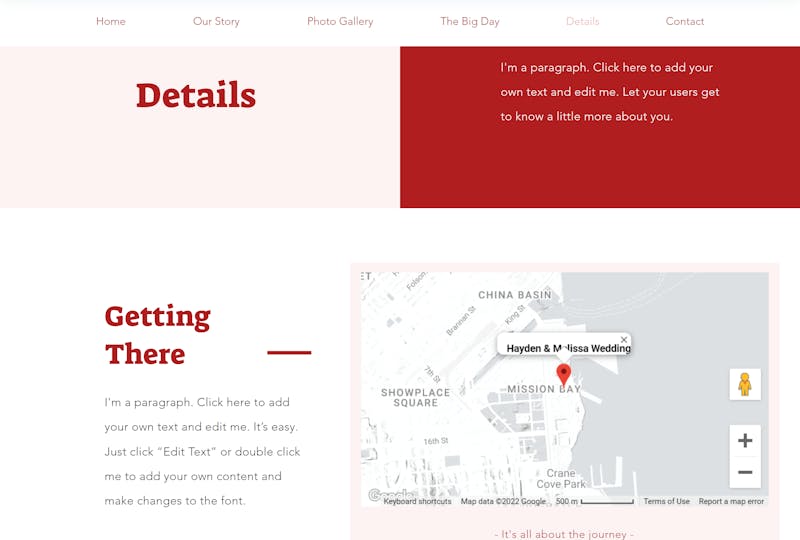 Let your guests know when and where the festivities are taking place.
Many wedding guests worry about finding the perfect present. Do them and yourself a favor by listing which sort of gifts would be most useful to you and your partner. Do you need a certain appliance, flight tickets for a world tour, or want to make a donation to a certain charity? Let your guests know how they can best congratulate you and your partner.
If you have a registry, for example, on Amazon, you can easily integrate it onto your wedding website.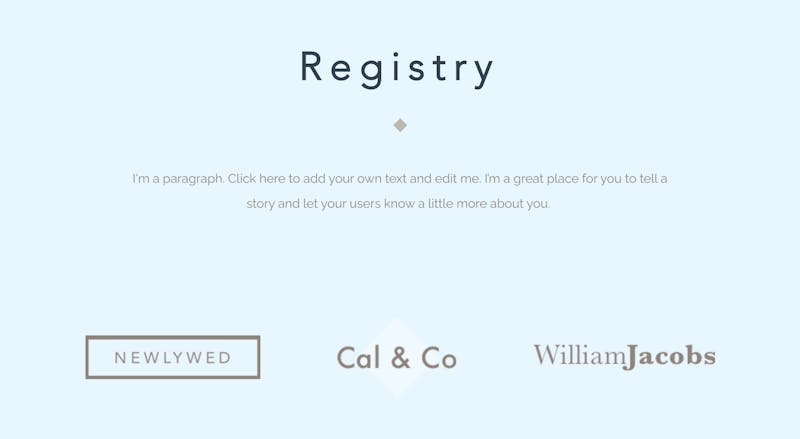 Don't keep your guests in the dark about what to give you - tell them directly on your wedding website.
Your wedding is also an occasion that your guests will want to remember. With a wedding website, you can easily give them digital access to photos and videos. Many platforms allow users to password-protect these albums, making sure that only authorized users can view and download pictures from them.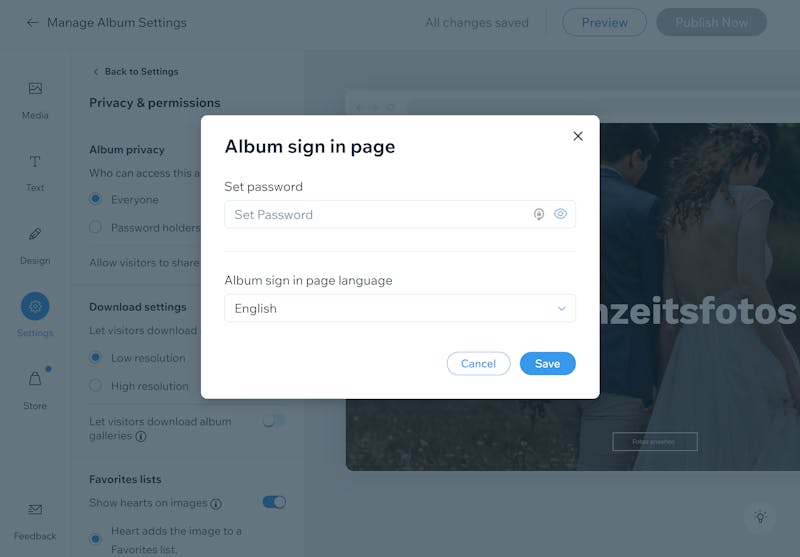 On platforms like Wix, you can password protect your photo albums.
All of these elements should be easy to find on a wedding website, however, there are plenty of options that we didn't mention. Let your creativity run free, but make sure that your visitors can quickly find all of the most important information.
Conclusion
There's plenty to do when planning a wedding. With a dedicated website, you can spare yourself some hassle and make it easier for your guests to find out whatever they might want to know.
You won't need a degree in computer science to create a wedding website thanks to platforms like Wix, Squarespace, or Jimdo. For an even easier option, you can try dedicated wedding platforms like Weddybird or Zankyou.
Many of the above offer free versions of their services, however, these lack certain features and don't include custom domains. For a professional and elegant wedding website, you'll need to purchase a subscription, which you can cancel or let expire after a certain period of time.
FAQs
What is a wedding website?
⊖
A wedding website is a site dedicated to your wedding. Guests can use it to RSVP, find out important information about your big day, or view and upload pictures of the event.
What's the easiest way to create a wedding website?
⊖
If you're not a programmer or web designer and would prefer not to make a large investment, website builders are a great option. You can use a regular platform like Wix, Squarespace, or Jimdo, each of which comes with a number of different wedding website templates. Alternatively, there also exist dedicated wedding platforms like Joy and Zola.
What should I include on my wedding website?
⊖
Some of the most important things to include on your wedding website are an RSVP form, information about the date, time, and location, what sort of gifts you're interested in, and a photo gallery.
* Ad disclaimer:
For links marked with an asterisk, EXPERTE.com may earn a commission from the provider. The commission has no influence on our editorial rating.

Janis von Bleichert studied business informatics at the TU Munich and computer science at the TU Berlin, Germany. He has been self-employed since 2006 and is the founder of EXPERTE.com. He writes about hosting, software and IT security.
Continue Reading