Landing Page: How to Create an Effective Landing Page in 2023


Translation
Lisa Torelli-Sauer
An effective landing page transforms visitors into customers and is the first thing people see when they click on your ad or follow a link in your marketing email. That's why it's essential for your landing page to present your offer as clearly and attractively as possible.
In this article, we'll cover how to create a good landing page, which elements are important, and what tools you can use.
What Is a Landing Page?
A landing page is a stand-alone website that visitors arrive at after clicking an ad, link, or search engine result. It has a particular purpose: to ensure the conversion of website visitors into paying customers.
For these reasons, a landing page is usually rather compact. It deals with a specific offer and includes a form for potential customers to leave their contact data or other details.
What Are Landing Pages Good For?
As mentioned above, landing pages are all about conversions. However, not all landing pages are alike, and they can have a variety of purposes. They should assist in:
Lead generation
Many landing pages are designed to generate leads (i.e., contact information for potential customers). In this case, visitors submit their name, email address, and other particulars to a form, that you can use to contact them and make a sale.

Product sales
Many landing pages are regular sales pages designed to promote and sell products and services.

Event registration
A landing page is also useful when organizing live events or webinars. They can include details about the event's content, participation conditions, dates and times, and a registration form.

Email address collection
Email is an important sales and marketing channel. Many landing pages are dedicated to acquiring as many email addresses as possible from potential customers.

Newsletter registration
Landing pages are a great and easy way to sign visitors up for your opt-in newsletter.

Contest participation
Contents and sweepstakes are popular marketing tools. Your landing page can encourage customers to enter them, as well as present the terms and conditions.

Download an e-book/white paper
E-books and white papers are important B2B communication tools, offering detailed solutions to problems or outlining complex projects. Landing pages can be used to briefly introduce these and provide download links.

Click-through
Apart from generating leads, landing pages can also serve as digital sneak-peeks for your products. In such cases, the goal isn't collecting information, but rather, enticing the visitor and informing them of your product or service's benefits, and providing additional marketing materials.
Above are just a few examples of what landing pages can be used for. Regardless of their intended purpose, their basic structures are similar. Next, we'll let you know which elements every landing page should include.
Which Elements Should a Landing Page Include?
The structure of your landing page depends largely on its purpose. However, most landing pages should contain the following elements, regardless of what your goals are:
Your landing page's headline should be clear and to the point. To prevent visitors from leaving, they should understand within a matter of seconds what advantages your product or service provides. Here, simplicity is more important than being clever; in as few words as possible, describe what visitors will gain from leaving their contact information or trying out your offer.
Jimdo demonstrates this concept perfectly: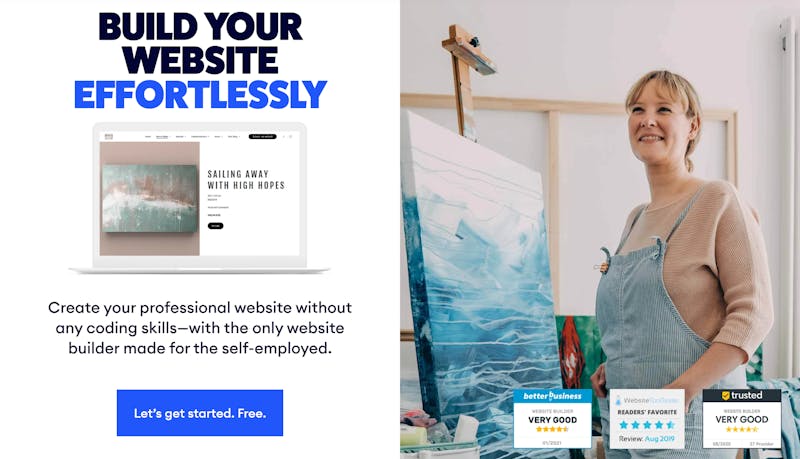 The headline clearly summarizes what you can do with Jimdo.
2.
Meaningful Header Image
No landing page should be without an image. A good header image should speak to potential customers, imparting them with the feeling that they've found exactly what they're looking for.
Shopify's header image meets their potential customers' expectations; it reflects a ready-made online store where they can sell their products.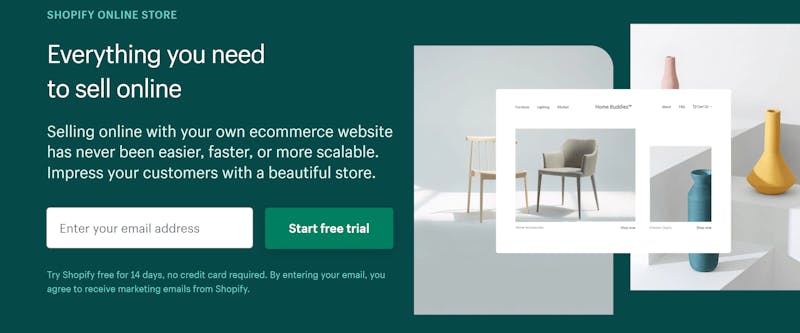 When choosing a header image, consider the needs of your potential customers.
Great ad copy should follow your eye-catching header. Here you can lay the groundwork for your call-to-action and reveal what your product, service, or event can do for your customers.
Systematically highlight these benefits and your unique selling points (USPs), such as by creating a visually enticing list. It's best to address the audience directly in the second person.
4.
Prominently Placed Forms
Lead generation landing pages are focused on collecting visitor data. It's important that your visitors don't have to search for the relevant form—make it clearly and immediately identifiable; visitors shouldn't have to scroll or click to locate the form.
Dashlane does everything right in this area: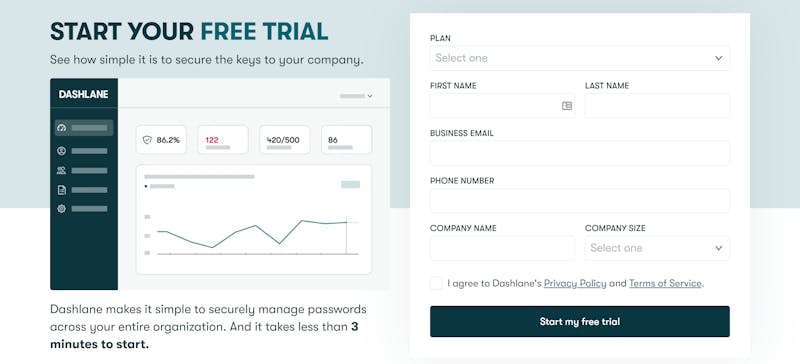 Don't hide your contact form from visitors.
Many potential customers are suspicious—and for good reason. The Internet is teeming with empty promises and lousy products. Don't make readers rely on your ad copy alone; back up your promises with customer testimonials. These can be showcased in the form of brief reviews or awards you've won.
Here's a great example on hide.me: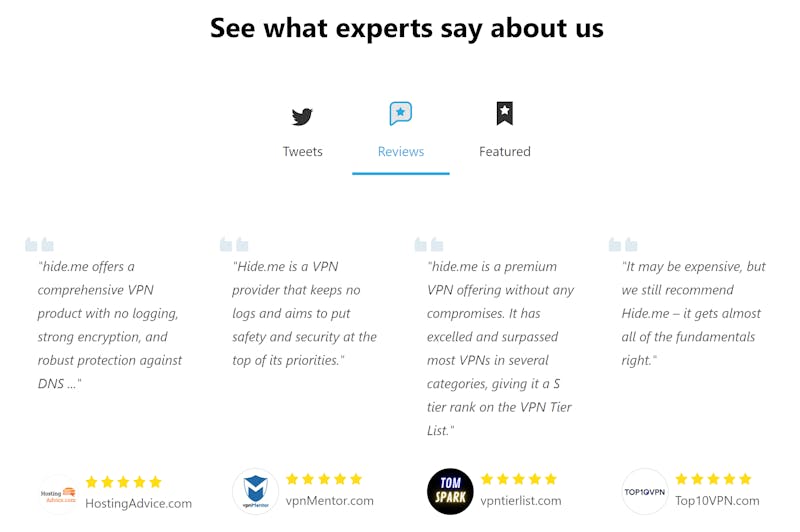 Even the smartest sales pitch isn't as convincing as good reviews and endorsements.
A call to action (CTA) is a way to encourage your potential customers to take the next step. This could be starting a free trial of your software, subscribing to your newsletter, or downloading your e-book. CTAs usually appear as attention-drawing "download", "test", or "subscriber" buttons.
Here's a good example from NordPass:

Offering a free trial is a great CTA.
Landing Page Tools
Several tools and providers are available that can help you create your landing page. Determining which is best for your project depends on two factors: which tools you're already using, and how tech-savvy you are.
If you have the right skills, you could program the page yourself; after all, a landing page is just a website. For those without programming knowledge, there are tools that make it easy to create a landing page yourself. It's important that the tool you choose has the following features:
Templates
Templates ensure that you don't have to start from scratch when creating a landing page. Specialized landing page builders offer ready-made designs just waiting to be filled with your content.

Drag and drop editing
You should be able to adjust and move the design elements of your landing page by dragging and dropping them.

Embedded forms and buttons
Most landing pages include CTA buttons or a form where visitors can input their contact data. Your landing page editor should make it easy to embed these important elements with just a few clicks.

Mobile-friendliness
Nowadays, it's absolutely vital to package your online content in a mobile-friendly way. Fortunately, most landing page builders automatically ensure that your page is responsive for users accessing it on the go.

Own domain
A landing page can be part of a parent website or stand entirely on its own. Either way, you should be able to specify a custom domain for your page.

Analytics
Monitoring your landing page's performance will help to improve its effectiveness. For that reason, make sure to select a tool that provides statistical insights or allows you to connect tracking tools like Google Analytics.

A/B Testing
A/B testing allows you to assess multiple versions of your landing page; for example, you can try out different headlines to determine which is the most effective.
Above are just a few of the most important components of a landing page builder, and plenty of services offer many more. Exactly which features and options are available depends entirely on the tool and its price point.
A fundamental difference exists between dedicated landing page builders and services that offer the ability to create them (such as comprehensive website builders and email marketing software).
Dedicated Landing Page Builders
Dedicated landing page builders are specifically designed to create landing pages. Therefore, they offer a variety of extra features to increase conversions and tools for improving your landing page's performance with data-driven insights.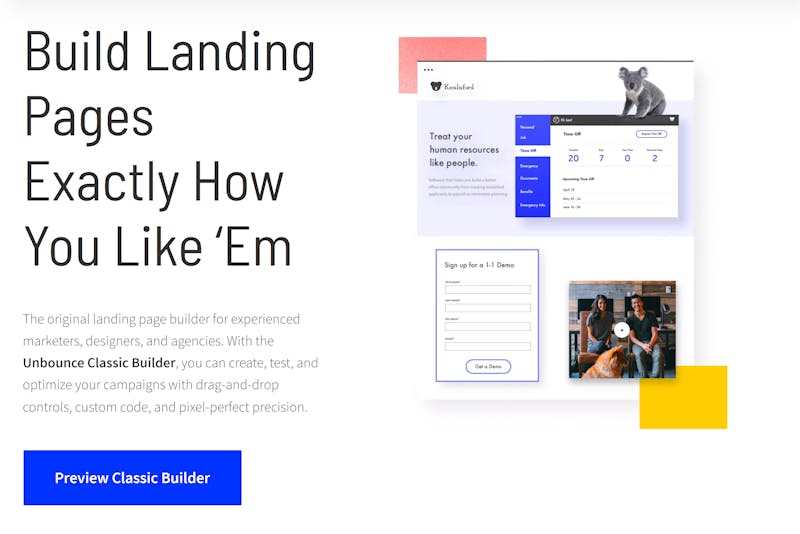 It's easy to complete your project with dedicated landing page builders like Unbounce.
While versatile, these programs have a tendency to be somewhat complex, making it necessary to learn the ropes before you're able to get the most out of them. That being said, if your campaign is especially ambitious, you'll go further with a professional landing page builder than with any other option.
Website Builders With Landing Page Builders
Website builders do more than just help you create a website; they can also be used to make a landing page. All of the advantages of site builders, including their beginner-friendliness, low cost, and all-in-one packaging (with domain and hosting included) also apply when using them for landing pages.
Generally speaking, you won't have to pay extra to create a landing page, since it's included in most subscriptions. However, the features are less extensive than what's offered by dedicated landing page builders. Below, we'll show you how to create a landing page with a website builder.
Here's a detailed review of website builders:
Email Marketing Platforms
Many email marketing platforms such as GetResponse can help you create landing pages optimized for gathering contact data for email campaigns. They typically offer a range of templates to choose from, all or most of which can be edited directly on the platform.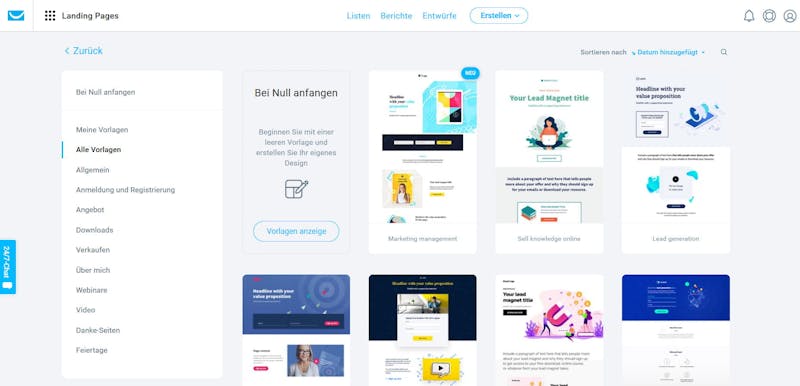 You can also create landing pages with email marketing tools.
As with website builders, the number of features available to build your landing page depends on which provider you choose.
Example: Create a Landing Page With Wix
Now that you know what a landing page should look like, we'll explain how to take your ideas off the drawing board, using Wix, the winner of our website builder review.
With it, you can create a landing page in just a few minutes. First, you'll need a Wix account, which can be made for free on Wix's homepage. Simply click on the "Create your own website" button and follow the instructions.
The exact design of your landing page depends on whether you already have an ongoing website project with Wix.
If you want to create a landing page and don't have an existing Wix project:
1. In the "My Sites" area, click on "Create New Site."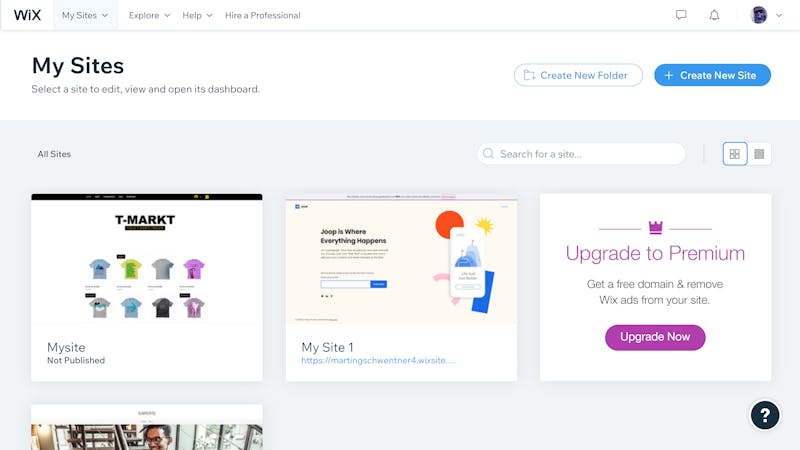 You don't need a website to create a landing page.
2. Follow the instructions until you arrive at the template selection page. Under the "Business & Services" tab, click on the "Landing page" option; Wix will present you with a variety of landing page templates. These include "Coming Soon" pages which can go live while your site is still under construction, as well as product pages, conference promotion pages, and app landing pages.
Hover over the template of your choice and click "Edit" to start customizing your page.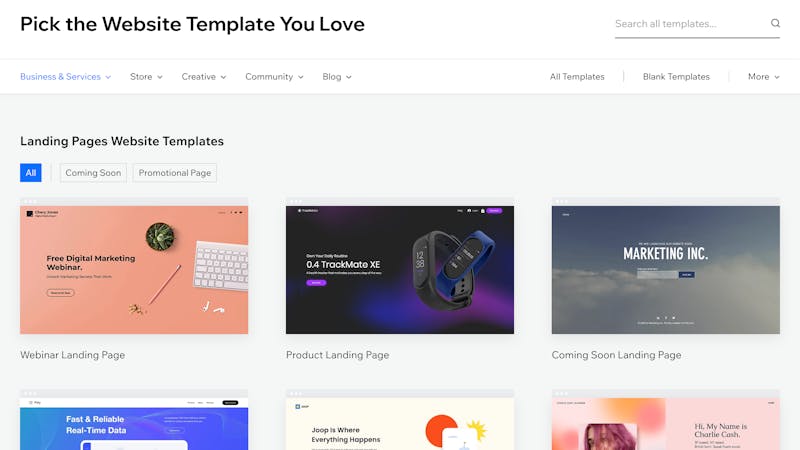 Wix offers a wide selection of landing page templates tailored to all sorts of needs.
3. Consider the aspects and best practices we discussed above, and start customizing your landing page. Craft a poignant title, supply text that drives conversions, and upload an appealing image. Don't forget to add the appropriate form or button and connect it to the right feature in Wix's dashboard (e.g., your newsletter subscriber list).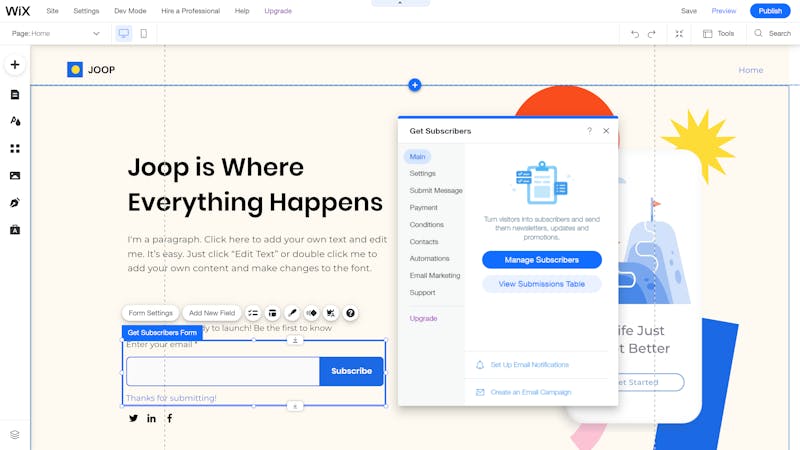 Use the editor to add content to your landing page.
4. Once you're happy with your landing page, click the "Publish" button in the top right. If you're using Wix's free version, the page will be published on the provider's subdomain. You can also pay to publish it on a custom domain.
If you already have an existing Wix project, you can add a landing page just as easily:
1. In the website menu, click "Add Page" and select "Landing Page" on the left. A variety of landing page templates will appear.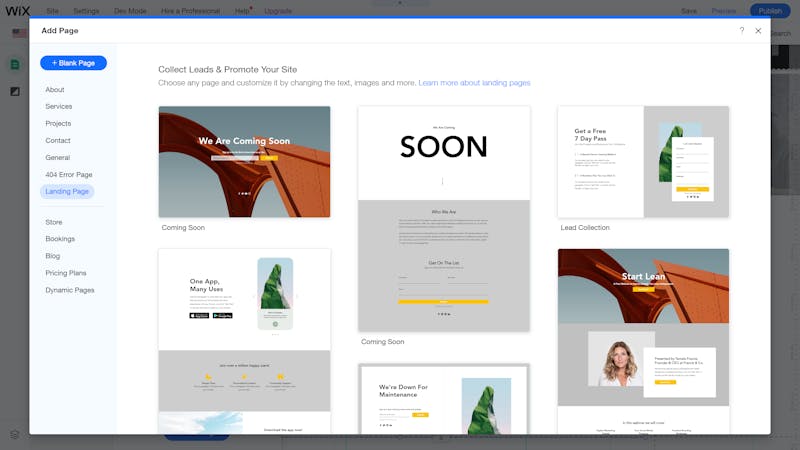 Creating a landing page is even easier if you already have a Wix site.
2. Choose your favorite template and edit it as described above in step three. You can then publish your landing page.
Conclusion
A landing page is a standalone website that serves a very specific purpose, namely collecting contact information or registering visitors for an event or newsletter. Because most landing pages are similar in structure and contain the same elements (headline, header image, ad copy, form, and CTA), the process of creating one is fairly easy.
You can either do this yourself or with the help of dedicated tools. Beginner-friendly platforms like Wix and email tools such as GetResponse make it relatively easy to create your page. Find out which providers are worth considering in our review comparing the best website builders and email marketing tools.
FAQs
A landing page is a standalone website used to boost conversions (i.e., to turn visitors into paying customers). For this reason, landing pages are typically small and focused on a specific offer. They often contain a registration link or a form through which potential customers can input their information.
What should a landing page include?
⊖
Most landing pages should feature a user-oriented headline, a meaningful header image, ad text, a data collection form, social proof in the form of testimonials or test results, and a call-to-action that prompts users to take the next step toward becoming a customer.
How do I create a landing page?
⊖
You can either program one or build a landing page with dedicated software. Website builders, email marketing platforms, and other online tools also offer user-friendly editors for creating landing pages.

Martin Gschwentner majored in American Studies and Media Studies in Germany, the USA and France and works as a freelance editor in Paris. He is a doctoral student at the Institute for English and American Studies at the University of Paris Diderot, where he is researching the influence of money on US politics. On EXPERTE.com he writes about IT security, data protection and software for the self-employed and small businesses.

Translation: Lisa Torelli-Sauer
Continue Reading